In today's digital landscape, an efficient and visually appealing admin dashboard is essential for managing websites, applications, and online businesses. As we enter 2023, the demand for streamlined and feature-rich admin dashboard templates is on the rise. In this blog post, we will explore ten cutting-edge admin dashboard templates that can enhance your workflow, improve data visualization, and ultimately boost productivity.
Metronic
Metronic can design any online application, including custom administration panels and dashboards, eCommerce platform backends, content management systems, customer relationship management systems, and SaaS programs. Due to Metronic's streamlined, clutter-free, and user-friendly metro and flat balanced design, your next project will look great and be simple to use.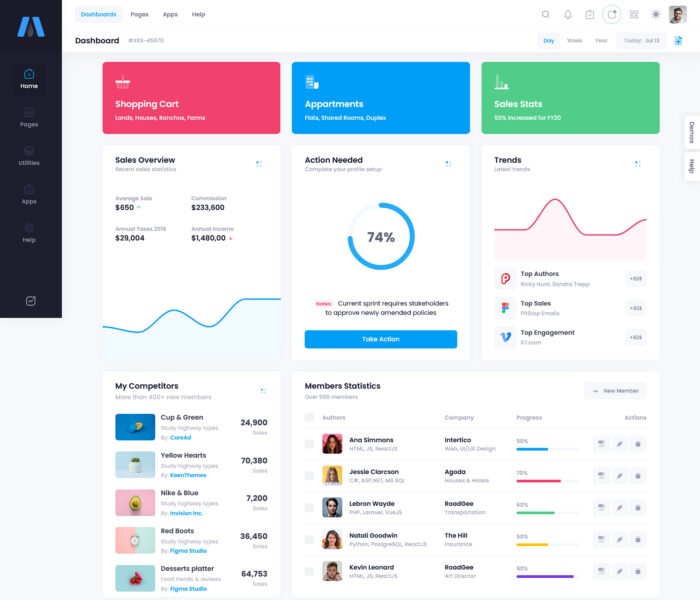 More info / download Demo
Materialize
Materialize is a popular material design web UX template. Our clients love its responsive design, Google Material Design-inspired user interface, and excellent support. Its combination of these traits makes it the most reliable and complete Material Design Admin Template available. Google created Materialize. It must be user-friendly, intuitive, and pleasant to use.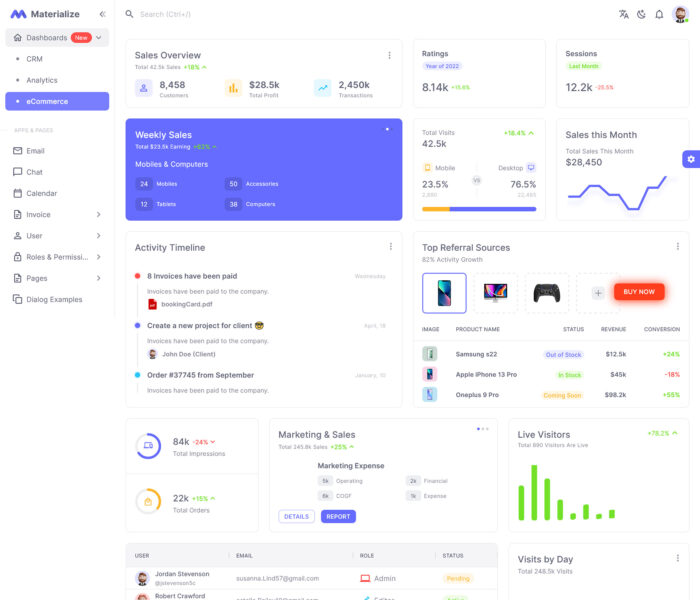 More info / download Demo
Cuba
Cuba Admin, a premium Bootstrap admin template, was built using Bootstrap 4, HTML5, CSS, and JQuery. It's versatile and has many features. Cuba Admin created Cuba Admin. It includes a wide range of reusable UI components and the latest jQuery plugins. It also works with the newest jQuery.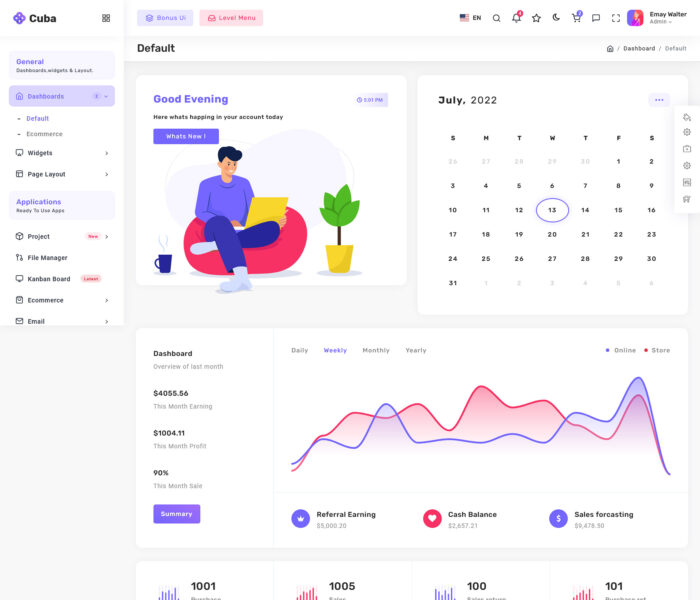 More info / download Demo
Frest
Frest helps you build high-quality apps that match your ideas. These qualities help make great applications. These capabilities simplify development to help you build high-quality apps.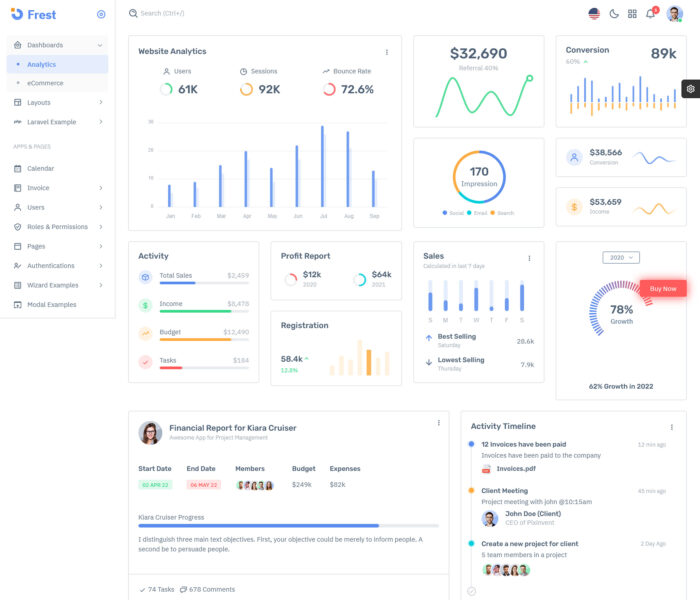 More info / download Demo
Wieldy
Wieldy is an all-in-one React admin template and starter kit. The Ant Design Framework and Concept underpin it. It provides all the react libraries needed to construct a trustworthy application quickly, regardless of complexity.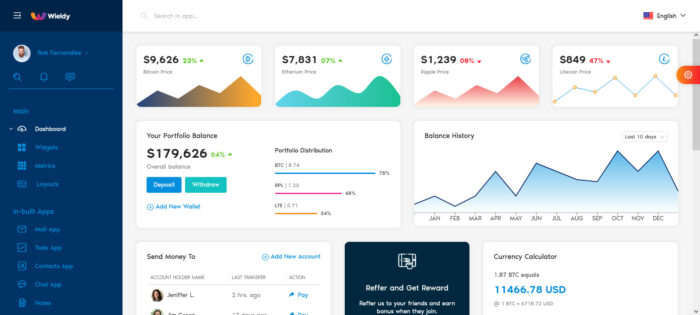 More info / download Demo
LUNO Webapp UI Kit
It also has an integrated premium admin panel. We'd appreciate it if you could review our template's most crucial elements in your leisure time. This makes it a powerful tool for creating the atmosphere you want or matching your company's colors.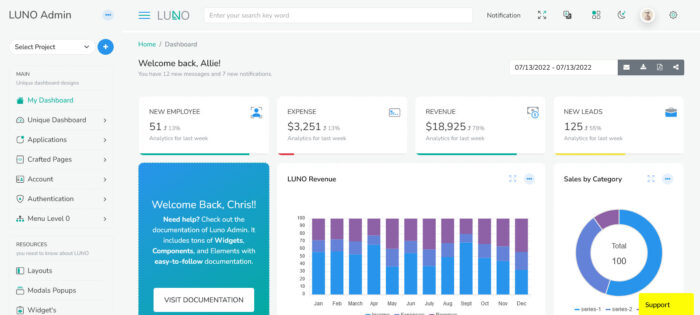 More info / download Demo
Velzon
Velzon is a responsive Bootstrap 5 admin and dashboard template. HTML, Laravel, ASP.Net Core, Django, Codeigniter, Symfony, PHP, and Ajax built it. Node.js also works (EJS). This admin dashboard template is perfect for online apps, dashboards, admin panels, e-commerce apps, project management, crypto administration, customer relationship management, SASS-based interfaces, and more.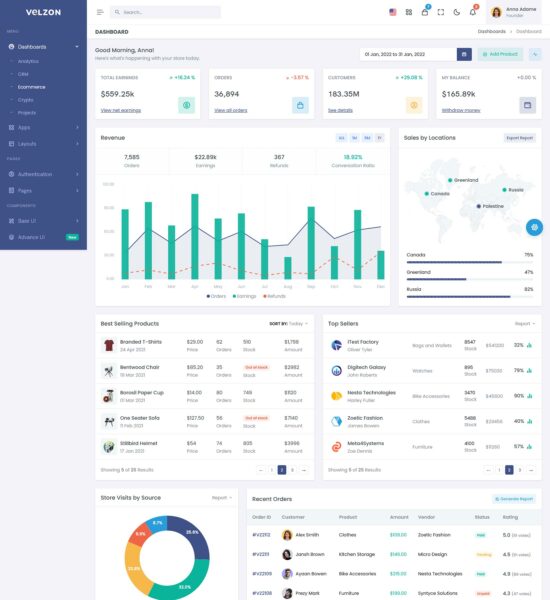 More info / download Demo
Cork
The comprehensive CRM admin dashboard of the Cork VueJS and Laravel Admin Dashboard might help many back-end applications. It comes pre-installed with many useful packages to help you construct your next back-end project quickly and easily. Cork Admin also offers several reusable components you may use in your business.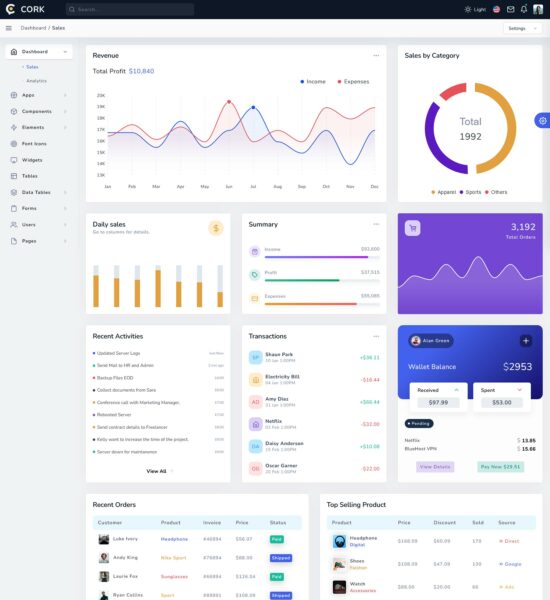 More info / download Demo
Sash
Sash This admin template lets you create stunning dashboards that will wow your users. Your aim requires this. However, using this Sash – Admin template, you can quickly and easily customize your dashboard, saving you a lot of time. To match consumer requirements, we construct our designs professionally.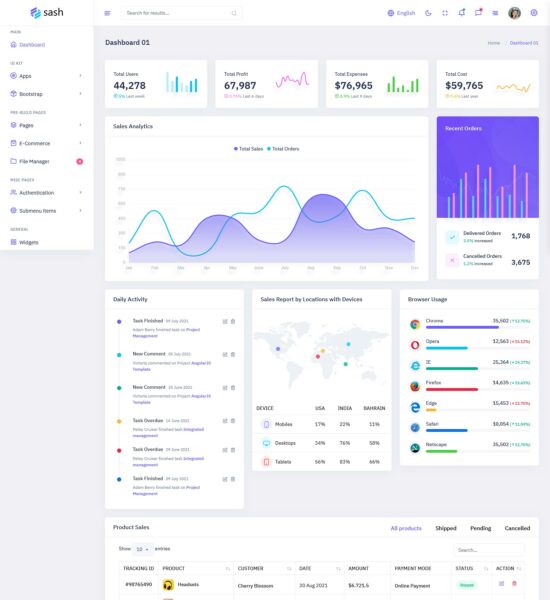 More info / download Demo
Mosaic
Mosaic, a strong marketing dashboard template, with Tailwind CSS. It has several pre-made layouts and sections and is developed in HTML, React, and Vue. Mosaic lets you start straight away with hundreds of templates.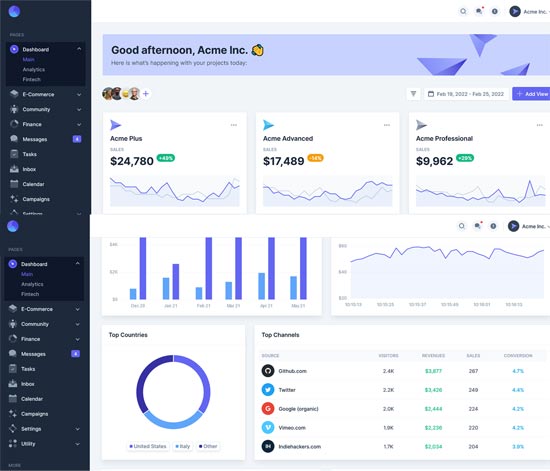 More info / download Demo
DashLite
Softnio is glad to provide a sophisticated admin dashboard design based on React technology to boost customer support. For developers and programmers, this template was designed to be user-friendly. These tools and components work together. The template has several pre-made page templates, built-in components, and unique e-commerce concept applications, making development faster and easier.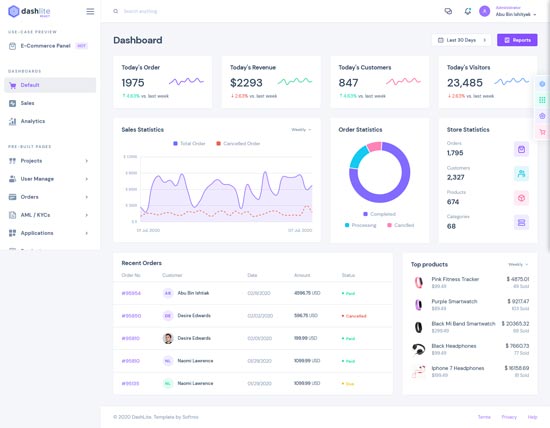 More info / download Demo
Cryptoon
Cryptoon, a Bootstrap 5x app, incorporates these principles. Bootstrap created Cryptoon. The application's user interface is modern and minimalist. Its high responsiveness comes from SASS preprocessor, HTML5, CSS3, and jQuery plugins. Entering the detailed Sass code starts the application customization process.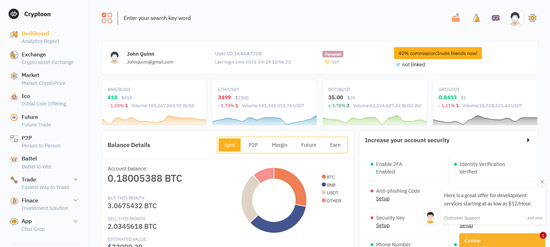 More info / download Demo
Dashtar
React-built Dashtar e-commerce platform admin template with sales dashboard. Dashtar provides online shop creation and management. React.js, Tailwindcss, and Rest API are used in this eCommerce admin template. This template backend was built using Node, Express, and Mongoose Schema Validation.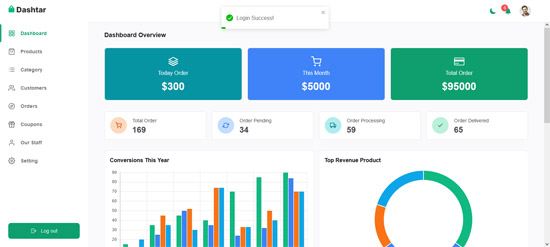 More info / download Demo
ALUI
Start with over 20 customized layouts and several technology themes. These layouts use five fully working Bootstrap versions.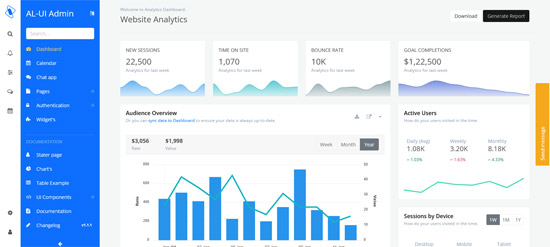 More info / download Demo
Skote
Skote has three versions. Codeigniter 4, PHP, and Ajax are independent. This template also includes Sketch, Figma, and Adobe XD files. Skote is a Bootstrap-based admin panel template. The admin panel has several choices. It uses HTML5, CSS3, and jQuery.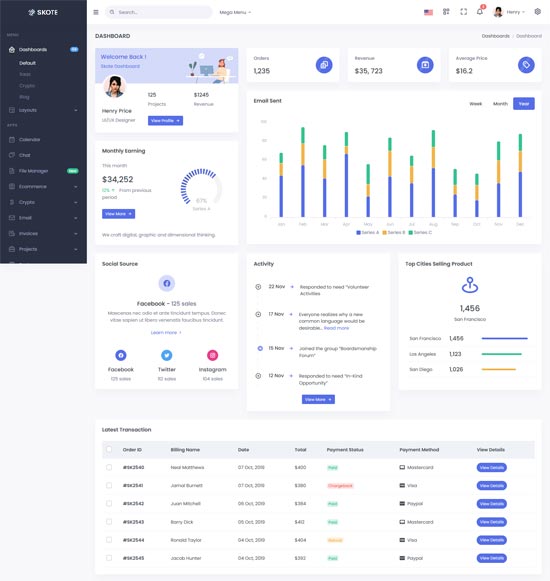 More info / download Demo
Dastone
Dastone, an admin dashboard and flexible application UI kit, was built using Bootstrap 4. It is responsive and has many great features that make web application development easy and fast.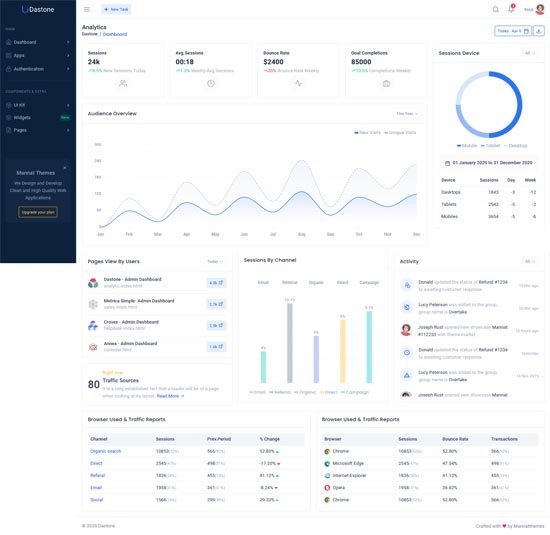 More info / download Demo
Spruha
SCSS, CSS, and HTML5 boot management power Spruha's adaptability. This simple panel design has 90 HTML pages and 70 jQuery and CSS plugins. Multipurpose CSS and SCSS style a pre-built Bootstrap 4 HTML framework. This grid arrangement is adjustable. Changing HTML components in bootstrap web application templates is easy using scss to css. This process is straightforward.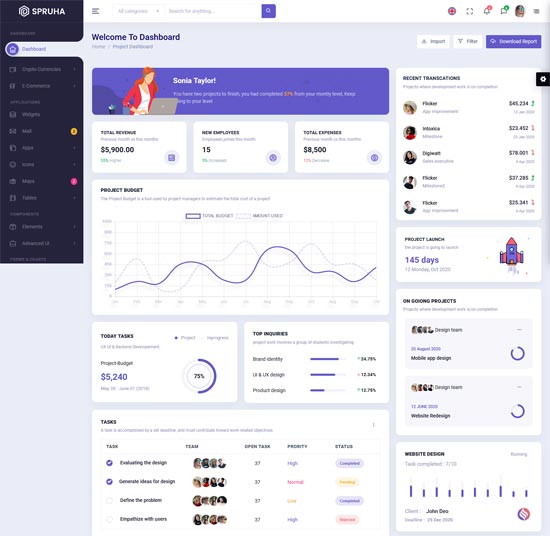 More info / download Demo
Huro
Huro, the Bulma Admin and Webapp UI package, was meticulously designed. It also gives you more pieces to create custom pages. This bundle includes dashboards, forms, layouts, profiles, apps, elements, components, and much more, along with everything you need to get started.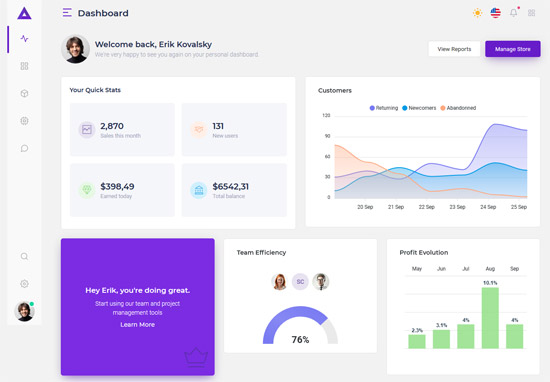 More info / download Demo
Ubold
Ubold is an expensive administrative template with all the bells and whistles. It was designed using HTML5, CSS3, jQuery, and the excellent Bootstrap 5.2.0-beta-1 framework.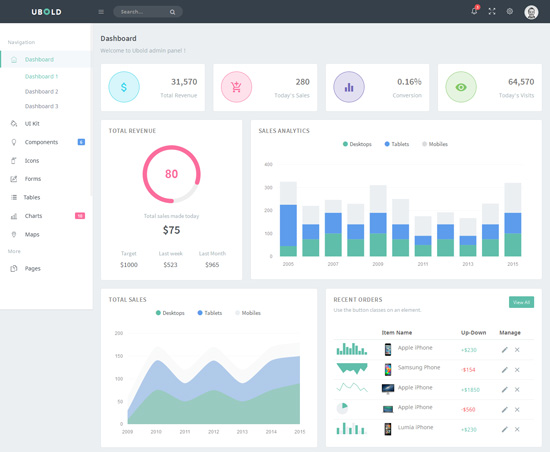 Demo More info / download
Limitless
Bootstrap underpins Limitless, a new professional admin dashboard design. Limitless is strong and flexible software that can be used for almost any online application. One core layout and three variants, 1,000 or more HTML pages with comments, 1,000 components with a variety of features and choices, 100 or more plugins and extensions, etc.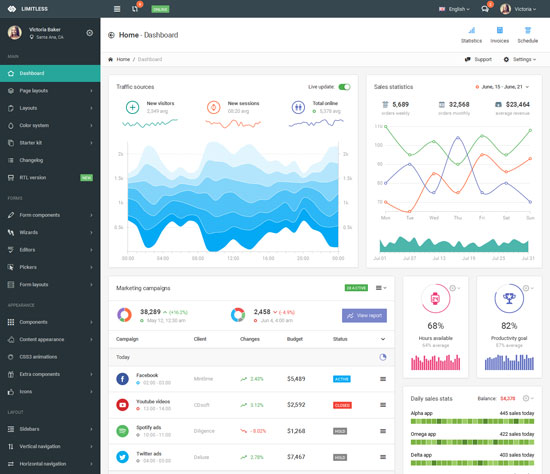 Demo More info / download
Fuse
Fuse is an Angular admin template including application and page layouts, UX components, and best practices. Modular and multi-layout design. Multiple layouts allow this. It also allows route-specific settings. Fuse supports any page design in the same code base, making it adaptable.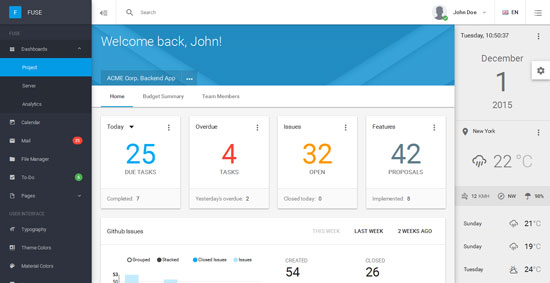 Demo More info / download
Choosing the right admin dashboard template is crucial for optimizing productivity and improving the overall user experience. These modern admin dashboard templates for 2023 offer a diverse range of features, styles, and functionalities to suit various needs and preferences. Whether you prioritize simplicity, data analytics, customization, or mobile accessibility, there is a template available to help you manage your projects effectively and efficiently in the ever-evolving digital landscape.