This is a hand-picked collection of the greatest Bootstrap admin dashboard layouts, which are also professional and clean in HTML5. Gulp This basic admin panel templates layout is designed using SCSS and CSS, and it comes with a range of up-to-date jQuery plugins included. Additionally, it comes with great and cool colors, numerous styles, images, and custom tables and calendar in addition to many other plugins Included.
We have made available to developers a variety of items that can serve many purposes, and the admin panel will make available to them templates for any kind of beginning app imaginable. The user is able to please visit and make a lot of changes to this admin dashboard theme, together with its related HTML components, widgets, and jQuery plugins. The design of the admin panel template for the web app is very clean and basic. This bootstrap admin dashboard comes with an incredible quality admin layout of the most recent innovative and fresh premium admin templates. It is a basic dashboard HTML template.
Related Article
Metronic
This template for the metronic administration system was built with the help of the Bootstrap and Angular JS frameworks respectively. It is possible to build every kind of web application imaginable with Metronic, including bespoke administrative panels and dashboards, backends for eCommerce platforms, content management systems, customer relationship management systems, and SaaS apps.
The upcoming project you are working on is going to have a wonderful appearance while also being very easy to use thanks to the streamlined, clutter-free, and user-friendly metro and flat balanced design that Metronic employs.
In addition to being compatible with the web browsers, tablets, and mobile phones that have the most users, Metronic also comes pre-installed with a sizeable library of plugins and user interface components that the end user is free to make use of. This functionality allows Metronic to be interoperable with the most popular platforms.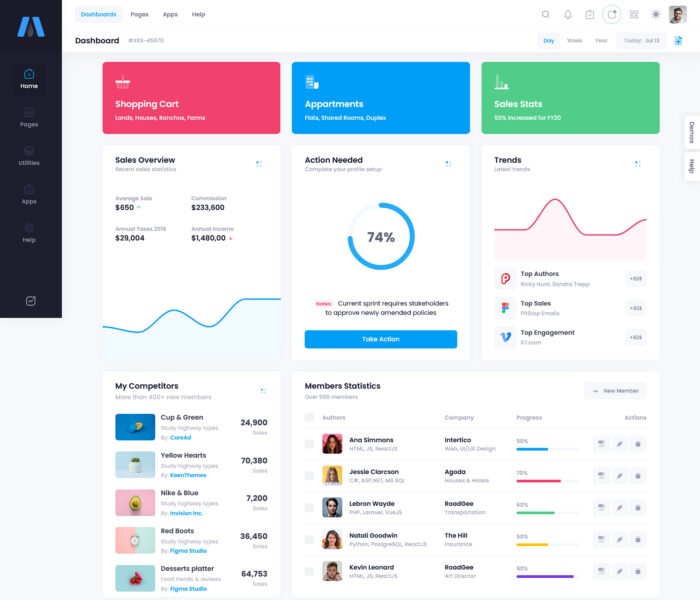 More info / download Demo Get Hosting
Materialize
Materialize is the name of the template for material design modern web UX that has been fairly successful in the market. Our clients are completely enamored with it due to its user interface that is inspired by Google Material Design, its design that is responsive, and its outstanding support. The fact that it is endowed with each of these characteristics contributes to the overall impression that it is the most trustworthy and comprehensive Material Design Admin Template that is currently offered for sale on the market.
Materialize is compatible with all of the most common web browsers, as well as tablets and smartphones, and it comes with a rich library of material design widgets and user interface elements. Materialize was developed by Google. Whenever it is utilized, the user must have a pleasant experience that is user-friendly and intuitive, and it must deliver a favorable experience overall.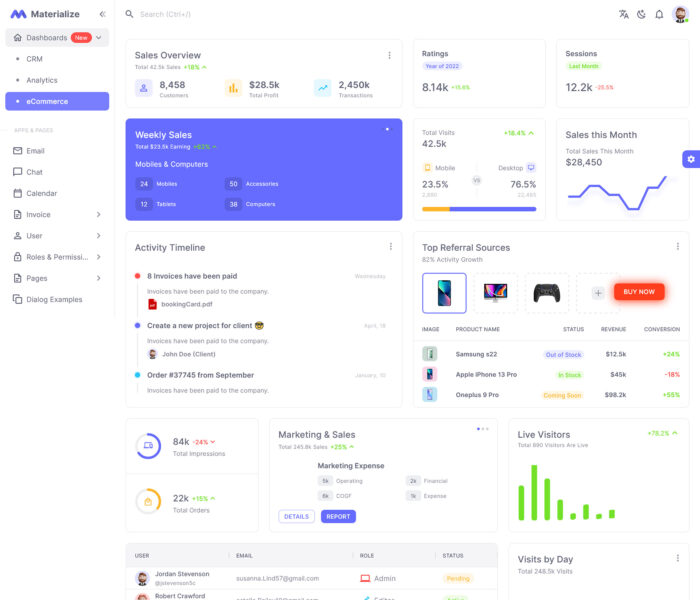 More info / download Demo Get Hosting
Cuba
The Bootstrap 4 Framework, HTML5, CSS, and JQuery were used in the development of Cuba Admin, a premium Bootstrap admin template. Cuba Admin is also known as Cuba Admin. It is capable of a wide range of operations and comes with a substantial number of features. Cuba Admin was the one responsible for the creation of Cuba Admin in the first place.
It is integrated with the most recent versions of jQuery plugins and comes with a broad selection of UI components that may be reused. Additionally, it is compatible with the latest versions of jQuery. In addition, it works with the most recent versions of jQuery that are currently available.
Any kind of web application, from a bespoke administrative panel to an application backend, content management systems, or customer relationship management systems, can be converted to use this technology.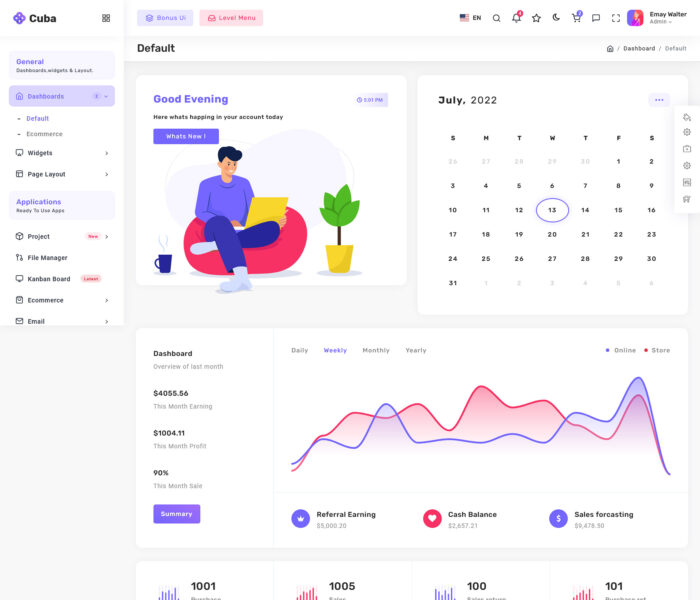 More info / download Demo Get Hosting
Frest
Frest is loaded with useful features that are designed to aid you in the process of producing high-quality apps that are accurate representations of your ideas. These features are aimed to assist you in the process of developing high-quality applications. These features are intended to make the process of creating apps of a higher quality and more convenience for you.
These features are intended to make it simpler for you to create apps of a high quality, and they will do so by facilitating your work in that process. The Frest admin template is jam-packed to the gills with one-of-a-kind and practical components such as fuzzy search, bookmarks, options for bright, dark, and semi-dark layouts, helpful widgets, and charts.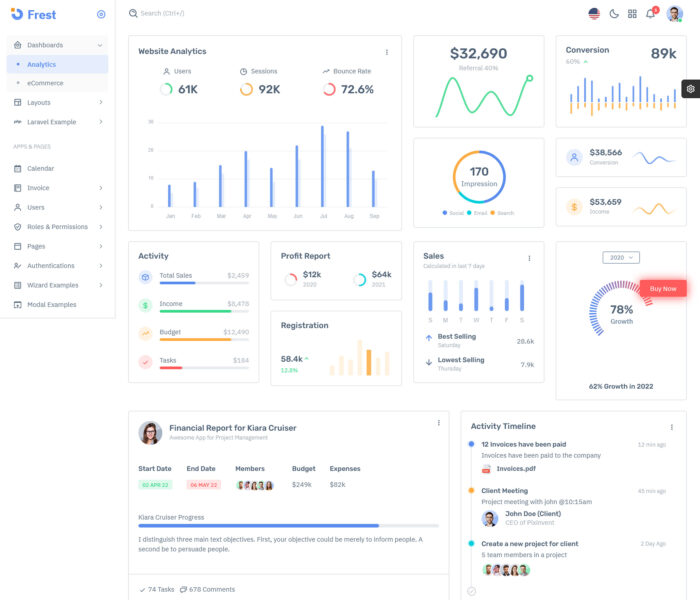 More info / download Demo Get Hosting
Wieldy
When it comes to the creation of a React application, Wieldy is an all-inclusive React admin template and beginning kit. It is constructed on top of the Ant Design framework and adheres to the Ant Design Concept. It includes all the necessary react libraries, allowing for the development of a trustworthy application in a shorter length of time, regardless of how straightforward or complicated the application may be.
By following the design of our pre-built apps with Wieldy, you will be able to become an expert in very advanced programming methods like as React, Redux, Firebase, Router, Redux-Saga, and many more. In addition to the fact that Wieldy may help you in the process of development as a starting kit, this is something else it can do for you.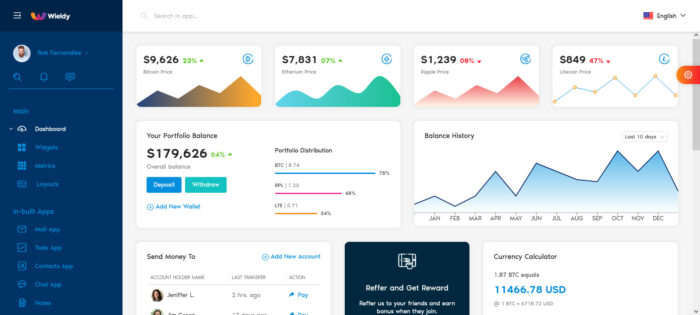 More info / download Demo Get Hosting
LUNO Webapp UI Kit
The LUNO admin template is a modern dashboard layout that is currently available to users. You can view it right now with browser compatibility. Customers who make use of the premium admin panel, which possesses advanced capabilities, are provided with the opportunity to easily modify their projects in order to make them more in line with their preferences.
In addition to that, it comes outfitted with a premium admin panel that is integrated right into the product. If you could, in the little bit of spare time that you now have in your schedule, have a look at the most important parts of our template, we would be really grateful to you for doing so. Already built into the LUNO admin panel is support for a wide variety of various themes to choose from.
Because of this, you can employ it as a potent tool to produce the ambiance of your choosing or in accordance with the colors of your company, which makes it a formidable weapon.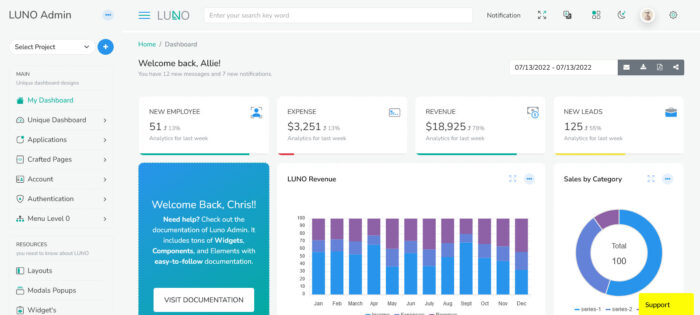 More info / download Demo Get Hosting
Velzon
Velzon is a premium admin and dashboard template built on Bootstrap 5 that is fully responsive and comes with all of the latest features. HTML, Laravel, ASP.Net Core, Django, Codeigniter, Symfony, PHP, and Ajax were the programming languages used to construct it. Additionally, Node.js is supported (EJS). You have arrived at the right place to acquire this admin dashboard template, whether you are developing a web application, dashboards, admin panels, an e-commerce application, project management, crypto administration, customer relationship management, or an SASS-based interface.
Whether you are developing any of these, you have found the ideal place to acquire this admin dashboard. Except in the places where it was specifically indicated, we used build tools that were based on gulp and CSS variable-based modes ( progress bars, Ajax, PHP, Symfony & Nodejs).
Rather of having to change a large number of lines of code, you can quickly change the layout or mode by simply updating the data attributes. This will save you time. The amazing user interface was developed with code that was not only comprehensive but also quite concise.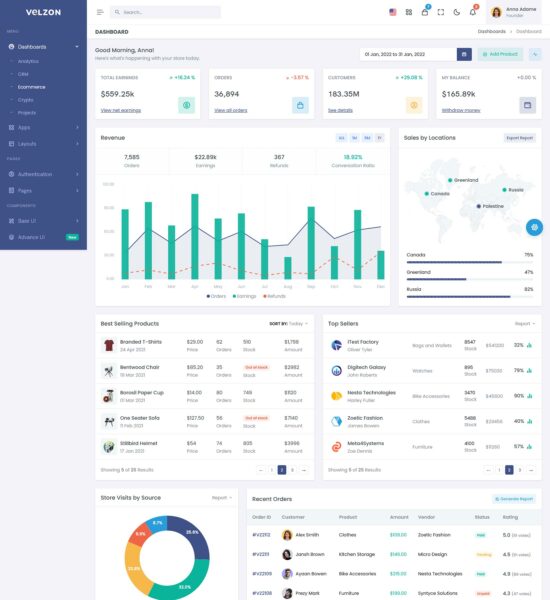 More info / download Demo Get Hosting
Cork
There are many different back-end apps that could benefit from utilizing the sophisticated CRM admin dashboard that is provided with the Cork VueJS and Laravel Admin Dashboard. This template was developed on Bootstrap, Vue, and Sass. It comes pre-installed with a variety of helpful programs that may be put to use in order to develop your subsequent back-end project in an easy and efficient manner.
The demo and live preview collections that are packaged with our CRM Admin theme have been meticulously put together, and if you use them rather than starting from scratch, you will save a considerable amount of time in addition to effort. In addition, Cork Admin provides a wide selection of reusable components that can be incorporated into your work if you so choose. These components include, among other things, widgets, maps, charts, buttons, forms, and tables, as well as a variety of other graphical elements.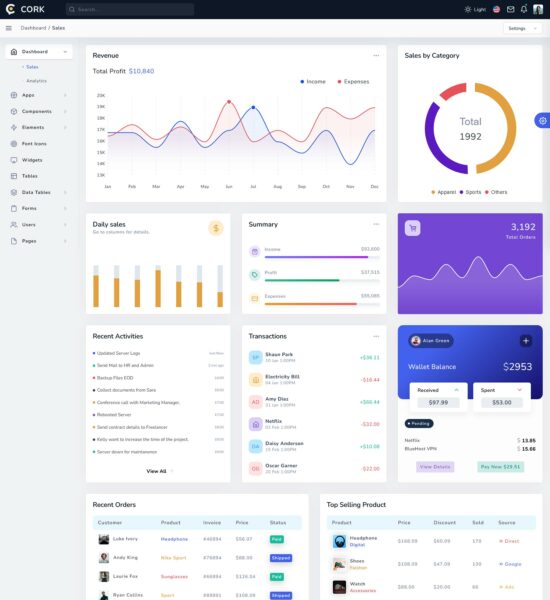 More info / download Demo Get Hosting
Sash
Sash With the assistance of this admin template, you are now able to design magnificent dashboards, which will astound the users that you are targeting. If you want to create a solid dashboard that is well-structured, you have to begin from scratch and write a lot of code in HTML, SCSS, CSS, and JS. This is necessary in order to achieve your goal.
Nevertheless, if you make use of this Sash – Admin template, you will be able to quickly and easily personalize your dashboard in a condensed amount of time, so saving yourself a significant amount of bother in the process. In addition, we build our designs in a very professional manner in order to meet the expectations of our customers. This helps us maintain a high level of customer satisfaction.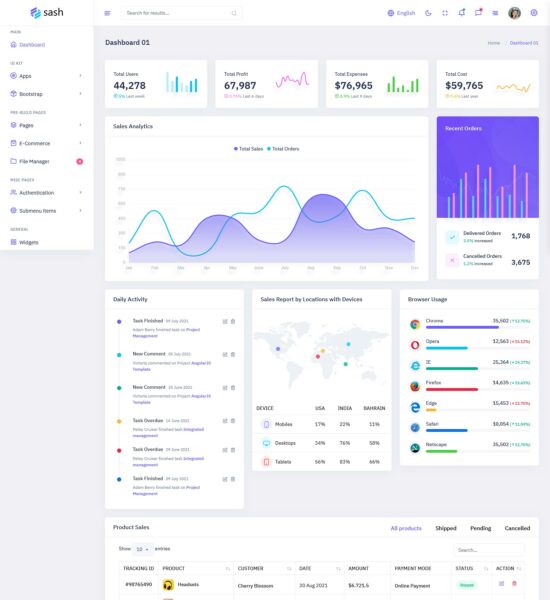 More info / download Demo Get Hosting
Mosaic
Tailwind CSS was utilized in the development of Mosaic, which is a powerful template for marketing dashboard. It is not only written in HTML, but also in React and Vue, and it comes packaged with a large number of pre-made layouts and sections. Mosaic gives you access to dozens of various templates that may be used right away, which paves the way for you to get started as soon as possible.
It is a good choice for use as a basis for the construction of projects that will be utilized by e-commerce, marketplace, FinTech, and SaaS firms. This is because it comes with a complete range of aesthetically beautiful styles and a full-screen layout. If you are looking to take your application to the next level, Mosaic is the answer to your problem and will allow you to do so.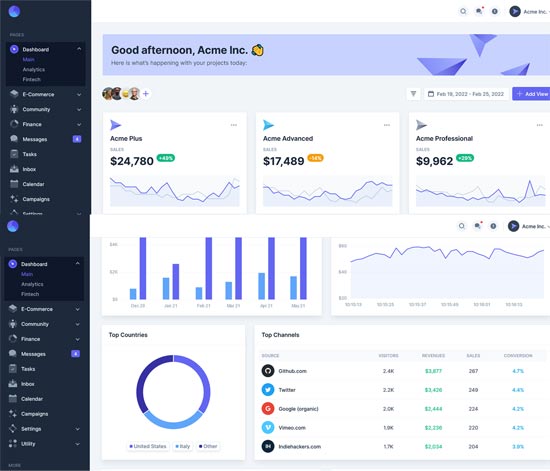 More info / download Demo Get Hosting
DashLite
Softnio is pleased to offer a sophisticated admin dashboard design that is built on top of the React technology in order to improve the quality of service that we provide to our clients. While this template was being developed, its user-friendliness was taken into consideration with a view toward catering to the needs of developers and programmers.
The DashLite React package comes with a comprehensive collection of tools and components that are versatile enough to be used in the development of any application. These different tools and components are compatible with one another and can be used together. The development process will be able to move along more quickly and will be simpler to use because the template comes with a large number of pre-made page templates, built-in components, and one-of-a-kind e-commerce idea apps.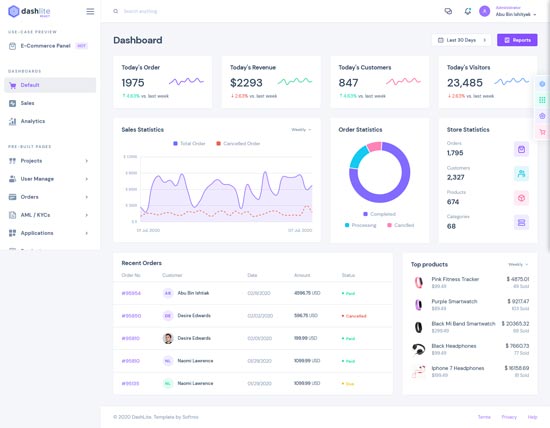 More info / download Demo Get Hosting
Cryptoon
Cryptoon is a next-generation Bootstrap 5x application that has these ideas integrated in its look. Cryptoon was built by the same team that developed Bootstrap. The user interface of the application has a simplistic, up-to-date appearance, and it does not include any unnecessary design features. The application has a streamlined and contemporary style, and it does not contain many unneeded components.
The SASS preprocessor, HTML5, CSS3, and jQuery plugins were used in its development, and it provides an exceptional level of responsiveness. simplify makes use of SCSS to streamline and simplify the technique itself, making it easier for you to complete the process of keeping the styles up to date. Simply entering in the Sass code, which is discussed in great detail, will allow you to get the process of customizing the application started. This will make it possible for you to initiate the process.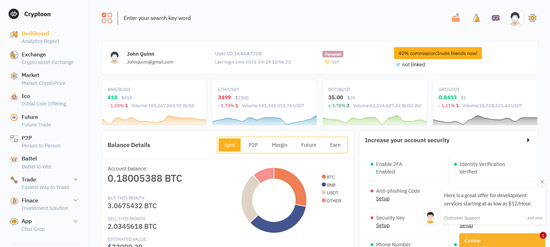 More info / download Demo Get Hosting
Dashtar
This is the Admin template with sales dashboard for the Dashtar e-commerce platform, which was created with React. Dashtar allows users to create and manage online stores. It is an eCommerce admin template that mixes React.js and Tailwindcss, and it uses the Rest API. The creation of this template backend, which is now finished and available for use, made use of Node, Express, and Mongoose Schema Validation as some of the underlying technologies.
The database in question is referred to by its brand name, MongoDB. In point of fact, it is an end-to-end MERN (MongoDB, Express, and Node) project; however, you can use it to fulfill your requirements or as the basis for any kind of eCommerce site admin template. MERN stands for MongoDB, Express, and Node. MongoDB, Express, React, and Node are the four components that make up MERN.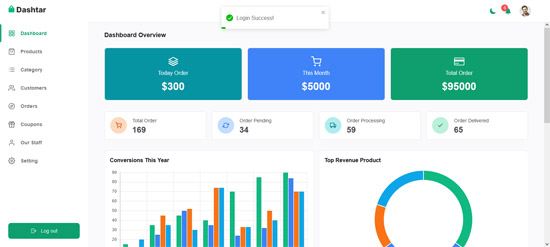 More info / download Demo Get Hosting
ALUI
Start with more than 20 distinct handcrafted layouts in addition to various themes featured with multiple technologies such as ReactJs, architectui angular 12, VueJs, Laravel, Vue + Laravel, and ASP.Net. Start with more than 20 distinct handcrafted layouts in addition to various themes featured with multiple technologies. These layouts are all made using five different versions of Bootstrap, each of which is fully functional.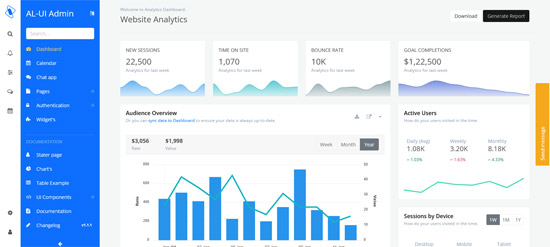 More info / download Demo Get Hosting
Skote
Skote is offered in 3 different variants. The versions of Codeigniter 4, PHP, and Ajax are not dependent upon one another in any way. You have complete discretion over which of these options to implement. In addition to that, you have access to files that were designed in Sketch, Figma, and Adobe XD when you use this template.
We ask that you communicate with us via the Adobe XD file support system. Skote is a premium admin panel template that was built on top of the fantastic Bootstrap framework. It provides a feature-rich assortment of options for users of the admin panel. It is built with cutting-edge web technologies such as HTML5, CSS3, and jQuery as its building blocks.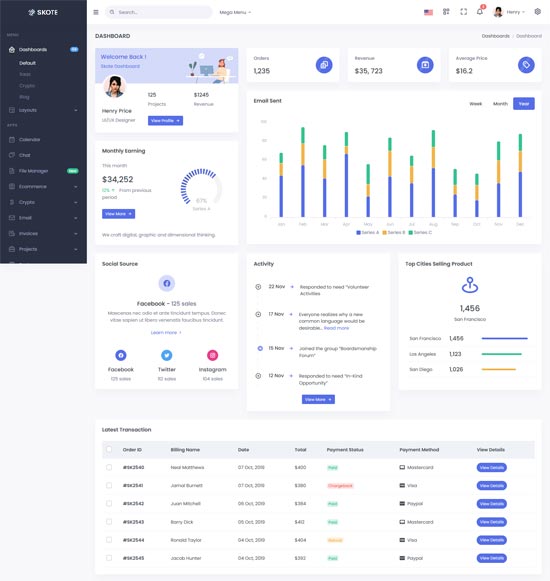 More info / download Demo Get Hosting
Dastone
Bootstrap 4 was used in the construction of Dastone, which is an admin dashboard and a versatile application user interface kit. It is entirely responsive and comes with a ton of outstanding features that make it simple and quick to build web applications.
You have the ability to create any saas-based application, custom admin panel application, or dashboard application by making use of the program's extensive library of layouts, components, elements, and widgets that have been expertly created and built by a team of designers and developers. Because the code is so straightforward and adaptable, you won't have much trouble customizing it at all.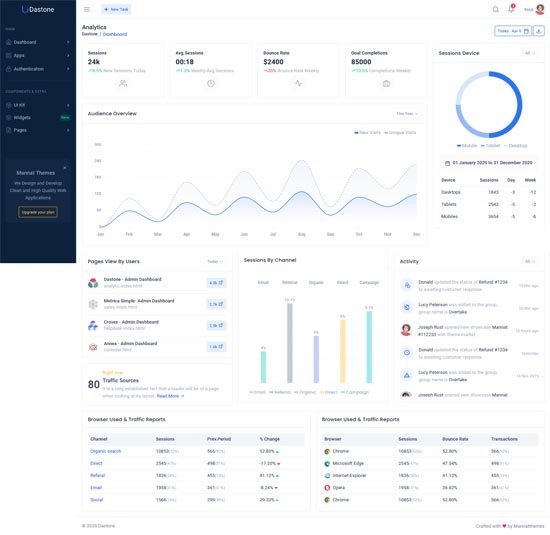 More info / download Demo Get Hosting
Spruha
The Spruha template is a versatile one that makes use of SCSS and CSS, and it also features HTML5 boot management. This is a simple design for a panel that comes packaged with over 90 HTML pages and over 70 jQuery and CSS plugins. Multipurpose Make use of a pre-built version of the Bootstrap 4 HTML framework, and then style it utilizing both CSS and SCSS.
We have built an HTML-sensitive left menu in addition to a horizontal menu, in addition to a beginning template of premium quality that is accessible in both light and dark color schemes. This grid template features a layout that is totally adaptable based on the input provided by the user. You may rapidly modify the look of the HTML elements in any sort of bootstrap web application template by converting scss to css. This process can be done in a few simple steps.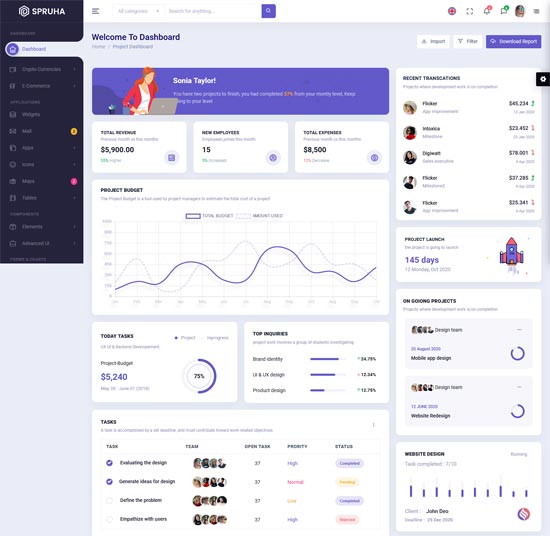 More info / download Demo Get Hosting
Huro
The Bulma Admin and Webapp UI kit, also known as Huro, is a versatile product that has been painstakingly created using a lot of time and work. Its name comes from the Japanese word for "huro." It provides you with pre-made pages so that you can begin the process of building your application with ease.
Additionally, it provides you with a collection of additional parts so that you can develop new pages that are adapted to your specific requirements. Dashboards, forms, layouts, profiles, applications, elements, components, and a huge number of other things, in addition to everything else you require to get started, are all included in this package. To set the record straight, Huro is not a WordPress theme; we appreciate your attention to this topic.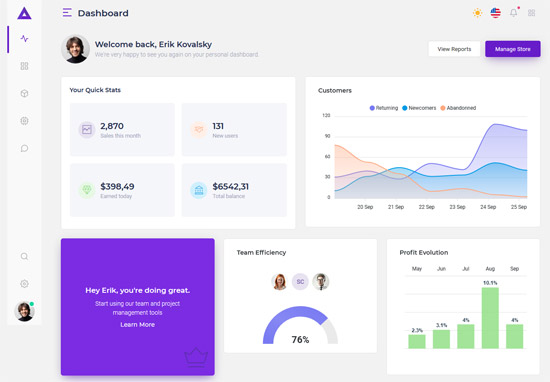 More info / download Demo Get Hosting
Ubold
Ubold is an expensive administrative template that includes all the bells and whistles you could ever want to see in a template of this type. It was built with not only HTML5, CSS3, and jQuery, but also the exceptional Bootstrap 5.2.0-beta-1 framework as its basis. There is a sizeable quantity of hand-crafted components that have already been assembled and are available for usage.
These components can be used immediately. Every one of these components was crafted by hand. This template has a wide range of different customization options, and it is easily modifiable to fit all of your requirements and requirements with minimal effort. Because any programmer can readily understand this code, it is now easy for them to change this template into an actual internet application.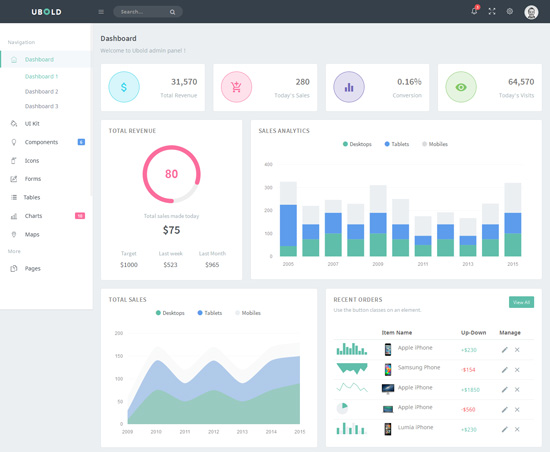 Demo More info / Download Get Hosting
Limitless
The brand-new professional admin dashboard design known as Limitless is built on the framework Bootstrap, which acts as the base for the design. Limitless is a piece of software that is highly powerful and versatile, and it can be used for nearly any kind of web application. Included in the package are one core layout and three variations, one thousand or more pages of HTML with comments, one thousand or more components with a range of features and options, one hundred or more plugins and extensions, etc.
Your developer will have an easier time of things thanks to the Starter kit that is included with Limitless. This kit contains a variety of blank pages. The Limitless template looks great on a wide variety of devices, including mobile phones and tablet PCs, thanks to its fully responsive design.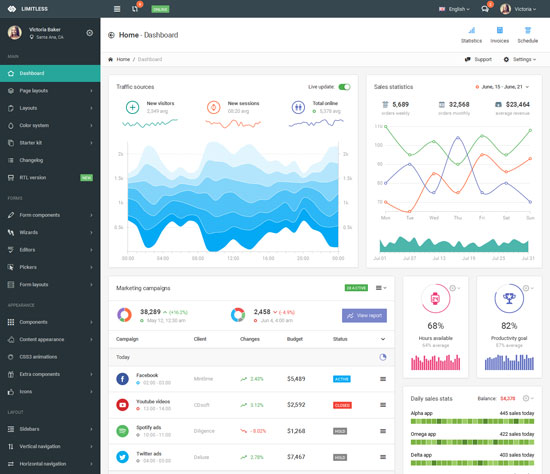 Demo More info / Download Get Hosting
Fuse
Fuse is an Angular admin template that features application and page layouts, user interface elements, and best practices for user experience. It is both modular and multi-layout in its design. Because of the multi-layout configuration, it is possible to employ several template layouts without having to make substantial changes to the main structure of the template.
This is made possible by the fact that the configuration supports multiple layouts. In addition to this, it enables the creation of a unique configuration for each route. Fuse is an extremely flexible framework since it allows you to have any kind of page design within the same codebase.
This makes it possible for Fuse to accommodate a wide variety of website needs. This is made feasible by the fact that you are given the ability to design a unique layout for each route that you take.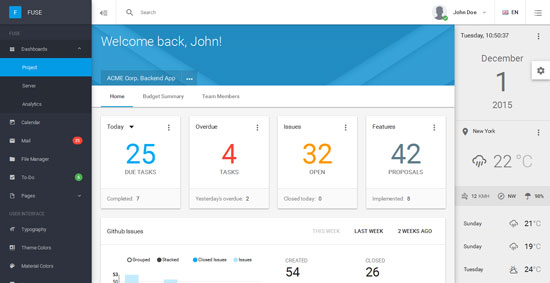 Demo More info / Download Get Hosting
In conclusion to this, we make it possible for you to utilize any kind of admin dashboard design that is written in HTML code, and we assure that the layout of HTML may be readily adjusted. It is an absolutely spotless and uncomplicated HTML admin templates that features a responsive layout that is suitable for use with a wide variety of different sorts of electronic gadgets.