In today's fast-paced digital era, every software or app needs an online presence to reach its potential users. But building a website from scratch can be a tedious task, especially if you aren't well-versed in web design. That's where website templates come in! Dive into our latest post where we shed light on the top app and software website templates.
Whether you're launching a cutting-edge mobile app, a SaaS solution, or a desktop software, there's a template that can make your digital presence shine. Discover the features, advantages, and best practices for selecting the perfect template that aligns with your product's identity. Plus, we'll provide insights into design aesthetics, responsiveness, and user experience, ensuring your site stands out in the vast online realm.
Techwind
Techwind is a versatile landing page template designed for apps, SaaS, and software. Crafted with precision, it uses the latest versions of Next 13.4.12, React v18.2.0, and Tailwind CSS v3.3.3. This pixel-perfect template is ideal for startups, cloud hosting, businesses, portfolios, digital marketing, and much more. It boasts a 100% responsive design, ensuring a flawless appearance on any device. Users will be captivated by its modern design and outstanding user experience (UX). Plus, its flexibility makes customization a breeze, seamlessly integrating with other components.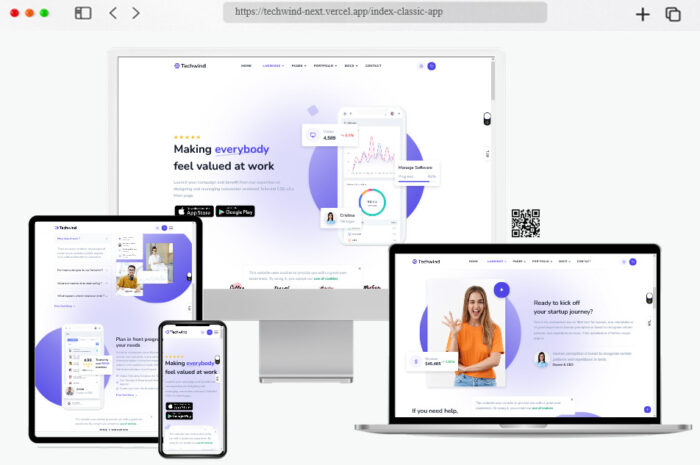 More info / download Demo
Martex
Introducing Martex, a dynamic collection of landing page templates designed to elevate your Software, App, SaaS, Startup, or business projects. Crafted with NuxtJS 3 and VueJS 3, this template guarantees flexibility and creativity. Whether viewed on Desktops, Laptops, iPads, iPhones, Android Mobiles, or tablets, your content will be presented beautifully. With a modern aesthetic and high customizability, Martex embodies the best practices in web development. Create an exceptional website layout effortlessly and showcase your ideas with style.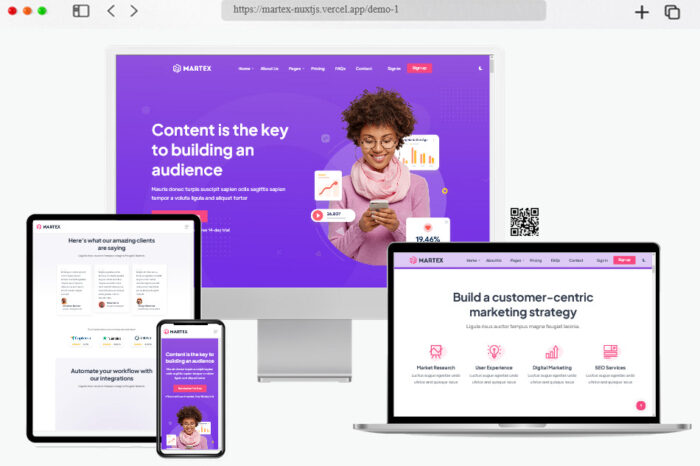 More info / download Demo
Softec
Softec is a top-tier design choice for businesses looking for a modern and unique template. Designed to be clean and responsive, it is ideal for any business type, especially those in the technology sector. Whether you're launching a startup, establishing a tech company, or offering IT services and solutions, Softec provides user-friendly and 100% responsive layouts. To guarantee a seamless user experience across various devices, the template has been rigorously tested on laptops, mobiles, and tablets. This ensures that your website will look and perform optimally, no matter where your audience accesses it from.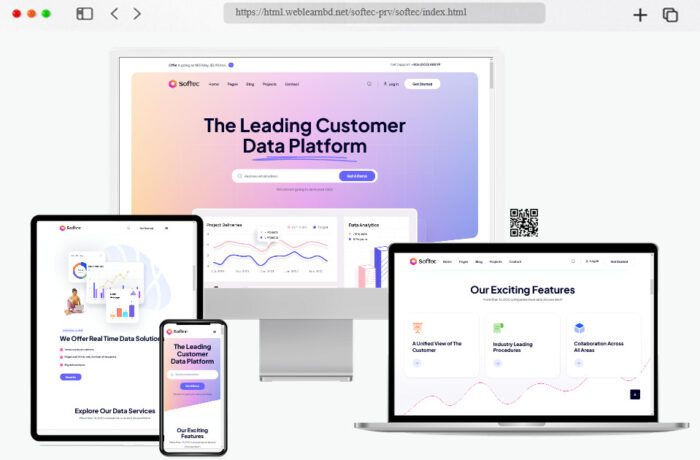 More info / download Demo
NioLand
NioLand is a versatile and responsive website landing page template optimized for Desktops, Tablets, and Mobiles. Crafted using Bootstrap 5, HTML5, CSS3, Vanilla JS, and SASS, it offers 15+ homepage designs and 30+ ready-to-use inner pages. The template's organized structure and cleanly commented code make it user-friendly. Ideal for SaaS, startups, and tech ventures, NioLand facilitates easy customization with gulp-based tools and scss variables, allowing swift changes to colors, fonts, and more. With NioLand, designing your website to your preference is straightforward.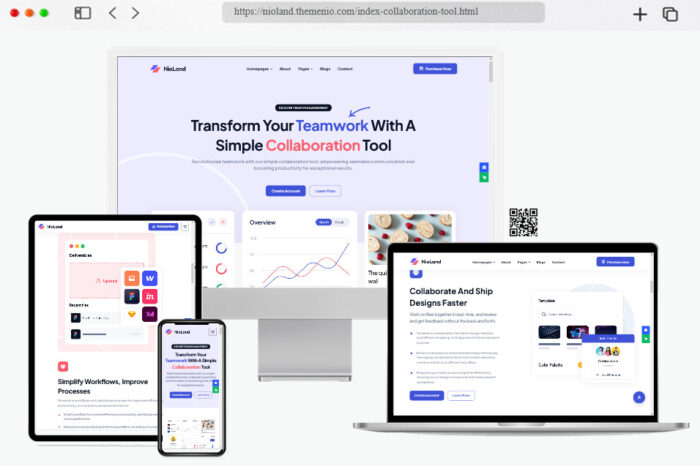 More info / download Demo
Sala
Sala is a dynamic HTML template tailored for contemporary startups and tech enterprises aiming to deliver exceptional digital experiences. With its clean, fast, and responsive design, Sala optimizes performance for startup agencies. It serves as a versatile foundation for building websites across domains such as startups, apps, SaaS, crypto, software, and IT services. The template ensures seamless display on various devices, including desktops, laptops, iPads, iPhones, Android mobiles, and tablets.
Sala is a highly customizable and visually appealing modern react template that integrates top-tier web development practices. It encompasses an array of features, including 100+ valid HTML files, 27 home pages, 3 about pages, 3 contact us pages, 3 services pages, 20 blog pages, and 14 portfolio pages, enhancing your ability to create an exceptional website layout.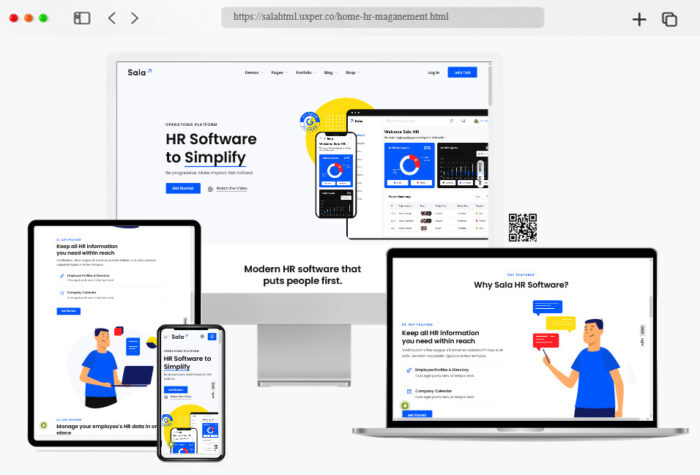 More info / download Demo
APPER
APPER is a contemporary and distinctive HTML template crafted for businesses centered around apps. Designed on the Bootstrap 4 – 1170 Grid System, it is ideal for showcasing app landings, app showcases, and related industries. It features user-friendly HTML files that are effortlessly customizable, allowing easy adjustments to fit specific requirements. A standout feature includes the ability to alter the entire template's color scheme with a single click. Moreover, APPER offers six diverse hero banner designs for enhanced versatility in presentation.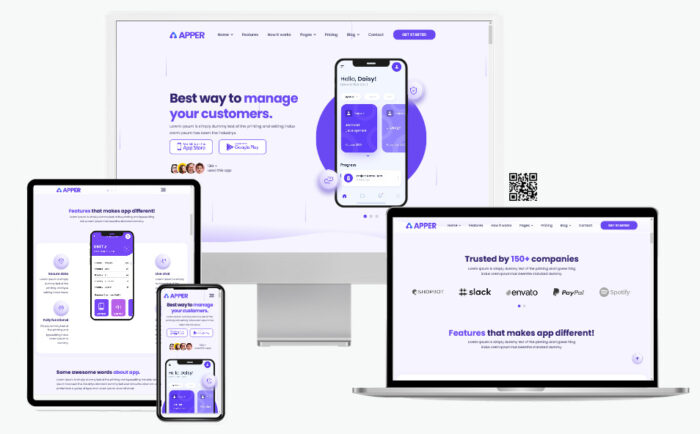 More info / download Demo
Iteck
Iteck is a cutting-edge Software & Technology ReactJs Template constructed using NextJs, making it an ideal choice for modeling business startups, IT services, and digital agencies. Its responsiveness is based on the Bootstrap framework, ensuring seamless adaptation to various devices. The template's files and code are thoughtfully organized and thoroughly commented, facilitating easy customization to suit individual preferences. Whether you're in the tech industry or starting an IT venture, Iteck offers a structured and user-friendly foundation for your online presence.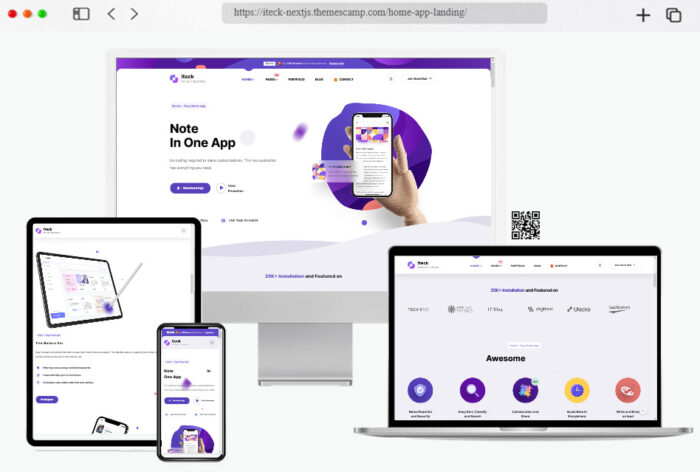 More info / download Demo
Quiety
Quiety is a potent and user-friendly Nextjs template tailored for IT solutions and SAAS businesses. It stands out for its ease of use, mobile compatibility, high customization potential, and SEO-friendly design. Developed using the Bootstrap 5 CSS framework, it offers 11 impressive homepage designs and over 34 inner pages, providing extensive options for customization.
The template ensures responsiveness on all devices, delivering an attractive appearance across various screen sizes. With a foundation in React, Quiety is a powerful resource exclusively designed for companies, agencies, and startups engaged in creating desktop and mobile applications, SaaS offerings, software solutions, IT services, and digital products.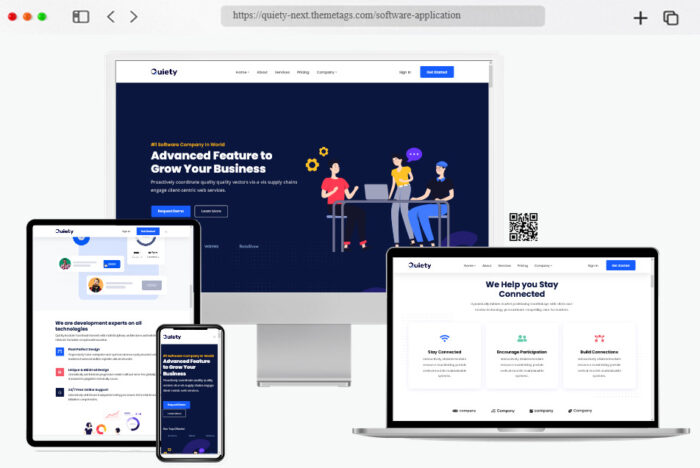 More info / download Demo
Deski
Deski is a remarkably distinct, modern, and responsive React Template catering to a wide range of websites including business, events, SAAS, software, IT solutions, SEO, agencies, portfolios, documentation bases, and blogs. Its design is not only creative and unique, but also remarkably easy to customize and further utilize.
The template boasts an array of features including being built with the latest React v18+ and Bootstrap v5+, 16 diverse homepage designs, 63+ pages, 180+ reusable component blocks, and 5+ portfolio pages. For those seeking a dynamic, flexible, and visually engaging React Template, Deski offers an impressive suite of tools and design elements.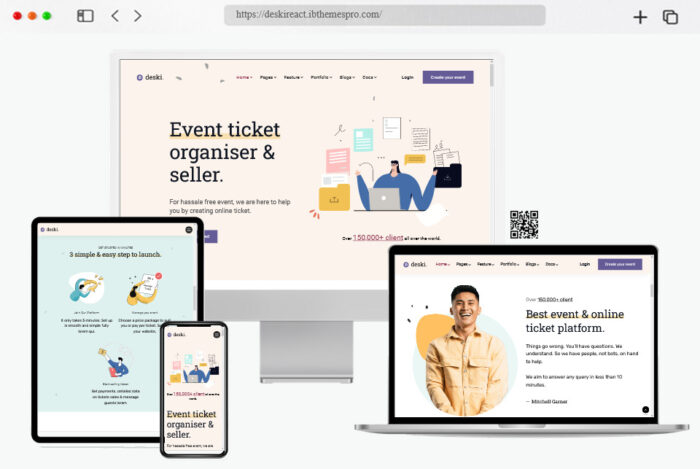 More info / download Demo
Landrick
Landrick stands as a robust Saas & Software Bootstrap Template, serving a multitude of purposes. It excels as an HTML template suitable for startups, coworking spaces, cloud hosting, car ride services, classic saas ventures, events, businesses, educational courses, personal portfolios, and much more.
This template caters to enterprises, single-product portfolios, social media and digital marketing agencies, online learning platforms, career sites, customer support, one-page landing pages, and more. Equipped with the latest Bootstrap v5.2.3 and a Gulp setup, Landrick offers a flexible and responsive foundation for diverse industries and purposes.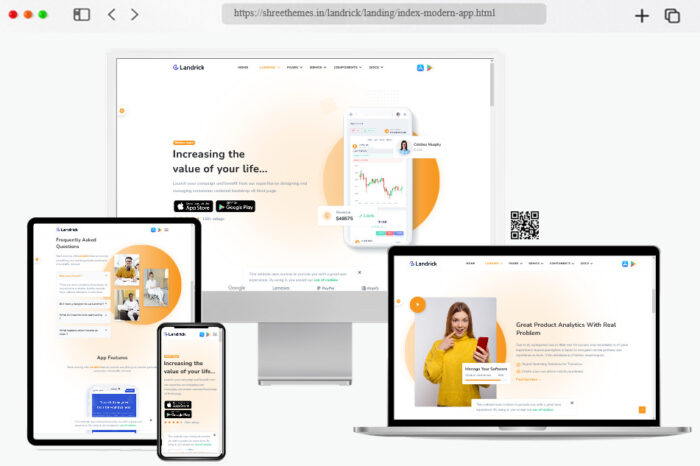 More info / download Demo
SaasLand
SaasLand is a versatile HTML5 template tailored for a wide range of Saas products, software, startups, app showcases, and associated products/services. Its responsive design ensures that it looks impressive on all screen sizes and devices. SaasLand serves as an optimal platform to effectively present and market startup saas applications, mobile apps, software, and digital products.
The template's unique user experience (UX), combined with its clean, modern, and beautiful design, is sure to attract users and leave a positive impression. Whether you're showcasing software or mobile apps, SaasLand provides an ideal avenue for captivating presentation and promotion.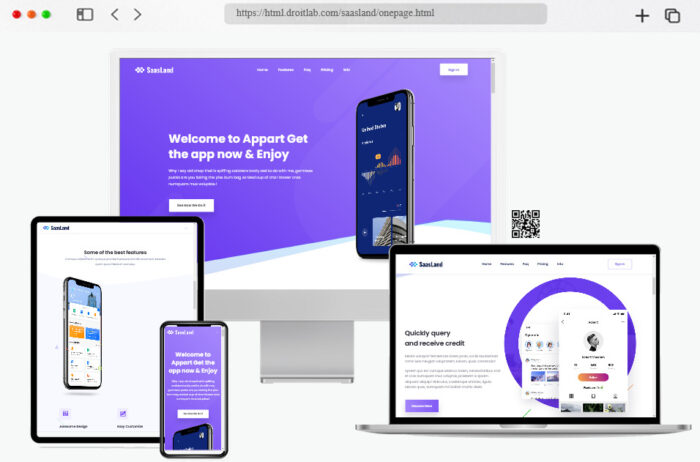 More info / download Demo
Sofbox
Sofbox is a sleek and powerful HTML template designed for Saas, WebApps, and software landing pages. Boasting a modern and captivating UI/UX, it's a comprehensive solution for various web projects. The template includes five impressive landing page variations: Email Marketing Software, Online Marketing, Page Builder, Project Management, and a standout Saas Landing page.
With more pre-built options in the pipeline, Sofbox offers a harmonious and elegant design that enhances the appearance of your website. It's optimized for seamless performance across major web browsers, tablets, and smartphones. Sofbox's combination of stylish aesthetics and functionality makes it an excellent choice for presenting your Saas, WebApps, and software offerings with a professional and polished look.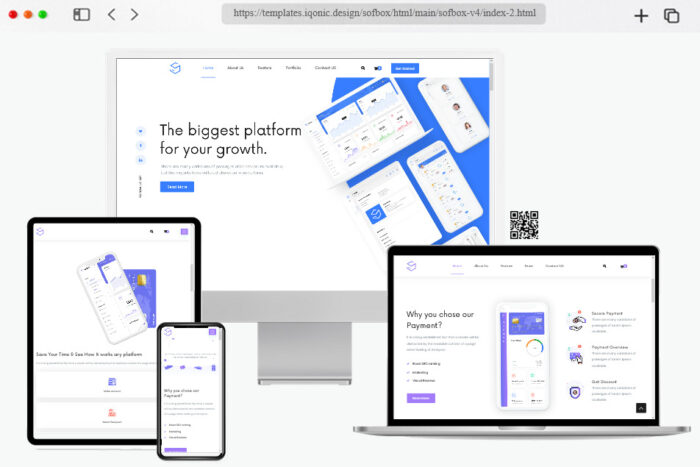 More info / download Demo