Looking to create a sleek and stylish website for your barber shop? Check out our latest blog post on Barber Shop Website Templates! From classic barber shops to modern grooming salons, we've curated a list of the best templates that cater to your business needs. These templates offer eye-catching designs, appointment booking systems, galleries to showcase your work, pricing tables, and much more. Whether you're a traditional barber or a trendy grooming lounge, these templates will help you establish a strong online presence and attract more clients. Dive into our blog to discover the perfect template for your barber shop and take your business to the next level!
Blaxcut
Blaxcut is a specialized website template crafted for barbershops and hair salons. Designed by an experienced ThemeForest author with over 15 years of expertise, it boasts a unique and professional design. With top-notch coding and design practices, Blaxcut offers a range of stunning styles and elements, enabling you to create a professional website swiftly and effortlessly.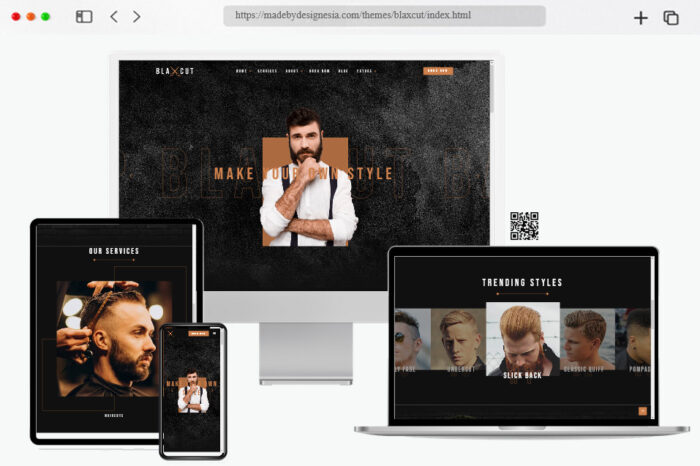 More info / download Demo
Perukar
Perukar Barber Shop Template offers a minimal, modern, and clean design, making it an excellent choice for professionals in the barber, hair salon, beauty, and styling industries. This template is perfect for showcasing your work and services to clients. With a strong first impression, Perukar provides a live preview that's highly customizable to match your needs. Built with tools like Bootstrap Framework, Owl Carousel, Animate, Themify Icons, and more, this template ensures a sleek and engaging website design that leaves a lasting impact on visitors.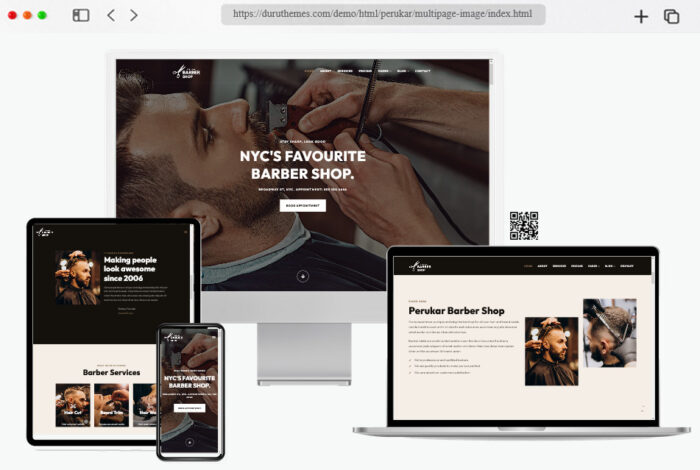 More info / download Demo
Qutter
Qutter is a fully responsive HTML template designed for Barbers & Hair Salons, making it an excellent choice for professional barbershops and hair salons. With five elegant home variations and essential internal pages, Qutter is tailored to captivate potential customers. The template is well-documented, easily customizable, and designed to load quickly and seamlessly across all modern browsers and devices. It caters to users with varying levels of programming skills, making it suitable for both beginners and advanced developers.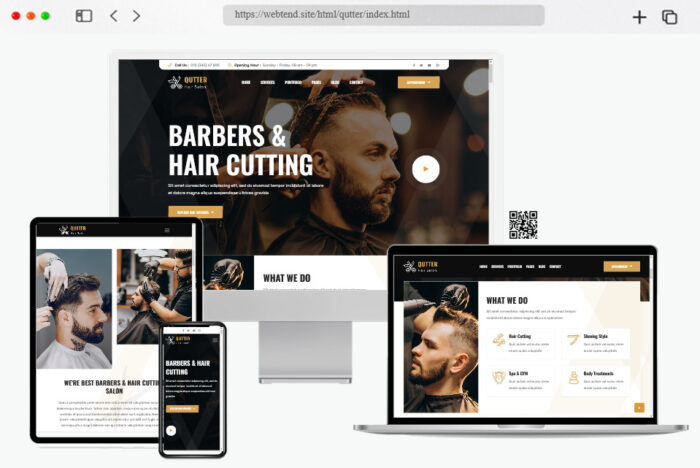 More info / download Demo
Barbercrop
Barbercrop is a stylish and minimal website template designed for various hairdressing services, making it perfect for barbershops, beauty salons, and individual beauty professionals. The template offers essential blocks to create an informative and engaging presentation of your services and products. It features two Services pages, a Team section, a Gallery, and other essential pages for a comprehensive website.
Built with Bootstrap 5, Barbercrop is responsive, clean, and adheres to HTML5 and CSS3 standards, ensuring easy customization to meet your specific needs. The template's design remains impressive and consistent across different devices, providing an optimal viewing experience for all visitors.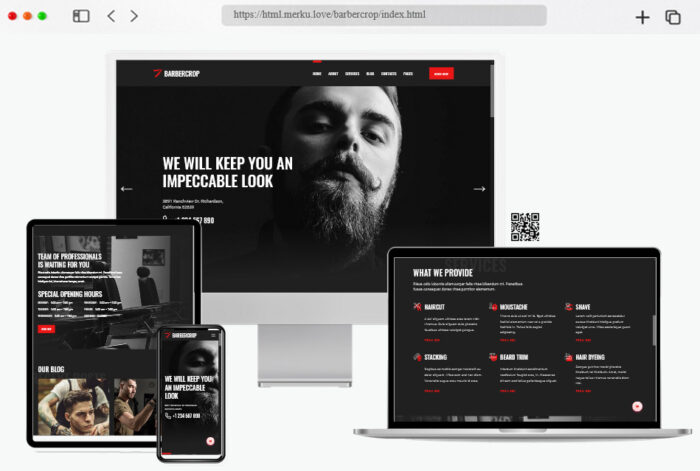 More info / download Demo
Arowana
Arowana is a versatile and responsive HTML template designed for various purposes, including Beard Oil, barbershops, haircare shops, and e-commerce platforms selling hair and beard products. It's a clean and modern template suitable for a wide range of businesses, from barbershops to oil shops. Built with Bootstrap 4 framework, it offers a responsive design that looks great on all major browsers, tablets, and mobile devices.
The template includes two elegant home variations and essential internal pages to effectively showcase your products and services. It features attractive product styles, a clean aesthetic, a coming soon page, and a contact section with a functional form. With its flexibility and customization options, Arowana provides a solid foundation for building an engaging and visually appealing e-commerce website.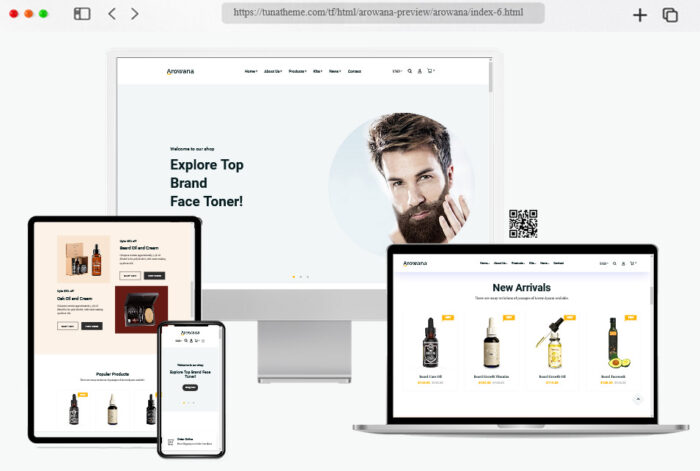 More info / download Demo
BarberShop
BarberShop is a versatile template suitable for various businesses such as barber shops, hair salons, tattoo designs, haircuts, and fashion-related services. With three different home variations, BarberShop offers options to cater to different styles and preferences. The template is well-organized and highly customizable, making it easy to tailor to your specific needs.
BarberShop is an effective way to showcase and promote your barber shop, hair salon, tattoo design, haircut, hair design, and fashion-related services. It's designed to be fully responsive, ensuring that your website looks great on all devices, including mobile phones, tablets, and desktops. Whether your visitors are browsing from any screen size, BarberShop will adapt accordingly.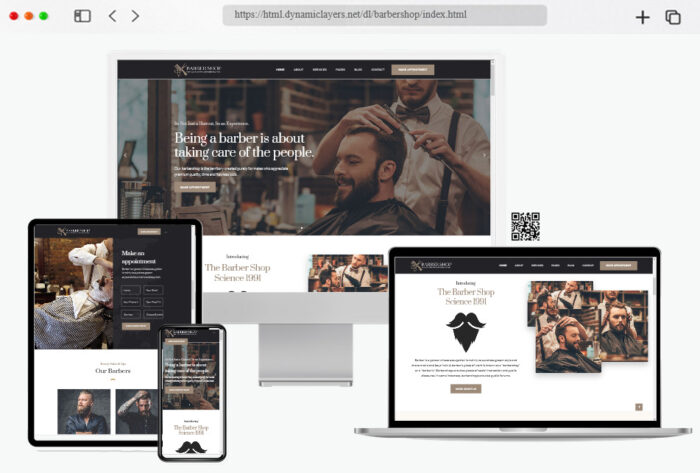 More info / download Demo