In this blog post, you can showcase a curated list of beautifully designed and functional beauty salon website templates. You can discuss the key features, customization options, and unique elements of each template. Highlight how these templates can help beauty salon owners create an attractive online presence for their businesses. Choosing the right template for different types of beauty salons, such as hair salons, nail studios, spas, and skincare clinics website.
Rasm
The Rasm is an HTML template tailored for Beauty Spa Care & Nail Salon businesses. With its stunning and distinct design, it's a perfect fit for establishing a compelling online presence. The template offers four different homepage demos along with 25+ HTML pages containing thoughtfully designed blocks that can be easily customized to match your requirements. This template is an ideal solution for creating distinctive and engaging websites for beauty, spa, care, and nail salon businesses.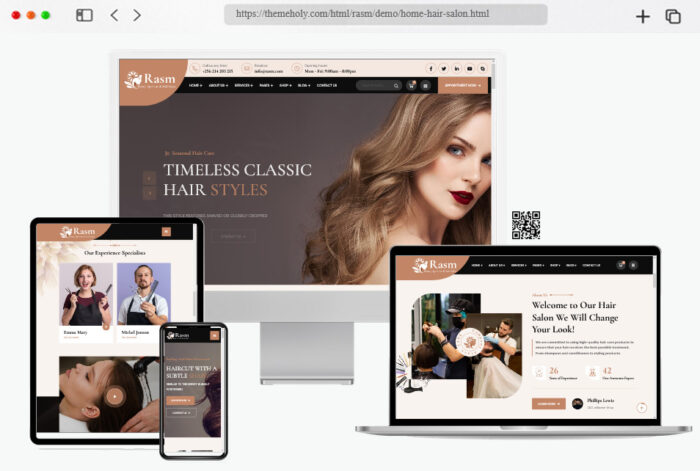 More info / download Demo
Pulchritude
Pulchritude Nail Art Salon and Booking HTML Template is a modern and elegant solution designed for nail salons and beauty businesses. Its visually appealing design, customizable sections, and integrated booking system create a seamless online experience for clients. This template allows you to showcase nail art services, simplify appointment bookings, and enhance salon efficiency.
Built with HTML5, Sass, and Bootstrap 5, it offers a range of nail spa, nail bar, and nail polish templates, along with various pages and features catered to nail care services. With Pulchritude, you can elevate your online presence and attract more clients to your nail art salon.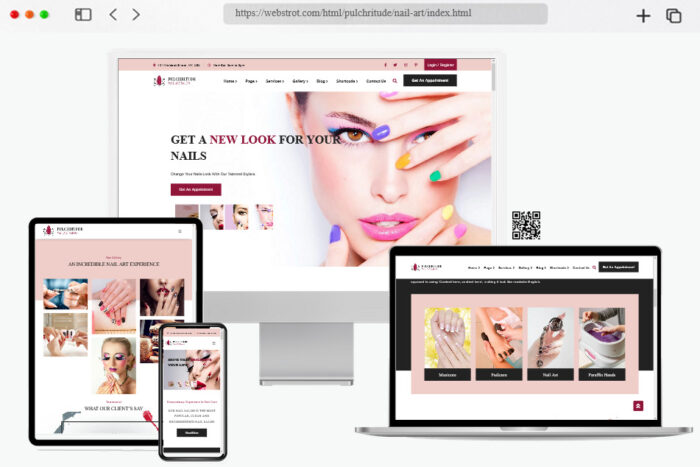 More info / download Demo
BonFax
BonFax is a responsive and modern HTML Bootstrap Multipurpose Template, primarily designed for showcasing services and selling products. It's versatile and suitable for various types of websites, particularly tailored for Beauty, Spa, Salons, Yoga, Barbershop, Care, Hair, Health, Massage, Medical, Physiotherapy, Wellness Center, Makeup, Cosmetic, Treatment, and personal websites. The template offers a clean design and is optimized for multiple purposes within the beauty and wellness industry.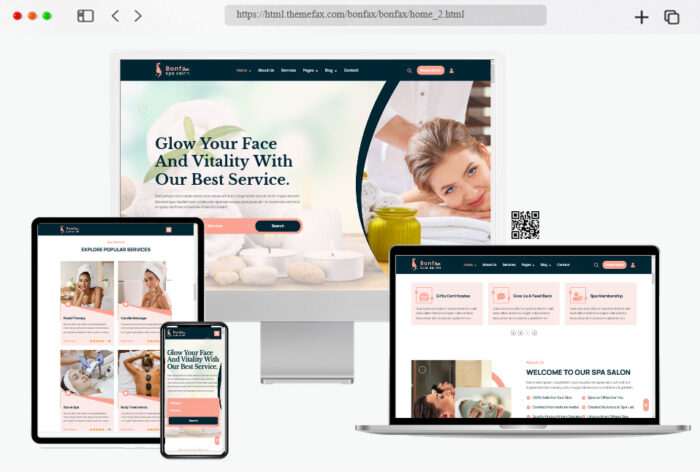 More info / download Demo
Wellnez
Wellnez is a clean and responsive HTML5 Template designed for various beauty and wellness-related businesses such as Beauty Salons, Spas, Yoga Studios, Barbershops, Health Centers, Massage Clinics, Medical Facilities, Physiotherapy Centers, Makeup Studios, and more. The template offers a range of features including an attractive homepage design, the ability to customize colors, and an Appointment form for easy scheduling. With Wellnez, you can choose the design that best suits your specific type of beauty, wellness, or spa business.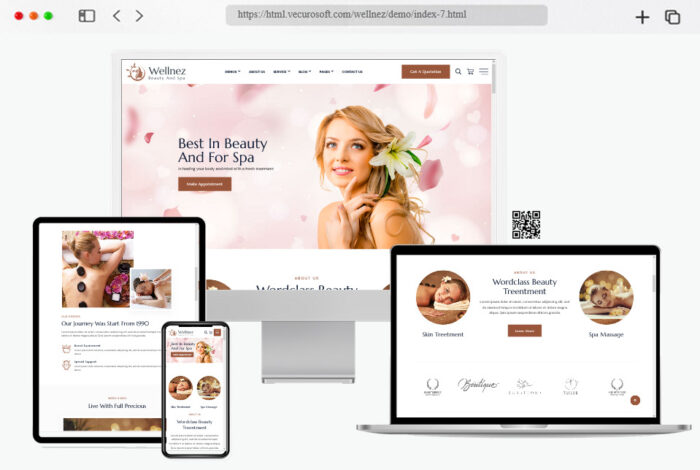 More info / download Demo
Mellis
Mellis is a contemporary HTML Template designed for Beauty, Spa Centers, Hair, Nail, Spa Salons, and Cosmetic shops. It's well-suited for Beauty Spa, Salon, and Wellness Treatment websites and businesses. The template offers 3 Home versions, 10 Inner pages, Swiper and OwlCarousel Slider integrations, and is built on the Advance Bootstrap 5.x Framework. With valid HTML5/CSS3, CSS3 Animations, and SEO-optimized code, Mellis provides a modern and feature-rich solution for beauty and spa-related online platforms.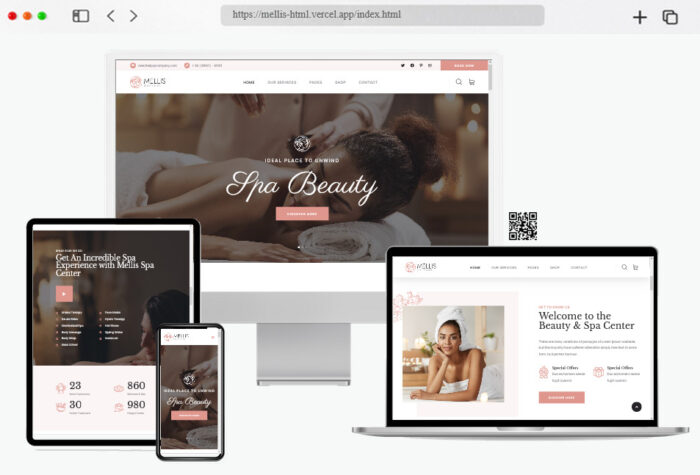 More info / download Demo
Fallspa
Fallspa is an HTML template for a hair salon, wellness center, yoga or meditation classes, or any other business in the health care field. Each section was made to look fresh and modern so that your services, treatments, and the benefits of each could be seen in a charming way.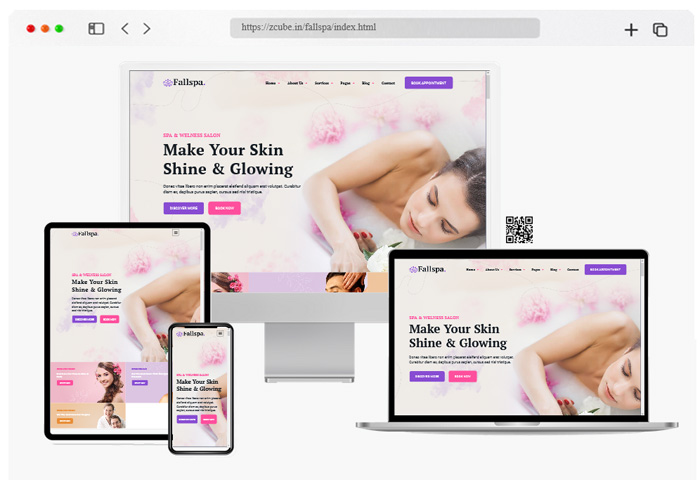 More info / download Demo
Haarino
Haarino is a simple, flexible, and extraordinary hair salon website with everything you want. We have previously examined over a hundred successful beauty websites and determined what makes a great website in practice.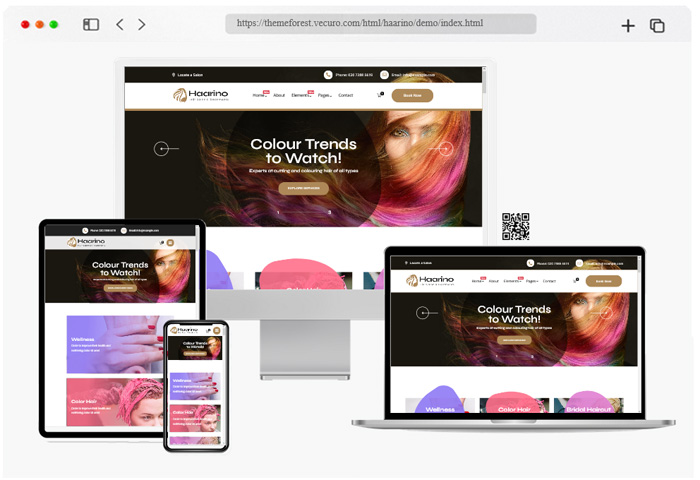 More info / download Demo
Aphrodite
Aphrodite is a fully responsive multipage HTML5 template tailored for beauty-related websites such as Beauty Salons, Cosmetic Procedures Clinics, Hairdressers, Manicures, and Spas. The layout is elegant and user-friendly, making it ideal for those seeking both aesthetics and functionality.
Built on the latest Bootstrap 5.3 Framework, the template offers customization options for every section, including 2 homepage variations and 5 ready-made Color Skins. With features like Valid HTML5 pages, GSAP Animations, and a Vertical Menu, Aphrodite provides a fast and visually appealing solution for creating stunning beauty-focused websites.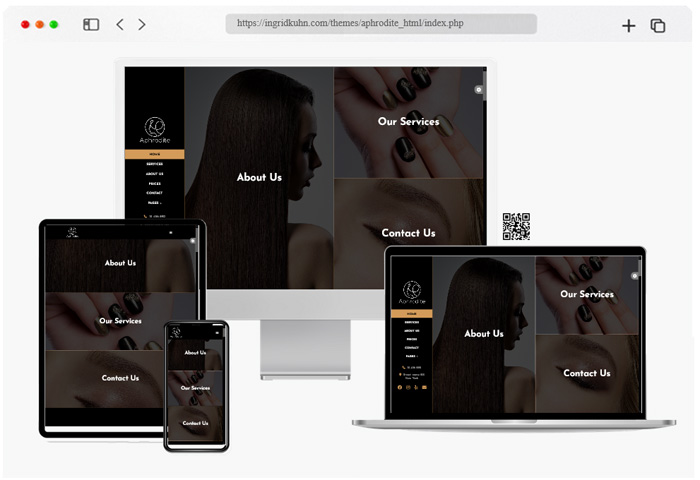 More info / download Demo
Berfey
The Berfey Beauty & Cosmetics eCommerce HTML5 Template is meticulously developed using Bootstrap 4, CSS3, and HTML5. This HTML Template design is well suited for a store template for an eCommerce website. It was built using contemporary design and typography standards. All of the files are modifiable, and we've provided beginner-friendly instructions so that anybody may modify them.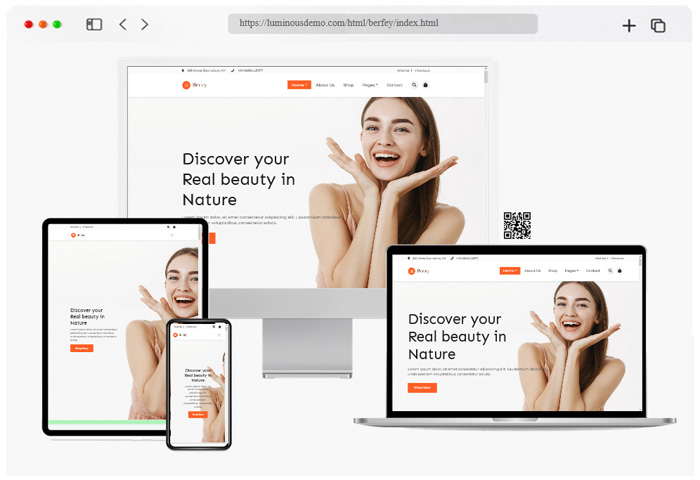 More info / download Demo
La Notte
La Notte is an HTML5 template designed for Nail Salons. It provides a modern and responsive platform to create websites for nail salons and related beauty businesses. The template's layout is crafted to showcase salon services and create an engaging online presence. With its clean design and user-friendly interface, La Notte offers a seamless experience for both salon owners and potential clients. The template is built using HTML5 and is equipped with features suitable for presenting nail services, pricing, appointment booking, and more.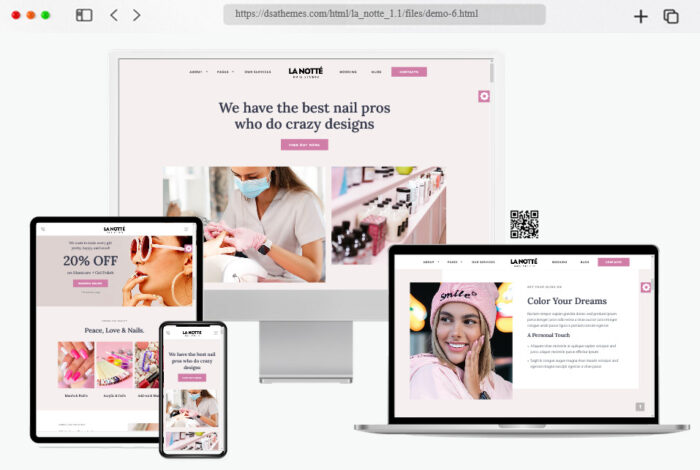 More info / download Demo