Blog website templates are the foundation upon which successful blogs are built. A well-designed and user-friendly template can not only enhance the overall appearance of your blog but also improve its functionality and user experience. In this blog post, we will delve into the world of blog website templates and explore how to choose, customize, and optimize them for maximum impact and engagement.
A well-optimized blog website template is not just a pretty face but a crucial element in the success of your blogging journey. By understanding how to choose, customize, and optimize your template, you can create a captivating and efficient platform that resonates with your audience and drives meaningful results. Implement the insights shared in this guide, and watch your blog thrive in the competitive online world.
Genz
Genz is a clean, modern, and creative niche-specific blog template, catering to Technology, Lifestyle, Fashion, Beauty, and Travel enthusiasts. It is designed to showcase the most interesting media content and fulfills all the necessary requirements for blog lovers. The template includes popular features to enhance your storytelling and present your content in a stylish manner. With Genz, you can create an engaging and visually appealing platform to promote your interests and captivate your audience.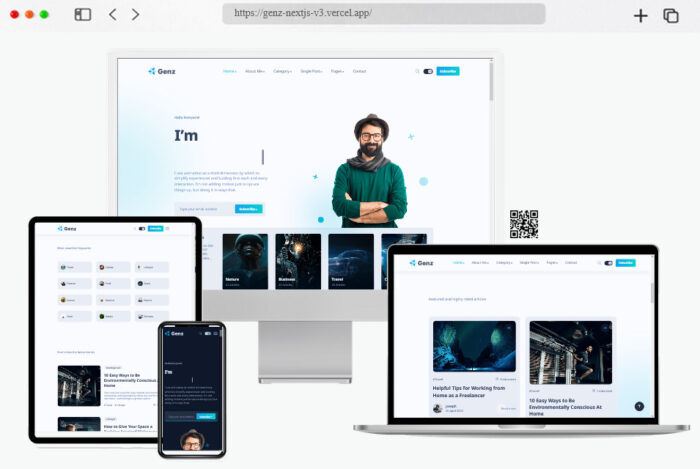 More info / download Demo
Litho
Litho is a versatile blog template with a clean and modern design, built on Bootstrap 5 and powered by React. It offers 37+ ready homepage demos, making it suitable for various business and portfolio needs. With its multipurpose and SEO-friendly features, Litho allows you to create anything with its 200+ ready elements and 230+ pre-made templates. It caters to startups, yoga studios, restaurants, design agencies, travel, cafes, hotels, architecture firms, and more. The template includes 10+ awesome portfolio styles to showcase your work and offers everything you need for a great portfolio presentation.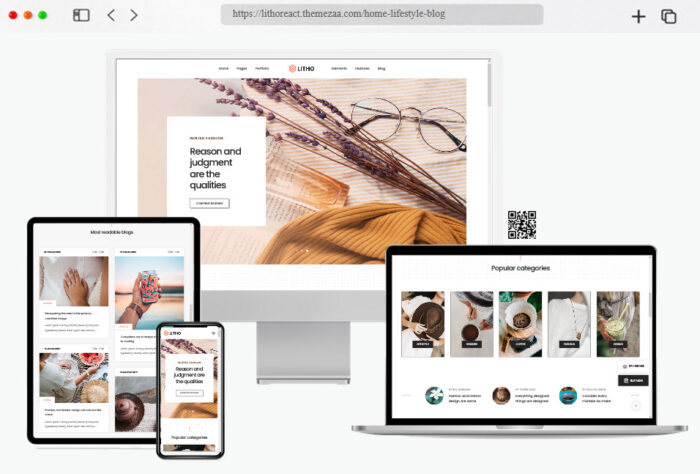 More info / download Demo
Zumar
Zumar is a creative and modern multipurpose template, designed for minimalist blog templates and ideal for creative agencies and business startups. It offers multiple templates with CSS and React animations, making it suitable for web studios and digital agencies as well. The template is responsive, based on Bootstrap, and includes a single-page layout for easy information placement. All files and code are well-organized and commented, ensuring ease of customization. Zumar provides a perfect platform to showcase your creative work and effectively represent your business or agency.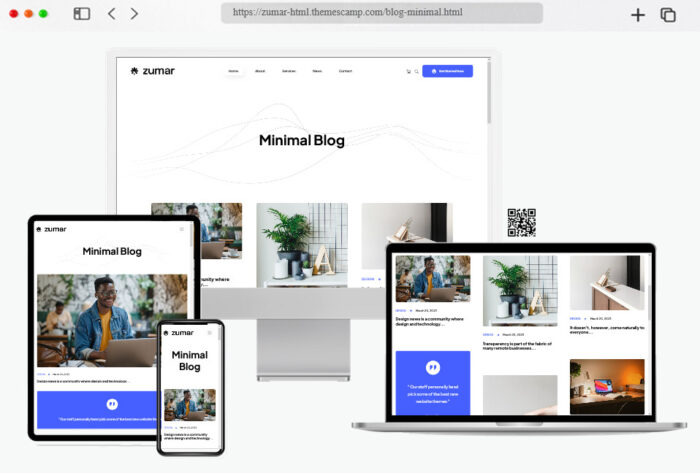 More info / download Demo
Ncmaz
Ncmaz is a modern blog template, built with the latest NextJs 13, React 18, TypeScript, and Tailwindcss, making it responsive and up-to-date. The template features a fresh and contemporary design throughout the website, including smart search modal command, modern post cards, archive pages, search pages, and single pages. Ncmaz stands out with its unique and new-generation style, catering to magazine, news, blog, podcast, and more. It offers a carefully crafted and innovative approach, providing a fresh and appealing experience for users.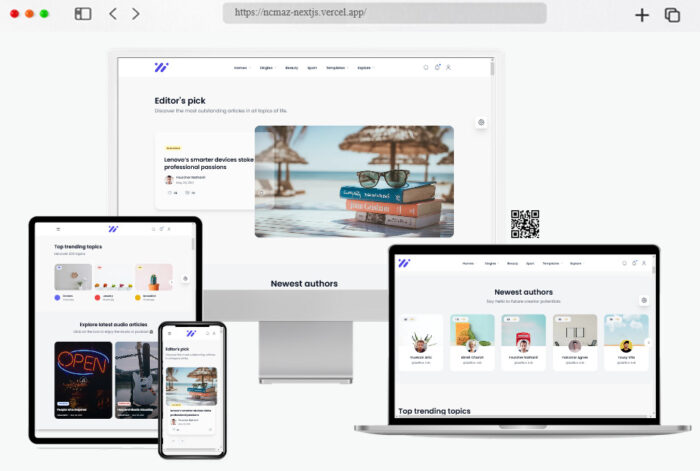 More info / download Demo
Stories
Stories is a premium blog template designed for writers seeking a clean and minimalistic platform to create their personal blogs. With simple and creative features, it enhances the pleasure of reading blog posts and articles. The template offers a variety of adventure and travel blog layouts, making it suitable for all types of blogs. Combining modern, classic, and minimal styles, Stories helps users create a simple and elegant blog. The template comes with a dedicated support center, including documentation and a ticket system, ensuring prompt assistance within 2-4 business days.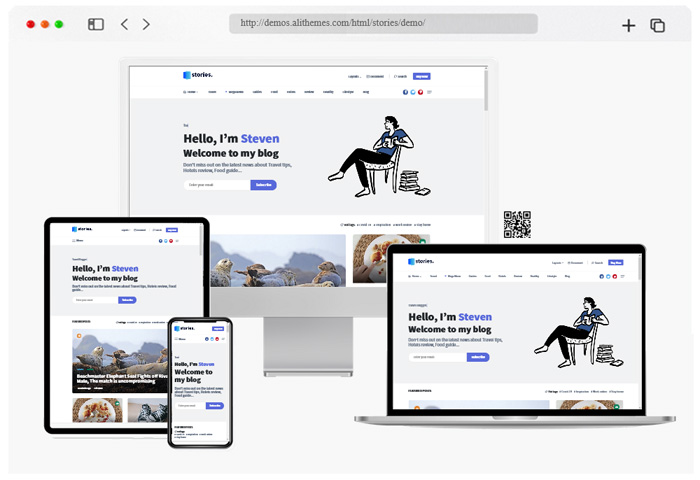 More info / download Demo
Gmag
Gmag is a responsive blog template designed for news magazines, offering a clean and modern design. It is suitable for various categories such as blogs, sports, fashion, science, politics, videos, travel, and more. Perfect for any News/Magazine website or specific business, Gmag helps minimize design costs and avoids the need for expensive web development.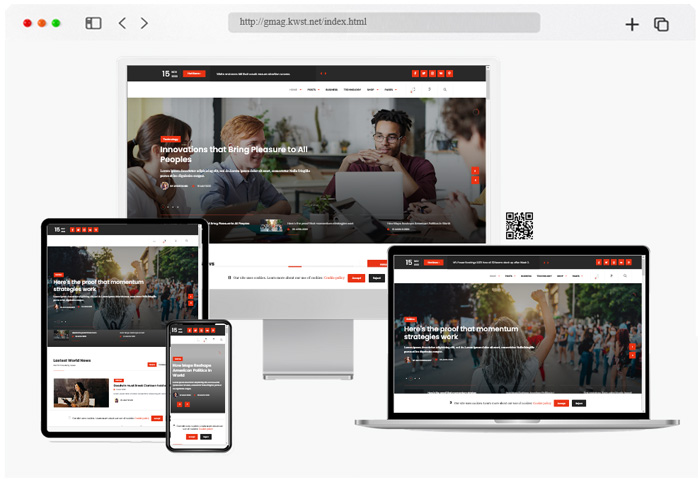 More info / download Demo
Blogar
Blogar is a premium HTML blog template designed for trendy blogs, magazines, and websites. It boasts full responsiveness and great flexibility. The template is well-suited for a wide range of websites, including blogs, magazines, news agencies, travel and tour agencies, business magazines, food and lifestyle brands, as well as technology news websites. It provides a sleek, modern, and clean look, making it a perfect choice for publishing or reviewing websites as well.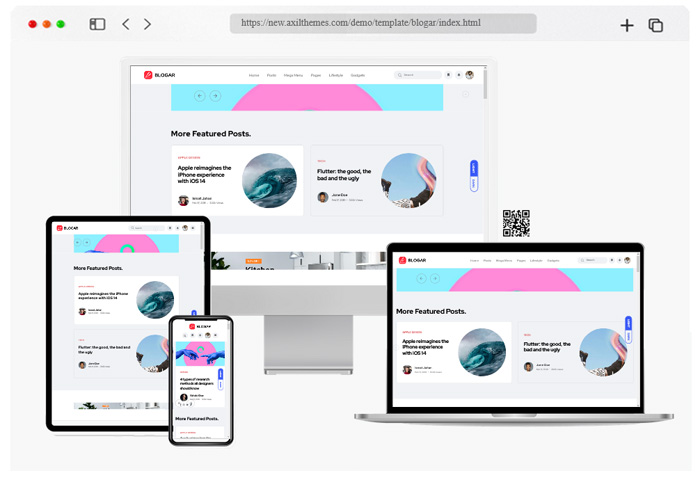 More info / download Demo
D-blog
D-blog is a CSS blog template designed for developers, graphic designers, freelancers, and others. The template aims to provide simplicity, elegance, and easy customization. It focuses on typography and a visually appealing layout, even without high-quality images. With D-blog, developers can concentrate on writing engaging content without the need for image covers, as the template ensures the content looks amazing without them.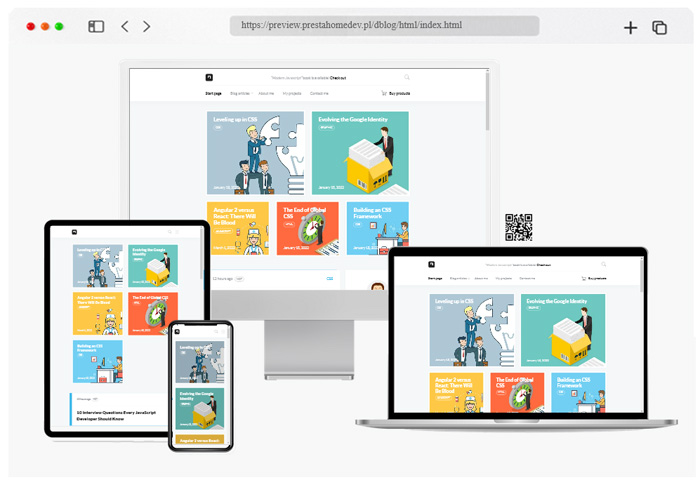 More info / download Demo
Qurno
Qurno is a minimalist blog template built on Bootstrap v5 without any jQuery dependency. It offers all the necessary elements and features to create a responsive blog template with an exceptional user experience. With 15 HTML pages featuring a clean design, users can craft their ideal blog website. The template supports galleries and single images with zoom effects, similar to Medium. Additionally, it includes various elements to create a comprehensive and fully functional blog site.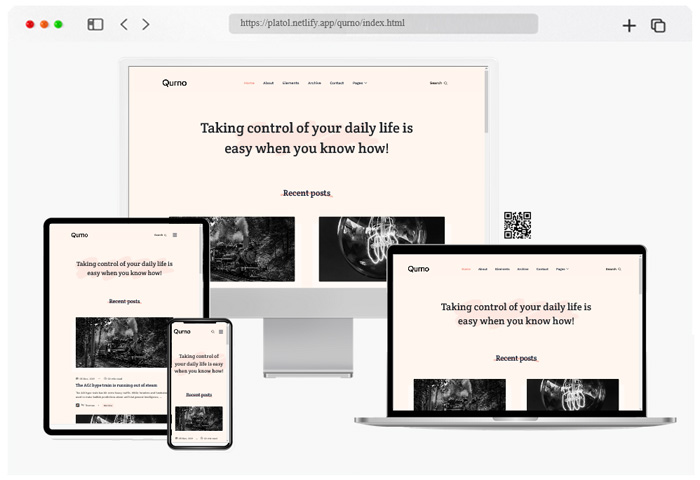 More info / download Demo
Katen
Katen is a responsive and customizable blog template designed for magazines, personal blogs, newspapers, and writers. It offers full responsiveness and complete customization options, allowing users to tailor the template to their needs. The unique web design adds a distinct touch to your website. With 10+ pre-built pages and built using HTML5, Sass, and Bootstrap 5, Katen provides a solid foundation for creating a modern and engaging blog platform.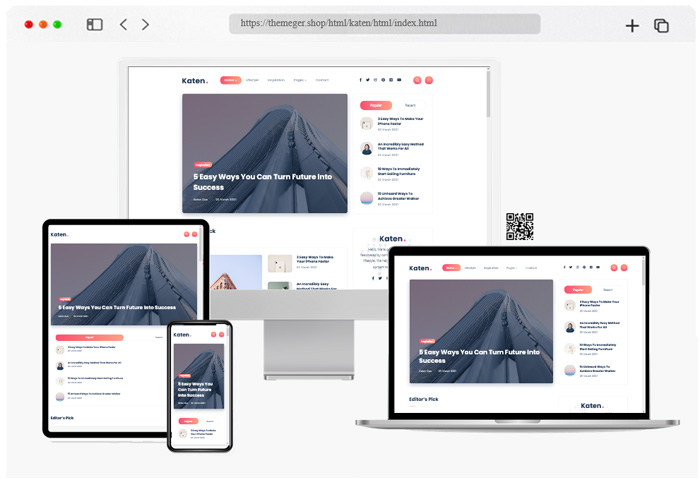 More info / download Demo
Neoton
Neoton is a modern and clean magazine-style blog template suitable for various news, magazine, and blog sites. It offers 03 high-quality homepages and 30+ inner pages, including category pages, author pages, team pages, and about pages. The template comes with multiple blog layouts and is 100% responsive, ensuring seamless display on all smart devices. It is well-documented and clean-coded, making it easy for anyone to customize. Based on Bootstrap 5, Neoton also features powerful contacts and subscription forms. Its responsive design ensures compatibility with all screen sizes.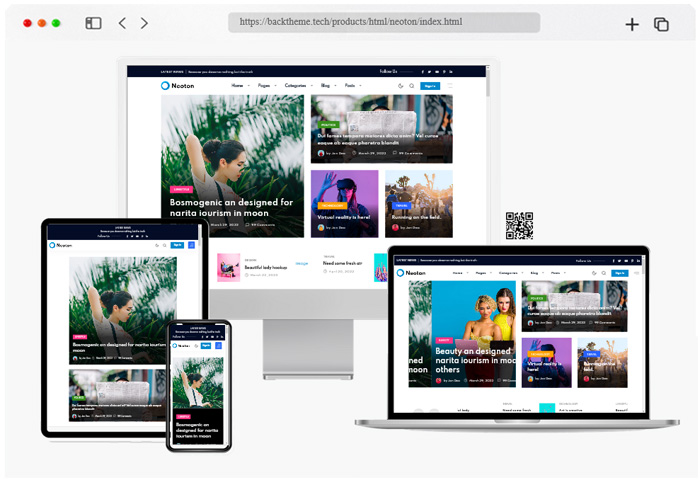 More info / download Demo
Gute
Gute is a user-friendly blog template with a clean and modern design, perfect for online blogging. The template enhances the visual appeal of your work, making it more impressive to viewers. Its on-grid system ensures a sharp and professional appearance on all devices. Additionally, Gute offers the flexibility to convert it into WordPress, Joomla, Shopify, OpenCart, or other system sites. The template prioritizes simplicity and cleanliness to optimize readability, making it suitable for personal blogs, magazines, news websites, and more.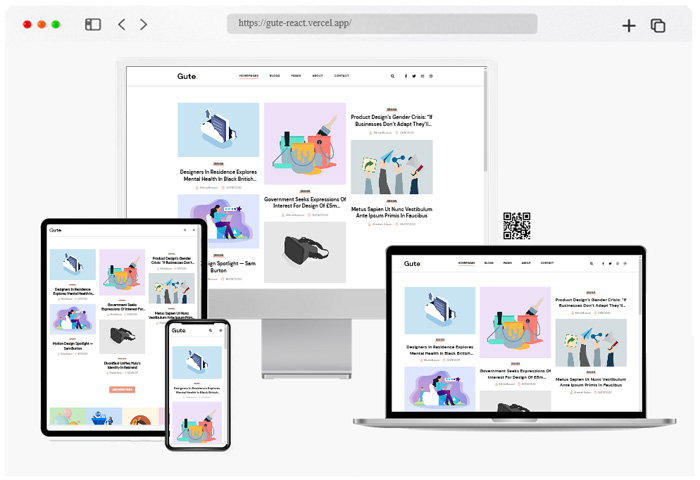 More info / download Demo
Newlog
Newlog is a business blog template built on Bootstrap 5, featuring 4+ HTML pages and offering a range of useful features.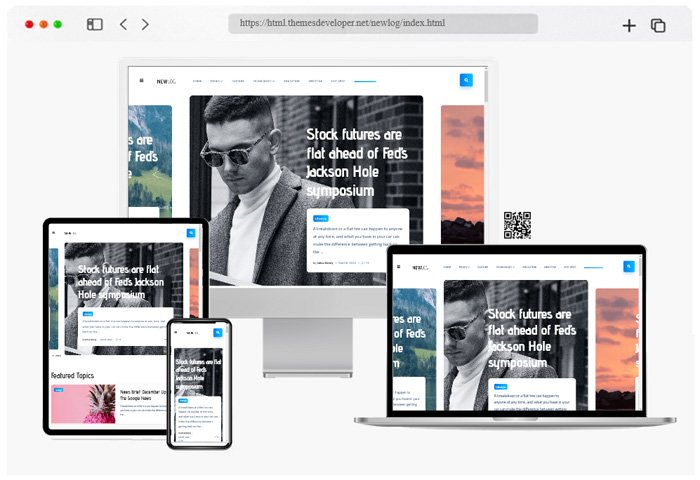 More info / download Demo
Wlog
The Wlog is a clean and minimal HTML template designed for personal bloggers and creative designers. It features a unique design and an amazing layout. Fully responsive and easily editable, it looks great on all devices. The template includes specific transition effects for each page, giving it a distinct feel. It offers two different formats for the homepage and a total of 16 valid HTML5 and CSS3 pages based on the Twitter Bootstrap framework. With a unique and elegant homepage design, The Wlog is perfect for creating a stylish and beautiful blog and magazine website.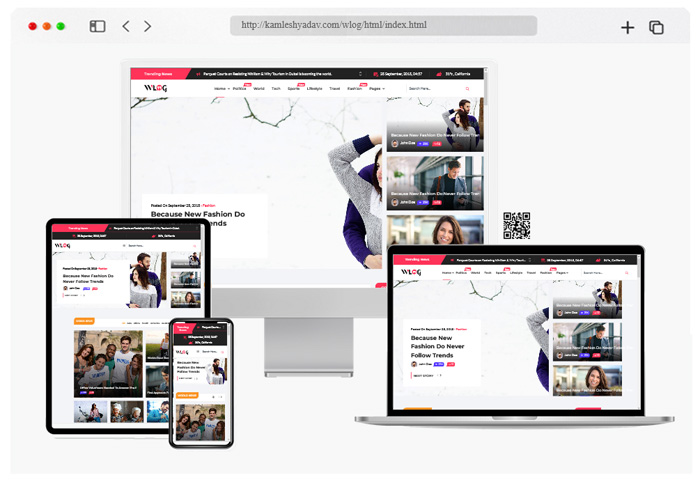 More info / download Demo
Papr
Papr is a blog HTML template that's both stylish and functional. Papr is the perfect choice for anyone looking to start a blog. With its clean layout and easy-to-use features, Papr is perfect for anyone who wants to create a professional blog. With its elegant design and powerful features, Papr is the perfect choice for anyone who wants to create a beautiful and functional blog.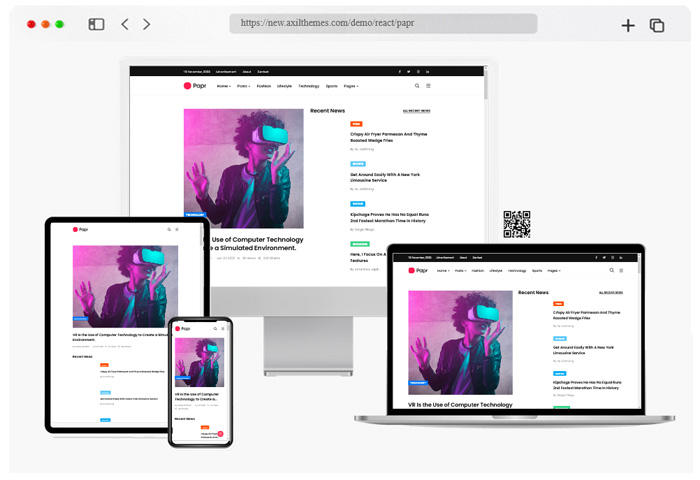 More info / download Demo
Oredoo
Oredoo is a modern and stylish blog HTML template, then you'll love Oredoo. This beautiful template has a clean and minimal design that is perfect for fashion, lifestyle, travel, and food blogs. The homepage features a large header image with an overlaid menu, making it easy to navigate your site.
Plus, the posts are displayed in a grid layout so your readers can easily browse through your content. And if that's not enough, Oredoo also comes with a built-in social media widget so you can share your posts with your followers on Facebook, Twitter, and Instagram. Start creating your dream blog today with Oredoo!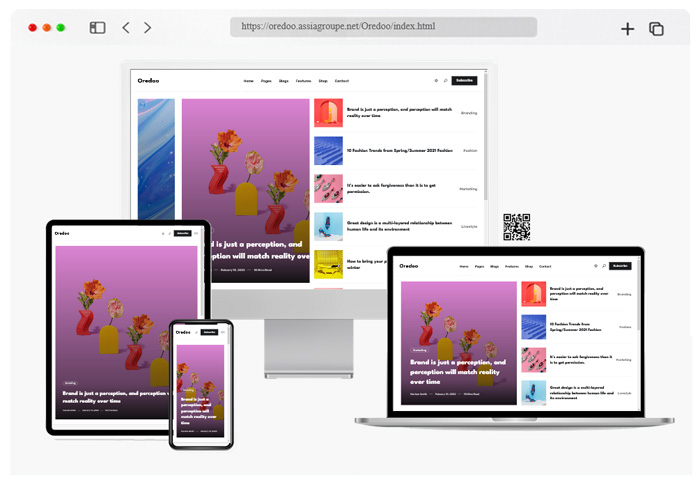 More info / download Demo
Hallwn
Hallwn is a modern, clean and responsive blog HTML template. It's perfect for personal or corporate blogs. It comes with a variety of features and options, making it easy to customize and configure. Hallwn is also SEO-friendly and fully responsive, ensuring that your content will always look its best on any device.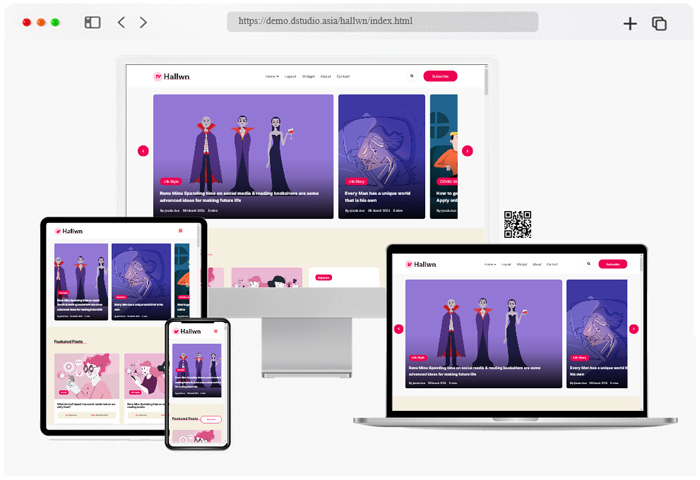 More info / download Demo
NoonPost
Because NoonPost is the best platform currently available for new bloggers, anyone who is considering beginning their own blog ought to use that platform. NoonPost is the best option for anyone who is interested in launching a professional blog because of its clean design and features that are simple to use.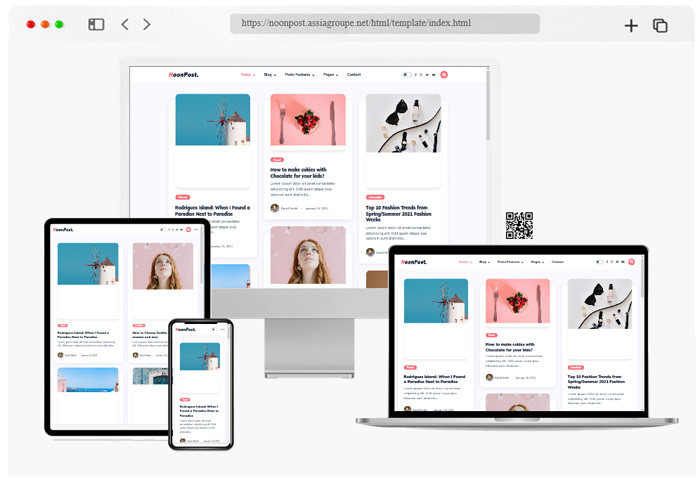 More info / download Demo