In this review, we'll explore the 16 best Book Store WordPress themes to help you make an informed decision when building your online book haven. In today's digital age, bookstores have transitioned from physical locations to online platforms. Whether you're a passionate book lover or a bookseller looking to create a virtual bookstore, having a well-designed website is essential. WordPress, a popular content management system, offers a plethora of themes tailored to the book-selling niche.
Divi Book Store
Divi is a versatile and adaptable theme, making it an excellent choice for bookstores and authors. Its strength lies in a powerful page builder and a variety of pre-designed layouts, providing flexibility in customization. The inclusion of WooCommerce support ensures seamless e-commerce functionality, making it easy for users to sell books with efficiency.
Versatile theme with a powerful page builder
Pre-designed layouts for easy customization
WooCommerce support for book sales
Suitable for bookstores and authors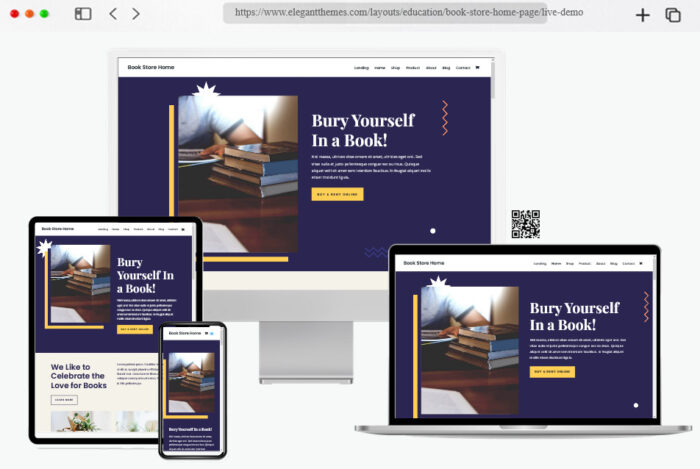 More info / download Demo
Bookworm
Starting off our list is Bookshop, a WordPress theme designed exclusively for bookstores. It offers a clean, minimalist design, and the responsive layout ensures that your site looks fantastic on all devices. With integrated e-commerce capabilities, you can easily sell both physical and digital books. A user-friendly interface and customizable options make it a great choice for book aficionados.
Clean and minimalist design
Responsive layout
Integrated e-commerce for selling physical and digital books
User-friendly interface
Customizable options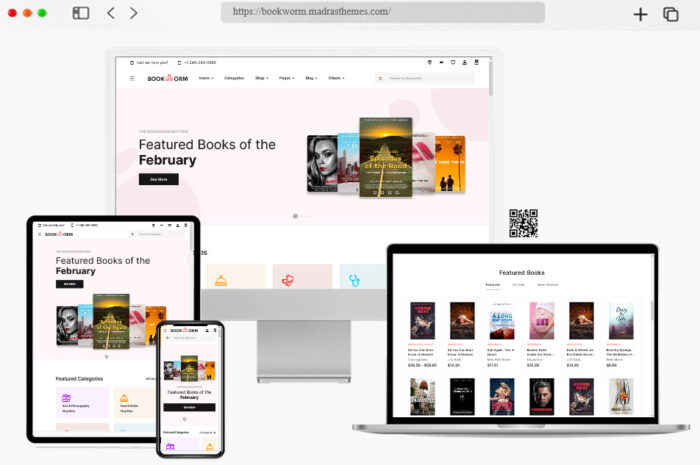 More info / download Demo
Booklovers
Booklovers is a highly customizable theme ideal for bookshops, libraries, and book bloggers. Its standout feature is the intuitive drag-and-drop page builder, allowing users to effortlessly create a distinctive website. The seamless integration with WooCommerce adds practicality, enabling easy selling of books and merchandise through the platform.
Professional design
One-Click demo installation
Modern, Customizable
Slider Revolution
Retina Images Support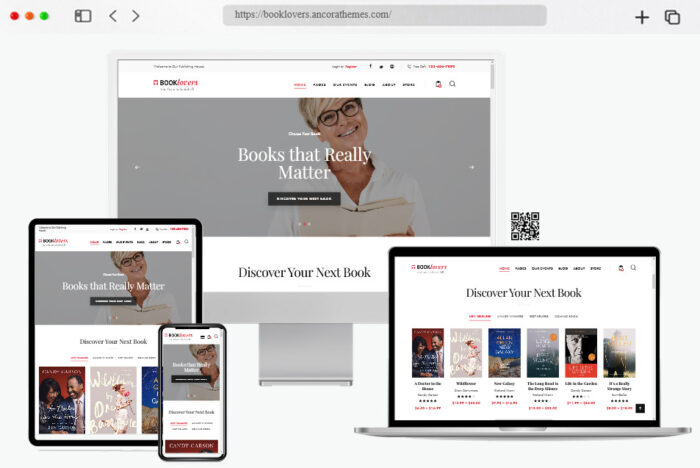 More info / download Demo
Bookory
Bookory stands out as a versatile book WordPress theme with diverse homepage layouts and specialized features for books. Its emphasis on easy navigation, mega menu, and multiple book layout styles enhances the presentation of your collection. Notably, the theme supports both Amazon and WooCommerce, providing seamless e-commerce functionality for your book-related ventures.
Highly customizable with a drag-and-drop page builder
WooCommerce integration for book and merchandise sales
Suitable for bookshops, libraries, and book bloggers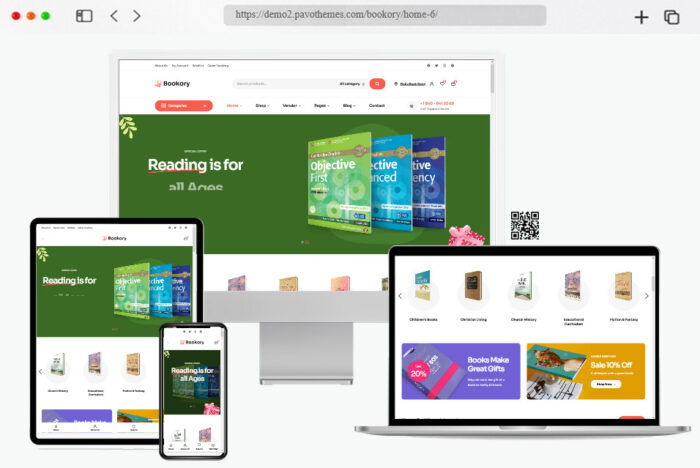 More info / download Demo
Printpress
For a broad-reaching appeal, the Printpress Bookstore Responsive theme is an excellent choice. Its mobile-friendly design, SEO optimization, and WooCommerce compatibility make it a versatile option. With this theme, users can effortlessly create an attractive and functional online bookstore to cater to a diverse audience.
Multiple homepage layouts
Mega menu for easy navigation
Supports Amazon and WooCommerce for e-commerce
Various book layout styles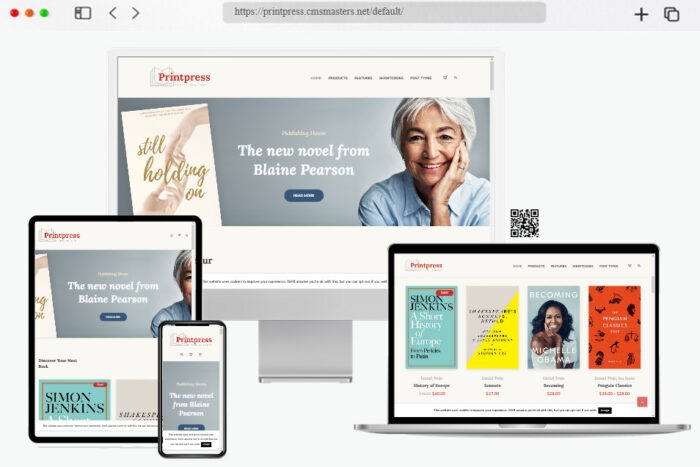 More info / download Demo
Bookshelf
Bookshelf, a stylish and elegant theme crafted for bookstores, authors, and publishers, offers a minimalist design with a typography-centric focus. This design choice ensures that your content and books take center stage. Additionally, the theme supports WooCommerce, providing a seamless platform for easy book selling, making it an attractive choice for those who prioritize aesthetics and functionality.
Mobile-friendly and SEO optimized
WooCommerce compatibility
Clean and attractive design for online bookstores
Suitable for a wide audience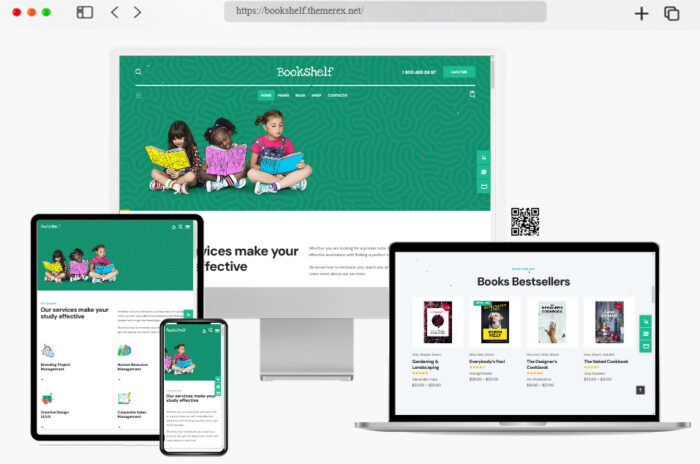 More info / download Demo
Bookpress
Bookpress is an excellent choice for running a book review website, offering a clean and organized design that enhances navigation and readability for visitors. The theme's compatibility with WooCommerce further adds to its appeal, allowing users not only to provide reviews but also to seamlessly sell books through the platform. This makes Bookpress a fantastic option for those seeking a combination of a polished layout and e-commerce functionality.
Eye-catching design with book previews, reviews, and author profiles
Various layout options for a unique website
Ideal for bookstores and publishers
Supports WooCommerce for book sales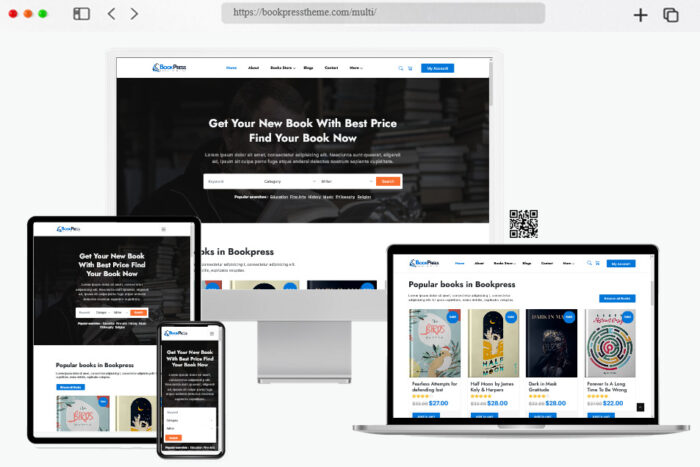 More info / download Demo
Choix
Choix, a sleek and professional theme tailored for bookstores and libraries, presents a versatile package with multiple layout options, a comprehensive product catalog, and a range of customization choices. The inclusion of WooCommerce support ensures a seamless and effective platform for online book sales. Overall, Choix stands out as an excellent choice for those seeking a polished aesthetic coupled with practical e-commerce functionality.
Stylish and elegant design with a focus on typography
Minimalist layout to highlight content and books
Supports WooCommerce for easy book selling
Perfect for authors and publishers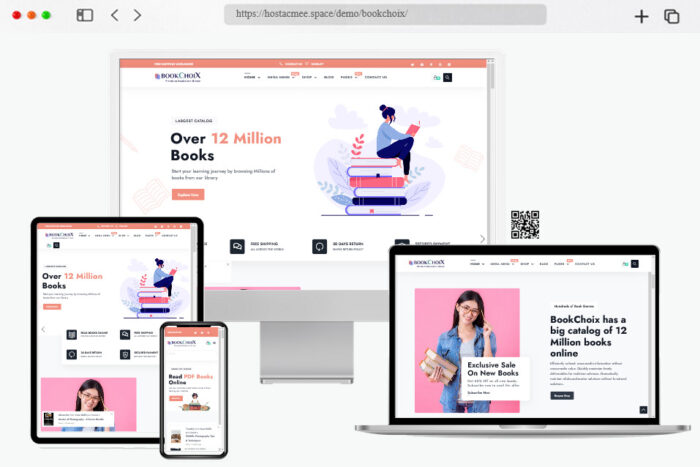 More info / download Demo
Bookland
Bookland is a standout choice, offering a user-friendly interface and a robust feature set. Notably, its mega menu and AJAX product filter enhance the customer experience by facilitating easy navigation through your extensive book collection. These features contribute to a satisfying shopping experience, making Bookland an ideal theme for those seeking both functionality and user convenience in their online bookstore.
Flexible Layout
04 Home Page
25+ inner Pages
Unlimited Sidebars
Elementor Elements
Retina Optimized
One Click Installation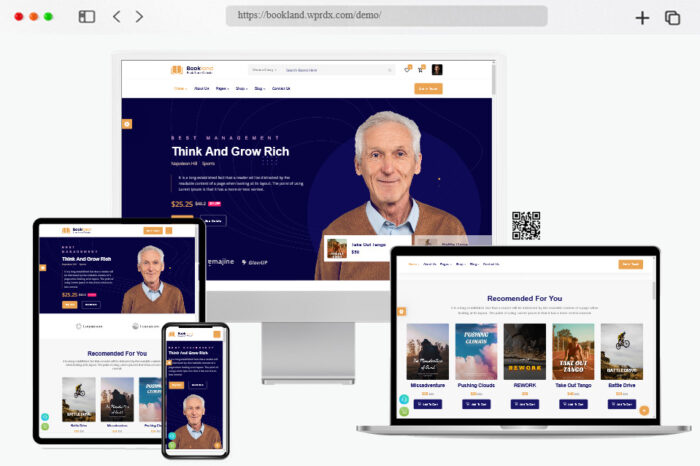 More info / download Demo
Auteur
Auteur seamlessly merges a visually appealing design with practical e-commerce features tailored for bookstores. The intuitive layout simplifies category browsing for customers, while advanced search functionality ensures precision in finding desired items. Auteur stands out as a theme that strikes a balance between aesthetics and user-friendly e-commerce, making it an ideal choice for those aiming for an engaging and efficient online bookstore experience.
Minimalist design with emphasis on high-quality visuals.
Creates an immersive browsing experience for sophisticated book enthusiasts.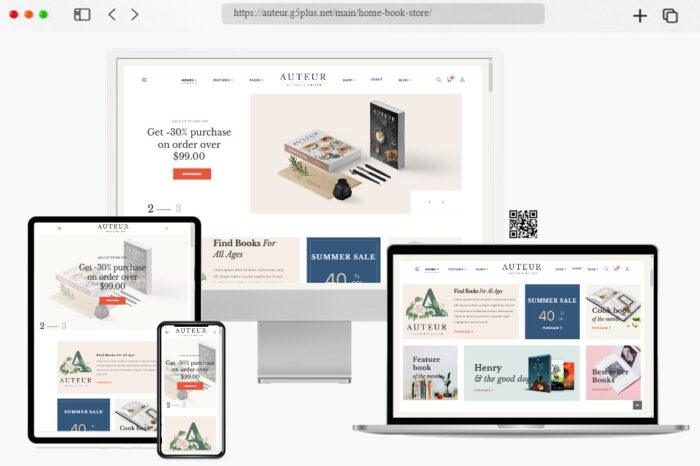 More info / download Demo
Marizan
Marizan WordPress theme stands out with its clean and modern design, offering an impressive visual appeal. The homepage slider proves effective for showcasing featured books and authors. Notably, the integrated WooCommerce compatibility ensures a seamless online transaction experience, making Marizan a compelling choice for those seeking both aesthetic appeal and practical e-commerce functionality in their online bookstore.
Feature-rich theme with a focus on easy navigation.
Responsive design for seamless user experience on all devices.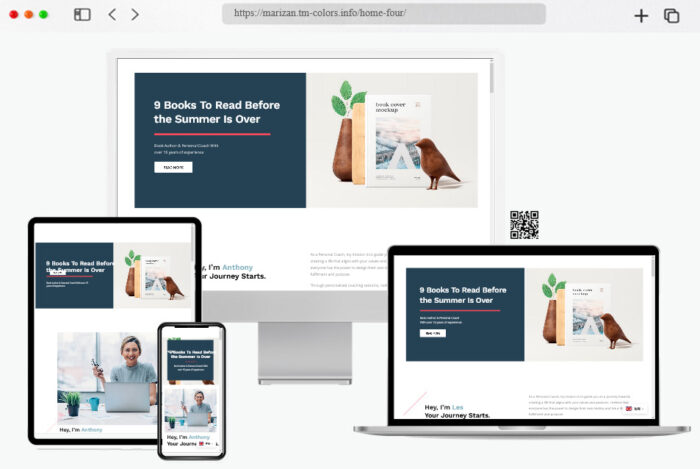 More info / download Demo
Leona
Leona makes a distinct impression with its elegant typography and customizable color schemes, enhancing its visual appeal. The seamless integration with the Easy Digital Downloads plugin positions Leona as an excellent choice for book writers and authors. This feature-rich theme not only prioritizes aesthetics but also provides practical solutions for those focusing on digital downloads, making Leona a standout option for a sophisticated and functional online presence.
Simple and effective design for hassle-free book browsing.
Clean lines and easy-to-navigate layout.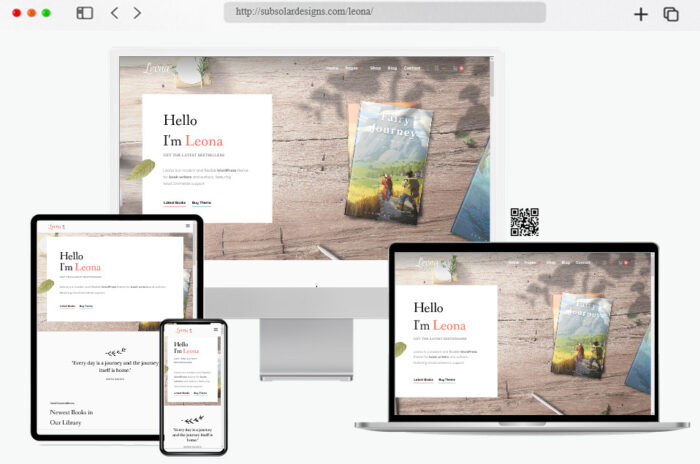 More info / download Demo
Cognio
Cognio is tailored for the sophisticated bookshop owner, boasting a minimalist design and a focus on high-quality visuals. This theme prioritizes aesthetics to create an immersive browsing experience for book enthusiasts. With its elegant approach, Cognio stands out as an ideal choice for those who appreciate a refined and visually pleasing online bookstore, appealing to a discerning audience.
Visually striking theme with a grid layout and customizable widgets.
Enhances aesthetic appeal with creative product displays.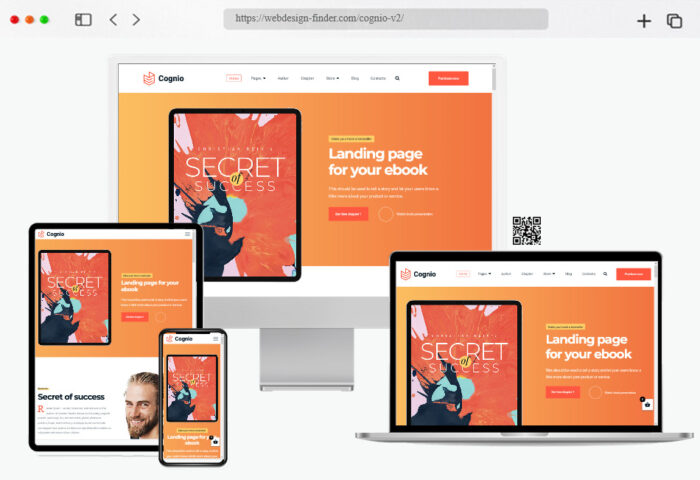 More info / download Demo
Bookio
Bookio caters to authors, bloggers, and bookstores with its simple and modern design, complemented by customizable features. The integrated review system enhances its appeal, making it a perfect choice for book bloggers to effortlessly share their thoughts and ratings. Bookio stands out as a versatile and user-friendly theme, suitable for those seeking a straightforward yet feature-rich platform for their literary endeavors.
Multi-Purpose Design
Right To Left Support
Plenty of Widgets
Support Multi Vendors
Wishlist Feature Support
Live Ajax Search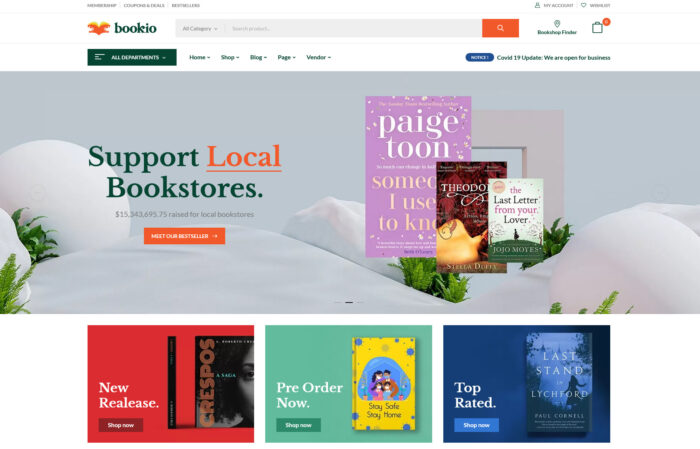 More info / download Demo
Tikie
Tikie, a multipurpose theme, proves suitable for various niches, with a specific appeal to bookstores. Its modern design, coupled with a book-focused layout option, ensures versatility. Notably, Tikie is highly customizable, allowing users to tailor it to their preferences, and it maintains mobile responsiveness for an optimal user experience across devices. For those seeking adaptability and a contemporary design, Tikie stands out as a commendable choice.
Live Ajax Search
Multiple Page Styles
Social Sharing Features
SEO Optimized
Responsive Design
Unlimited Colors & Layouts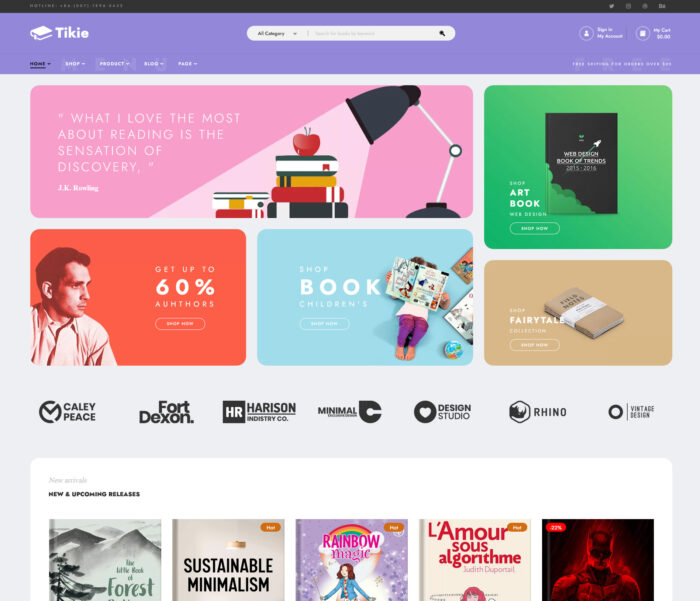 More info / download Demo
Bootin
Bootin, a theme dedicated to bookstores and publishers, boasts an eye-catching design that incorporates book previews, reviews, and author profiles. Offering a range of layout options, Bootin allows users to create a unique website that effectively highlights their books. With its focus on visual appeal and content presentation, Bootin proves to be an excellent choice for those seeking a theme that seamlessly blends aesthetics with features tailored to the literary world.
Multi-Purpose Design
Right To Left Support
Plenty of Widgets
Live Ajax Search
Multiple Page Styles
Social Sharing Features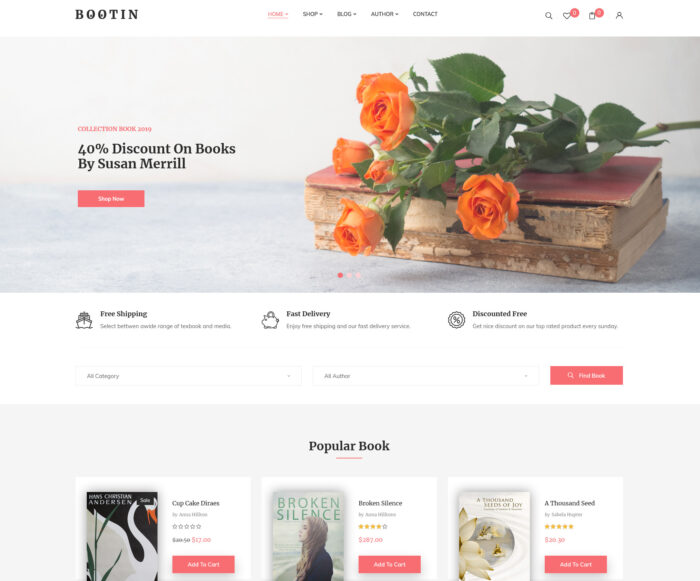 More info / download Demo
Selecting the perfect WordPress theme for your book store website is crucial for creating an appealing and functional online book world. Each of the 16 themes mentioned here offers a unique set of features, catering to different needs, whether you're an author, blogger, or bookseller. Explore these themes, try demos if available, and embark on the journey to create a stunning online book haven for yourself and your audience. Happy reading!