To help you get started, we've compiled a list of the 15 best car rental WordPress themes that can take your car rental business to the next level. In this comprehensive review, we'll explore the key features and benefits of each theme, making it easier for you to choose the one that suits your business needs. Whether you prioritize a sleek, modern design, a user-friendly booking system, or SEO optimization, there's a theme here for you.
LuxeDrive
LuxeDrive, a versatile car rental WordPress theme, stands out with its sleek and modern design. It offers an intuitive booking system, customizable options, and supports a variety of payment gateways. This makes LuxeDrive an excellent choice for car rental businesses, catering to needs of all sizes.
Modern design
Intuitive booking system
Multiple payment gateways
Customizable options
Responsive layout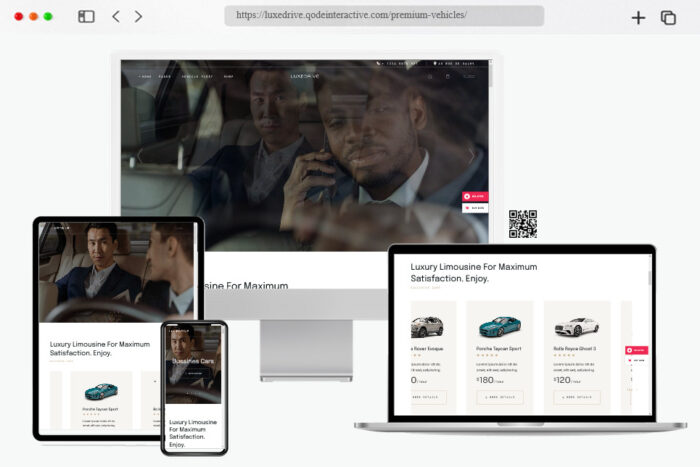 More info / download Demo
Grand Car Rental
Grand Car Rental stands out as a robust WordPress theme tailored for car dealerships. With its clean layout, powerful inventory management system, and user-friendly interface, it provides a seamless experience for visitors to browse and book cars effortlessly. The theme is designed to meet the specific needs of car dealerships, emphasizing efficiency and a straightforward user experience.
Inventory management system
Clean layout
User-friendly interface
Advanced search and filtering
Booking capability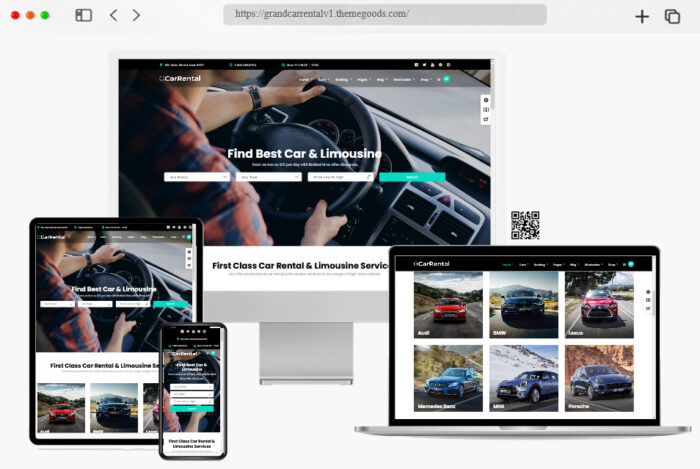 More info / download Demo
Limo King
Limo King is the ultimate solution for luxury car rental services. Boasting a stylish design, it caters specifically to the high-end market with specialized booking features for limousines and luxury vehicles. The theme's responsive layout ensures a seamless user experience across all devices, making Limo King the perfect choice for those looking to elevate their luxury car rental business online.
Luxury car focus
Stylish design
Booking system for limousines
Responsive layout
Testimonial section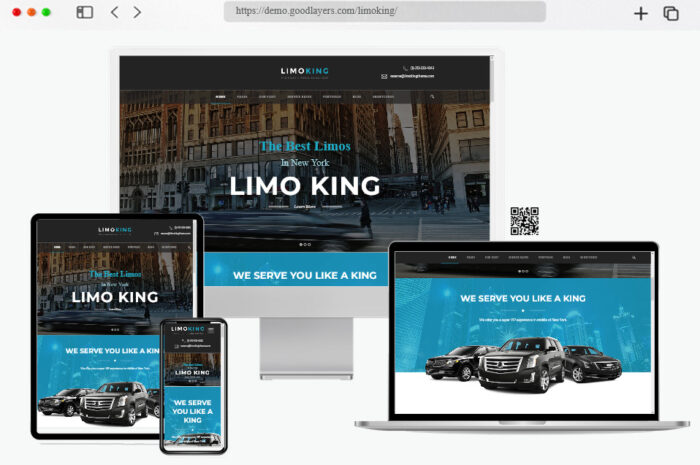 More info / download Demo
Valencia
Advanced booking system
User-friendly dashboard
Vehicle listing details
Easy customization
Flexible pricing options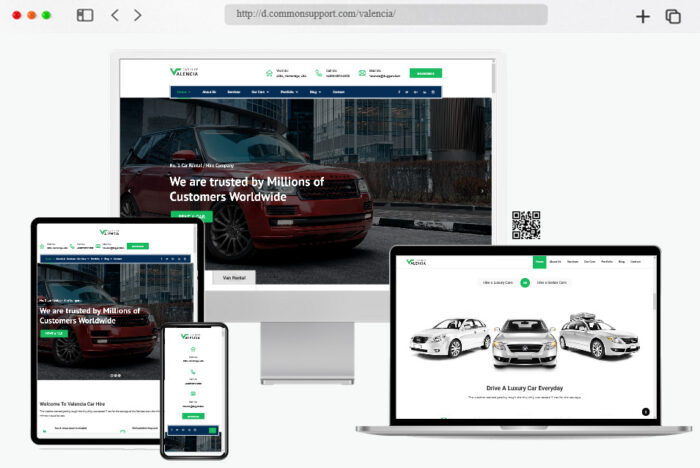 More info / download Demo
City Cruise
City Cruise stands out as a versatile car rental theme adaptable for various vehicle rental businesses. The theme features a user-friendly interface, a booking calendar, and a vehicle comparison feature, enhancing the overall customer experience. The adaptability and user-focused functionalities make City Cruise a practical choice for a wide range of car rental services.
Versatile theme
Booking calendar
Vehicle comparison tool
User-friendly interface
Customization options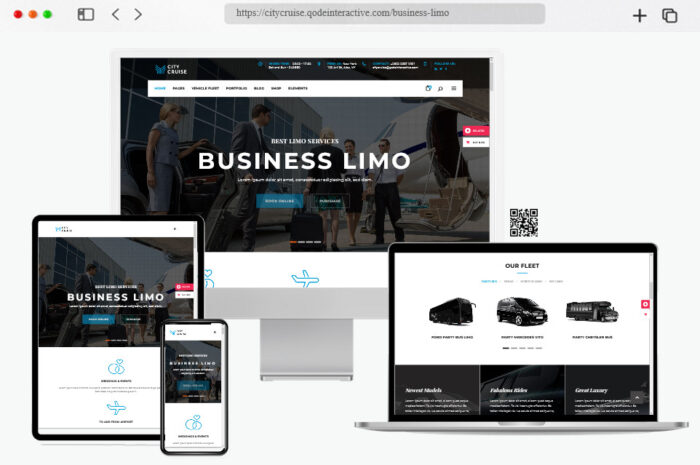 More info / download Demo
Autostar
Autostar, a responsive theme crafted for car rental agencies and companies, incorporates a potent search and booking system. With customizable pricing and support for multiple payment gateways, Autostar ensures convenience for customers throughout the booking process.
Powerful search and booking system
Multiple payment gateways
Customizable pricing
Responsive design
User-friendly interface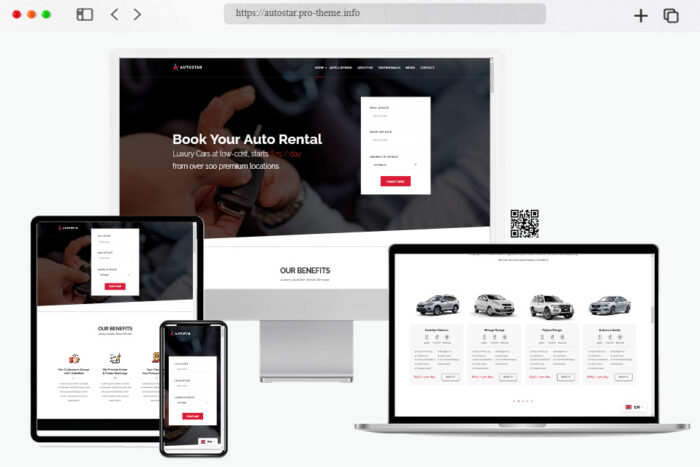 More info / download Demo
Autozone
Autozone represents an enhanced iteration of the Auto Rent theme, offering added premium features and improved performance. This makes it a leading choice, particularly suitable for larger car rental businesses looking for advanced functionality.
Additional features
Improved performance
Suitable for larger businesses
Customization options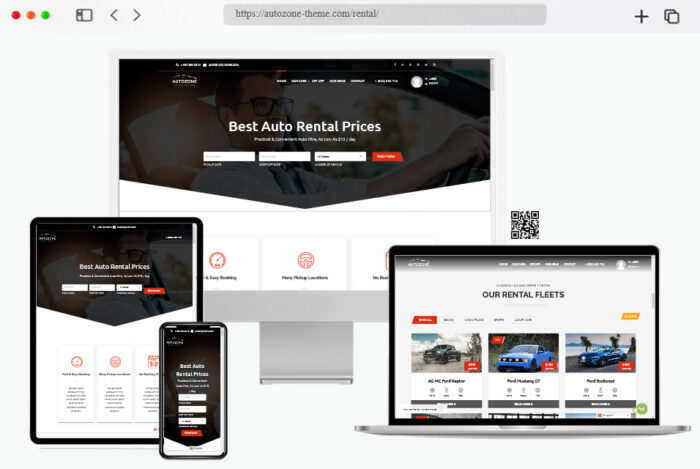 More info / download Demo
Rentacar
Rentacar stands as a comprehensive WordPress theme, seamlessly integrating car rental and booking systems. With its intuitive reservation system, support for multiple languages, and an extensive array of customization options to align with your branding, it ensures a user-friendly and tailored experience for your business.
Easy-to-use reservation system
Multi-language support
Customization options
Responsive layout
Detailed vehicle listings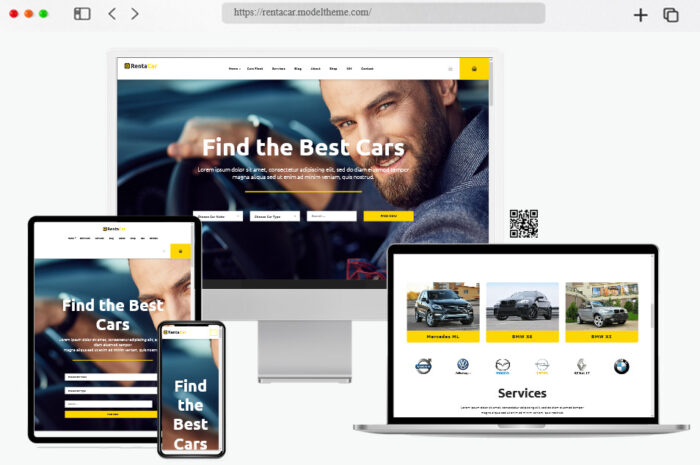 More info / download Demo
Rentit
Rentit provides everything necessary to meet international standards and elevate your online presence. With its Woocommerce Plugin, your website can unlock its revenue potential, thanks to multiple payment options and coupon systems supported by the Plug-in. The recent update has enhanced Rentit further, introducing features such as available discounts, seasonal prices, a list of appointed cars, and more.
Versatile and flexible design
Modern look
Can be adapted for car rentals
Customization options
Mobile responsiveness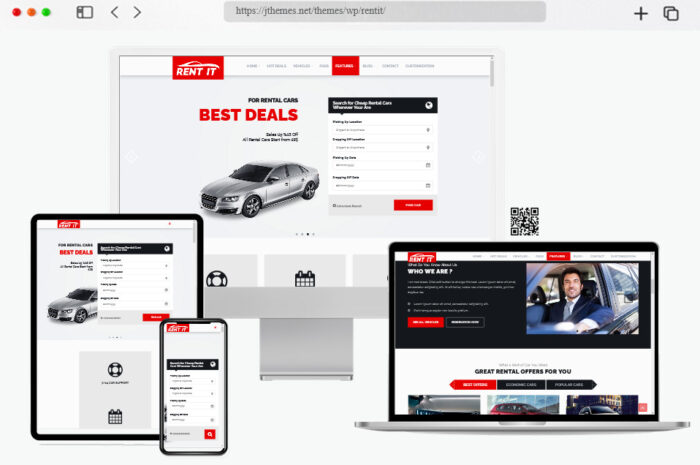 More info / download Demo
Motors
Elegant design
Powerful reservation system
Customer review section
Various vehicle listing options
Responsive layout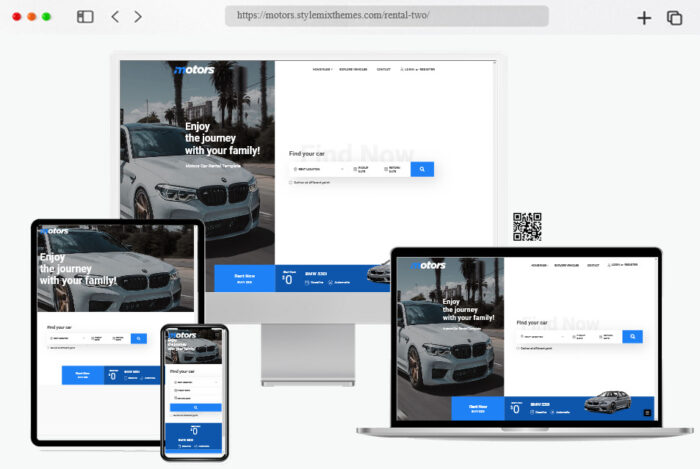 More info / download Demo
Revus
The Revus automotive WordPress theme is a comprehensive solution, offering two demos that cater to all your needs in the auto business niche.
The first demo is ideal for creating an auto dealership website. Revus comes equipped with numerous features to ensure that your site is both user-friendly and functional. The clean and neat homepage layout adds a professional touch to your new webpage. The powerful search tool allows visitors to filter your catalog and easily find the specific type of vehicles they are interested in.
Professional and straightforward
Booking system
Multiple payment gateways
Customer reviews
Mobile-friendly design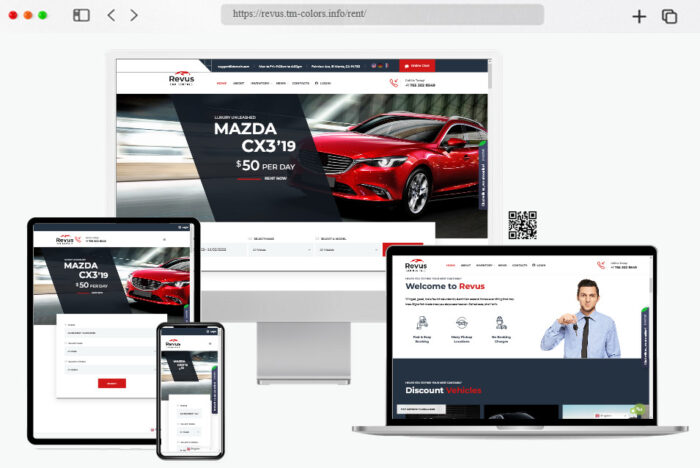 More info / download Demo
Ireca
Range of themes and plugins
Customizability
Suitable for various car rental businesses
Flexible design options
Mobile responsiveness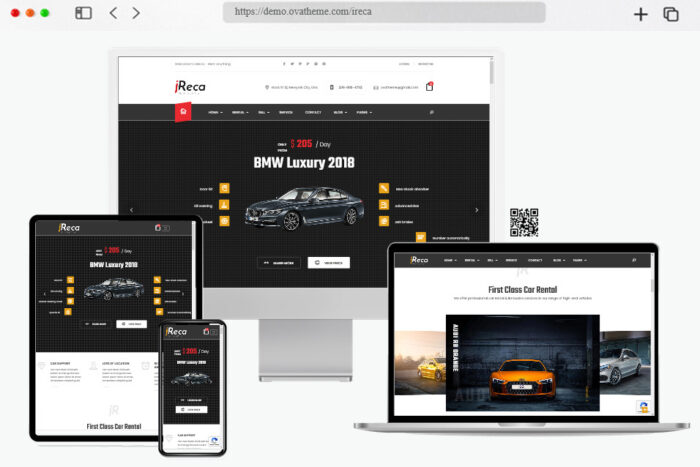 More info / download Demo
Carena
Carena is a specialized car rental theme designed for vehicle booking businesses. It includes a responsive design, vehicle management tools, and an advanced reservation system.
Specialized car rental theme
Responsive design
Vehicle management tools
Advanced reservation system
Customization options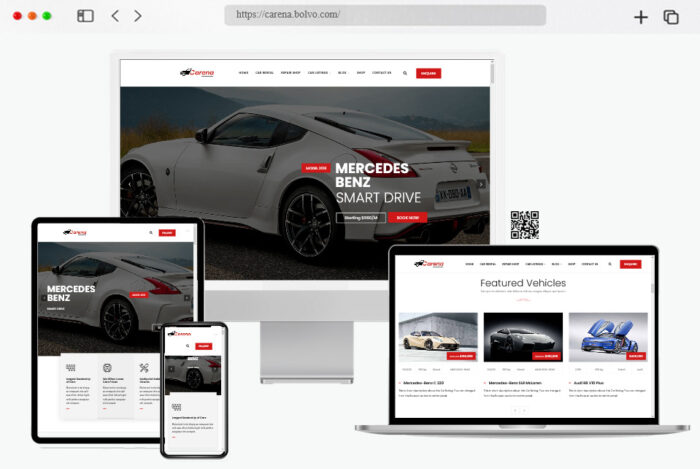 More info / download Demo
TanTum
TanTum is a theme that focuses on user experience and intuitive booking processes. It features a straightforward reservation system, customizable vehicle listings, and a responsive layout.
Focus on user experience
Intuitive booking processes
Customizable vehicle listings
Responsive layout
Straightforward reservation system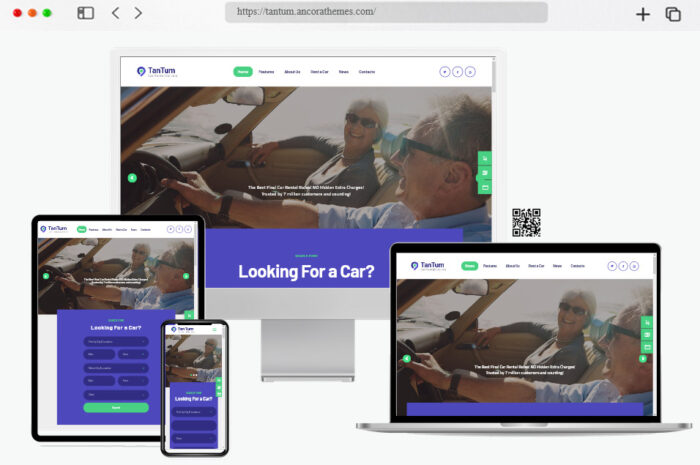 More info / download Demo
Limme
Limme is a sleek and user-friendly theme for car rental agencies. It offers a booking system, customer reviews, and a mobile-responsive design to attract more customers.
Sleek and user-friendly design
Booking system
Customer review section
Mobile-responsive
Customization options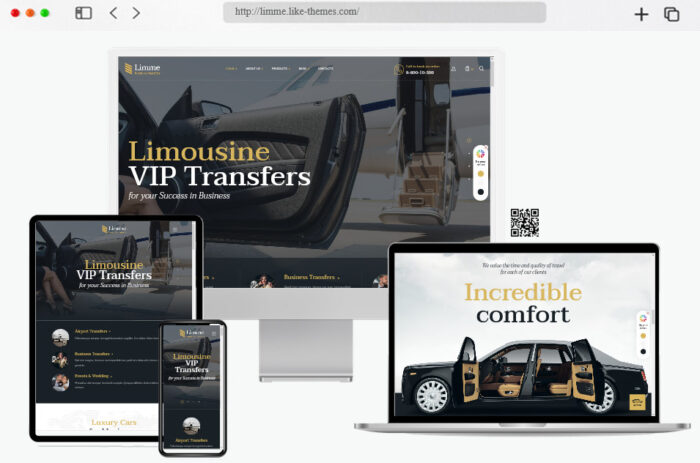 More info / download Demo
In the competitive car rental industry, having a professional and user-friendly website is essential for attracting and retaining customers. The 15 best car rental WordPress themes reviewed here offer a range of features and options to meet the needs of various car rental businesses, whether you're a small startup or a large agency. When choosing a theme, consider your specific requirements, branding, and the user experience you want to provide for your customers. With the right theme, your car rental business can enjoy increased visibility, improved customer satisfaction, and enhanced online bookings.