Creating a powerful online presence for your charity or nonprofit organization is essential to drive engagement, raise funds, and make a lasting impact. WordPress themes designed specifically for charities offer the perfect combination of aesthetics, functionality, and ease of use to help you achieve these goals. In this blog post, we'll explore the top Charity WordPress themes that can take your cause to new heights.
Selecting the right WordPress theme is crucial to building a compelling online platform for your charity or nonprofit. Each of these best Charity WordPress themes provides a perfect balance of functionality and aesthetics, empowering you to create a strong online presence, drive engagement, and maximize your impact on the causes that matter most. Choose the one that aligns best with your organization's mission and start making a difference today.
Oxpins
Oxpins is a contemporary and professional Non-Profit Charity WordPress Theme, featuring a robust admin panel for easy customization. The theme is specifically designed to cater to various charity, fundraising, nonprofit, NGO, church, and Mosque websites. Its high level of customization makes it visually appealing and ensures an excellent user experience, even on mobile devices.
More info / download Demo
Charety
The Charety WordPress theme is a modern and functional design ideal for charity, non-profit, NGO, donation, foundation, and fundraising websites. Packed with powerful features such as Elementor Builder, Slider Revolution, Events Manager, and Charitable donation plugin, it offers great versatility. The theme allows for unlimited color and layout options, enabling users to create a modern and clean website for their social program initiatives.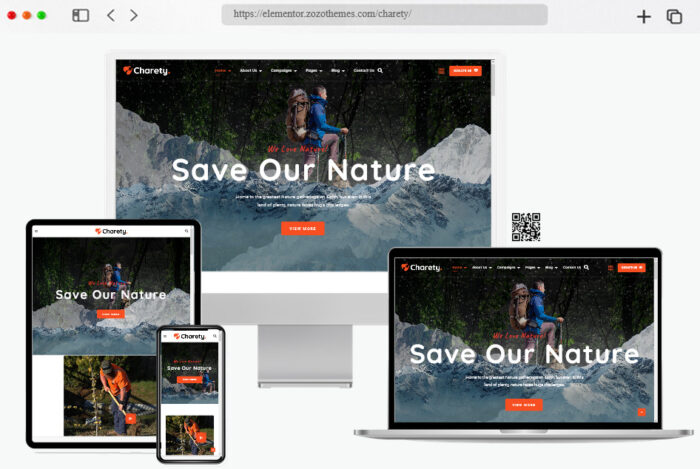 More info / download Demo
Pure Hearts
PureHearts is a comprehensive WordPress theme tailored for various fundraising, charity, nonprofit, NGO, foundation, church, and other non-profit organization websites. With its well-organized and versatile design, the theme is suitable for any charity or fundraising project. It offers two unique homepage layouts, two header styles, and over 15 variant inner pages, providing ample options for customization and extension to create a tailored website.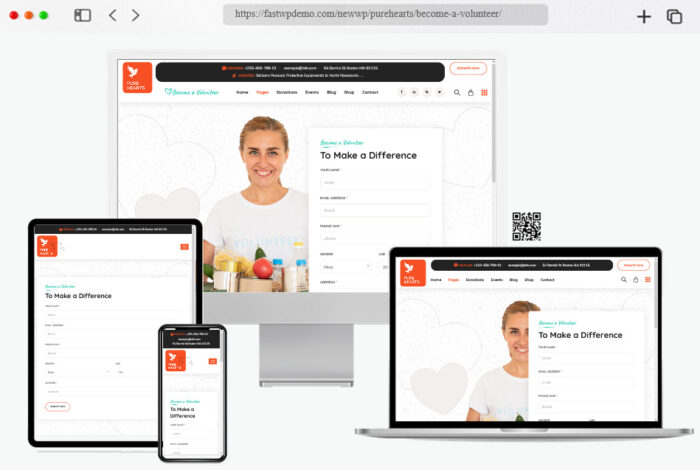 More info / download Demo
LoveIcon
Loveicon is a clean and modern responsive multipurpose WordPress theme, specifically designed for charity and fundraising websites. It offers versatility and easy customization for any charity or fundraising project. The theme comes with five clean homepage layouts, five header styles, and over 15 variant inner pages, providing ample options to modify and extend the theme layouts according to specific requirements.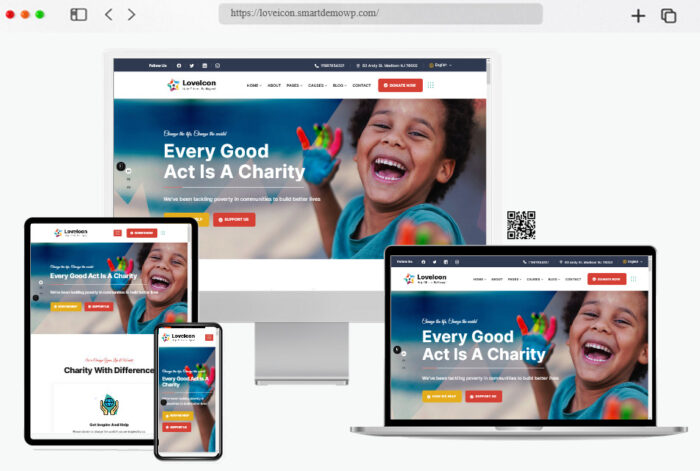 More info / download Demo
Humani
Humani is a specialized WordPress theme for non-profit organizations with 18+ homepage demos designed for a variety of disciplines, including children, health, ecology, cancer, charity, and wildlife. It is ideal for charitable foundations, non-profit organizations, crowdfunding campaigns, non-governmental organizations (NGOs), fundraising events, fundraisers, candidates, and volunteer activities. The theme's versatility and adaptability make it suitable for a variety of non-profit initiatives and campaigns.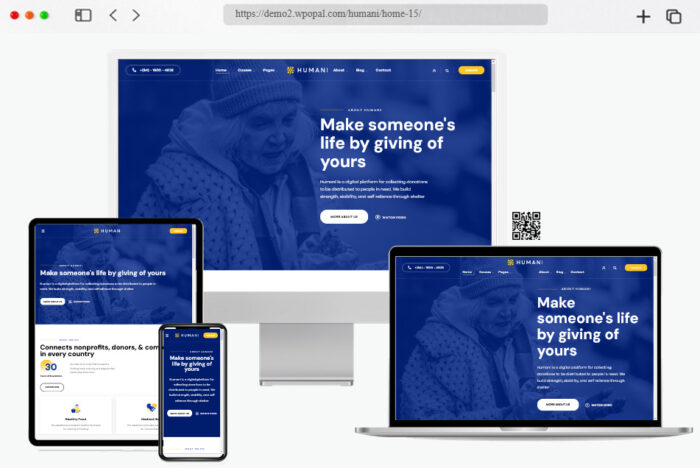 More info / download Demo
Gainlove
Gainlove is a Nonprofit Charity WordPress Theme developed with Elementor, a leading page builder plugin, allowing easy website creation through drag-and-drop premade elements. This theme enables building not only a nonprofit homepage but also campaign pages, donation forms, and other CMS pages for charity websites.
The one-click installation import feature allows quick importing of four prebuilt charity homepage demos and other useful inner pages. The theme is responsive, SEO and speed optimized, and designed to attract volunteers and donors for fundraising campaigns. Gainlove offers attractive features for charity nonprofits, ensuring an outstanding website experience.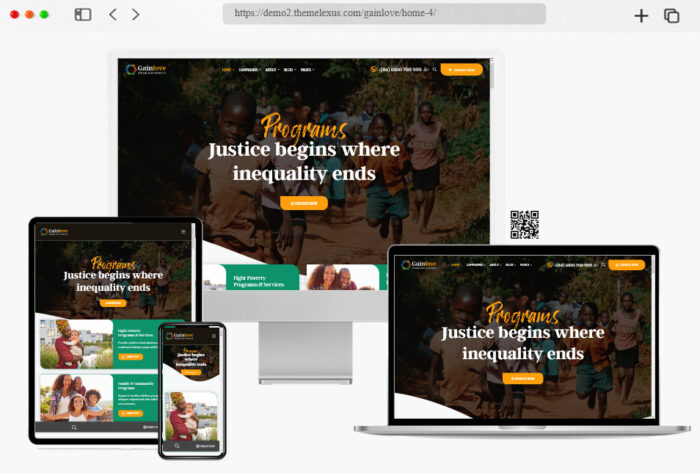 More info / download Demo
BigHearts
BigHearts is a non-profitable template integrated with the popular GiveWp Donation Plugin, widely used by Charity Foundations. The template offers charming and well-designed layouts with various unique demos to cater to specific needs. With pre-made inner pages like About Us, Our Team, and Portfolio, content adding becomes effortless.
The template ensures that all website information remains accessible and responsive across desktops, tablets, and smartphones. Support is readily available to help improve your website's performance and functionality.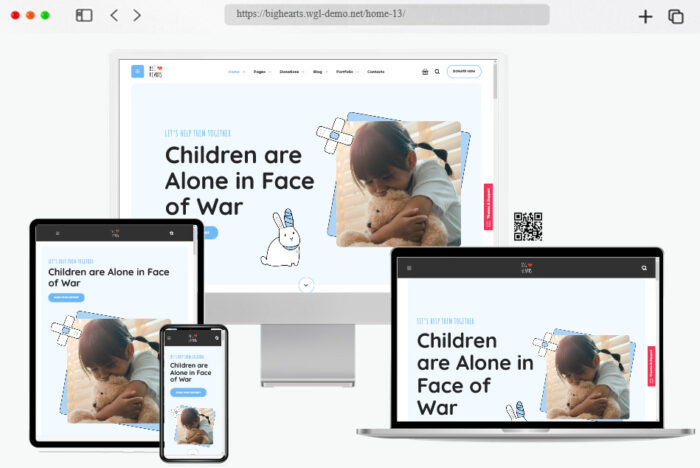 More info / download Demo
Chariti
Chariti is a theme with a comprehensive donation system, offering a user registration feature for donors. Users can access their donation history, manage wish lists, change profiles, and view transaction receipts. Admins have easy access to view and manage transactions from the backend, with the ability to mark transactions as pending, approved, or rejected. Transactions can be filtered by date or project, and admins can export transaction data to CSV files from the admin transaction page.
More info / download Demo
Paroti
Paroti is the charity theme for WordPress. It is clean, very adaptable, fully responsive, pixel-perfect, modern, and full of powerful features. Paroti is a clean, professional WordPress theme that works for all kinds of charity and other non-profit charity websites, businesses, and NGO. The theme comes with its own theme control panel, which is very powerful and has a lot of useful options and tools for managing your site.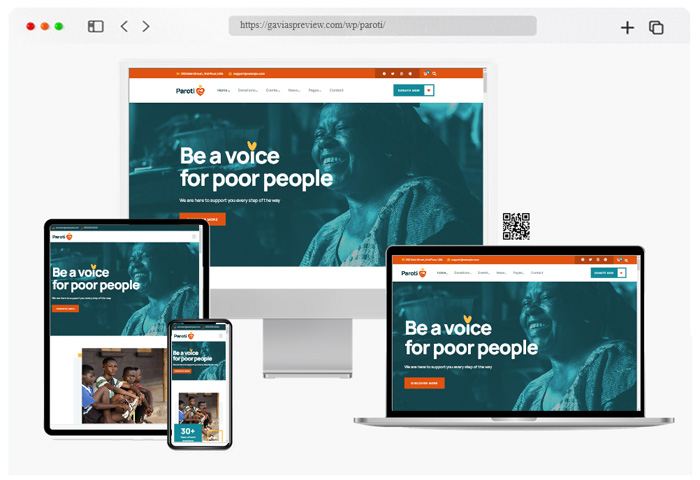 More info / download Demo
Anova
Anova Charity & Donation is a clean, modern, creative, and one-of-a-kind WordPress theme for charity, fundraising and all other non-profit charity websites, businesses, and NGO. With this Anova template, it's easy to change the text, content, image, objects, and color. This is a great WordPress theme that will help you start a business and make it better. Users will love your website if it uses this template because it will give them a unique and interesting experience.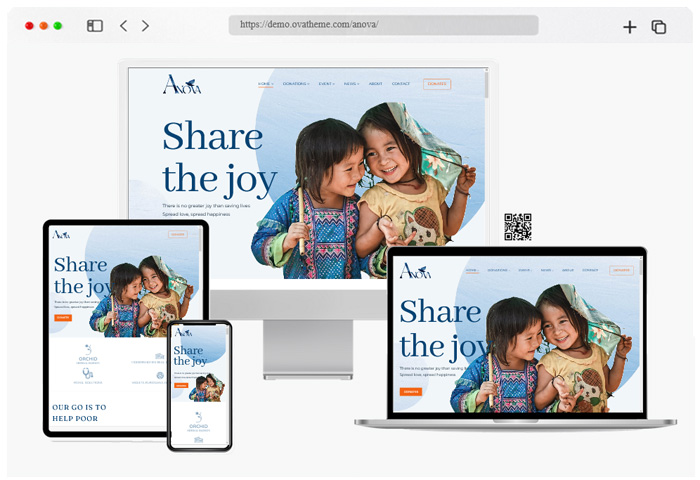 More info / download Demo
Aelpa
Aelpa is a visually appealing and versatile WordPress theme that caters to various niches, including charity, education, wildlife, and cancer donation. It is built on a 1170 Bootstrap-based design, ensuring 100% fluid responsiveness on all devices, including iMac, Macbook Pro, iPhone 12, iPad, and Samsung S10. The theme comes with 29+ creative WordPress files and detailed documentation, making it easy for users to customize and modify the template according to their needs.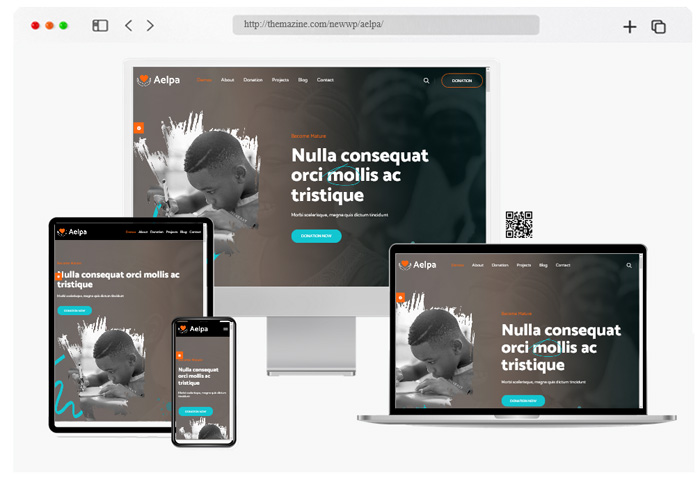 More info / download Demo
WiHelp
WiHelp is a WordPress theme for nonprofits and charities that comes with 12 or more unique and beautiful demos.  With the WiHelp non-profit WP theme, it's easier than ever to set up an online hub for charities and a way for people to give money.
The theme works perfectly with the GiveWP plugin, which makes it easy to set up donation pages. It lets you accept donations online through your website and gives you a choice of ways to pay.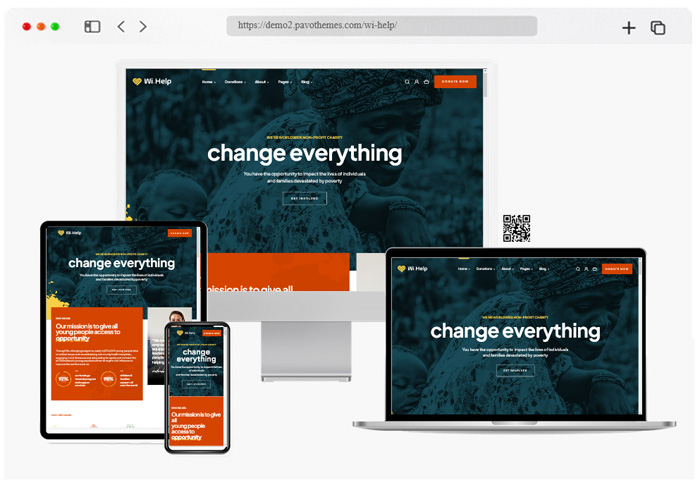 More info / download Demo
DoGood
With DoGood, you can make a difference by giving money. A charity theme made for any fundraising, charity foundation, volunteering, or non-profit organization. This modern theme comes with different layouts for events and donations, full Elementor Page Builder compatibility, a blog, 8 predesigned websites, and a wide range of portfolios.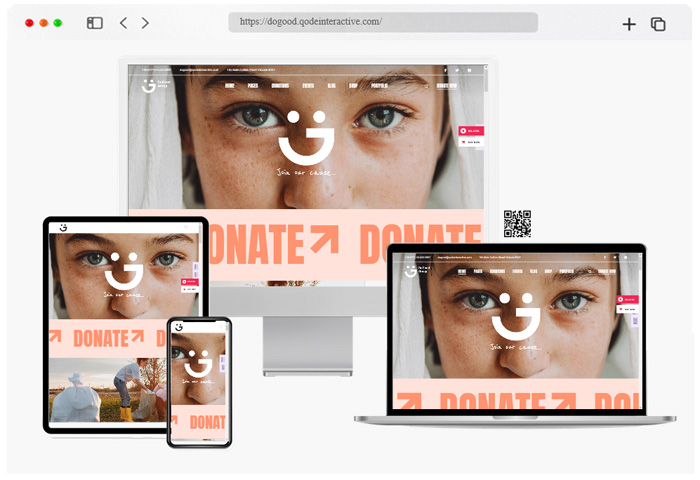 More info / download Demo