If you're looking for building a church website that's both professional and easy to use, you've come to the right place. Our selection of church website templates is second to none, and you're sure to find the perfect one for your needs. Plus, all of our templates are 100% easy to customize, so you can easily add your own photos, videos, and text to create a truly unique website. Check out our church website templates today and get started on creating a website that's sure to impress.
A well-designed church website serves as a virtual welcome mat, providing information, fostering community, and extending the reach of the church's message beyond its physical walls. In this blog post, we'll dive into the world of church website templates, discussing their benefits, key features to consider, and providing tips for selecting the perfect template for your congregation.
Sacreva
The Sacreva non-profit Church website template is a versatile and modern HTML5 template designed for both churches and non-profit organizations. It boasts a clean and professional appearance, making it suitable for various purposes within the charitable sector. This template is specifically tailored for churches, charity foundations, donation portals, fundraisers, mosques, NGOs, and other non-profit entities.
With its clean, modern, and simple design, the Sacreva HTML5 template offers a range of features. It includes 55 fully validated HTML5 pages, encompassing three different home page variations. The template covers essential aspects such as sermons, events, donations, ministries, volunteers, and even incorporates shop pages. Additionally, it comes equipped with an HTML5 Admin Dashboard, providing comprehensive control and management capabilities.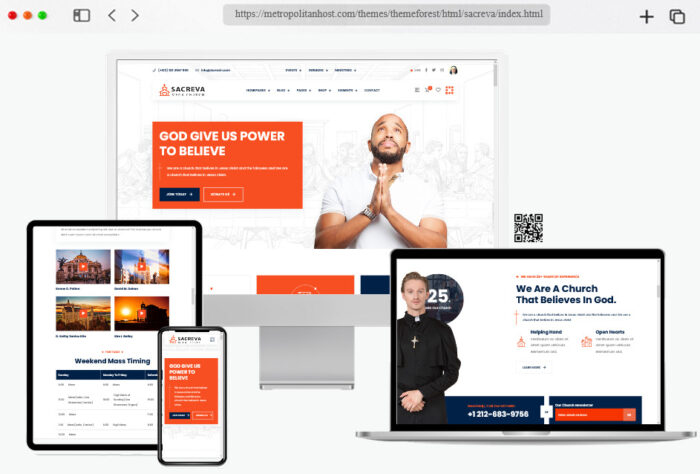 More info / download Demo
Calm
The "Calm" website template is a modern, responsive solution designed for both religious and non-profit organizations. It is particularly well-suited for building a high-quality website for Catholic communities and organizations. In the digital age, effective promotion is essential for institutions like churches, and a website serves as a powerful tool for achieving this goal.
Creating an impactful website doesn't have to be expensive, especially for smaller churches. HTML website templates provide a cost-effective and reliable option. In the current landscape, many website owners opt for HTML templates due to their straightforwardness and efficiency.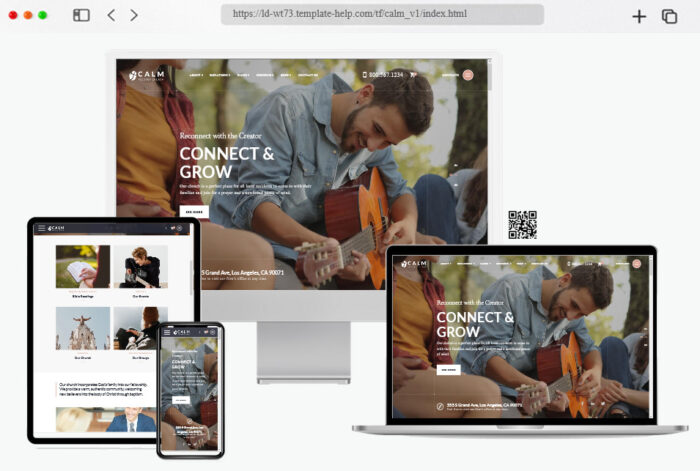 More info / download Demo
Zegen
The "Zegen" template is a professional church website solution designed to cater to various needs within the religious and non-profit sector. It is specifically crafted for non-profit churches, modern religious groups, prayer communities, Christian organizations, charities, volunteering initiatives, believer gatherings, and more. This template is ideal for a range of purposes, including promoting non-profit activities, supporting volunteer efforts, and facilitating communication within religious communities.
The template, known for its responsiveness, boasts features such as clean markup, W3 validation, a slick slider, comprehensive documentation, a functional contact form, and a responsive layout. This means it provides a user-friendly experience across various devices and screen sizes.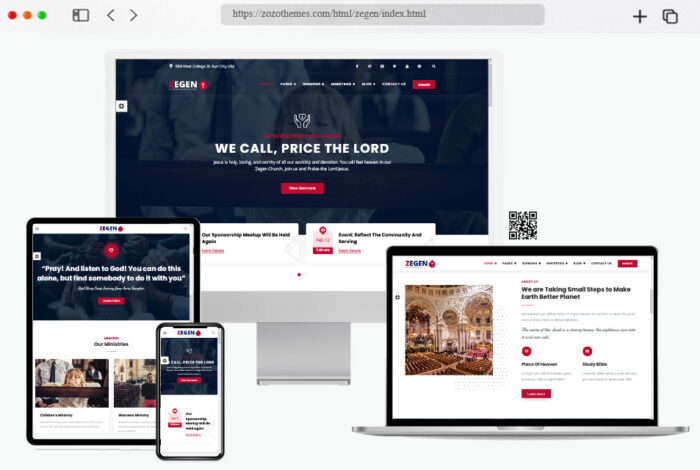 More info / download Demo
Maktab
The "Maktab" HTML5 template is a comprehensive layout designed for non-profit Islamic centers, mosques, Muslim institutes, and charity NGOs. Specifically crafted to cater to the needs of these organizations, it provides a wide array of features essential for building an effective online presence.
This template includes three different homepages, making it versatile for various design preferences. It encompasses key elements like an events page, donation functionalities, sermon management, a gallery block for visual content, sections for information about the center, a blog for posts, services offered, a team or scholars showcase, courses offered, product displays, and contact details.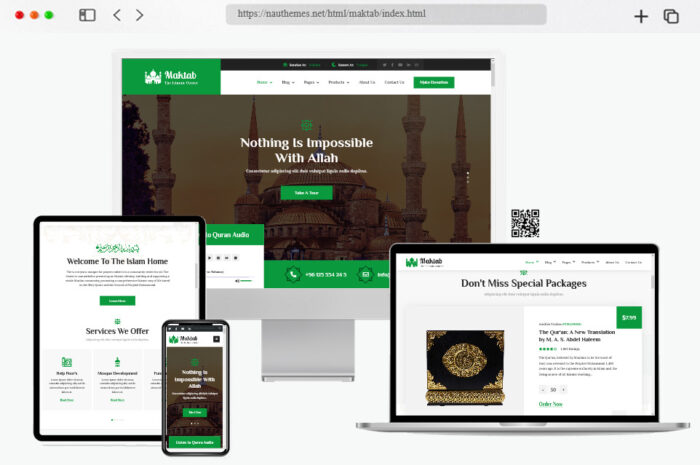 More info / download Demo
Grace Church
Grace Church is a mobile-friendly website template designed for churches, charities, and non-profit organizations. Built with responsiveness in mind, it utilizes the Bootstrap Grid based on a 1170px grid system. This template is suitable for churches, charitable initiatives, and prayer groups, offering features that cater to their needs.
Key features of the template include sections for bulletins, programs, events, and sermons. This allows organizations to effectively communicate with their audience, share important information, and showcase their activities. With a focus on adaptability and user experience, Grace Church provides a platform that accommodates the unique requirements of churches, charities, non-profits, and prayer groups, helping them create an engaging and informative online presence.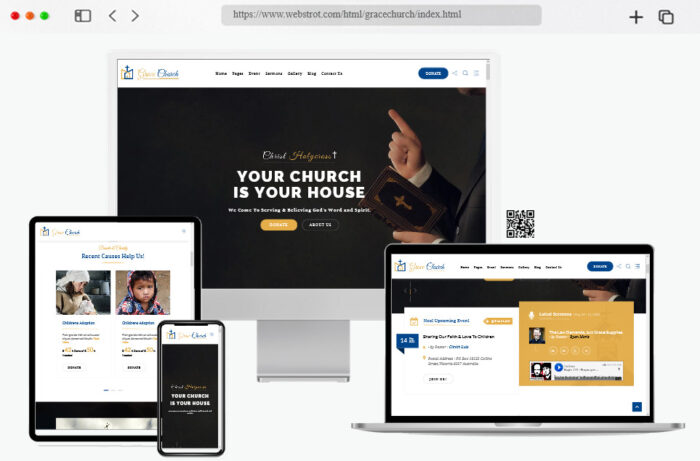 More info / download Demo