In this blog post, we'll review the 10 best classified WordPress themes to help you choose the perfect one for your website. If you're looking for a great WordPress theme that's both stylish and functional, you can't go wrong with a classified theme. These themes are designed to help you get the most out of your website, and they're perfect for businesses or individual users who want to make a great impression.
With the right Classified WordPress Theme, you can establish a powerful and visually appealing classified ads website that will attract users and advertisers alike. Each theme mentioned in this list offers its unique features and design elements, catering to different requirements. Choose the one that best aligns with your vision and start building your classified ads empire today.
ClassifiedPro
Rating: ★★★★★ (5.0)
ClassifiedPro is a specialized best Classified WordPress Theme that empowers users to effortlessly establish their own online marketplace. With its user-friendly features, users can easily sell their used goods or find new items of interest. The theme boasts an advanced search function, enabling comprehensive searches across all relevant listings.
Moreover, its advanced filter option allows users to narrow down search results and discover the perfect match for their needs. With ClassifiedPro, creating a thriving online marketplace is just a few clicks away.
AI-powered Recommendation Engine
Make an Offer functionality
Peer-to-Peer messaging system
Separate home pages for each post type
Front-end submission feature with live preview
More info / download Demo
Listee
Rating: ★★★☆☆ (3.0)
Listee is a versatile Classified Ads WordPress Template that combines the functionality of classified ads, directory listings, advertisement gateways, and more. It offers easy customization options to tailor the theme according to individual requirements.
The theme includes essential features such as category management, listing pages, grid layout, list view, and dedicated post details pages. With its comprehensive set of features, Listee is an ideal choice for any online business related to advertisements, providing a seamless and user-friendly experience.
Classified Listing
Classified Booking
Customer Dashboard
Provider Dashboard
Review System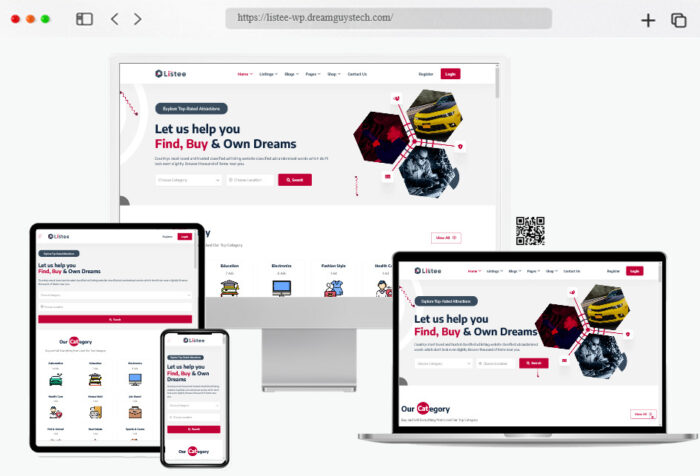 More info / download Demo
Adlin
Rating: ★★★☆☆ (3.6)
Adlin is a contemporary and Responsive Classified Theme WordPress specifically designed for Classified Ads Listing websites. It offers a complete niche demo variation, including various inner pages and a blog. Developed using popular tools like Elementor, ACF Pro, Redux, Bootstrap, and Sass, the theme ensures a smooth and efficient website-building process.
Adlin is equipped with essential features such as Contact Form 7 plugin submission and Newsletter plugin submission, making it easier for users to engage with their audience. The source code is well-commented and easily customizable, and detailed documentation is provided for guidance. With these features, Adlin provides flexibility and adaptability to cater to the specific needs of users.
3+ Demo Variations
Elementor Page Builder
Advanced Custom Field Pro
21+ Elementor Custom Widget
Listing Pages Multiple Layout Style
3 Preloader Option
One Click Demo Import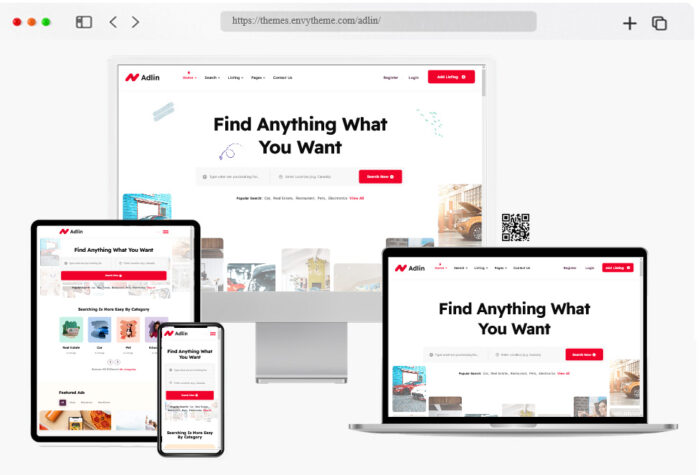 More info / download Demo
Listivo
Rating: ★★★★★ (4.9)
Listivo is a versatile Classified Listing WordPress Theme suitable for classified ads, directory, or listing websites across various industries. Its exceptional adaptability makes it a perfect fit for any type of business. The theme emphasizes user-friendliness, providing an intuitive interface and engaging features to keep visitors interested and returning for more.
One of the standout features of Listivo is its diverse and flexible monetization options, allowing website owners to maximize their earnings. With various revenue-generating methods available, such as premium packages, seamless integration with WooCommerce, and a user-friendly subscription module powered by Stripe, businesses can tailor their monetization strategy to suit their specific needs. This ensures that Listivo is an ideal choice for entrepreneurs looking to create a profitable online platform while delivering a smooth and enjoyable user experience.
Effortless WooCommerce Payment Gateway Integration
Stripe Subscription (Memberships)
Bump Up
Customizable Ad Packages
Extend Listing Duration / Promotion
Timely Notifications for Ad Expiration
Google Adsense Supported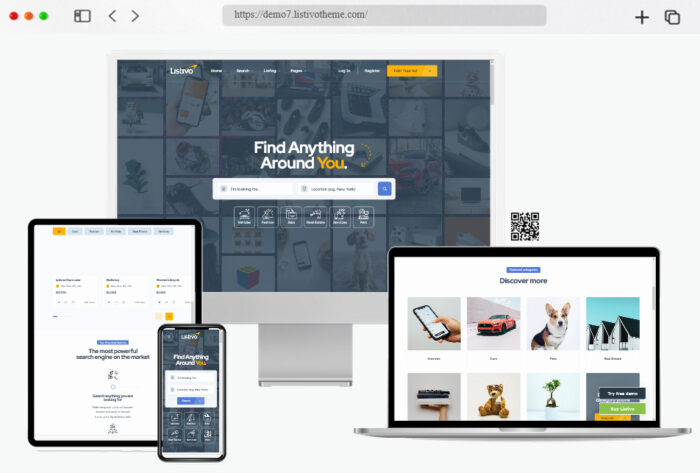 More info / download Demo
Lisfinity
Rating: ★★★★★ (4.6)
Lisfinity is a powerful Classified WordPress Theme that offers front-end submission capabilities, allowing users to submit their classified ads directly from the website's front-end interface. With this feature, website owners can create a user-friendly environment, enabling advertisers to easily post their listings without accessing the backend of the website.
This convenient and intuitive front-end submission system enhances user engagement and streamlines the process of adding content to the classified platform, making Lisfinity an excellent choice for building a dynamic and interactive classified ads website.
Front-End Listing Submission
Advanced Search and Filtering
Custom Fields
Membership Packages
User Dashboard
Built-in Messaging
Ad Expiration and Renewal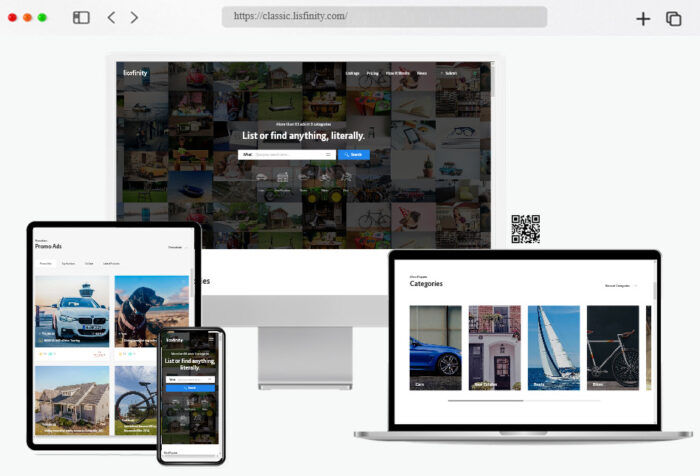 More info / download Demo
Classima
Rating: ★★★★★ (4.9)
Classima is a stylish and modern Classified Ads Management WordPress Theme designed for classified listing and directory websites. It is Gutenberg optimized, making post designing and publishing simple. The theme integrates the Elementor Page Builder, allowing easy customization through a drag and drop interface.
Key features include 8 beautiful multi-homepages that are extensively customizable, and one-click demo importer for quick homepage setup. Classima offers 4 header styles with 5 variations, and you can choose colors for every block on the website. It supports 2 layout options for blogs and provides access to 800+ Google fonts. You can also control image sizes for thumbnails and galleries.
The theme's robust Redux admin panel allows real-time manipulation of theme options for the entire website. Additionally, Classima includes a Child Theme for making layout and other significant changes to the site. Overall, Classima offers a creative and classy solution for managing and customizing your classified ads website with ease.
Elementor Page Builder
8 Home Pages
4 Header Styles
2 Ads view Grid.
2 Ads view List.
2 Blog Layouts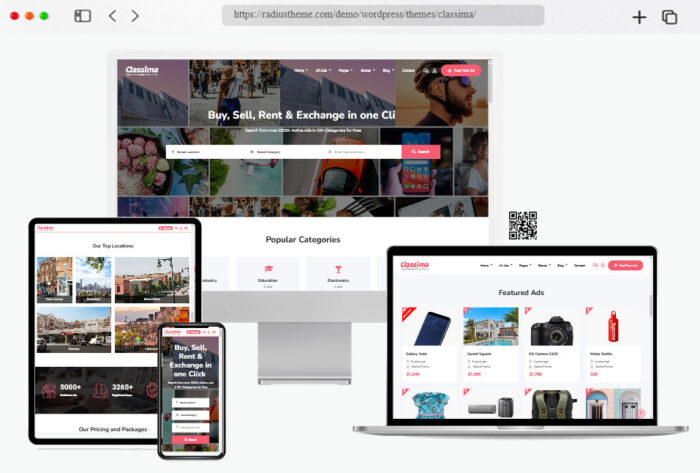 More info / download Demo
Adifier
Rating: ★★★★★ (4.9)
Adifier Classified Ads Marketplace WordPress Theme is a comprehensive and well-designed platform for creating a classified ads marketplace. The theme's features have been carefully curated, focusing only on the essential elements required for such a website. The developers analyzed popular marketplaces to determine the necessary functionalities to include.
One standout feature is the support for Multiple Ad Types, enabling users to categorize their classified ads effectively. They can choose from options like sell, auction, buying, exchange, or gift, providing clear information to potential buyers. Visitors to the website can also use these ad types as filters to find the listings that best suit their needs.
Subscription System
Package System
Hybrid System
Free System
Free Ads Upon Registration
AJAX Search
Compare Ads
Google Maps
Mapbox maps
OpenStreet Maps
Locations In Single List
Locations In Multiple Levels
Location Country Restriction
Manual Custom Locations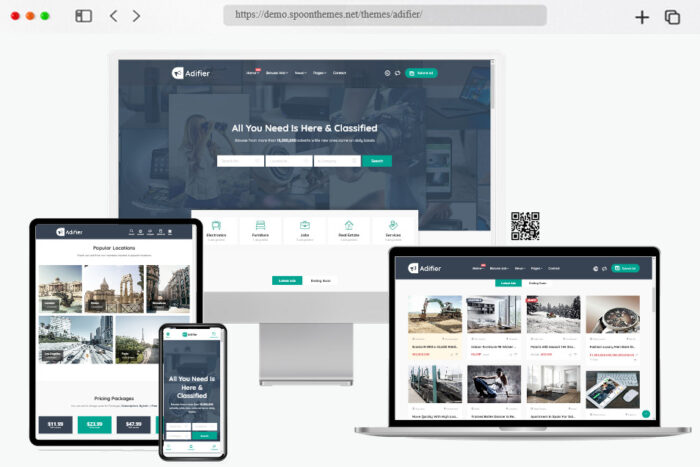 More info / download Demo
AdForest
Rating: ★★★★★ (4.7)
AdForest is a leading Premium Classified WordPress Theme known for its outstanding front-end UI and excellent usability. With various color options and powerful WP functionality, it offers a seamless ad posting experience. The theme integrates Google Maps, enhancing the location-based features for WordPress ads.
AdForest is designed to provide a modern user experience, making it an ideal choice for classified businesses looking to stand out. It comes with a fully responsive design, built using HTML5, CSS3, Bootstrap 5, and JQuery 3.1. This complete classified solution offers multiple reusable sections, ensuring flexibility and ease of customization. With a strong emphasis on typography and user experience, AdForest allows for quick setup and effortless customization.
Multivendor
Directory Listing and Events Demo
Rating & Reviews on ads
Advance Search Added
Multiple new Home Pages
Advanced Google map
Radius Search
3 types of Ad Search Pages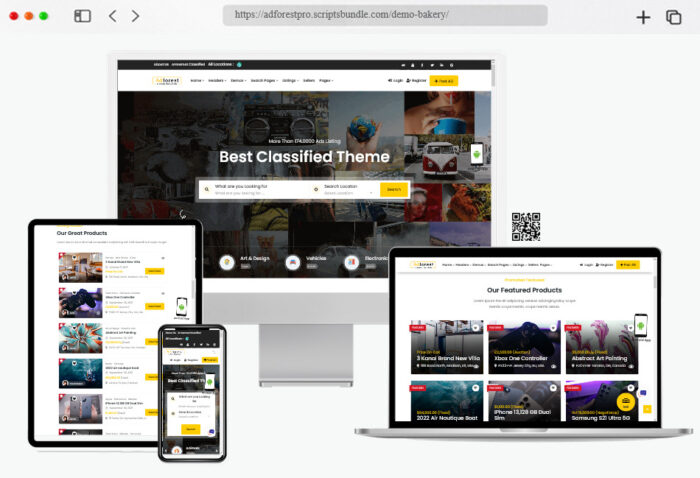 More info / download Demo
Classiera
Rating: ★★★★★ (4.5)
Classiera is a highly popular and modern Premium Classified Ad Posting WordPress Theme. It is fully responsive, SEO optimized, and offers regular and featured ads with pricing plans and pay per post based on categories. The theme utilizes the Redux Framework and includes a flexible user panel. With over 7 unique layout designs, an exclusive front-end user panel, and unlimited color options, Classiera provides ample customization choices.
Google Maps integration enhances its location-based features. The theme offers exceptional page layout options and delivers an excellent level of usability and user experience. Beautiful typography, Font-Awesome icons, and free Google Fonts further enrich the design. For a standout Classified Ads Business, Classiera is a quick setup and easy-to-customize solution not to be missed.
Elementor Page Builder
Grid & List View
Custom fields for each category
Pay Per Post Set single ad price on category base.
One Click Demo Importer
Unlimited Colors
Google Maps
Geo-location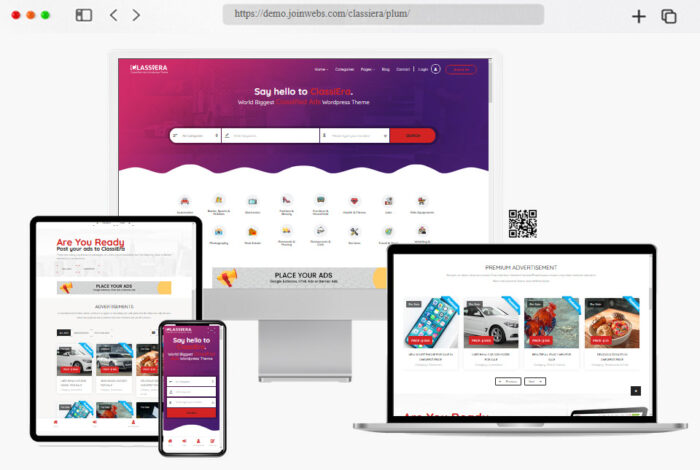 More info / download Demo
Classiads
Rating: ★★★★★ (4.5)
ClassiAds is a top-rated Classified WordPress Theme, ideal for creating professional and user-friendly classified ads websites. Packed with features and designed for ease of use, even for beginners, it offers a premium solution for anyone seeking a classified ads WordPress theme.
Key benefits of using ClassiAds include its high level of customization, allowing users to personalize colors, fonts, and layout to match their branding. The theme is scalable, enabling easy addition of more categories and listings as the website grows. Moreover, ClassiAds prioritizes security, employing the latest security features to safeguard users' data.
For those in need of a reliable and feature-rich WordPress theme for classified ads, ClassiAds stands as the perfect choice.
Fully Responsive
Custom fields
Built with HTML5 and CSS3
Unlimited Colors
Visual composer integration
Separate Mobile Menu
Fully Customizable Header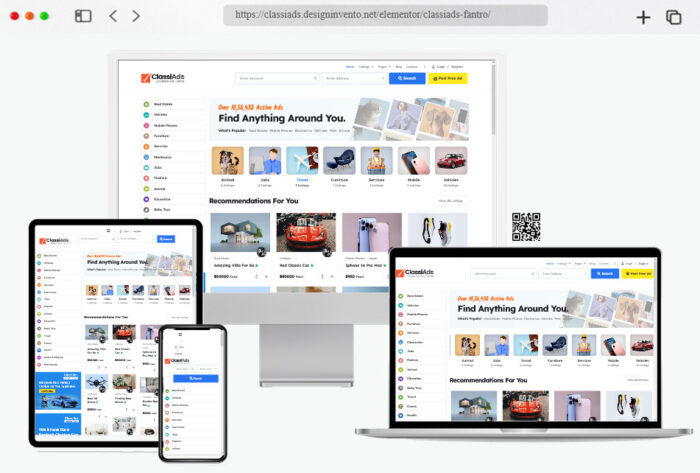 More info / download Demo