A well-designed website can showcase your projects, expertise, and services, attracting potential clients and setting your business apart. However, creating a website from scratch can be time-consuming and technically challenging. That's where construction website templates come to the rescue. In this blog post, we'll explore the world of construction website templates and recommend some top choices to help your construction business thrive in the online realm.
In the competitive construction industry, a well-designed website can be a game-changer. With the right construction website template, you can establish an online presence that captivates potential clients and elevates your brand. Remember to select a template that aligns with your business's goals and customize it to create a unique digital storefront that reflects your expertise and professionalism.
Buildnox
The Buildnox Construction website template is specifically crafted for construction and building companies, as well as those providing related services. It boasts a 100% responsive design, ensuring optimal performance across various devices.
This template encompasses essential elements for an effective online presence, including project displays, detailed project information, a blog section, and a page for customer testimonials. With its comprehensive features, Buildnox is an excellent option for establishing a professional online representation. If you're seeking to launch your company's website, Buildnox stands out as an ideal and fitting choice.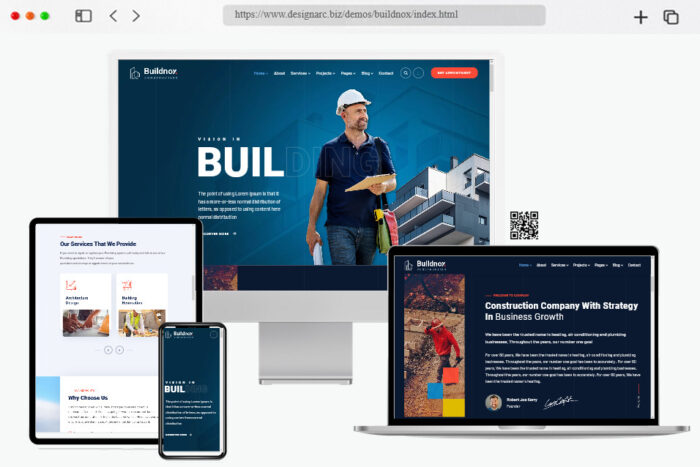 More info / download Demo
Builty
Builty is a dynamic Construction React NextJS Template tailored to suit factory industrial, construction businesses, architectural startups, and more. It caters to a range of corporate needs, including construction firms, plumbing services, painting services, engineering, machinery, and other related industries. With its comprehensive features, Builty is designed to effectively promote construction companies.
This template boasts numerous offerings such as 3+ distinct Home Pages, 26+ Inner Pages, versatile color schemes with both Dark and Light modes, and a real-time Dark/Light mode switcher. It includes modern carousels, enticing sliders, call-to-action elements, and user-friendly contact forms. Furthermore, Builty incorporates sections for showcasing projects, team members, services, a blog, and even a shop layout. Overall, Builty empowers the successful launch of modern construction or industrial corporate websites.
More info / download Demo
Buildtruck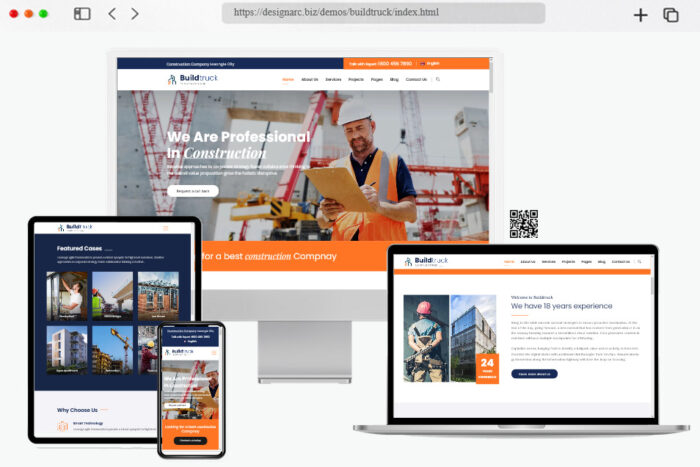 More info / download Demo
Buildy
Buildy is an HTML5 template for professional Construction, Industrial, Manufacturing, Factory, Company, Small Scale Industry, Business, and Engineering websites. This template is made just for people who want to start a website for Industrial.
This theme was made with the most popular responsive CSS framework in the world, Bootstrap 5, as well as HTML5, CSS3, javascript, and many other new technologies. At first glance, you'll be impressed by how modern and lively it looks, with smooth animations and transitions.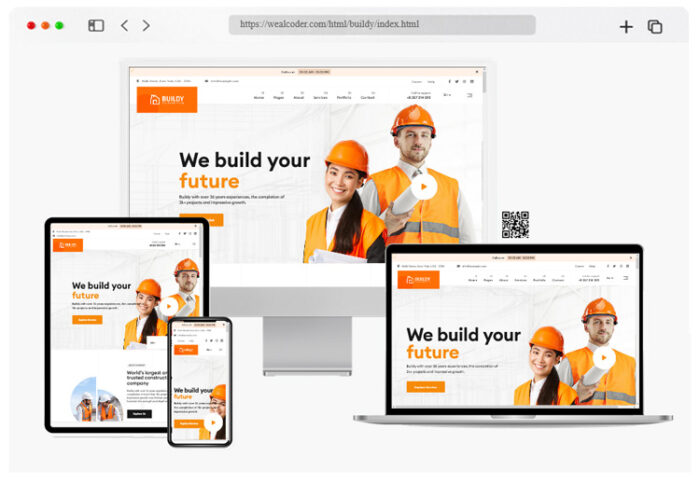 More info / download Demo
Elevate
Elevate is a modern and sleek HTML template designed specifically for businesses in the construction, renovation, engineering, architecture, and building industries. The template boasts a clean and professional design, ensuring both aesthetic appeal and user-friendly navigation. It is fully responsive, guaranteeing a seamless appearance on various devices, from desktops to smartphones.
This template incorporates a range of essential features and components tailored for construction and building-related websites. These encompass project galleries, profiles of team members, listings of services, testimonials, and more. The code is well-organized and clean, facilitating easy customization and long-term maintenance. With Elevate, you have the tools to craft a polished and captivating website for your construction business, setting you apart from competitors.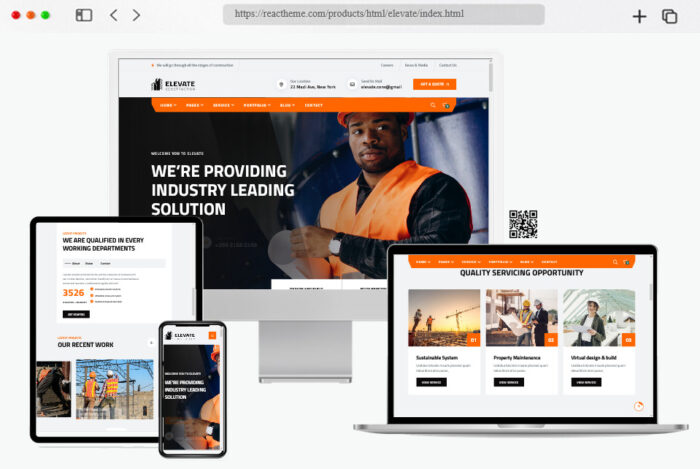 More info / download Demo
Builderrin
Builderrin is a Construction HTML Template created specifically for builder and construction-related services. The template boasts a distinctive and visually appealing design, making it an excellent fit for establishing an impactful online presence. It caters effectively to real estate and construction firms, as well as a wide range of professional businesses.
This template, based on Bootstrap 5, encompasses all the essential elements needed for a builder construction firm's website. With its versatile nature, Builderrin can be utilized for various business sites including companies and marketing agencies.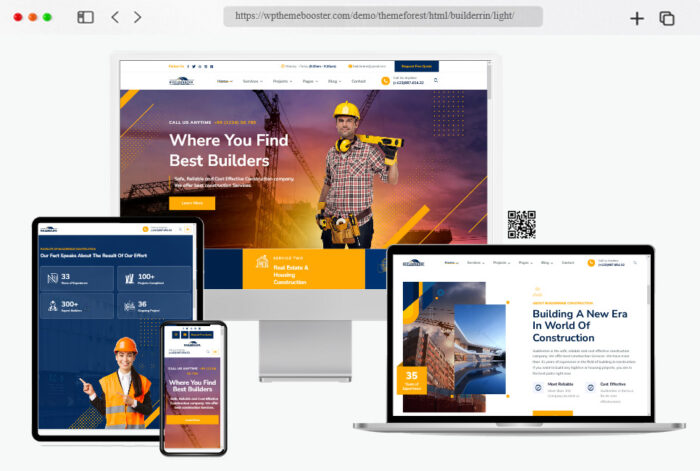 More info / download Demo
NORC
If you want a clean and modern template, the NORC Construction Renovation Template is a great choice. This template is perfect for any building, construction, roofing, industry, plumbing renovation, projecting, etc. to show their services, projects/portfolios, and other information to their customers.
This template can be changed in any way you want. You can change anything about this template to suit your needs. In this template, we used Bootstrap 5+, the latest version of jQuery, Owl Carousel, Animate, FontAwesome Icons, YouTube Popup, Magnific Popup Gallery, etc.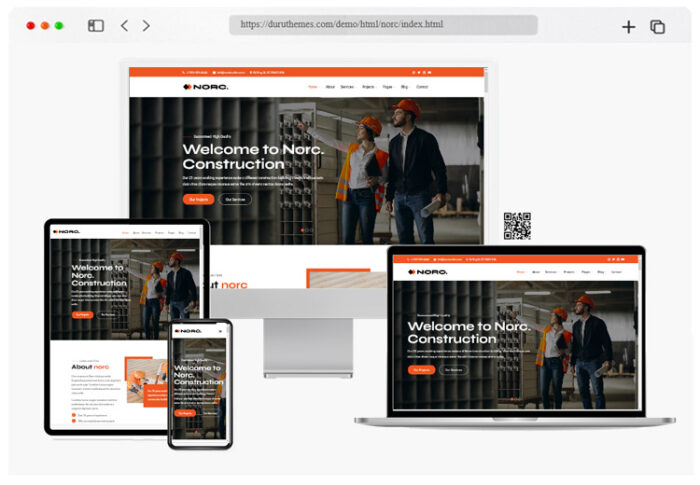 More info / download Demo
Konstruk
Konstruk is a professional Construction HTML Template designed for businesses or individuals within the construction industry. With a focus on quality, this template offers an impressive selection of features for creating a website. It includes a variety of options, such as 20 prebuilt home pages (10 multi-page and 10 one-page designs) and over 35 inner pages. These inner pages encompass service sections, project displays, team profiles, testimonials, multiple blog layouts, and more.
Konstruk is highly versatile and ideal for a range of construction-related fields, including building, roofing, plumbing, architecture, and more. It's designed to help businesses showcase their services, projects, and portfolios effectively. The template caters to industries such as electricity, engineering, interior design, and maintenance, among others. Konstruk enables businesses to present essential information to their customers in a professional and engaging manner.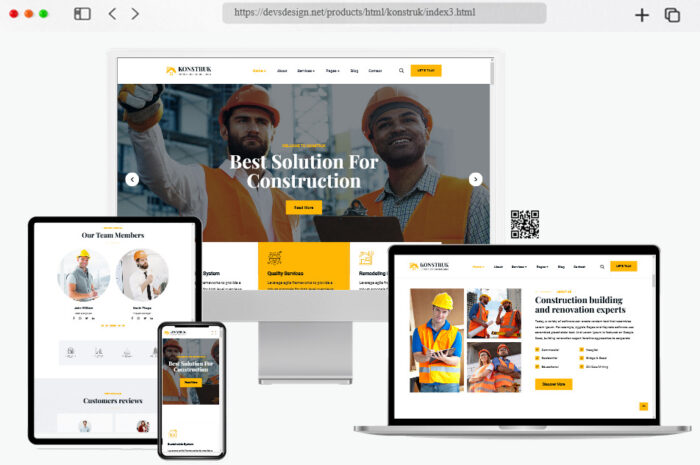 More info / download Demo
Bricks
Bricks is a construction HTML template that was made for all kinds of construction businesses, including construction businesses, startup companies, and so on. Bricks is best for a construction company or a business that sells machinery, etc. Bricks, Construction HTML Template has a beautiful and unique design that will work best for your online web presence.
Bricks, Construction HTML Template has all the features you need to have an online presence for your engineering or machinery business, industry, construction, team and appointment page, etc. You might want to use bricks for your online presence.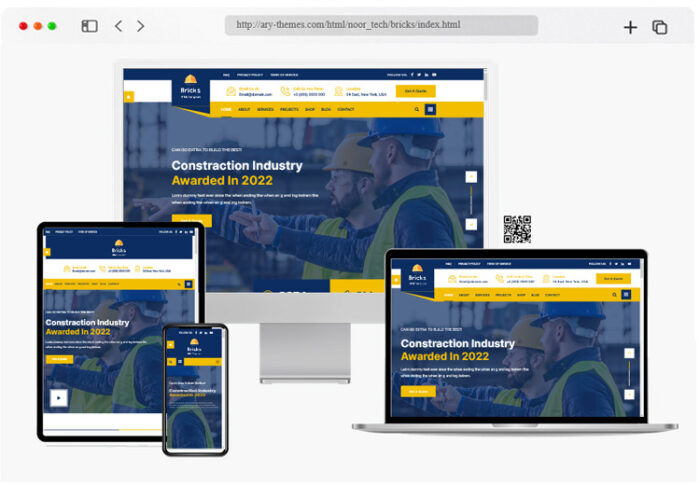 More info / download Demo
BuildTab
BuildTab is an Iconic HTML Template that is set up in a way that makes it perfect for websites for Real Estate Services Companies. BuildTab is a template for building and business websites that is clean, modern, and ready for retina displays.
BuildTab is best for construction, building companies, contractors who do renovations and remodeling, and real estate services in general. This is a business template that helps Corporate Business and Construction Firms with their online presence.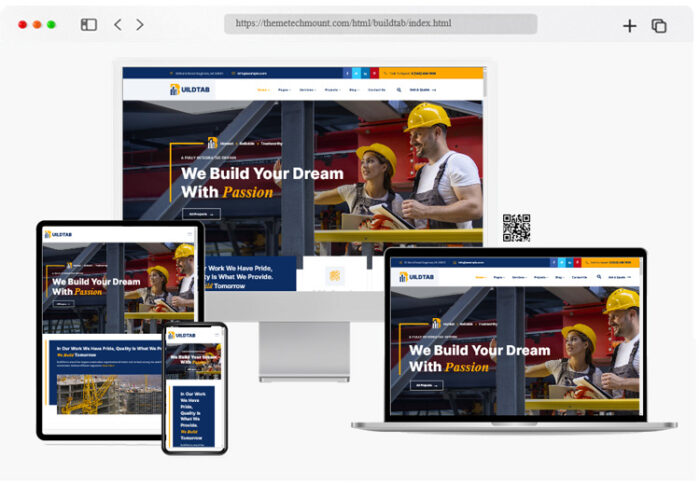 More info / download Demo
Axial
Axial Construction Company is a website template that can be used for factories, industry, construction, architecture, factories, mechanics, energy, and more. Axial Construct has two home page options and blocks that can be used for more than one thing. This template is clean and modern, and it has everything you need to make a great website.
The Axial is full of powerful and easy-to-use features that open up a world of possibilities. The template comes with a whole set of layout pieces that are all beautifully made. It has blogs, services, and a lot of pages that you can use to make a great website for the construction industry.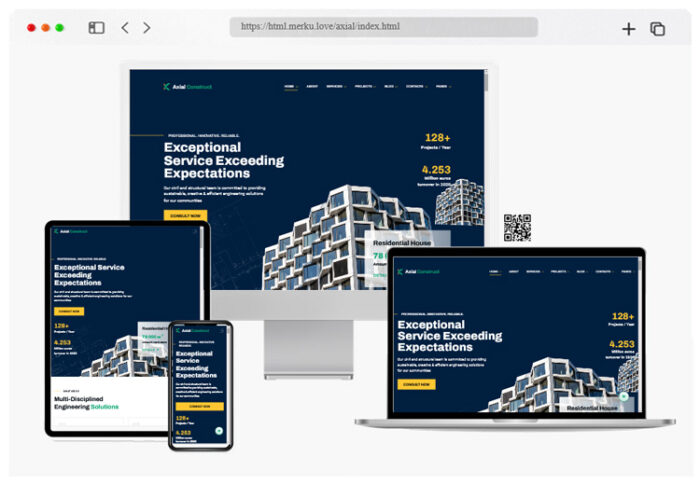 More info / download Demo