Discover the best Creative Agency WordPress Themes to elevate your online presence! In this blog post, we'll explore a curated collection of beautifully designed themes tailored for creative agencies. From stunning portfolios and interactive animations to user-friendly layouts and customizable options, these themes are perfect for showcasing your agency's unique style and services. Whether you're a web design studio, digital marketing agency, or any creative business, these WordPress themes will help you create a captivating online platform that leaves a lasting impression on your visitors. Explore the features, functionalities, and visual appeal of each theme to find the perfect fit for your agency's needs.
Axtra
Axtra is a cutting-edge WordPress theme designed for digital agencies, design studios, digital marketing agencies, portfolio showcases, personal portfolios, web design/development agencies, and start-up businesses. It aims to provide a professional and modern web presence for design or software businesses.
With its award-winning design, Axtra offers engaging animations and smooth scrolling, creating an immersive and user-friendly experience for visitors. The theme is highly customizable, allowing you to personalize the animation, cursor, color scheme, and more to align with your specific requirements. Detailed documentation is provided to guide you through the customization process, ensuring a seamless setup.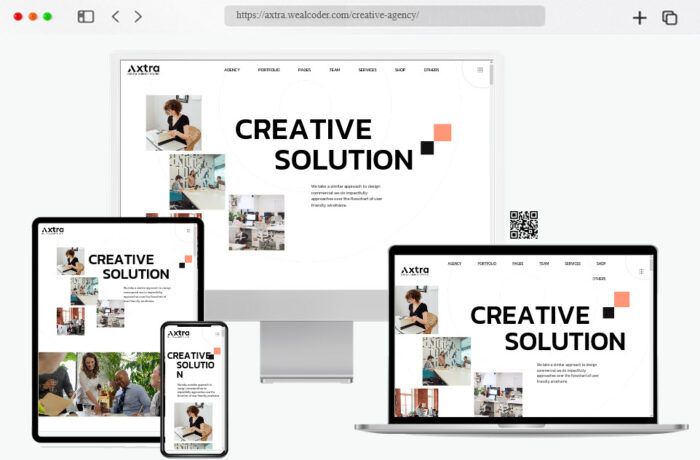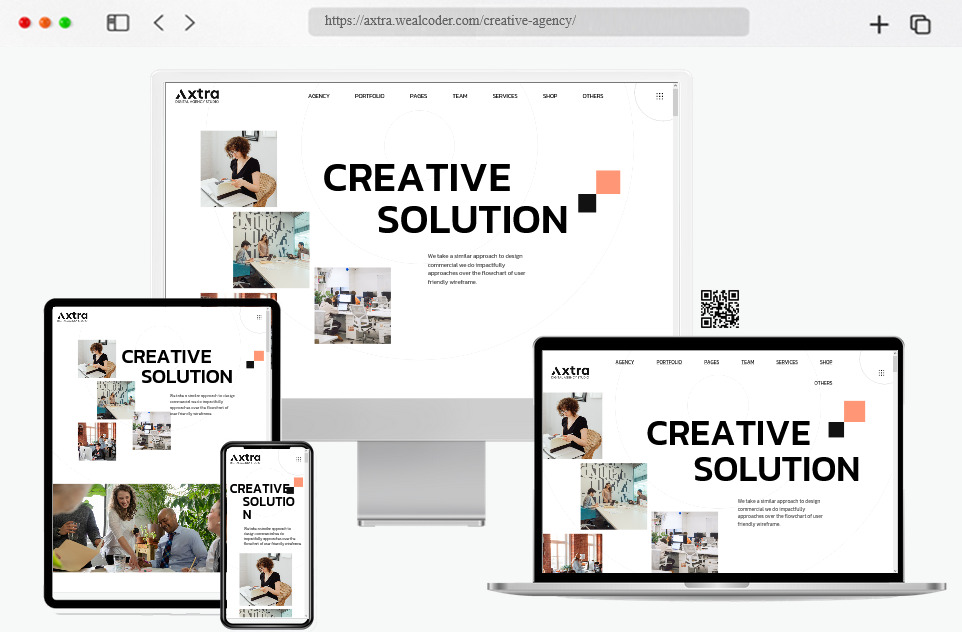 More info / download Demo
Harry
Harry is a Creative Agency & Portfolio WordPress Theme that offers high-quality prebuilt home pages and a range of built-in inner pages for services, portfolios, teams, testimonials, and various blog layouts. This theme is particularly suitable for artistic and creative industries where having an impressive portfolio is essential for marketing purposes.
The theme stands out with its trendy and energetic design, incorporating smooth transitions and animations. It provides 10+ header styles and numerous customization options, allowing users to create a unique and personalized website.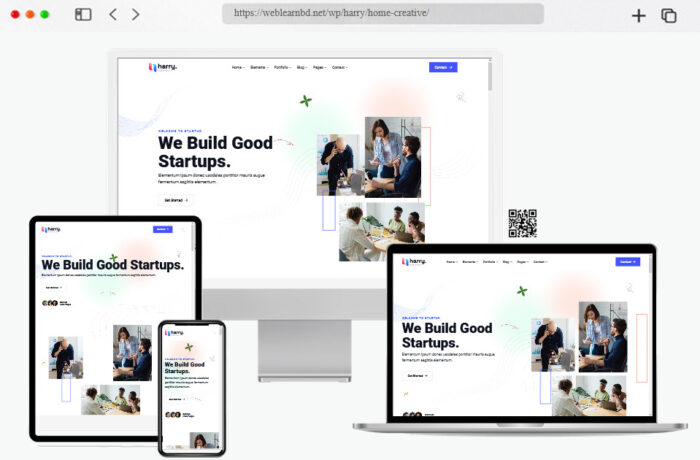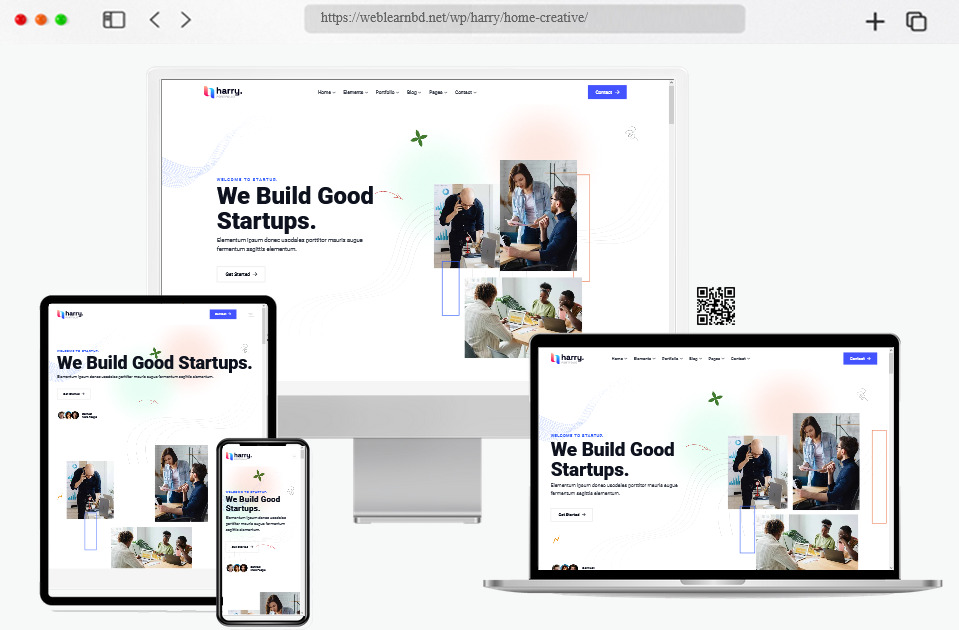 More info / download Demo
Onovo
Onovo is a Creative Portfolio Agency WordPress Theme that is specifically designed for digital agencies, creative agencies, web design agencies, showcases, portfolios, and other similar purposes. It offers a minimalistic design with unique creative animations, resulting in a stylish and attractive appearance. The theme includes pre-built demos and four or more unique home pages to choose from, providing flexibility in creating your website.
It also features a Header & Footer Builder for easy customization, three or more portfolio types with filters and inner pages, and a Parallax Portfolio option for captivating visuals. With the One-Click Demo Install feature, you can quickly set up your website. Onovo integrates seamlessly with the Elementor Page Builder, offering custom Onovo widgets for enhanced design possibilities. Additionally, the theme comes with other premium features to help you successfully launch a modern portfolio or agency website.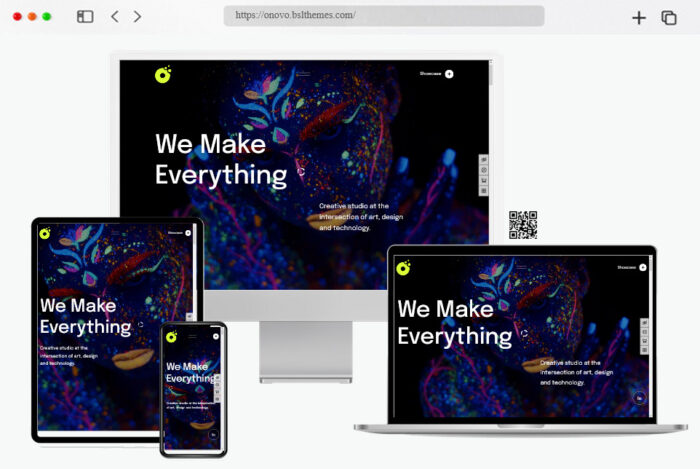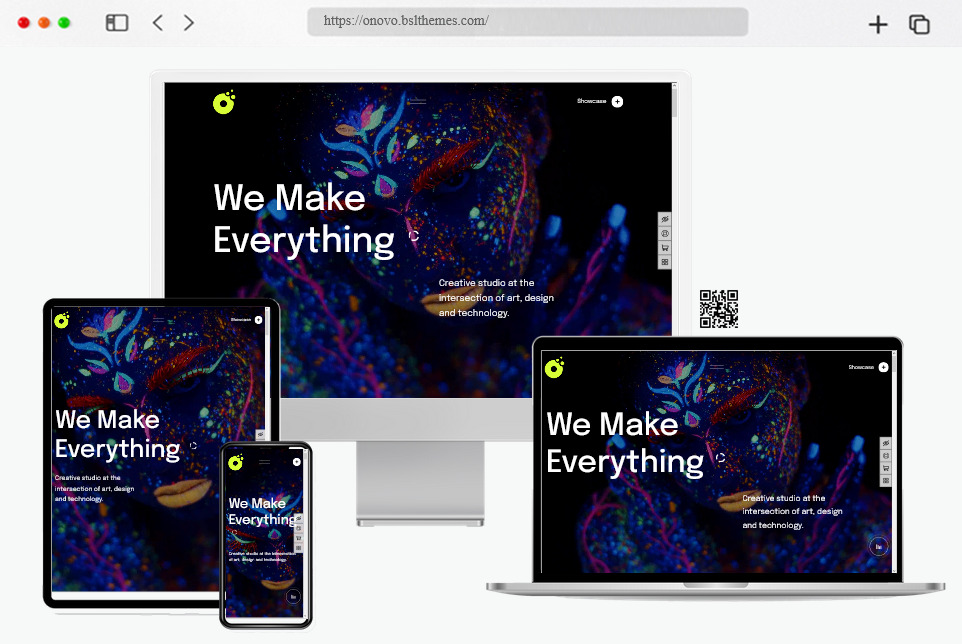 More info / download Demo
Harington
While Harington is developed specifically for use by designers, painters, photographers, and other creative people, anyone may use it to produce its spectacular effects. Highlights of this template include its creative showcase slider, carousel, portfolio parallax grid, and its lightning-fast Ajax page load and page transition capabilities. Additionally, Harington is totally responsive and retina ready.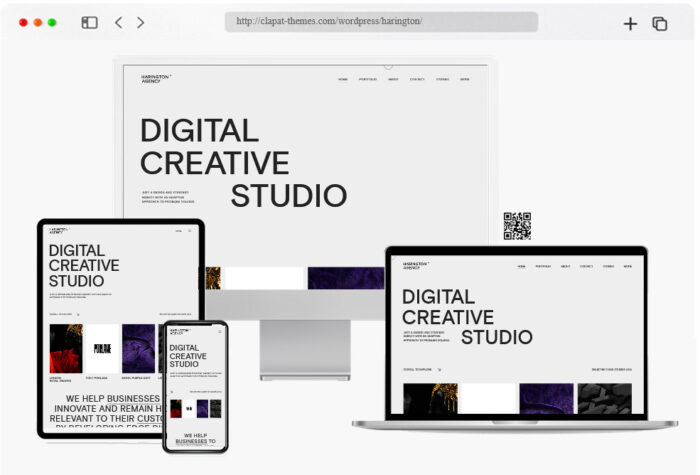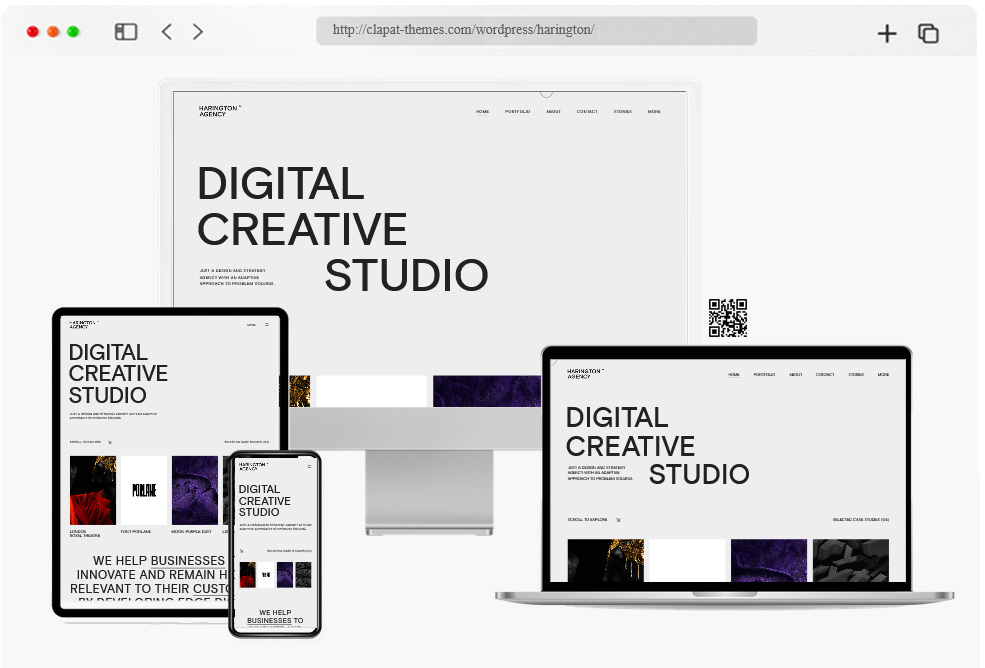 More info / download Demo
Axela
Axela is a one-of-a-kind, minimalist, beautiful, multipurpose showcase and creative agency theme with the clean user experience you need to construct a modern and effective website and begin selling your products and services. It includes the most powerful WordPress page builder plugin, Elementor Page Builder, and the Redux theme settings plugin.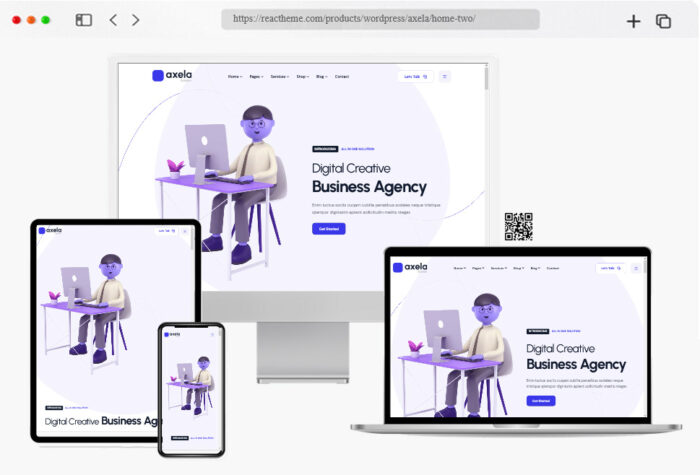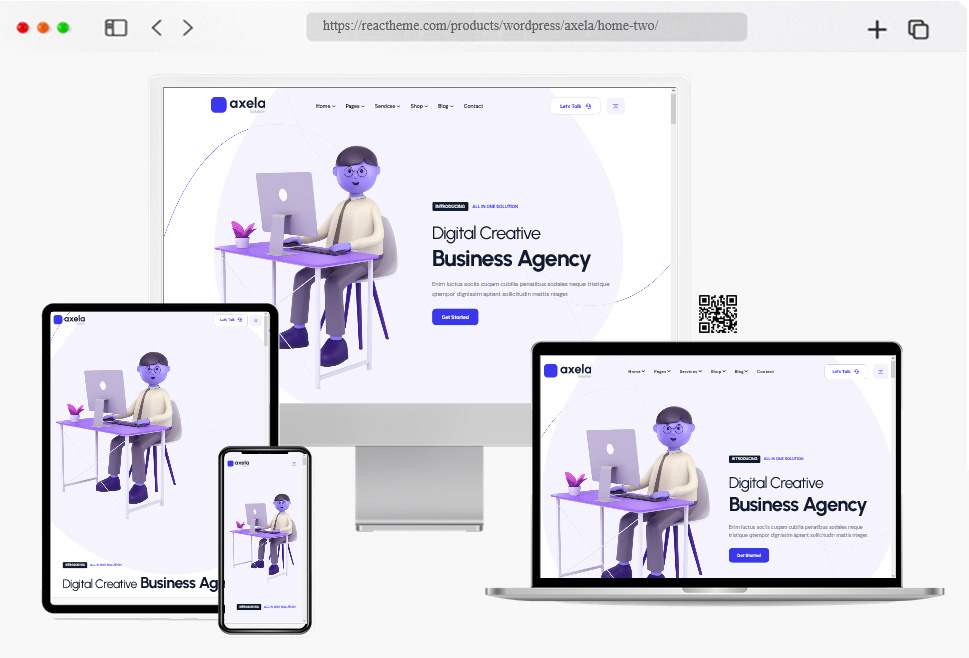 More info / download Demo
Most Agency
The Most Creative Agency Theme is designed to take advantage of a Full Website Editing capabilities introduced in WordPress with the Elementor plugin, allowing you to adjust the colors, typography, and layout of each and every page of your website to reflect your vision. You may build a sophisticated or incredibly simple website fast and intuitively using the included styles, or you can delve into creation and complete modification yourself.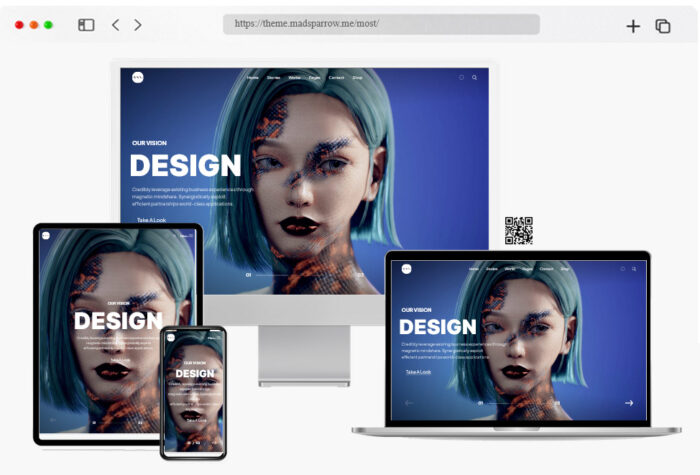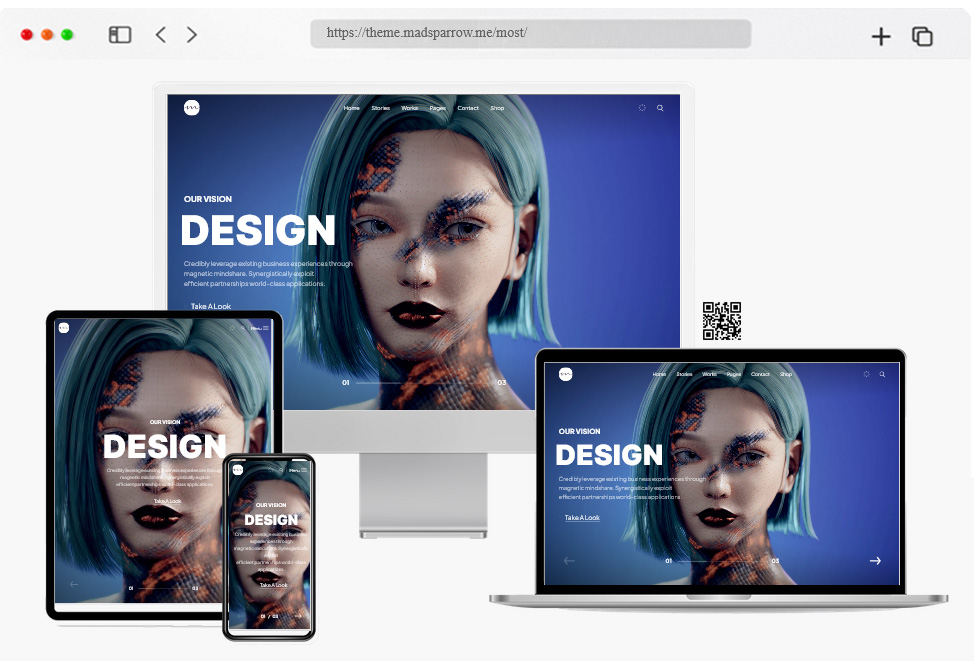 More info / download Demo
Orbito
Orbito is a Creative Agency WordPress Themes. For more than 10 years Orbito has been developing premium WordPress themes for businesses and individuals. Every second Monday, we release new versions of our best-selling themes. Orbito's team works in the tradition of providing quality products with usability, speed and beauty combine it with creativity.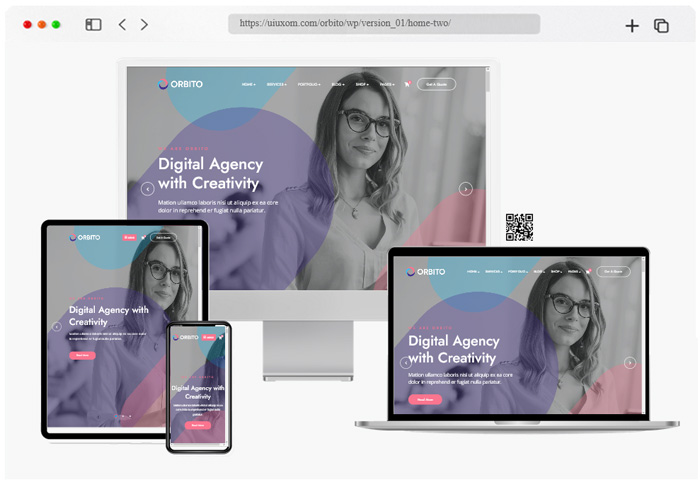 More info / download Demo
Munich
Munich is a creative agency WordPress themes that lets you create amazing websites. Our themes are perfect for you if: You love to edit your content, build beautiful designs and optimize your pages On top of that, Munich is also one of the most affordable WordPress themes in the market.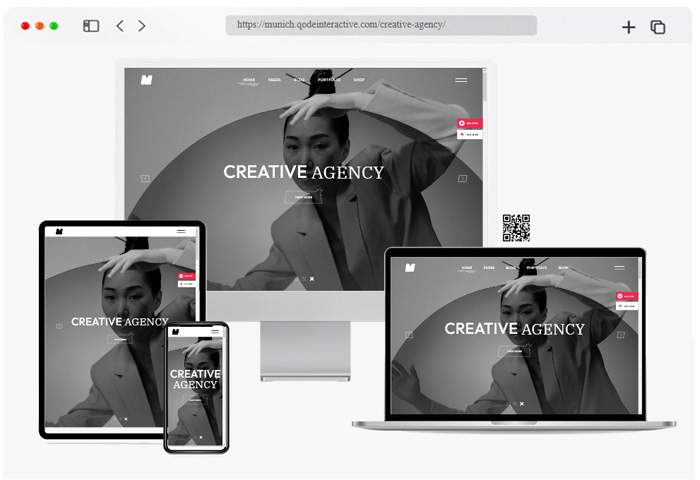 More info / download Demo
Swipy
Swipy is a creative agency WordPress theme, made by the team of professionals at Swipy Creative. Our goal is to help our client's website look beautiful and professional. We provide them with an award winning WordPress website that helps them stand out from their competition.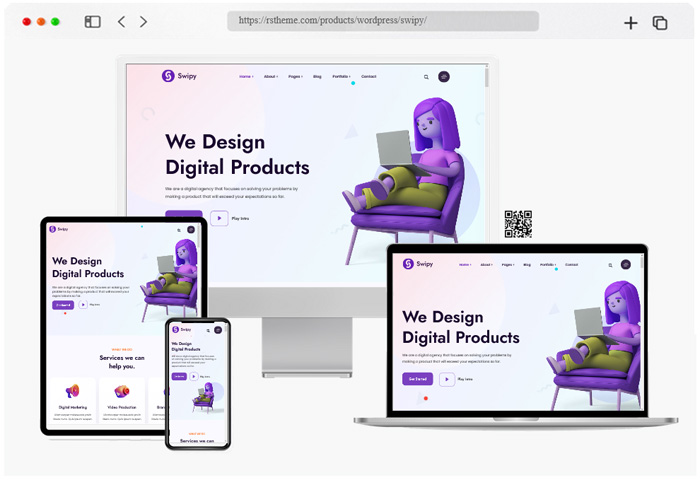 More info / download Demo
Imroz
We are grateful that Imroz was chosen as your WordPress website's theme. It was constructed using the page builder Elementor. Along with more than 15 home demo pages, numerous inner pages, a stylish blog, and more, there are more than 30 widgets that can be modified to meet your needs for the Dark Mode Style. There are numerous interior pages as well. When used, it works admirably and has fantastic looks.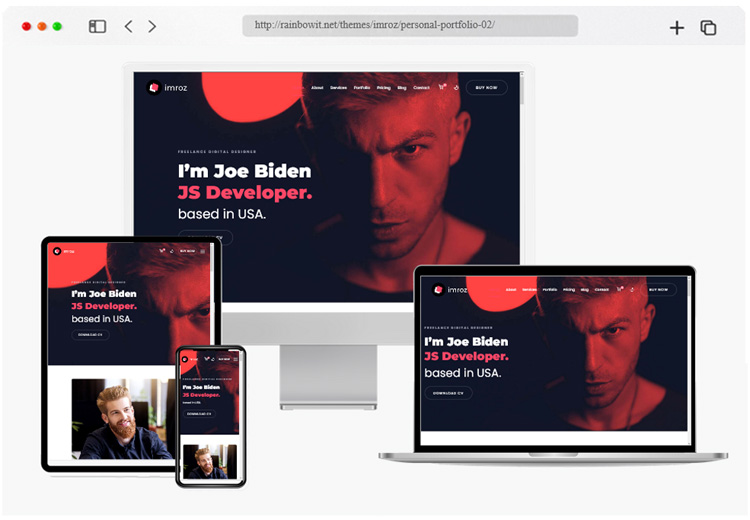 More info / download Demo
Mogi
For businesses, studios, and professionals in the creative industries, the ground-breaking and distinctive WordPress theme MOGI was developed. It is aimed at people who work in the creative industries. The people who should read it are those who work in creative fields. Mogi was entirely built using the Elementor Page Builder, so it can be modified in a variety of ways. It was created using just this page builder.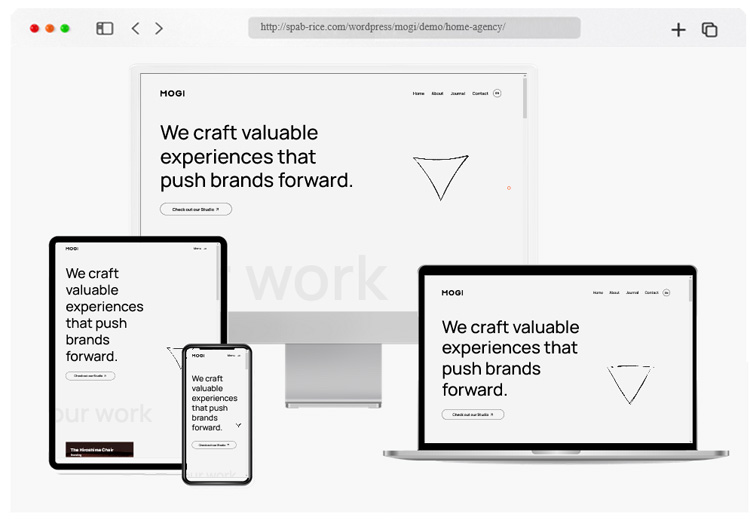 More info / download Demo
Abstrak
The Abstrak WordPress theme was developed to meet the needs of modern websites and online stores. Its primary goal is to make modern website construction simpler. The launch of an agency, a creative agency, a website for a creative firm, or an online marketplace for independent contractors are just a few examples of the many uses for this instrument. With the Advanced Custom Fields PRO plugin for WordPress, adding useful and user-friendly fields to your website is straightforward.
This is true since just one plugin does all of these tasks. Email Form 7 One more add-on element that may be used with different contact forms. Simple yet flexible Elementor On the front end, the most advanced drag-and-drop page builder available has been used. As soon as you can, create webpages of the greatest quality using pixels that are as close to ideal as you can. every topic, every topic combination, every page, and every design.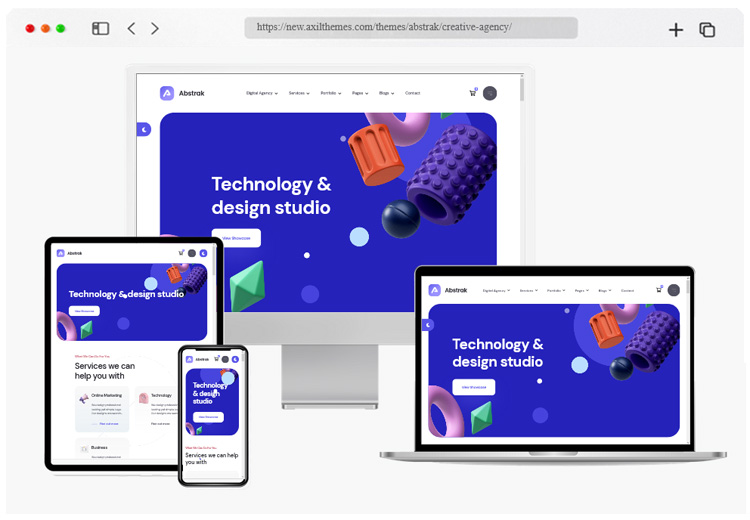 More info / download Demo
Obelisk
Using the Obelisk WordPress portfolio theme would be very helpful for a new modeling agency, design studio, or creative organization. This theme is a great choice for businesses that are creative. Bootstrap was used to build this site because of how well it responds to changes. Each file and line of code has been carefully organized and commented on so that any changes made in the future will be easy to implement.
The One-Click Demo Importer is a brand-new feature that has just been added to the theme. It's a really helpful feature, and it was just put in. You can import any demo from the live preview with just one click, and the configuration process won't take more than a minute. Instead of starting from scratch, it's easier to just add your own stuff and play around with the design than to make everything from scratch. With the help of the Template Library, you can save the layouts of your pages as templates.
Then, you can use these templates on different pages in the future. Because of this, it's possible that you'll be able to get things done in less time. Any template can be exported from one website and then imported into another to make it work on that other website. This lets you share your templates with other designers so that they can use them.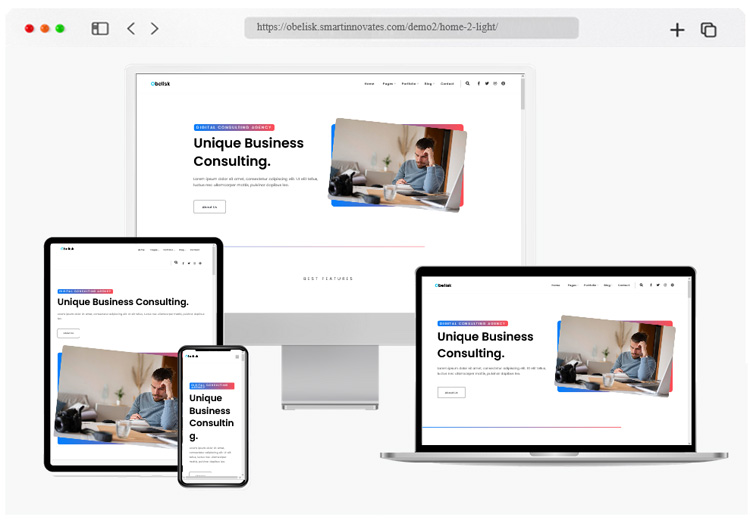 More info / download Demo
Gracey
Gracey is looking for people who are creative, don't mind putting themselves out there and trying new things, and don't let fear stop them from trying new things. Because of this feature, putting together a modern portfolio is easier and more streamlined, which makes it less difficult. This theme works well for a wide range of websites and businesses, including those that focus on UI/UX design portfolios, modern web design companies, and a number of other types of websites and businesses.
It also comes with a free copy of the Slider Revolution Responsive plugin and a fullscreen slider, an original animated portfolio, a cutting-edge animation template, and a packaging design. The whole thing that these parts are a part of is made up of all of these parts. In addition, it works with the Elementor Page Builder plugin, which you can get by following the directions on the company's website.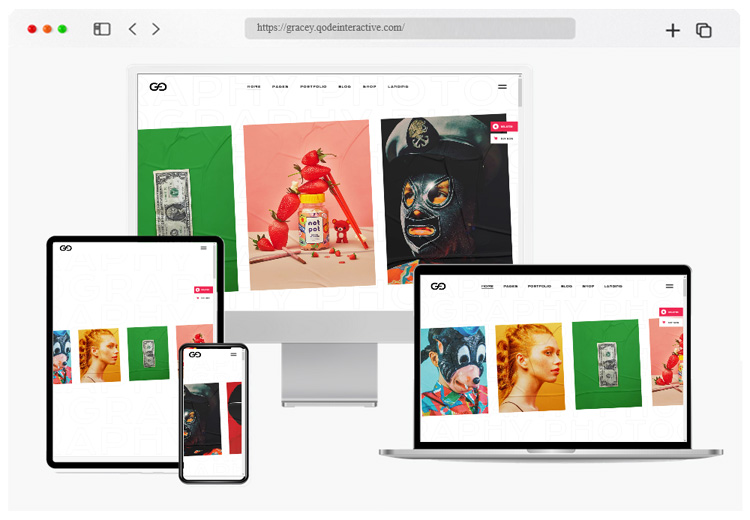 More info / download Demo
Archee
The Archee WordPress theme for portfolios is modern, up-to-date, and easy to use all at once. If you want to be successful as an artist, a designer, a product developer, or a creative agency, you must have a great portfolio. If you use our powerful WordPress portfolio theme, you can show off your work in a way that is lively, artistic, and up-to-date without spending a lot of money or time on it. This is because our theme is built on top of WordPress's framework, which is flexible and can be changed.
Archee was built from the ground up with you and your guests in mind from the start. Archee makes it easy to make an online portfolio and change how it looks. This will make it a good experience for people who visit your website. That's because Archee is easy to use. On any of the pre-made websites, you can show off your services, galleries, portfolio, movies, blogs, and a lot more with just a few clicks of your mouse.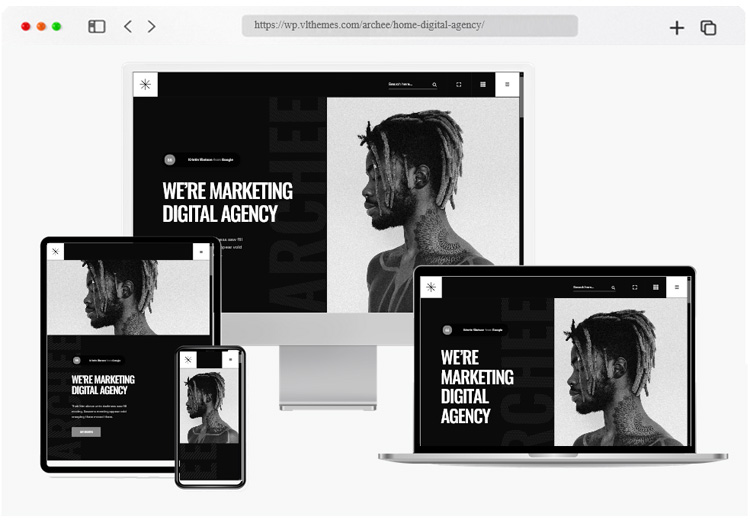 More info / download Demo
Bili
The best combination of ease of use and sophistication, which will change the way you build and create websites in a big way in the future. No matter what kind of artist you are, you can use the Bili WordPress theme, which was made to be the best portfolio theme available right now. It has a lot of useful features and powerful capabilities that can be used by anyone.
It shows a modern multi-concept firm that you can use to build your web portfolio, show off your best work, brag about the clients you've worked with in the past, and convince potential clients to hire you as their agency of choice. Bili is an all-in-one design tool that lets you use the full power of a page builder with a drag-and-drop interface while still being as easy to use as possible. The fact that Bili is an all-in-one design tool makes this possible. Because of this, making things and coming up with designs isn't hard for anyone anymore.
You can start from scratch and make your own homepage from scratch, or you can choose from a wide range of beautiful homepages that have already been made and easily add them to your website with just one click. Because bili and creativity go together so well, this domain name is a great choice for artists, creatives, digital studios, creative studios or agencies, entrepreneurs, freelancers, and others in the same field.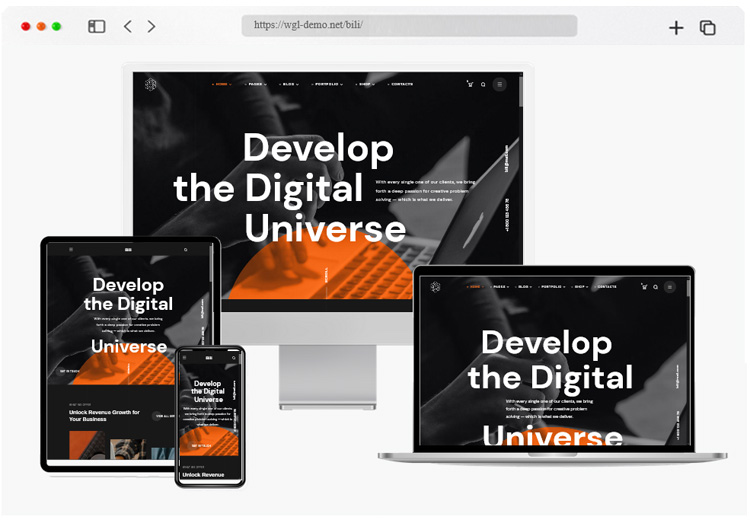 More info / download Demo
Alioth
The main reason why Alioth, a high-performance, flexible, and detail-oriented creative agency WordPress theme, was made was to show off creative work. The main reason for it is to show off creative work. The Greek word for "agency," which is the same word as "portfolio," is where the word "portfolio" comes from. You don't have to know how to code to be able to make things. This website is run by a program called Elementor, which is the most advanced drag-and-drop page builder that can be used from anywhere in the world.
With Alioth's wide range of materials and layouts for web design, architecture portfolio, web designer portfolio, and graphic design agency websites, it's easy to make a beautiful portfolio that shows off all of your work. There are websites for web design, web designer portfolios, and graphic design agencies that can use these layouts and materials.
This is something that can be done very quickly. In this category, you'll find themes for portfolios that change, templates that work well with Elementor, and a lot more. If you choose to buy Alioth right now, your newly made WordPress portfolio will be able to help you make a strong statement.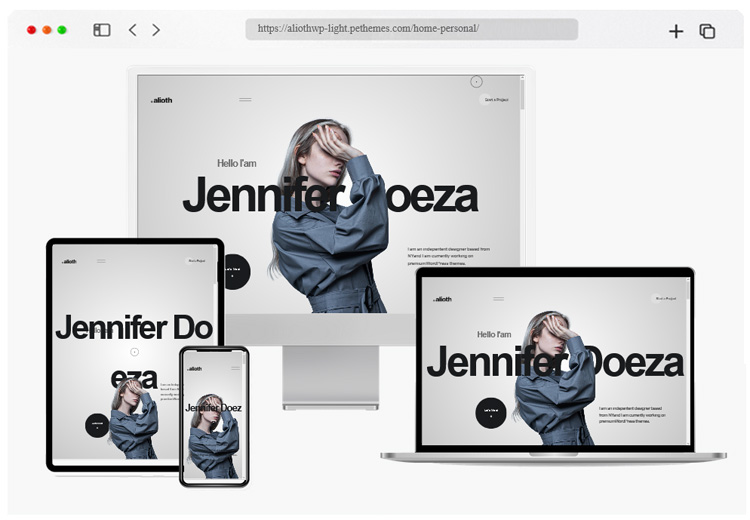 More info / download Demo
Obsius
The Obsius theme was made to look unique and was made with the idea that it would be used by creative businesses, digital agencies, and portfolio websites. During the planning and development stages, the age, gender, and other characteristics of the people who would use it were carefully thought about. During both the planning and development stages, the demographics of the people who would use the product were given a lot of thought.
It comes with a number of attractive themes with dark color schemes that were made for modern websites like businesses, freelancer portfolios, fashion stores, and other types of websites. It also has a lot of different kinds of themes. The Elementor Page Builder is also platform-neutral, which means that it works with any computer system. This makes it very adaptable. Using Obsius, you can quickly and easily build a website that is both visually appealing and cutting-edge in terms of its features and functions.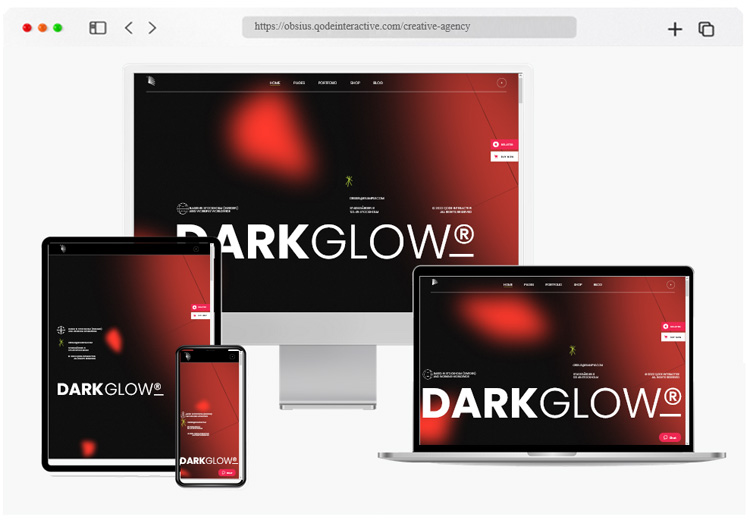 More info / download Demo
Madelyn
Madelyn is a beautiful, multi-concept creative theme that can be used to make websites for modern designer portfolios, fashion businesses, and creative agencies. Personal websites can also be made with the Madelyn theme. Madelyn is also a creative topic because it combines different ideas. Any creative design company, business, or blog can use the templates that come with the theme to build their own unique websites.
It also has forms and options that can be changed to make, among other things, interesting curriculum vitae or resumes. In addition, this software can be used. Madelyn is a platform that is easy to use and makes it easy to start a new blog, portfolio, fashion store, or other kind of online business. Madelyn also makes it simple to run multiple online businesses at the same time.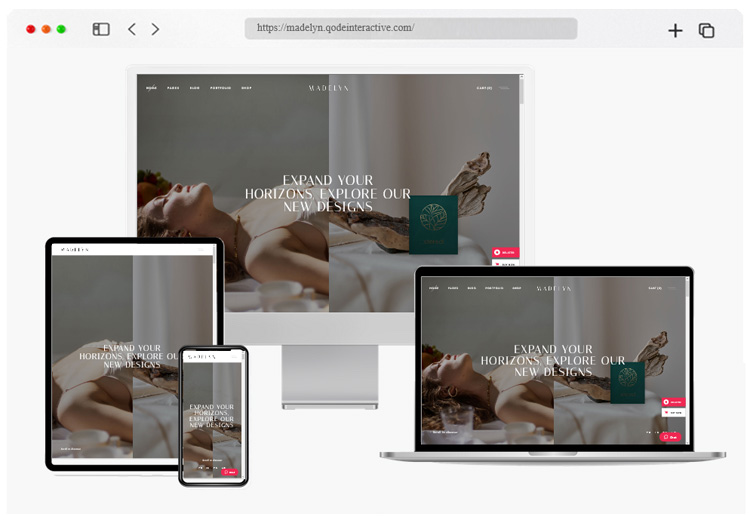 More info / download Demo
vCamp
The vCamp is a modern creative agency WordPress theme that was made mainly for creative agencies and portfolios, but it could also be used for a wide range of other projects. Any kind of business, corporation, agency, portfolio, freelancer, web design firm, or web designer can use vCamp to promote their services, work, projects, or case studies in a creative and professional way.
This is true for both big and small companies. Anyone who wants to use vCamp is welcome to do so without paying anything. vCamp comes with 13 pre-made home pages, 121+ all-pages, and more than 150 different attractive element blocks to choose from. vCamp is a template made with HTML5 and CSS3 that is fully responsive, easy to use and change, quick to load, well-documented, beautiful to look at, and up-to-date. The most recent version of the Bootstrap theme is used.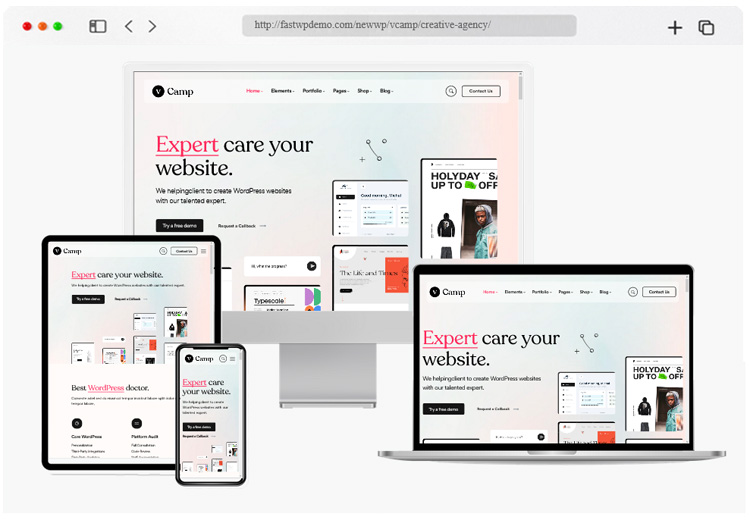 More info / download Demo
Laurits
Laurits is a popular place for artists and people who want to try new things to get together. This theme was made to be used on creative websites, such as those for agencies, portfolios, graphic designers, magazines, art institutions, and other similar sites. Here are some more examples of how this theme could be used: It also works well with the Elementor Page Builder and comes with a number of different, modern-looking themes.
Many different kinds of website owners can use these themes, such as freelancers, art galleries, photographers who want to show off their work, and many more. When you put your art and other items on display with Laurits, they will look very modern.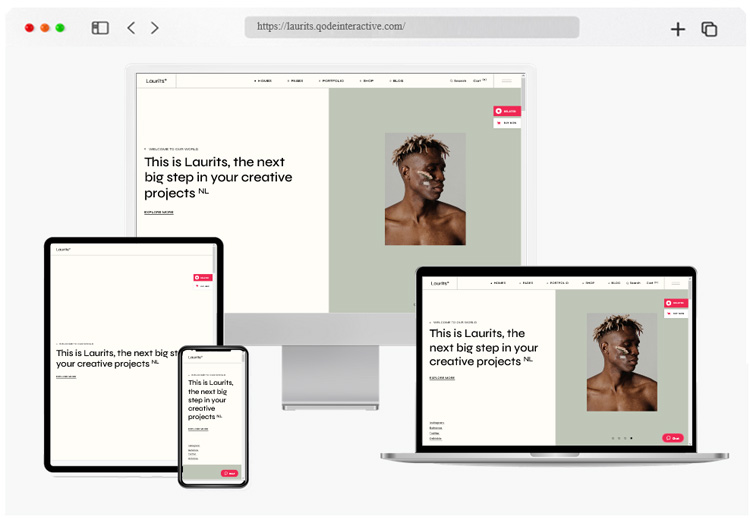 More info / download Demo
Éternel
We would like to take this opportunity to introduce Éternel, a fresh, gorgeous multi-concept theme that will give you a new perspective on animation and design in the contemporary era. Any artist, designer, design studio, web design company, or modern creative agency could use Éternel to enhance their brand. You can use the theme's various page layouts for your shop, blog, and portfolio pages.
These page layouts are all attractive enough to display to your clients. We'll provide you with a distinctive and high-caliber design, and Gutenberg will construct it using the superior and specialized building materials we provide. We're confident that Éternel will help you wow your customers right away and leave them speechless. On this, we can guarantee you our word.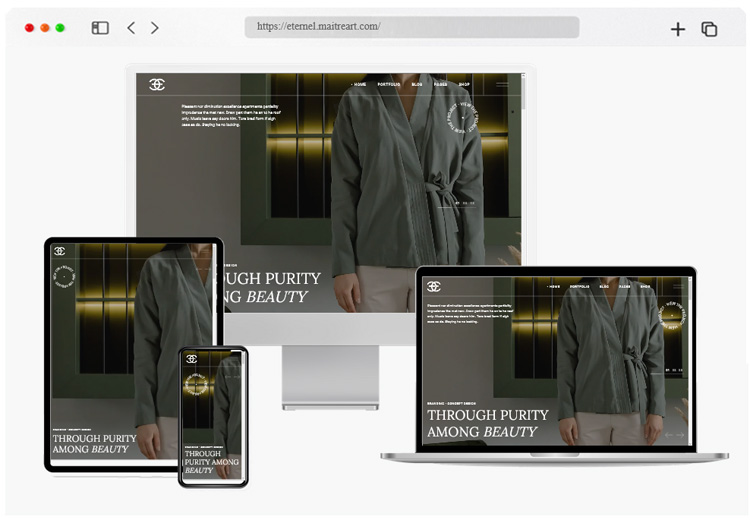 More info / download Demo