As cryptocurrencies continue to gain popularity and adoption, managing crypto assets efficiently becomes increasingly important. Whether you're a crypto exchange, a blockchain startup, or a crypto enthusiast, having a well-designed admin template can streamline your operations and enhance your user experience. In this blog post, we'll explore the top five crypto admin templates for 2023, designed to simplify your cryptocurrency management tasks and boost productivity. Let's dive in!
This is shortlist of Top 10 Crypto Admin Templates for 2023

Cryptoon
In the fast-paced world of cryptocurrency management, having a reliable and efficient admin template is essential for streamlining operations and maximizing productivity. Introducing Cryptoon Admin Template, a powerful and user-friendly solution designed to unleash the power and simplicity needed to manage your cryptocurrency endeavors.
The features and benefits of Cryptoon Admin Template and how it can revolutionize your crypto management experience: Intuitive User Interface, Customizable Components, Real-time Data Updates, Multi-Cryptocurrency Support, Enhanced Security Features, Responsive Design.
Cryptoon Admin Template offers a powerful and simplified solution for managing your cryptocurrency endeavors. With its intuitive user interface, customizable components, real-time data updates, multi-cryptocurrency support, enhanced security features, and responsive design, Cryptoon empowers you to streamline your crypto management tasks with ease. Stay ahead of the curve and unlock the power and simplicity of Cryptoon Admin Template as you navigate the exciting world of cryptocurrencies.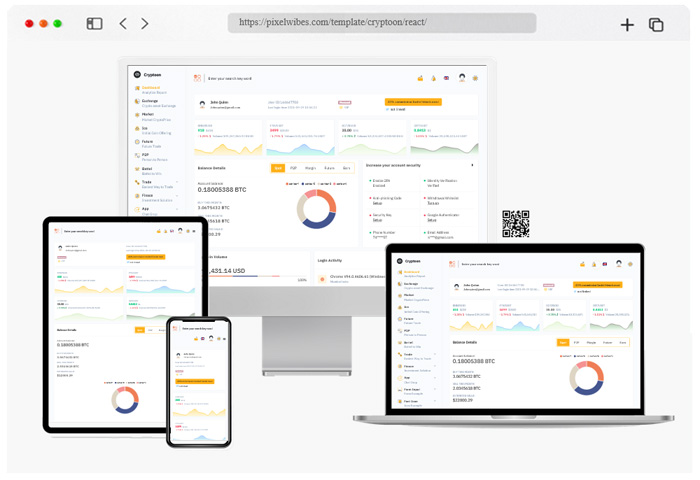 More info / download Demo
FinLab
Crypto exchanges require robust and efficient tools to manage their operations effectively. In the dynamic world of cryptocurrencies, having a comprehensive admin dashboard is crucial for success. Introducing FinLab, the ultimate admin dashboard designed specifically for crypto exchanges.
The features and benefits of FinLab and how it can revolutionize the way crypto exchanges manage their operations: Advanced Trading Tools, KYC/AML Compliance, Integration with Popular Exchange API, Advanced Analytics and Reporting, User Management and Support, Enhanced Security Measures. It includes features like two-factor authentication (2FA), IP whitelisting, and encryption protocols to safeguard against unauthorized access and data breaches.
FinLab stands as the ultimate admin dashboard for crypto exchanges, providing a comprehensive suite of tools and features to streamline operations, enhance trading experiences, and ensure regulatory compliance. With advanced trading tools, KYC/AML compliance features, seamless API integrations, powerful analytics and reporting capabilities, user management and support features, and robust security measures, FinLab empowers crypto exchanges to thrive in the competitive crypto market of 2023. Embrace the power of FinLab and elevate your crypto exchange to new heights.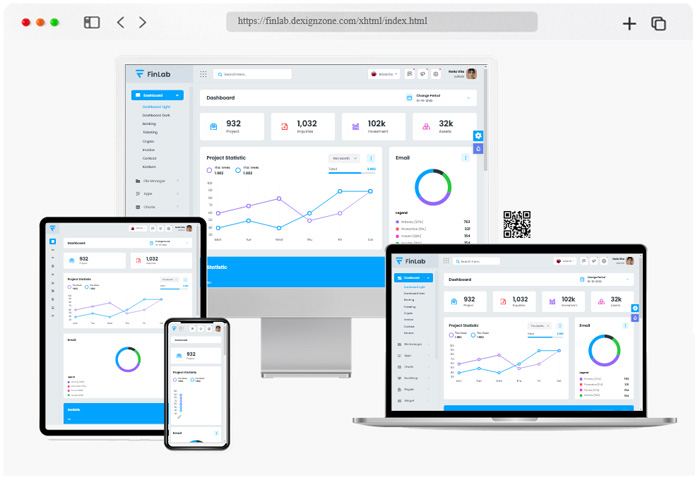 More info / download Demo
Criptic
Managing cryptocurrency portfolios effectively is crucial for investors, traders, and financial institutions operating in the crypto space. To simplify this process and provide an elegant solution, introducing Criptic – an admin template designed to streamline portfolio management in the world of cryptocurrencies.
The features and benefits of Criptic, demonstrating how it can enhance portfolio management experiences with its simplicity and elegance: Intuitive and User-Friendly Interface, Portfolio Tracking and Management, Real-Time Price Updates and Alerts, Performance Analytics and Reporting, Integration with Crypto Data Providers, Customizable Widgets and Reports.
Criptic provides an elegant and simplified solution for portfolio management in the cryptocurrency space. With its intuitive interface, portfolio tracking and management capabilities, real-time price updates, performance analytics, integration with crypto data providers, and customizable widgets, Criptic empowers investors, traders, and financial institutions to efficiently manage their cryptocurrency portfolios. Embrace Criptic's elegance and simplify your portfolio management journey in the dynamic world of cryptocurrencies.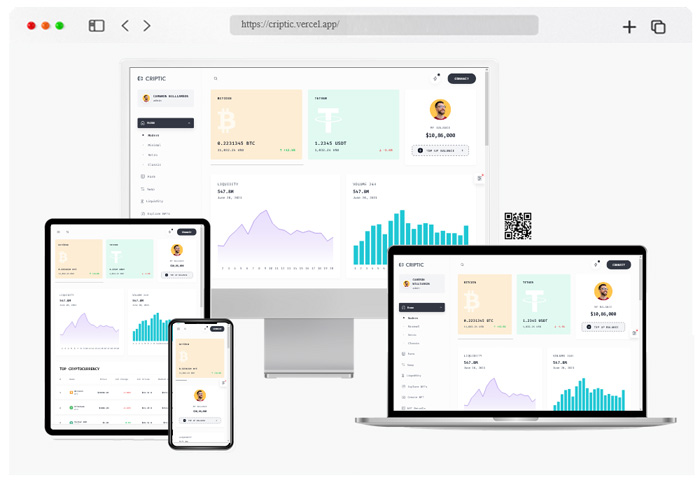 More info / download Demo
Cryptoon
Managing blockchain projects requires efficient tools and streamlined processes to ensure successful development and implementation. Introducing Cryptoon, a powerful admin template specifically designed to enhance blockchain project management. Cryptoon can optimize and streamline the management of blockchain projects, providing features and benefits that help project teams achieve their goals.
The features and benefits of Cryptoon, Smart Contract Management, Token Creation and Management, User Governance Tools, Analytics for Monitoring dApp Usage, Modular Structure and Developer-Friendly APIs, Documentation and Support. Cryptoon offers responsive support channels to address any specific questions or concerns that may arise during the project management process.
Cryptoon is a powerful admin template that enhances blockchain project management in 2023. With its smart contract management tools, token creation and management features, user governance capabilities, analytics for dApp usage monitoring, modular structure, developer-friendly APIs, and comprehensive documentation and support, Cryptoon empowers project teams to streamline their processes, improve collaboration, and drive the success of their blockchain projects. Embrace Cryptoon to optimize your blockchain project management and unlock the full potential of your endeavors in the blockchain space.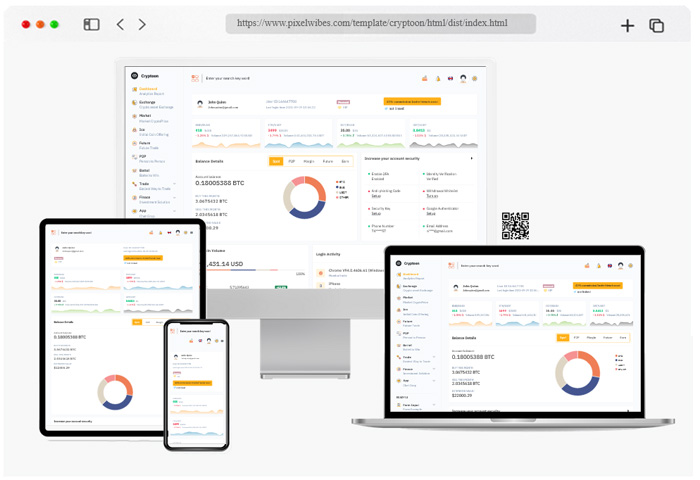 More info / download Demo
Zenix
In the world of cryptocurrency, having a reliable and feature-rich admin dashboard is crucial for effectively managing your crypto projects. Introducing Zenix, a Crypto Laravel Admin Dashboard Template designed specifically for the cryptocurrency industry.
The features and benefits of Zenix, highlighting how it can revolutionize your crypto management experience using the Laravel framework: Laravel-Powered Admin Dashboard, Real-time Crypto Data, Crypto Wallet Management, ICO and Token Sale Management, User Management and KYC/AML Compliance, Responsive Design and Cross-browser Compatibility.
Zenix is a Crypto Laravel Admin Dashboard Template that empowers you to efficiently manage your cryptocurrency projects in 2023. With its Laravel-powered foundation, real-time crypto data updates, wallet management features, ICO and token sale management capabilities, user management and compliance tools, and responsive design, Zenix provides a comprehensive solution for crypto administration. Embrace Zenix to streamline your crypto management processes, enhance user experiences, and stay ahead in the dynamic world of cryptocurrencies.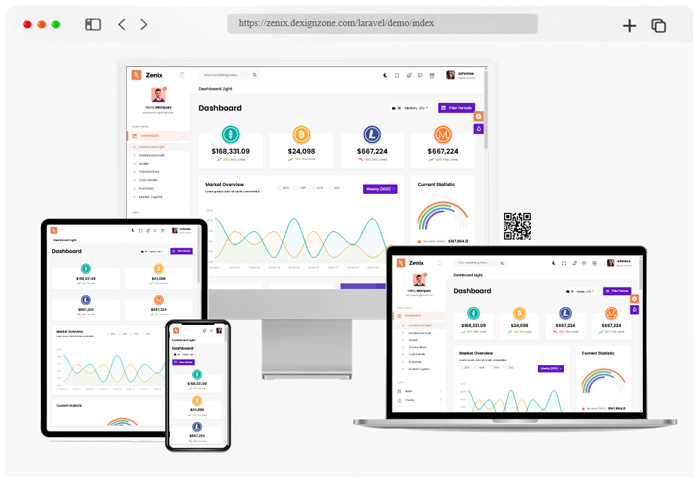 More info / download Demo
Crypto Admin
Introducing Crypto Admin, a collection of responsive cryptocurrency HTML templates that include Bitcoin dashboards and ICO (Initial Coin Offering) features. In this blog post, we will explore the features and benefits of Crypto Admin, highlighting how it can enhance your cryptocurrency administration experience and provide a seamless user interface for your projects.
The features and benefits of Crypto Admin, Responsive Design, Bitcoin Dashboard, ICO Features, Cryptocurrency Wallets, User Management and Security, Customization and Integration. You can easily modify colors, fonts, layouts, and components to match your brand identity or project theme. Additionally, the templates are designed to be easily integrated with other tools, APIs, or services, providing flexibility and scalability for your cryptocurrency projects.
Crypto Admin offers responsive cryptocurrency HTML templates with Bitcoin dashboards and ICO features, providing a seamless and visually appealing admin interface for managing your cryptocurrency projects. With its responsive design, Bitcoin dashboard, ICO functionalities, cryptocurrency wallet management, user management and security features, customization options, and integration capabilities, Crypto Admin simplifies cryptocurrency administration and enhances the user experience. Embrace Crypto Admin to streamline your cryptocurrency projects, monitor market trends, manage wallets, and execute successful ICOs, all within an intuitive and responsive admin dashboard.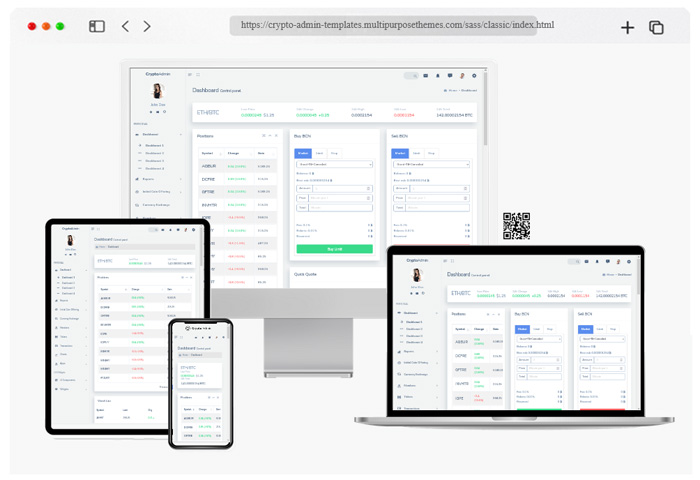 More info / download Demo
Cryptio
Cryptio is a clean, modern and professional admin template built with simple, flat and elegant design. Cryptio comes with a wide range of pre-built pages to suit any project needs. This template is suitable for crypto currency, bitcoin and any other digital assets related websites. It has a responsive layout that adapts to your device so you can view it on any mobile or desktop screens.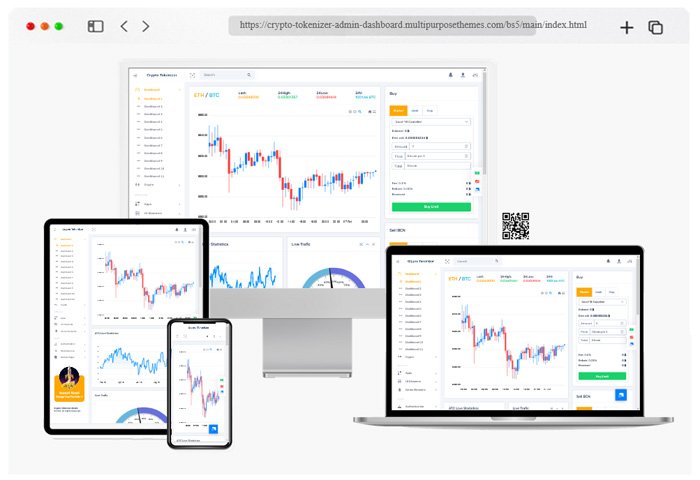 More info / download Demo
Kripton
Kripton is the most versatile and modern crypto HTML, React, Angular & Laravel Admin Dashboard Template. It comes with a highly customizable admin dashboard template with NPM support. Kripton has a modern look, fast and secure code, RTL support and has everything you need to build a world class crypto app.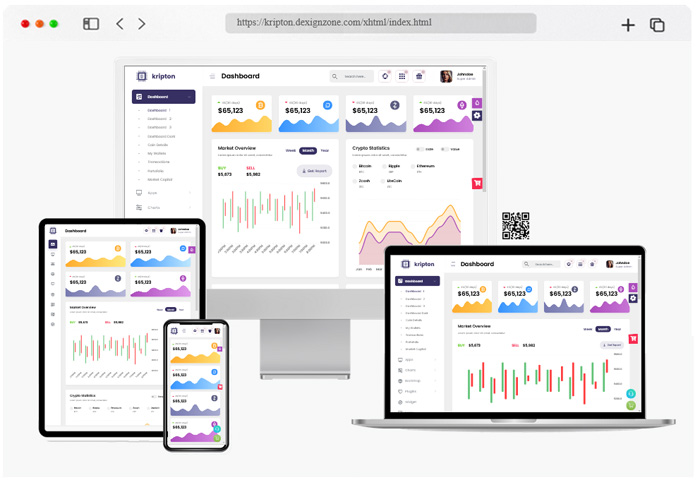 More info / download Demo
Treemium
Treemium is a clean and elegant HTML, React, Angular and Laravel Admin Dashboard Template. It comes with an easy to use admin back-end that allows you to display your data in different widgets with a clean & organized structure. Treemium is fully responsive, ready with RTL support and well documented that makes an easy start out of the box.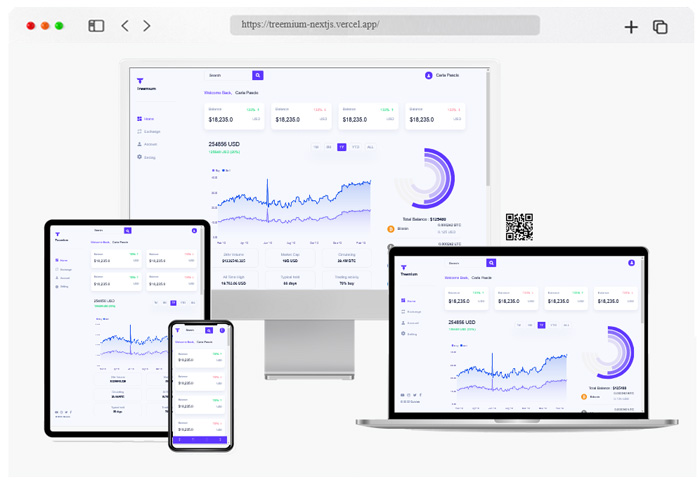 More info / download Demo
Velzon
Velzon is HTML, React, Angular & Laravel Admin Dashboard Template. This template offers you the possibility to create your own cryptocurrency trading website quickly with pre-made pages and elements. Velzon theme comes with a simple but powerful User Interface that helps you to manage your site easily and create amazing content with drag & drop page builder (Visual Composer).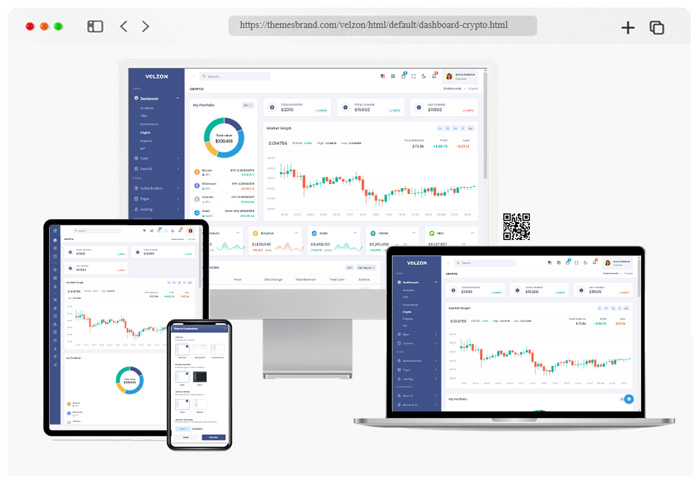 More info / download Demo
Skote
Skote is a modern and responsive HTML template for cryptocurrency and finance business sites. Skote comes with a huge collection of components such as chat, video streaming and portfolio. You can easily create your own portfolio with our cryptodata table or the interactive coin price visualization.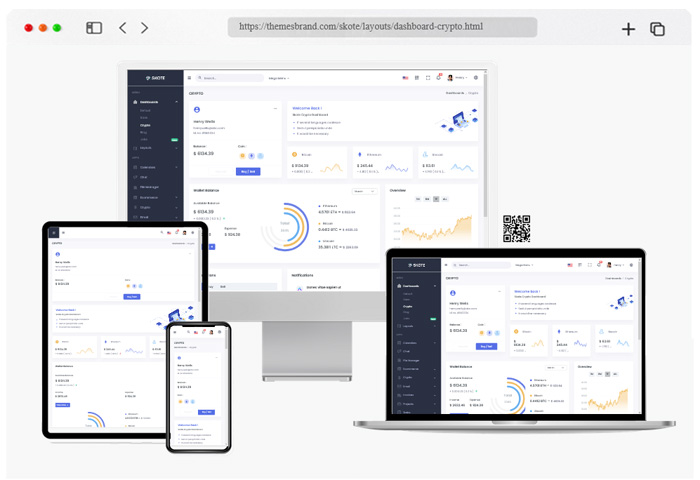 More info / download Demo
Minia
Minia is the first Bootstrap 5 Admin & Dashboard Template. A fully responsive admin template packed with great tools to handle it all. From the smallest internet startup to large corporations, great power and flexibility can help you tailor any application to your needs. You'll like Minia if you are looking for an easy to customize, intuitive & modern design that is packed with numerous customizable components.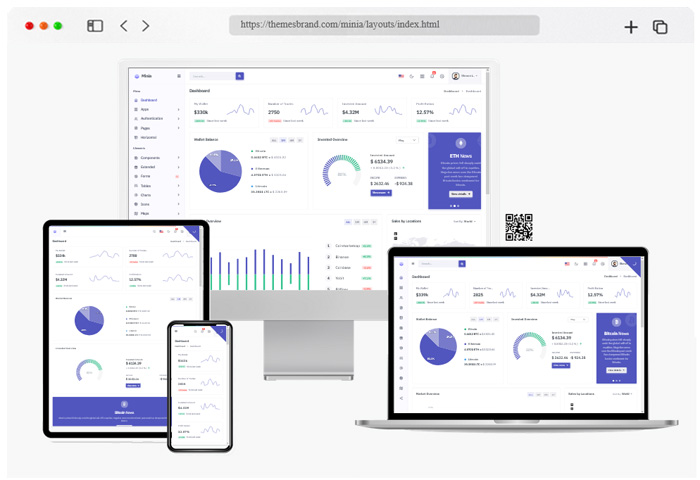 More info / download Demo
Metrica
Metrica is a fully responsive Bootstrap 5 admin template, that can be used to create a website or an app of any kind. It offers a lot of usefull components and built-in pages such as: dashboard, side menu, blog, pages, pricing table and many more. The template comes with 6 different color styles so you don't have to worry about it matching your brand's style or theme.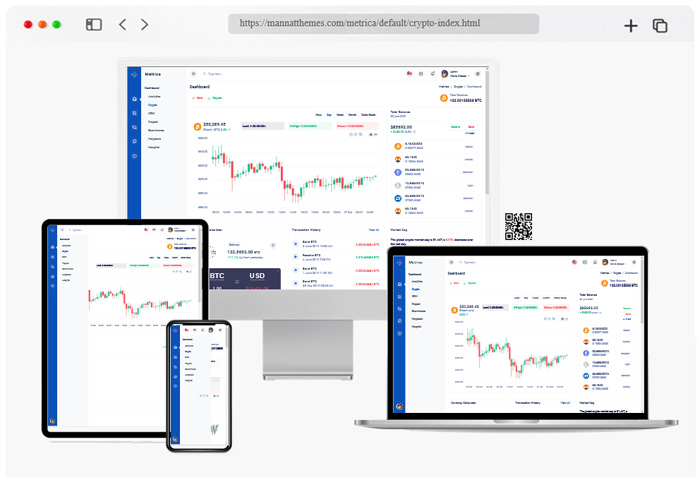 More info / download Demo