In the rapidly evolving world of eCommerce, a visually appealing and user-friendly website is crucial for attracting and retaining customers. With the vast array of eCommerce website templates available today, finding the perfect one for your online store can be a challenging task. In this blog post, we will showcase best stunning eCommerce website templates that will elevate your online business to new heights.
Choosing the right eCommerce website template is a critical step in establishing a successful online store. By considering various factors and exploring these ten stunning templates, you'll be well-equipped to create an engaging and visually appealing website that drives sales and fosters customer loyalty.
Ciseco
Ciseco is a cutting-edge React Responsive eCommerce template, developed using React 18, Typescript, and Tailwindcss. It boasts a modern and fresh design that extends throughout the entire website, including smart search filters, contemporary product layouts, and attractive cart and checkout pages. This versatile template caters to various business types, making it suitable for multi-vendor marketplaces, electronics, furniture, clothing, hi-tech, organic/food, cosmetic, jewelry, sporting goods, and accessories stores.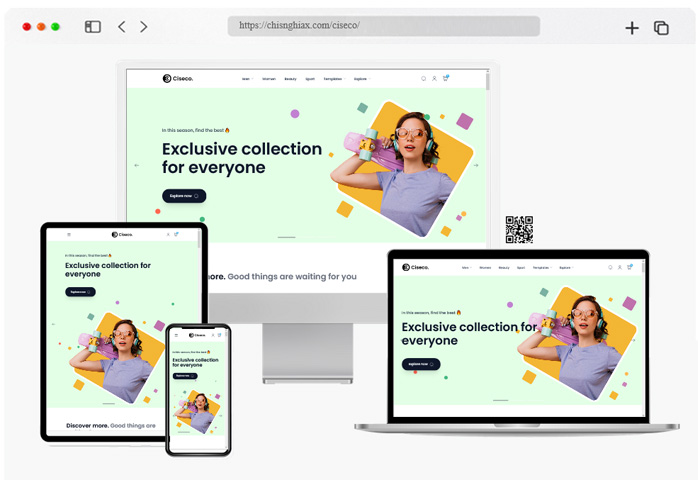 More info / download Demo
eTrade
eTrade is a user-friendly Bootstrap-based eCommerce theme tailored for WooCommerce. It offers simplicity and high customization options to create functional online stores for various industries like fashion, cosmetics, electronics, and more. The theme has been thoroughly tested to ensure responsiveness across devices, ensuring optimal user experience on laptops, mobiles, and tablets.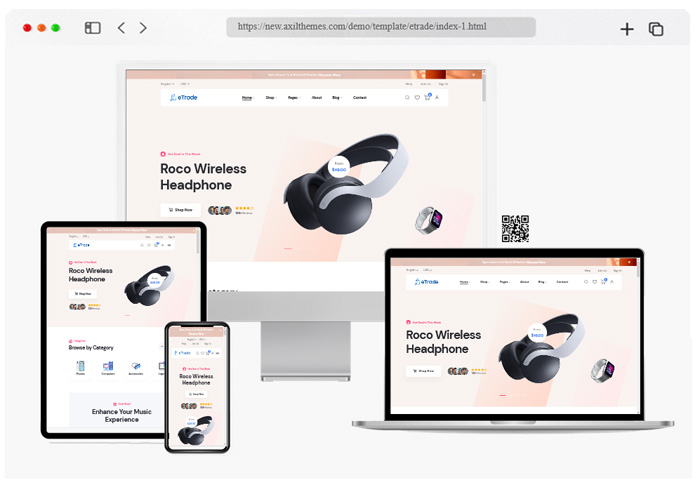 More info / download Demo
Fastkart
Fastkart is a versatile and SEO-optimized HTML template designed for both eCommerce and admin purposes. It serves as a multipurpose solution, suitable for creating online stores and managing administrative tasks. With a focus on search engine optimization, Fastkart aims to enhance website visibility and attract more organic traffic. It offers a wide range of functionalities and customization options to cater to various business needs.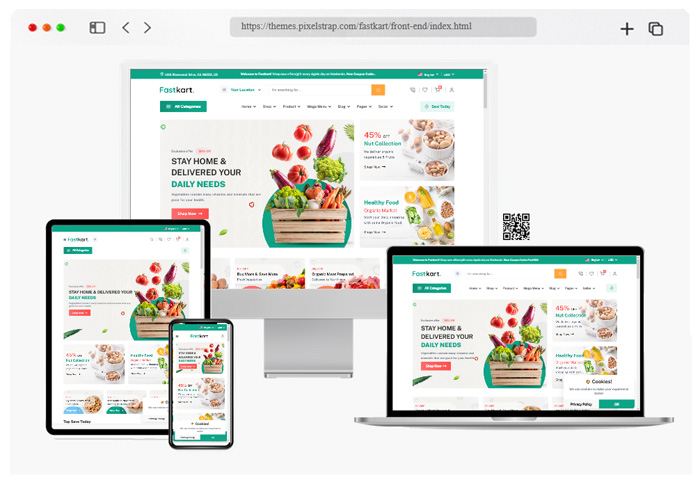 More info / download Demo
Optimal
Optimal is a top-notch multipurpose eCommerce design built on the Bootstrap 5.x framework. It stands out with its clean, modern, and stylish design, coupled with exclusive features. Every section of the template is fully customizable, offering flexibility to tailor it to individual needs. Optimal is not just a theme but a powerful design tool, providing all the necessary elements for success in the online marketplace.
It boasts 27+ elegant home variations, essential internal pages, and advanced features like predictive search, SEO optimization, and advanced product filters. With its various project styles, clean appearance, coming soon page, and functional contact section, Optimal offers everything you need to make a striking impact on potential customers.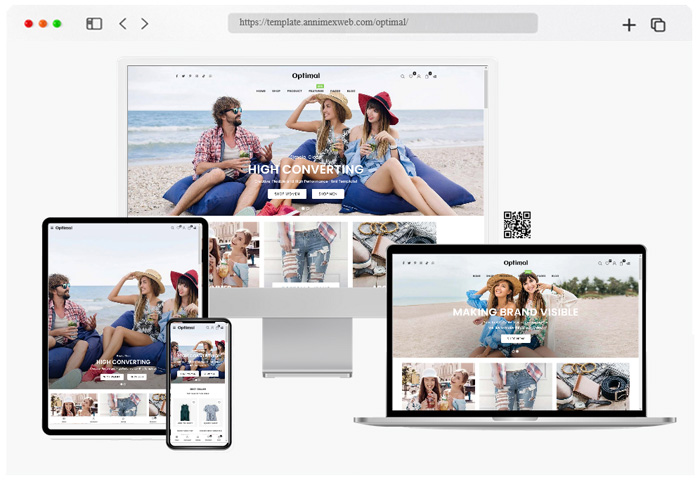 More info / download Demo
Suruchi
Suruchi is a user-friendly and modern HTML template designed for Fashion stores. It offers clean and beautiful layouts with easy-to-use features to showcase products, skills, and specialties. The template is responsive and suitable for various industries. With 3 home page demos and 25+ HTML pages, Suruchi provides maximum eCommerce functionalities, making it ideal for creating a multipurpose eCommerce website.
It is built with clean code, making it easy for developers to customize and create impressive designs. Suruchi utilizes the latest technology and will receive further updates with additional functionalities in the future. It's the perfect starting point to build a fantastic website for your Fashion store.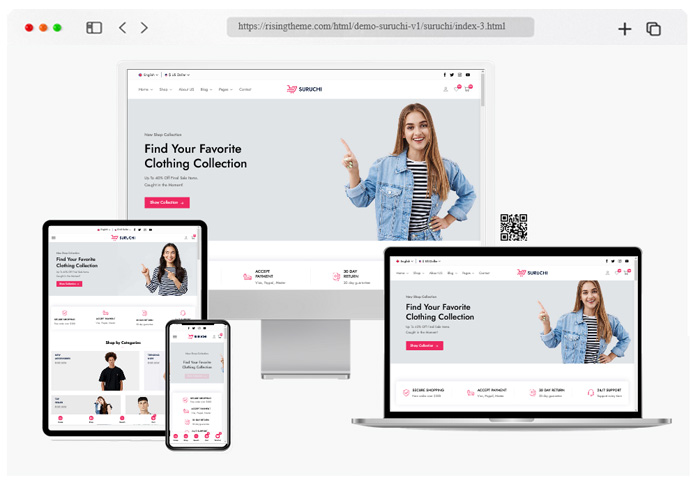 More info / download Demo
Voxo
Voxo is a multipurpose e-Commerce html template designed specifically for online retail stores. It has a powerful admin backend that allows you to customise the template according to your requirement. With 3 types of awesome homepage layouts, Voxo.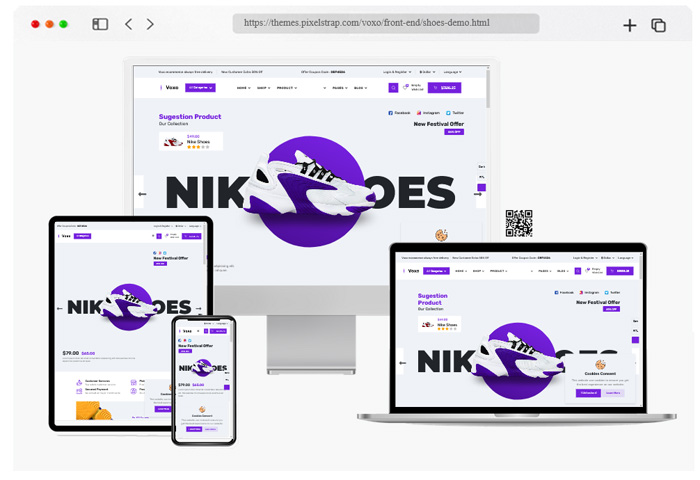 More info / download Demo
Greeny
We think that the Greeny Template will work well for any of your online stores that sell organic food. It is a responsive device that works on any device so that your product and information can be shown to the customer in a very nice way. Bootstrap 5.x was used to build this template. Each part, layout, and section of the template can be changed to fit your needs. It works on all browsers, tablets, and mobile devices, both new and old.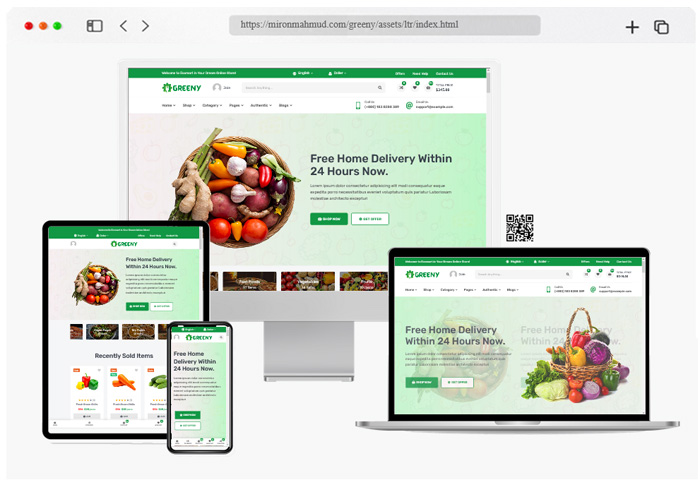 More info / download Demo
Molla
Molla Angular/Strapi eCommerce template is an ultimate digital commerce solution. It has all the tools and features you need to make an ecommerce site that is fast, responsive, and has a great user interface and user experience. You can create your own specialized shop with the help of 30+ modern-style demo layouts and skins. With the Molla Angular/Strapi eCommerce template, you can avoid spending a lot of money on web development and keep your design costs to a minimum.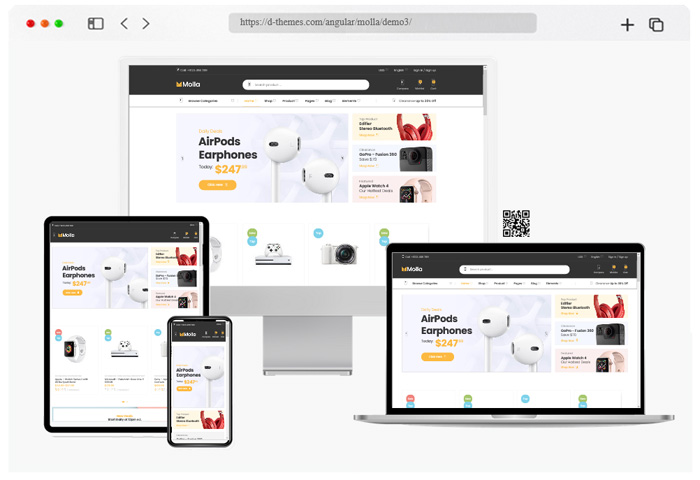 More info / download Demo
Nest
Complete Ecommerce website template, Nest is a clean, contemporary, and professional Multipurpose ECommerce HTML Template, and it is especially created for selling and presenting your items. Nest is a multipurpose HTML template. Nest is an excellent choice for supermarket, organic shop, and online stores.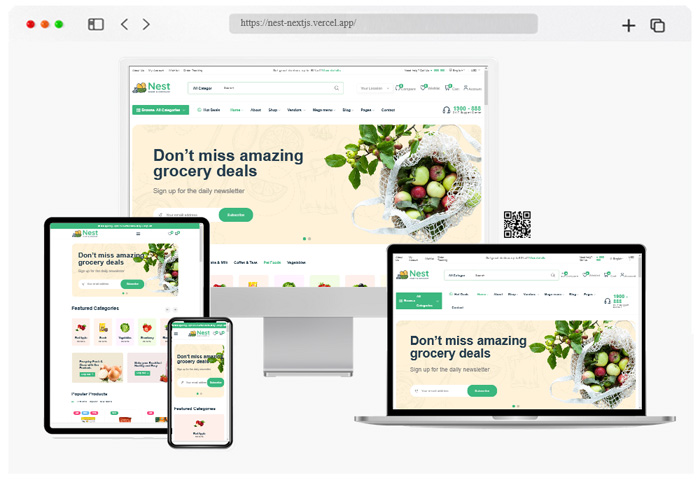 More info / download Demo
KachaBazar
KachaBazar is an eCommerce React template for a grocery and organic food store. This e-commerce template was created with Next.js and Tailwindcss and integrates the Rest API. This backend template is prepared and utilizes MongoDB as the database. It was constructed using Node, Express, and Mongoose schema validation. Actually, it's a fully finished MERN project, but you may use it for any sort of e-commerce site or as needed.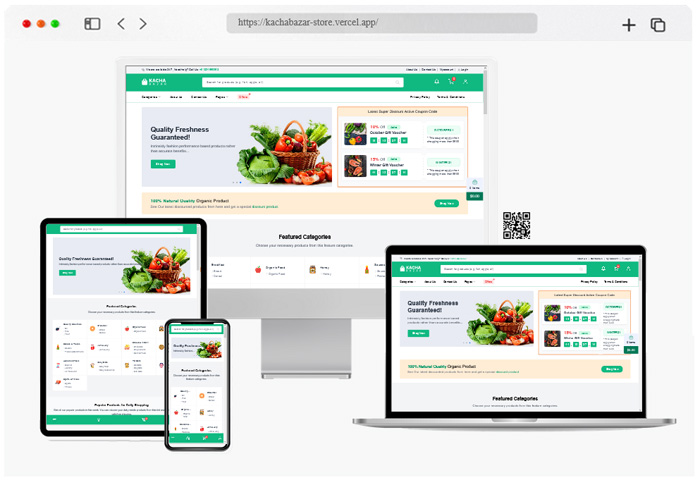 More info / download Demo
Ekka
The next generation advanced and multi-purpose ecommerce HTML template based on Newest Bootstrap 5 Framework for your ecommerce marketplace. Includes the ultimate features you need to make a beautiful e-commerce shopping cart with a great UI and UX. It gives your customers the advanced features of the next generation in your eCommerce store.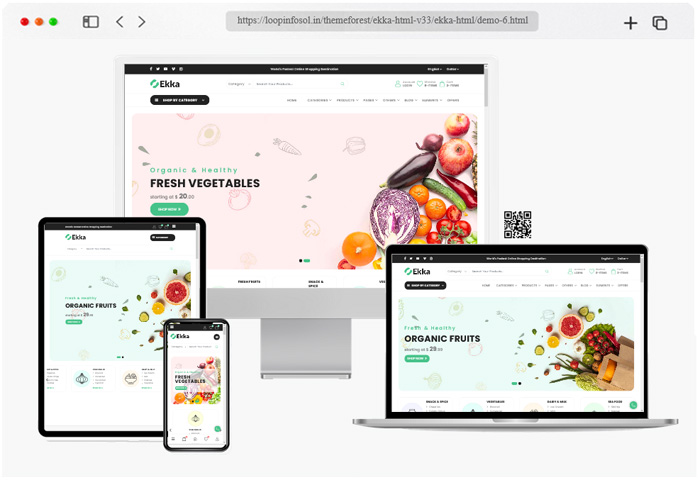 More info / download Demo
Vegist
The Vegist theme is clean, fresh and simple. It's a multipurpose HTML5/CSS3 template for eCommerce websites. The html template supports Bootstrap 5, Fontawesome icons and Google Web Fonts. Vegist multipurpose eCommerce HTML template has multi features like multiple blog pages, fully responsive SEO Optimized with RTL and box layout.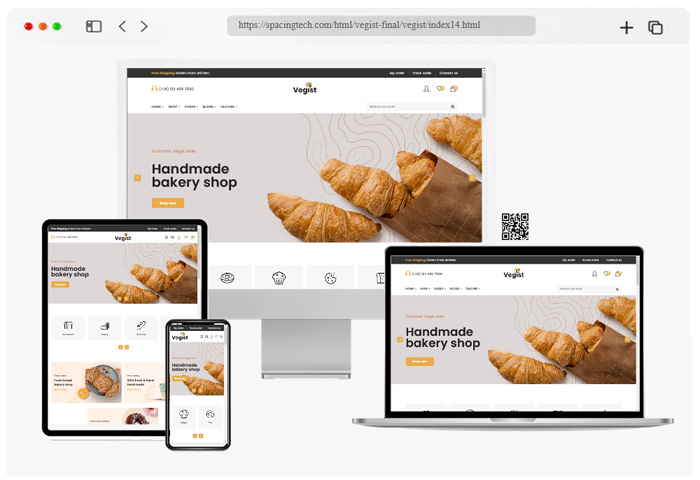 More info / download Demo
Porto
The best e-commerce solution is the Porto VueJS/Nuxt/Strapi eCommerce template. It was created using SCSS, NuxtJS, VueX, Strapi, and VueJS. It has all the tools and features needed to build an incredibly quick, responsive online store with fantastic UI and UX.
You can build your own specialized store using the 40+ demo layouts and contemporary design-based skins. Using the Porto VueJS eCommerce template, you can cut down on design costs and avoid pricy web development.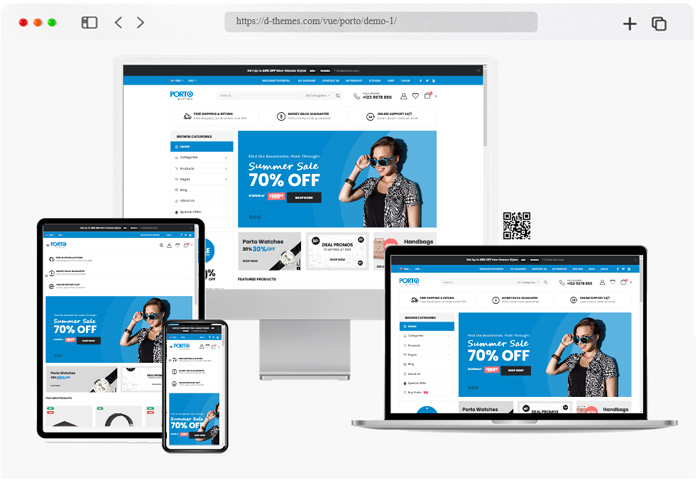 More info / download Demo
Wolmart
The greatest HTML template for creating your own online store or multi-vendor marketplace like Amazon, eBay, etc. is called Wolmart. Wolmart offers templates that adhere to strict coding standards and have a contemporary, beautiful UI and UX that is in line with industry best practices.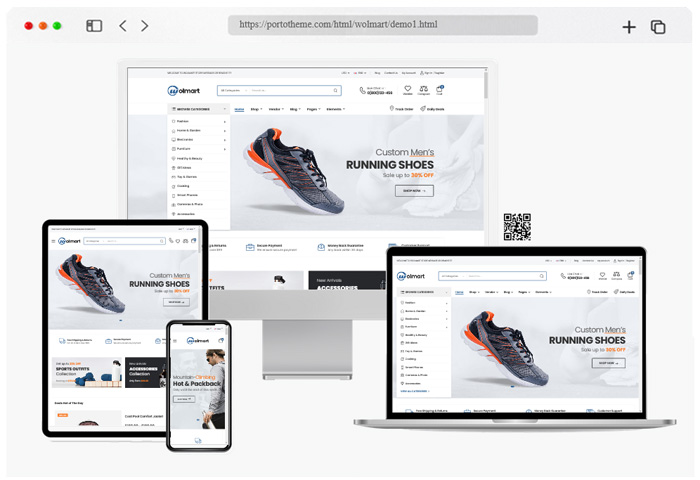 More info / download Demo
Evara
For the finest customizing options, Evara offers several pre-designed layouts for its home page and product pages. Modeled after a popular clothing retailer's online portal, Evara is a fun and easy way to shop online. But Evara is also appropriate for other eCommerce platforms, including those selling handmade, organic, or other products. Using the Evara eCommerce HTML template, you may cut down on design expenses and avoid pricy site development.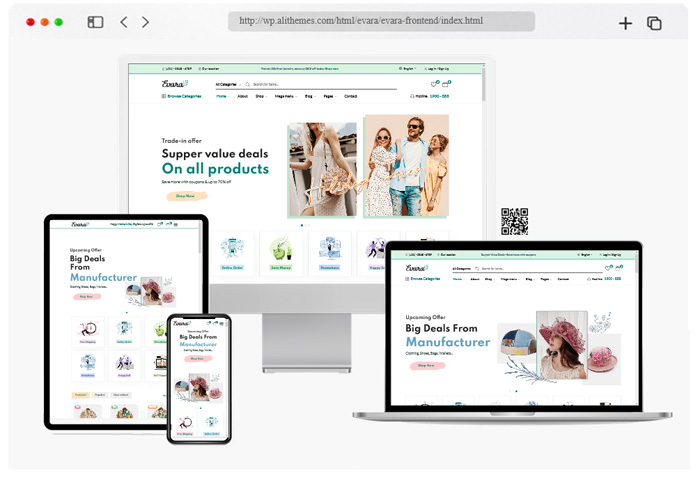 More info / download Demo
Bonik
A React Next-based multipurpose eCommerce template is called Bonik. Js aims for improved SEO, high-quality code, and quick performance. To avoid having to give up speed, we carefully designed bespoke components and utilised stylized components. The styled component offers a simple approach to modify the website's overall design.
Bonik has four distinct store versions (Superstore, Food delivery, Niche Product version 1 and Niche Market version 2) as well as several internal pages, such as multivendor and user account.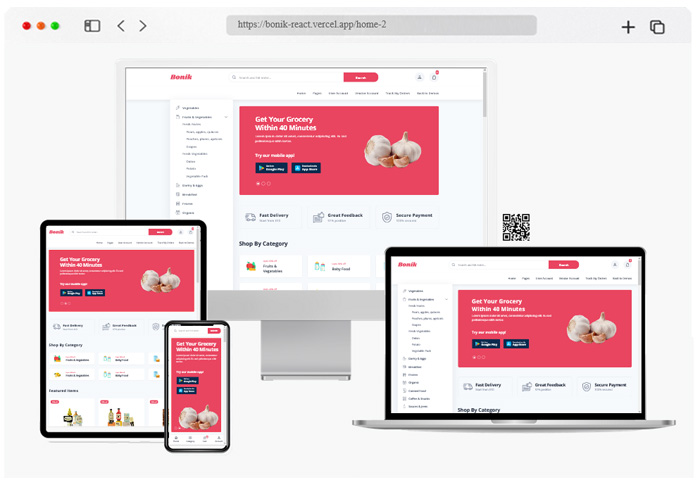 More info / download Demo
ChawkBazar
ChawkBazar is an e-commerce template for lifestyle shops that is built on React, Next, TypeScript, and Tailwind. There are several pages outside the five homepages. It's very easy to use, and we've used strict typed TypeScript to make components that can be used over and over. If you are a developer who works with React, you will love it.
It was built with demo JSON data, thus you will be able to link it to real data. We put it in place in Vercel with just one command. We have used Tailwind CSS, and it has great ways to set it up. You'll be able to rewrite it in your own way. It will be fun for your customer to use.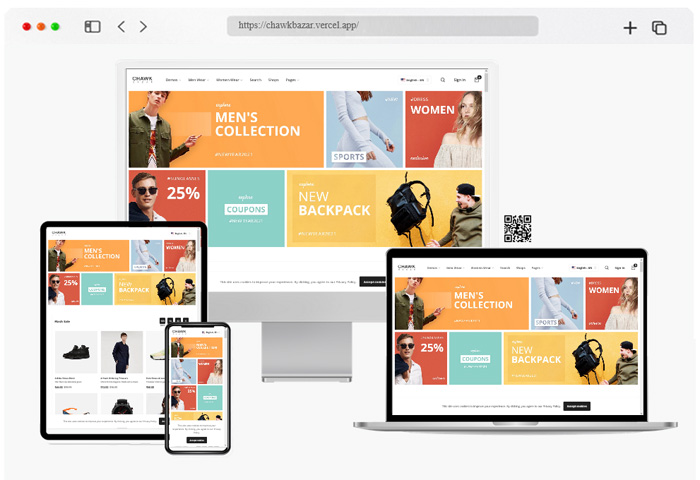 More info / download Demo
MyMedi
MyMedi is a HTML Bootstrap eCommerce templates build with the latest Bootstrap, HTML5, CSS3 and JavaScript features. A language is not negotiable, it is important to have you site look and feel modern and attractive. MyMedi has been designed to help you create an eCommerce website that just simply works for your business needs.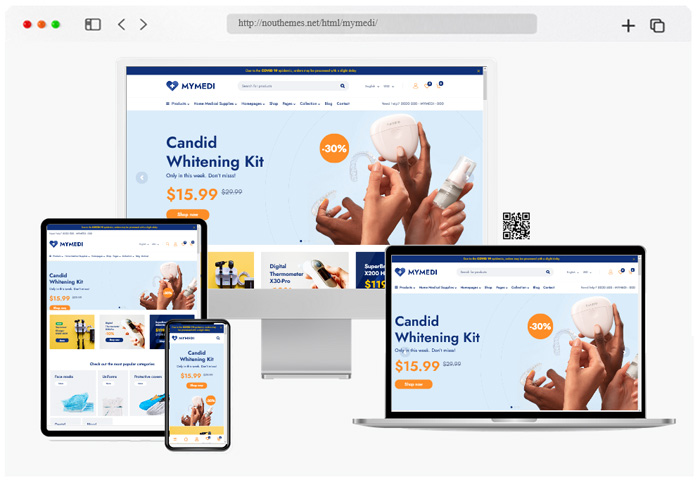 More info / download Demo
Broccoli
Broccoli is a fully responsive and mobile-friendly HTML/CSS theme that brings your store to life. With a huge range of features, this set-up will help you stand out from the crowd. The ecommerce theme offers you live chat, drag and drop products, WooCommerce support and more!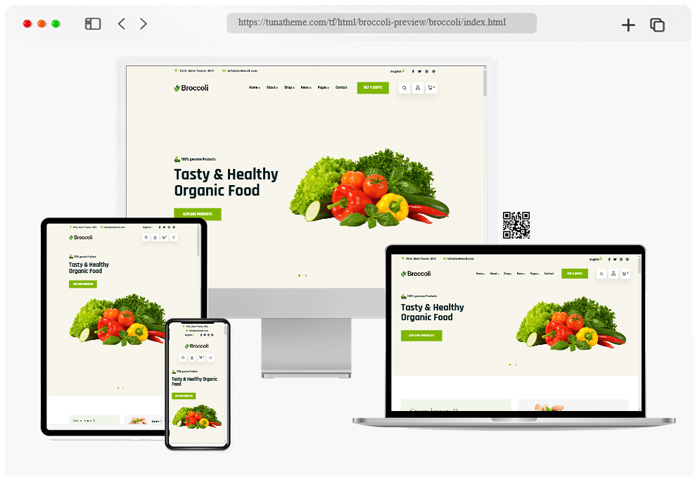 More info / download Demo
Wokiee
Wokiee is a great eCommerce HTML templates for any type of business or product. It comes with a strong and powerful design that will look fantastic on all major devices. The minimal design will make you the center of attention. You can build an online store, store website, photo gallery or even an online shop in less than 5 minutes.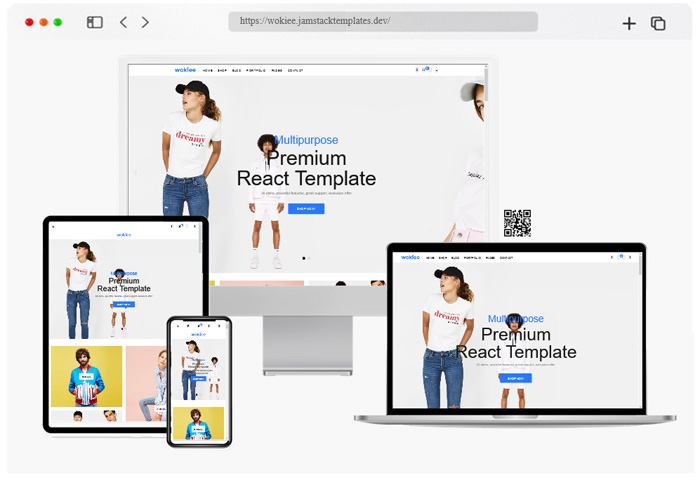 More info / download Demo
Foxic
Foxic's touch ready eCommerce templates come with a fresh and modern design. We have a lot of features and customizations to help you create the perfect online shop for your business. The Foxic templates are designed in such a way that you can easily create a page.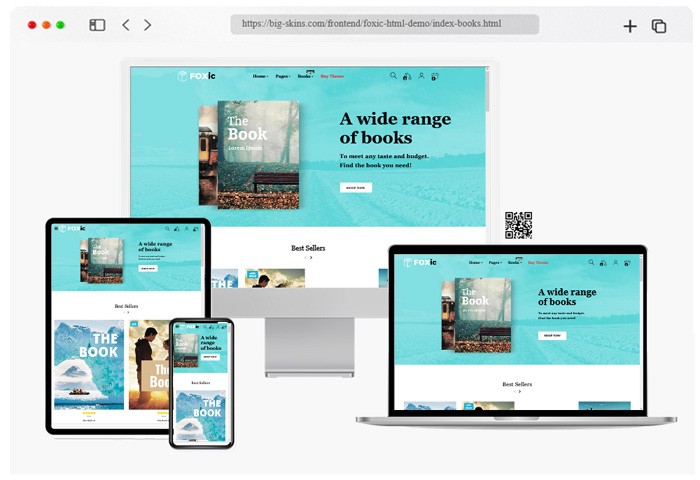 More info / download Demo