Dive into the world of fast food restaurant website templates and discover a smorgasbord of options designed to make your eatery stand out in the digital realm. In this blog post, we'll introduce you to a delectable collection of templates, each crafted to entice visitors, showcase your menu, and simplify online ordering.
Explore the flavors of responsive layouts, mouthwatering imagery, and user-friendly interfaces that will leave your customers craving more. Whether you run a burger joint, a pizza parlor, or a trendy food truck, these templates offer an ideal solution for presenting your offerings and building an online presence that's as appetizing as your cuisine.
Unleash the potential to engage hungry customers, promote daily specials, and provide a seamless ordering experience that keeps them coming back for more. Elevate your fast food restaurant's digital presence and start tantalizing taste buds even before they walk through your door. Explore our collection of fast food restaurant website templates today and give your eatery the online makeover it deserves!
Swigo
Swigo is a modern and stylish HTML template tailored for fast food restaurants and eateries. It's an ideal choice for establishing a professional and visually appealing online presence for food businesses, including fast food joints, burger restaurants, pizzerias, cafes, and more.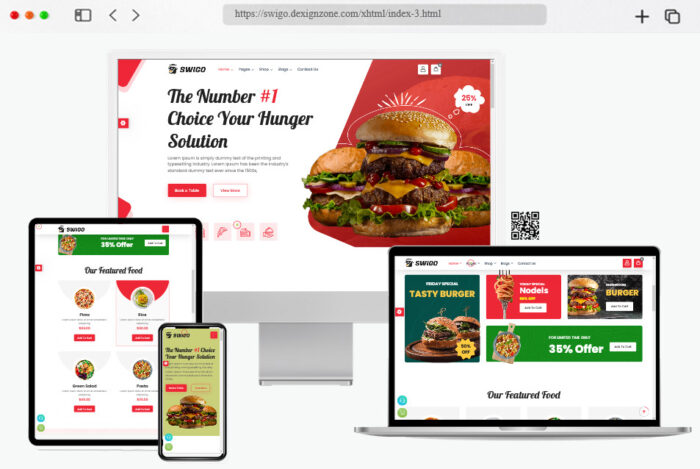 More info / download Demo
Treats
Treats is a fully responsive and creatively designed HTML template. It features well-commented code and visually appealing code formatting for easy customization. Additionally, the template includes comprehensive documentation with step-by-step instructions and screenshots to guide users through the customization process. Treats is designed to be attractive, helping businesses attract more traffic to their websites.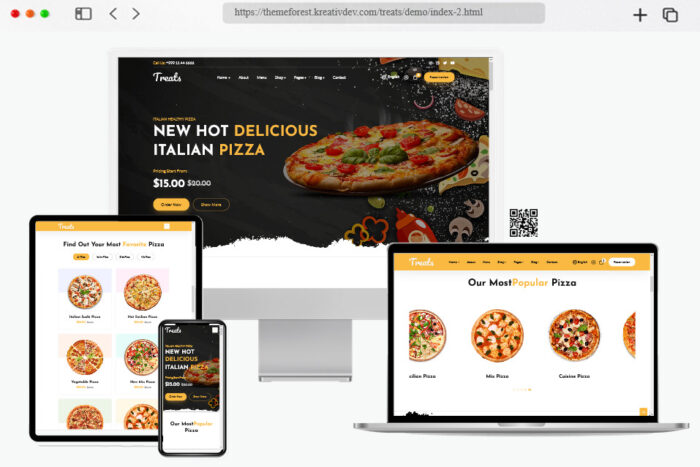 More info / download Demo
Pizzan
Pizzan is a contemporary Fast Food and Restaurant HTML Template, perfect for establishments ranging from restaurants, cafés, and steakhouses to coffee shops, bars, pubs, and seafood eateries. This template is designed to effectively promote a restaurant and showcase its offerings. Pizzan ensures that important information is conveyed clearly and prominently to potential customers. With its trendy design, the template is fully responsive, ensuring it looks great on all devices.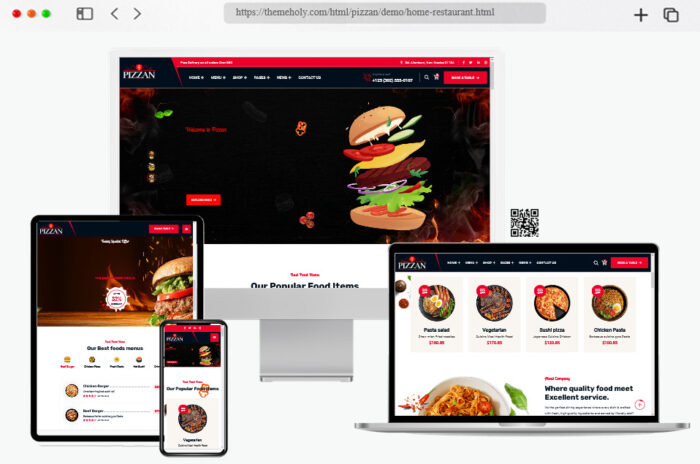 More info / download Demo
Foodio
Foodio is a versatile HTML template designed for restaurants, fast food establishments, and online food ordering websites. It offers three innovative homepage layouts and over 50 creative elements to customize your site. This template also includes shop pages. Foodio is fully responsive, ensuring it looks great on all devices, and it's built on the Bootstrap 5 grid system. If you need a modern and clean website for your online restaurant, fast food joint, bakery, cafe, tea/coffee shop, seafood restaurant, or food shop, Foodio is an excellent choice.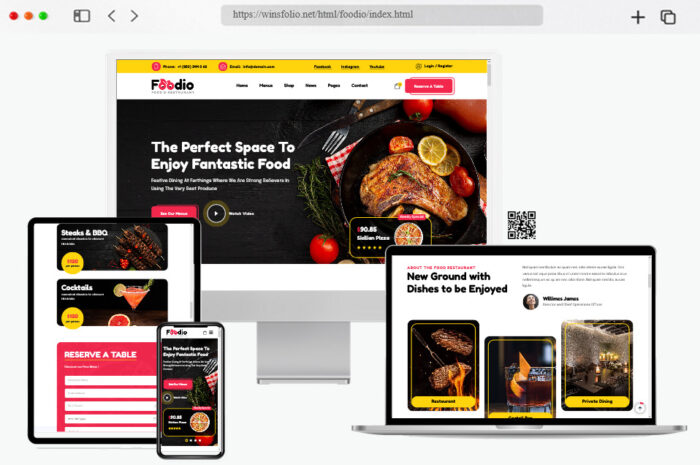 More info / download Demo
Qichen
Qichen is a Fast Food & Restaurant React NextJs Template designed for a variety of food-related businesses, including restaurants, fast food joints, bakeries, cafes, food shops, tea/coffee shops, seafood restaurants, catering services, and food business websites. It offers a wide range of styled pages that can be easily customized to create a tailored website. If you're in search of an innovative, modern, and clean template for your restaurant, fast food establishment, bakery, cafe, tea/coffee shop, seafood restaurant, or food shop, Qichen is an excellent choice.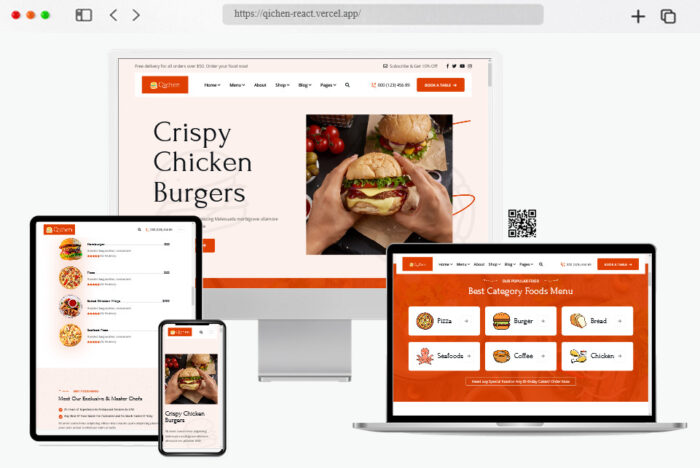 More info / download Demo
Burger House
Burger House is a one-page HTML template built on Bootstrap 4, ideal for fast food and restaurant businesses. This template offers a clean, premium, and modern design with HTML5 and CSS3. It's versatile and suitable for various scenarios, making it a perfect choice for restaurants, cafes, fast food businesses, and more. Burger House is responsive and looks great on all types of screens, including Android, iOS, and Windows devices. It provides a worry-free user interface experience, allowing you to focus on creating an amazing website for your business.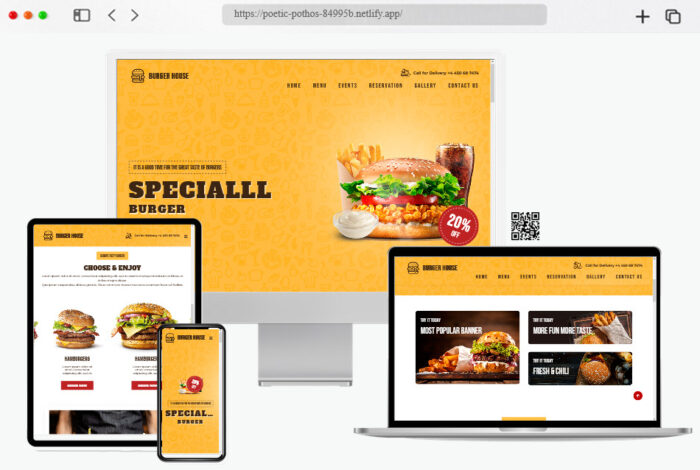 More info / download Demo
Yummi
Yummy is a fast-food delivery restaurant HTML template that utilizes Bootstrap's and Foundation's 12-column responsive grid system with vertical rhythm. This template offers a comprehensive solution with 46 pages included. Yummy was developed after thorough research on popular pizza and burger websites, resulting in a creative and fully-featured HTML template.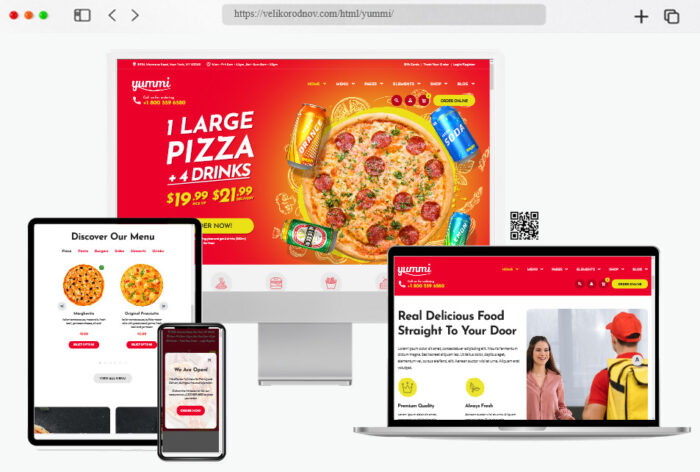 More info / download Demo
Fafo
Fafo is a modern HTML template designed for fast food shops and takeaway websites. Developed with Bootstrap 5.x and Sass, this template offers retina-ready homepage variations and individual page designs. Fafo is suitable for various types of fast food businesses, including restaurants, bakeries, cafes, catering services, bars, bistros, burger joints, coffee shops, sushi restaurants, pizzerias, and more.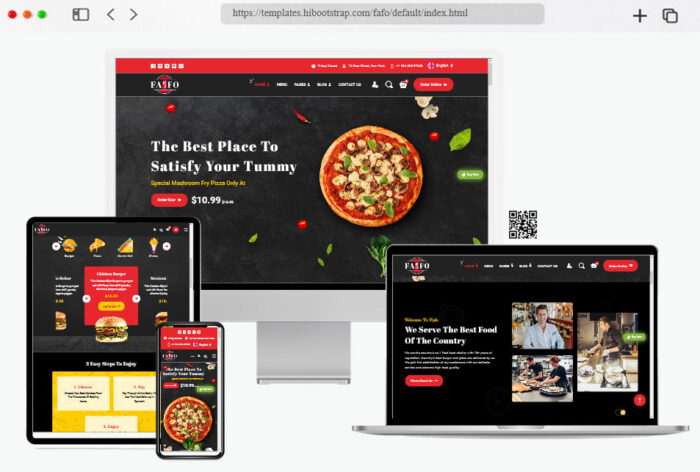 More info / download Demo
Wengdo
Wengdo Template is specifically designed for fast food businesses such as food trucks, pizza places, burger joints, and more. It boasts a 100% responsive design, ensuring compatibility with all major handheld devices. This template includes essential features like project pages, project details, a blog section, and a testimonial page, making it a suitable choice for establishing your online presence.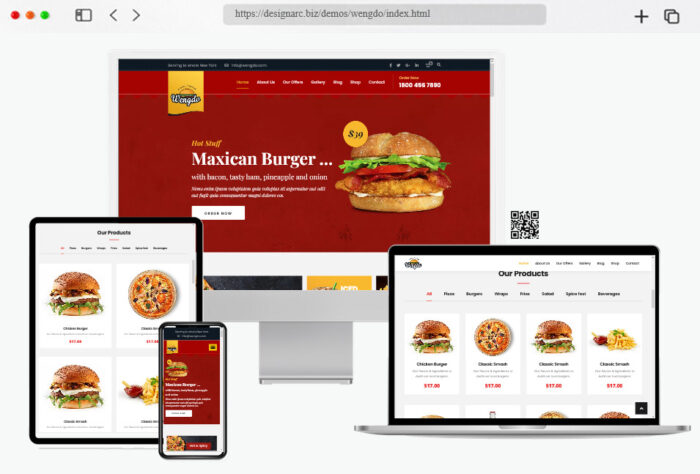 More info / download Demo