These financial WordPress themes are usually designed with the latest trends in mind and they come with all the features that you need to create a professional website. There are a lot of different kinds of business WordPress themes out there right now. Some of them are made for certain types of businesses, while others can be used by any kind of business. The best thing about these themes is that they have everything you need to make a website that looks professional.
Calfin
Calfin is a clean and professional WordPress theme made for companies in the finance, corporate, and consulting industries. It has a style that looks good and uses a responsive grid template based on Bootstrap's 12-column grid system to make sure it looks good on all devices. Calfin meets the needs of businesses that need a strong online presence with its wide range of features. The theme has different functions for finance, business, corporations, and coaching.
It has a smooth, colorful style that makes the user experience visually appealing and interesting. Calfin comes with all of the parts that are needed to build and customize a website. Overall, Calfin is a flexible WordPress theme with a lot of features that is a great choice for businesses in the banking industry in the year 2023.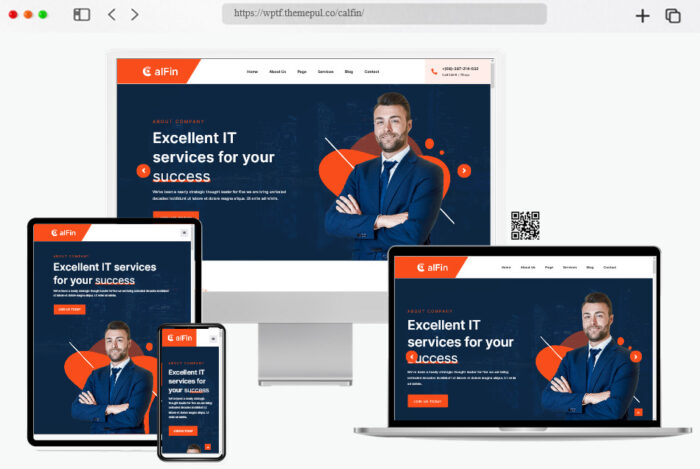 More info / download Demo
FinFlow
FinFlow is a versatile and feature-rich WordPress theme specifically designed for banking, finance, and fintech websites. It offers a comprehensive set of tools and functionalities to create a professional and visually appealing online presence for financial institutions and companies operating in the finance and technology sectors. With FinFlow, users can showcase their services, promote financial products, provide valuable resources and information, and engage with their audience effectively.
The theme includes customizable layouts, integration with popular plugins, such as WooCommerce and WPML, responsive design for optimal viewing across devices, and various pre-built page templates tailored to the finance industry. Overall, FinFlow is an excellent choice for those seeking a powerful and modern WordPress theme to establish a strong online presence in the banking, finance, and fintech sectors.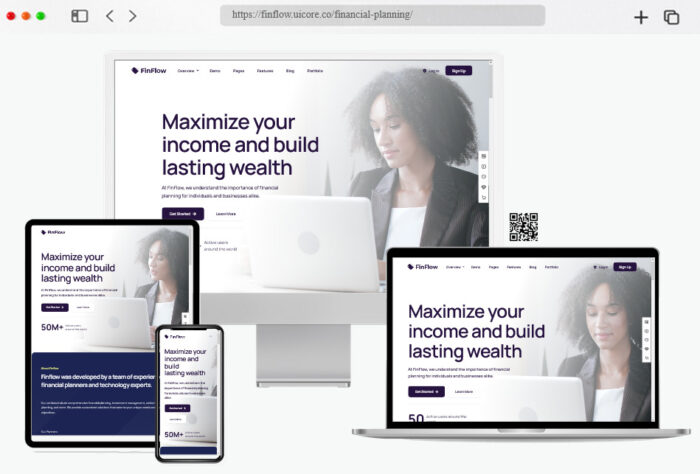 More info / download Demo
Finpeak
Finance-focused Finpeak is a WordPress theme designed specifically for accountants, and other financial professionals. The theme's user-friendliness and limitless customization options make it an excellent option for creating a finance-related website for both personal and commercial use.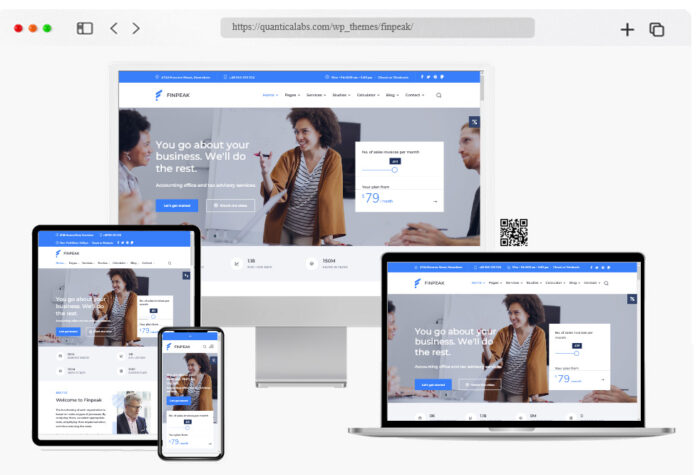 More info / download Demo
Finbank
Finbank is a responsive Finance WordPress Theme built with theme options. Finbank is perfect for showcasing your company's financial services, whether you're a bank or insurance company. The theme includes a wide range of features perfect for all types of companies.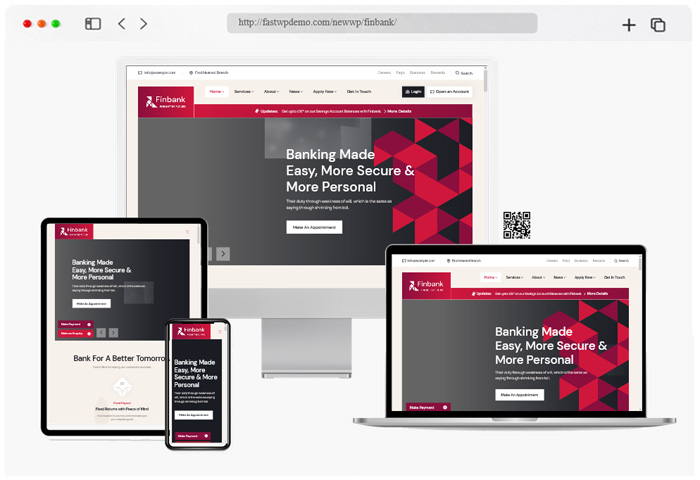 More info / download Demo
Investex
Investex is a powerful and Responsive Finance WordPress Template. Investex Theme Features, Built on Bootstrap 4.0 Foundation, WooCommerce Compatible and Quickstart installation with demo content included, One-Click Demo Import, Page Builder for Elementor, Visual Composer and more! Lots of features and options in the package that you can easily customize to look the way you want it.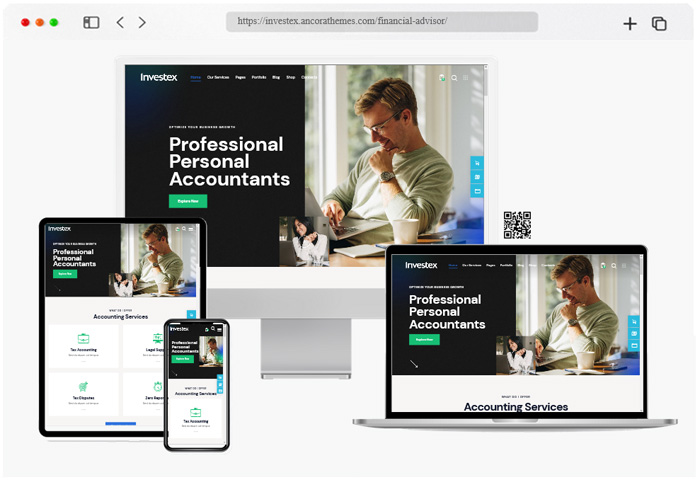 More info / download Demo
Finlon
Finlon is a specialized WordPress theme designed specifically for loan companies, loan agencies, credit card providers, and other credit-related businesses. It offers a seamless integration with the Elementor drag-and-drop page builder and comes with over 20 custom widget elements, allowing users to easily design homepages and subpages. The theme provides extensive theme options, giving users the ability to customize various aspects of their website, including colors, typography, headers, and footers.
One of the standout features of Finlon is its loan calculator functionality. Users can calculate interest rates, monthly payments, and generate charts showcasing principal and interest over time. The theme also offers a home loan eligibility calculator, where users can input their monthly income to determine how much they can borrow.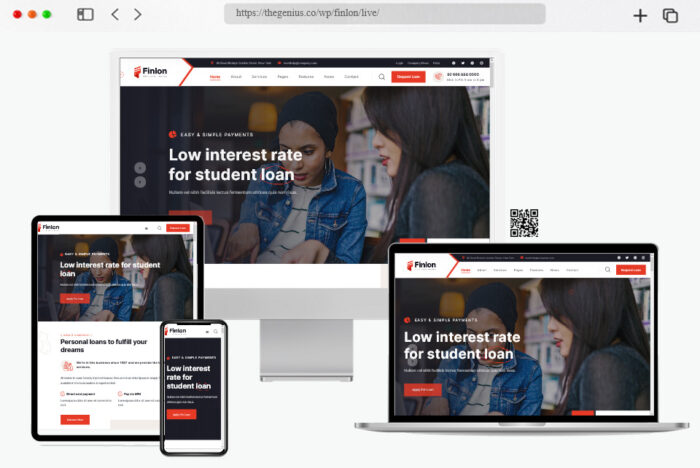 More info / download Demo
Level
Level is a WordPress theme made especially for businesses that work with financial technology (fintech). It has a clean, modern look and focuses on showing how banking services are driven by technology. The theme was made using the most up-to-date web development standards and has a number of features that are useful for fintech businesses.
Level works well with popular WordPress page builders like Elementor. This makes it easy for users to create and customize their website. It has a number of pre-built page templates and a wide range of elements that can be changed to show off fintech goods, services, and solutions.
The theme also has features that are important for fintech companies, such as integration with payment gateways, portfolio areas for showing off projects, team member profiles, and client testimonials. It lets you highlight case studies, blog posts, and news from the industry, which helps you establish yourself as a thought leader in the fintech area.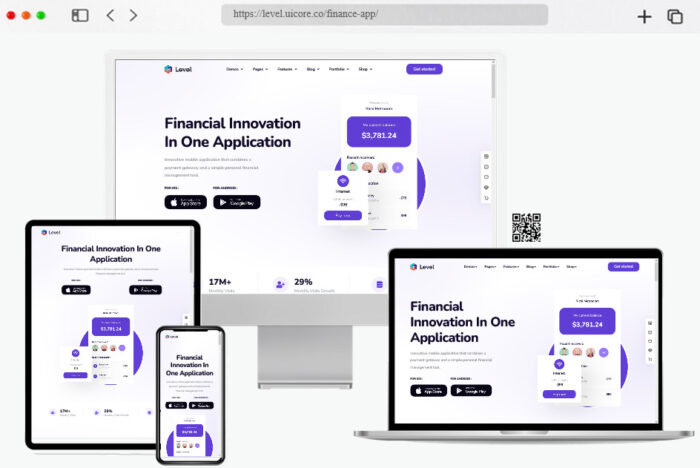 More info / download
Cyberbank
Cyberbank is a flexible WordPress theme for companies in the finance industry, like banks, business consulting, personal loans, credit cards, insurance, and Forex trading. The theme has special features for finance, like tools that can be used to figure out monthly loan payments and other financial values.
Cyberbank is a great choice for websites about cash advances, payday loans, brokers, and Forex trading. Its flexible layout and features also make it a good fit for many other areas outside of finance. The theme has a lot of custom tools, a premium slider, and other features that make it more flexible and attractive.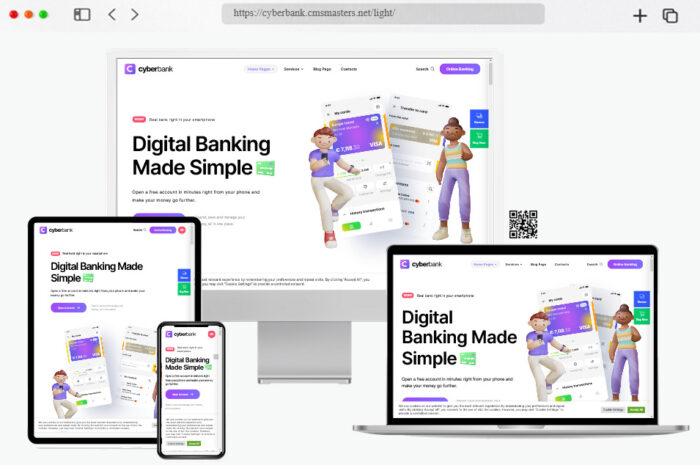 More info / download Demo
Pylon
Pylon is a specialized WordPress theme made for loan businesses, loan agencies, credit card companies, loan agents, finance managers, and other loan-related businesses. It works well with the Elementor drag-and-drop page builder and gives you access to more than 30 custom widget parts that make it easy to change the design.
With Pylon, you can change different parts of your website, such as the colors, fonts, headers, and footers. The theme is made to fit the needs of loan-related businesses. It has a variety of features and functions that will help you show off your services.
With Pylon's easy-to-use interface and simple design choices, you can make a website for your loan business that looks professional and is easy on the eyes. Pylon gives you the tools and customization options you need to meet your unique needs, whether you offer student loans, credit cards, or other types of loans.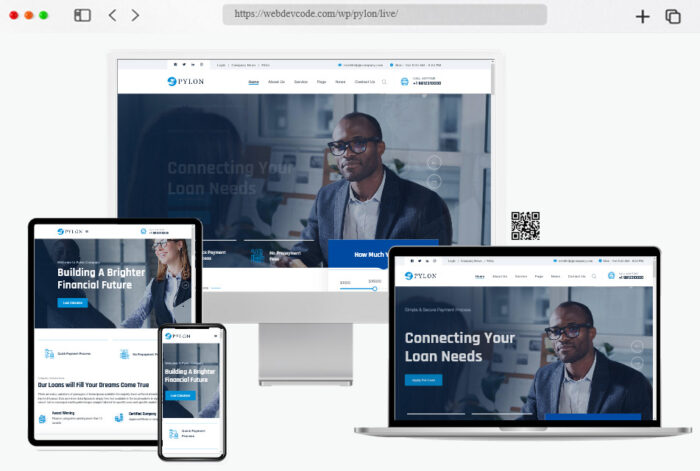 More info / download Demo
Maxbizz
One of the best things about Maxbizz is that it works with the drag-and-drop page maker Elementor. This makes it easy for users to change and create their website to suit their needs and tastes. With Elementor, you can build unique layouts and designs that look good even if you don't know how to code.
Maxbizz gives you all the features and functions you need to show off your business well. The theme has sections and templates that are made for companies in finance and consulting. It has choices for showing off services, team members, testimonials, portfolio items, and more.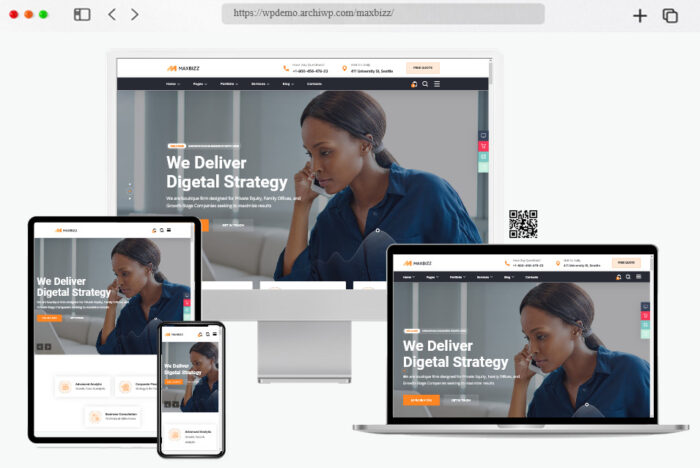 More info / download Demo
Fionca
Fionca is a highly suitable WordPress theme for creating financially-based service websites. It offers two variant home page layouts that enable you to effectively present your services, portfolio projects, clients, and team members. In addition to the home page layouts, Fionca provides a collection of 10+ inner pages that can be customized to meet your specific needs.
The theme's integration with the Elementor Page Builder Plugin makes it even more convenient to design and customize your website. With Elementor, you have access to beautiful pre-defined layouts and custom addons that enhance the visual appeal and functionality of your site. This allows for a more comfortable, satisfying, and efficient website development experience.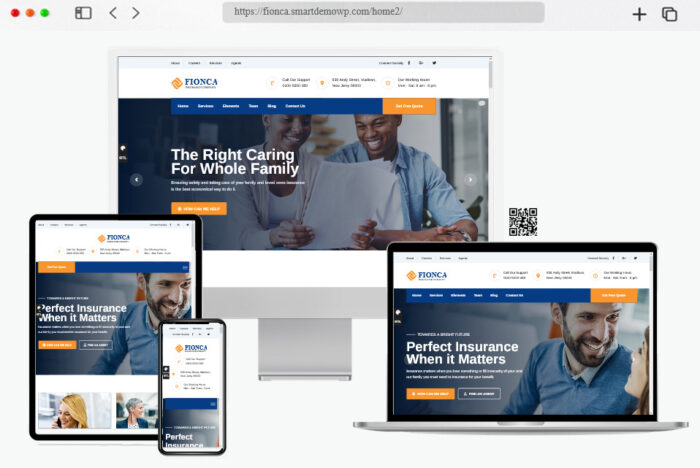 More info / download Demo
Zippco
Zippco is supported by the Codestar WordPress Framework, which provides a solid foundation for customization and functionality. It also integrates with popular plugins like bbPress, The Events Calendar, WPBakery Page Builder, Elementor, and Slider Revolution, offering additional flexibility and features.
The theme includes 3+ pre-made homepages and 5+ header designs, giving you unlimited creativity in terms of style and colors. Its flexible layouts and powerful functionality cater to various elements such as galleries, services, and more, enabling you to build an attractive and engaging website.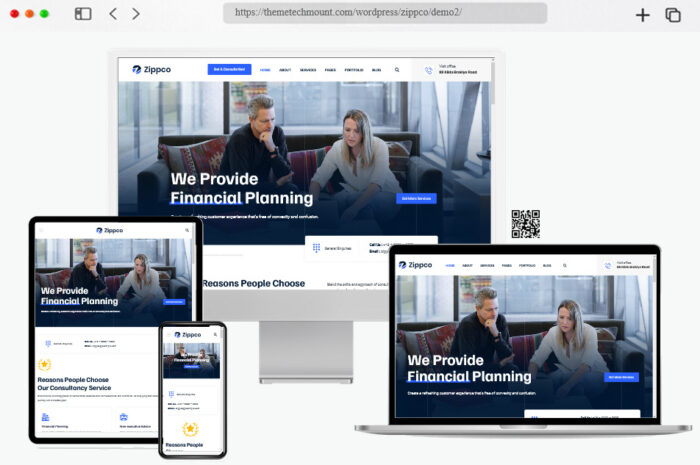 More info / download Demo
Choosing the right finance WordPress theme can significantly enhance the visual appeal and functionality of your financial blog. Whether you're a financial advisor, investment blogger, or cryptocurrency enthusiast, these 10 themes offer a range of options tailored to different finance-related niches. Select the one that best aligns with your blog's goals and start creating a professional and engaging online presence for your finance blog today.