A strong online presence is crucial for any fitness or gym business. A well-designed website can attract potential clients, showcase your services, and keep your existing members engaged. If you're looking to revamp your fitness or gym website, we've got you covered. In this blog post, we'll explore the best fitness and gym website templates that will help you stand out from the crowd and motivate visitors to break a sweat in style!
A well-designed fitness and gym website can significantly impact your business's success. Whether you're seeking a sleek and modern look, a community-oriented platform, or a content-rich resource center, the right website template can set the tone for your brand and attract the right audience. By considering these top fitness and gym website templates, you can create an inspiring and user-friendly online hub that encourages people to achieve their fitness goals while enhancing your gym's overall digital presence.
NoStop
NoStop is a gym website design template with a minimal, clean, and modern aesthetic. It is specifically tailored for fitness-related businesses, including gyms, yoga studios, sports centers, personal trainers, and fitness experts. The template offers an easy, attractive, and effective way to showcase their services and work to clients.
NoStop's design aims to create a strong first impression and captivate visitors. It comes with a live preview page that allows users to experience the template's features firsthand. The template is highly customizable, ensuring it can be tailored to individual needs and preferences.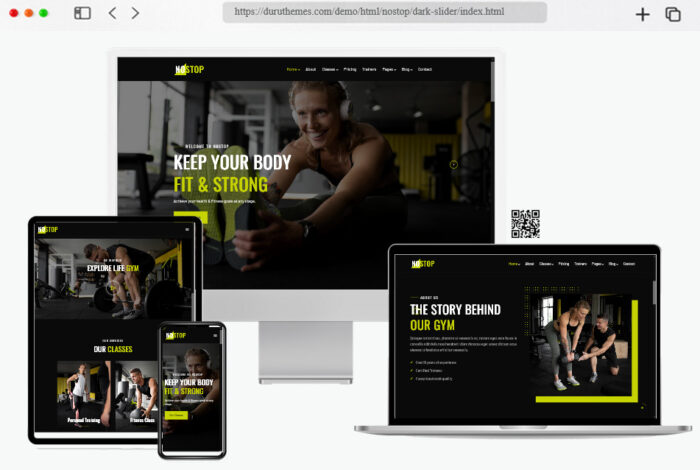 More info / download Demo
Gimox
Gimox is a fitness website layout HTML template that comes with full support for Bootstrap 5. The template is meticulously designed to provide users with a seamless experience and improve the website's search engine visibility. Its sleek and responsive layout ensures that visitors can access and enjoy the content from any device.
The template offers a wide range of customizable features, enabling gym and fitness center owners to showcase their services, trainers, and facilities using stunning visual elements. By harnessing the power of Bootstrap 5's robust framework, Gimox ensures optimal performance, mobile responsiveness, and fast loading times.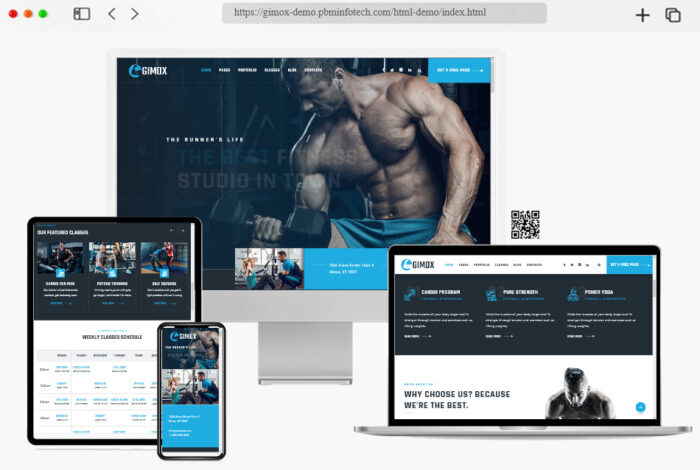 More info / download Demo
Gyim
Discover the ultimate gym website solution with our Gyim HTML template. This visually appealing and modern layout is expertly designed to catch the attention of potential customers. But it doesn't stop there – our template is fully optimized for search engines, boasting keyword-rich content and mobile-responsive design to secure high rankings in search results.
With easy-to-use navigation and a stunning portfolio, you can showcase your gym's unique features and offerings in an engaging and memorable way. The template is suitable for Gym Centers, Gym Trainers, Athletes, Bodybuilders, Fitness Coaches, and Personal Trainers, offering versatility for various fitness-related businesses.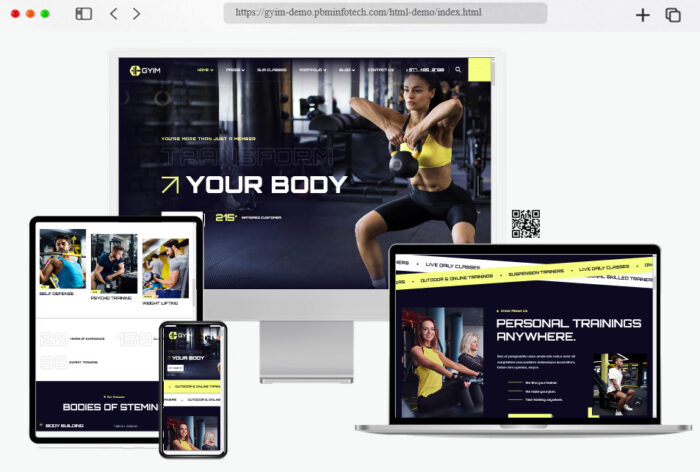 More info / download Demo
BodyShape
BodyShape is a comprehensive sports and fitness template designed for fitness centers, workout facilities, and gyms. It offers a wide range of features tailored to meet the needs of fitness-related businesses. With a focus on providing an attractive and functional layout, BodyShape enables gym owners to showcase their services, trainers, and fitness programs effectively.
This template is versatile and can be adapted to suit various fitness niches, making it suitable for yoga studios, sports centers, and other fitness-oriented establishments. BodyShape ensures a seamless user experience with its responsive design and offers an array of customization options to create a unique and visually appealing website.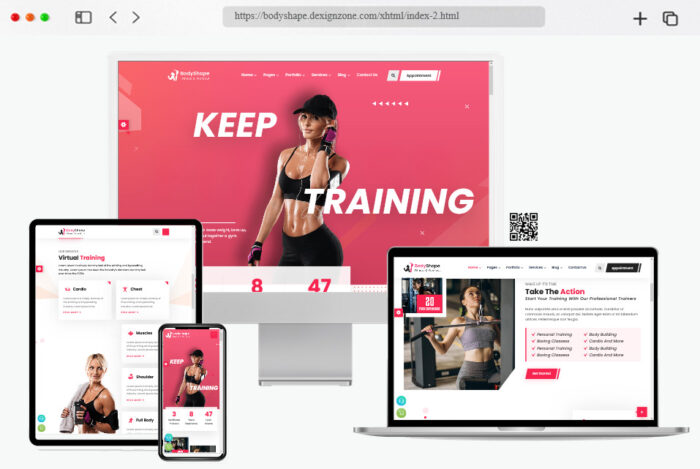 More info / download Demo
Zymzoo
Zymzoo is a top-notch Crossfit website design template tailored for gyms and fitness centers. Powered by Bootstrap 5, it offers a mobile-ready and impressive web design solution that caters not only to fitness facilities but also to personal trainers. If you're looking to create a powerful website in the fitness niche, Zymzoo is the perfect web design tool packed with features to help your business thrive online and achieve new levels of success.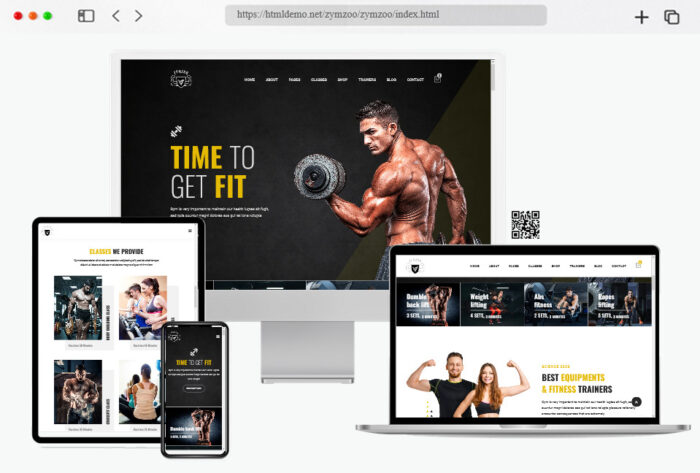 More info / download Demo
Heroism
Heroism is a clean and responsive gym class schedule template that comes with 12 pages. The files are well-organized and easy to customize, making it simple to modify the design. The template is built with Bootstrap 4.3.1, ensuring a refined layout that adapts to various needs and effectively presents content. Whether you need it for gym classes or any other investment plan, Heroism can be easily tailored to suit your requirements.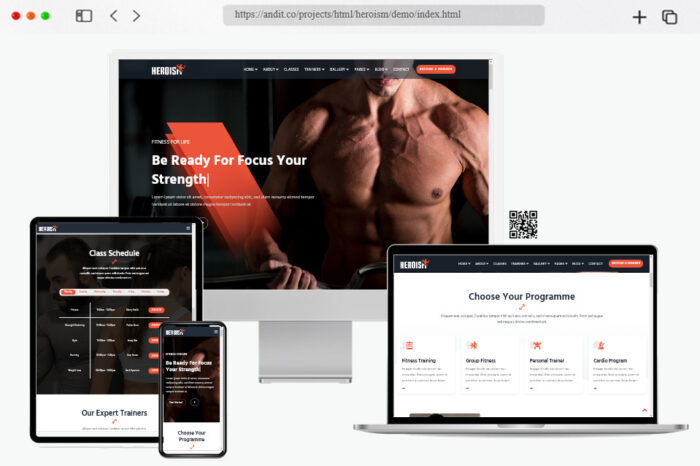 More info / download Demo
Fithub
Fithub is a personal training website template designed for fitness and gym websites. The template stands out with its unique and carefully crafted design, featuring vibrant colors that suit new gym and fitness establishments. With Fithub's Gym & Fitness HTML Template, creating a stunning website becomes effortless.
The template comes with detailed layers and groups to facilitate easy navigation and editing. It is fully editable and customizable, and all layer groups are properly named for user convenience. Should any assistance be needed, the creators offer their support and are available for contact at any time.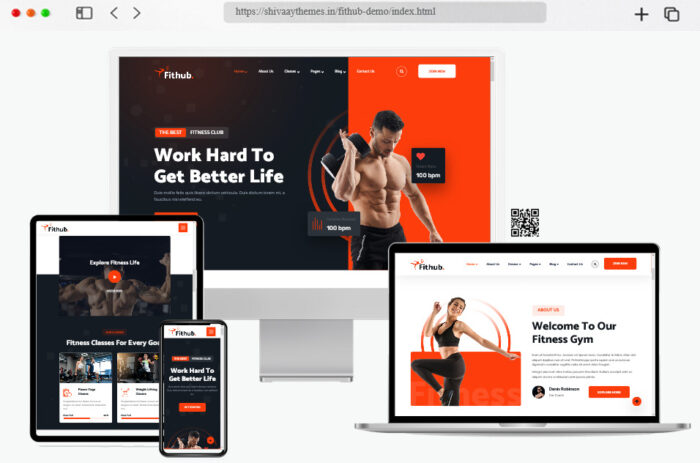 More info / download Demo