If you're looking for professionally designed gaming website templates, you've come to the right place. Our templates are perfect for gaming sites of all kinds, from small personal blogs to large-scale clan websites. Whether you want a simple design or something more elaborate, we've got you covered. Plus, our templates are fully responsive and come with all the features you need to get your gaming site up and running quickly and easily. So take a look and find the perfect gaming website template for your needs today.
Selecting the right gaming website template can significantly impact your gaming website's success. Whether you're focusing on community-building, showcasing eSports events, or spotlighting indie game creations, the top 10 gaming website templates presented here offer a wide range of features to cater to your specific gaming niche. Elevate your gaming website's design, engagement, and player retention by choosing the perfect template to suit your gaming venture.
Gamestorm
Gamestorm is an outstanding gaming website template designed to elevate your gaming website to new levels. It is built on Pure React+Next.js without jQuery, offering an immersive gaming experience for users. With ReactJS and NextJS 13, Gamestorm ensures high performance and seamless navigation, incorporating popular libraries like Material Icons, TypeScript, Headless UI, Bootstrap, React Modal Video, React Datepicker, PrismJS, React Slick, and SASS for flexibility and extendibility.
The template is fully responsive, providing a flawless experience on all devices and screen sizes. With a creative layout, smooth transition effects, a customized slider, and integration with FontAwesome & Flaticon, Gamestorm offers captivating visuals to engage visitors effectively.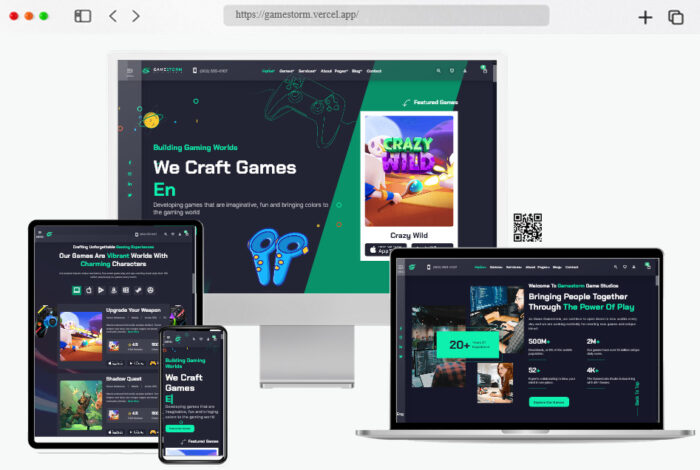 More info / download Demo
Egamlio
Egamlio is a cutting-edge Esports and Responsive Gaming template built using NextJS. It is designed to create engaging and immersive platforms for esports and gaming courses. Powered by ReactJS and Next.js 13, this template offers a seamless development experience and a range of powerful features to elevate your online learning platform.
With a sleek and modern design, Egamlio provides a user-friendly interface that captivates visitors and enhances their learning experience. The integration of headlessui, Bootstrap, and Sass ensures a smooth and responsive layout, adapting flawlessly to various screen sizes and devices. This template is the perfect solution for building interactive and captivating online learning platforms in the esports and gaming industry.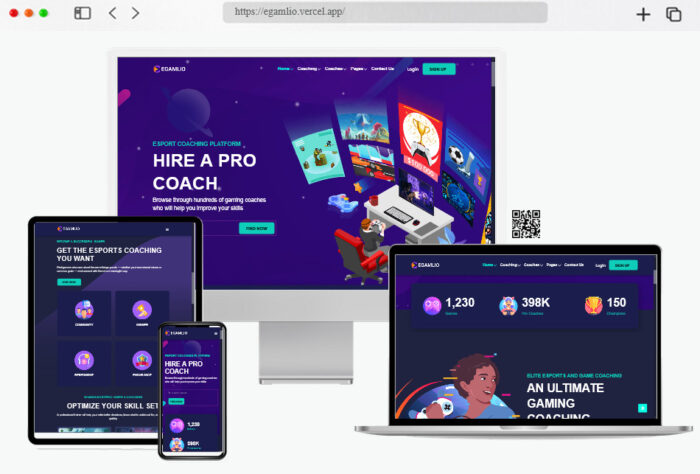 More info / download Demo
MYKD
MYKD is a mobile-friendly gaming design template tailored for eSports and gaming websites. It is ideal for various categories, including gaming websites, magazines, team presentations, gaming tournaments, NFT gaming, and more. The template showcases stunning NFT and gamer templates, along with functionalities suited for video game sites.
If you are passionate about computer games, MYKD is the perfect choice to create a captivating new gaming website. Its responsive design ensures an optimal user experience on mobile devices, making it a great option for gaming enthusiasts on the go.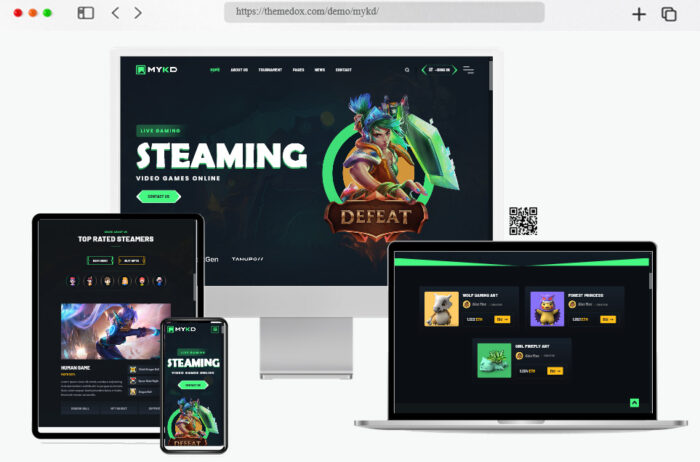 More info / download Demo
Geco
Geco is a powerful ReactJS Gaming website theme designed for gaming, news, and entertainment content. With its clean, modern, and contrasting design, it is an ideal choice for gaming websites. The template includes all the necessary pages for a successful gaming website, such as About, Team, FAQ, Pricing Plans, Testimonials, Games, Galleries, News, and Contacts. Geco is sure to give a significant boost to your gaming business, providing a professional and engaging platform to showcase your gaming content and attract visitors.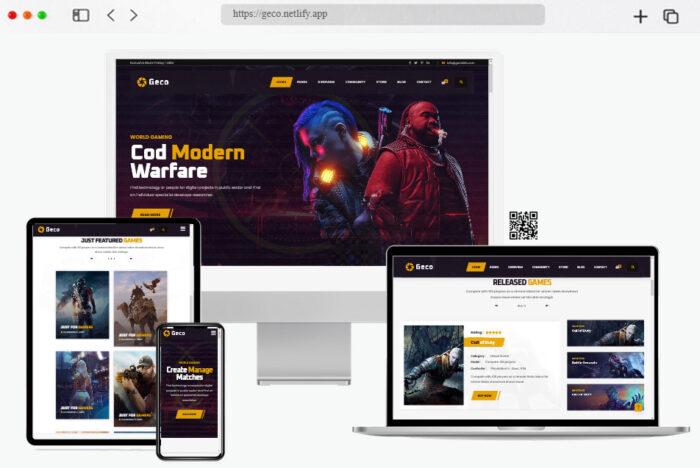 More info / download Demo
TeamHost
TeamHost is a professional gaming website template designed specifically for gaming communities. It is a super premium HTML template tailored for gaming community design, but also suitable for all creative websites. The theme is an excellent solution for designers, marketers, developers, and programmers. With a great online store front template and Live Preview option, TeamHost provides the perfect platform for starting a gaming community and creating an impressive online presence for your team.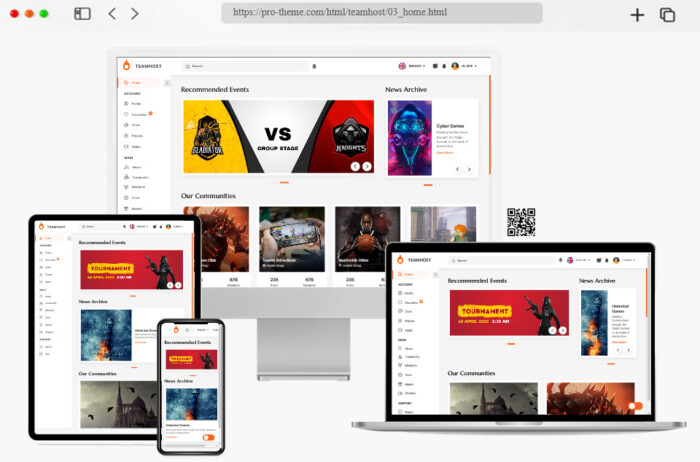 More info / download Demo
Halda
HALDA is a high-performance gaming design template specifically crafted for esports websites. It offers everything you need to create a gaming website, magazine, showcase your team, organize gaming tournaments, and much more.
With three premade home designs and over 20 creative sections, HALDA provides a versatile and visually appealing layout. It includes awesome pages such as About, Tournament, Squad, Shop, Blog, and Contact pages, ensuring a comprehensive and engaging gaming website experience. Whether you're a gaming team, tournament organizer, or gaming content creator, HALDA has the tools to meet your needs and present your gaming content in an impressive manner.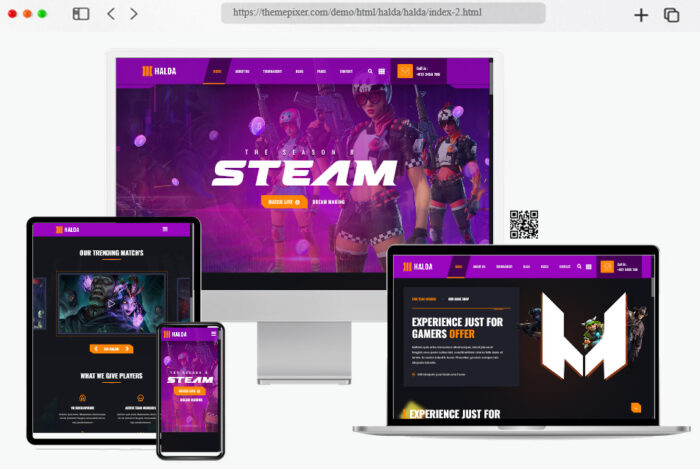 More info / download Demo
Bitbetio
Bitbetio is a gaming HTML template designed for launching a brand new sports betting platform website that aligns with the latest trends in the sports betting industry. Utilizing Bitbetio's sports betting platform HTML templates, you can present your website in a professional manner, offering an effective source of assistance for your customers.
The template allows sports bets using cryptocurrency Peer 2 Peer, enabling users to bet against each other on game results, including predicting winners and scores. By choosing Bitbetio templates, you can attract more clients and improve your overall business output. A fresh and impressive website is crucial to showcase your company's capabilities and stay competitive in the market, avoiding being overshadowed by powerful competitors.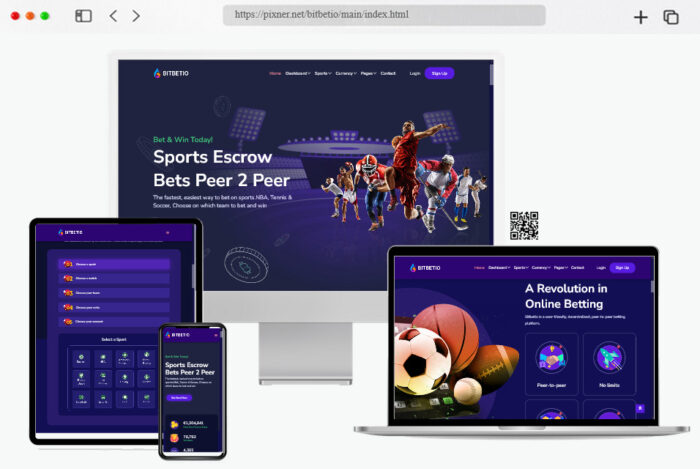 More info / download Demo
Casinous
Casinous is a clean, modern, and SEO-friendly gaming theme specially designed for online casino platforms. Developed with the latest HTML5 and CSS3 technology, it is based on the Bootstrap Framework, ensuring a responsive and feature-rich design. The theme is ideal for promoting casino services, offering many features to make your project stand out.
It has been optimized to save time and money, and its well-documented nature facilitates easy and fast website setup. Casinous is highly customizable to suit your business needs, providing a user-friendly and professional experience for casino enthusiasts.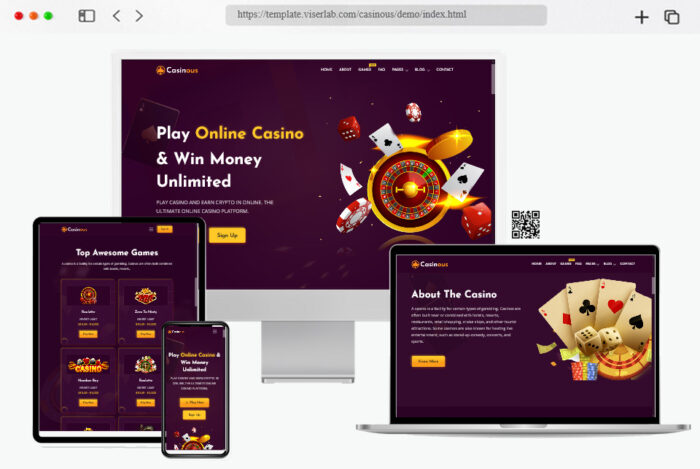 More info / download Demo
Bonx
Bonx is a top-notch gaming template that provides a comprehensive solution for all your gaming website design requirements. Built with React JS and Gatsby, this template offers a sleek and eye-catching design, perfect for promoting your gaming team, gaming events, gaming blog, gaming community, and tournament gaming. With Bonx, you can create an impressive and captivating gaming website that appeals to gamers and enthusiasts alike.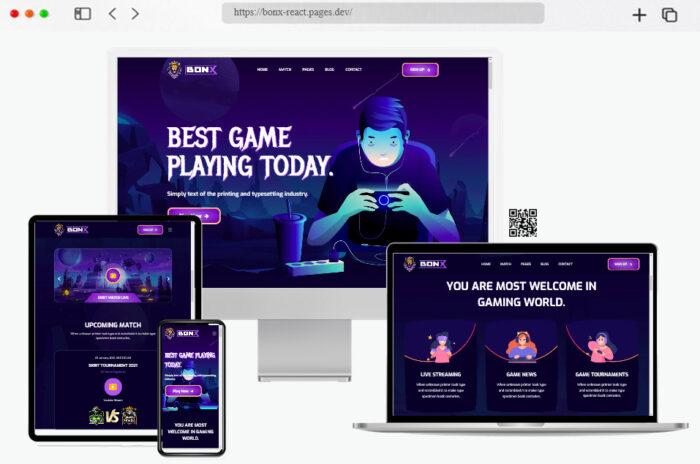 More info / download Demo
Ophela
Ophela is a top-notch, SEO-optimized gaming website template designed to elevate your gaming studio and indie developer projects. Crafted to provide a premium design experience, Ophela aims to increase conversion rates and offer a unique concept with a clean and modern look.
The template is suitable for various gaming-related niches, including sports, esports, game videos, gamers, gaming communities, leagues, and more. With well-layered and properly named HTML layouts, customization is easy to tailor the template to your specific business needs. Ophela is the perfect choice to take your gaming website to the next level and attract more visitors to your gaming content and services.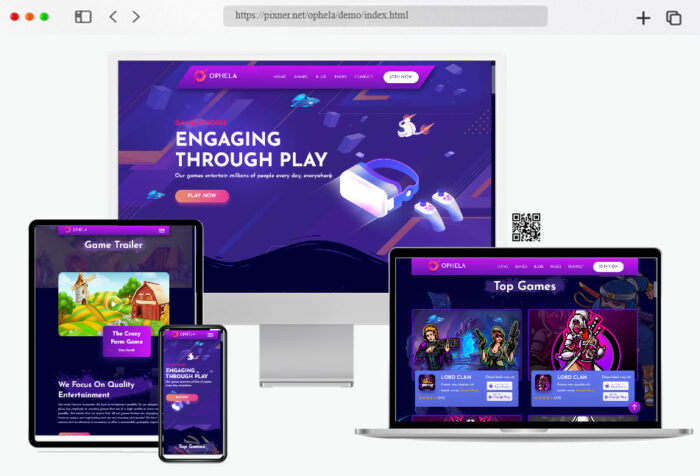 More info / download Demo