When it comes to creating a captivating and immersive gaming website, the right WordPress theme can make all the difference. Whether you're a game developer, a gaming enthusiast, or a content creator looking to build a gaming blog, choosing the right theme is crucial for an engaging user experience. In this blog post, we'll explore some of the top gaming WordPress themes available, each tailored to cater to the unique needs of gaming websites. From stunning design elements to functional features, these themes are sure to level up your gaming platform and keep your visitors coming back for more.
Galactic
Galactic is a specialized eSports WordPress Themes that caters specifically to gaming enthusiasts and eSports enthusiasts. With Galactic, users have access to a comprehensive platform for creating captivating gaming websites, gaming blogs, and eSports gaming tournaments. This theme eliminates the need to waste time and money searching for the right tools, as everything required to build gaming websites, gaming stores, and eSports websites comes pre-packaged with Galactic.
The theme offers a wide range of customizable features, allowing users to reflect their unique gaming identity through their websites. With stunning visuals and engaging layouts, Galactic ensures an immersive online presence. Its seamless integration of gaming-related content makes it easy for users to showcase their gaming prowess, attract a loyal following, and foster a vibrant gaming community. Galactic is the ideal choice for anyone looking to create a powerful and dynamic gaming platform without the hassle of piecing together multiple tools and features.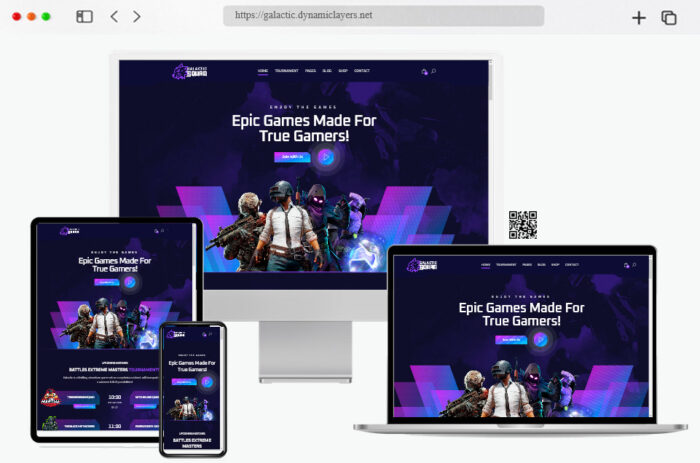 More info / download Demo
Playrex
Playrex is a responsive gaming theme designed specifically for WordPress. With its adaptability to different devices and screen sizes, Playrex ensures that gaming websites built using this theme look great and function smoothly across various platforms.
This theme is tailored to cater to the needs of gaming enthusiasts and developers, offering a wide range of gaming-related features and customizable options. Whether it's a gaming blog, gaming store, or eSports website, Playrex provides the tools and flexibility to create captivating and user-friendly online gaming platforms. Its responsive design and gaming-focused features make it a top choice for anyone seeking a seamless and visually appealing gaming experience on WordPress.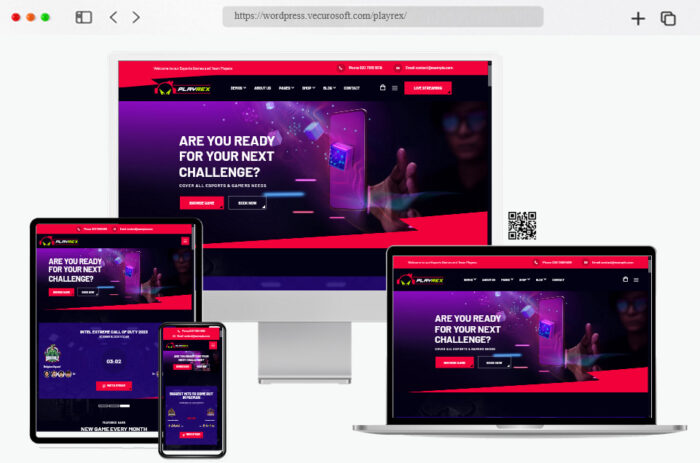 More info / download Demo
Xcloud
Xcloud is a premium WordPress theme tailored for cloud gaming websites. With a clean and modern design, it offers multiple customization options to create a unique and professional gaming website. Its visually appealing and user-friendly interface ensures a seamless experience, featuring a responsive layout optimized for mobile devices.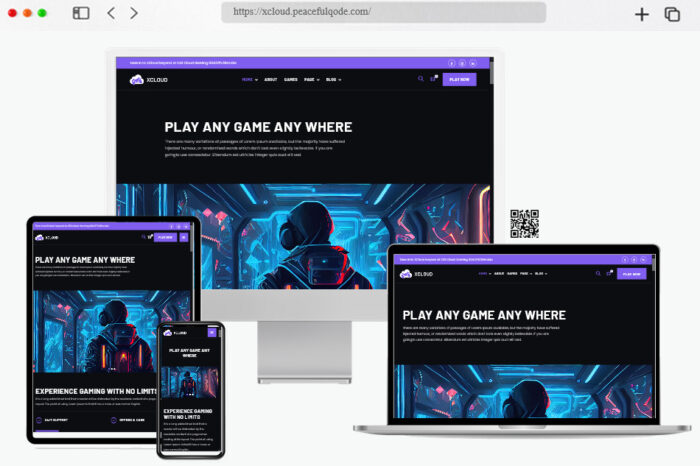 More info / download Demo
Dune
DUNE is an esports and gaming WordPress Theme that offers everything needed to build a gaming website, magazine, team presentation, gaming tournaments, and more. It features three premade home designs with over 20 creative sections, along with dedicated pages for about, tournaments, squads, shop, blog, and contact. With its comprehensive features and versatile design options, DUNE provides an ideal platform for creating a captivating and professional gaming website.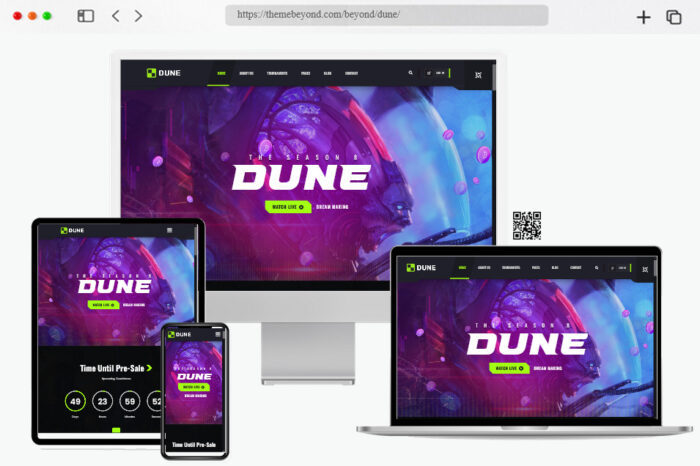 More info / download Demo
Horr
Horr is a Gaming Review WordPress Template specifically designed for horror gaming websites. Its spooky aesthetics, haunting typography, and immersive layout provide a spine-tingling experience for visitors. Whether you're running a horror game review blog, survival horror landing page, or horror game store, Horr offers advanced blocks, social media integration, responsive design, and search engine optimization.
The easy-to-use page builder allows for customization, creating unique layouts, adding preferred blocks, and highlighting top content. Horr ensures full responsiveness, ensuring an amazing user experience on any device. With all these features, Horr is equipped to make your horror gaming site a scream-worthy success!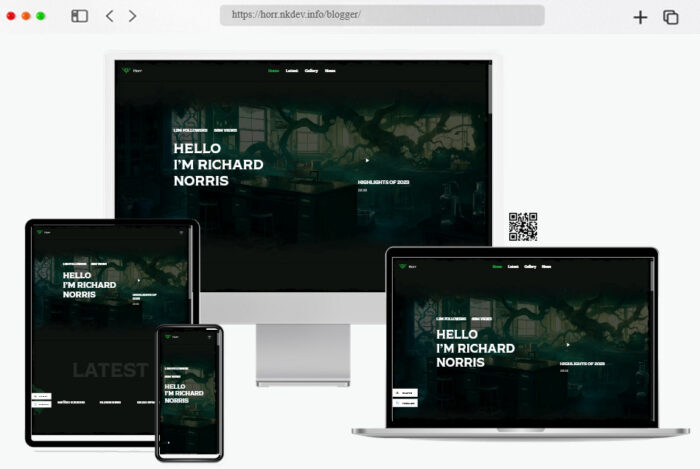 More info / download Demo
TeamHost
Teamhost Gaming Community WordPress theme is the perfect choice for powering your Gaming Community website. Packed with features, it enables you to create a powerful and engaging online community for gamers. The theme offers sleek designs and powerful features, striking a balance between professionalism and gaming spirit.
With Teamhost, you can easily set up an online store using the WooCommerce & Dokan plugins, making it simple to create a user-friendly and efficient marketplace. Whether you're a small business or a large enterprise, the theme's multivendor capabilities and Dokan integration will elevate your e-commerce platform to new heights.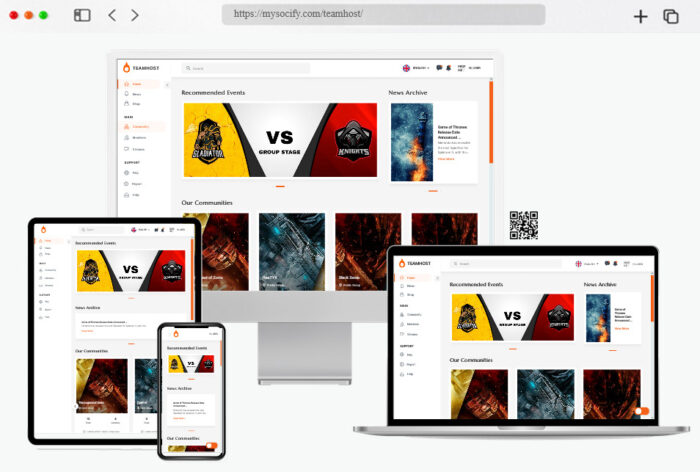 More info / download Demo
Gamxo
Gamxo is the ultimate Gaming news and blog theme for WordPress, offering a flexible modern design and full responsive support, making it ideal for game fans. It is perfect for creating gaming blogs, featuring the latest news and interactive team sections for gamers. Importing the demo with a single click allows for easy setup and launch of the Gamxo theme.
The theme boasts various features, including custom widgets, Elementor page builder, multiple post grid layouts, sliders, team sections, auto-load next post, and Multilingual translation support. Inspired by professional gamers and crafted with the latest bootstrap technology, Gamxo's clean layout is perfect for showcasing game news and related content.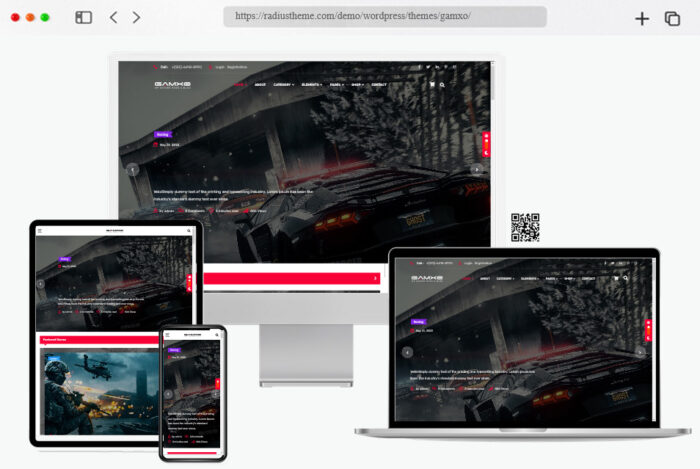 More info / download Demo
Necromancers
Necromancers is an eSports team template for WordPress, offering a unique fullscreen design for your eSports team's website. It comes packed with all the necessary features to build a perfect site, including news pages, detailed teams and player pages, full match statistics, streamers pages, and more.
The theme provides a game-like feel with pages designed for choosing teams and players, featuring detailed sliders to explore information such as overviews, gear, statistics, streams, and achievements. You can easily customize these pages with your team photos and backgrounds to give your website a distinct and personalized identity.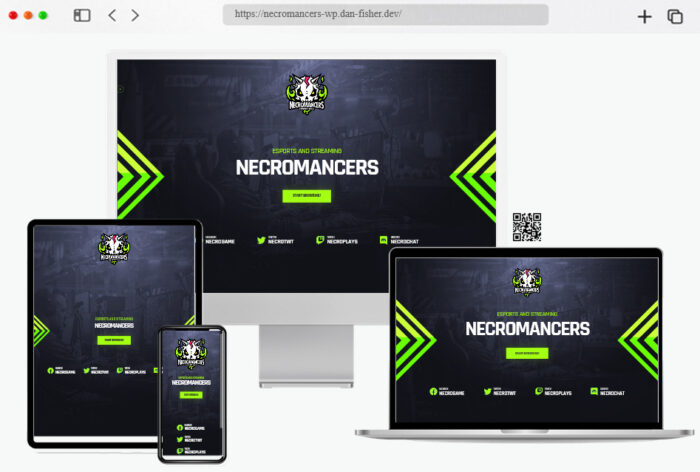 More info / download Demo
Armadon
Armadon is a great WordPress theme for building websites for gaming groups and eSports communities. It can be used for planning events, news/blogs, team talks, and much more. With choices like colors, fonts, spacing, buttons, parallax sections, Video Hero backgrounds, galleries, and menus, you can easily make a unique website without knowing how to code. Armadon is easy to use and easy to customize, which makes it a great choice for gamers and eSports fans who want to build a strong and interesting community platform.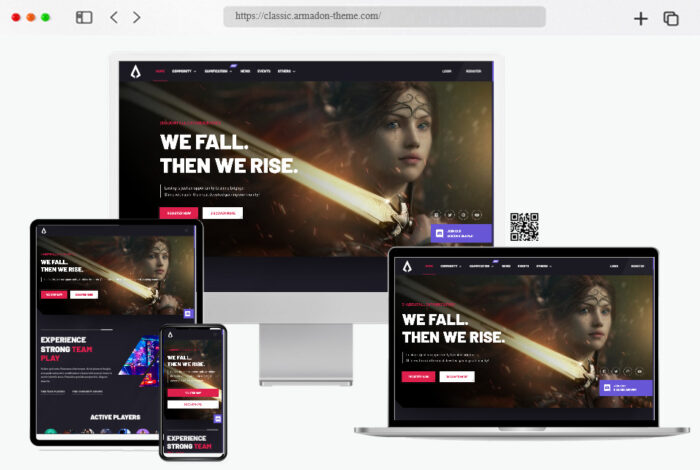 More info / download Demo
Overworld
Overworld is a powerful esports and gaming WordPress theme that elevates your gaming platform. With it, you can create a gaming magazine, showcase your team, host gaming tournaments, and more. The theme offers a variety of elements specifically designed for gaming and esports sites, such as player, match, and tournament lists. Take your gaming website to the next level with Overworld and unlock its full potential for your gaming community.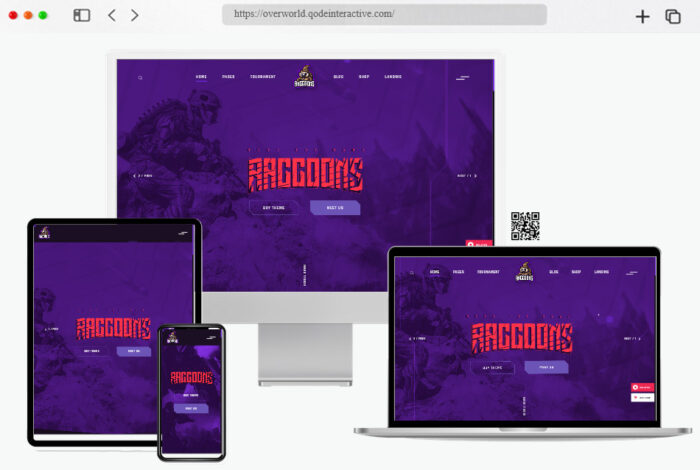 More info / download Demo
MonsterPlay
Download the MonsterPlay theme right now and rule the gaming world! It's an overpowering theme that was made especially for websites dedicated to gaming, esports, and gaming studios. Introduce your new game and provide a CTA on the landing page. Create an eCommerce website where you may sell merchandise, accessories, and other items.
Release fresh YouTube videos and announce your broadcasts. You have access to all opportunities with the MonsterPlay theme, even if your website is just a blog or VC card.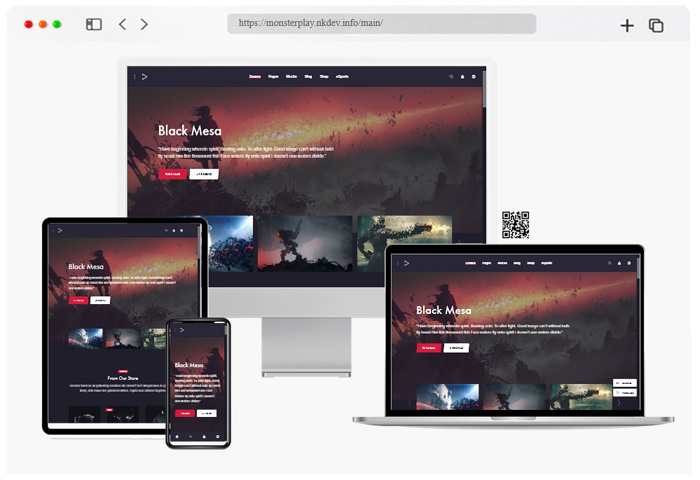 More info / download Demo