A hotel's website serves as a crucial first impression for potential guests. A well-designed and user-friendly website can significantly impact a guest's decision to book a stay. This blog post dives into the world of hotel website templates, exploring the top options available to hoteliers looking to create a captivating online presence. From sleek and modern designs to templates that prioritize user experience, this article highlights the key factors to consider when choosing the perfect template for your hotel's website.
Patara
The Patara Hotel website template offers a clean, modern, and creative design that is well-suited for various hospitality businesses such as hotels, hostels, resorts, spas, and vacation room/apartment rentals. It provides an attractive and effective way for these businesses to showcase their offerings to clients. With a focus on making a strong first impression, the template is designed to captivate visitors.
It incorporates tools like Bootstrap 5, Owl Carousel, Animate, Hotel Flaticon, Themify Icons, YouTube Popup, Magnific Popup Gallery, and Google fonts (Libre Caslon Display & Outfit) to enhance its visual appeal and functionality. The template is highly customizable and can be tailored to fit individual needs easily. A live preview page is available to showcase its features. The template is designed to create a visually appealing and engaging online presence for businesses in the hospitality industry.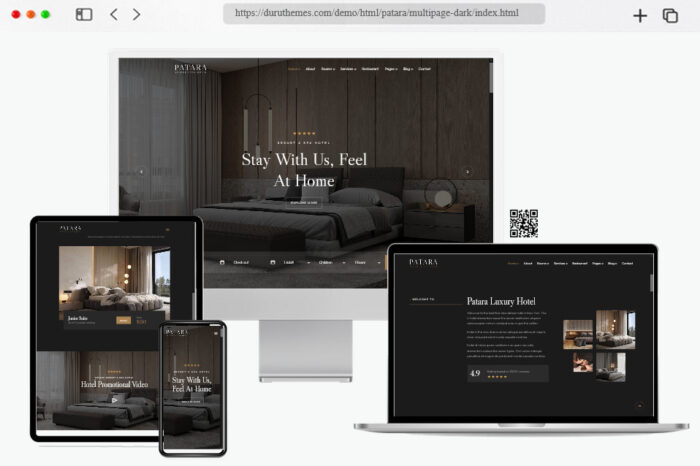 More info / download Demo
Grandeur
Grandeur is a highly modern and exceptional HTML Template created specifically for a wide range of businesses including hotels, hostels, resorts, restaurants, pubs, spa wellness centers, B&B hotels, vacation room/apartment rentals, and more. The template offers three creative homepage design layouts and over 30 valid HTML files.
Its design is characterized by elegance and contemporary aesthetics, while its easy customization is facilitated by a 1170px grid system. With Grandeur, businesses in the hospitality industry can create a sophisticated and customizable online presence, ensuring a delightful experience for both site owners and visitors.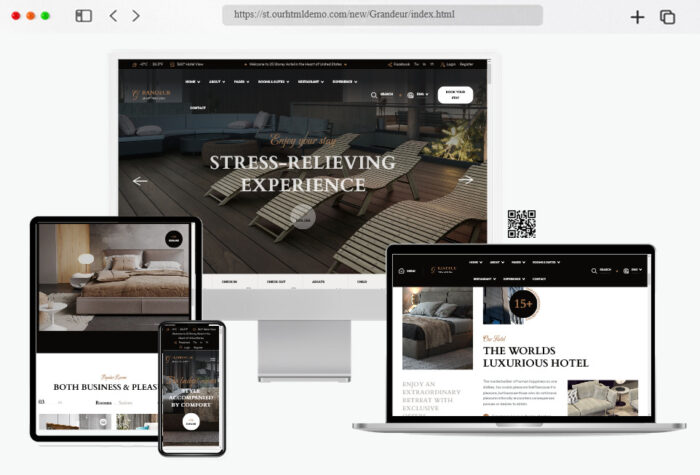 More info / download Demo
Royel
Royel is a luxury hotel booking template that offers versatility for various types of websites such as Hotel Websites, Hotel Booking Websites, and Restaurants. It enables the creation of unique and modern online platforms using its user-friendly codebase. With Royel, customization is simple, allowing easy modification to suit diverse requirements.
The template includes pre-built pages, and creating new pages is straightforward. The default homepage can be easily edited and tailored to match specific content arrangements using Bootstrap 5. Royel features professional, pixel-perfect, and clean modern layouts suitable for a wide range of website needs.
It's highly customizable and provides an excellent user experience on tablets and mobile devices. The template follows web development best practices and offers the option to create stunning website layouts based on Bootstrap or a 1320px grid system.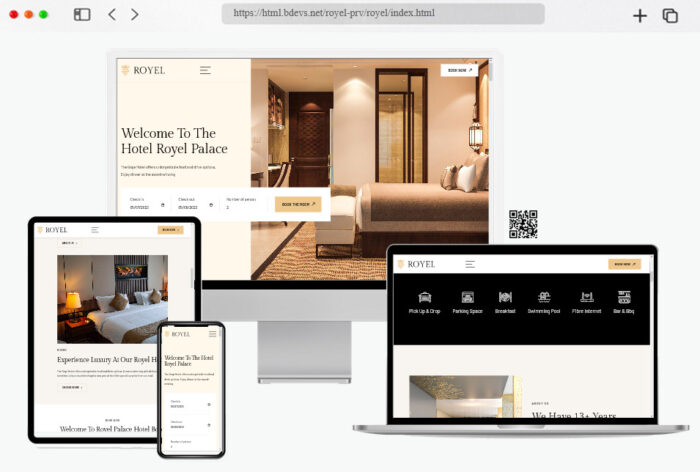 More info / download Demo
Chisfis
Chisfis is a top-tier hotel website template optimized for online booking. It is a responsive Nextjs template theme featuring an integrated online booking system, listings, real estate components, and accommodation options. This template is ideal for various travel-related businesses, including tours, travel experiences, cruises, car rentals, real estate agencies, and travel agencies. Developed with cutting-edge technologies, Chisfis is built on Nextjs 13 (app directory) and incorporates Typescript and Tailwindcss.
With a contemporary and revitalizing design, Chisfis enhances the overall website aesthetics and functionality. It offers various features such as a date-range picker for selecting dates, a modal gallery, Google Maps integration, the ability to add listings, and a blog section.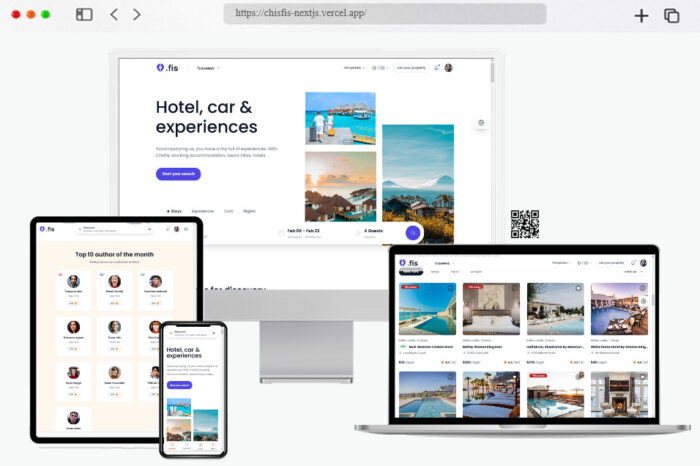 More info / download Demo
Glorio
Glorio is a hotel reservation website design template designed for a range of purposes, including Hotel Businesses, Online Travel Booking, Hotel & Resort, Travel Agencies, and Tour operators. It offers the flexibility to create unique and modern websites. The template's code is highly customizable, making it easy to adapt to various needs.
Glorio comes with pre-built pages, and adding new pages is straightforward. Modifying the default homepage to align with specific content arrangements is simple using Bootstrap 5. The template boasts professional, pixel-perfect, and clean modern layouts suitable for diverse website requirements. Whether it's for hotel reservations, travel booking, or tour operators, Glorio provides a customizable and visually appealing solution.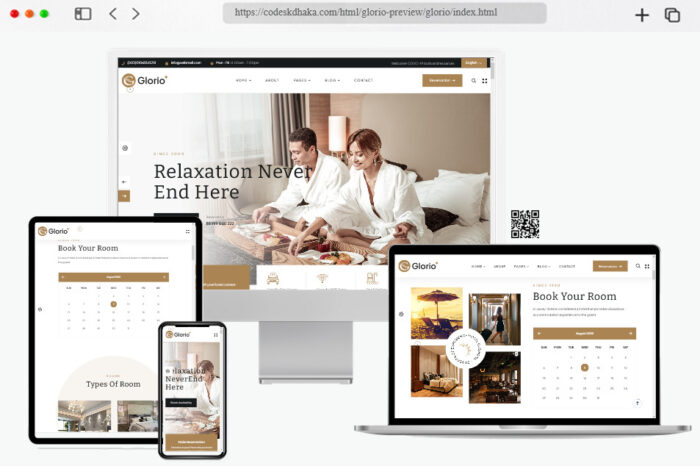 More info / download Demo
Seaside
Seaside is a premium responsive hotel website design that's specifically tailored for hotels. Its sleek and modern design provides an elegant online platform for hotel businesses. Crafted by a seasoned ThemeForest author with over 15 years of experience, the template ensures top-notch coding and design standards.
By seamlessly blending impressive styles and elements, Seaside enables effortless creation of a polished website that exudes professionalism. This template presents an opportunity to enhance your online presence significantly. Don't miss the chance to elevate your website's appeal with Seaside and establish a strong online presence for your hotel business.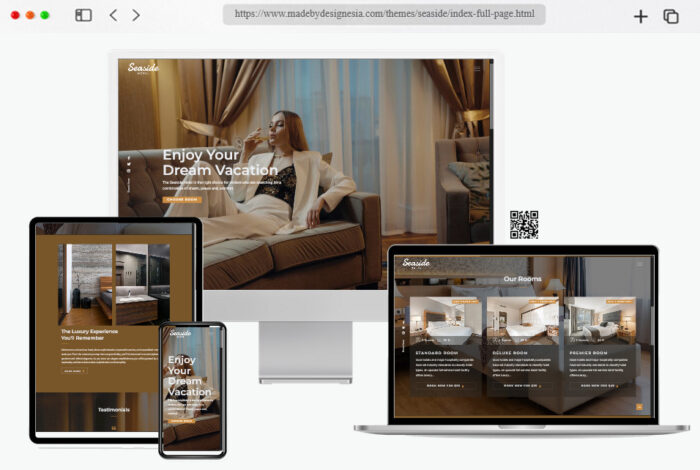 More info / download Demo
THE CAPPA
The CAPPA is a luxury hotel website theme, offering a clean, modern, and creative HTML template. Not designed for WordPress, it's suited for those seeking a sophisticated online presence. The template is well-suited for various businesses, including hotels, hostels, resorts, restaurants, pubs, spa wellness centers, B&B hotels, and vacation room/apartment rentals.
It provides an easy, attractive, and effective way to showcase work to clients. The CAPPA template is perfect for creating a captivating first impression and engaging everyone who visits. A live preview page showcases its features, and customization is effortless to match individual needs. This template offers an ideal solution for establishing a striking online presence.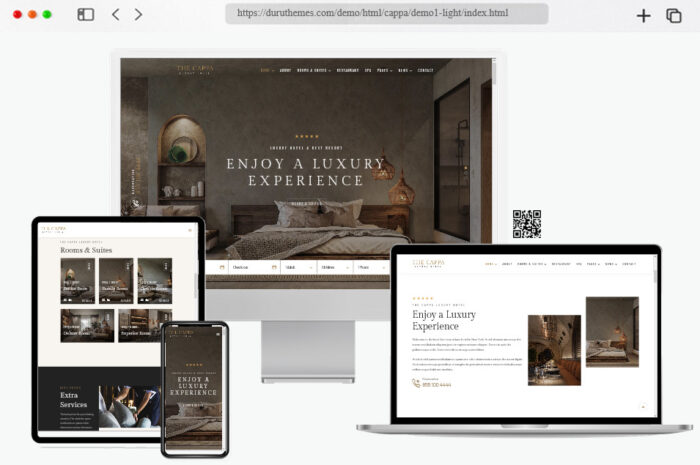 More info / download Demo
Miranda
Miranda is a modern hotel website layout built with Bootstrap 5, tailored for luxury hotels. It presents a clean and premium HTML5 template suitable for various scenarios. This template's versatility allows it to be applied to diverse purposes, such as room booking, hotel booking, tour guide booking, and more.
Miranda includes all the necessary files to facilitate the creation of an impressive website. Its responsive design ensures compatibility with all screen sizes, reducing concerns about interface consistency and enabling a focus on core content. By utilizing Miranda, the potential to craft something extraordinary is enhanced, making it a powerful tool for creating stunning online platforms.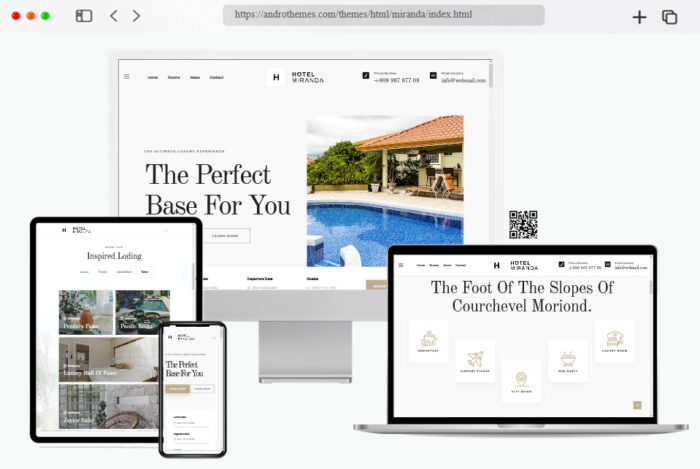 More info / download Demo
Beyond
Beyond Hotel is an HTML Template for Hotel Bookings. It is the greatest option for hotel booking, hotel reservations, hotel business directories, hotel business listings, hotel directories, and hotel listings.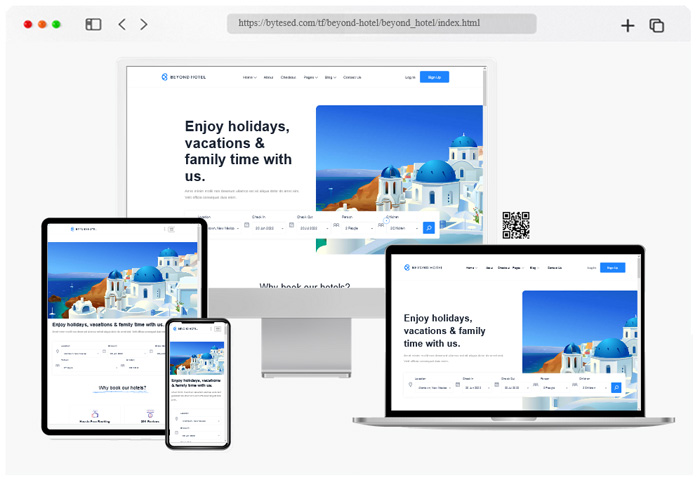 More info / download Demo
Varaus
Varaus is an elegant hotel website design that embodies modern aesthetics and beauty. This template, intended for Hotel Booking services, offers the flexibility to modify every section according to preference. Its customized options ensure uniqueness, while each section showcases creative elements tailored to the needs of Hotel Booking services.
With a unique design and exceptional features, Varaus is well-suited for those aiming to establish an impressive website. The template encompasses all the essential features required for Hotel Booking services companies. Its design is both visually appealing and functional, adapting seamlessly to both mobile devices and desktop screens. The design's cleanliness and simplicity further contribute to its appeal.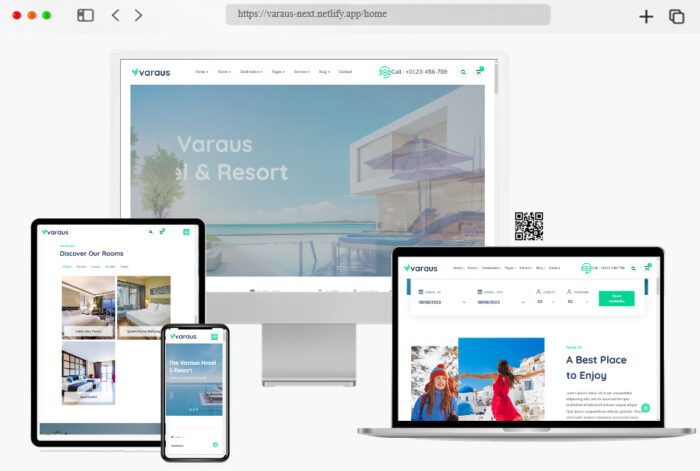 More info / download Demo