In this blog post, we will explore the best Jewelry WordPress Themes that combine elegance, functionality, and user-friendliness to help you create a dazzling online jewelry store that will leave a lasting impression on your customers.
Each of the mentioned themes offers a unique charm and features tailored to specific niches within the jewelry industry. By choosing jewelry collection themes that aligns best with your brand's identity and offerings, you can create an enchanting online jewelry store that captivates customers and drives your business to new heights of success.
Alukas
Alukas is a modern and unique Jewelry WordPress Theme built with Elementor and WooCommerce. It offers 9+ high-quality pre-built home pages suitable for various online stores, including fashion, electronics, and furniture. With Elementor, users can easily edit and create new pages without coding skills. The theme is fully responsive, ensuring a great user experience on desktop, tablet, and mobile devices. It also features One Click Demo Import for quick setup.
Alukas includes essential e-commerce features like Product Filter, Ajax Search, Ajax Add to Cart, Quick Buy, Bought Together, and Mini Cart. This makes it a great choice for various online stores, including fashion, clothing, furniture, cosmetics, luxury jewelry, and accessories.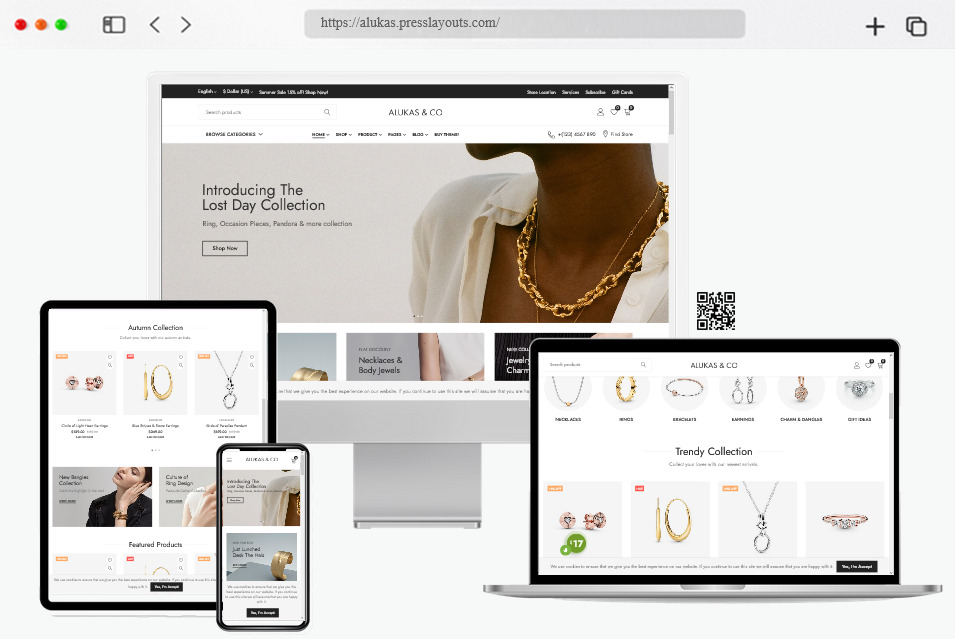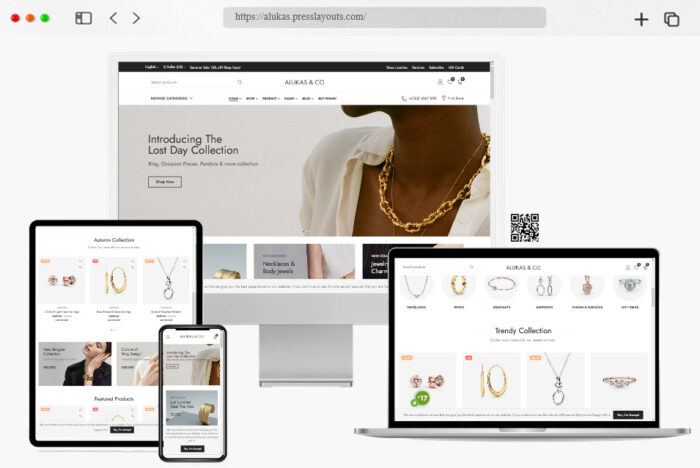 More info / download Demo
Ascellá
Ascellá is a stunning E-commerce Jewelry Theme designed exclusively for modern jewelry store websites. The theme offers a wide range of carefully crafted and highly customizable shop elements, perfect for showcasing various jewelry items like earrings, gold accessories, bracelets, and more.
With full compatibility for WooCommerce, YITH add-ons, and Elementor, creating an exceptional online store for your jewelry business becomes effortless. Elevate your e-commerce platform to excellence with Ascellá, the true gemstone in WordPress form, available now!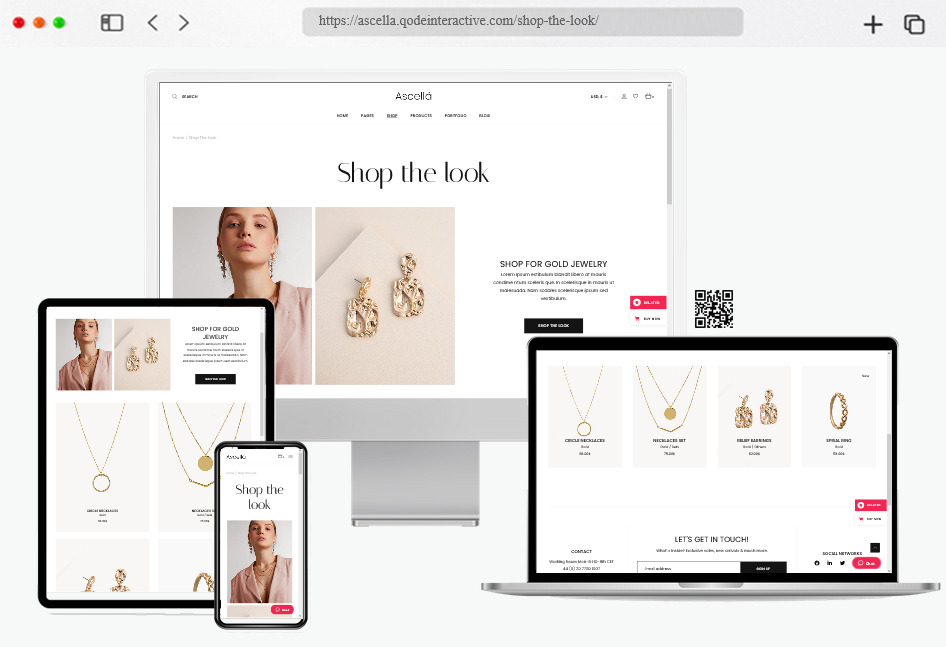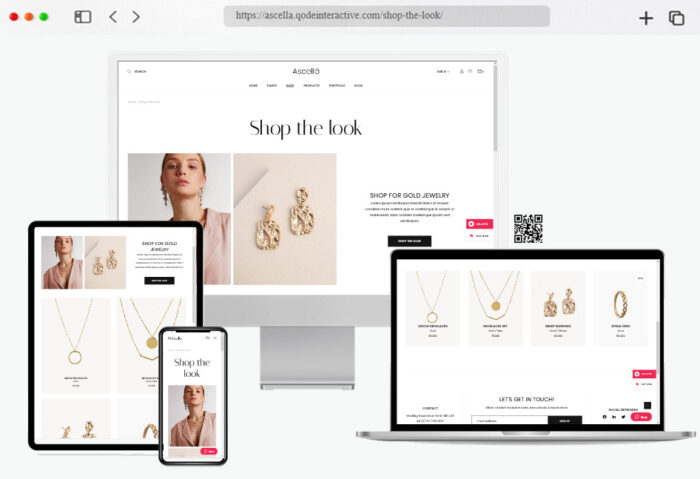 More info / download Demo
GoldSmith
GoldSmith is a Jewelry Store Theme built with WooCommerce and Elementor, making it an excellent choice for creating a stunning and functional online store for jewelry businesses. With the powerful combination of WooCommerce and Elementor, users can easily set up and customize their e-commerce website without the need for coding skills.
GoldSmith provides a seamless and user-friendly shopping experience for customers interested in purchasing jewelry products. Whether you're selling rings, necklaces, earrings, or other jewelry items, GoldSmith offers a visually appealing and feature-rich solution to showcase your products and grow your online jewelry store.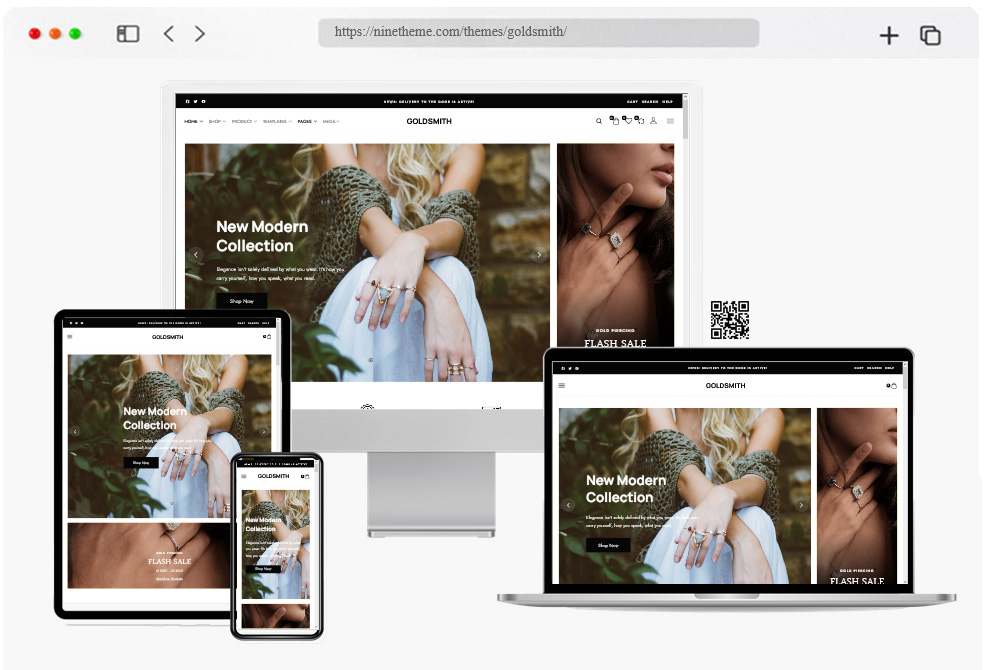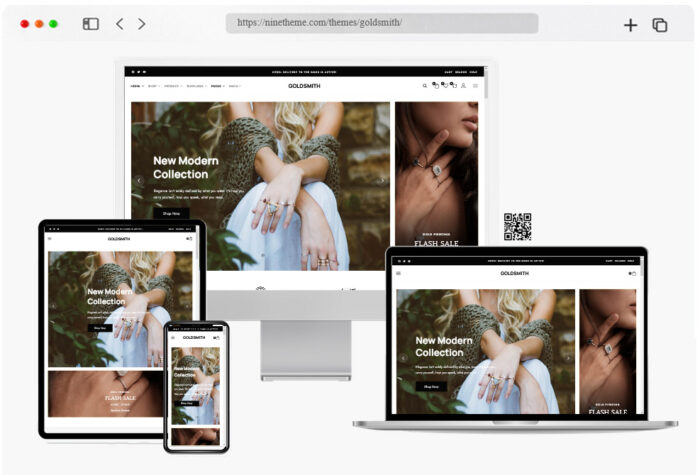 More info / download Demo
Aro
Aro ecommerce WordPress theme is a perfect solution for jewelry store builders. It has features drop page builder, mobile devices support and more. This theme is built with a wide range of features that offers you the most superior and versatile design to enhance your online experience.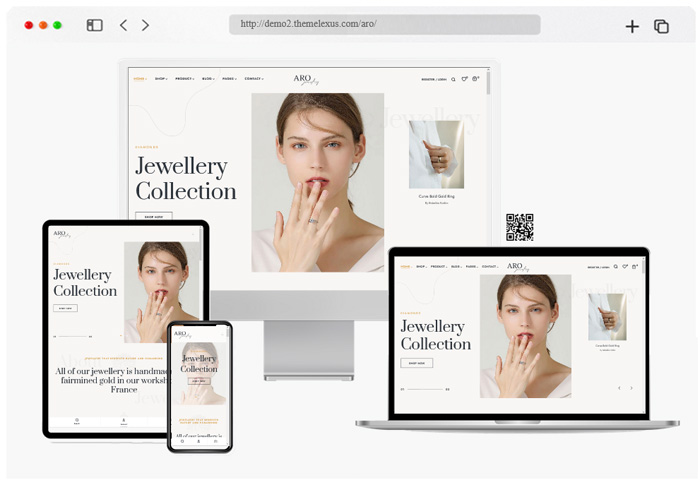 More info / download Demo
Splendour
Splendour is a clean and elegant ecommerce WordPress theme built with a powerful page builder, mobile devices support and endless customization options. Splendour is perfect for selling jewelry online. The attractive appearance of this site will be your best advertising tool. It has wide range of different color combinations and can be easily adjusted to your requirements. Lots of useful features such as social icons integration make it even more enjoyable. Overall this elegant ecommerce WordPress theme is sure to lead you to success!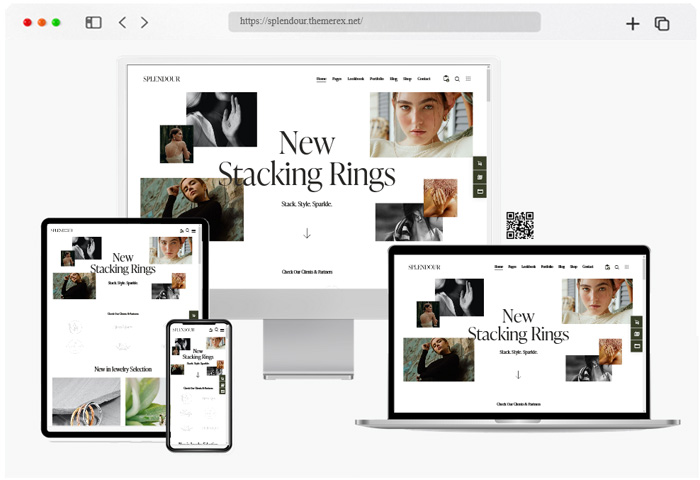 More info / download Demo
Auriane
Auriane is a meticulously designed WooCommerce Jewelry Theme with multiple pre-built store demos, perfect for high-end jewelry stores and similar luxury items. Even if your inventory isn't top-tier, Auriane can still elevate your jewelry store's appearance to a premium level.
The theme is built around the popular Elementor page builder plugin, allowing easy customization of the store demos through a simple drag-and-drop interface. This includes the product templates, giving you the flexibility to display your jewelry items exactly the way you desire.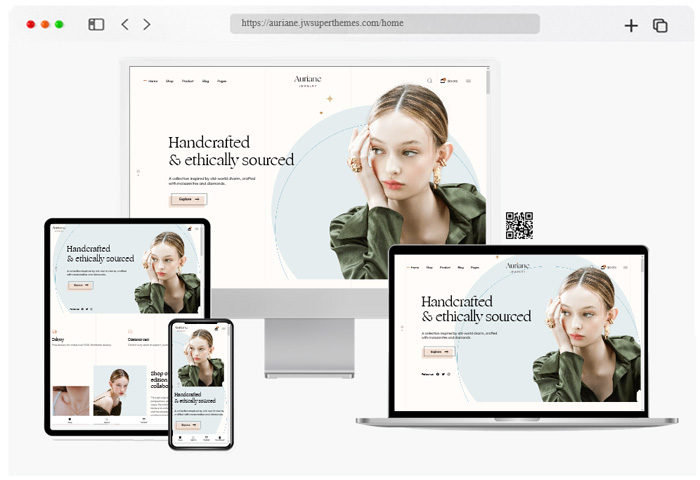 More info / download Demo
Maia
Maia is a versatile WordPress Jewelry Shop Theme suitable for natural beauty, jewelry stores, organic websites, and healthy food blogs. It features a user-friendly mobile menu for easy navigation and offers an extensive collection of three hundred pages. With one-click demo content import, setting up an eCommerce page becomes quick and hassle-free.
The theme provides mesmerizing home and product pages, various contact sections, a seamless checkout process, and a blog system. Even without coding experience, users can effortlessly customize Maia as it offers a beginner-friendly interface that doesn't require touching a single line of code.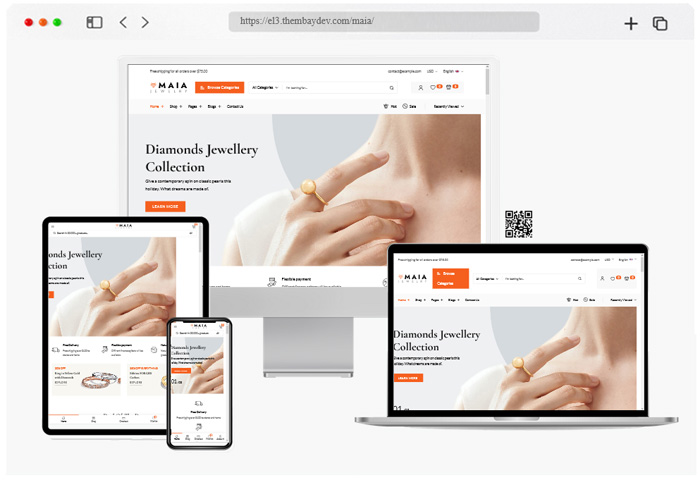 More info / download Demo
Goldish
Goldish is a stunning and minimalistic Jewelry theme that is fast, responsive, and highly SEO-friendly, ensuring an excellent user experience for visitors. The theme comes with pre-designed blocks that can be easily edited using the Elementor Page Builder, providing a comfortable and straightforward customization process.
Goldish is versatile and can be used for various e-commerce websites, including Jewelry Shops, Fashion Stores, Watches Shops, Handmade Crafts Stores, and more. With its user-friendly customization options, you can easily tailor the WordPress theme to your liking. If you have any questions or need assistance, the friendly support team is readily available to help.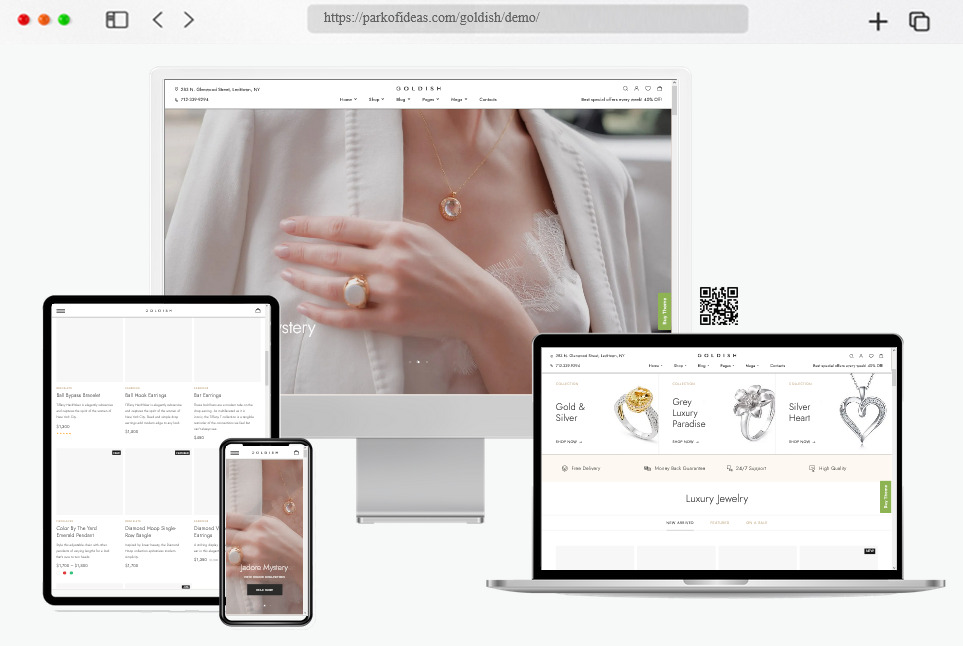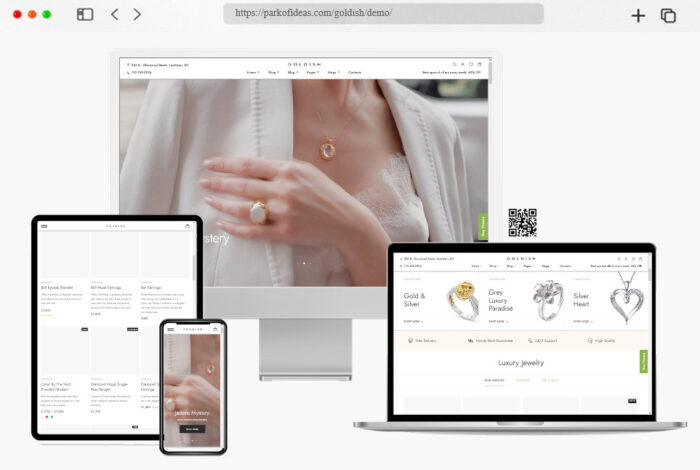 More info / download Demo
Mojuri
Mojuri by Wpbingo is a minimalist Jewelry Theme designed for Jewelry WooCommerce stores. It utilizes the latest version of Bootstrap as its back-end framework, offering an impressive and suitable design for your store. The theme focuses on organizing products based on their categories and integrates certain web components to highlight special products.
Built on the Elementor plugin, Mojuri allows easy customization through drag and drop, enabling you to tailor the website according to your preferences. Additionally, Mojuri is compatible with three Multi Vendor plugins (MultiVendorX, Wc Vendor, Dokan), facilitating the creation of multi-vendor websites.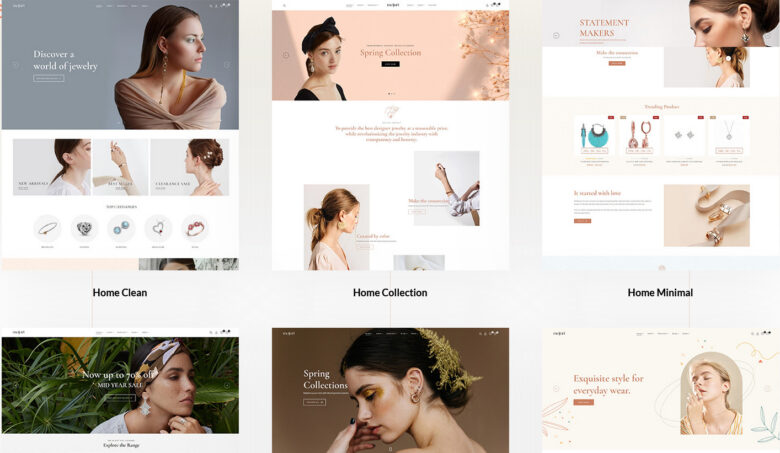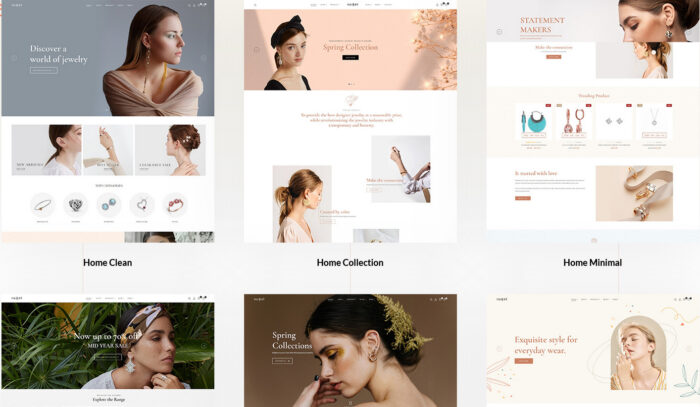 More info / download Demo
Bijoux
Bijoux is an elegant Jewelry Theme that allows you to showcase and sell stylish handcrafted goods, such as watches, jewelry, clothing, art, toys, and more. The theme features a purpose-oriented design, making it suitable for users with no programming skills and advanced developers alike. Bijoux is fully compatible with Elementor and Elementor Pro, providing seamless customization options. Note that Elementor Pro is required for the demo content importer and theme setup.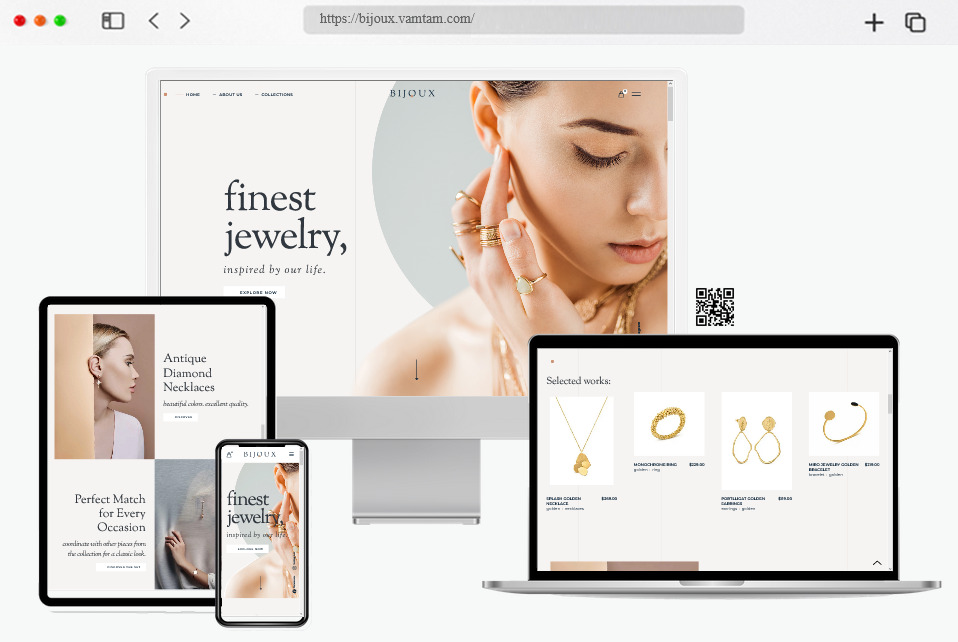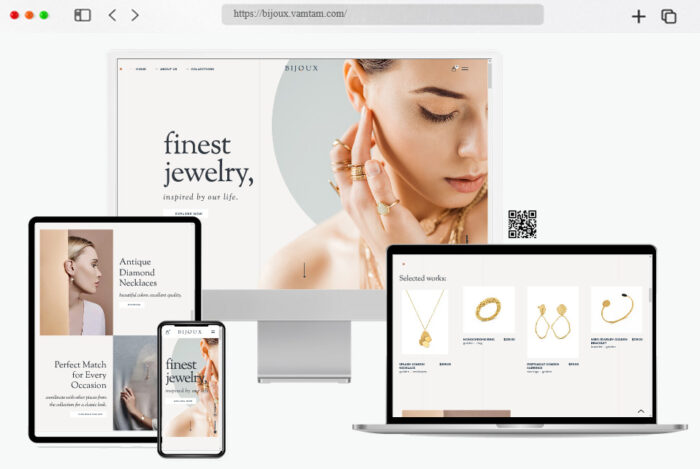 More info / download Demo
Karo
Karo is an SEO-friendly Jewelry Theme designed for selling various jewelry items like Diamond, Gemstone, Fashion Jewelry, Earrings, and Necklaces. The theme is integrated with WooCommerce and optimized for top performance. With Elementor as the leading WordPress Page Builder, designing on the frontend becomes instant and real-time, eliminating the need for drag and drop delays.
Karo boasts numerous features, including GDPR compliance, Gutenberg optimization, mobile optimization, and support for multiple vendors like Dokan, WC Vendors, MultiVendorX, and WCFM Marketplace. It also offers Ajax Retail Filters, a 360° Product Viewer, Off-Canvas Cart, Size and Color Variation Swatches, and advanced widgets.
The theme is built with the latest web technologies, ensuring ultra-performance and user-friendly experience. With the One-Click Demo Importer plugin, users can easily import beautiful demo layouts with just one click. Karo is a great choice for creating professional and unique eCommerce websites with ease, making it perfect for jewelry businesses looking to stand out online.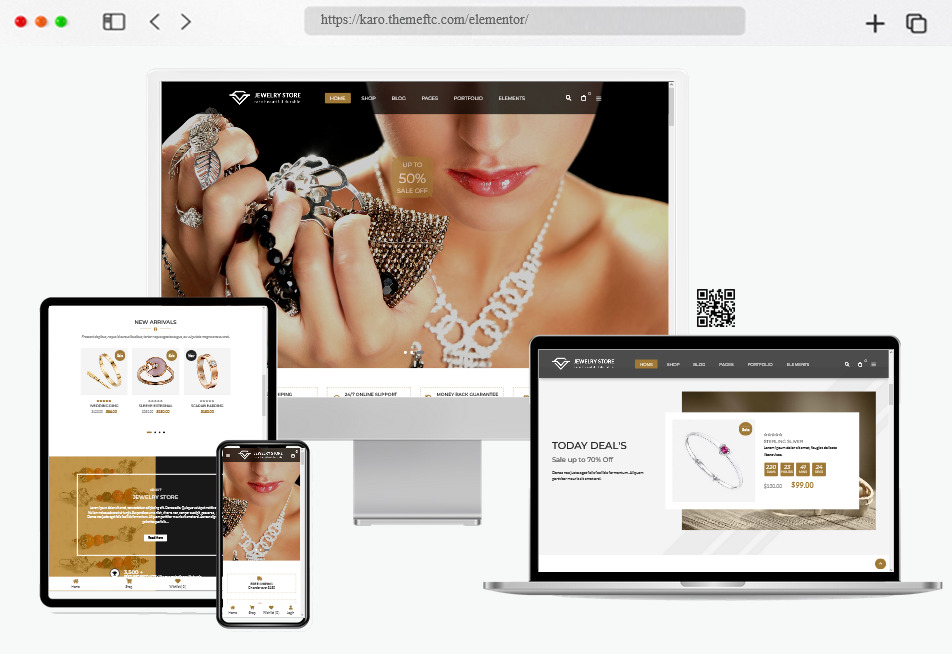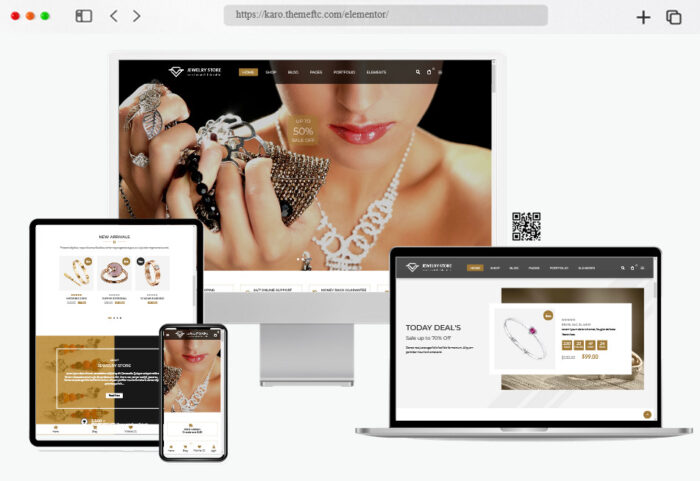 More info / download Demo