In the ever-evolving world of online marketing, a well-designed landing page is a crucial tool for any business seeking to attract and convert potential customers. Landing page templates have emerged as a convenient and effective solution for marketers, developers, and entrepreneurs alike. In this blog post, we will explore the world of landing page templates, why they matter, and how to use them to optimize your conversion rates.
By embracing the world of landing page templates and mastering their customization, you'll empower your marketing efforts with a powerful conversion tool. Remember, a successful landing page is not just about aesthetics but also about meeting your audience's needs and guiding them toward your desired action. With the insights gained from this blog post, you can confidently build high-converting landing pages that elevate your online presence and drive your business forward.
Peyso
Peyso is a modern and responsive Startup Landing Page Template built with Django and Bootstrap v5.3.0. It offers quick and easy customization, featuring 9 pages with 6 home page variations and 3 Authentication pages. The template provides a unique and clean user experience (UX) with a beautiful design that users will love. Its flexibility allows effortless customization to suit individual needs.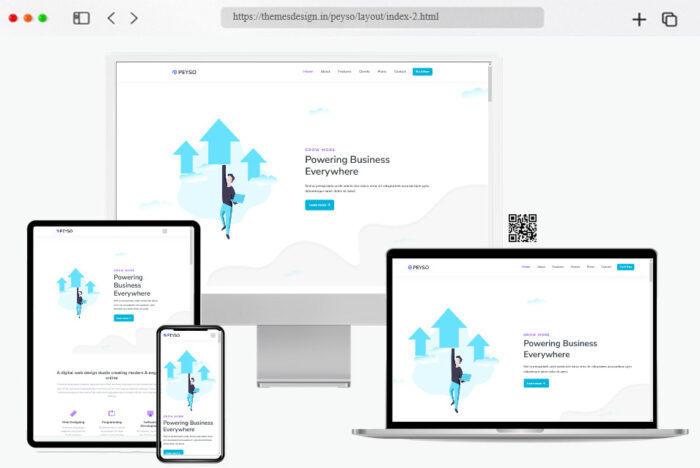 More info / download Demo
Tred
Tred is a sleek and innovative Responsive landing page template tailored for 3D printing and manufacturing companies. It serves as the perfect solution for showcasing products and services. The template is built with Bootstrap and Uikit frameworks, ensuring full responsiveness on all devices and a visually appealing, modern website. It highlights a wide range of services related to 3D printing and manufacturing, offering a comprehensive representation of the business and its capabilities.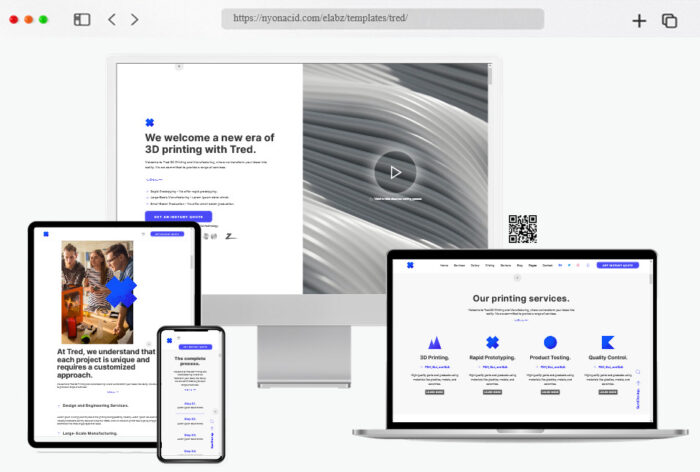 More info / download Demo
Zungo
Zungo is a professional and creative high-converting landing page template designed for consulting businesses, agencies, and corporate companies. This one-page HTML template boasts a clean and modern layout and is fully responsive based on Bootstrap. It offers four different versions, including LeadGen, Click Through, Subscription, and Video Marketing layouts, catering to various marketing needs.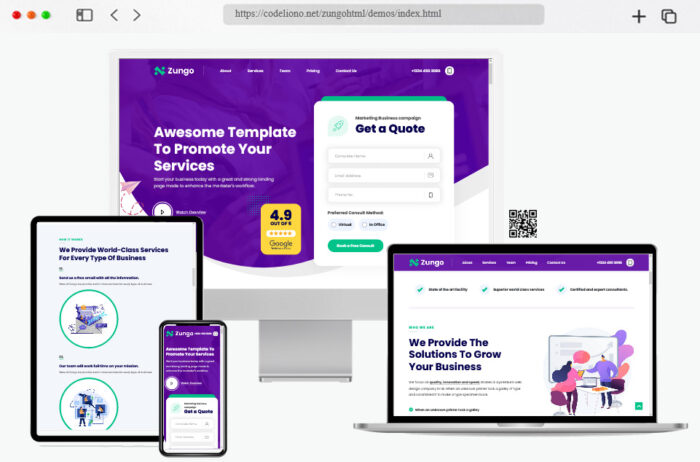 More info / download Demo
Wonted
Wonted is a single landing page template designed for book authors and those seeking to showcase their books to a wide audience. The template is built using trendy technologies such as HTML5, CSS3, Bootstrap, SASS, JavaScript, and jQuery. It offers a fully responsive design for all devices, presenting a unique and modern look with clean codes.
The template's main focus is to showcase and sell books and eBooks, while also providing the option to create a portfolio site for authors. Additionally, it can be adapted to showcase audiobooks, podcasts, videos, and portfolios for other fields. Wonted offers 6 different home page options, 40+ components, and the flexibility to choose alternate backgrounds like white and other colors for each component.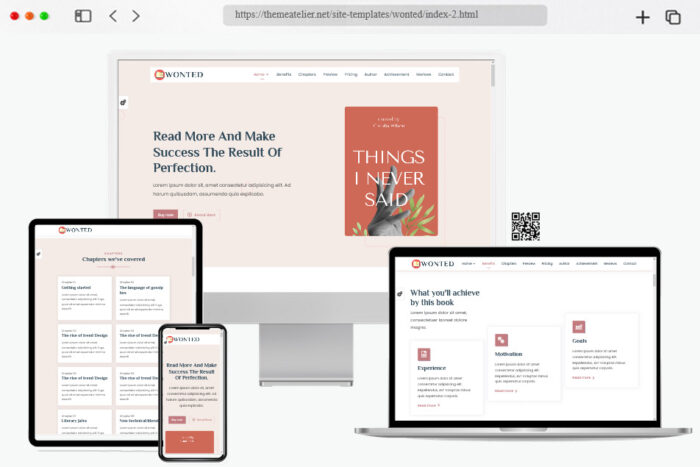 More info / download Demo
Appexy
Appexy is a fully responsive product launch landing page template built with the latest Bootstrap v5.1.3 framework. It is ideal for describing apps, agencies, or businesses. The template's clean and well-commented code makes customization easy, allowing users to update content, images, and SCSS to suit their company information. Appexy offers 6 different layouts, providing ample options for various business needs.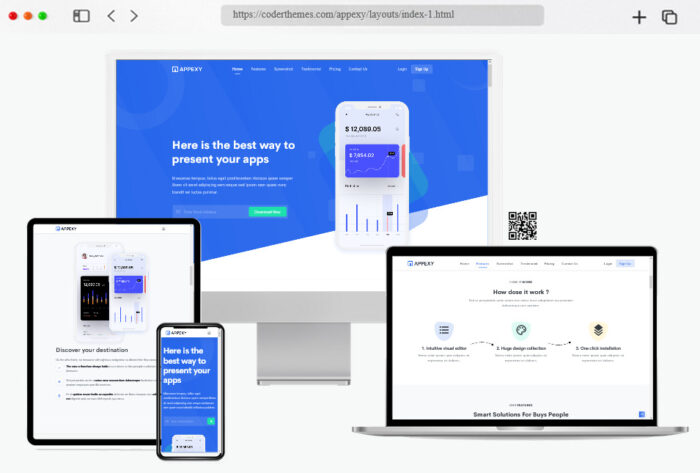 More info / download Demo
Upwind
Upwind is a professional, high-converting landing page template that is fully responsive, clean, and modern. It is crafted with precision and based on the latest Tailwind CSS V3.3.1, ensuring pixel-perfect design. The template offers 9 home demo HTML files, all organized and easy to use and edit. It is well-organized and highly customizable, making it quick and easy to set up for your needs.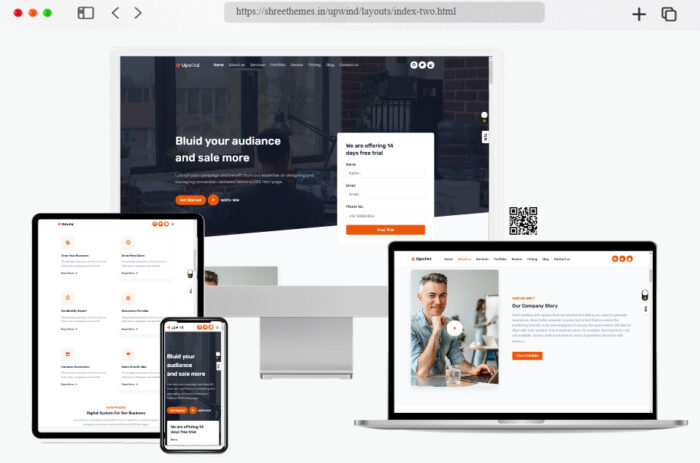 More info / download Demo
Pakap
Pakap is a minimal and clean mobile-friendly landing page template designed for App Landing websites. Built with Bootstrap and Sass, it is suitable for Mobile App landing, SaaS app landing, Software landing, and more. The template includes an RTL feature, making it suitable for Arabic and Hebrew language-based websites. It also offers a working contact form, well-commented and easily customizable source code, and detailed documentation, making it highly usable and customizable based on individual needs.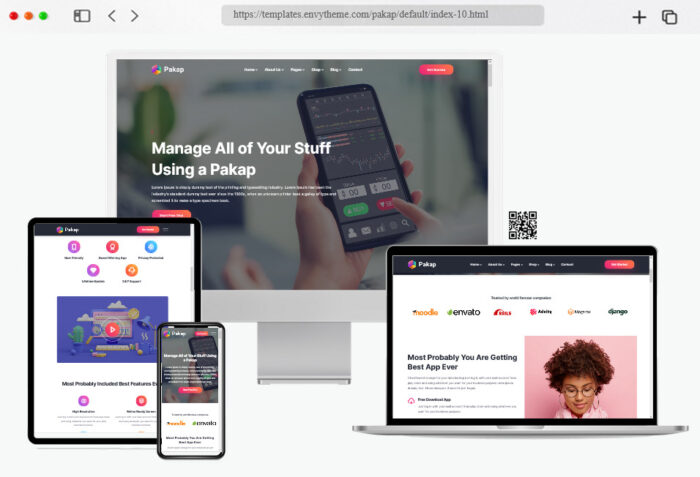 More info / download Demo