A professional and visually appealing website is crucial for lawyers and law firms to stand out in the competitive legal landscape. A well-designed website not only instills trust and credibility in potential clients but also serves as an effective platform for showcasing expertise and attracting new cases. In this blog post, we'll explore ten stunning lawyer website templates that can elevate your online presence and help you make a strong first impression.
The importance of having a well-designed website for lawyers and the role of carefully selected website templates in enhancing the online presence of law firms. Encourage legal professionals to choose a template that aligns with their brand and emphasizes user experience to make a lasting impact on potential clients.
Barristar
Barristar is a modern, clean, and unique Law Firm Website Template built using Tailwind CSS and React. It is tailored for law-related businesses, lawyers, and legal companies. The template includes custom pages for Law Firm specific elements like Practice, Case, and Attorney.
Barristar is designed to impress and attract viewers, offering a professional-looking React design with excellent support. Its great-looking layout ensures your website stands out, and the fully responsive design guarantees a seamless experience across all modern devices, such as mobile phones, laptops, and tablets. The neatly organized sections on the homepage create a minimal and distraction-free appearance.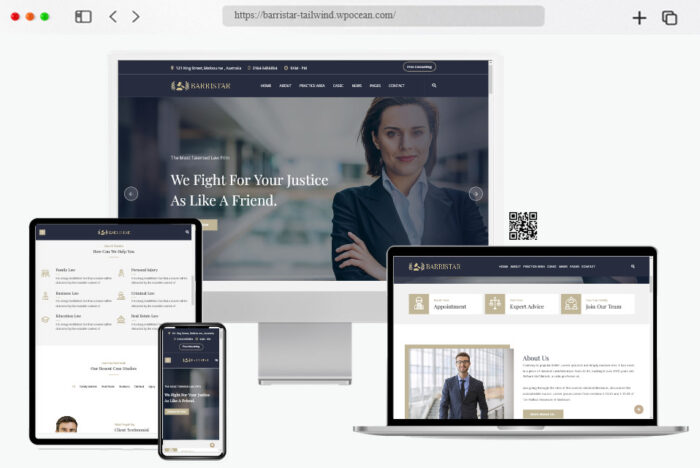 More info / download Demo
AttorCO
AttorCO – Attorney & Lawyers Legal Website Theme, the perfect solution for legal professionals and law-related businesses seeking a strong online presence. This clean and modern HTML template is designed to enhance search engine optimization (SEO) capabilities, maximizing visibility and attracting potential clients.
With a user-friendly interface and built on the powerful Bootstrap framework, AttorCO ensures a stunning and seamless performance across all devices. Its incorporation of essential SEO elements guarantees higher search engine rankings through optimized code, clean HTML, and proper use of keywords, driving organic traffic to your legal practice.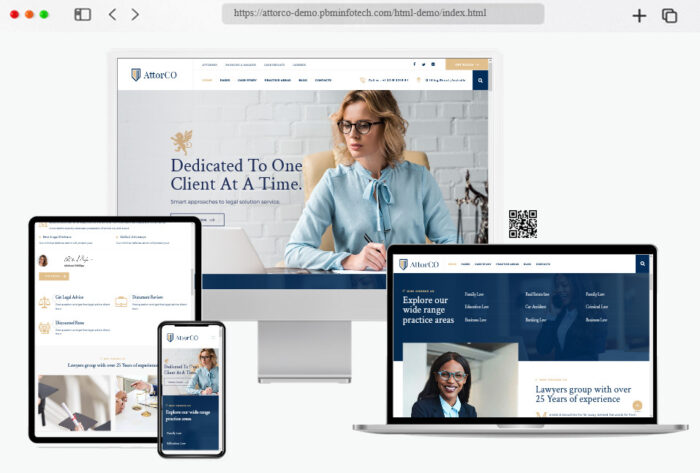 More info / download Demo
Avukat
Avukat is a clean, unique, and modern Law Office Website Layouts Template designed for Law, Lawyers, and any Law-related business. The template includes custom-made pages for Law Firm elements like Practice, Case, and Attorney. Avukat is sure to enhance your website's appearance and attract viewers with its impressive design.
It offers a professional-looking HTML design with excellent support, making it an ideal choice for anyone seeking a standout website. With a great-looking design, Avukat ensures your site stands out and makes a lasting impression on visitors.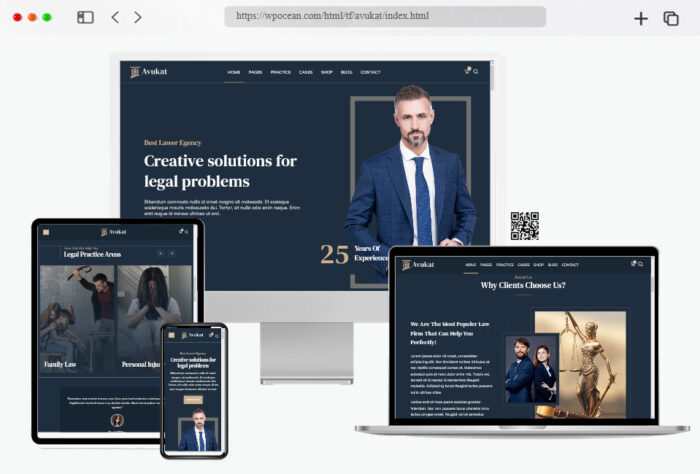 More info / download Demo
Pitron
Pitron is a Legal Practice Website Template designed for legal service professionals, built with the latest version of Vue.js. This fully responsive template offers a slick design and high-speed performance, ensuring it looks great and runs smoothly on all devices.
It is suitable for Lawyers, Law Firms, and Legal Services Organizations. With Pitron, you can easily create a unique and modern website as the code is easily modifiable. The template integrates a fully responsive layout, guaranteeing a seamless user experience across various devices and browsers. Its clean and well-documented code also ensures optimized speed for faster loading times.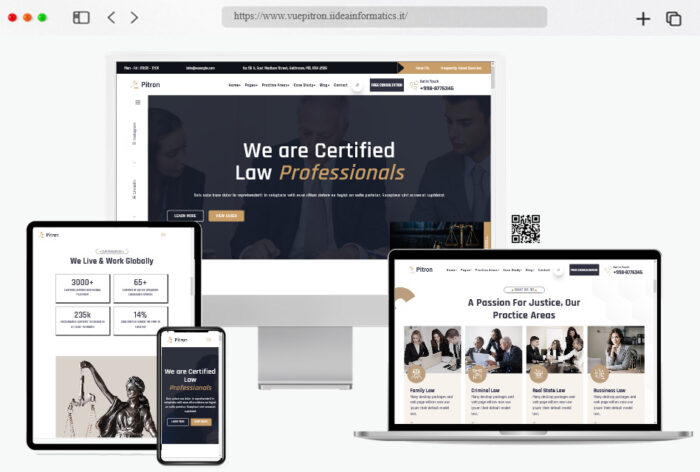 More info / download Demo
Canun
Canun is a modern and unique Law Firm React Next Lawyer Portfolio Template designed for Law, Lawyers, and Law-related businesses. It offers custom-made pages for the Law Firm niche, including Practice, Case, and Attorney sections. Canun guarantees to make your website look more impressive and attractive to viewers.
It provides a professional-looking React design with excellent support, making it a great option for those seeking a standout website. With its visually appealing layout, Canun can easily make your site stand out and leave a lasting impact on visitors.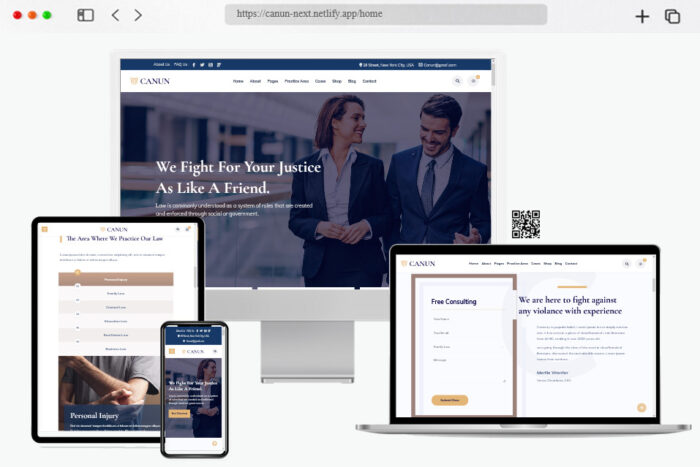 More info / download Demo
Lawgist
Lawgist is an HTML5 Legal Services Website Designs Template, ideal for various business purposes, built on Bootstrap 5 and featuring a 12-column responsive grid. With a width of 1920px, it is perfectly suitable for business HTML templates. This comprehensive template, Lawgist– Attorney & Lawyers HTML Template, includes 17 well-organized HTML files that provide everything needed for website development. The template is highly customizable, and images in the main file are replaced by placeholders, while the actual images used are for demo purposes only.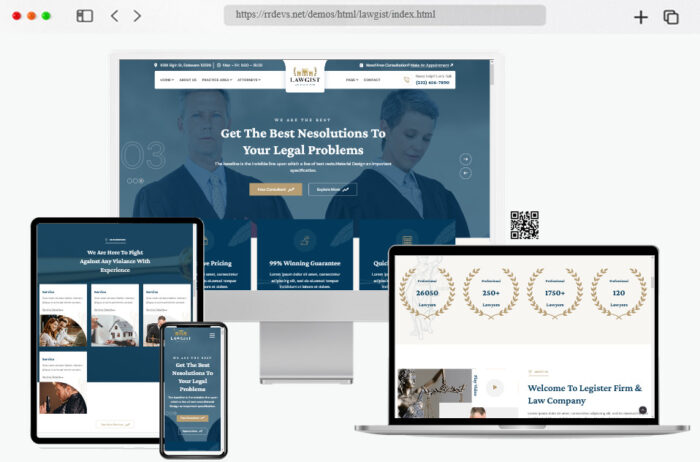 More info / download Demo
Lawreto
Lawreto is a Lawyer Website HTML Template designed specifically for attorney and lawyer-based services. The template boasts a beautiful and unique design, making it perfect for establishing a professional online web presence. It is well-suited for law firms and can be adapted for various professional business templates like marketing agencies or companies. Developed on Bootstrap 5, Lawreto is a comprehensive HTML item with all the essential content required for a law firm website.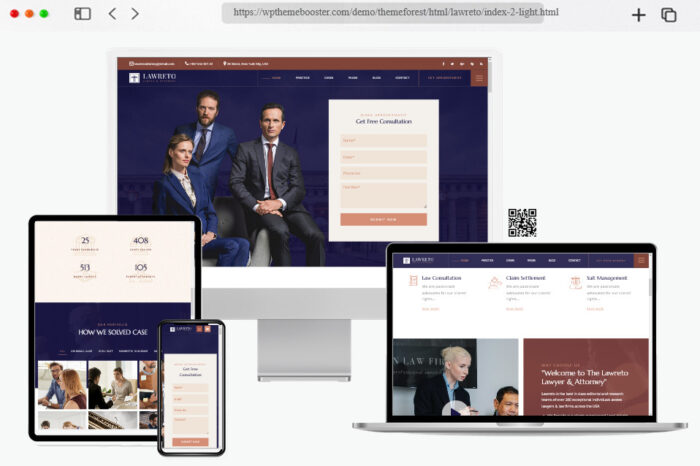 More info / download Demo
Justica
Justica is a Responsive Lawyer Website Template designed specifically for lawyers, attorneys, and businesses with RTL compatibility. Created using Bootstrap 4.5 and the latest web technologies, the template offers responsive layouts that adapt to all devices.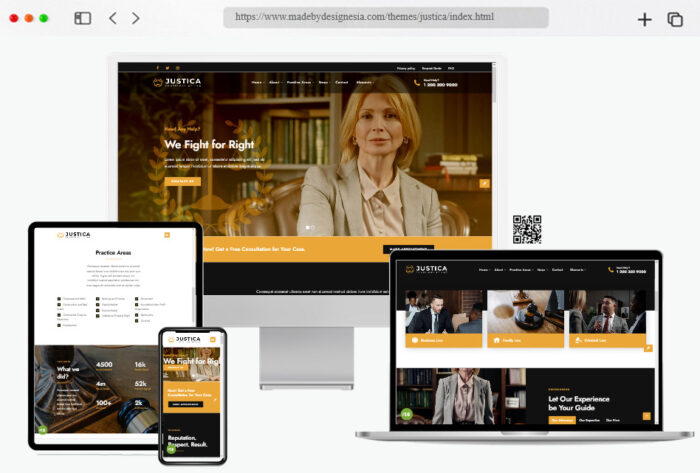 More info / download Demo