In our latest blog post, we set sail into the world of logistics and transportation WordPress themes, offering a comprehensive guide for businesses in the industry. Explore a curated selection of themes designed to streamline your online presence, whether you're a freight company, a logistics provider, or a transportation agency.
Discover the power of responsive designs, intuitive navigation, and customizable features tailored for logistics and transportation professionals. These themes provide a seamless user experience, allowing you to showcase your services, track shipments, and engage clients effectively.
Learn how to optimize your online presence, improve customer interactions, and stay competitive in the ever-evolving logistics landscape. Elevate your brand, simplify operations, and create a reliable online platform for your clients with these exceptional WordPress themes. Join us on a journey through Logistics & Transportation WordPress Themes and embark on a digital voyage towards success in your industry!
Logistica
Logistica" is a WordPress theme specifically created for transportation, logistics, and cargo companies. It comes equipped with a comprehensive set of features tailored to meet the requirements of websites in the transportation and logistics industry. With Logistica, you can effectively showcase your logistics and transportation services in a stylish manner.
The theme is designed to help you attract new clients and expand your transportation and logistics business online. It's positioned as a great starting point to establish a strong online presence for your transportation and logistics services.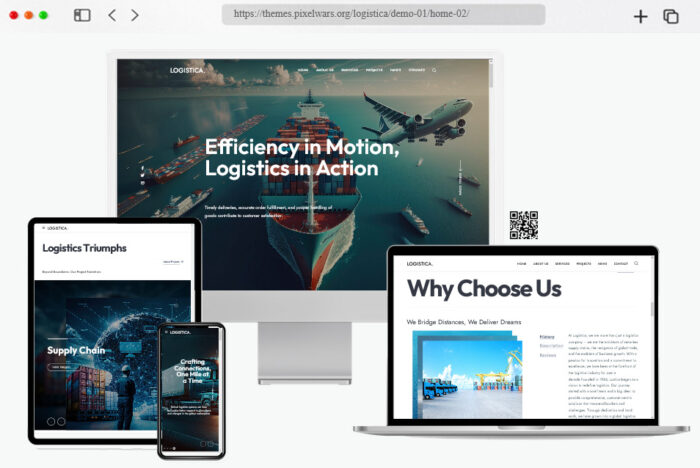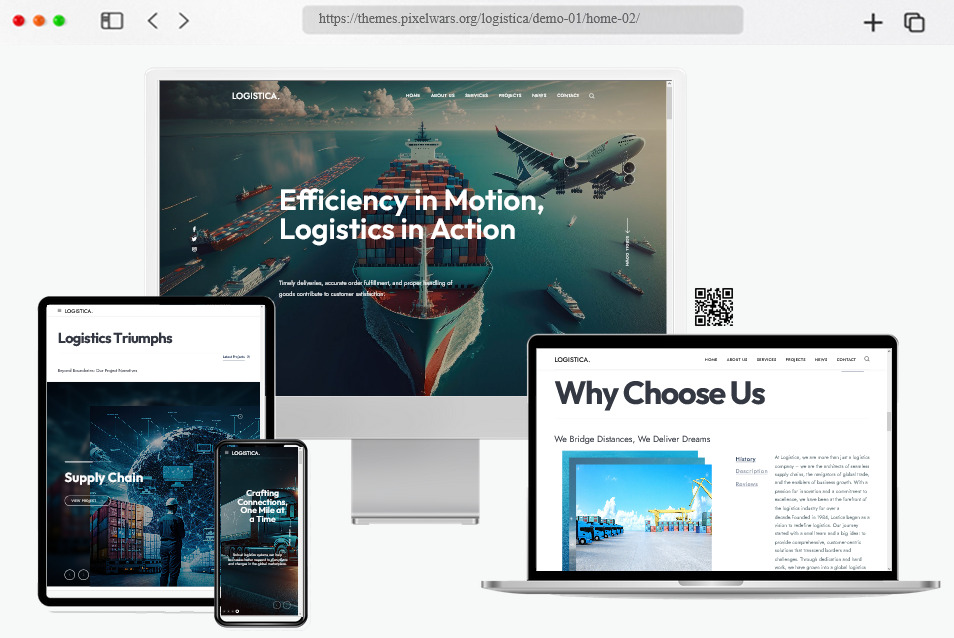 More info / download Demo
Transp
TransP is a WordPress theme designed for transportation, courier, logistics, and related businesses. It offers a unique and clean design, making it suitable for a range of industries, including cargo, transport, and courier services. The theme is built with the user-friendly Elementor Page Builder, eliminating the need for coding skills to create your website.
TransP is thoroughly tested for responsiveness, ensuring it looks good on all devices. It provides four home variations, various inner pages, and over 40 exclusive section UI blocks that can be customized to meet your specific needs. The theme is created with the latest web design trends in mind, allowing you to quickly and easily create a unique and visually appealing website for your business.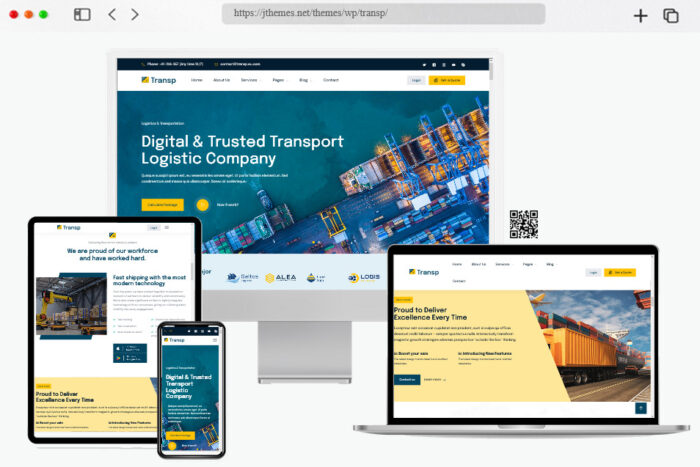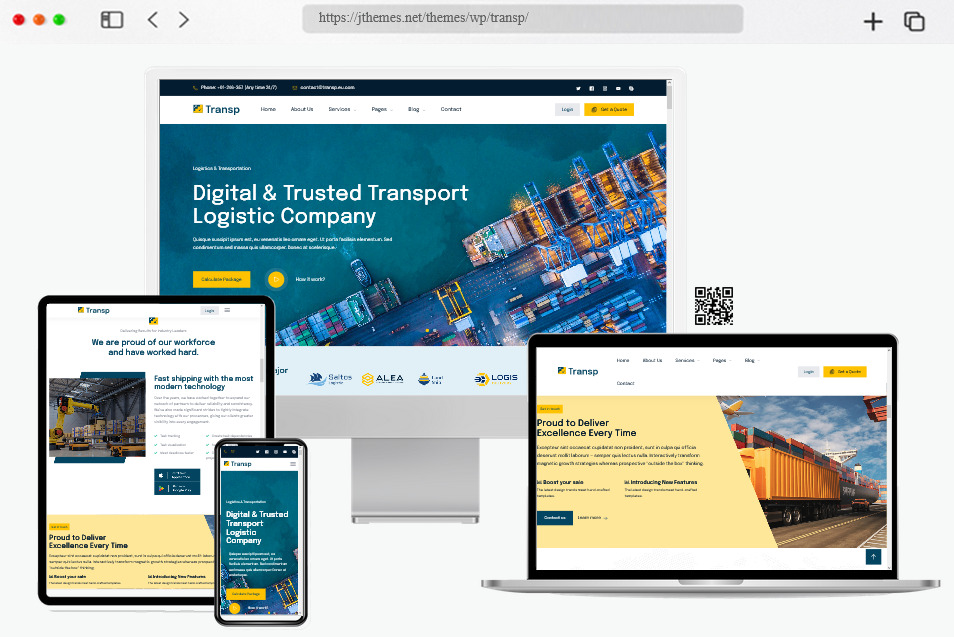 More info / download Demo
Transco
Transco is a modern Transport & Logistics WordPress Theme designed for various logistics and transportation services, including cargo, air, trucking, freight, and more. It is characterized by its clean and complete design.
This theme offers full responsiveness, Retina display optimization, and SEO enhancements to ensure an excellent user experience. It utilizes the Elementor page builder, which allows for easy content management and customization through a drag-and-drop interface. You can customize your website without the need for coding skills and see the changes in real-time using the live demo feature.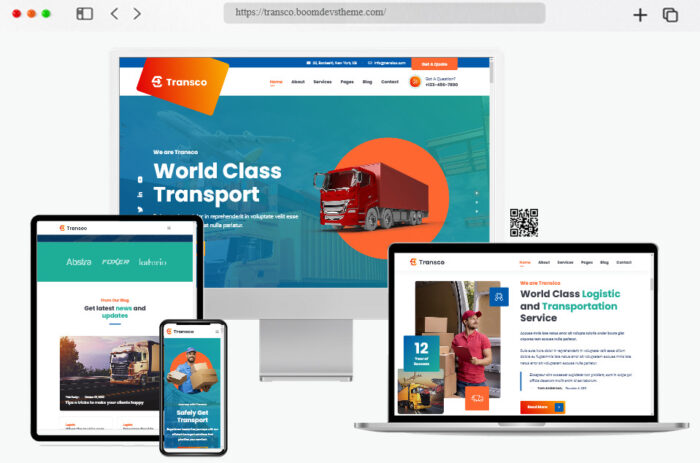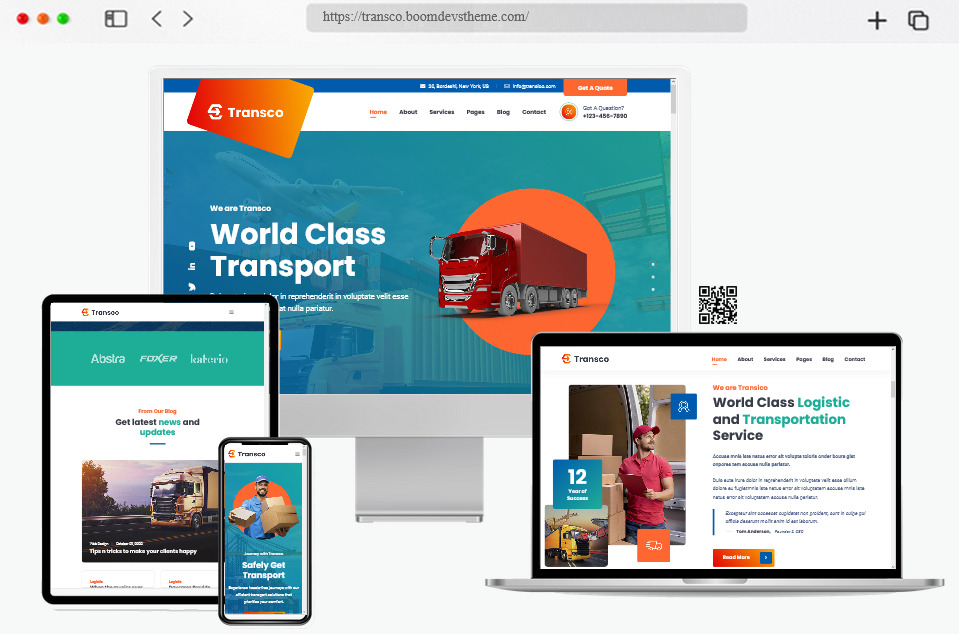 More info / download Demo
Tranzkart
Tranzkart is a specialized Transportation WordPress Theme created for logistics and transportation companies. It provides these businesses with a professional and functional online platform featuring a sleek design and powerful features, perfect for displaying services and attracting clients.
The theme acknowledges the significance of efficient transportation systems and serves a variety of industry sectors, such as trucking companies, freight forwarders, and logistics providers. It incorporates essential elements to streamline operations, fleet management, and seamless customer interactions, offering a comprehensive solution tailored to the needs of transportation and logistics companies.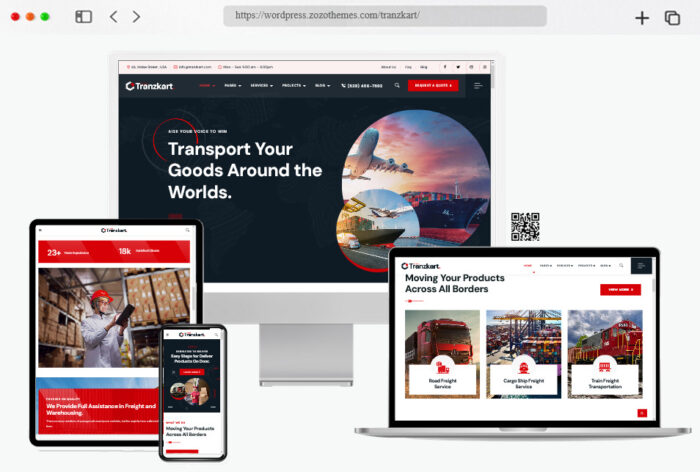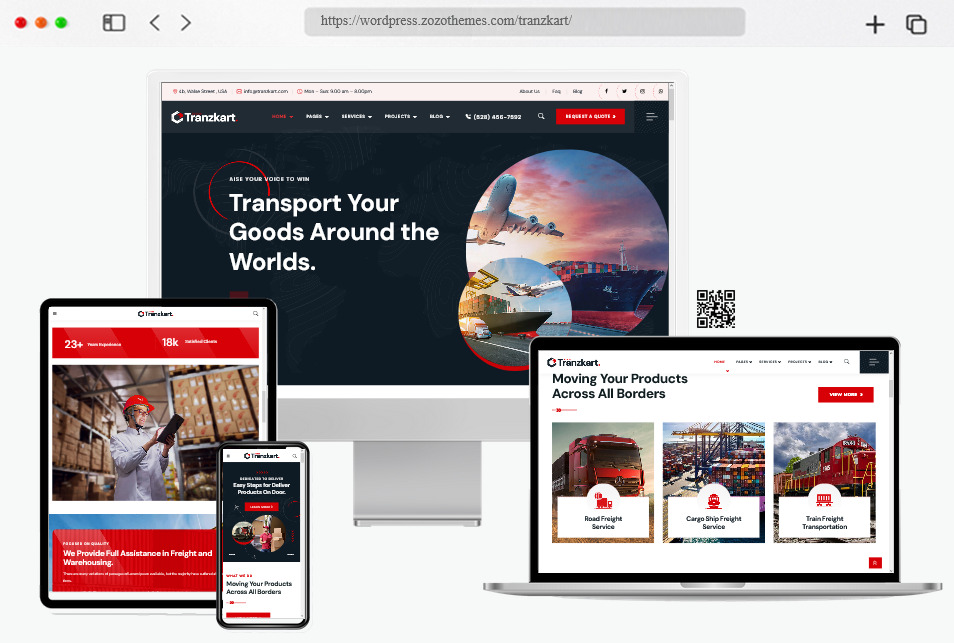 More info / download Demo
Tranxpress
The Tranxpress WordPress Theme is designed for Transport & Logistics websites and offers predefined web elements to help users build their own sites. It boasts ease of customization, a wide range of features, and a robust admin panel for creating a professional website with an attractive design.
The theme is specifically crafted for businesses in the cargo, freight, logistics, and transportation industries, including cargo delivery, freight transport, shipping companies, trucking companies, and more. It provides a versatile and customizable platform for creating a professional online presence for such businesses.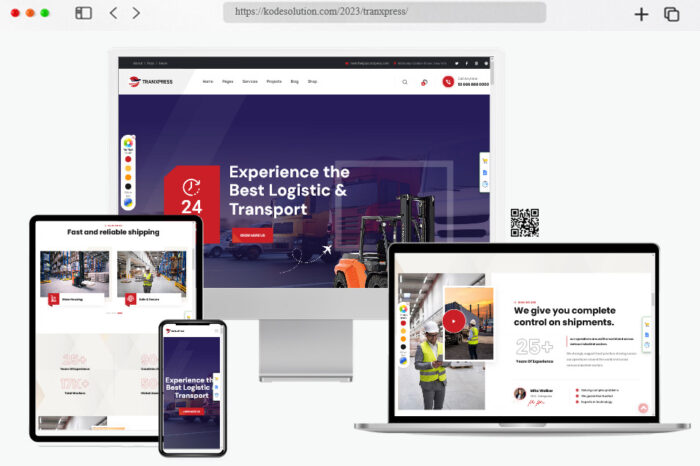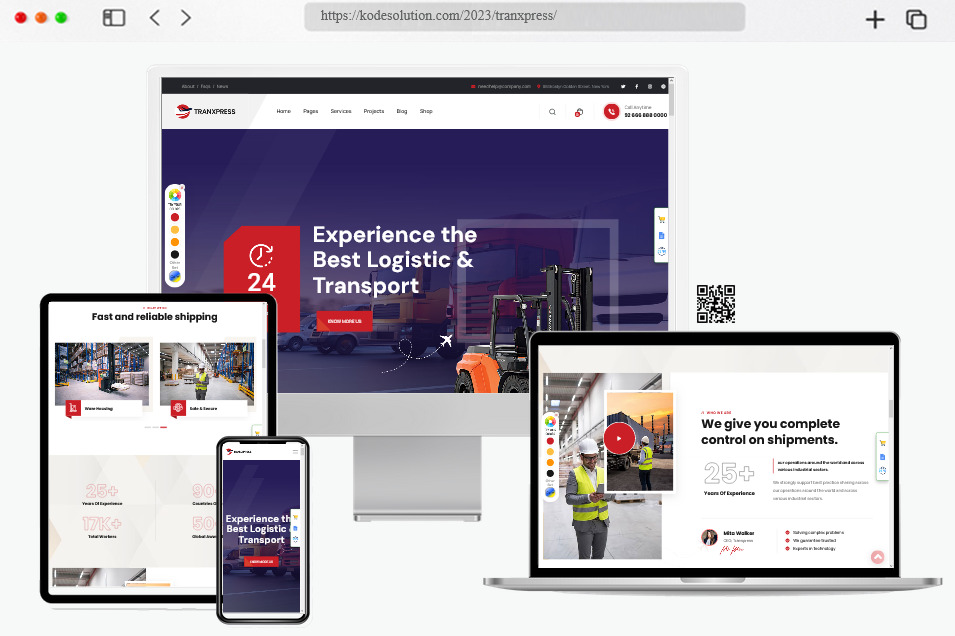 More info / download Demo
Logistik
Logistik is a WordPress Theme designed specifically for businesses in the transportation, logistics, cargo, and freight industries, including air freight, truck freight, train freight, sea freight, delivery, logistics storage, moving companies, packaging, shipment, and warehouse companies. The theme offers a variety of homepage layouts that cater to different sizes and needs within the transportation industry.
Whether your company deals with air freight, ocean freight, supply chain management, overland networks, or a combination of these services, "Logistik" provides a range of layout options to suit your specific requirements. It is a versatile theme tailored to the transportation and logistics sector, offering flexibility and customization for businesses in this industry.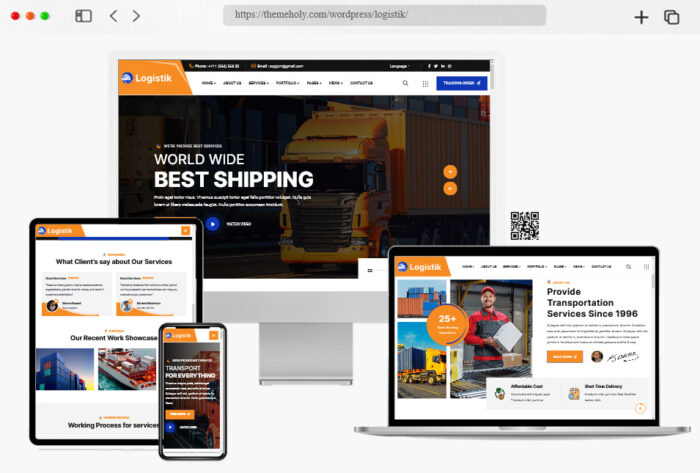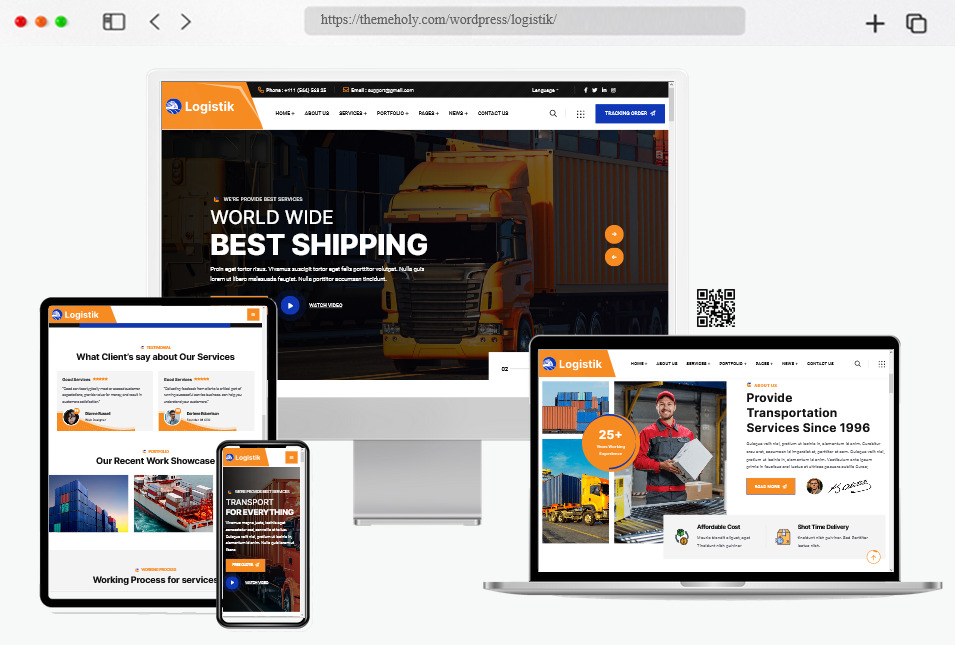 More info / download Demo
Delport
Delport is appropriate for transportation, logistics, shipping, and cargo websites. It focuses on building websites for companies in the Transport, Transportation, and Logistic niches. Upon purchase, you will gain access to six unique homepage layouts and seven or more header variations, giving you a multitude of options for customizing your website.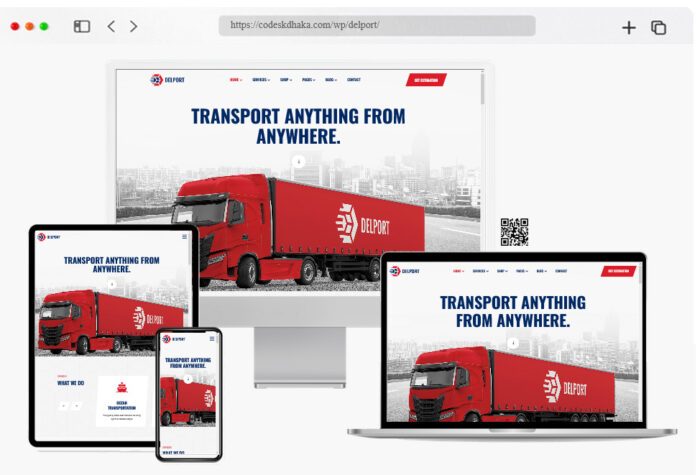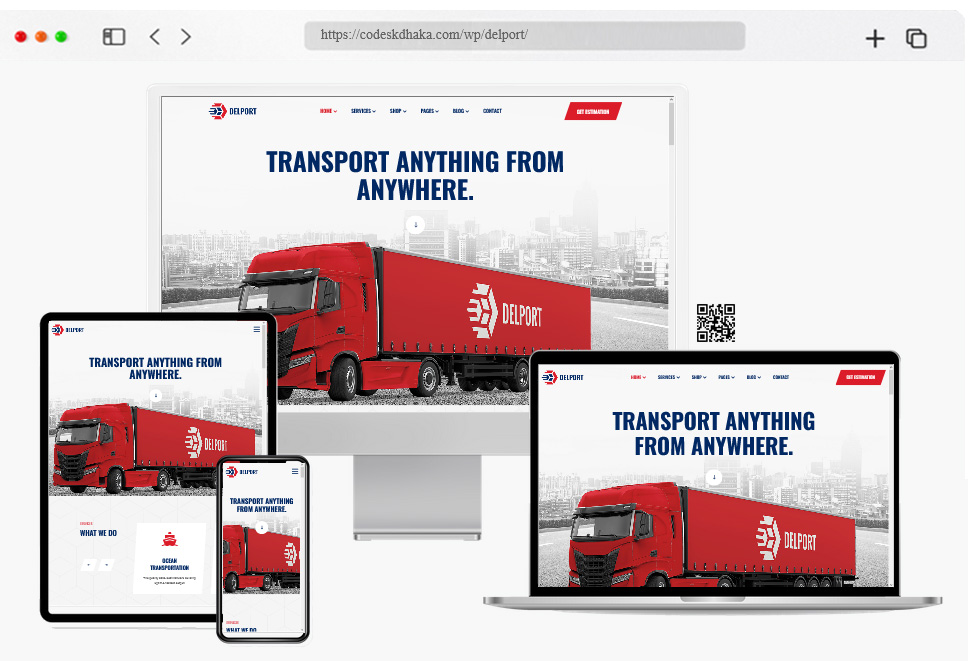 More info / download Demo
Tronis
Tronis is a WordPress theme for companies in the transport and logistics industry. It has web elements that are already set up to help you build your own site. Tronis WordPress Theme is very easy to change, and it has a lot of features and a very strong admin panel so that any client can use it to make a good website. Tronis also had a lot of features that could be used to make a website look professional and have a nice design.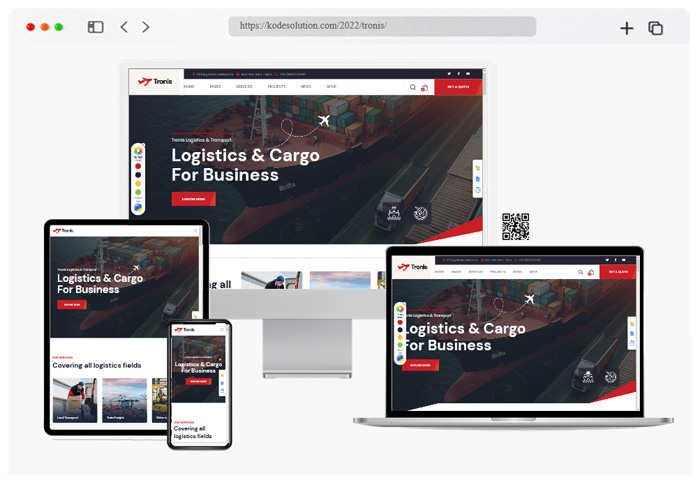 More info / download Demo
Logixs
The "Logixs" WordPress Theme is designed for Transportation and Logistics companies and offers predefined web elements to simplify website creation. Key features include ease of customization, a robust admin panel, and an array of features for achieving a professional and visually appealing website design. The theme is fully responsive, ensuring compatibility with various devices and screen sizes, from desktops to tablets and mobile devices.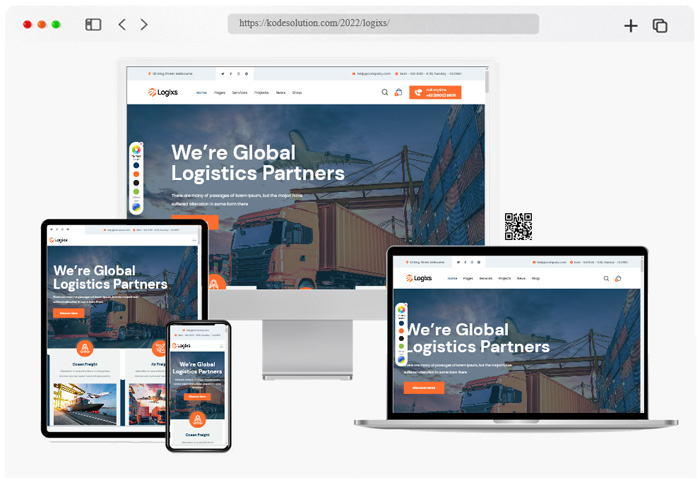 More info / download Demo
Upfronts
With Upfronts, you can also use Bootstrap 5, Elementor Page Builder, One-Click Demo Import, and change the theme's color through the admin panel. It means that you'll get the same information that you see in the item preview. Google Web Fonts are also supported, and the Upfronts Theme uses the contactform7 plugin, which makes it easy to change the information in the contact and newsletter forms. You can also get search functionality.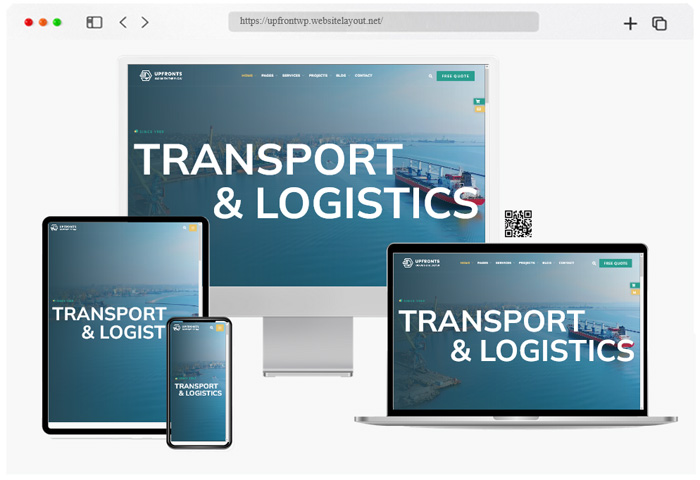 More info / download Demo
Copic
Copic is a powerful, responsive and highly customizable WordPress theme for Transportation and Logistics companies. It is perfect for agencies, freight forwarding companies, freight brokers and many more. Copic is created with the latest HTML 5 and CSS 3 techniques and based on Twitter Bootstrap 3 framework. The modern look of the template takes advantage of huge advantages in functionality and speed increases by using this framework.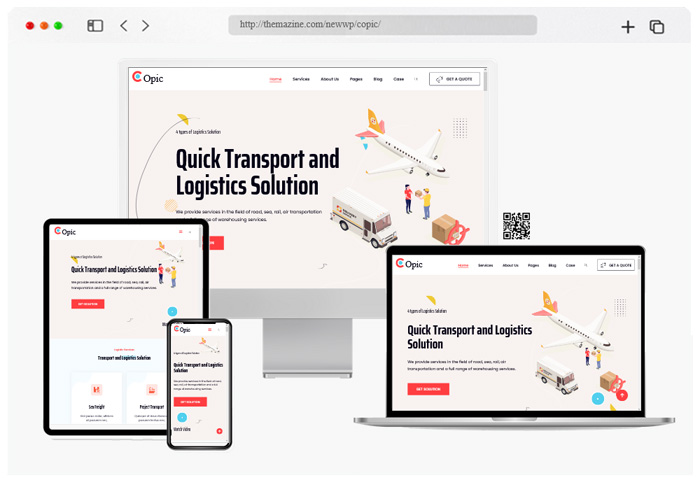 More info / download Demo