In the fast-paced world of fashion and modeling, an online presence is crucial for agencies looking to showcase their talent and attract clients. A stunning and user-friendly website is the key to success, and that's where fashion WordPress themes come into play. These themes offer an array of features tailored to the specific needs of model agencies. In this review, we'll explore the top 12 Model Agency WordPress Themes, helping you find the perfect fit for your agency's online presence.
Divi
Divi is a visually striking WordPress theme, tailor-made for model agencies and celebrated for its sophisticated and contemporary design. With a plethora of customization features, users can personalize their websites to showcase their unique style and brand identity. Prioritizing responsiveness, Divi ensures a seamless and enjoyable user experience across different devices. In summary, Divi seamlessly merges aesthetics with functionality, establishing itself as an excellent choice for model agencies seeking an elegant online representation.
Elegant and modern design
Highly responsive layout
Extensive customization options
User-friendly interface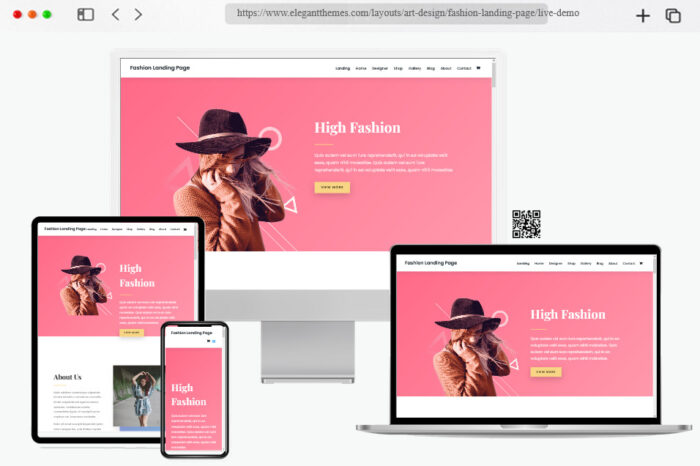 More info / download Demo
UBella
UBella stands as a stunning and recently launched WordPress theme tailored for model agency websites, single model portfolios, or any site within the modeling sphere. It offers an extensive array of portfolio styles, making it perfect for showcasing models, presenting fashion brands, projects, or services.
The theme's functionality is user-friendly, ensuring a seamless experience. Don't overlook the chance to acquire our theme and potentially become a trailblazer in the modeling industry. You might just emerge as a pioneer in setting new fashion trends and drawing attention with a distinctive and remarkable appearance!
Integrated booking system
Model appointment management
Stunning gallery options
User-friendly backend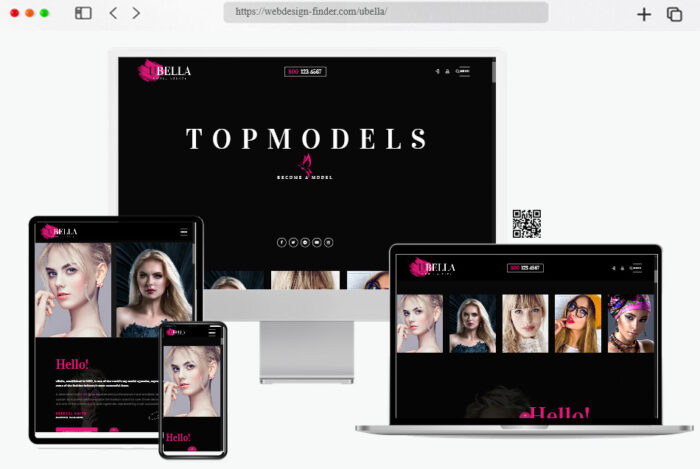 More info / download Demo
Estelle
Estelle is a theme designed for fashion enthusiasts! It offers everything you need to create a stunning fashion or model agency website – a variety of impressive shop layouts, inner page templates, two premium plugins included for free, and even blog lists and single post layouts! With Estelle, you can confidently build a fashion or model agency website that remains stylish indefinitely.
Tailored to the preferences of fashion enthusiasts, Estelle provides essential elements for crafting an engaging website — from a wealth of exquisite shop layouts and inner page templates to the incorporation of two premium plugins, all at no additional cost. Moreover, Estelle showcases blog lists and single post layouts. Effortlessly create a website for your fashion or model agency that stands the test of time in terms of both style and sophistication.
Multiple pre-designed demos
Sleek and professional design
Portfolio showcase
Social media integration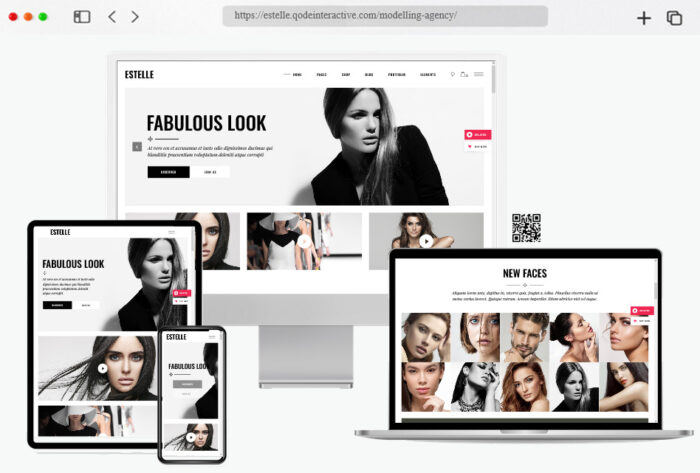 More info / download Demo
Beauty Agency
Introducing Models Agency, our latest and sophisticated WordPress theme meticulously crafted for fashion and modeling agencies, yet versatile enough for personal modeling portfolios. This theme offers everything you need to make a stylish and refined fashion statement.
Included are 23 logically grouped PSD files and comprehensive documentation. Prepare to be impressed by the multitude of widgets and shortcodes incorporated into this template! We've provided various options for headers, footers, breadcrumbs, and copyrights — simply choose your preferred style.
Full-screen image layouts
Parallax scrolling effects
Stunning visual appeal
Memorable first impression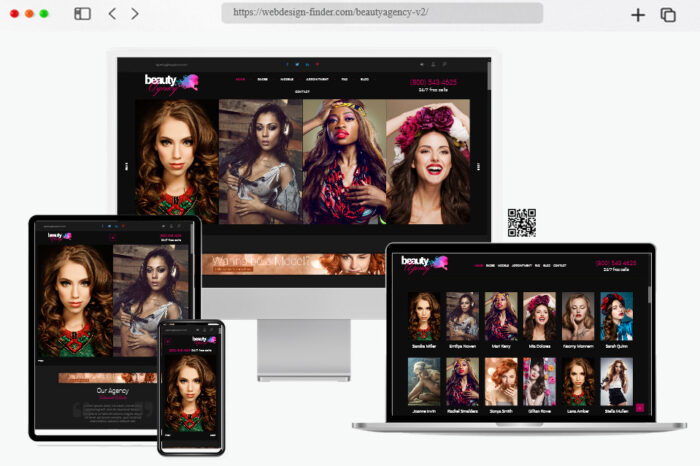 More info / download Demo
Scent
Scent is a meticulously crafted and fully responsive WordPress theme tailored for model and photography agencies. Highlighting a captivating full-screen animated slider, it grabs the attention of your audience, providing a dynamic showcase for your best photos.
Featuring a models gallery with a category filter and individual model profile pages, Scent empowers your customers to explore all your models and make informed choices before visiting your agency. This not only enhances customer experience but also saves time for both you and your clients.
Talent submission form
Dynamic search system
Model listings
Agency-specific features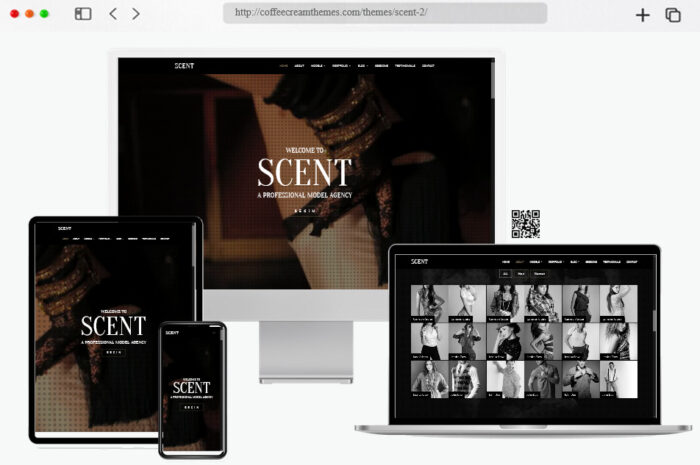 More info / download Demo
Top Model
Top Model is a WordPress theme designed for Fashion Model Agencies, catering to sophisticated and demanding portfolio projects. If you require robust functionality and a flexible model portfolio, this fashion theme is tailored to meet your needs. With extensive portfolio options, Top Model allows you to showcase each model and highlight your fashion projects.
The impeccably styled Blog section serves as a platform to promote your fashion products, including clothes, cosmetics, and styling items. Additionally, the full support for Events calendar enables you to effectively advertise your fashion events, such as fashion shows, exhibitions, and photo sessions.
Portfolio showcase
Social media integration
Video support
Advanced customization options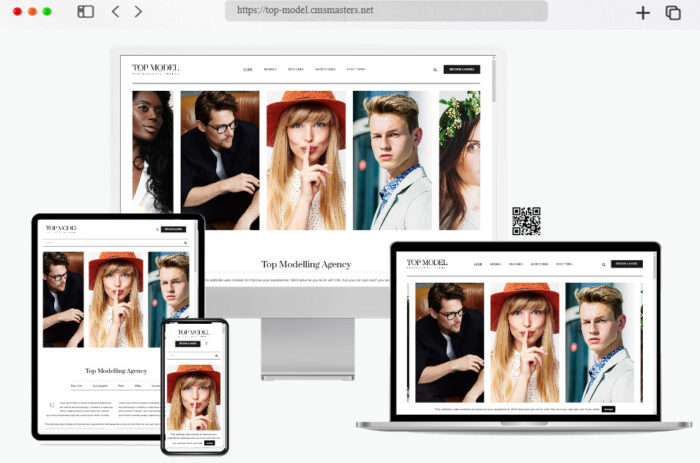 More info / download Demo
Angel
The Angel is fully responsive, incorporating the latest CSS3 and HTML5 techniques, making it an ideal fit for various websites, including those dedicated to Fashion Models, Erotic content, escort management, talent agency, artist management, and Photography Portfolios. It boasts cross-browser compatibility and utilizes Google fonts for a polished look.
Angel is a versatile theme that seamlessly combines stunning design with advanced features, setting it apart as a prime choice for model agencies. Featuring a portfolio showcase, integrated social media, and video support, Angel offers a comprehensive platform to present models in an aesthetically pleasing and engaging manner. Its adaptability and meticulous attention to detail make it an outstanding option for agencies in search of a theme that effortlessly marries aesthetics with cutting-edge functionality.
Chic and elegant design
WooCommerce compatibility
Multiple layout options
Blogging capabilities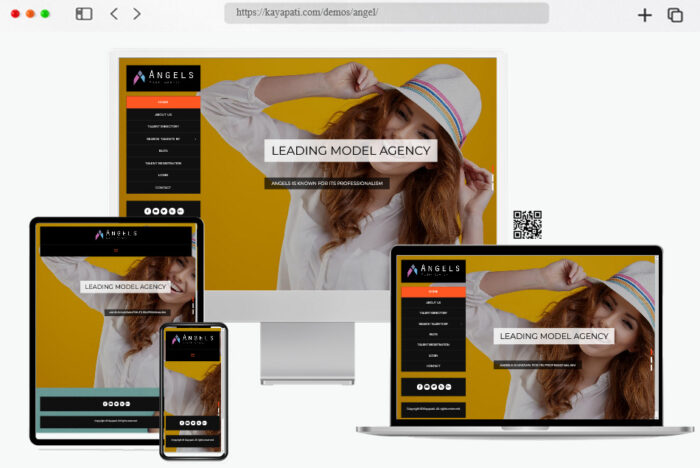 More info / download Demo
Casting
Sleek and modern layout
User-friendly experience
Various homepage layouts
Powerful theme options panel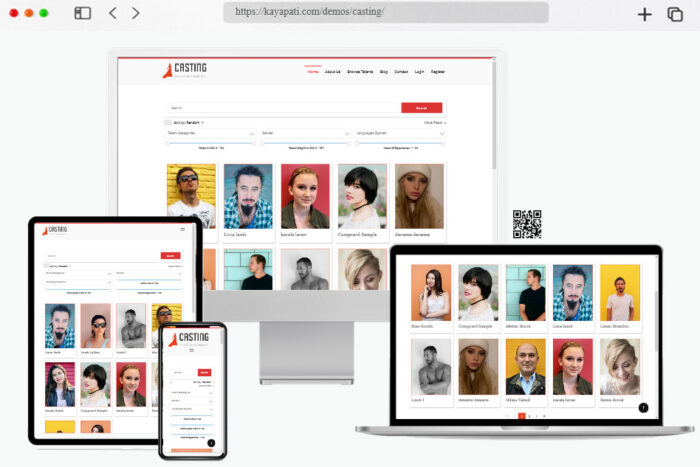 More info / download Demo
Modellic
Stunning image galleries
Video integration
Blogging capabilities
Maximizing user engagement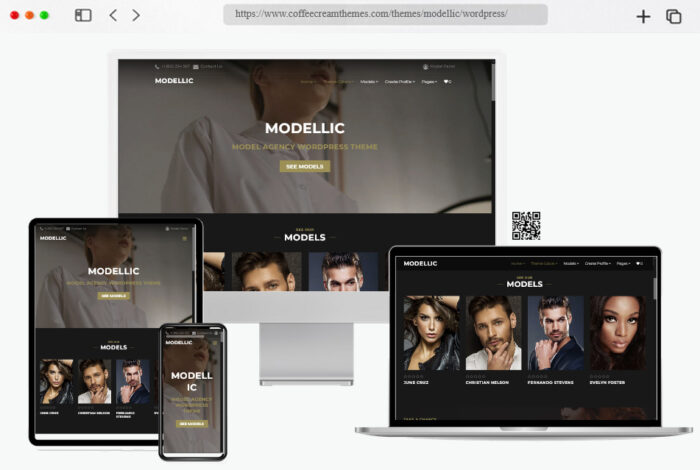 More info / download Demo
Burnley
Fully responsive design
Minimalistic style
Model portfolio showcase
Booking services integration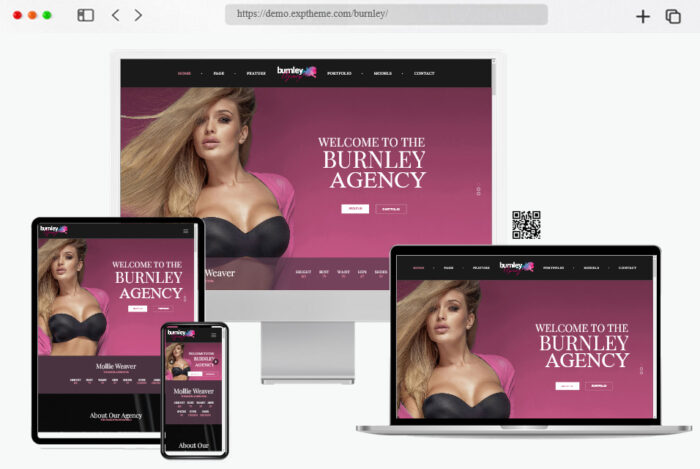 More info / download Demo
Look
Look is a thoughtfully designed theme that prioritizes user engagement by emphasizing stunning image galleries, seamless video integration, and effective blogging capabilities. The theme stands out in creating an immersive and visually appealing experience for visitors, making it an ideal choice for model agencies seeking to captivate their audience. With its emphasis on content marketing, Look offers a comprehensive solution for agencies looking to showcase models effectively and build a robust online presence.
Elegance combined with user-friendliness
Custom widgets
Well-structured layout
Professional appearance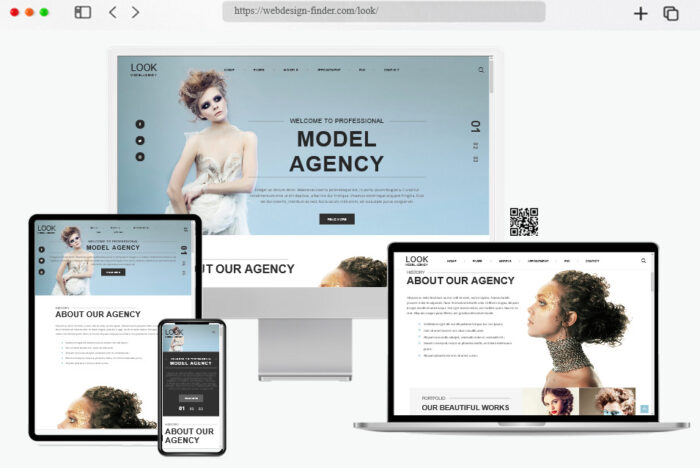 More info / download Demo
Gilda
Clean and intuitive design
Advanced portfolio options
Ajax-powered filters for quick content sorting
Integrated blog for regular updates
One-click demo import for easy setup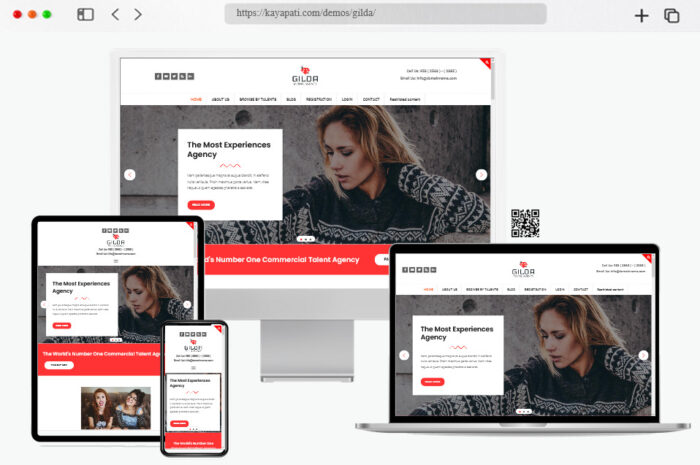 More info / download Demo
Ssagency
Ssagency is a visually impactful theme that puts a significant focus on color and imagery. With portfolio layouts designed for visually appealing model showcases, Ssagency stands out. Notably, it supports video backgrounds, introducing a dynamic and engaging element to the website. This feature-rich theme is an outstanding choice for model agencies aiming to establish a visually captivating and dynamic online presence, leaving a strong impact on visitors right from the moment they land on the site.
35+ Elementor
Custom Widgets
60+ widgets are available
Custom Infinite Layouts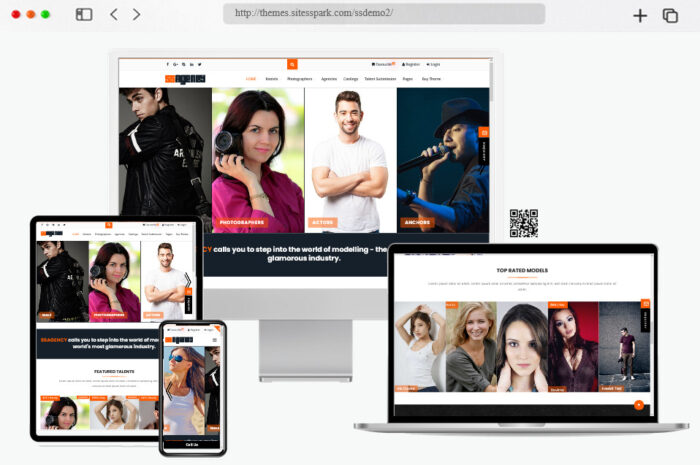 More info / download Demo
These 12 Model Agency WordPress Themes offer a wide range of options, from elegance and minimalism to interactivity and user-friendliness. Selecting the one that aligns with your agency's style and functionality needs can make a significant impact on your online presence, attracting both models and clients to your agency. Remember to explore the demos and features of these themes to find the perfect match for your model agency's website.