Step into the world of real estate with our latest blog post as we introduce you to a handpicked selection of Real Estate WordPress Themes. Designed to cater to real estate agents, property developers, and agencies, these themes offer a key to crafting a compelling online presence in the competitive world of property sales.
Explore the beauty of responsive designs, stunning property showcases, and user-friendly features designed to captivate potential buyers and sellers alike. Whether you're looking to promote listings, offer virtual property tours, or establish your brand as a trusted real estate authority, these themes provide a powerful platform for your goals.
Learn how to leverage the potential of WordPress to create a captivating real estate website that stands out from the rest. Elevate your real estate business, streamline property management, and connect with clients effectively with these exceptional WordPress themes. Join us on a journey through Real Estate WordPress Themes and turn your online presence into the key to real estate success!
Rocland
Rocland is a Real Estate Group WordPress theme available on ThemeForest designed to cater to the diverse needs of the real estate industry. It boasts a modern design and user-friendly features that make it suitable for both real estate agencies and individual agents looking to showcase their properties effectively.
A notable feature of Rocland is its exceptional image gallery, featuring high-quality images created by skilled artists. These images are seamlessly integrated into the theme's demo, enabling users to present their properties in an aesthetically pleasing manner, making a lasting impression on potential clients.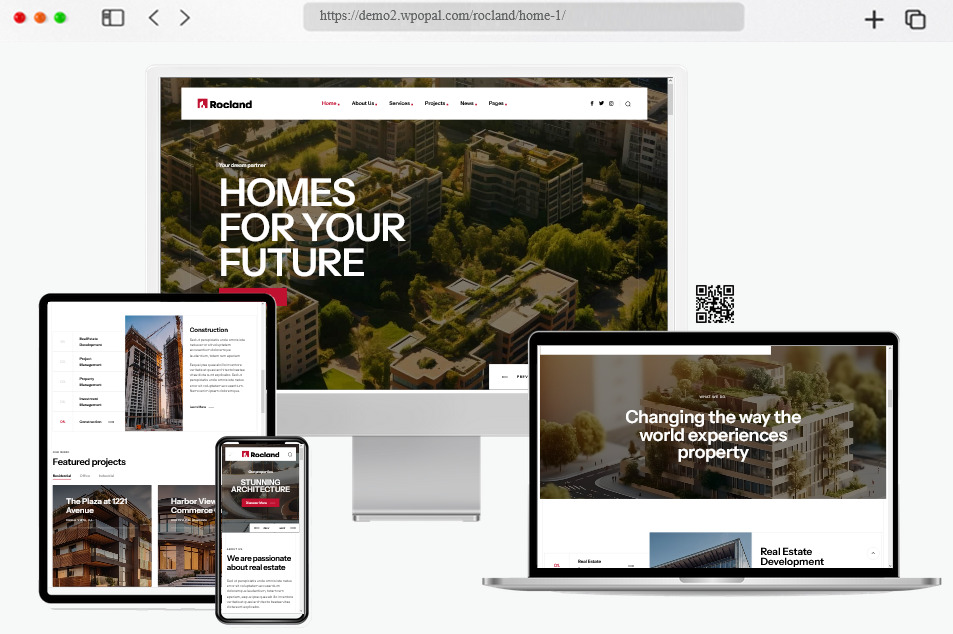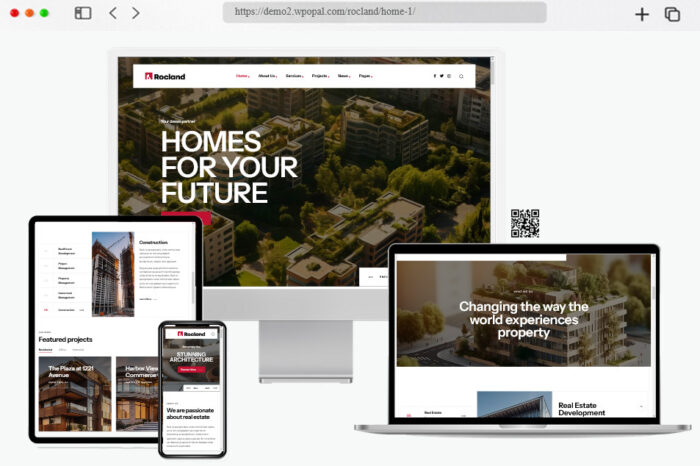 More info / download Demo
NewHome
NewHome is a modern and feature-rich WordPress theme designed specifically for real estate agents, property management, and property listing businesses. This theme offers a contemporary and stylish way to showcase properties, featuring various templates for apartments, realtors, house rentals, and directories.
It comes equipped with advanced search functionality, allowing users to easily search for properties. Additionally, NewHome provides seamless compatibility with the MarketBoost IDX Plugin by iHomefinder, enhancing its functionality. With NewHome, creating a professional and user-friendly real estate agency website is made simple and efficient.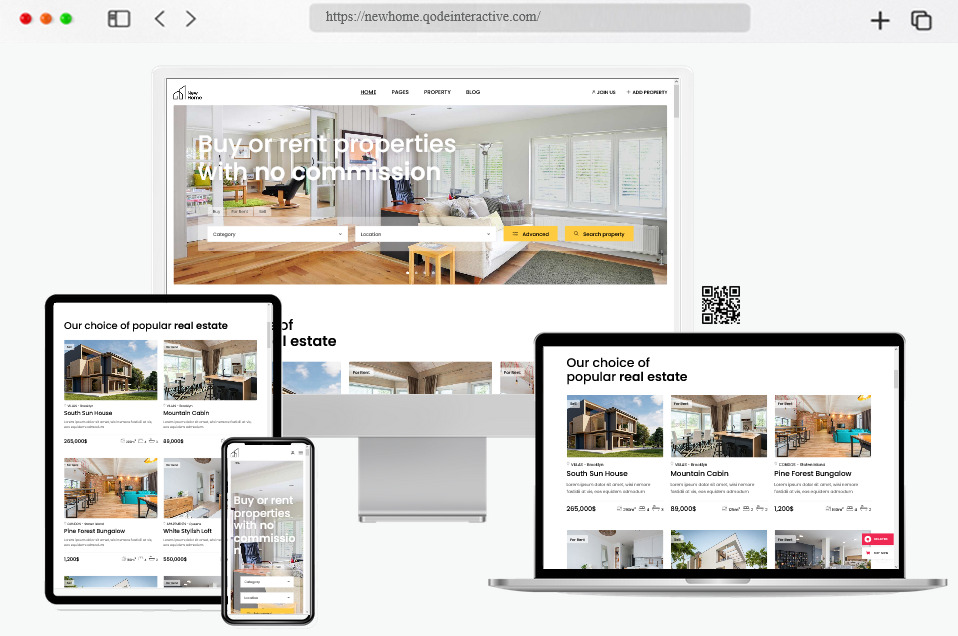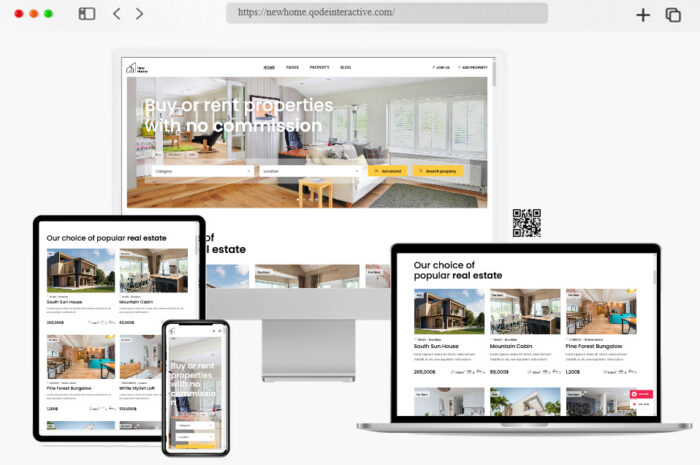 More info / download Demo
Homez
Homez is a Real Estate WordPress Theme designed for easy user management of property listings, profiles, passwords, and payments, all without accessing the admin dashboard. It emphasizes monetization, allowing users to charge for services and provides statistical insights. The theme is highly scalable for both large real estate portals and small agencies.
It offers flexibility for custom changes through WordPress actions and comes with extensive documentation and dedicated support for problem-solving. Homez is a powerful theme suitable for real estate websites with a strong focus on monetization.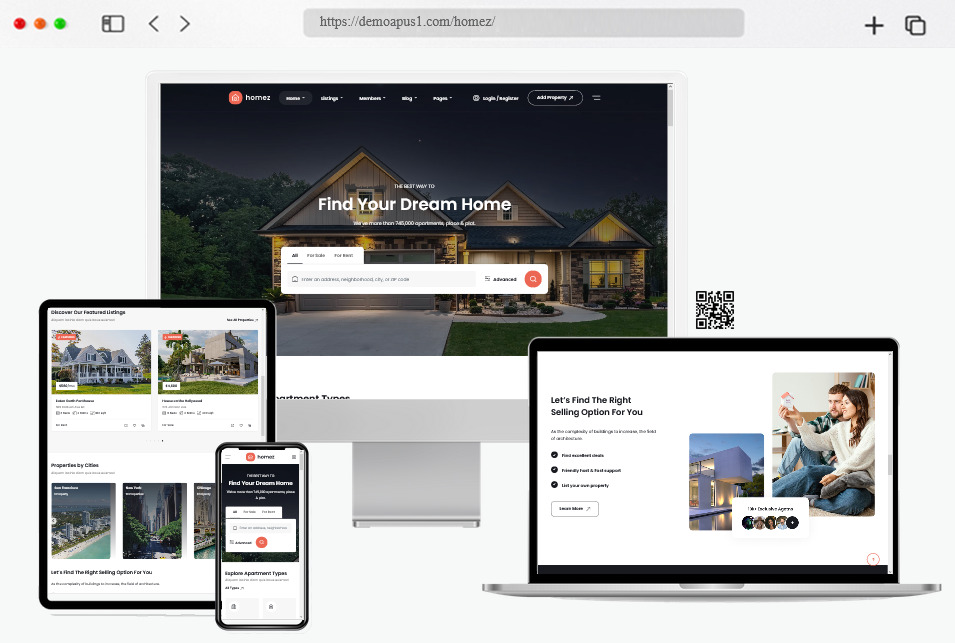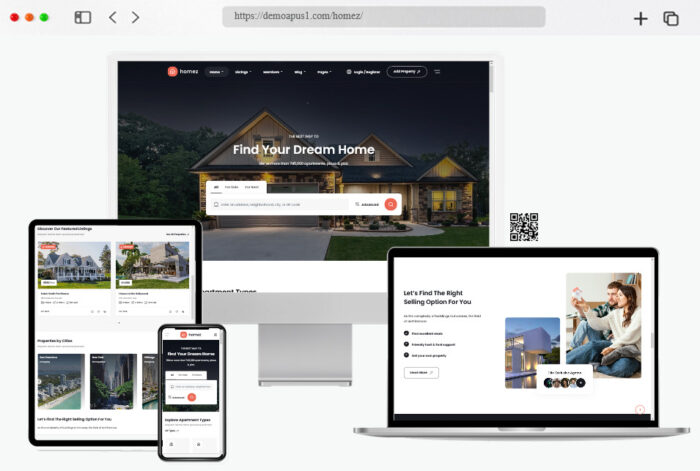 More info / download Demo
RealPress
RealPress, developed by ThimPress and inspired by the latest design trends, is a versatile Real Estate WordPress theme. Designed primarily for real estate agencies, vacation rentals, property developers, and sellers, it allows for high conversion websites, attractive listings, and project promotions. Beyond these specific uses, its adaptability also supports various customizations to fit different needs in the real estate industry.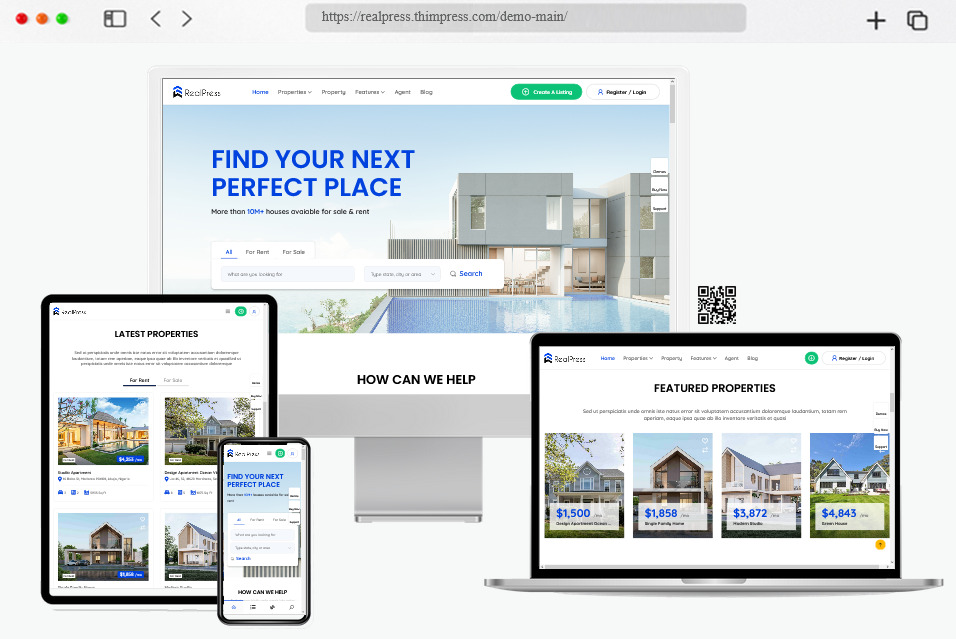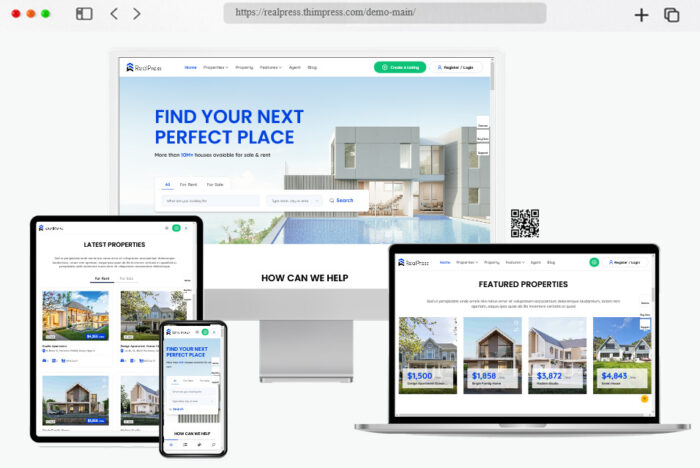 More info / download Demo
Levix
Levix is a meticulously designed modern WordPress Theme specifically crafted for Real Estate Mortgage websites. It offers six stunning demo variations and inner pages, providing flexibility in design. The theme is built using Elementor, ACF PRO, Redux, Bootstrap, and Sass, ensuring a robust foundation. Key features of Levix include 12+ homepage variations, RTL support for Arabic and Hebrew, Elementor Page Builder for easy customization, integration with Advanced Custom Field PRO plugin, WooCommerce compatibility for online shopping.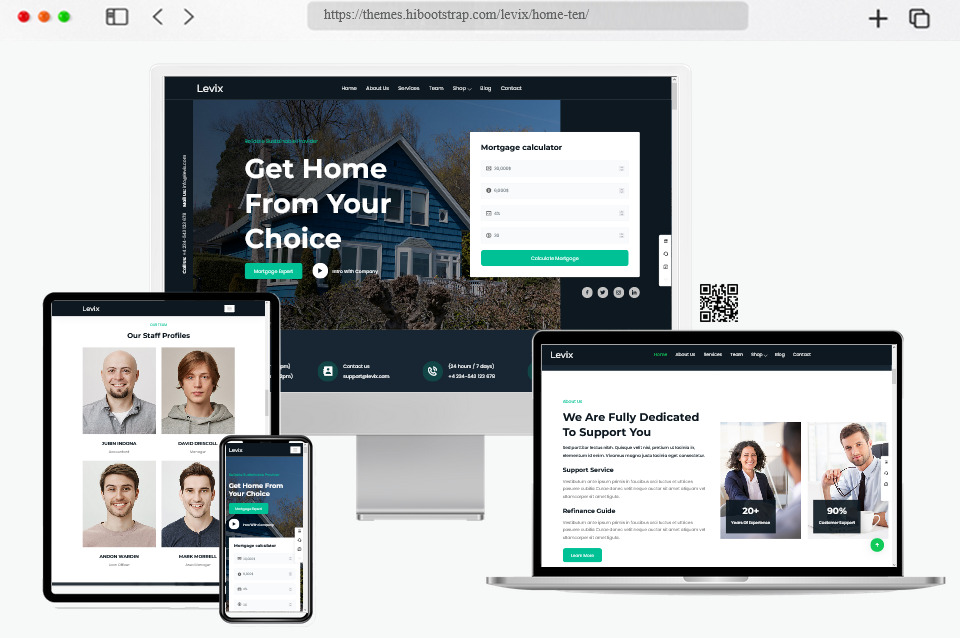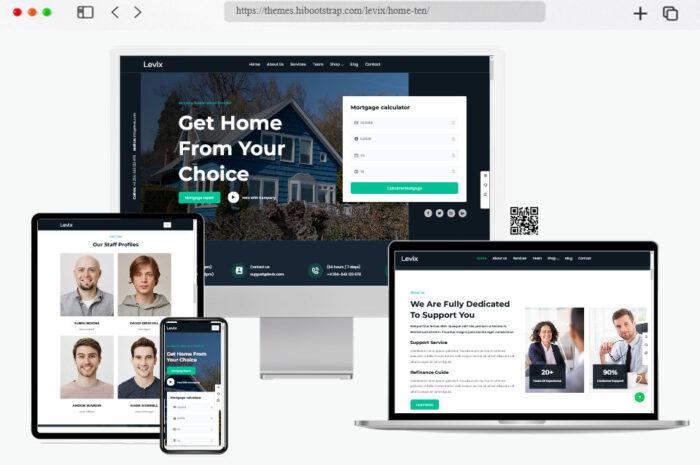 More info / download Demo
Resido
Resido is a premium WordPress theme designed for creating real estate listing and directory websites. It offers an advanced admin dashboard and is suitable for both local and global real estate directories. Resido is an ideal choice for real estate agencies, agents, property listings, rentals, corporations, apartments, houses, hotels, and all types of real estate directory services. Key features include modern and well-designed real estate listing templates, advanced search options for the directory, individual real estate agent profiles, and real estate agency listings, among others.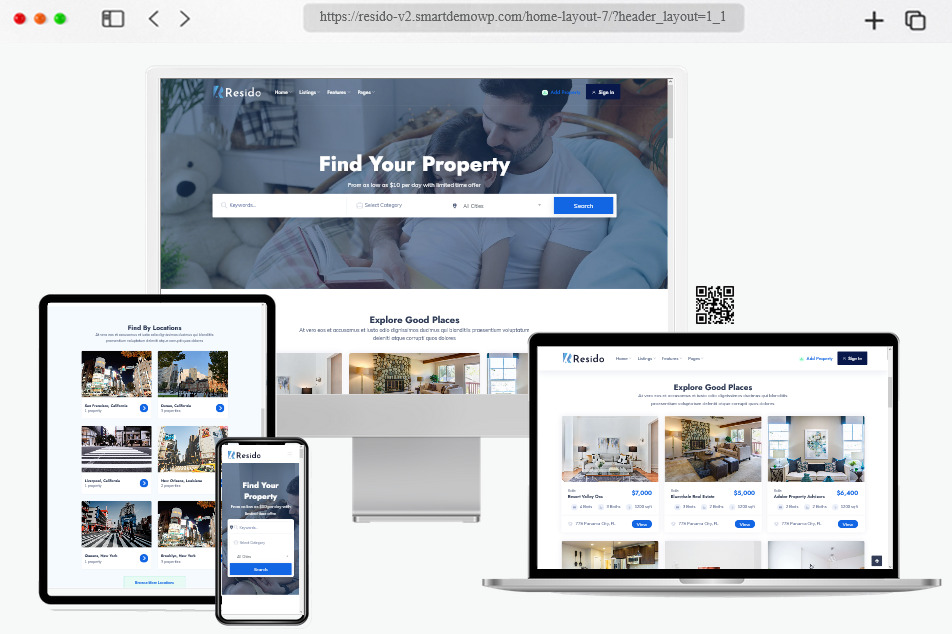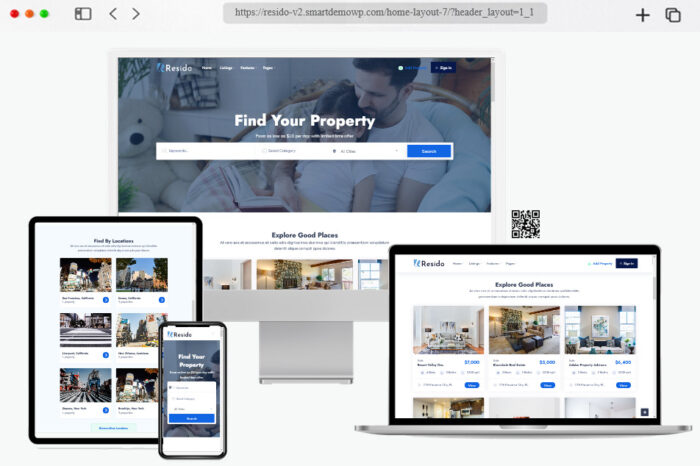 More info / download Demo
HomeID
HomeId is a meticulously designed WordPress theme tailored for real estate businesses. It provides an elegant presentation of property information to website visitors and simplifies property management for real estate business owners. HomeId stands out with its regular updates and strong maintenance support. This theme is built with a focus on purpose-oriented design, offering all the essential features required for a real estate website to thrive.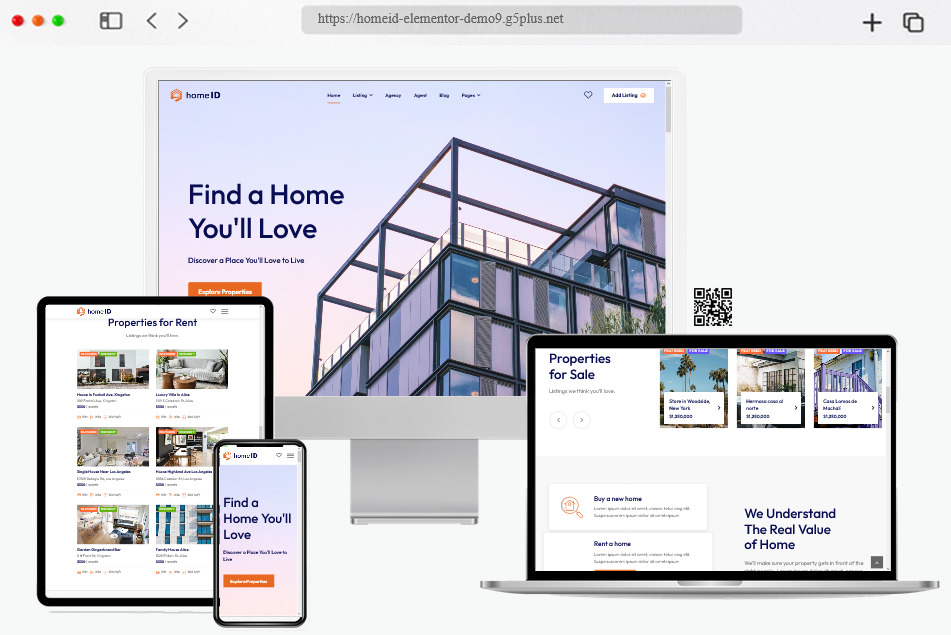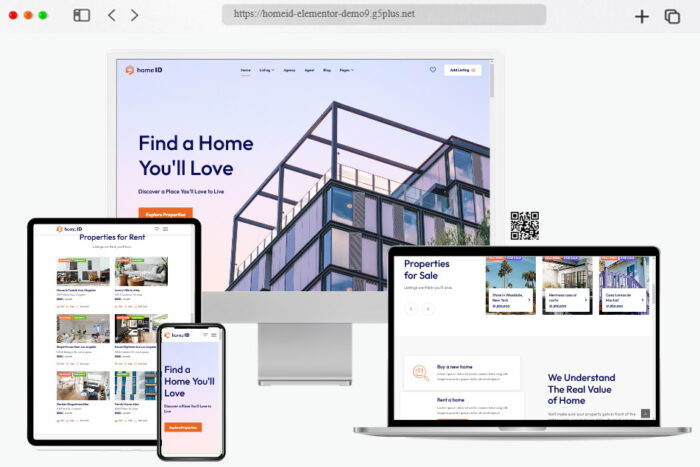 More info / download Demo
Houzez
Houzez is the top-selling Real Estate WordPress theme tailored for agents, companies, and real estate professionals. Specifically designed for the real estate industry, it offers user-friendly tools to manage agency content and listings while delivering an exceptional experience for clients.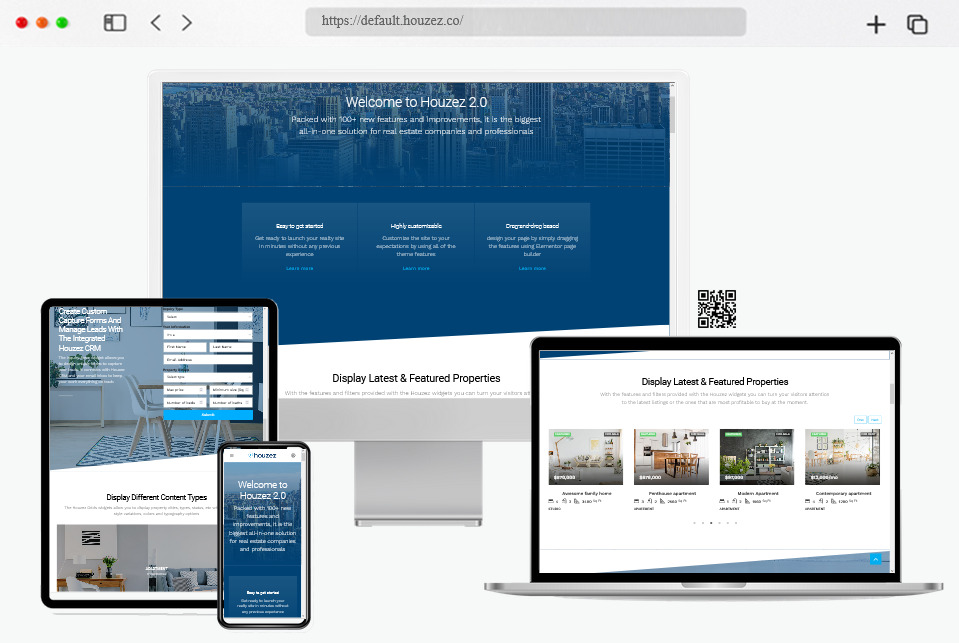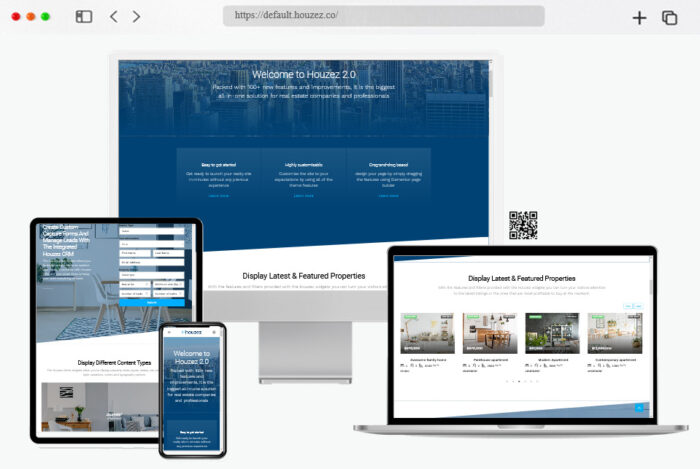 More info / download Demo
Residence
WP Residence is an advanced WordPress theme designed for creating remarkable real estate websites, whether you're an independent agent, agency, or company. It emphasizes high customizability and flexibility while providing comprehensive documentation with narrated video tutorials.
This theme offers extensive flexibility to ensure the best user experience. It boasts over 450 well-organized theme options, empowering you to craft a unique and contemporary real estate website. Additionally, there are 41 pre-built demos available, allowing you to kickstart your website creation process within minutes.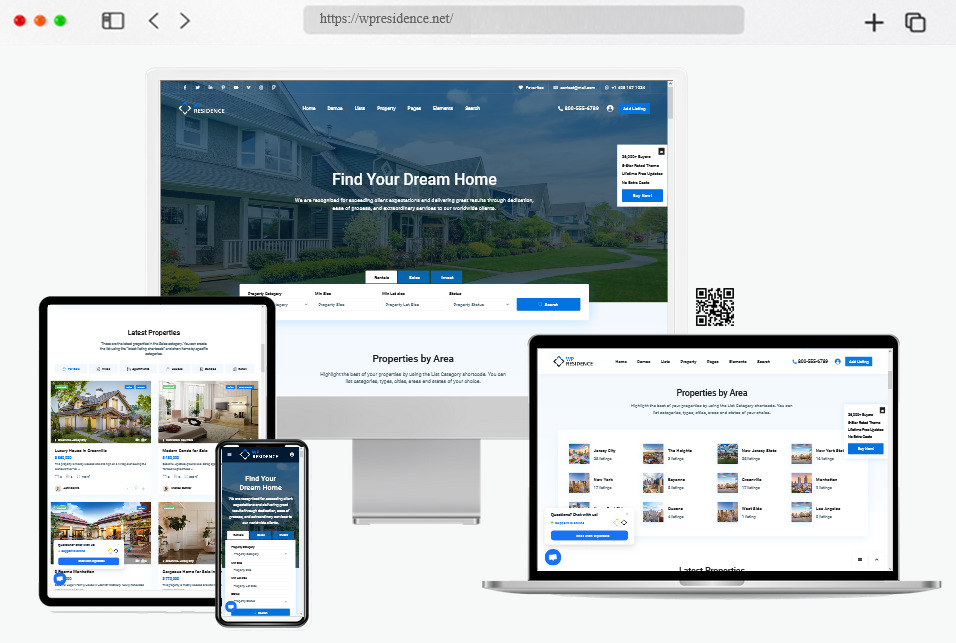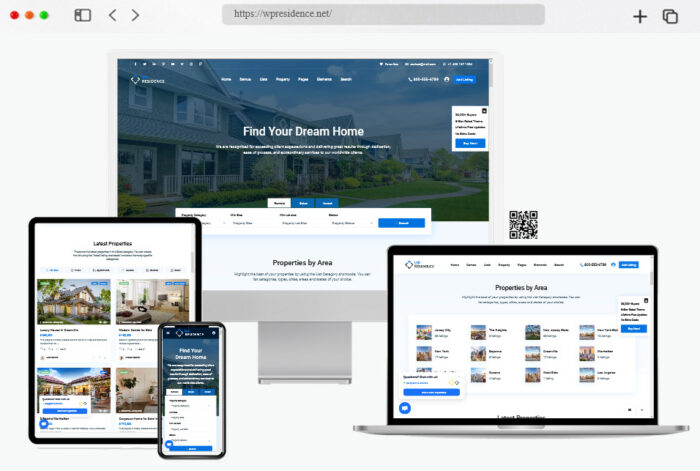 More info / download Demo
Real Estate 7
WP Pro Real Estate 7 is a professionally designed WordPress theme tailored for real estate professionals, including agents, brokerages, residential and commercial developers, and more. It not only serves as a theme but also provides a comprehensive CRM (Customer Relationship Management) and IDX (Internet Data Exchange) solution, creating an end-to-end system for real estate businesses.
This theme prioritizes usability with both frontend and backend features, aiming to engage users, capture leads, attract potential clients, and increase commissions. With over 12 years of experience in the industry and a history of being the first premium WordPress theme for real estate, WP Pro Real Estate 7 offers a wealth of knowledge and expertise to support real estate professionals worldwide.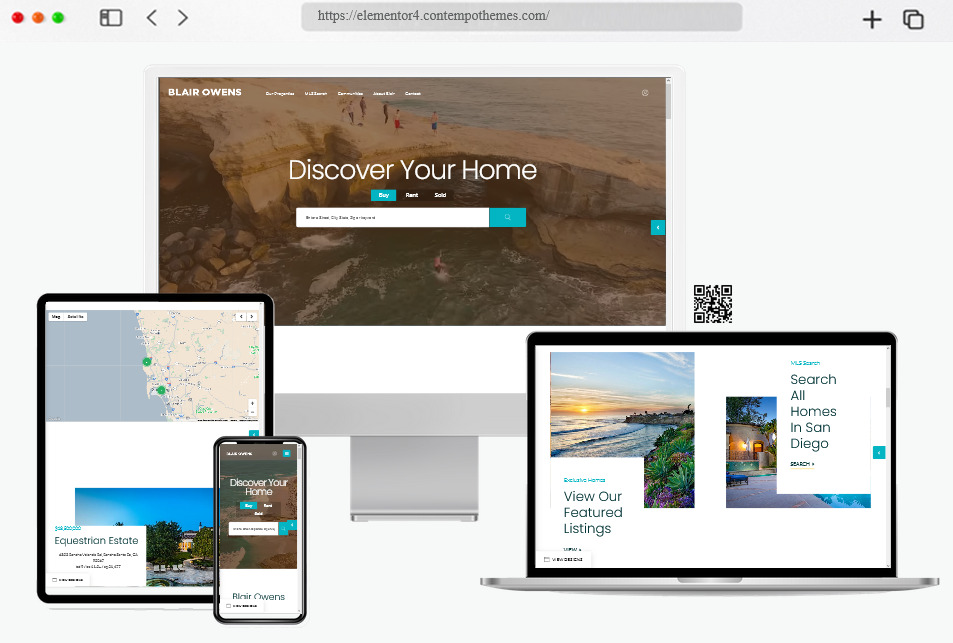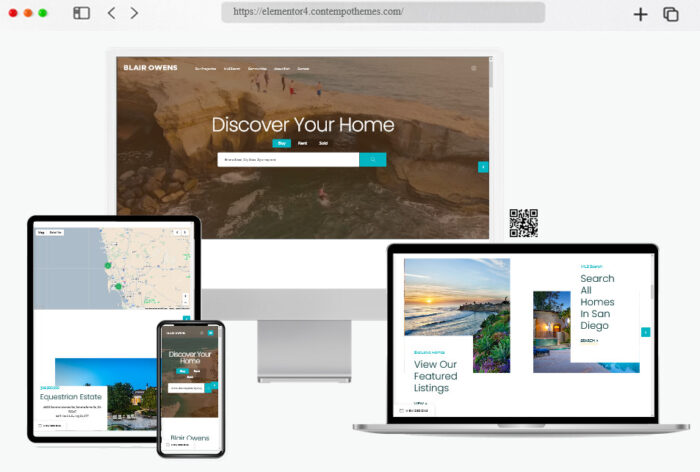 More info / download Demo
MyHome
MyHome is a premium Real Estate WordPress theme designed for creating exceptional and user-friendly real estate websites that will impress your customers. It's a flexible and innovative theme that doesn't require any prior coding knowledge, ensuring a straightforward website-building process.
The theme has undergone extensive development, with thousands of hours dedicated to perfecting its core functions. Whether you're building a website for a single real estate agent or a full agency, MyHome provides all the necessary tools and features to help you run a successful real estate business efficiently.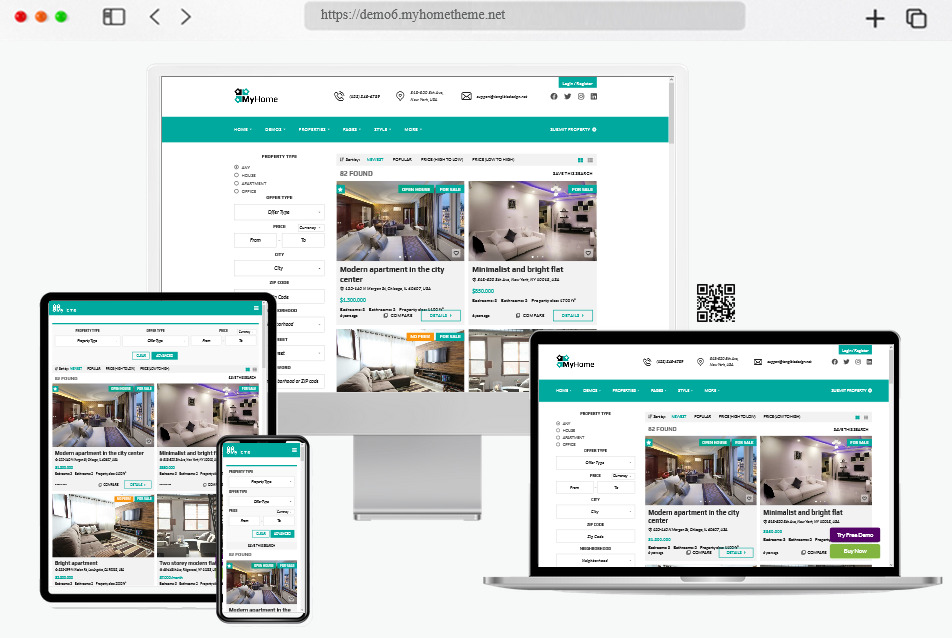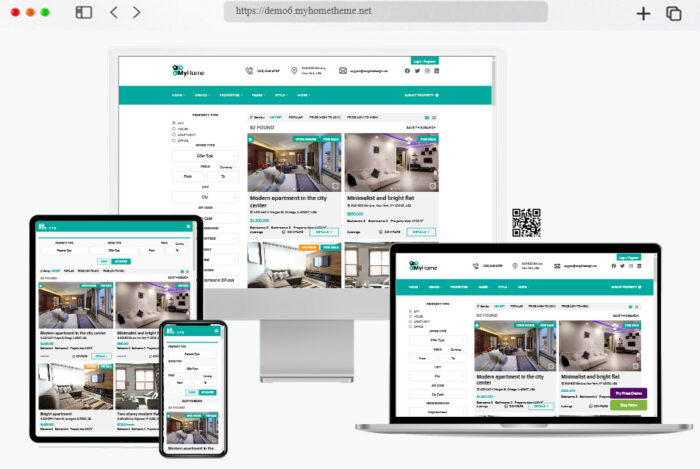 More info / download Demo
Realtyspace
Realtyspace is a specialized WordPress theme designed for real estate agents and agencies. It offers a purpose-oriented design and a wide range of valuable features. With custom currency settings, area units, and full translation support, this theme can be used to create real estate websites for any country around the world.
Realtyspace simplifies property management, client acquisition, and listing submissions, whether paid or free. It also enables the effortless creation of attractive landing pages using the Visual Composer backend page builder or the intuitive drag-and-drop Customizer, all without the need for coding skills. This theme is a comprehensive solution for real estate professionals.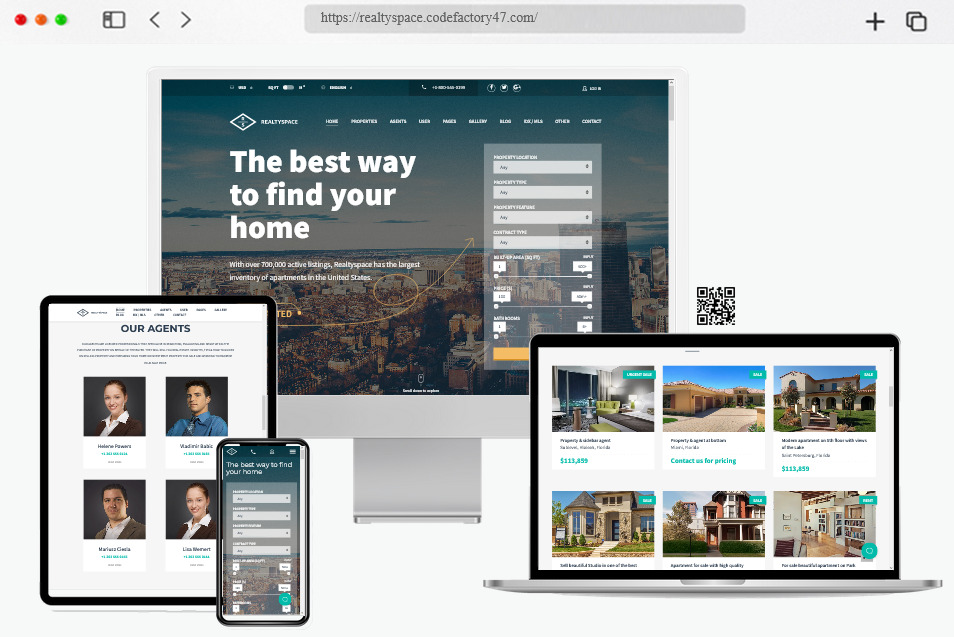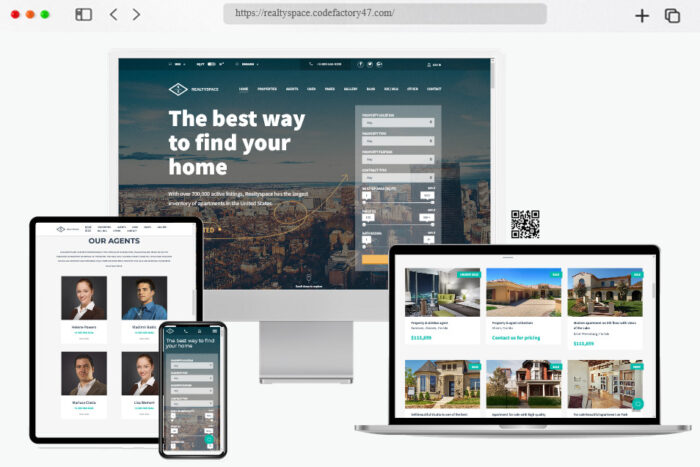 More info / download Demo