In the fast-paced digital world of today, any technology or IT solutions company needs a website that looks great and is well-organized. Having a strong online presence is important if you offer software development, cybersecurity services, cloud computing solutions, or any other tech-related service. This will help you get customers and stay ahead of the competition. In this blog post, we will look at ten high-quality website templates that were made just for technology and IT service companies. These templates have current designs, interfaces that are easy to use, and features that can be changed to help you show off your skills and stand out in the digital world.
Braintech
Technology and IT Solutions from Braintech HTML Template is an IT template that is new and of high quality. With this template, anyone can build IT/Software Services, any business, apps, SaaS, a data center, data mining, etc. It comes with 20 modern home pages and a lot of great inner pages like Services, Case studies, About, Contact, FAQ, multiple blog layouts, and more.
It comes with 20 high-quality multi-Homepages and Onepages and 130+ built-in awesome pages, such as service pages, projects pages, team pages, testimonials pages, multiple blog layouts, etc. It's also fully responsive, which means it will work well on all smart devices (smart phones, tablet, PCs and desktops). It's also easy to change because the code is clear and well-documented.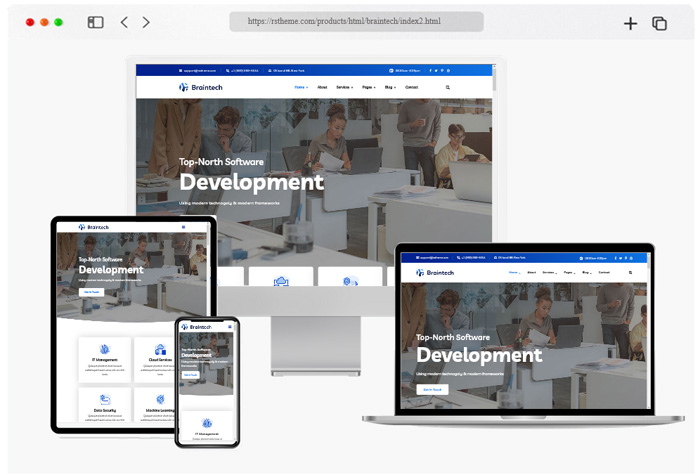 More info / download Demo
Solutic
Solutions and Services for IT Website Design Templates made the HTML Template, which is a fully responsive design. With Solutic's 50+ HTML pages, 75+ elements and templates, and blog and portfolio pages, you can make anything. Solutic template that you can use as a software agency, business, agency, technology service, or for many other things.
Solutic works on all mobile devices and browsers that are up to date. Solutic also gives you access to features that aren't available anywhere else, like the Bootstrap 5 Framework, Google Web Fonts, Ready contact and newsletter forms, and search functionality. All of the files and code have been nicely put together and commented so that you can easily change them for your next project.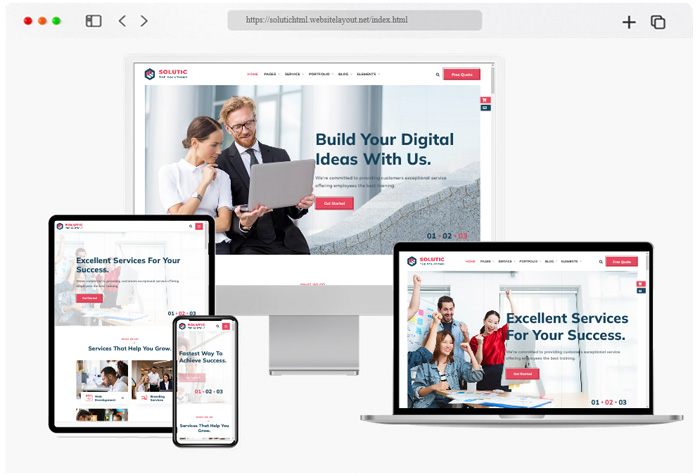 More info / download Demo
Crysa
Crysa is an HTML5 IT Solutions & Services Template made for technical, cyber security, engineering, computing, entertainment, business, merchandising, eCommerce, educational, scientific, and many other uses.
This template comes with 40+ valid HTML files and 12 different demos. All pages that can stand on their own, like About, Events, FAQ, 404, and others, are included. Well-commented code, a well-documented file structure, and professional, lightning-fast support 24 hours a day, seven days a week.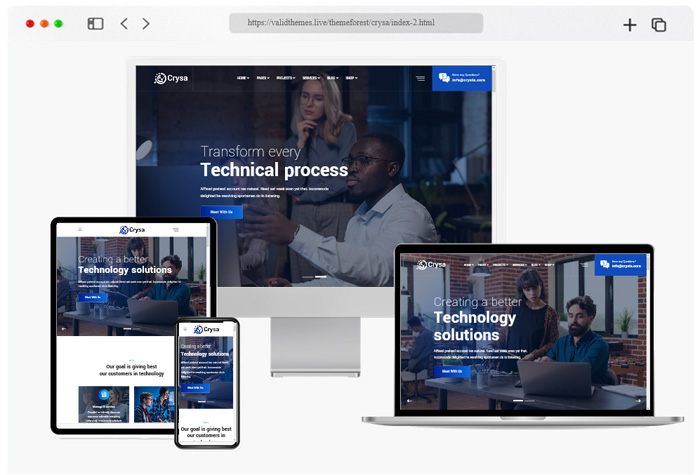 More info / download Demo
CreTech
CreTech HTML template is intended specifically for websites relating to IT Solutions, IT Business, Security, Technology Companies, Application Development, SaaS, cyber security, engineering, computing, entertainment, and IT consulting companies.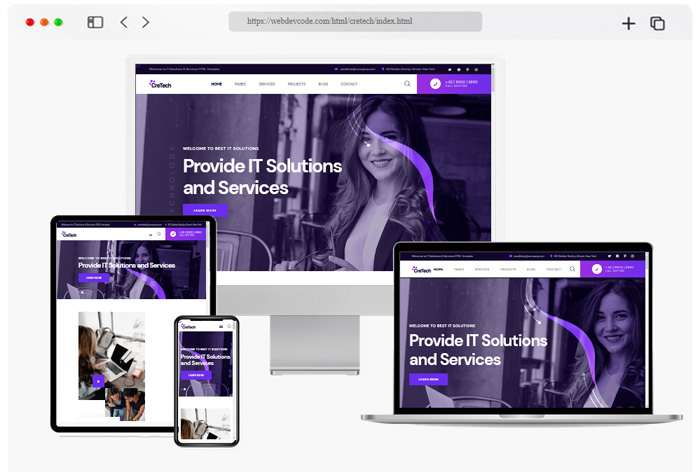 More info / download Demo
NadTek
NadTek is an HTML template made for IT solutions, IT companies, technology, startups, digital marketing, business, consultants, IT agencies, web agencies, and Services Companies. With this template, you can take your site to the next level. It has been tested on all of the major handheld devices and is made so that it works with all of them.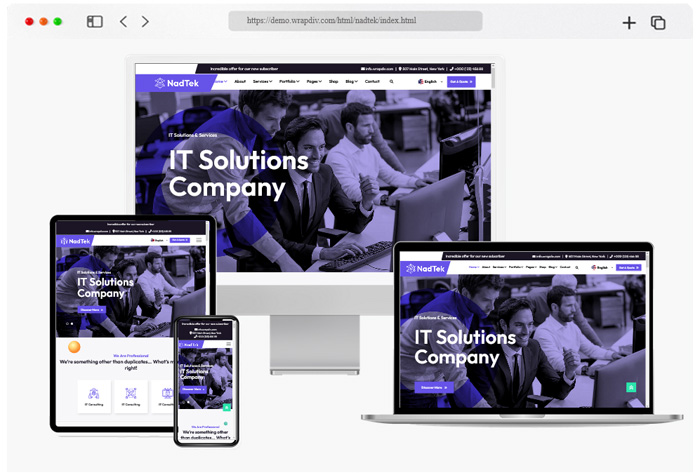 More info / download Demo
Quiety
Software and IT Solutions from Quiety HTML Template is a powerful IT solutions and SAAS template that is easy to use, mobile-friendly, highly customizable, and SEO-friendly. It was built with the Bootstrap 5 CSS framework. This template has 15 beautiful home pages and 34+ inner pages.
It works perfectly on all devices and looks beautiful on all of them. It is a powerful HTML built just for companies, agencies, and startups that make desktop and mobile apps, SaaS, software, IT solutions, and other digital products.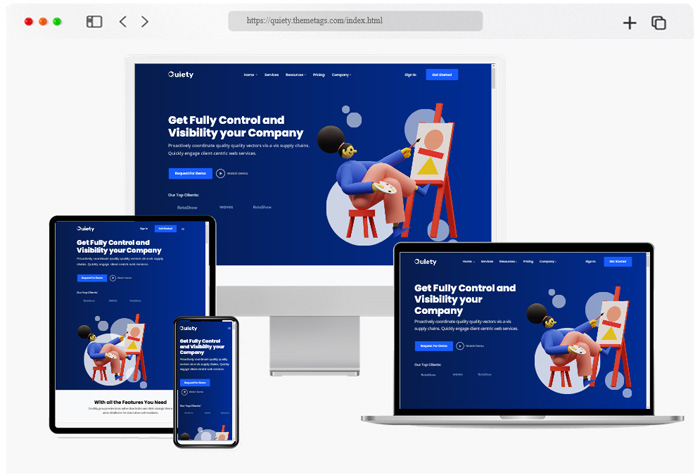 More info / download Demo
Mitech
The Mitech IT Solutions and Services Company HTML Template is a Technology and Digital Software HTML Template that is both powerful and easy to change. This template has nine beautiful homepages that come with it. You can use any template or mix content from different home pages on your website.
Mitech is a professional Bootstrap 5 HTML Template for Digital & Application Business that you should use if you want to run a website about technology or software. It is also a good choice for any small business or startup that is focused on digital.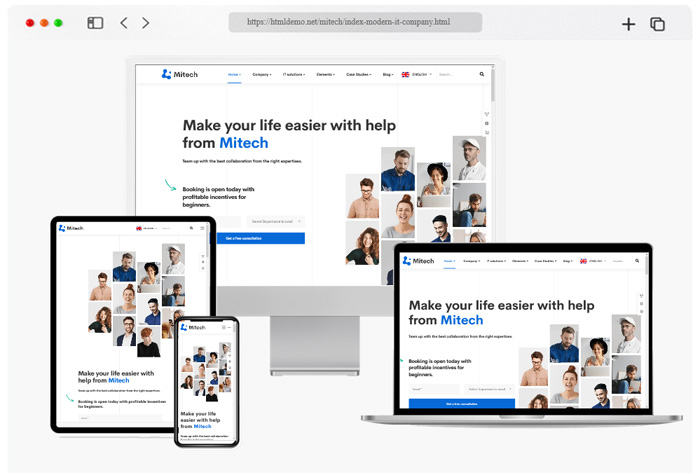 More info / download Demo
Notech
The Notech IT Solutions & Services Company HTML template is a cutting-edge and versatile design that was developed specifically for websites relating to IT services, technology, cyber security, IT solutions, and consulting companies as well as any other type of commercial enterprise. This may be customized to a great extent and appears beautifully on mobile devices.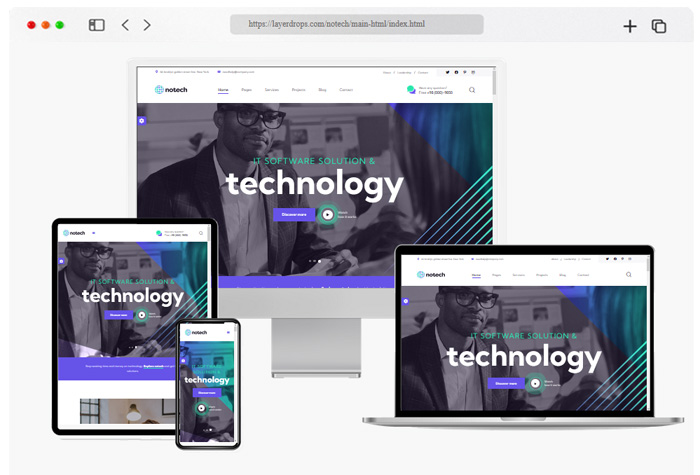 More info / download Demo
Turing
Modern design trends were used to make the Turing T Solutions and Corporate template. It lets you make a new color template for yourself, except for the colors that are already there. Every day, we keep adding new things to our template to make it look better and be stronger. All of our updates will be free for you to use.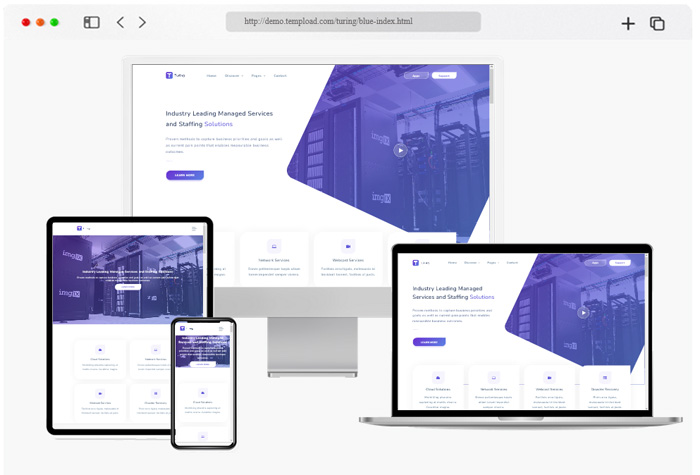 More info / download Demo
Engitech
Engitech is a technology website templates made for IT services, apps, and new businesses. We've included the best web development practices, so you can use Bootstrap or Grid 1170px to make a great website layout.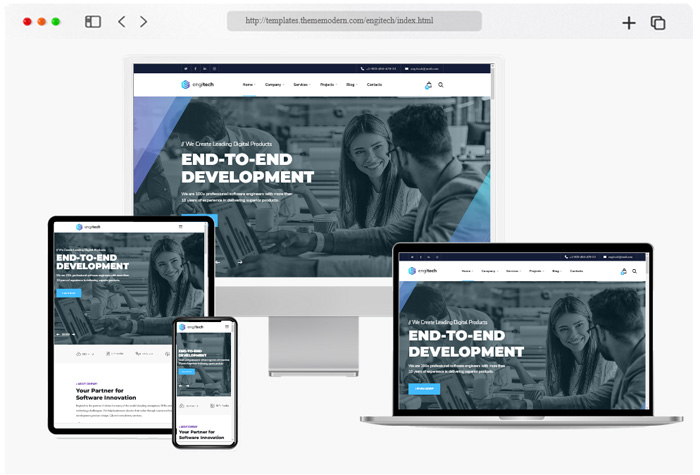 More info / download Demo
Globex
Globex has a clean, modern, and responsive design that lets you make a unique website for web design and development, IT entrepreneurs, and any blogs or article sites about IT solutions. It was tested on all of the most popular browsers and devices to make sure it works on all of them.
The Globex comes with website builders 3+ different pre-made homepages and 6+ different header designs. You can be as creative as you want with style and color, and the layouts are flexible. The services, portfolio, gallery, blog, and other elements can do everything you could think of to make a beautiful website.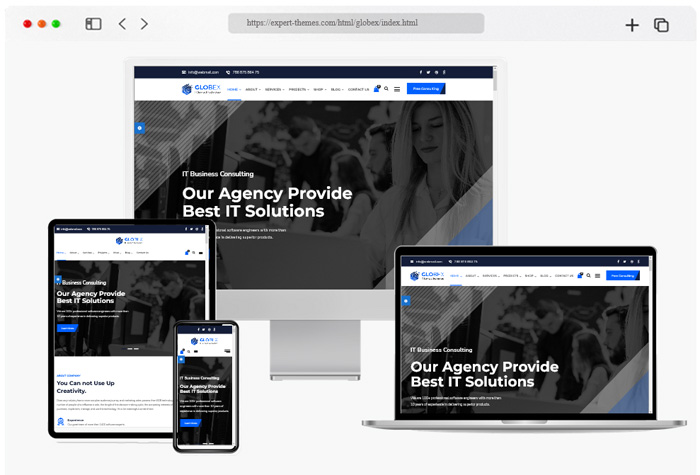 More info / download Demo
Restly
Restly IT Solutions Strong and versatile Technology and Digital software website template. Restly is an HTML and React template developed for IT Solutions, businesses, agencies, and organizations who produce desktop and mobile apps, SaaS, business, software, and other digital goods for technical, cyber security, engineering, computing, entertainment, and scientific objectives. Digital startups and small firms can use the Template.
It features 9 home pages and 9 one-page templates. 88 All pages, 62+ Normal pages, 30 RTL pages, and 115+ React components are available. modern design, built-in inner pages It's entirely responsive, so it works on smartphones and tablets (smartphones, tablets, PCs, and desktops). Anyone can alter it because it's well-written and coded.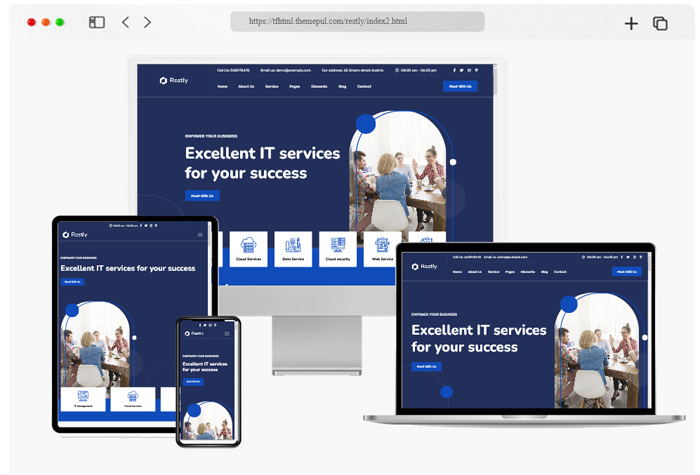 More info / download Demo
Altech
Altech is a clean, modern, responsive design for web design and development, IT entrepreneur, cyber security and forensics, software development, network solution, workshop, cloud computing, and IT solutions blogs and article sites. It has been tested on all of the popular browsers and devices.
The Altech comes with 3+ pre-made homepages and 3+ Header designs. It also has a lot of features for easy to customize, contact form, services, portfolios, galleries, blogs, and other things.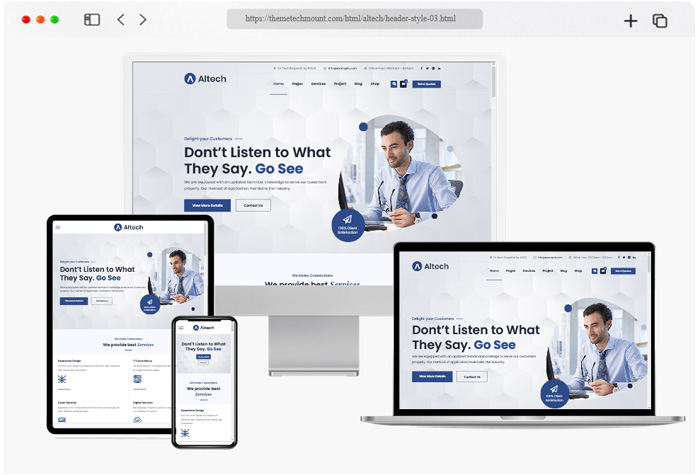 More info / download Demo
Coze IT Solutions
Coze is a responsive html website template for a modern website about IT solutions and services. It was made with Bootstrap 5.x and Sass. The template works well for IT, software, mobile apps, and SaaS-based services. This template works well for mobile apps and business agencies as well.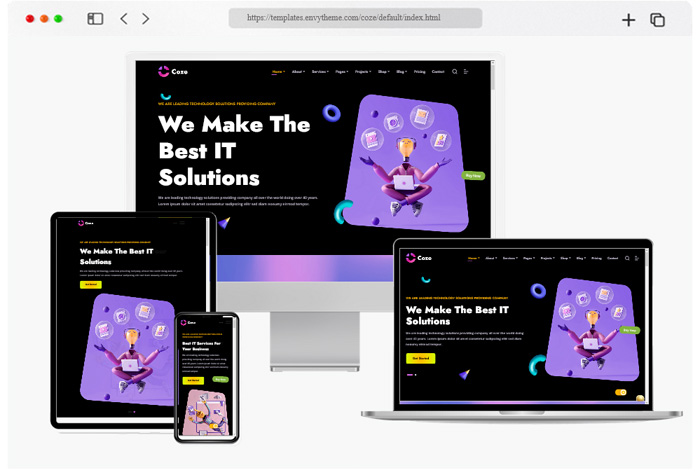 More info / download Demo