In today's digital age, having a captivating and functional website is crucial for any business, organization, or individual looking to make a lasting impression online. Website templates are an excellent solution for creating a visually appealing and user-friendly site without the need for extensive coding knowledge or design skills. In this blog post, we'll explore the best website templates available, highlighting their features, advantages, and use cases to help you find the perfect fit for your online venture.
Martex
Martex is a responsive website template designed specifically for promoting software, SaaS (Software as a Service), startups, apps, and other business projects. It offers a collection of flexible and creative landing page templates. With its responsiveness, the template adapts to various screen sizes and devices, ensuring a seamless user experience for visitors on desktops, tablets, and smartphones.
Martex's versatility allows businesses to showcase their offerings effectively and professionally. It is an excellent choice for anyone seeking a visually appealing and user-friendly platform to present their digital products and services.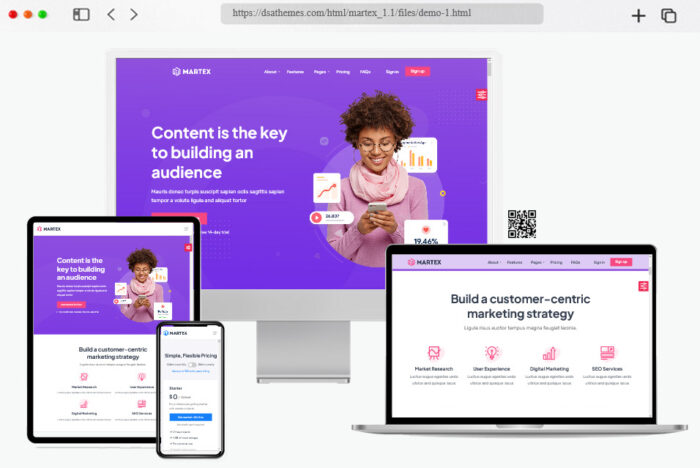 More info / download Demo
Litho
Litho is a powerful and versatile multi-page website template with modern and minimal design concepts. It offers a wide array of options with 200+ ready elements and 230+ pre-made templates, making it suitable for various businesses and industries such as start-ups, yoga studios, restaurants, design agencies, and more.
This template provides 37+ stunning and unique niche home page demos to quickly kickstart your project. It also offers 10+ portfolio styles to showcase your work effectively. Litho ensures compatibility with all mobile devices and modern browsers, ensuring a smooth experience for users.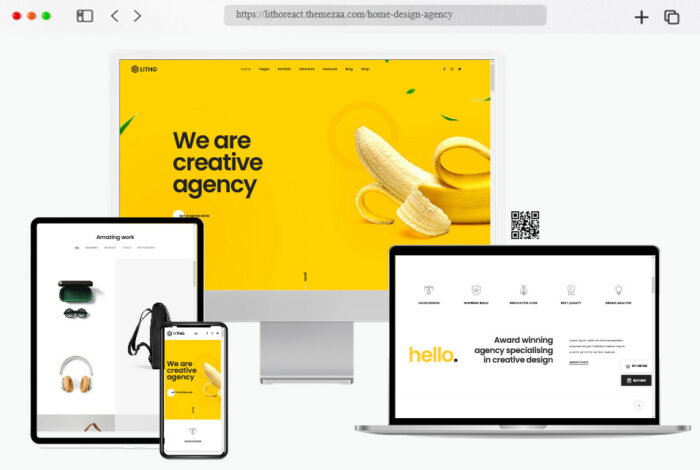 More info / download Demo
Geekfolio
Geekfolio is a creative website template designed to cater to creative agencies and business startups. It offers multiple templates with numerous CSS and jQuery animations, making it an ideal choice for web studios and digital agencies.
The template is fully responsive and built on the Bootstrap framework, ensuring seamless adaptability to various devices and screen sizes. It presents all the essential information on a single page, providing a compact and engaging user experience.
Geekfolio's files and code are well-organized and thoroughly commented, making it easy for users to customize and tailor the template to their specific needs and preferences. Whether you're looking to establish a strong online presence for your startup or showcase your creative agency's work, Geekfolio provides a visually appealing and user-friendly platform to get started.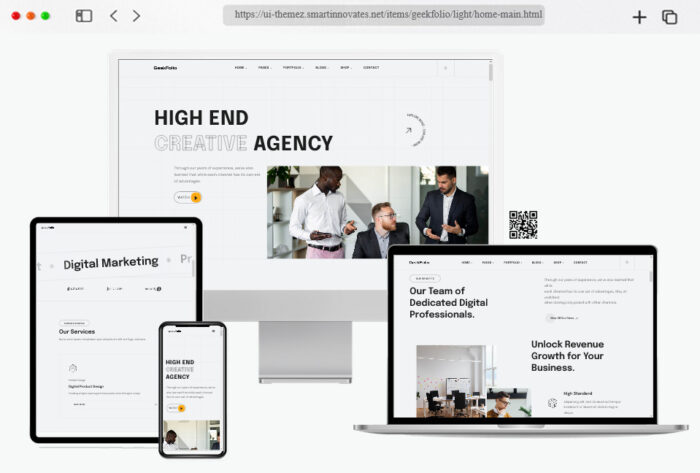 More info / download Demo
Jano
Jano is a multi-purpose and high-performance Business Website Template that offers 13 Home pages and 51+ multi-page demos and variants. It provides stunning plugins, ideas, and designs for creating a modern website, catering to various needs. Built with the Latest NextJS + Bootstrap 5, Jano is suitable for corporate entities, agencies, freelancers, individuals, and any type of business looking to showcase their company history, services, works, portfolio, and projects in a creative and professional manner. In short, Jano is a powerful, user-friendly, and versatile template for creating impressive websites.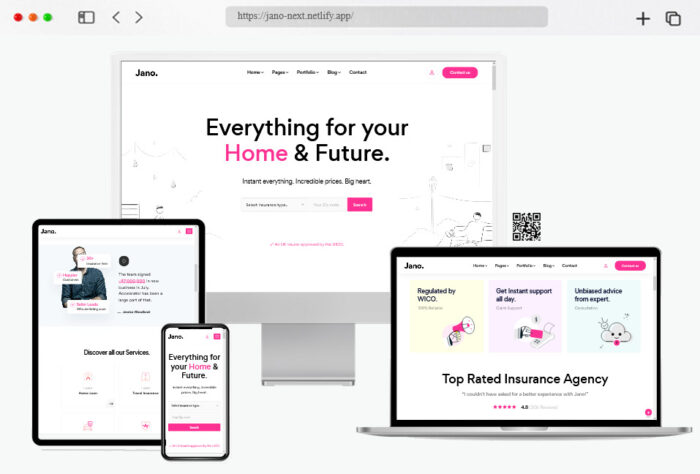 More info / download Demo
Ncmaz
Ncmaz is a responsive NextJs template designed for blogs and personal portfolios. It utilizes the latest NextJs 13, React 18, TypeScript, and Tailwindcss technologies. The template features a modern and fresh design for the entire website, including smart search modal commands, stylish post cards, archive pages, search pages, and single pages.
With careful attention to design, Ncmaz offers a unique and new generation style, making it suitable for magazine, news, blog, podcast, and other content-focused websites. The template aims to provide a visually appealing and user-friendly experience for both content creators and readers.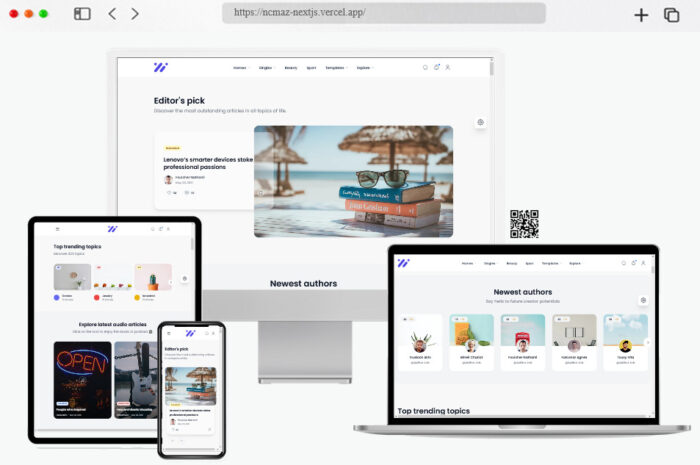 More info / download Demo
GoTrip
GoTrip is a high-quality and well-organized Online Booking Travel & Tour Agency React NextJS HTML/CSS Template. It is designed to cater to all types of travel agencies, including tours, hotel booking, activities/events, travel experiences, room bnb, villa rental, holiday rental, resort rental, cruises, car rentals, real estate, and flight ticket bookings.
The template offers 10 unique homepage designs and various layouts for hotel listings, tours, activities, holiday rentals, car rentals, cruises, and flights. With its modern and attractive format, GoTrip enables travel agencies to create content-rich and exciting websites that captivate customers.
Featuring clean lines, soft colors, and a fluid user experience, GoTrip ensures an enjoyable and engaging browsing experience for visitors. It provides a perfect platform to showcase travel services and provide an effortless booking process, making it an excellent choice for any travel agency seeking to establish a modern and appealing online presence.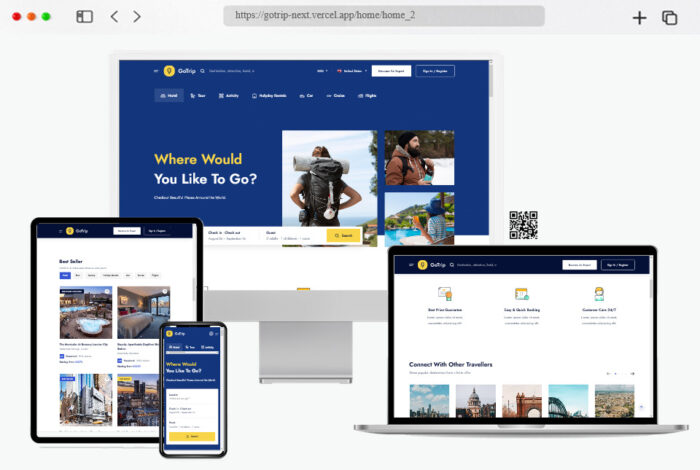 More info / download Demo
Blackdsn
Blackdsn is a modern website template designed as a new portfolio concept for creative agencies and freelancers. It caters to graphic designers, illustrators, photographers, and other creatives, providing them with a quick and easy way to showcase their work. The template adds a distinctive and creative touch to their portfolio, enabling them to present their projects in a visually appealing and unique manner.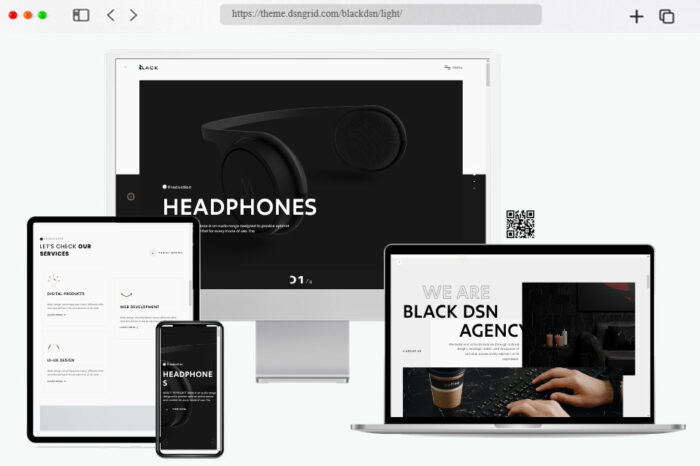 More info / download Demo
MYKD
MYKD is a website template designed specifically for eSports and Gaming NFT (Non-Fungible Token) projects. It caters to various categories, including gaming websites, magazines, team presentations, gaming tournaments, and NFT gaming. The template offers stunning NFT and gamer templates with functionalities ideal for video game sites. If you are passionate about computer games and want to create a captivating gaming website, MYKD is the perfect choice for you. It provides a visually appealing and feature-rich platform to showcase your gaming content and NFT projects.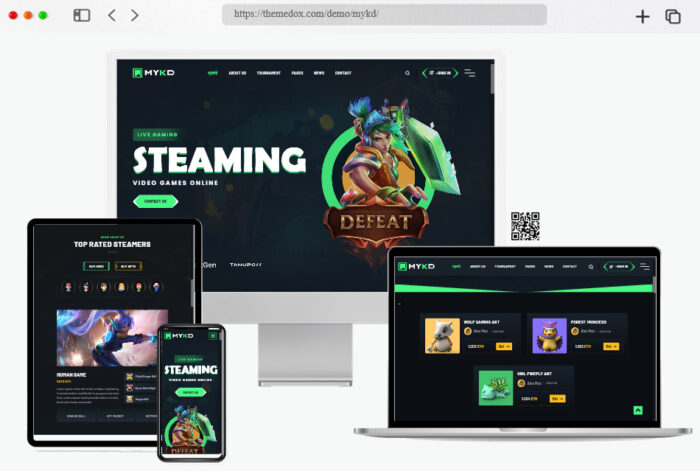 More info / download Demo
Ciseco
Ciseco is a responsive E-Commerce Website Template built using the latest Next.js 13 (app directory), React 18, TypeScript, and Tailwindcss technologies. It features a modern and fresh design throughout the website, including smart search filters, stylish product displays, and modern cart and checkout pages.
The template is well-suited for various types of E-commerce websites, such as multi-vendor marketplaces, electronics stores, furniture stores, clothing stores, hi-tech stores, organic/food stores, cosmetic stores, jewelry stores, sporting goods stores, and accessories stores. With its user-friendly and visually appealing layout, Ciseco provides an excellent platform for businesses to showcase and sell their products online.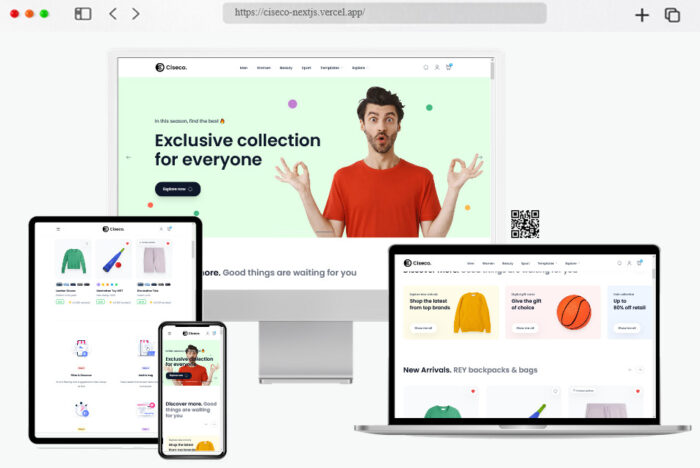 More info / download Demo
Chisfis
Chisfis is a premium and responsive NextJs website template designed for online booking, listing, and real estate purposes. It offers a comprehensive booking system for accommodations, tours, travel experiences, cruises, car rentals, real estate, and travel agencies. Built with the latest Nextjs 13 (app directory), TypeScript, and Tailwindcss, the template features a modern and fresh design throughout the entire website.
Chisfis includes various functionalities such as a select date-range picker, modal gallery, Google map integration, add listing feature, and a blog section. With its user-friendly and visually appealing layout, Chisfis provides a top-notch platform for businesses in the travel and real estate industries to showcase their offerings and enable seamless online bookings.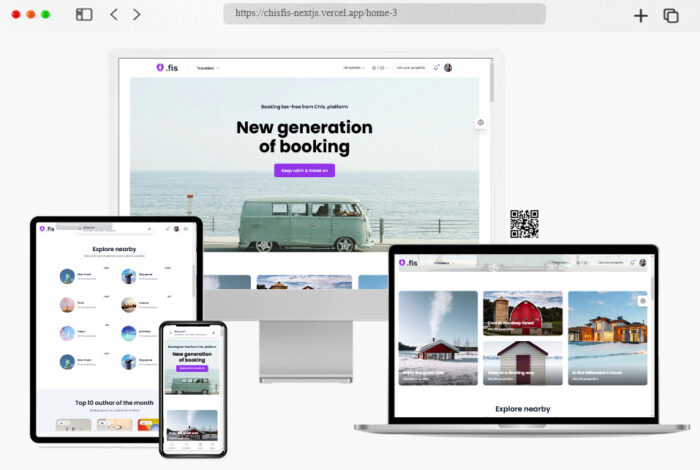 More info / download Demo
HiStudy
HiStudy is a Bootstrap template designed for online courses and education, aimed at enhancing e-learning content and LMS (Learning Management System) platforms. It offers an impressive design and is tailored for various educational purposes, including e-learning, course schools, online schools, kindergartens, universities, language academies, gym coaching, and more.
The template provides a comprehensive set of features for a complete online education center and LMS platform. It covers various dashboard, inner, and details pages required for creating a robust and effective online learning environment. HiStudy is suitable for both online and offline learning, making it a versatile and valuable tool for educational institutions and course providers.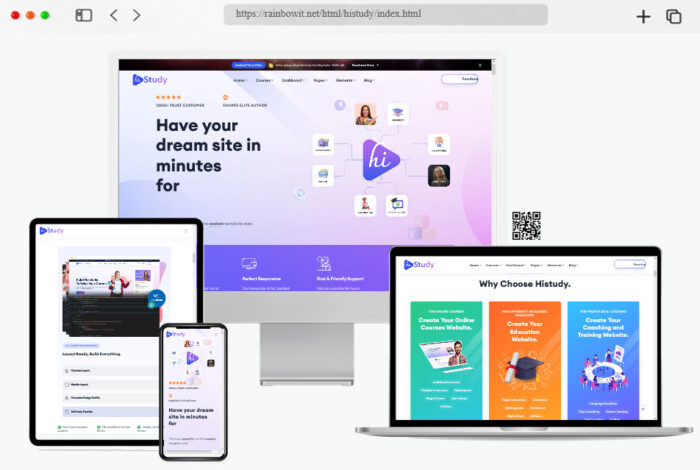 More info / download Demo
Superio
Superio is a high-quality and well-organized corporate website template designed for job boards. It aims to connect employers and candidates effectively, offering advanced features and powerful functions for a professional job board website. The template provides an easy-to-use and customizable platform that is user-friendly for both employers and job seekers.
Superio offers 89+ pages with 17 home page variations, 14 job list layouts, 5 job single page options, 2 dashboard designs, 5 shop pages, and more. Its clean lines, soft colors, and fluid user experience create a job board platform that customers will love. With features like easy sign-up, login, job posting, profile management, and blog integration, Superio ensures a convenient and seamless experience for all users. It's a perfect solution for businesses seeking to establish a powerful and user-friendly job board website.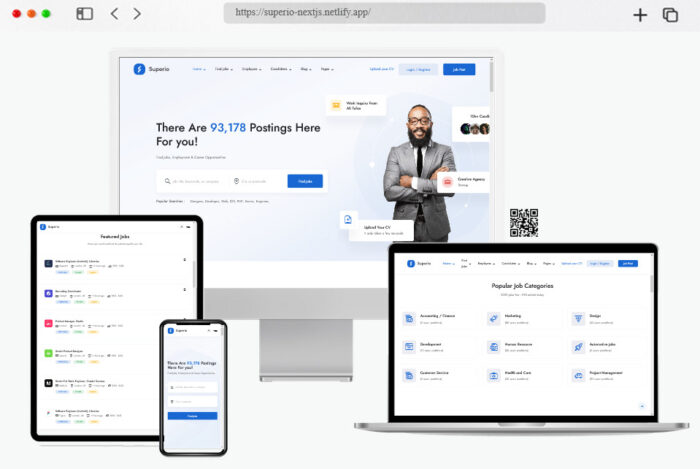 More info / download Demo
Sandbox
Sandbox is a stunning minimalist website template that offers a wide range of UI elements, features, and ready-made blocks to create a unique and professional website. The template is designed for React apps, businesses, startups, marketing, agencies, portfolios, and more. It provides an effortless setup and deployment process.
With Sandbox, users can easily create and manage visually appealing portfolios to share their amazing stories with the world. The template's elegant design and rich pages make it an ideal choice for anyone looking to build an eye-catching and impressive website.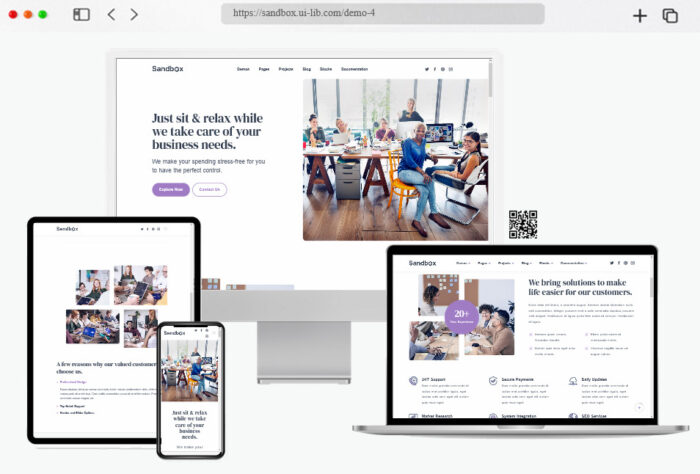 More info / download Demo
Wishon
Wishon is a high-quality HTML template specifically designed for Non-Profit Organizations. It serves as the perfect platform for charity, fundraising, nonprofit, NGO, donations, church, mosque, and other charitable endeavors. With its user-friendly design and functionality, Wishon caters to all types of non-profit charity websites and businesses, providing them with a visually appealing and effective online presence.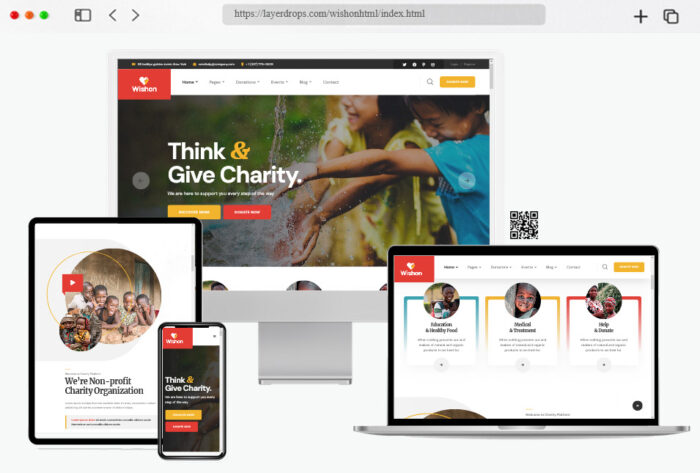 More info / download Demo