If you're in the market for a beautiful, user-friendly and best Wedding WordPress Themes, look no further than our collection. Whether you're wanting something simple and elegant or something a little more playful and fun, we have the perfect theme for you. And because our themes are fully customizable, you can make them truly your own. So take a look and see which one speaks to you – we know you'll find the perfect one for your big day!
When it comes to planning your dream wedding, WordPress has some of the best themes to choose from. Our top pick is the Vintage Wedding Theme, which comes with everything you need to create a beautiful and romantic online wedding invitation. With a stunning design and easy-to-use features, this theme is the perfect way to share your big day with friends and family.
Florya
Florya Wedding WordPress Theme is ideal if you're looking for a clean, contemporary, and creative WordPress Theme. This WordPress theme is ideal for wedding planners and wedding photographers who need a simple, attractive, and effective way to showcase their work to clients.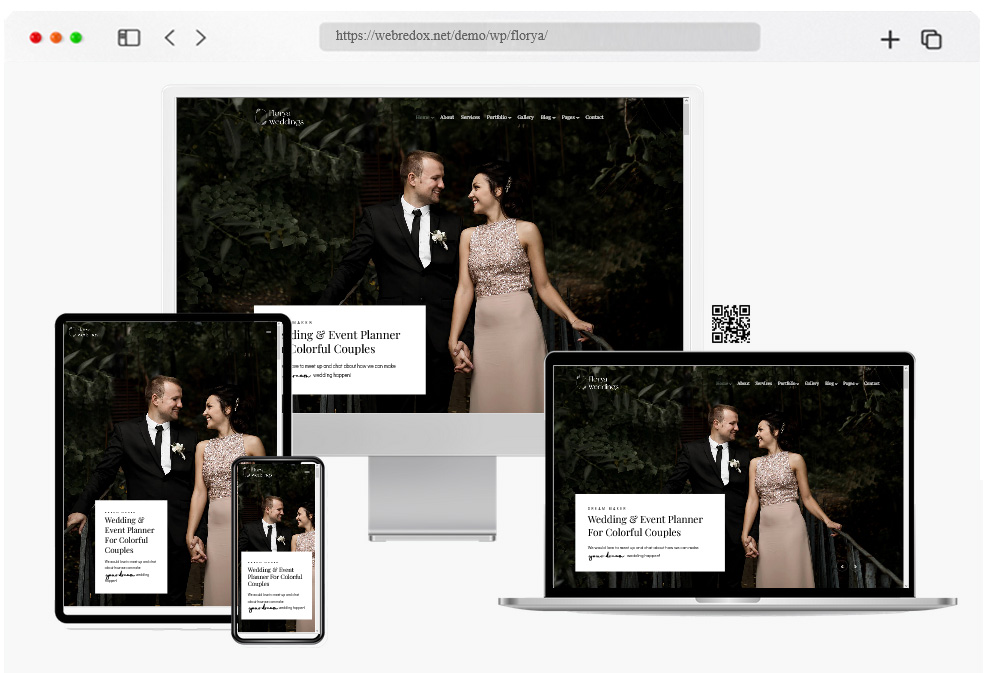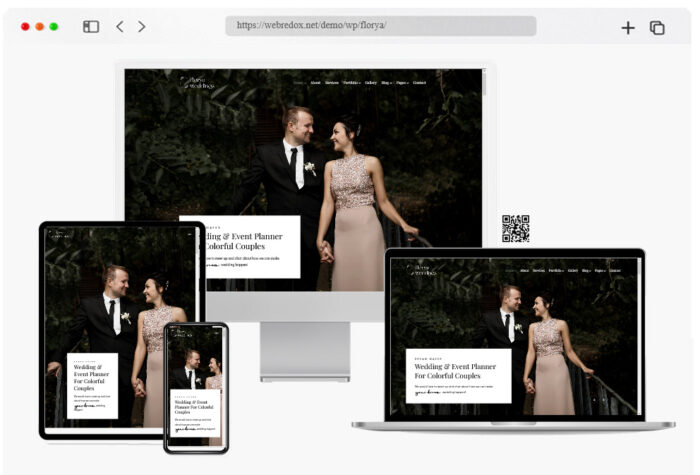 More info / download Demo
Lovelove
Lovelove is a Wedding Planner WordPress Theme that will help you create a beautiful and functional website for your business. With its elegant design and powerful features, Lovelove is the perfect choice for anyone who wants to create a professional and modern wedding website.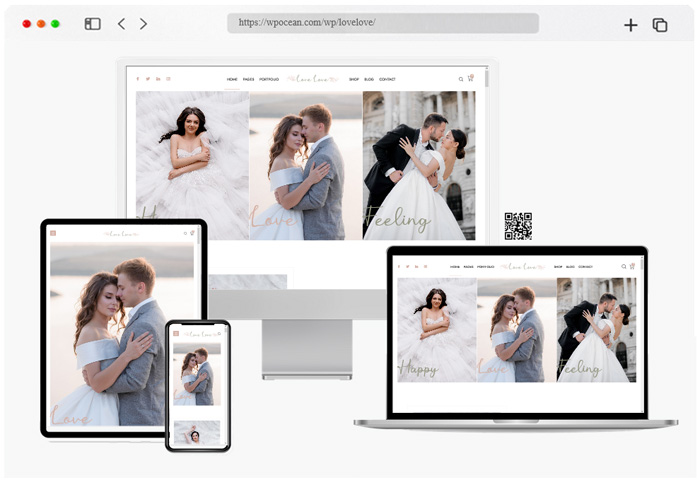 More info / download Demo
Avala
Avala is an exquisitely designed Elegant Wedding Themes for WordPress weddings and events. It exudes elegance, style, sensuality, and warmth, making it suitable for any personal style or season chosen for the occasion. The theme includes homepage layouts catering to wedding-related businesses such as wedding planners, dress designers, photographers, and venues.
With 16 different homepages, users can find the perfect fit for various private events and celebrations like reunions, vow renewals, baby showers, and birthday parties. Avala further offers 4 demos—Autumn, Winter, Spring, and Summer—each with 4 homepages and meticulously designed inner pages, providing an ideal solution for creating beautiful and captivating websites for weddings and events.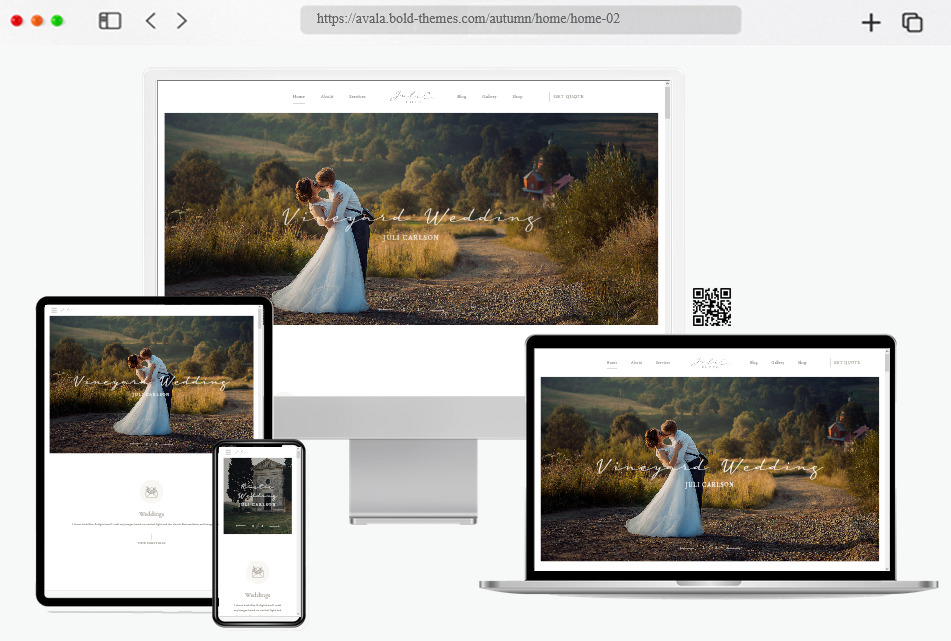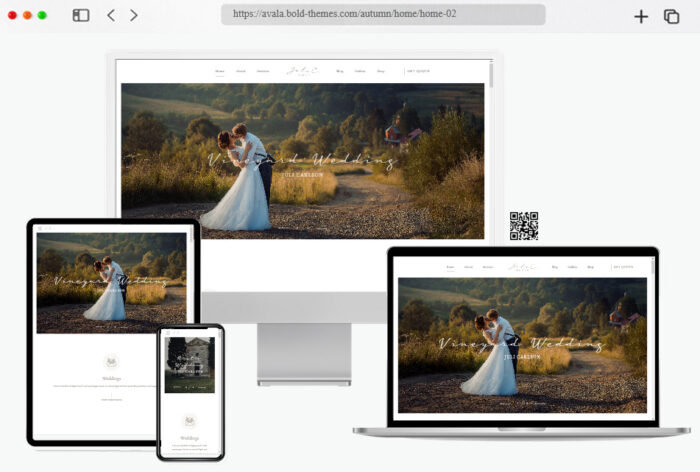 More info / download Demo
Taysta
Taysta is a responsive WordPress theme designed specifically for event planning and wedding-related enterprises. It offers multiple pre-built homepage options for straightforward personalization, making it suitable for event agencies, engagement services, birthday parties, anniversaries, conferences, and more.
The theme includes four distinct homepage layouts that can be imported with a single click. These demonstrations highlight a variety of options and impressive features that can enhance event coordinators' online presence. The arrangements include essential sections such as portfolio grids, team profiles, menus, and galleries, providing a comprehensive platform for showcasing services and expanding the online presence of the event planning company.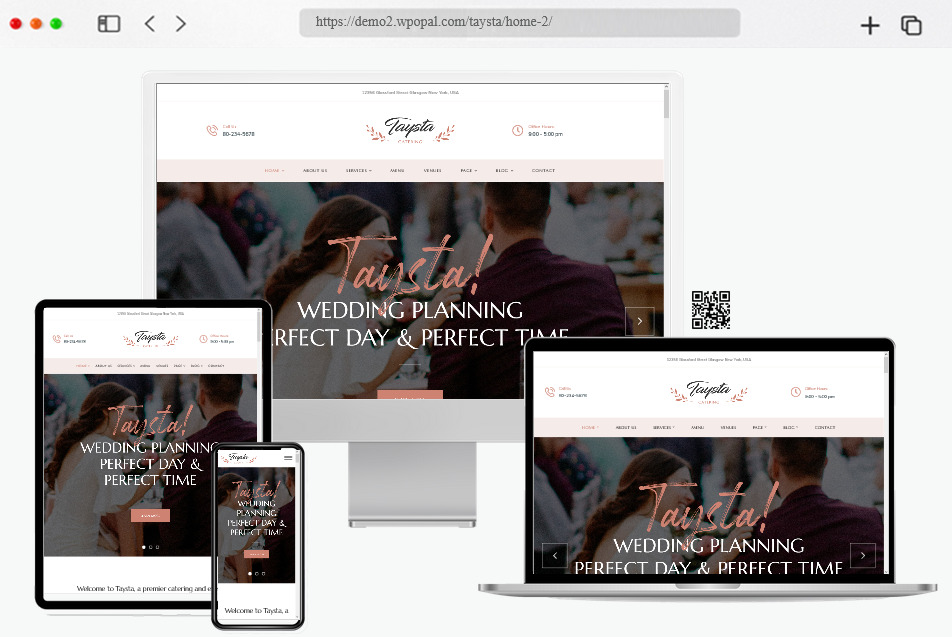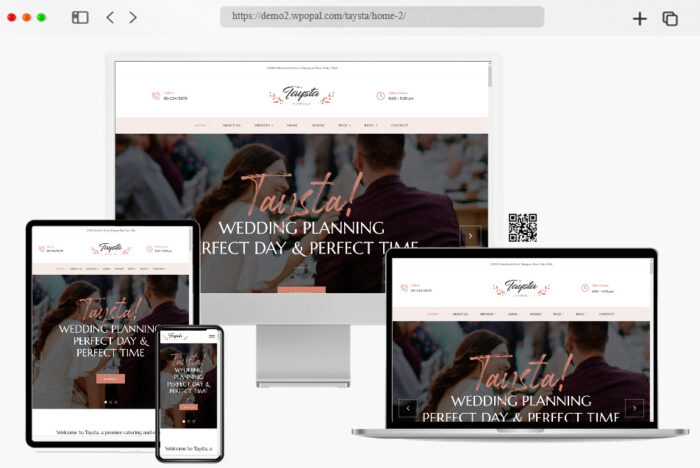 More info / download Demo
The Aisle
The Aisle is a comprehensive wedding planner WordPress theme that offers everything needed for creating a stunning wedding website. It comes with a wide selection of pre-designed home and inner pages, suitable for various wedding-related purposes such as announcements, photography, gallery pages, invitations, RSVPs, and other matrimonial elements.
The theme also allows users to display wedding venue locations on a map, add a wedding gift registry, include pricing plans, celebration information, and more. With the aid of powerful shortcodes, users can effortlessly create a remarkable website without any hassle. "The Aisle" promises to be the perfect choice for a happily ever after wedding website experience.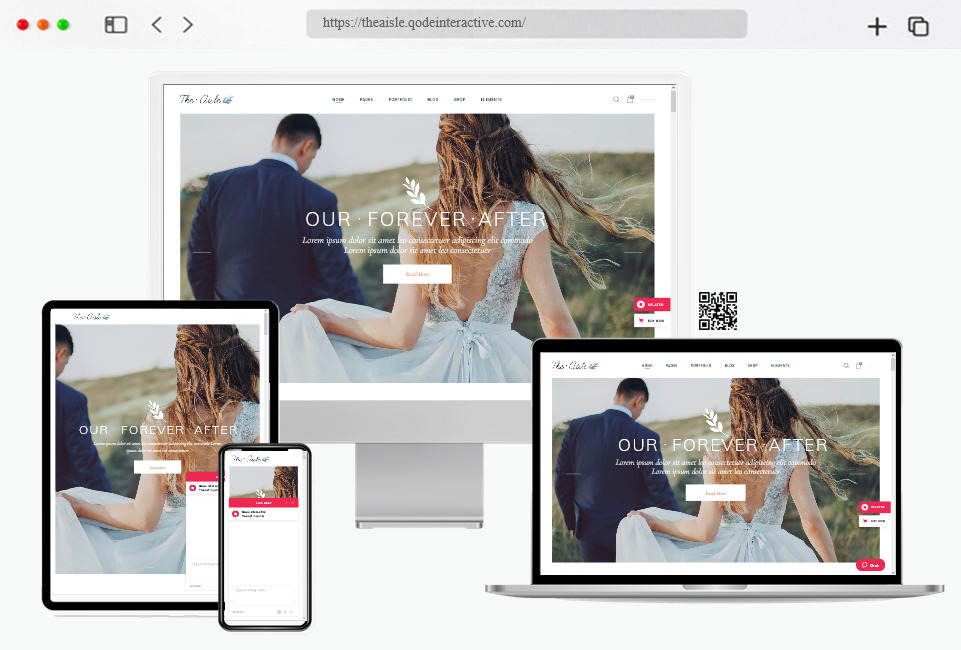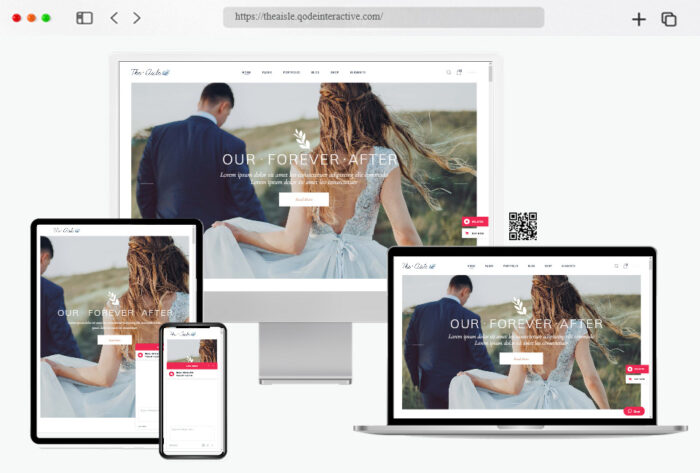 More info / download Demo
Sweetinz
Sweetinz is a stylish one-page wedding WordPress theme designed for couples to create their own wedding websites. It offers five color schemes and a customizable color-picker for personalization. Setting up and using Sweetinz is straightforward. The theme includes various features such as Countdown, Couple Timeline, Location Map, RSVP, Groomsmen, Bridesmaid, and Gift Registry. It is fully responsive with a Bootstrap Framework, ensuring that it looks stunning on all screen sizes and devices, including retina displays.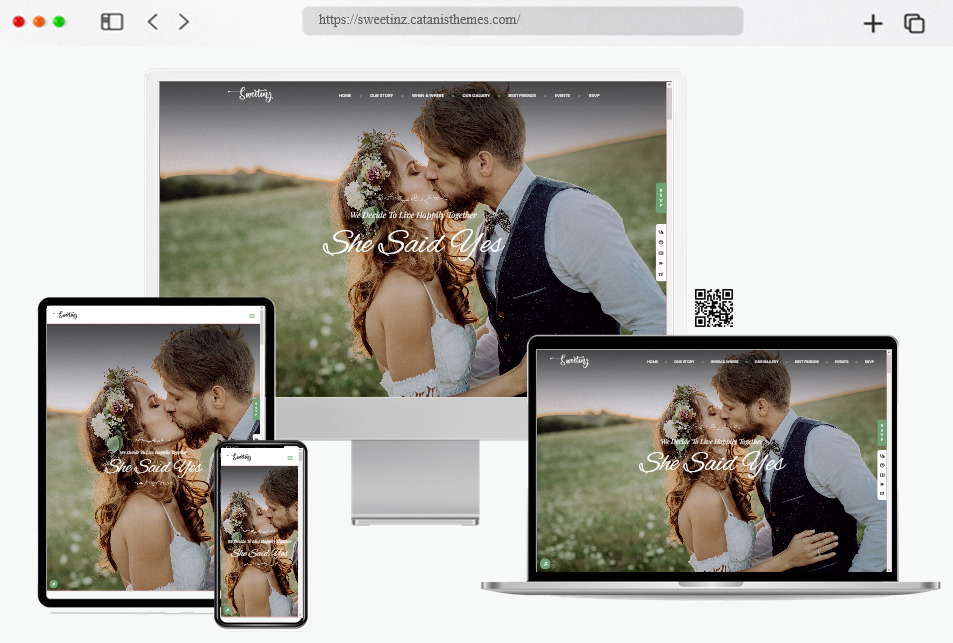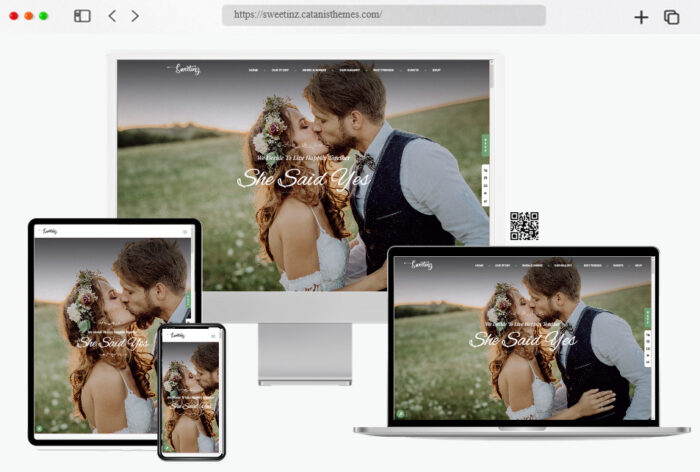 More info / download Demo
Alis
This delightful Wedding Photography Themes is designed for weddings and wedding planners. It accommodates to users of various skill levels, from novices to advanced developers. The theme has a purpose-driven design and provides a variety of sophisticated pre-designed pages for multiple purposes, including wedding announcements, photography, gallery pages, wedding invitations, guestbook, and RSVP pages. In addition, users can easily add wedding venue locations to a map and create a gift registry for an all-encompassing wedding website experience.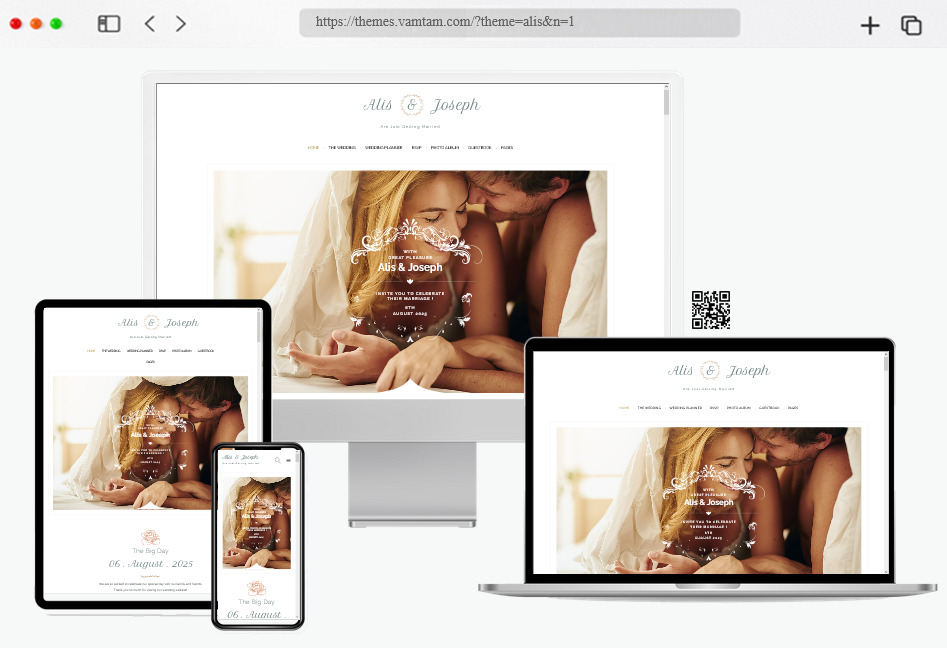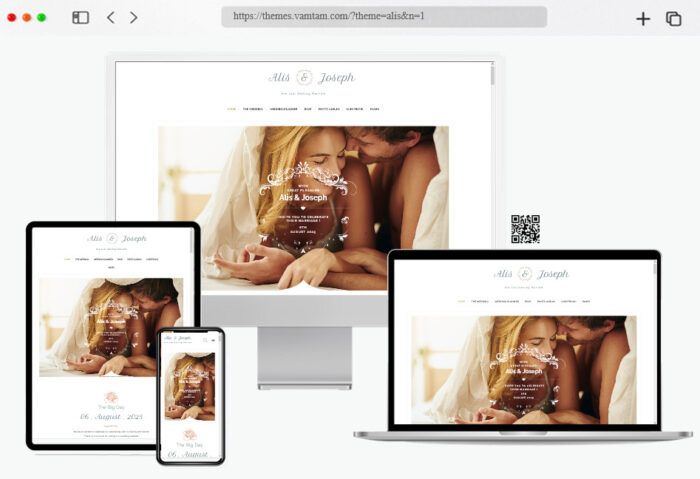 More info / download Demo
OneLove
OneLove is a versatile, elegant, and simple One-Page Wedding Theme with multiple application options. It provides 22 unique homepages for personal weddings, wedding stores, wedding blogs, and other wedding-related businesses. Connect with guests and share wedding events and joyful moments with the theme's RSVP Form, Countdown, Slideshow, Video Slider, and Photo Gallery features.
Customization is simple with OneLove, allowing users to change colors for almost every element, choose fonts from over 500+ Google Web Fonts, and build pages rapidly with the ONE CLICK demo data import feature, without the need for coding knowledge.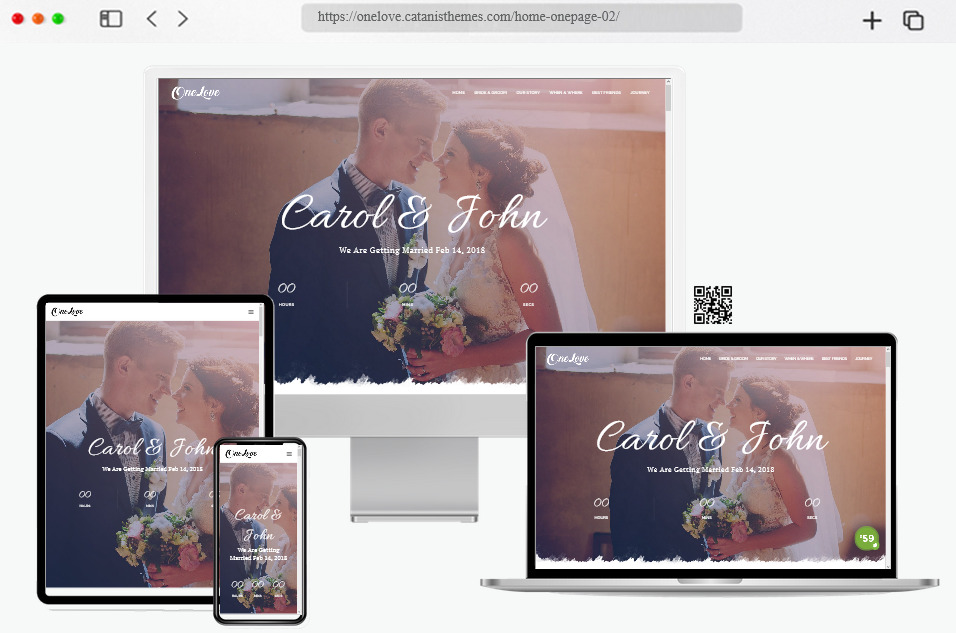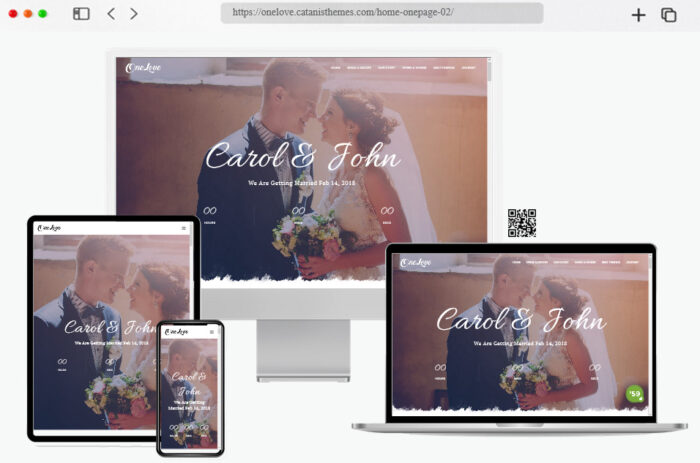 More info / download Demo
Love Story
Love Story is a captivating and sophisticated WordPress theme tailored for wedding and event planners. With its stylish and tender design, it is well-suited for wedding planning agencies, individual wedding planners, and event planning companies. The theme caters to a wide range of event-related services, including parties, birthdays, business meetings, conferences, and trainings, providing an elegant and fashionable platform for their websites.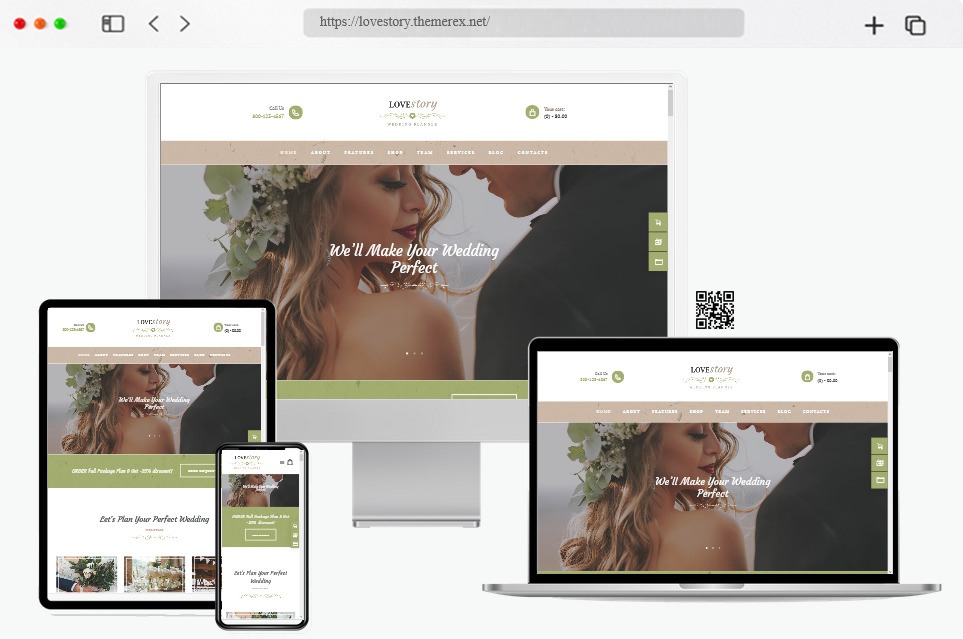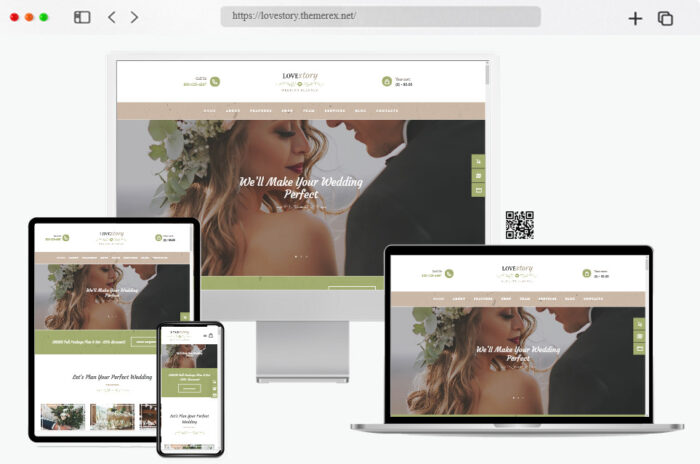 More info / download Demo
Celebration
Celebration is a specialized WordPress theme designed specifically for celebrations such as weddings or class reunions. The theme is fully responsive and retina-ready, ensuring it looks great on all devices and high-resolution screens. It offers easy customization options, allowing users to tailor the theme to their specific needs and preferences.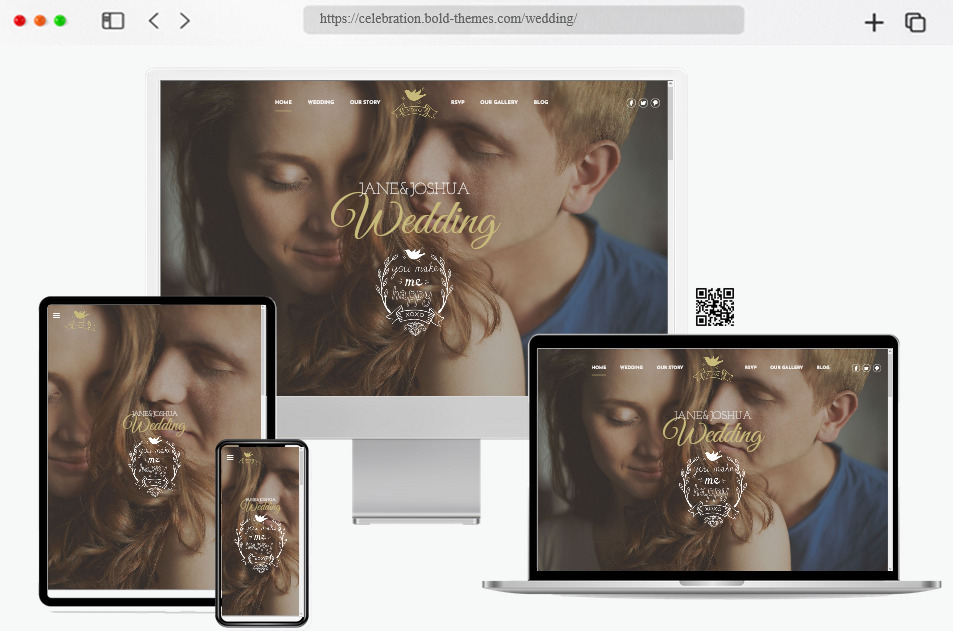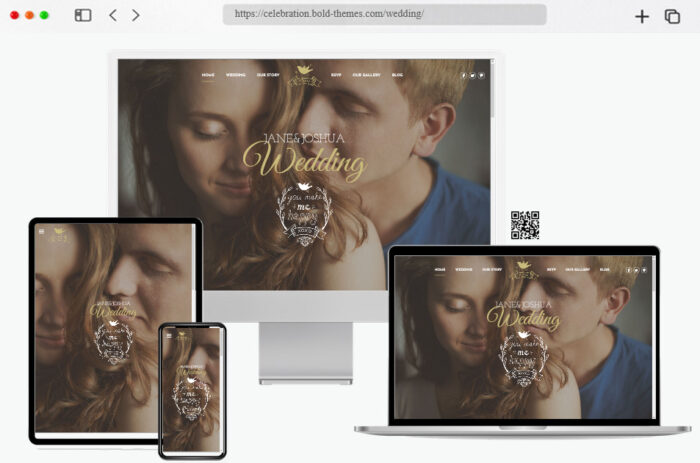 More info / download Demo
Wedding Theme
The Wedding theme offers a flexible framework for developing websites for diverse wedding-related businesses, such as wedding planning, wedding locations, wedding florals, wedding attire, and more. Setting up the website is simple and can be accomplished in a few simple steps.
The theme includes multiple demonstrations with various designs, including planner, couple, engagement, locations, flower, favors, atelier, and invitations. Users can select the demo that best corresponds to their specific wedding business type and then easily modify it to their specifications.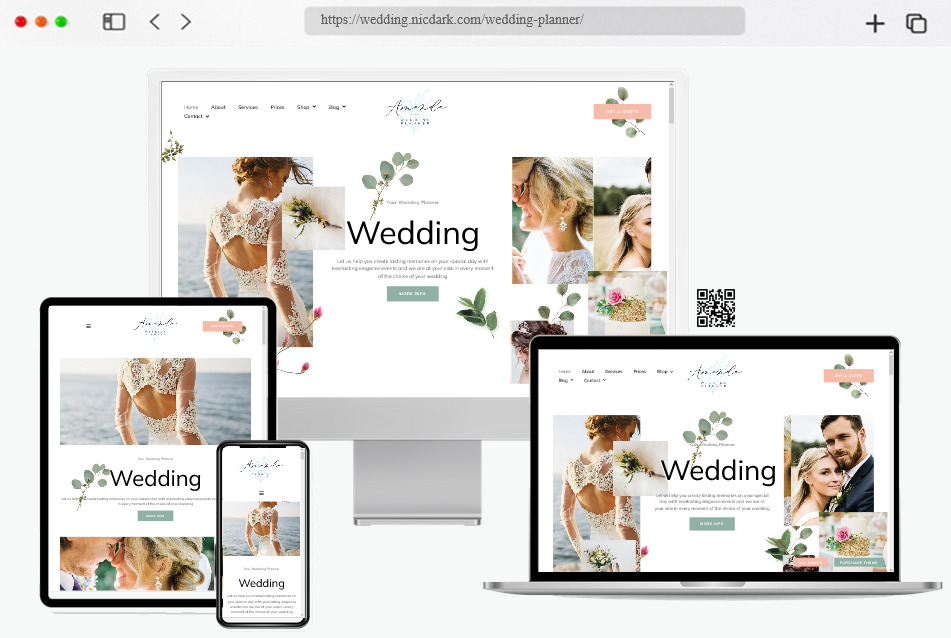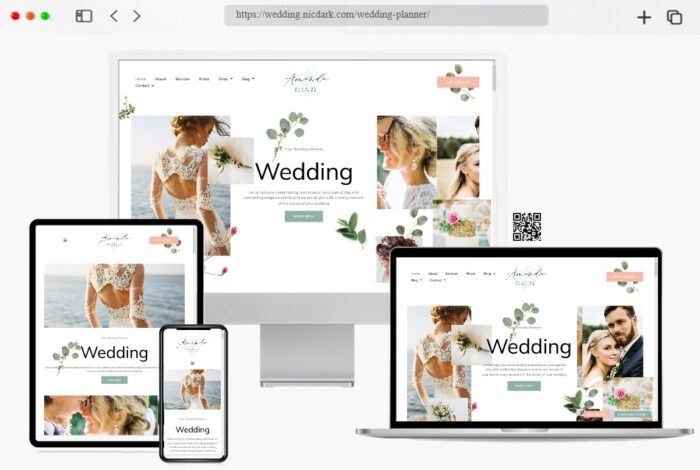 More info / download Demo