Choosing the right WordPress theme is crucial for creating a visually appealing and functional website. With thousands of themes available, it can be overwhelming to pick the one that best suits your needs. In this blog post, we will explore the top 10 WordPress themes that have earned a reputation for their design, features, and user-friendliness. Whether you're a blogger, business owner, or creative professional, these themes will help you build a stunning website that stands out from the crowd.
The perfect WordPress theme can significantly impact your website's success, branding, and user experience. By understanding the strengths and weaknesses of each of these top 10 themes, you'll be better equipped to choose the one that aligns best with your project's objectives and requirements. Remember to consider factors like design flexibility, performance, ease of use, and support when making your decision. Happy website building!
PageBolt
PageBolt is a top WordPress theme for landing pages, offering an impressive collection of demo templates, a block library, and One-Click Demo Import feature for quick and easy setup. With this theme, users can have their new website up and running in just a few minutes by choosing a demo website, specifying the type of content to be installed (pages, posts, widgets, navigation menu items, media, theme options), and the importer takes care of the rest, including automatically installing required plugins and reporting any errors.
The theme also boasts a UiCore Template Library, which includes over 500 pre-designed sections and pages. Users can select their preferred blocks and combine them to create a stunning and unique website that looks fantastic, regardless of the chosen combination. This feature allows for easy customization and ensures the website stands out with a professional appearance.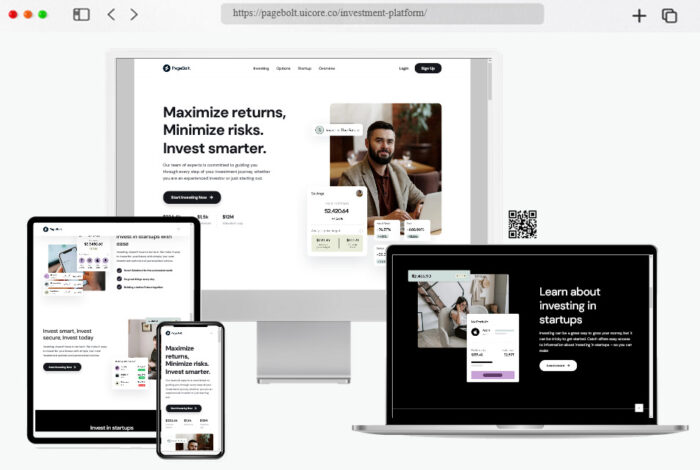 More info / download Demo
Alukas
Alukas is a modern and distinctive Elementor eCommerce WordPress theme offering 09+ pre-built home pages suitable for various online stores like fashion, electronics, and furniture. It utilizes Elementor, a user-friendly drag and drop page builder, allowing users to easily edit and create new pages without coding skills. The theme is fully responsive and adapts seamlessly to all devices, including desktops, tablets, and mobiles. With One Click Demo Import, users can quickly import the theme and get started.
Alukas comes equipped with essential eCommerce features like Product Filter, Ajax Search, Ajax Add to Cart, Quick Buy, Bought Together, and Mini Cart. It caters to a wide range of online stores, including fashion, clothing, furniture, cosmetics, luxury jewelry, and accessories. The theme is advanced, clean, and professional, providing users with a powerful admin panel that offers over 450 options to manage header styles, page layouts, typography, and more. As a result, users can build their online store without the need for coding knowledge.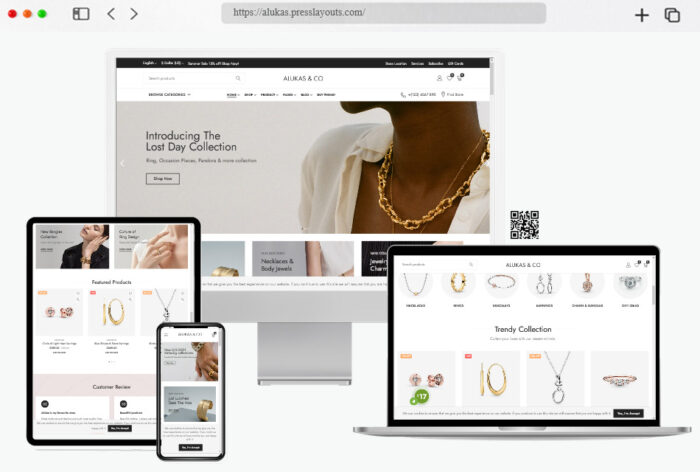 More info / download Demo
ANN
Ann is a new Multipurpose WordPress theme designed to adapt to the changing landscape and is built using AI technology. It is particularly well-suited for websites and startups related to Artificial Neural Networks, including gaming, AI art generation, machine learning, and platforms like ChatGPT, OpenAI, AI Engine, DALL·E, Midjourney, and Stable Diffusion.
The theme is an excellent choice for contemporary marketing studios, creative agencies, web designers' portfolios, marketing bureaus, advertising firms, digital and graphic design projects, website building, SEO, and SMM-related ventures.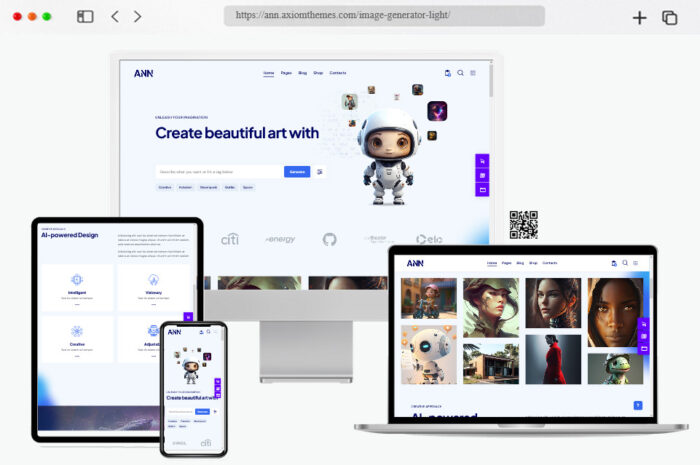 More info / download Demo
Jaroti
Jaroti is a premium WordPress theme specifically designed for online shopping stores. It offers a wide selection of pre-designed layouts for the home page and product page, providing extensive customization options. Jaroti is ideal for eCommerce websites selling various products, including accessories, fashion items, sports gear, sneakers, furniture, organic products, food, groceries, electronics, shoes, glasses, and more.
As a professional WordPress theme, Jaroti comes packed with a range of features and variations, including a responsive layout, Mega Menu, Elementor Page Builder, Slider Revolution, RTL support, Product Quick View, Ajax Search, Ajax Cart, Single Ajax Add To Cart, Shop Load More/Infinite Scroll, and Easy One Click Demo Import. These features make it a versatile and powerful choice for building a feature-rich online store.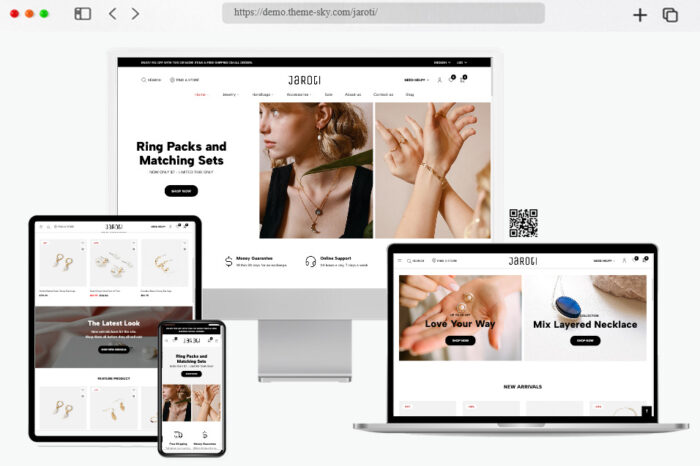 More info / download Demo
Groovy
Groovy is a modern and unique lightweight WordPress theme created by EstudioPatagon, designed with the latest trends in mind. Focused on speed and vibrant colors, it is an ideal choice for various types of blogs, especially personal, travel, technology, comics/anime, or biography blogs. The theme offers two schemes, "Solid Border" or "Soft Shadow," to perfectly complement different types of images.
This fast-loading theme requires only one plugin for all its features. It is optimized for excellent Google Insights scores, maintaining high code quality and SEO considerations. Groovy is user-friendly and customizable, featuring 11 custom widgets and a powerful Theme Options Panel for easy administration.
The theme is fully compatible with AMP in Transitional Mode for home, archives, author, and single post pages, ensuring optimal performance on mobile devices. Additionally, it supports multilingual functionality, with English and Spanish included, and can be easily translated into any desired language.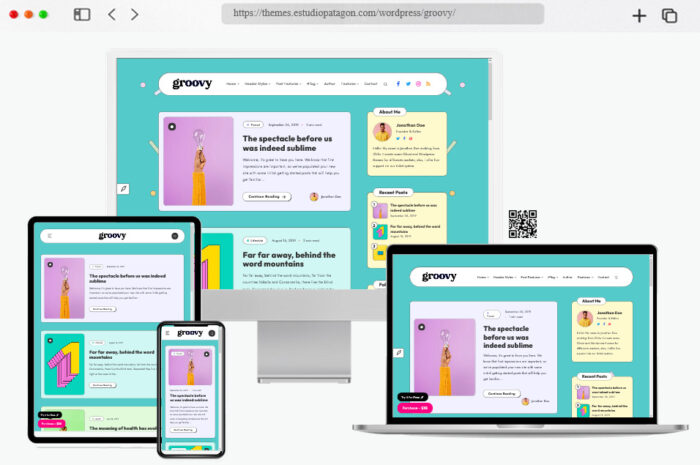 More info / download Demo
Lumi
Lumi is a customizable WordPress theme designed specifically for tech startups. It offers a range of options for tailoring the website to match the unique needs and branding of tech-oriented businesses. With Lumi, tech startups can create a professional and modern online presence to showcase their products, services, and innovations effectively.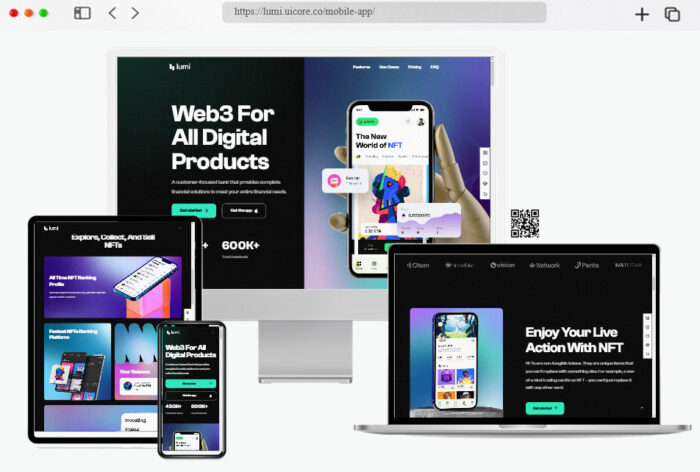 More info / download Demo
Axtra
Axtra is an innovative Portfolio WordPress theme perfectly suited for various businesses, including digital agencies, design studios, digital marketing agencies, portfolio showcases, personal portfolios, web design/development agencies, and start-ups. It is designed to help users establish a professional and modern web presence for their design or software-related ventures.
The theme boasts an award-winning design with captivating animations and smooth scrolling, providing an engaging and user-friendly experience for visitors. Axtra is highly customizable, allowing users to tailor animations, cursors, color schemes, and more according to their preferences. Detailed documentation is provided to assist users throughout the customization process.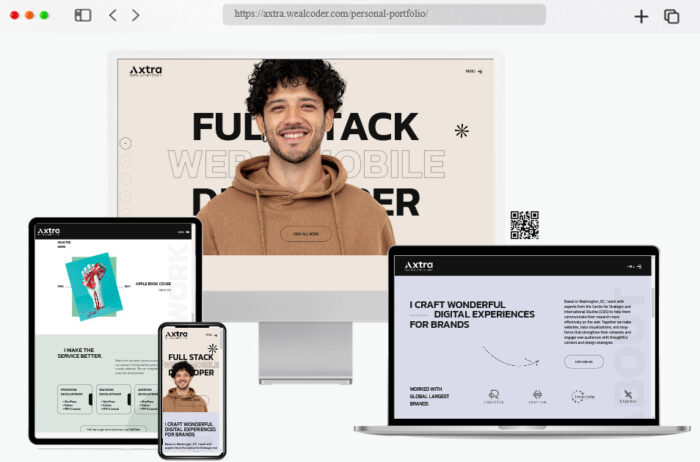 More info / download Demo
Selo
Selo is a clean, modern, and creative WordPress theme, perfectly suited for digital marketing agencies, SEO firms, creative agencies, website analysis companies, web development agencies, social media marketing agencies, and digital studios. It offers an attractive and original design, making it an ideal choice for businesses seeking to attract customers through their website.
The Selo theme is SEO-friendly, ensuring that your website ranks well on search engines and attracts organic traffic. With Selo, you can create a stunning and eye-catching website that reflects your vision and professionalism, effectively showcasing your services and expertise to potential clients.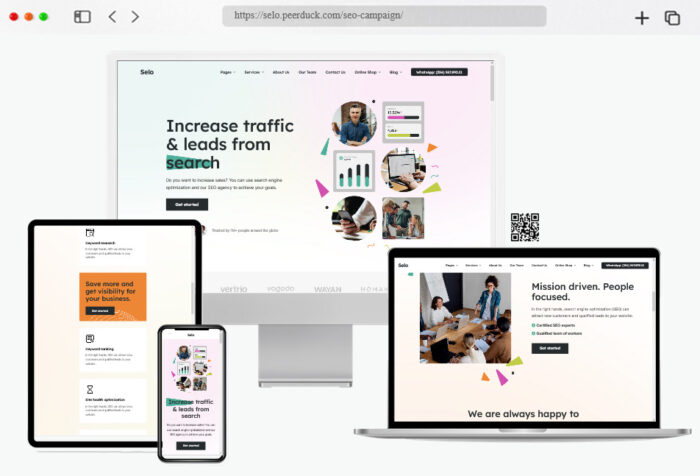 More info / download Demo
Harington
Harington is a Creative WordPress theme primarily designed for designers, artists, photographers, and other creative professionals. However, it is versatile enough for anyone to utilize its outstanding effects. The theme features a creative showcase slider, carousel, and portfolio parallax grid, offering various ways to display creative works.
Notably, Harington boasts super-fast Ajax page loading and page transition features, ensuring a seamless user experience. Additionally, the theme is fully responsive and retina-ready, ensuring it looks stunning on all devices.
More info / download Demo
Caards
Caards is a modern Magazine-style WordPress theme that offers a Dark Mode feature and follows a Mobile-first design approach. It provides a sleek and contemporary layout tailored for magazine-style websites. With various functionalities and layout options, it caters to content-heavy sites.
The Dark Mode is a prominent feature, providing users with an alternative color scheme for a more immersive and user-friendly reading experience, which is also AMP-compatible. Caards ensures high performance and allows users to effortlessly create visually appealing and engaging magazine websites.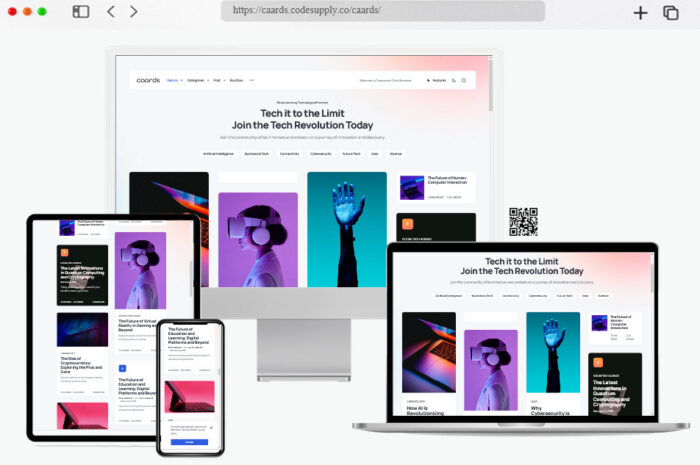 More info / download Demo