Many hundreds of WordPress themes are available. Selecting the ideal one for your requirements might be difficult. We'll show you to find the most popular WordPress themes for all types of websites in this post. We have everything you need, whether you're searching for a simple blog theme or a sophisticated corporate theme.
Therefore, unwind while seeing the top WordPress themes of 2022. There are a lot of great WordPress themes out there, but if you're looking for the best of the best, you need to check out the premium themes. These themes offer features and functionality that you just can't find in the free themes, and they're well worth the investment.
With a premium WordPress themes, you'll get access to amazing support, regular updates, and a host of other benefits. So if you're serious about building a great WordPress site, be sure to check out the premium themes. You won't be disappointed.
Related Article
Vault
We are perfectionists when it comes to how our designs work, how they look, and how well they are put together in general. At UiCore, our main goal is to give web designers and freelancers from all over the world a great user experience when they build websites for their clients.
You can make an amazing website using more than 500 sections and pages that have already been made. Just put together the blocks you like the most. It will look great no matter what.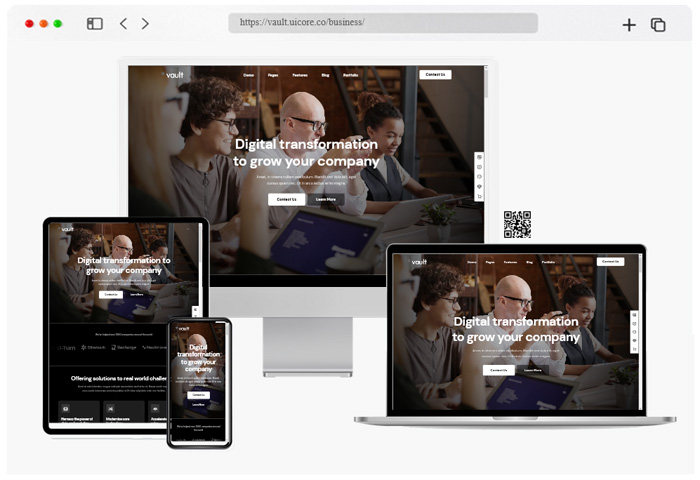 Maktub
Clean, fast, simple, and not too heavy. Maktub is a blog made by EstudioPatagon that is very modern and focuses on Speed and Typography. This text-focused theme has a special mode called "text-mode" that can make your website load much faster.
This theme also works well for any kind of blog, especially personal, travel, technology, or biography blogs. It's very light (just 1 required plugin for all features). We used a variety of methods to make this fast theme that gets great scores on Google Insights.
We also paid attention to the quality of the code and SEO. It is simple to use and change. Includes 11 custom widgets and a powerful Theme Options Panel to make administration easier.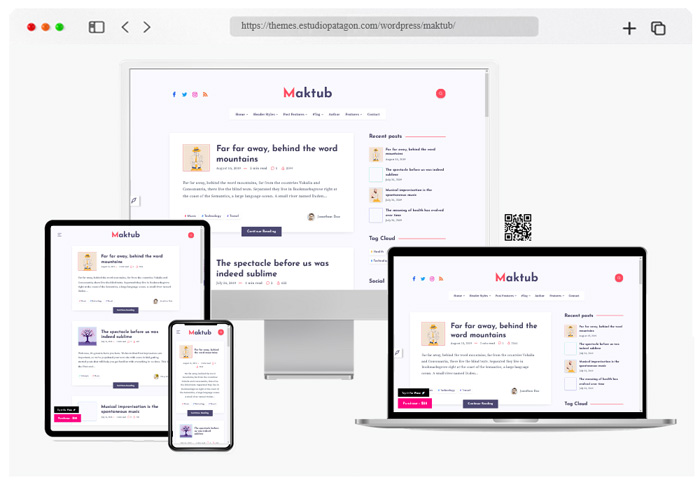 MinimogWP
Minimog will help you make more sales from your online store with features like custom design, built-in SEO, and lightning-fast speed. Minimog comes with more than 60 stylish demos, 7+ header styles, and more than 30+ footer styles. Your store's colors, layout, and fonts are easy to change.
It's also full of premium eCommerce features like Product Bundles, Video Gallery, Sale Countdown Timer, and so much more that make it easy to run and manage your online store. Dokan is the best front-end multi-vendor marketplace for WordPress. It was made with WooCommerce, a plugin for WordPress that won an award for its eCommerce features.  It lets WordPress users make their own marketplaces like Amazon in just a few minutes.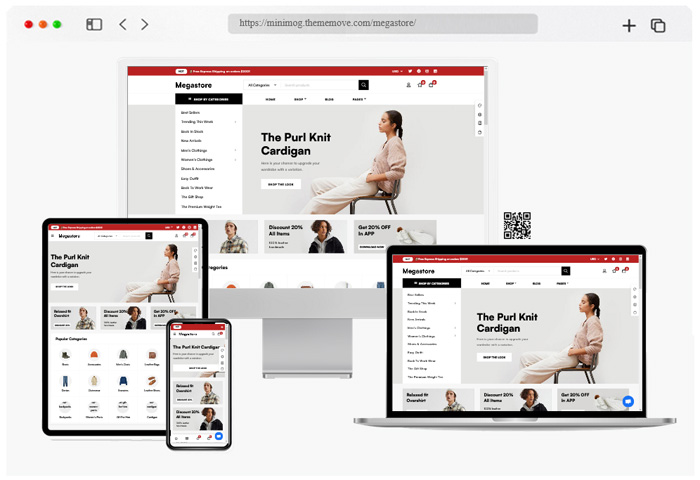 Toka
Toka is a modern WordPress theme made just for NFT, ICO, cryptocurrency, Web3, DApp, DAO, and DeFi projects, token, crypto trading, blockchain area, and financial technology websites. It looks cool, is fully responsive, and is easy to change. The theme works well with drag-and-drop visual builders like Elementor and WooCommerce, as well as translation plugins like WPML and TranslatePress.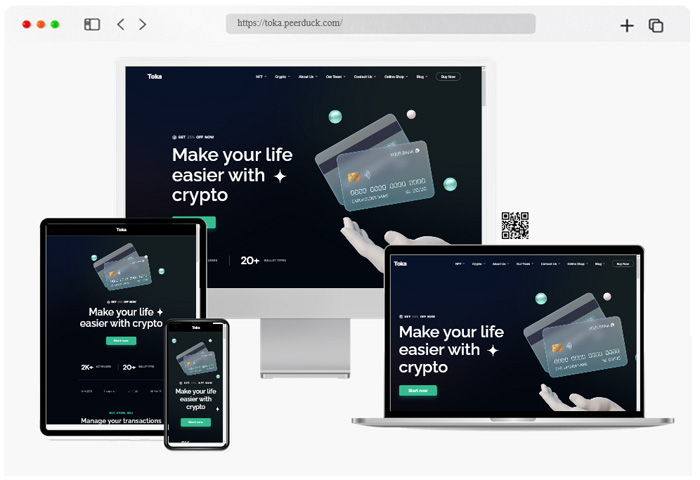 Foxiz
Foxiz is a WordPress theme that works well for websites that publish news, magazines, blogs, and other types of content. It has all the tools you need to publish anything, and it's easy to use for blogging, fashion,  cryptocurrency, podcast, and more websites.
This theme works with Elementor drag and drop builder, has a dark mode, is AMP, RTL, supports multiple languages, has a paywall, membership, and is GDPR compliant. With a schema structure for organization, a site links search box, and a breadcrumb bar, a site is SEO-friendly. Support Open Graph and work with SEO plugins from Yoast, All in One, and Rank Math… That will make search engines like your website.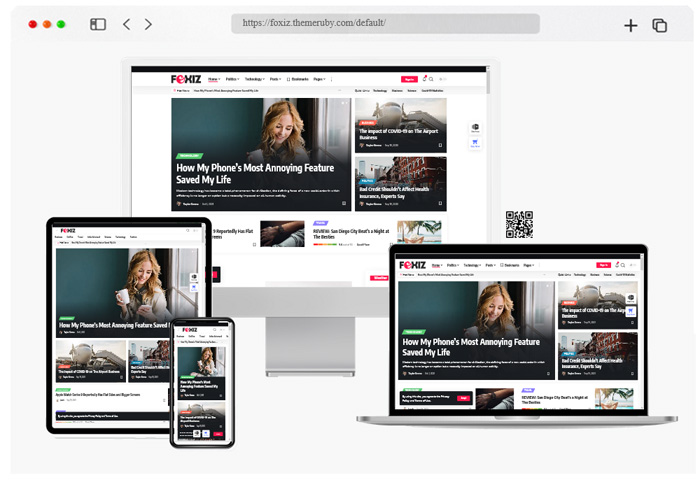 Avada
Avada Website Builder is the #1 selling WordPress theme on the market and has been continuously for over 7 years. Over 600,000 beginners, professionals, agencies, businesses, and creatives trust Avada for complete design freedom. Our illustrious history is testament to the fact that Avada is the most versatile, intuitive, and user-friendly WordPress multipurpose theme on the market today.
The best part is that you can design anything without touching a single line of code. Avada's flexible network of advanced options is brought to life with the Avada Drag & Drop visual editor, import with the drag and drop, Header Builder, Layout Builder and Footer Builder. All in all, Avada Website Builder is the ultimate web design toolset for your workflow. Work quickly and efficiently, knowing that you can design and create unlimited layouts and designs for your website projects.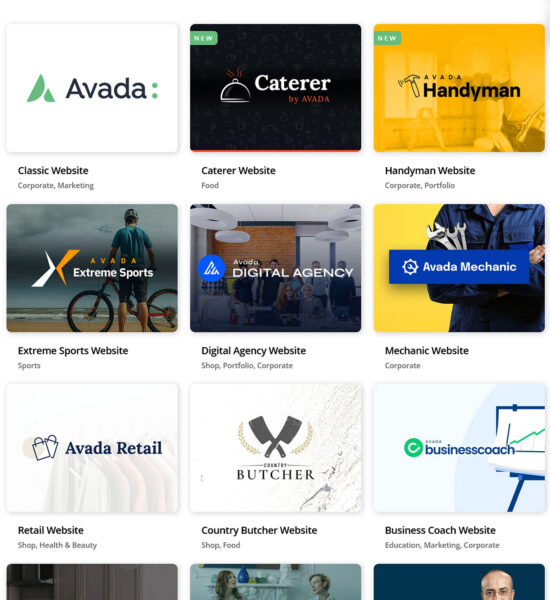 Flatsome
Flatsome is the perfect theme for your online store or business website, as well as all of your clients' websites if you run an agency or work as a freelance web designer. You have access to all the tools you need to make websites that are very responsive and give users a great experience.
Because you have access to an infinite number of options and a cutting-edge responsive page builder, you can build anything without needing to know how to code. The new UX Builder is a responsive front page builder that is a big step forward. It is the best tool for making great responsive websites without knowing how to code.
With our brand-new Page Builder for WordPress, you can make responsive sites, sliders, and banners in no time. We started Flatsome in September of 2013. Since then, almost three years have passed. Since then, a lot has changed, and Flatsome has gone from being a simple WooCommerce theme to a full-fledged, flexible theme that can be used for any WordPress project.
Flatsome comes with a number of ready-made homepages and settings that you can add to your site with the click of a button. These are simply instances. You can mix and match different headers, pages, colors, and fonts with the help of the theme settings panel.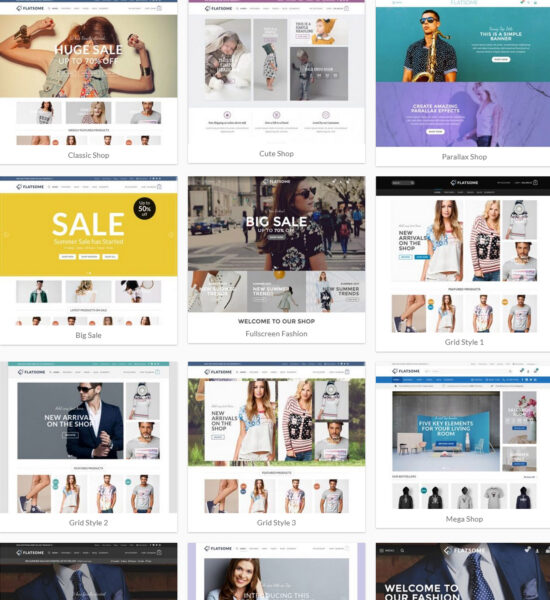 BRIDGE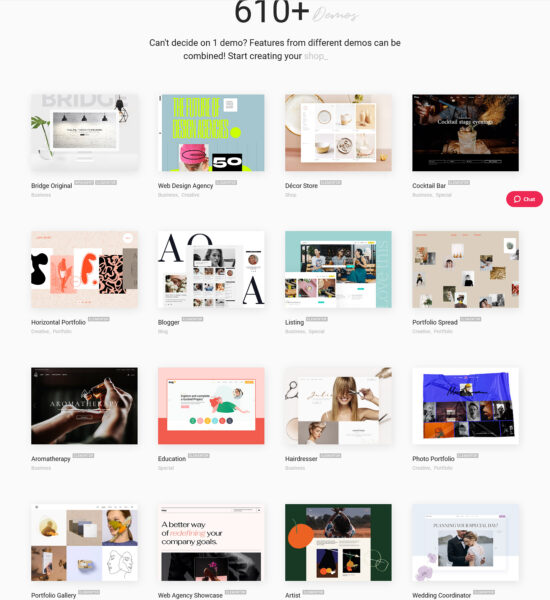 Kalles
Kalles is equipped with more than fifteen specially designed demos which all include a range of awesome features and eye-catching designs. You can import the demo quickly with our one-click install, then add your content, and finally publish it in minutes.
Instead of product discounts and shipping costs, everyone wants free shipping. So, we've created a feature to help drive sales through free shipping and fireworks effects. We make it more than just a feature by making it interact with every little action for the ultimate experience.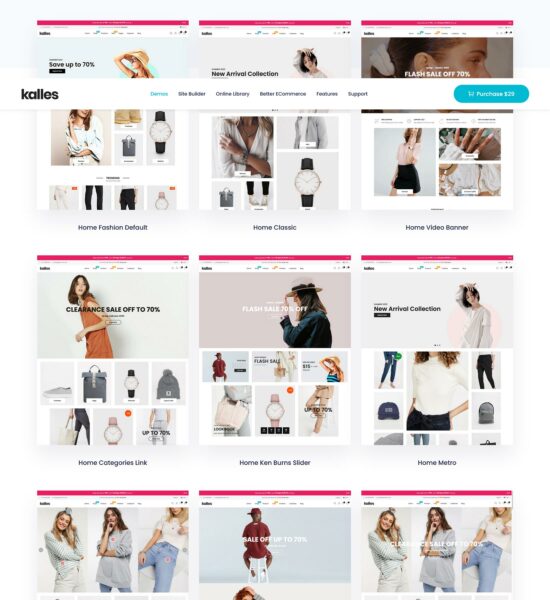 Machic
If you want to open an online store that sells electronic goods, you need the Machic – Electronics Business & eCommerce Technology Shop Elementor WooCommerce WordPress Theme. In just a few hours, you'll have everything you need to start a successful online electronics store, fashion store, accessories store, or online electronics product.
Whether you want to sell fashion, accessories, phones, mobile devices, home electronics, TVs, phone cases, or home appliances, you can do so on eBay. Even if you have never built or maintained a website before, you can quickly build your own with the help of the premium and most popular components that come with this theme.
Read on if you want to learn more about the features this excellent WordPress theme has to offer.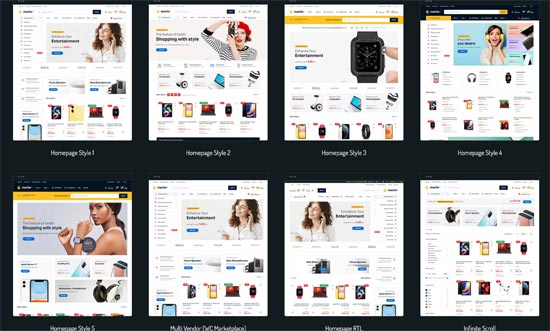 Kicker
By using the Kadence Blocks, the Kicker Magazine theme is compatible with both the Gutenberg plugin and the Elementor Page Builder.Works with WooCommerce, Powerkit, and elegro Crypto Payment. The theme has a good magazine layout and the right layout structure to show off all of your publications and top authors. So it will work great for business blogs, non-profits, news blogs about business and money, etc.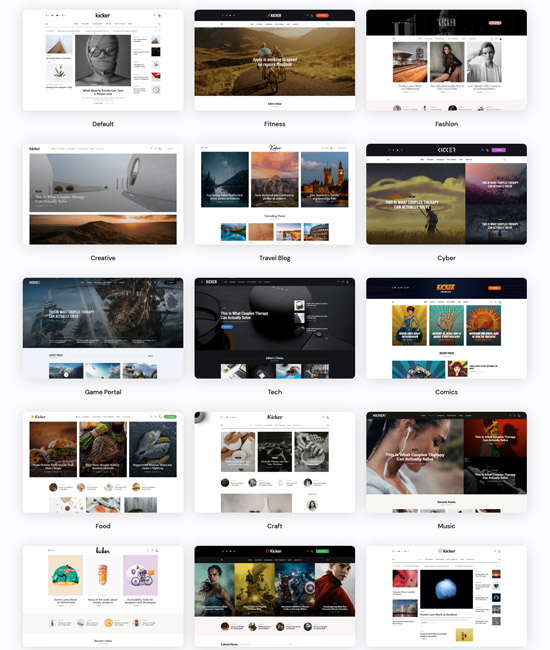 Razzi
Razzi is a clean and minimal AJAX WooCommerce WordPress theme powered by Elementor builder. It was designed for your digital store, hi-tech store, watch store, men's store, women's store, clothing store, furniture store, bookstore, cosmetics store, luxury jewelry and accessories store. Moreover, this amazing theme is integrated with WooCommerce, lots of plugins with lots of features, mini cart, custom widgets, unlimited color schemes, slider with smooth transition effects, menu with multiple column styles and advanced widgets.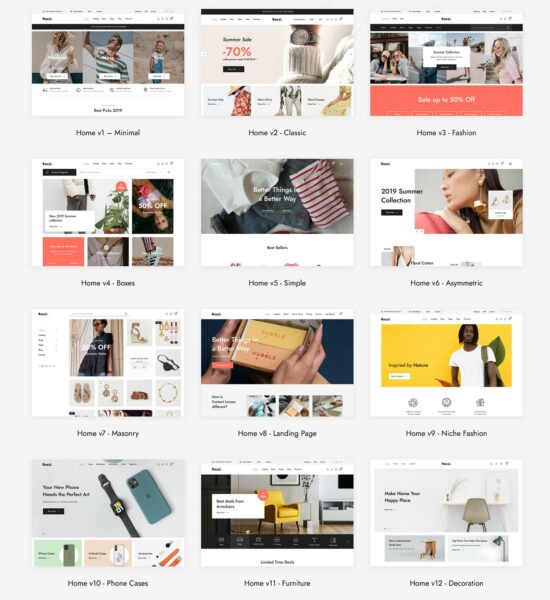 Hub
Hub is an all-in-one creator with high performance, an easy-to-use editor, unique features, and a collection of designs that have won awards. It comes with more than 60 pre-made websites, more than 600 section templates, and more than 100 pages for inside the site.
Hub is an all-in-one creator with high performance, an easy-to-use editor, unique features, and a collection of designs that have won awards. The ultimate collection, made by the best designers in the world. Import a section block that was already made with just one click, or save your own block so you can use it on other pages.
Build different section blocks to start your design phase and create unique combinations with ease. Create and customize stunning pages in minutes, visually. Large collection of elements, rich customization options, flexible layouts, and instant results.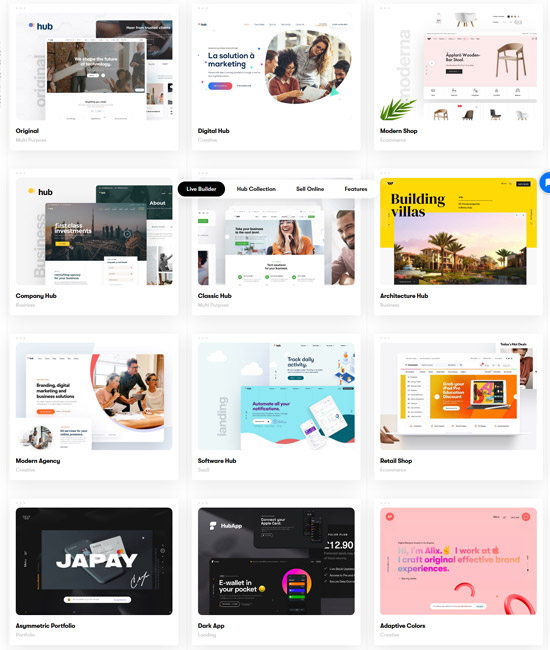 Impeka
Impeka comes with WPBakery Page Builder (Visual Composer), a visual layout builder that allows you to forget about shortcode syntax and create multiple layouts in minutes without writing a single line of code. However, there is much more to Impeka.
When paired with more than 53 carefully built pieces, Impeka's unique custom grid system—the most powerful system on the market—brings website building to a whole new level.
Impeka is also fully compatible with the Elementor page builder. Many of our lovely customers, asked us to support Elementor, maybe the most advanced frontend drag & drop page builder.
It works on the front end of your website, meaning it shows you the outcomes of your work right away in a genuine manner. Enjoy these possibilities with 50+ handcrafted elements in Impeka and no need to purchase anything else. You ask and we deliver!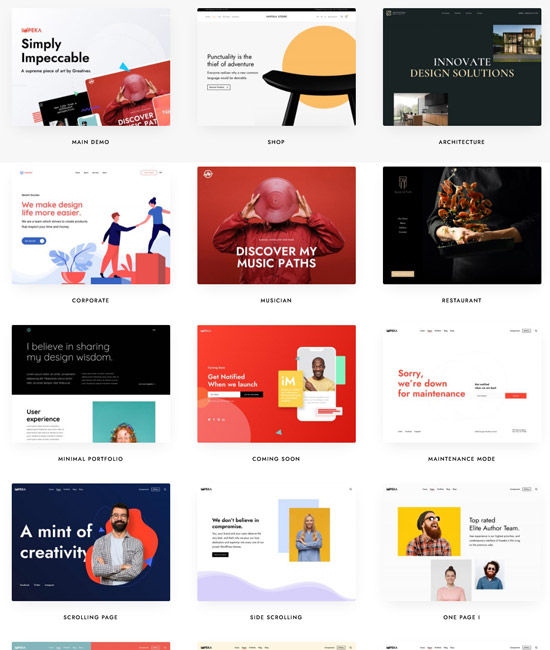 Qwery
Qwery is an innovative multi-faceted multipurpose WordPress theme with a super modern, clean and fresh design. Qwery is a set of stylish and modern skins for almost any corporate business website or blog.
It works well in professional settings like law firms, online and creative agencies, advertising and marketing services, business consulting, website design, mobile development companies, creative offices, and user experience and user interface design.
Also great for people who work with branding, style, and identity, development, coding, and technology, video production, photography, publishing services, printing, programming, app development, digital business, and project management, as well as people who run their own businesses and are unique.
The theme not only has masks for corporate business websites, but it also has pre-designed pages for retail and many types of services, like the sports and beauty industries, handyman services, medical treatment, children's treatment, education, music, and so on.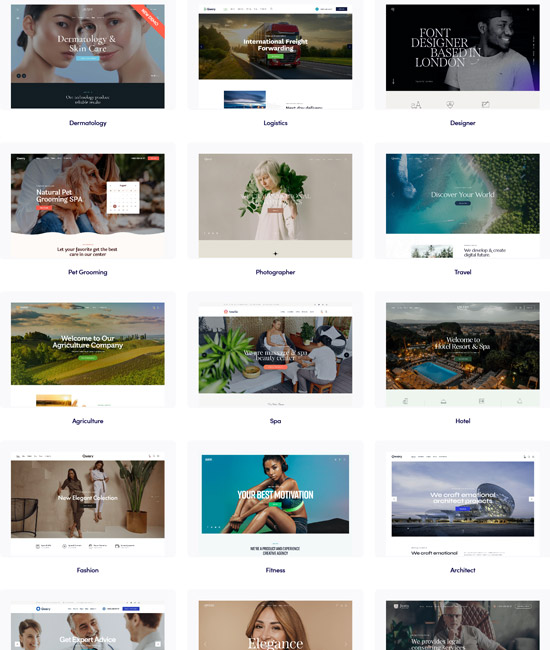 Envolve
It also suits start-up, software-as-a-service, app builder, and other technology-related business websites. In addition to this, we have used the popular Elementor page builder plugin. It allows you to control your content and layout more efficiently with less effort. Our built-in Elementor plugins will help make your work more convenient, more comfortable, and faster than the traditional method.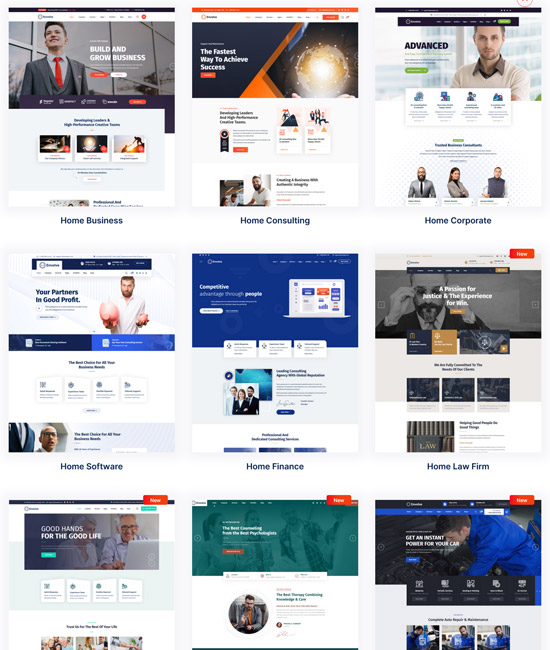 Sway
Sway offers an attractive and elegant design, perfect for a company with a modern outlook. Establishing a good first impression with your users is critical to your business website. Sway offers a solid selection of helpful options, 45+ demos created with your specific industry or niche in mind, and it's powerful enough to help any small business or corporate business.
The included WPBakery Page Builder gives you more layout flexibility and allows you to create your own layouts. You can also use more than 300 predesigned template blocks and easily swap your own images and content without having to touch a single line of code. Now you can focus your time and energy to create the right messages to engage your website audience. If your business needs a boost, the Sway WordPress theme is right for you.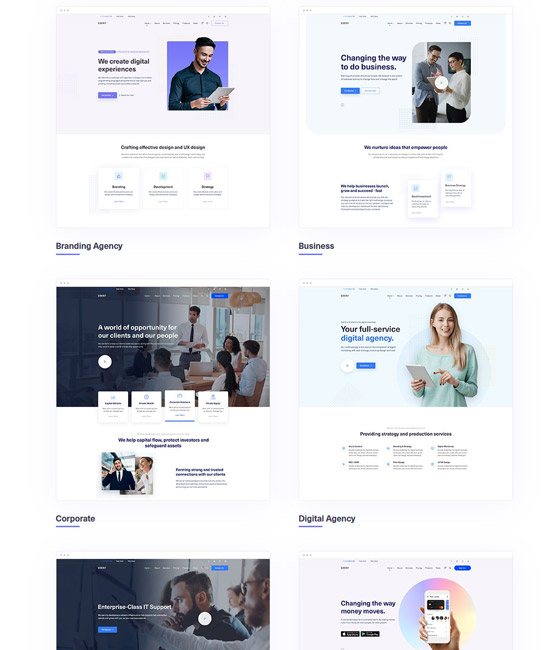 HomeID
ESSENTIAL REAL ESTATE plugin supports Global Payments, Building Market, Single Property, List Property, Single Agent etc This plugin offers fully full featured, easy customization, override design and developers always listen to user feedback to update new dynamic features build any kind of real estate website. FREE add-ons but already all PREMIUM FEATURES.
We've already made eight demos of pre-home pages, so you can get started right away. Make a website faster and easier than ever in just a few seconds. In One-Click Install Demo Data, you can import all of the demo content and set up your site so that it looks like any of our demo examples.
The easiest and quickest way to build a website, import pages with just one click, and get it online. Make a website faster and easier than ever in just a few seconds. With one click, you can import all of the demo content and set up your site to look like any of our demo samples.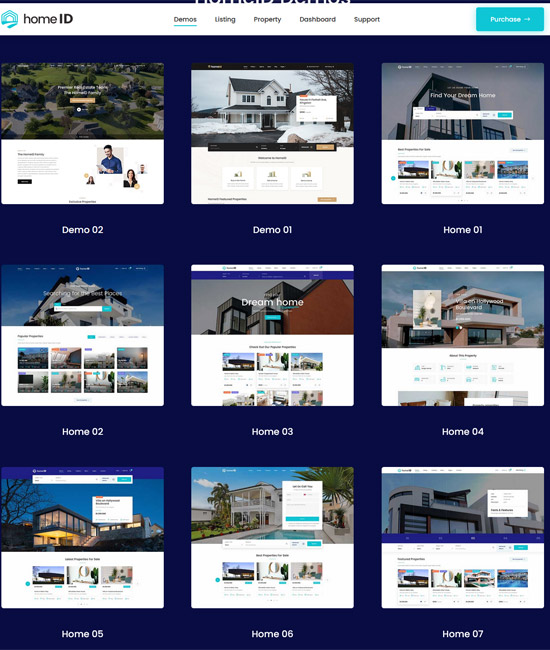 Braintech
The Braintech Technology & IT Solutions WordPress theme is a cutting edge technology and creative IT theme. Using this theme, anyone can create IT services / software, any business, applications, SaaS, data center, data mining, etc. It comes with 24 pre-built modern design landing pages and many amazing built-in internal pages such as services, portfolios, About, Contact, FAQ, multiple blog layouts, etc.
We also use the world's leading WordPress page builder – Elementor Page Builder. It's time for a live page builder, with no design limits. A page builder that offers high-end page layouts and advanced capabilities, never seen before in WordPress. By using this theme, anyone can create their own website.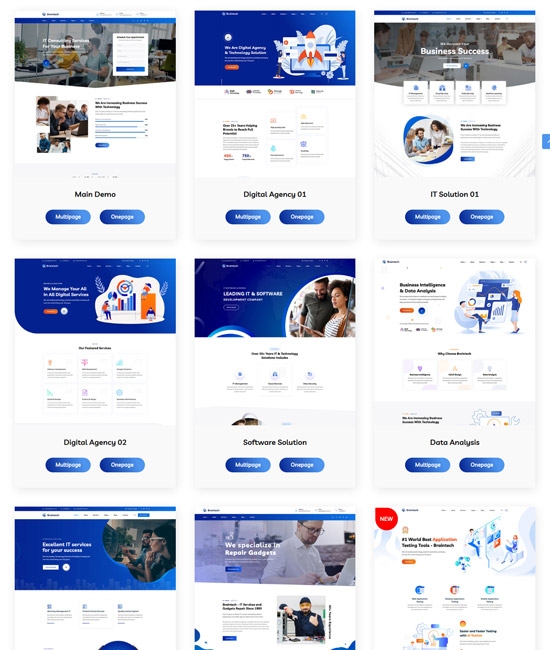 Brikk
Brikk is a listing and directory theme suitable for any business such as reservations, restaurants, venues, events, job listings, classifieds, reservations, rentals, hourly reservations, experiences, and more. It will help you manage and monetize any listing and directory site!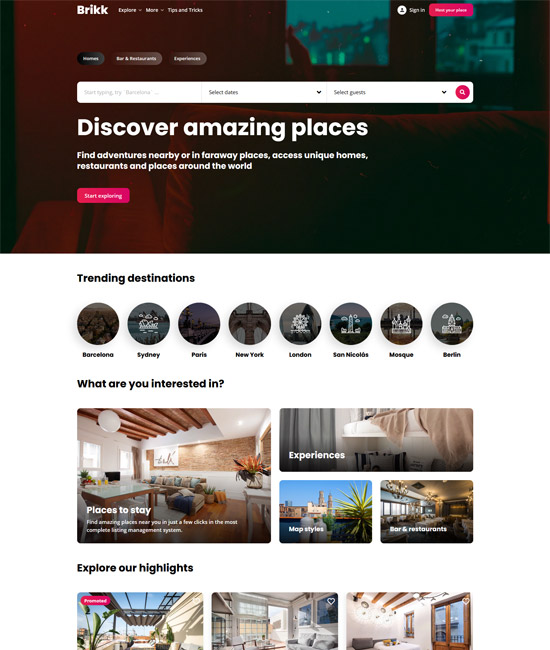 Anymag
Avo is a perfect WordPress Portfolio theme for modeling startups, design studios, and creative agencies. Responsive based on Bootstrap. All files and code have been well organized and well commented for easy customization.
Header and Footer Generator – No limit on headers and footers, you will be able to create an interactive header and footer design through Elementor with the elements like logo, menus, contacts, buttons, lists and other elements interactive that we create. To make it even easier for you, the predefined headings can be included in the template library with one click for the entire site or for each page / post.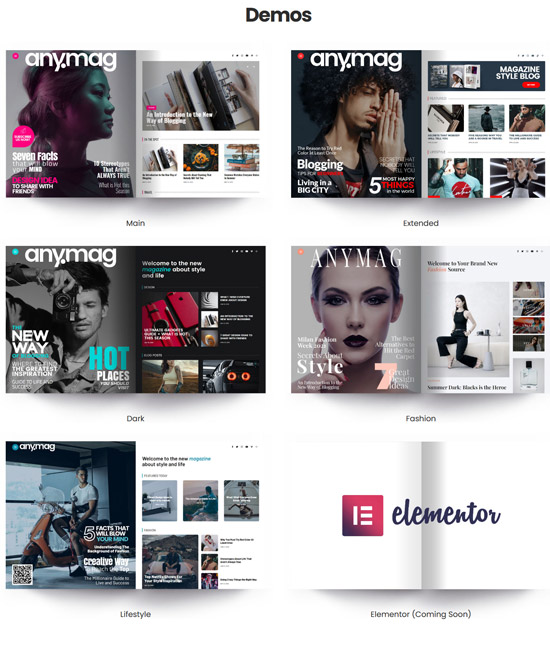 Vikinger
BuddyPress Powered Social Community We leveraged and expanded the Buddypress plugin with reactions, actions, media, and much more. Amazing Gamification with Gamipress We created a complete gamification experience with badges, missions, credits and ranks to create an incredible experience. Super detailed design elements and pages All pages are carefully designed to fit anything you might need.
We created a super complete profile page with a sleek layout, charts and a slider for easy access to all profile sections like: about, pictures, unlocked badges, completed missions, posts and more You will also find other community pages such as newsfeed, full profile settings, member and group directory, and more.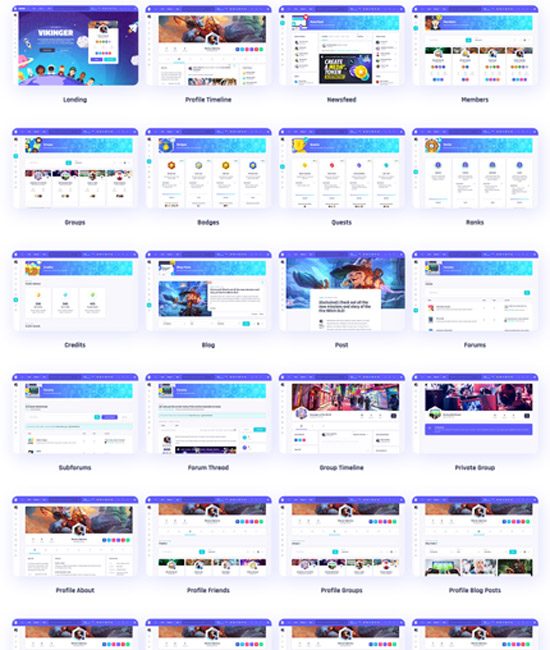 More info / download Demo
Nifty
This modern and original WP theme is everything you need for your business.  The nifty WordPress theme for business and consulting services is responsive and retina-ready. This versatile business consulting theme includes a number of out-of-the-box internal pages, but you can also easily create your own with the quick Bold page builder.
The highly rated and customizable Bold Themes Cost Calculator plugin comes free with this theme. It is one of the best selling calculator plugins with many predefined examples. This WordPress theme also includes the useful Bold Timeline Lite, a free WordPress plugin that is very easy to use.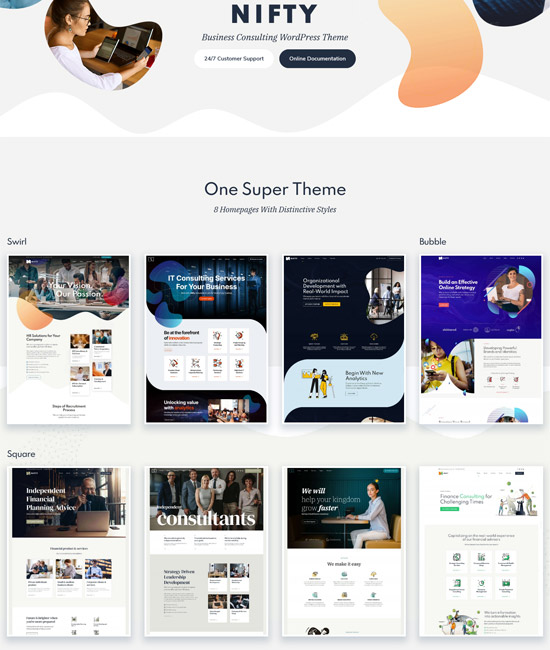 The7
The7 features full and seamless integration with WPBakery Page Builder (formerly Visual Composer) and Ultimate Addons. Most of our buyers agree that The7 is the best theme to use with these plugins – updated! Its 1000+ theme options allow you to create almost any design imaginable. And the Design Wizard feature lets you create a boutique-level website design in just a few minutes.
Both the wizard and advanced theme options can work in old-school backend editing modes and similar to the visual WP theme customizer.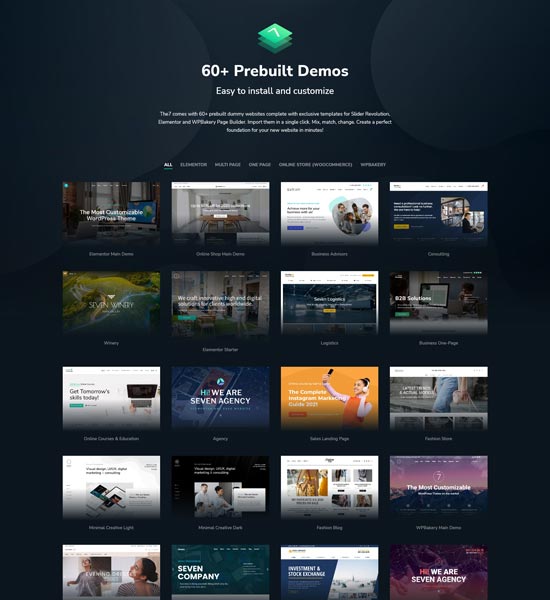 Betheme
Because Betheme comes with a number of demo websites that are already built, importing any demo website is as easy as clicking a button and taking a few seconds.D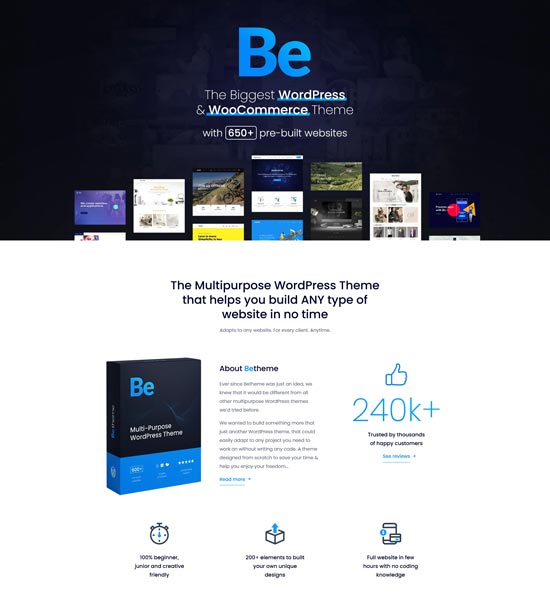 Phlox Pro
Phlox is the best multipurpose Elementor theme you have ever seen. It has more than 80 demos of Compelete Elementor that you can simply import and edit in Elementor. Have your site the way you want, even more customizable with elementor page builder than any customizable WordPress theme available in the market, there are 160 elements available for Elementor and there are options for everything, you have full control over any pixel on your website . Phlox has over 90 Elementor templates.