An author's online presence is crucial for connecting with readers, promoting their work, and establishing a personal brand. A well-designed website can serve as a virtual hub for all things related to an author's books, making it essential to choose a website template that reflects the essence of their literary creations. In this blog post, we'll explore the world of book-themed website templates, discussing their benefits, features, and how they can be used to create a compelling online platform for authors.
In this collection we have pick best html5 book website templates are clean responsive HTML5 & CSS3 design template suitable for publishing book, book stores, libraries, book shops, digital products, ebooks, software apps or similar websites that needs a feature rich yet beautiful presence online. It is created by using HTML5, with a responsive design which makes it a perfect fit for all devices.
Wonted
Wonted (Book & Author React Template): A single-page template designed for book authors and those seeking to promote their books to a wide audience. Created using modern technologies including React, React-Router-Dom, React-Bootstrap, and SASS, this template offers a fully responsive design for various devices. Its aesthetic is characterized by a clean and contemporary appearance.
The template serves multiple purposes, tailored to both book showcasing and author portfolio creation. Notably, it facilitates the presentation and sale of books and eBooks, while also accommodating other forms of content like audiobooks, podcasts, videos, and portfolios for different fields.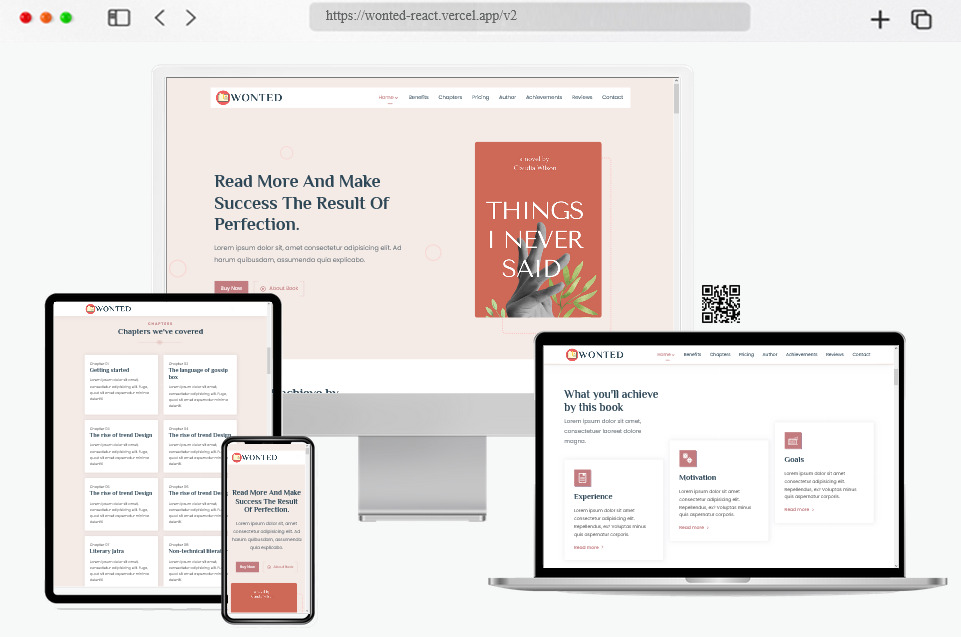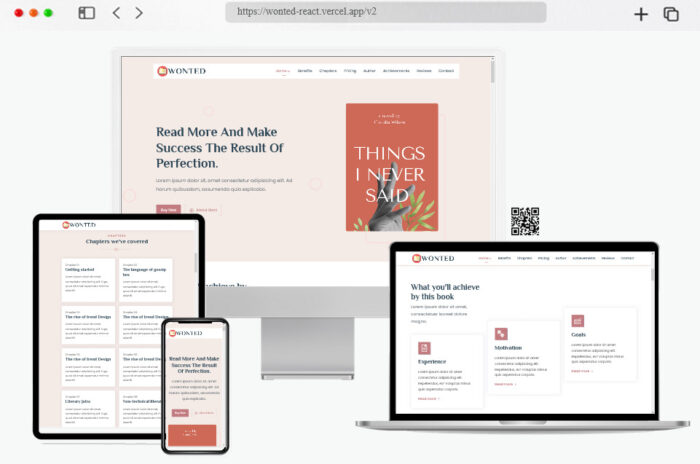 More info / download Demo
Bookland
Bookland is a contemporary E-commerce Bootstrap 5 HTML Template tailored for online bookstores. It offers a visually engaging design, responsive layout, and e-commerce functionality. With various page templates, interactive search, and filtering options, it provides a seamless shopping experience. The template features sections for featured books, author profiles, and book categories. Customers can leave reviews and ratings, and the checkout process is user-friendly. "Bookland" bridges the gap between a bookstore's passion for books and a compelling online platform.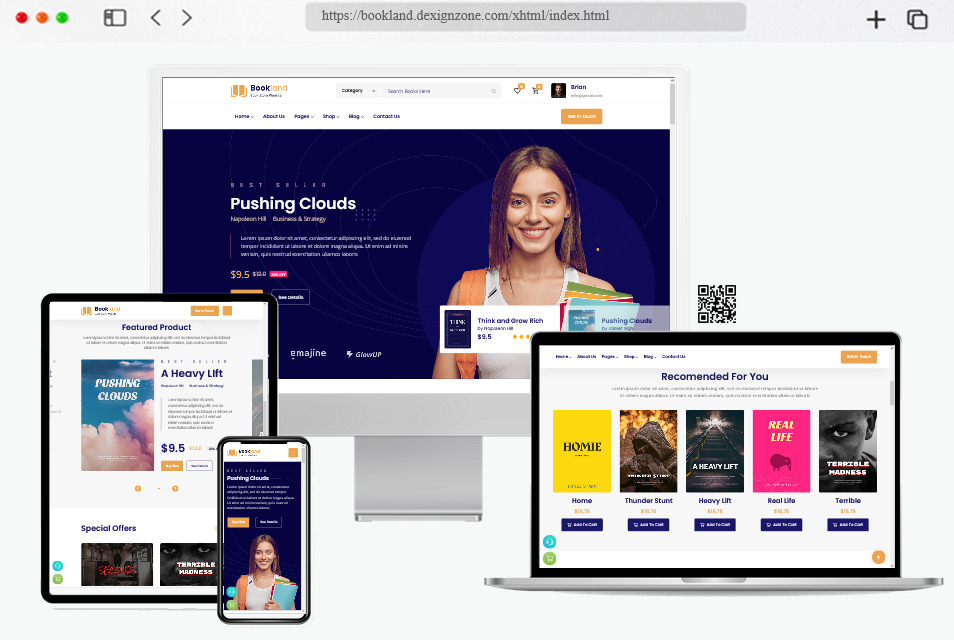 More info / download Demo
Bookhunt
BookHunt is a visually appealing one-page template designed for landing pages, and it is responsive with HTML5 Bootstrap React integration. Catering to the reading business, it's an excellent option for showcasing and selling books or eBooks. Given the rising trend in e-books, "BookHunt" is uniquely crafted to provide the necessary publicity and promotion for these digital offerings.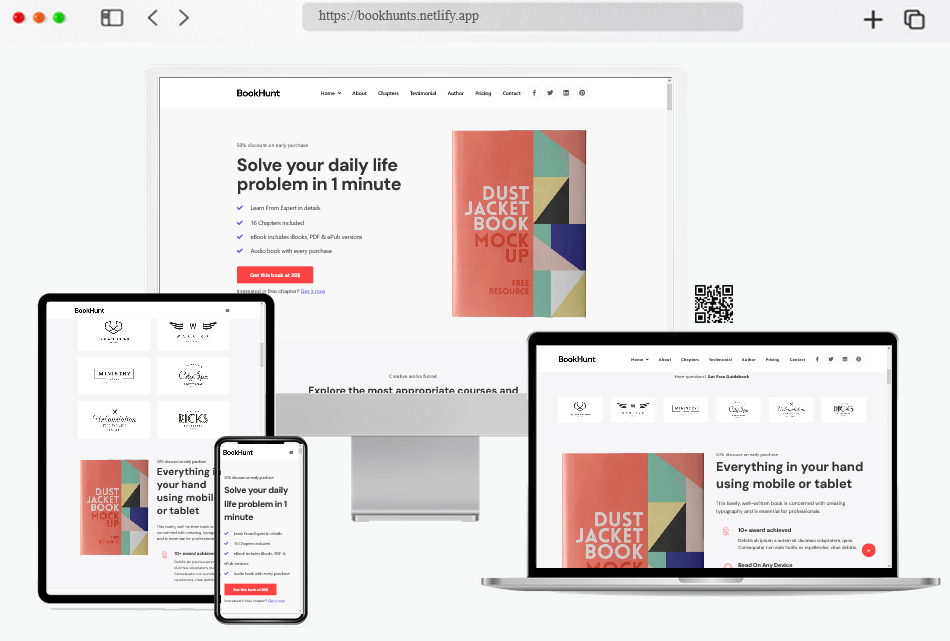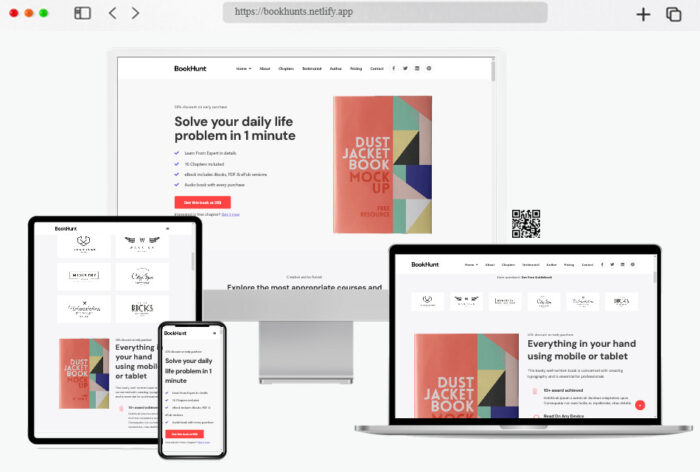 More info / download Demo
eBooki
eBooki is a dedicated Author Book Marketing Template designed for effectively showcasing and selling books or eBooks. Ideal for ebook promotion, marketing, product landing, author profiles, and book marketplaces, it responds to the growing trend of e-commerce shifting towards e-books, ensuring these digital offerings receive the necessary visibility and promotion.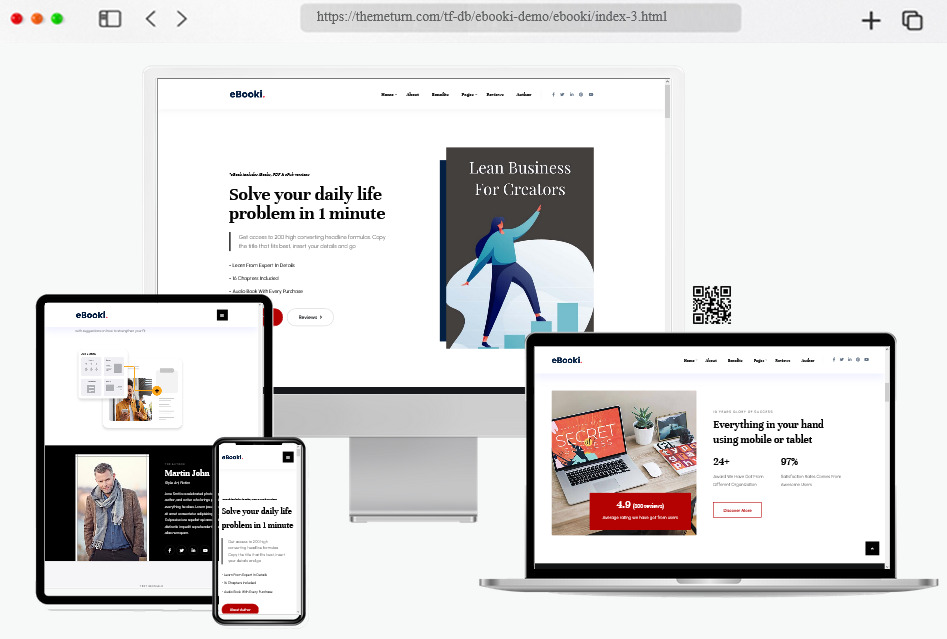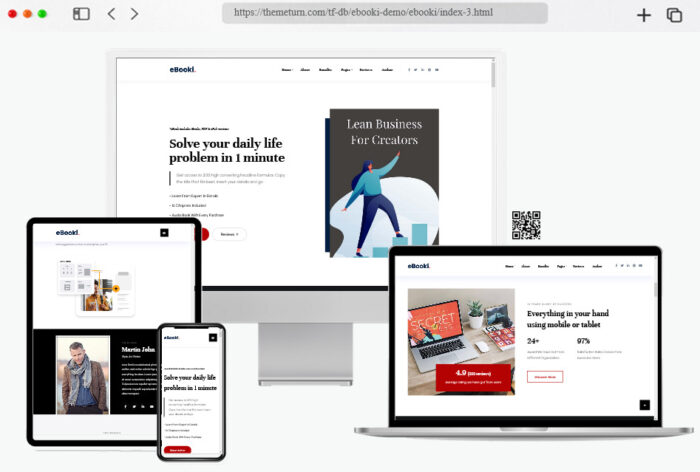 More info / download Demo
Pustok
Pustok is a sophisticated Books Store HTML Template designed for eCommerce sites catering to Books, Stationary, Magazines, Arts & Photography, and more. It boasts a clean design, striking color palette, and a suite of features to revolutionize the online bookshop sector. Offering 41+ HTML pages—including multiple versions for home, shop, product variations, and blogs—it provides flexibility for diverse needs. Built on HTML5, Bootstrap 5, Sass, and Css with W3 Validate Markup, "Pustok" ensures responsiveness, easy customization, and SEO optimization.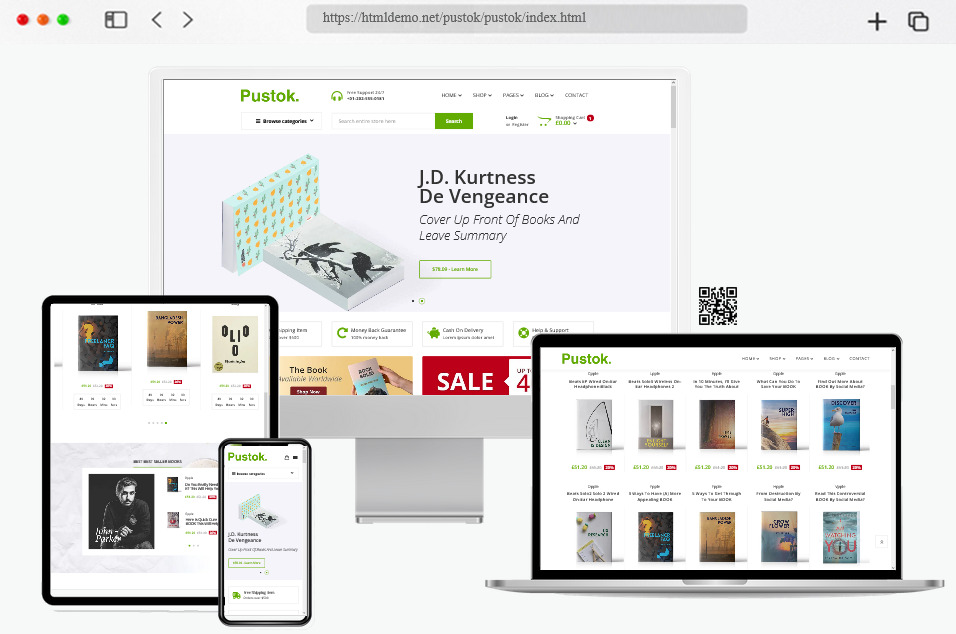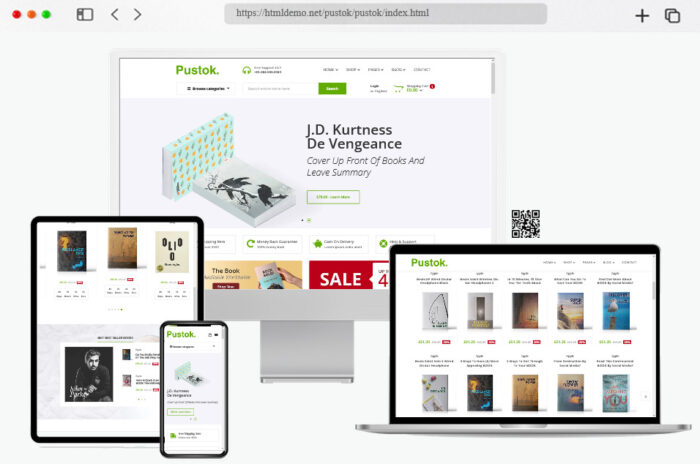 More info / download Demo
Koparion
Koparion is a user-friendly Books Store HTML5 Website Template characterized by its cleanliness and responsiveness. Built upon the HTML5 framework, it's specifically tailored for book-related businesses like bookstores, bookshops, collections, eBooks, and audio-books.
With "Koparion," you can establish a feature-rich and visually appealing online presence. The template offers 6 distinct Home Versions and a total of 18+ HTML pages. It grants the option to seamlessly toggle between shop grid view and shop list view for enhanced user experience.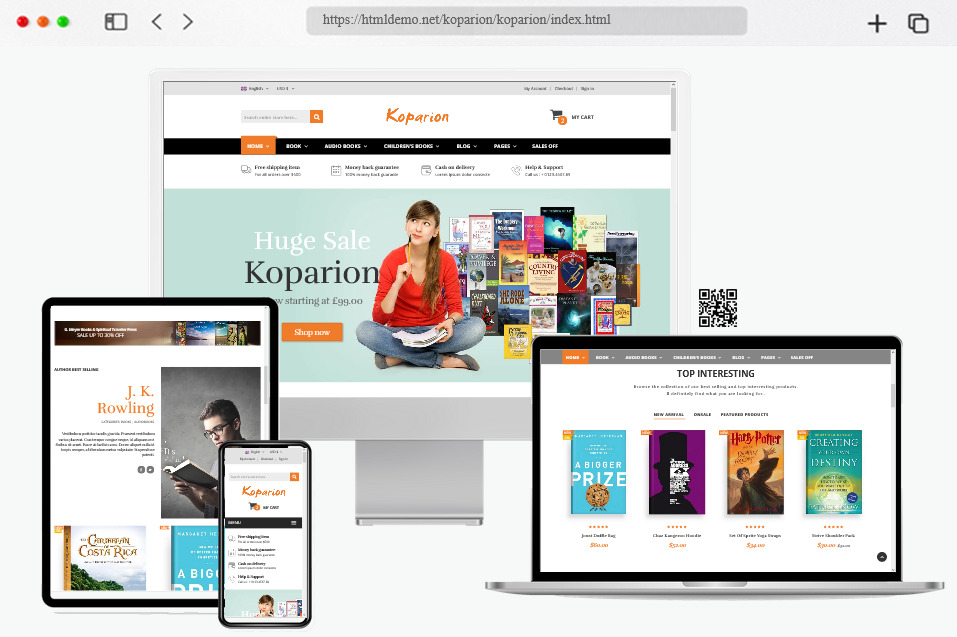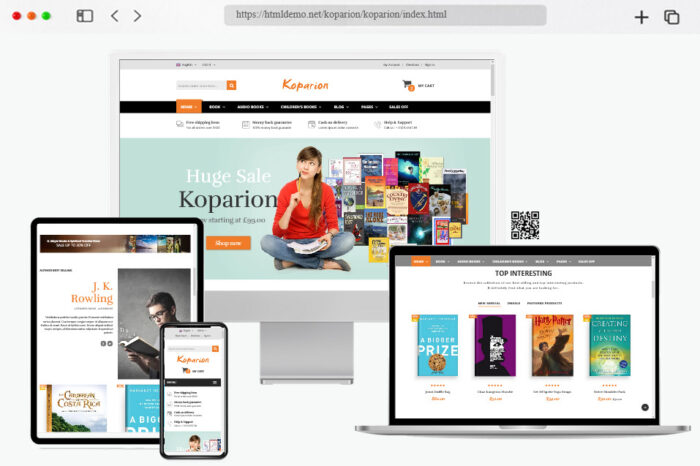 More info / download Demo
Boighor
Boighor is a streamlined Books Store Library eCommerce Template, characterized by its neat, clean, and simple design. Built with HTML5 and powered by Bootstrap 5, this template is an ideal choice for eCommerce projects. It boasts full responsiveness, ensuring a polished appearance on various screens and devices.
Featuring 3 unique homepages, including a box layout, "Boighor" encompasses a total of 25 HTML pages. The template is highly customizable, offering an array of features such as Mega Menu, Drop-down Menu, Sticky Menu, Mobile Menu, Owl Carousel Slider, Smooth Animations, Google Fonts, Subscription Form, Working Contact Form, Social Icons, and more. "Boighor" is well-organized, commented, and documented for ease of use.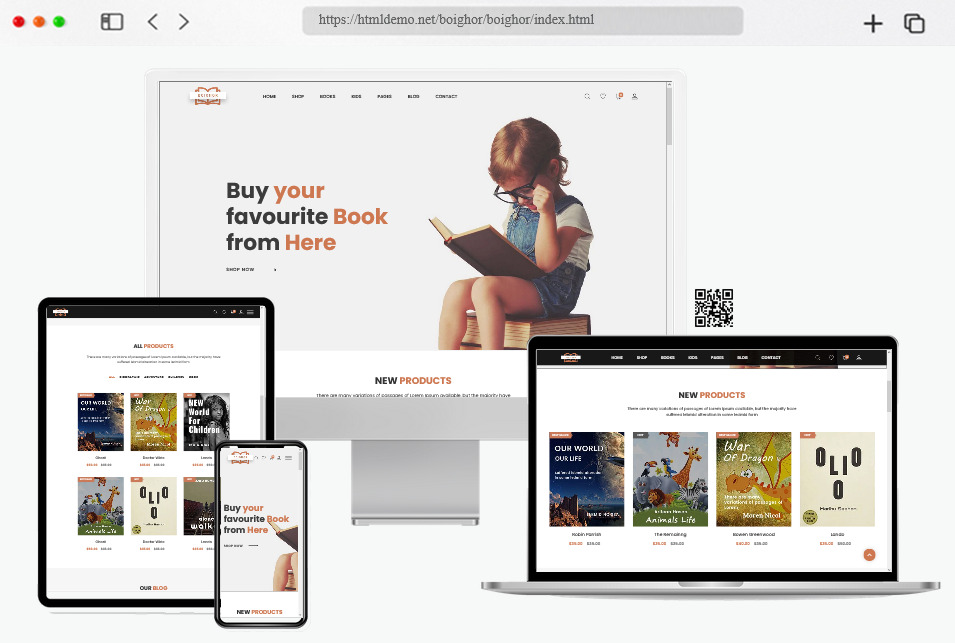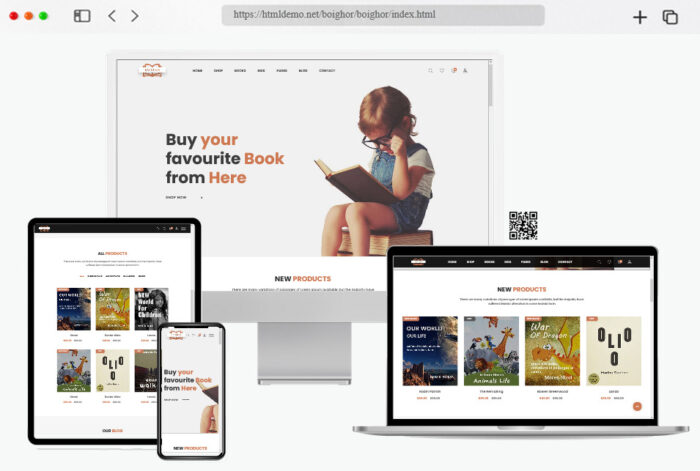 More info / download Demo
Bookworm
Bookworm HTML is a meticulously crafted and well-coded HTML Bootstrap Template, created to cater to the comprehensive requirements of a Book Store. It offers various sections such as book lists, book details, author pages, shop pages, and a blog. This versatile template is designed to be highly customizable and serves as an ideal platform for building your Bookstore website.
Comprising a total of 48 HTML pages, "Bookworm HTML" is constructed using Bootstrap 4, ensuring ease of editing and customization. With its flexibility and adaptability, this template is the perfect solution for creating unique web projects tailored to your specific needs. Whether you're looking to showcase books, authors, or run an online bookstore, "Bookworm HTML" offers a robust foundation for your web development endeavors.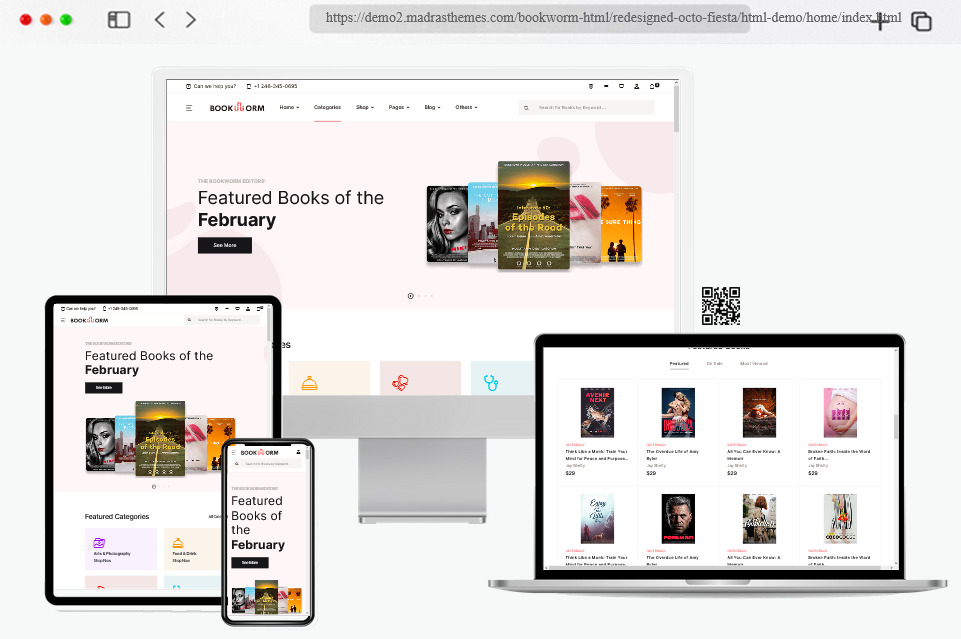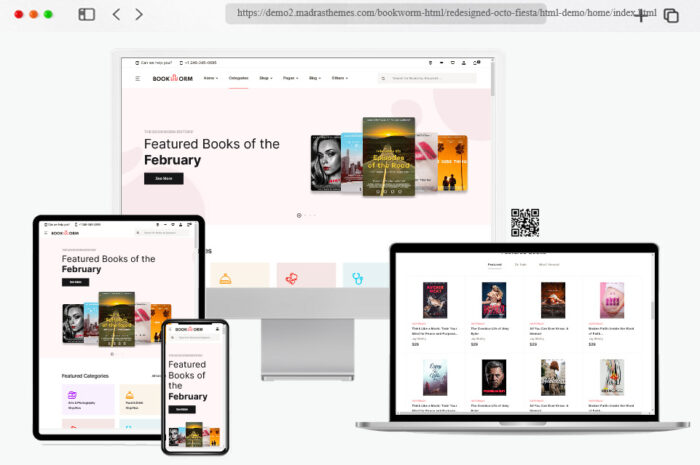 More info / download Demo