There's nothing quite like the smell of freshly baked cake in the morning. Whether you're running a small home-based bakery or a large commercial operation, having a high-quality cake shop or bakery WordPress theme is essential. With so many different themes to choose from, it can be hard to know where to start. Here are four of the best cake shop and bakery WordPress themes to help you get started.
No matter what type of cake shop or bakery you're running, there's a cake shops WordPress themes out there that's perfect for you. With so many great options to choose from, you're sure to find the perfect theme to help you take your business to the next level.
Glacé
Glacé is a theme designed specifically for modern ice cream shop, parlor, and candy store websites. It includes an exquisite collection of sweet shop, cake shop, and confectionery layouts as well as templates for showcasing your chocolate, pastry, donut, cupcake, or waffle business.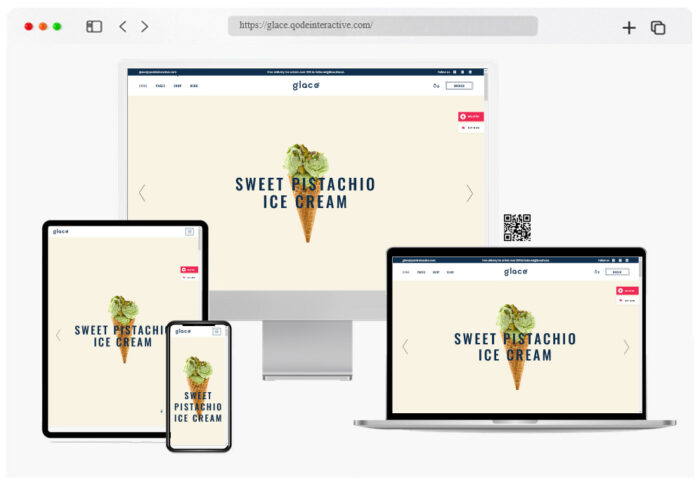 More info / download Demo
Xocora
Xocora is a cake and bakery WordPress theme for restaurants, cafes and any bakery business website. This theme has been build with many features such as search engines optimization, retina ready, drop page builder included. Xocora also comes with slider revolution which gives you many professional looking slideshows with great visual effects allowing you to show off your best content in an eye-catching manner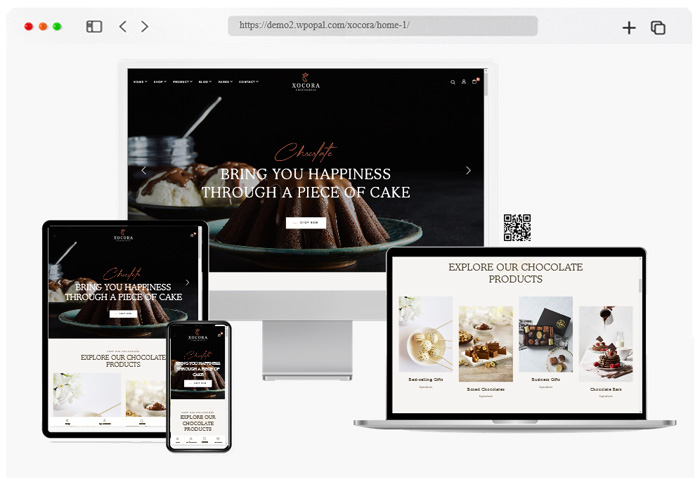 More info / download Demo
Bakerfresh
Bakerfresh is a premium WordPress theme with bakery and cake shop features. It's the ultimate WordPress theme to build your restaurant website with powerful features such as slider revolution, search engines optimized, seo friendly including page templates, page layouts, contact form and video tutorials. Use it for creating your bakery business website or pastry cafe website quickly.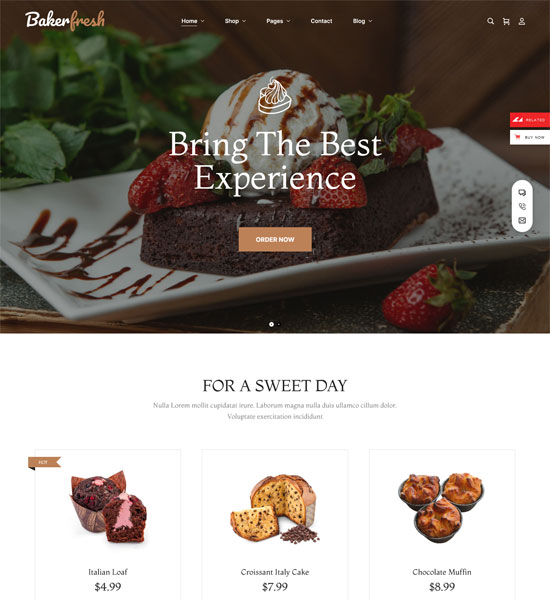 More info / download Demo
Swiss Delight
Swiss Delight is a modern, clean and fully responsive Premium WordPress Theme. It is ideal for bakeries and cafes that want to showcase their delicious baked goods and build trust with their customers. It comes with lots of built-in features, including a responsive slider, dropdown menu and tasty parallax backgrounds. The theme is SEO-friendly and brings you traffic from search engines like Google, Bing or Yahoo!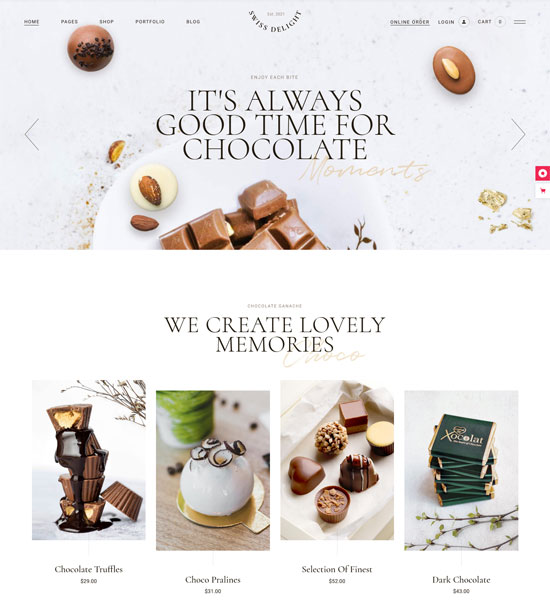 More info / download Demo
Crems
Crems is a fancy sweet & pastry WordPress theme specially created for chocolate company, pastry shop, conditioner, bakery and restaurants and others. The theme includes all the necessary WooCommerce ready online store pages.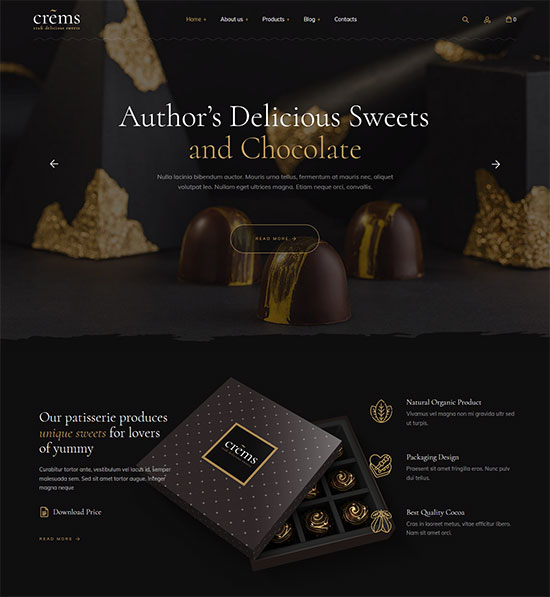 More info / download Demo
Porus
Porus is a premium WordPress theme designed for bakeries, patisseries, and other food-related businesses. It prides itself on being incredibly easy to use and powerful through its advanced options that allow you to create a professional and impressive website without any coding knowledge.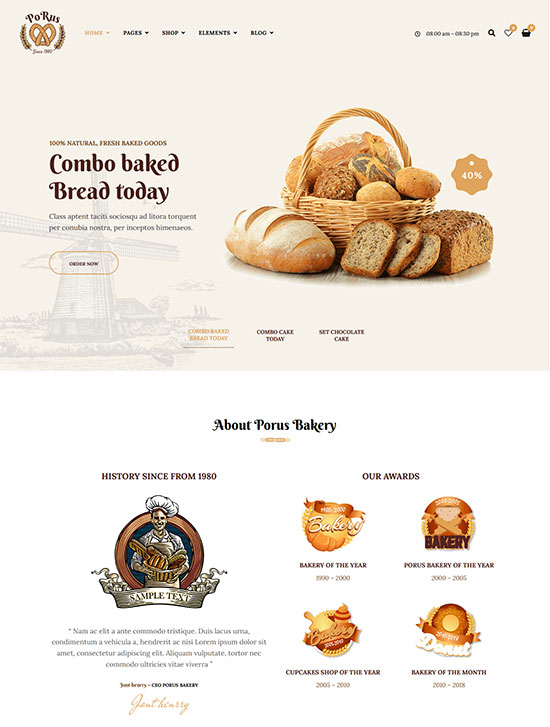 More info / download Demo
Panadería
Panadería is filled to the brim with a variety of flexible bakery layouts and captivating yet practical elements. Get Panadería now and create the tastiest bakery website you can find online.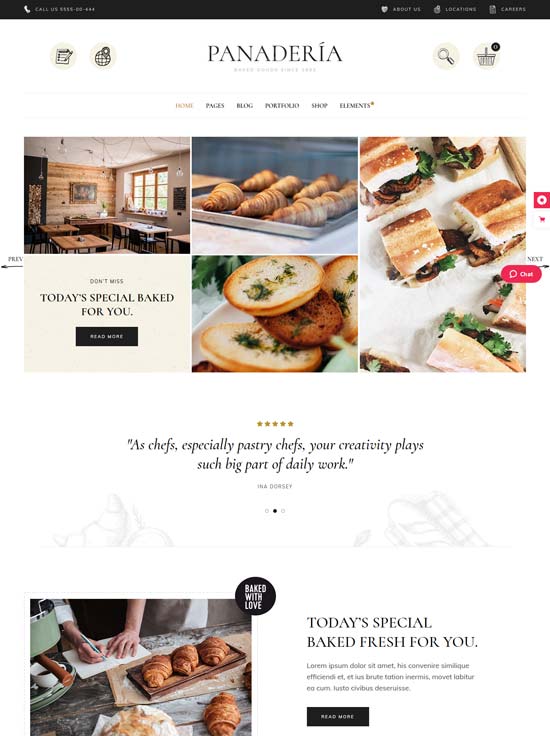 More info / download Demo
Sweet Jane
It also comes with over 25 great portfolio styles so you can show off your cakes and cakes in detail. The WooCommerce plugin can be used with Sweet Jane. It's a real treat to show off all of your treats, cakes, and pastries, as well as your beautiful space.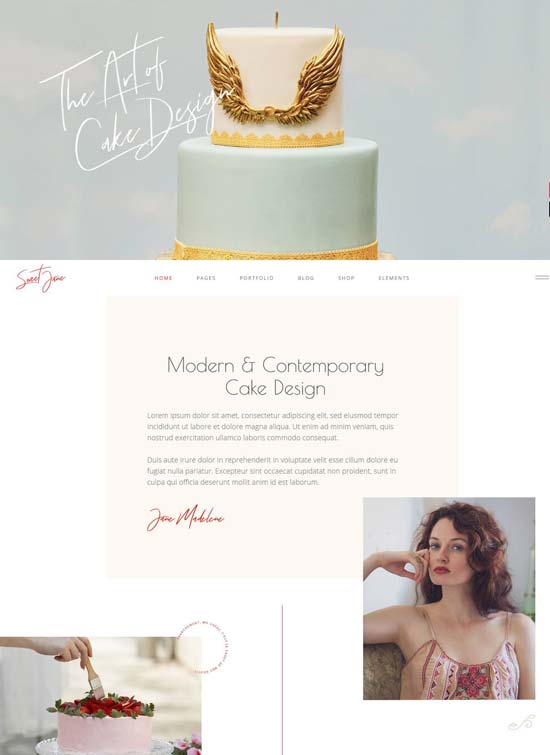 More info / download Demo
Cakecious
Cakecious Cake WordPress Theme is specially designed for bakery, ice cream, chocolate, shakes, dairy products and other similar activities. Cakecious theme has a beautiful and unique design that will best suit your web presence. This theme contains features needed for your online presence, such as the conversion-focused homepage, blog, testimonials, product description page, and more.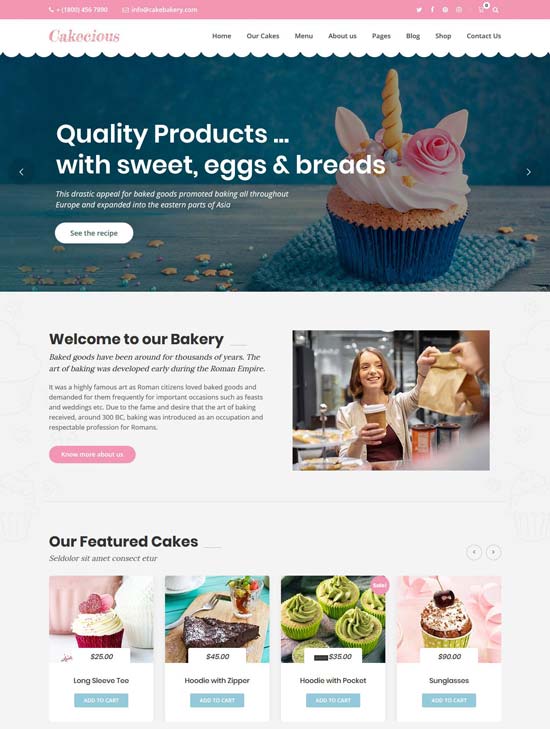 More info / download Demo
Sweet Mielo
This is a Responsive WordPress Theme for Restaurants, Cafes & Bakeries. It is a clean, modern and fully responsive WordPress theme that can be used in any type of website. This theme is designed from the ground up with usability and coding best practices in mind. It uses FontAwesome icons, CSS3 animations and transitions, 5 different sliders and a lot more!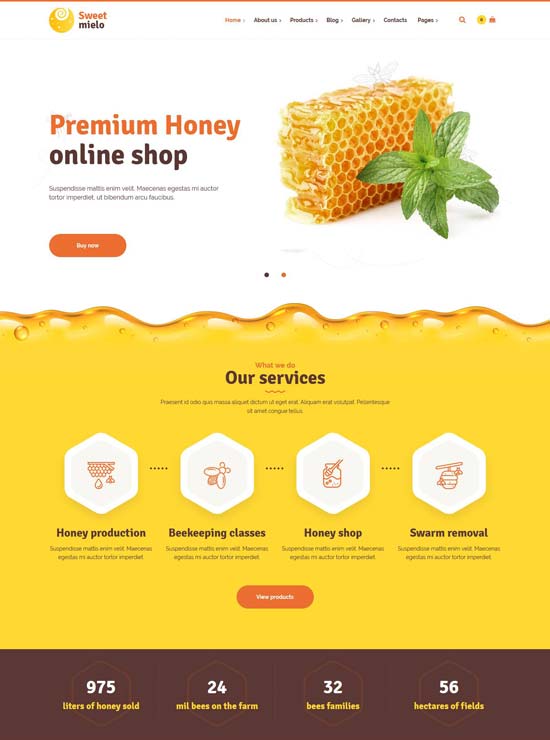 More info / download Demo
Dolcino
Welcome to heaven on earth! Dolcino is a dream WordPress theme for anyone in the sweets business. It was made with care for any bakery, pastry shop, candy store, or chocolate shop. This theme is great for showing off cakes and other sweets of all kinds.
It comes with 9 elegant home pages and a large number of interior pages. If you have a sweets shop or know a lot about candy and chocolate, you don't need to look any further. Dolcino has something for everyone, and it was made to make all food lovers happy.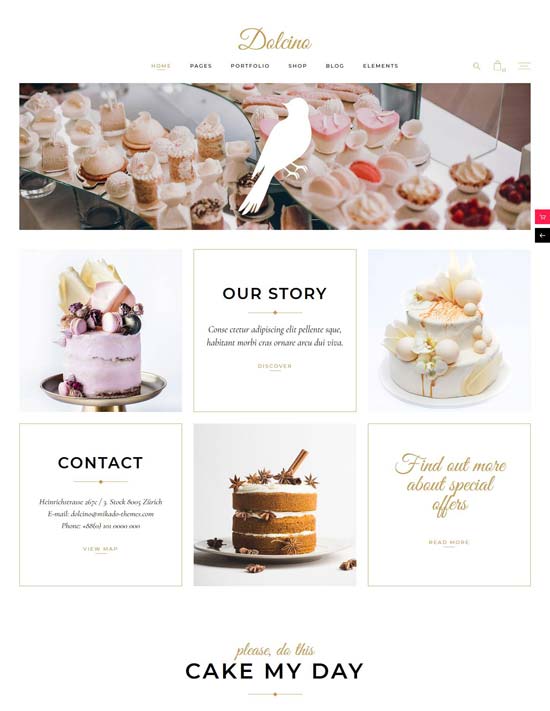 More info / download Demo
Bellaria
Bellaria is a unique, flexible and very powerful WordPress theme, suitable for cream shop websites. We have developed this comprehensive theme to offer everything you are looking for on a website. This theme offers many possibilities that will help you to easily create a beautiful, beautiful and unique website. Bellaria is a premium WordPress theme for cakes, bakeries and cafes, tailored to your needs and the expectations of your customers.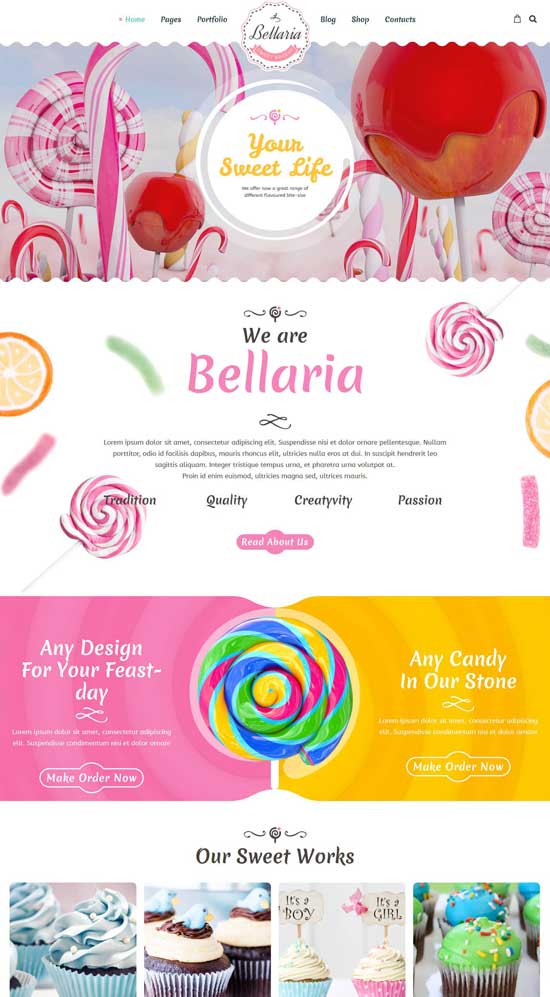 Demo More info / download
Ohlala
Ohlala is a WordPress theme exclusively designed for ice cream producers, cookie shops, candy shops, beauty salons or juice bars. It is fully responsive, ready for the retina and easy to customize. Ohlala elegantly responds to different screen sizes and has been tested to work on all devices, from the largest desktop to modern smartphones.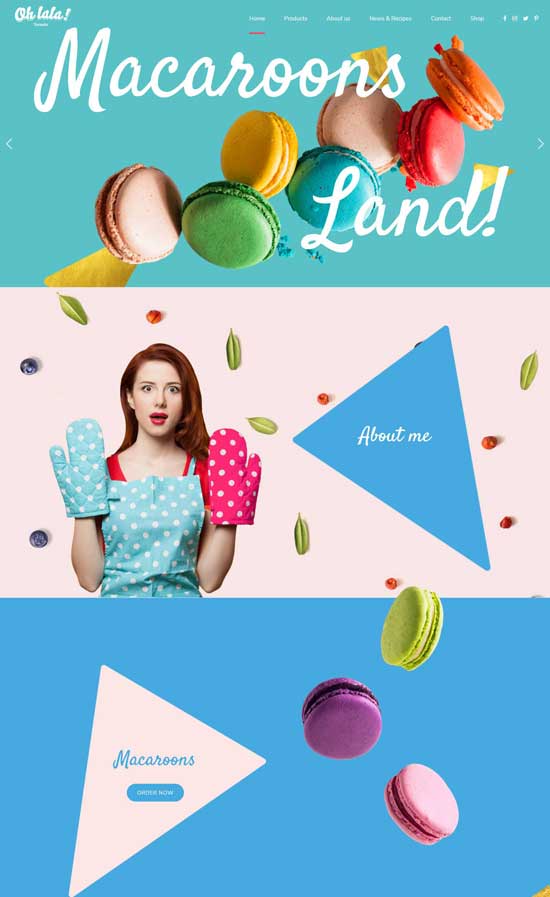 Demo More info / download
Bakery
This theme is perfect for large-scale bakeries or cake shops. It includes a powerful online ordering system, a beautiful product gallery, and a host of other advanced features.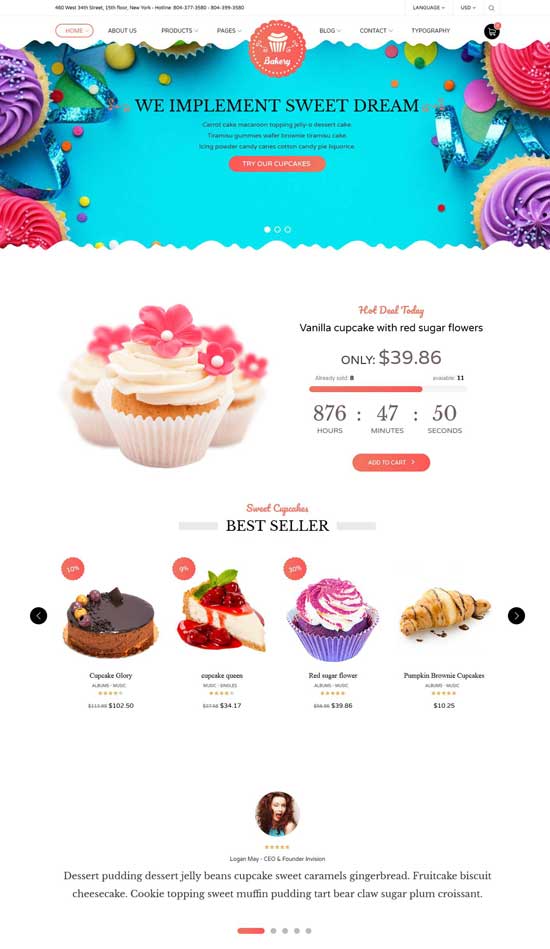 Demo More info / download
Sweet Tooth
Sweettooth: Sweettooth is a unique and modern WordPress theme for bakeries and cake shops. It includes a sleek, responsive design, a beautiful product grid layout, and a powerful eCommerce system.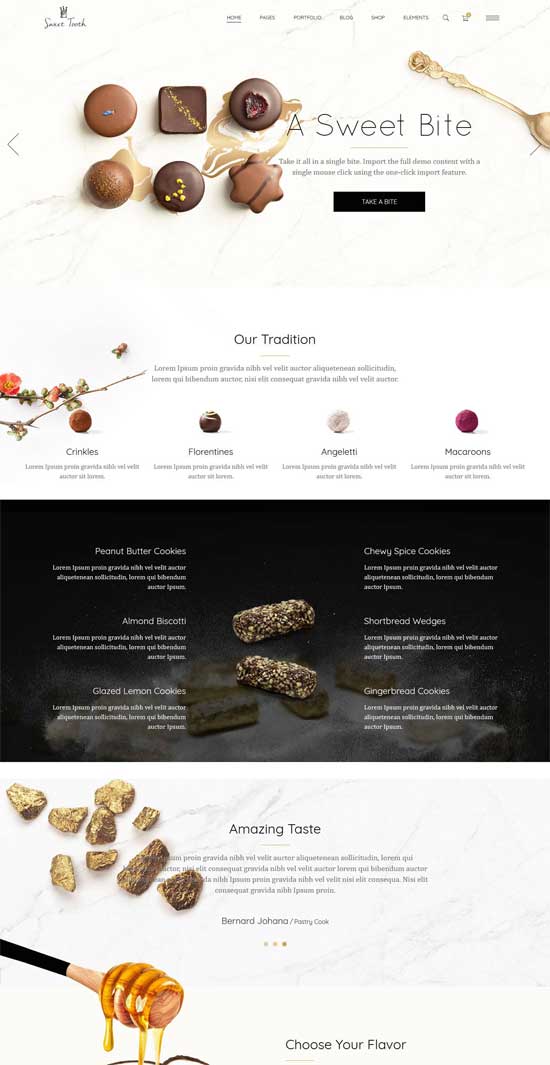 Demo More info / download
Cakeryshop
If you're looking for a more sophisticated cake shop theme, Cake Shop is a great option. It includes a stunning homepage slider, an attractive product grid layout, and a host of other premium features.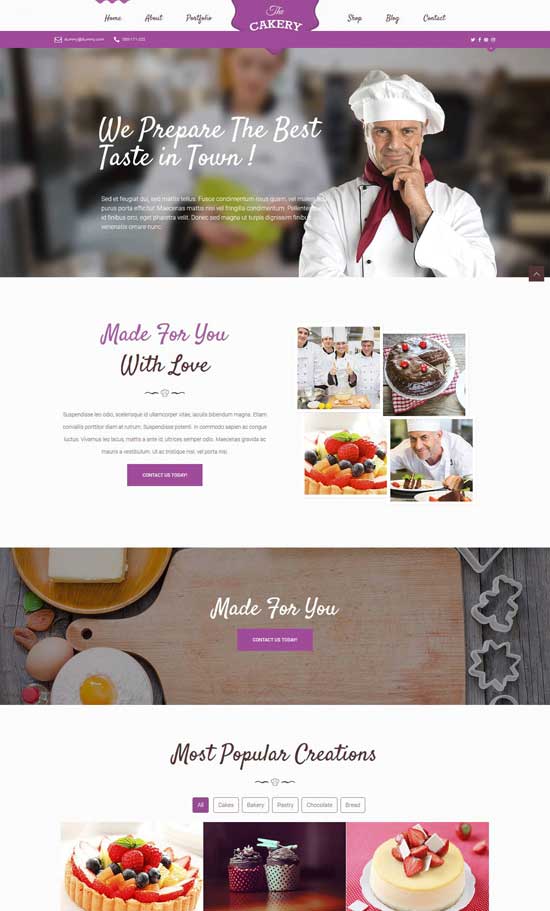 Demo More info / download
Sweet Dessert
Sweet Dessert is a modern, responsive, clean and colorful WordPress theme designed for confectionery companies, bakeries, food service establishments, catering agencies, and more. The model is also an ideal solution for delivery services or for any type of coffee or business restaurant.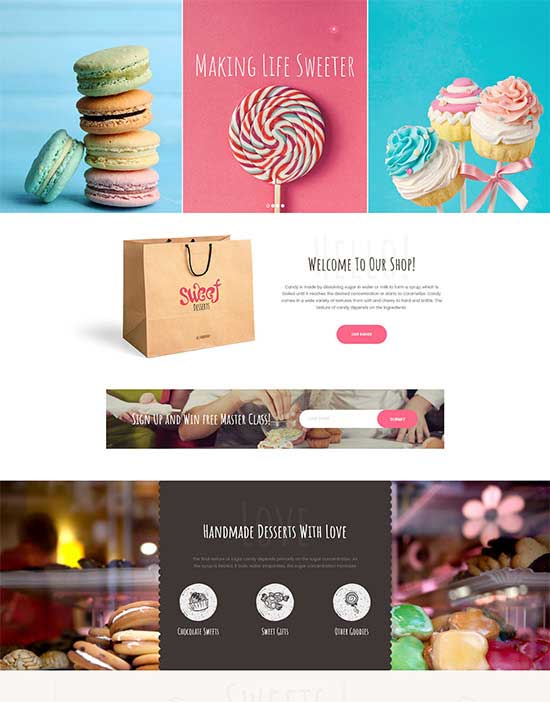 More info / download Demo
Fantastic Bakery
Bakery is a premium WordPress theme designed for bakeries, bakeries and other food businesses, with more than 2,000 active users worldwide. It is proud to be incredibly easy to use and powerful thanks to its advanced options that allow you to create a professional and superb website without any coding knowledge.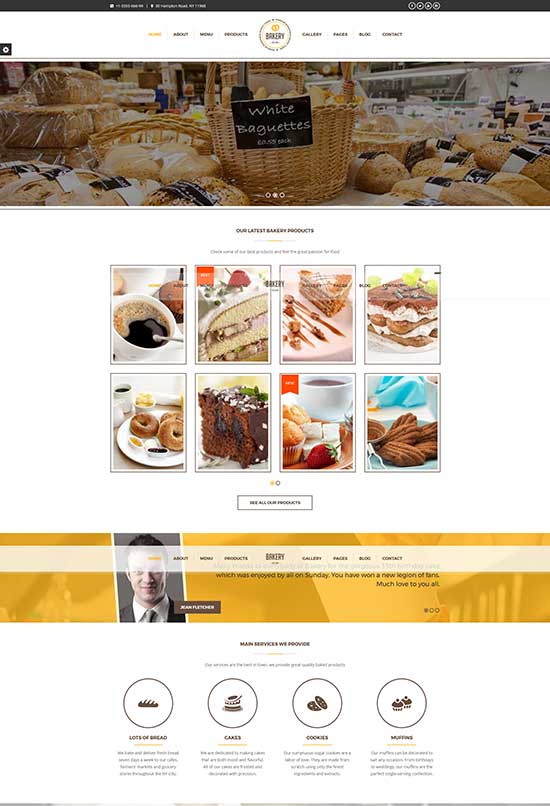 More info / download Demo
Justshop
JustShoppe Beautiful WordPress and Woocommerce theme for cake, food and other companies. Justshoppe is the ultimate theme of WordPress cake shopping designed for WooCommerce. Built with the powerful and popular Elementor page builder, featuring many custom Elementor modules, Justshoppe can be customized to your specific needs with incredible ease. You'll truly discover this end-user-driven coding and design that is the "icing on the cake" of this WordPress shopping theme for bakeries, bakeries, food and beverage companies, and similar businesses. .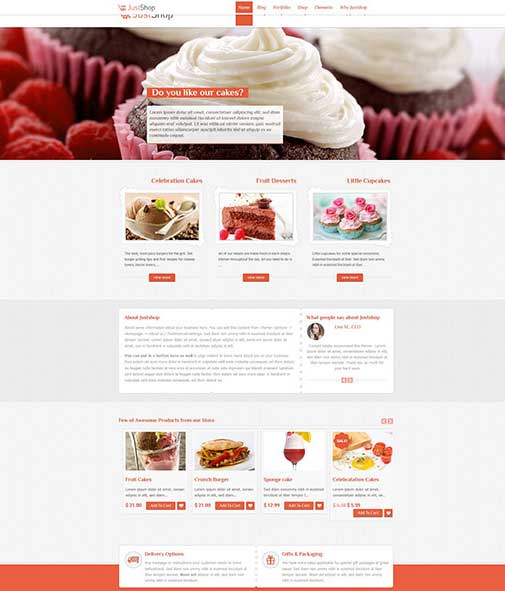 More info / download Demo
Fable
Fable is a premium wordpress theme, designed for food, bakery, cafe, pub & restaurant websites.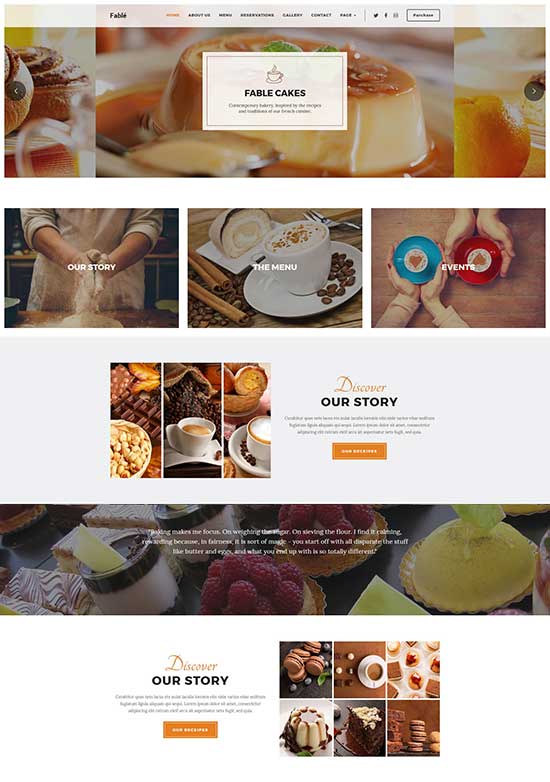 More info / download Demo
Baker
Baker is perfect for any bakery, pastry shop, or pastry shop. This modern theme has a nice collection of interior pages and 12 tasty homepages. It also has an amazing set of portfolio, shop, and blog templates to help you show off your sweet products in detail.
Baker is good for a food blog or any kind of online store that sells sweets, cookies, or cakes. Baker is made to fit your needs and doesn't require you to know how to code. So it's easy for you to make a great website right now! Get Baker and share the sweet ideas with others!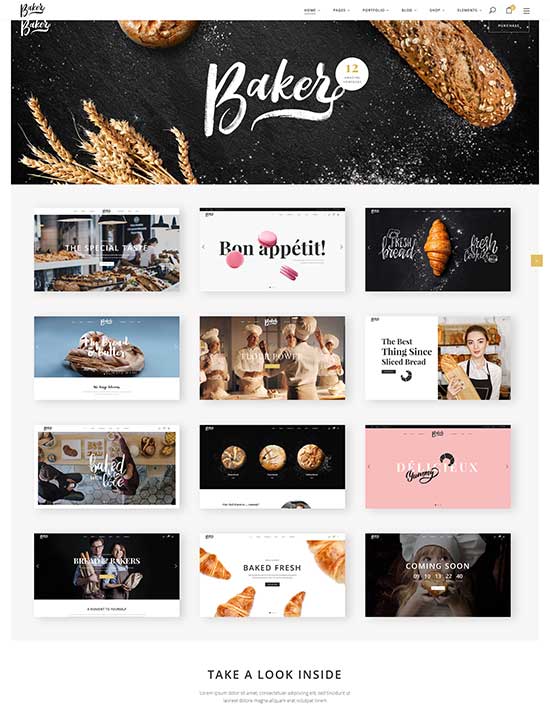 More info / download Demo
Sweet Cake
Sweet Cake is perfect for small bakeries looking to create a simple, online presence. It comes with all the essential features you need to get started, including a built-in shopping cart, easy-to-use customization options, and a responsive design that looks great on all devices.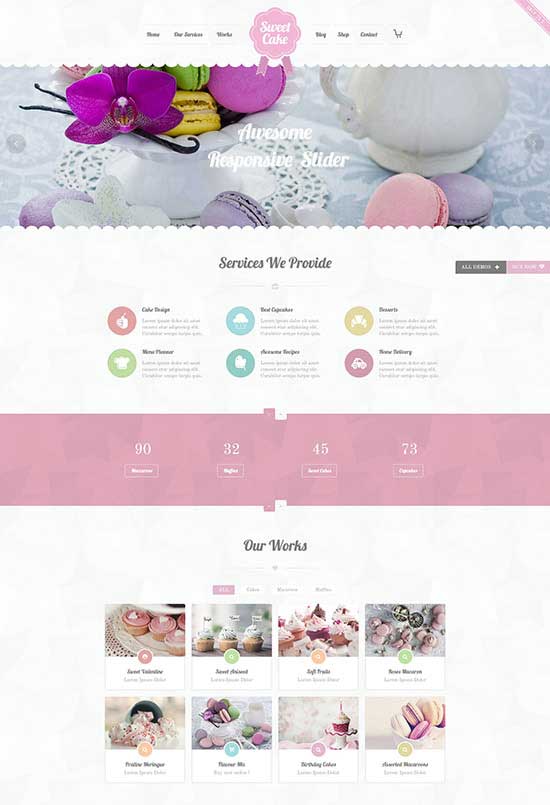 More info / download Demo
Milan
Milan is a modern and creative responsive WordPress theme. It is suitable for any restaurant, small restaurant or bounty, which speaks briefly about its restaurant and shows all the achievements, About Restaurant, Featured Offer, Special Offer, Menu, Service, Restaurant Interior and Team. Theme is designed to meet these requirements and all the latest trends in website design. This includes four home pages (restaurant, bakery, vegan and coffee) and 20 pages in total.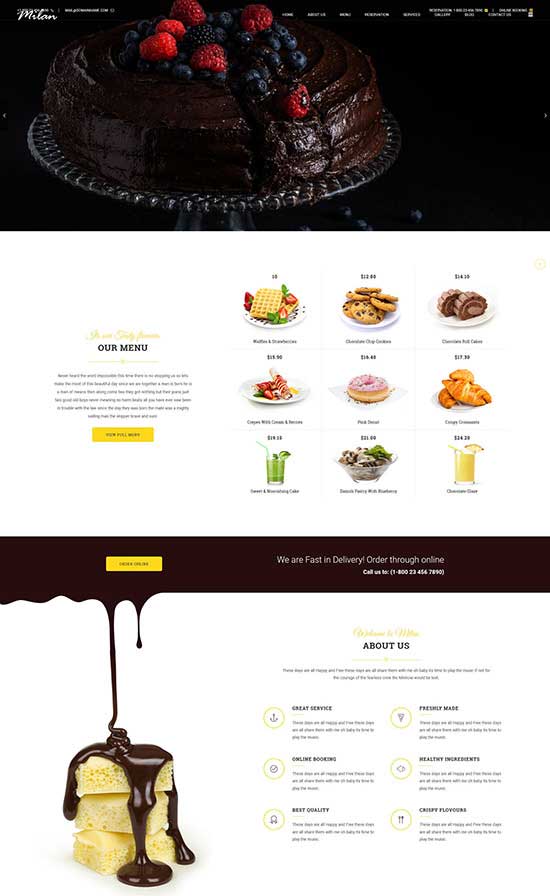 More info / download Demo
Cake Art
With this WordPress theme, you can find beautiful, tasty products, cake courses, and the recipes for them. The bakeries and cakes look just like they would in a real store, with great pictures and prices that are easy to read.
It's interesting that adding any of them to your cart is easy. More than that, cakes are put into product categories to make it easier to find them. You can also sort the products by popularity, average rating, newness, price, etc., or you can use the ajax search form.
Cake Art, a WordPress Cake Theme, gives you a perfect design and color scheme with a lot of options, which makes your site look so amazing and appealing. When you look at the sweet cakes, you can't take your eyes off of them.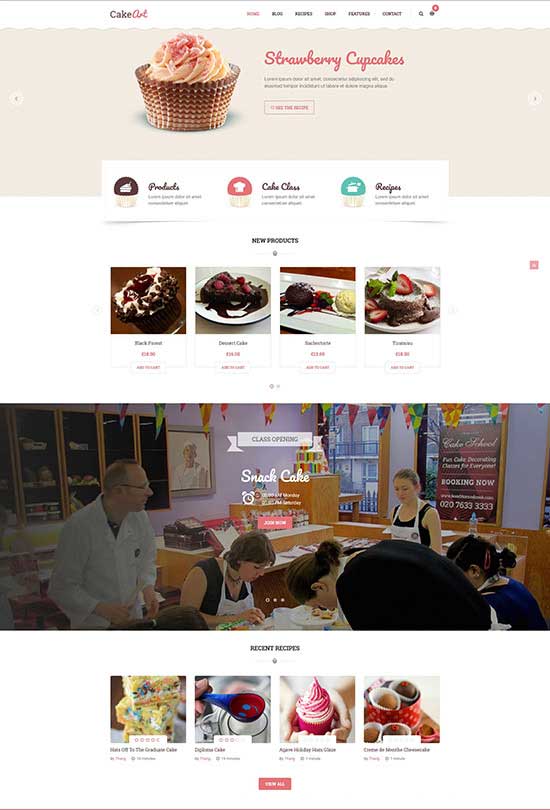 More info / download Demo
Livery
Based on the WooCommerce plugin, Livery Shop is an e-commerce theme for WordPress. It's good for wine, bakery, cakes, drinks, food, and restaurants.
It is also a flexible theme that can be used for any kind of online store. The sleek, clean look of The Livery Shop goes well with its WooCommerce theme. All of the subpages are customized.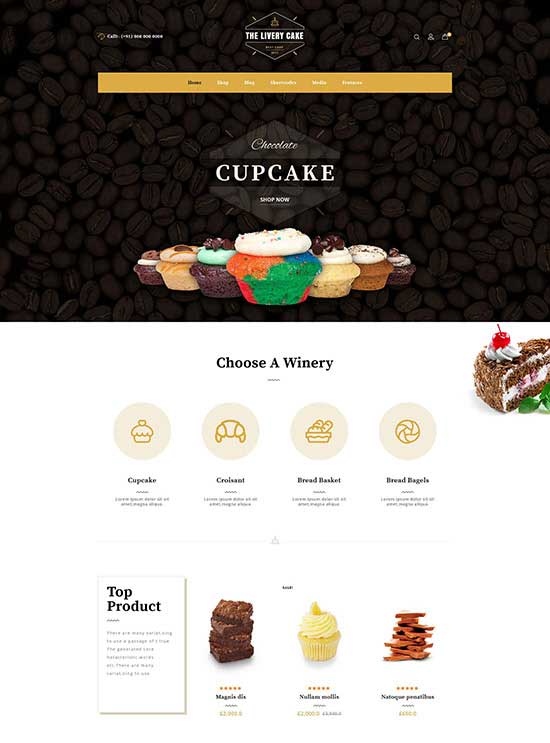 More info / download Demo
Patisserie
Patisserie is a fully receptive pastry WordPress theme, which has been carefully crafted to showcase your bakery in the best light! It has a soft, clean design, so your visitors can easily stay focused on your bakery products. A professional page lets you tell the story and all the benefits of your business.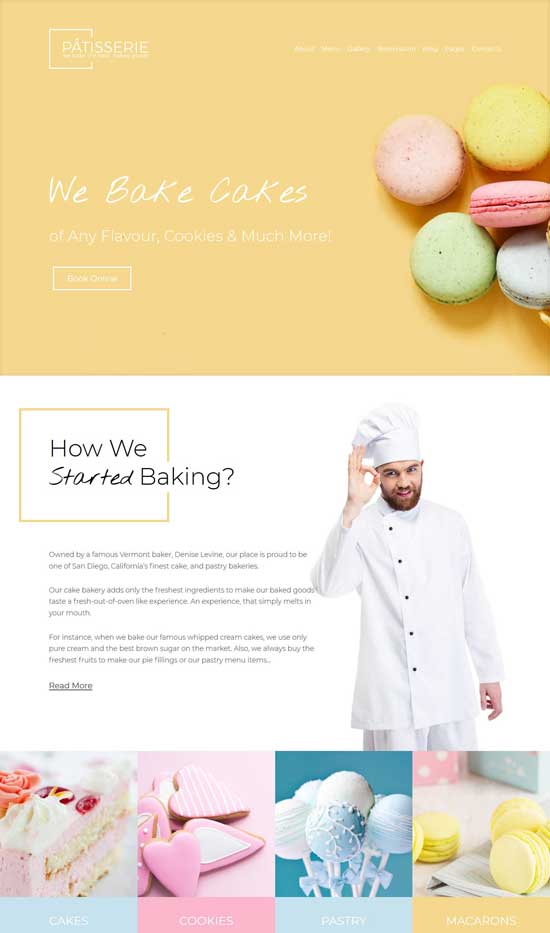 Demo More info / download
Chateau
Chateau is a well-coded bakery WordPress template licensed under GPL v3.0. The theme is built with Power, which is the pre-loaded TemplateMonster drag-and-drop custom page builder with more than 25 modules, a library of presets, and more features for seamless customization of the layout.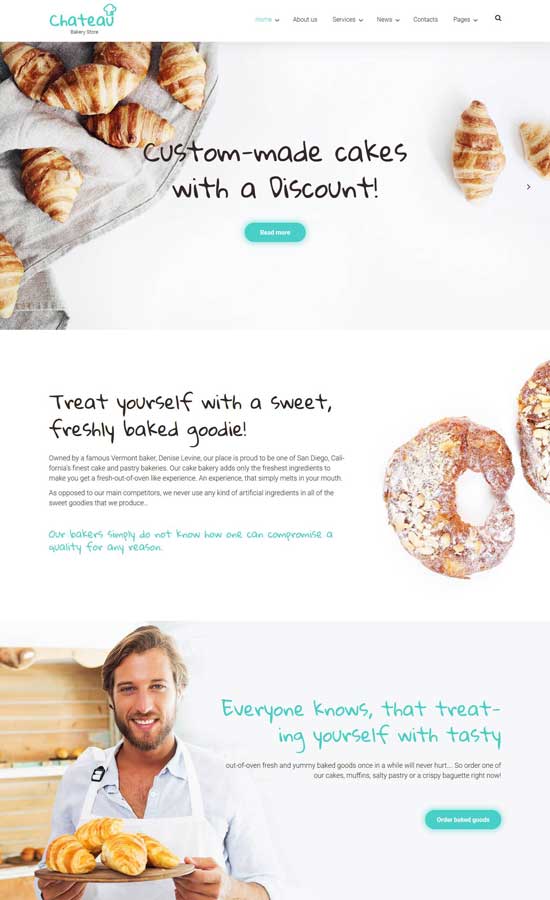 Demo More info / download
Pastries
Bakery WordPress Theme is a highly customizable design for websites related to food and beverages. All changes can be applied via a simple admin panel with advanced theme options. The model can be used not only for the bakery but also for coffee, bistro, coffee, restaurant and other similar sites.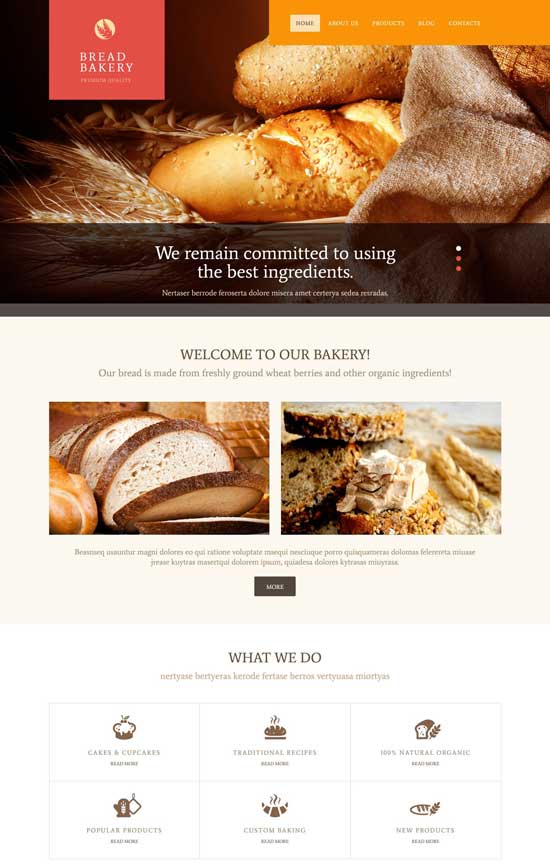 Demo More info / download