Looking for a new website design template for your car or auto business? Check out our selection of stylish and professional car and auto website templates. Whether you need a simple one-page site or a more complex multi-page site, we've got you covered. Our templates are easy to edit and come with all the necessary features and pages to get your business online quickly and easily.
Whether you're a car dealership, auto repair shop, or enthusiast community, a well-designed website can significantly enhance your brand's image and customer engagement. One of the easiest ways to achieve this is by using professionally crafted car and auto website templates. In this blog post, we'll explore the benefits of using these templates and provide recommendations for some of the best options available.
ProMotors
The ProMotors HTML Template is a comprehensive solution tailored for auto and moto services. It caters to mechanic workshops, car repair shops, garages, auto painting, cleaning, and other vehicle-related services. With 10 home pages and essential sections like services, shop, blogs, pricing, contact, team, cart, deals, and portfolio, it enables the creation of a user-friendly website highlighting offerings.
The template follows the latest design trends, offering both light and dark modes, ensuring visual appeal. Built on Bootstrap 5, it's responsive, adaptable to various devices, and incorporates clean code with wow animations. This versatile template suits popular CMS platforms like WordPress, Joomla, Drupal, and Muse.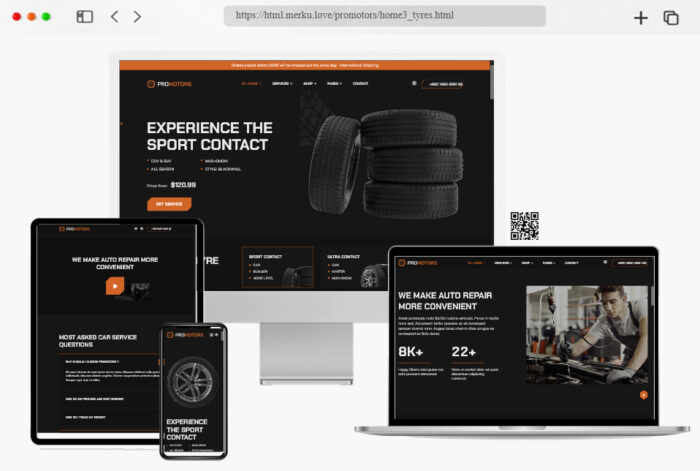 More info / download Demo
Malen
Malen is a modern and professional HTML template designed for Car Repair and Services businesses. It caters to a wide range of services such as car repair, auto mechanics, spare parts stores, car washes, service stations, and car showrooms. The template is fully responsive, ensuring a seamless appearance across devices. It is built using HTML5, CSS3, and Bootstrap 5, allowing for easy customization. With clean and well-organized code, modifying and adapting the template to specific needs is straightforward.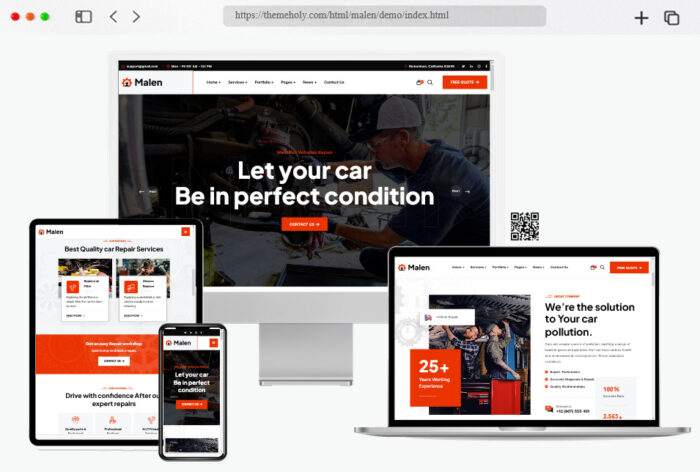 More info / download Demo
Voiture
Voiture is a top-tier Automotive & Car Dealer NextJS Template known for its quality and meticulous organization. Tailored for various automobile businesses like car dealers, auto shops, mechanics, and car rentals, the template covers a spectrum of services such as vehicle sales, maintenance, parts, and more.
Developed using the latest Bootstrap 5 and NextJs 13 App Dir, it guarantees modern features and responsiveness. Whether for auto sales, repairs, rentals, or related ventures, "Voiture" provides a versatile online platform for automobile-related business publications.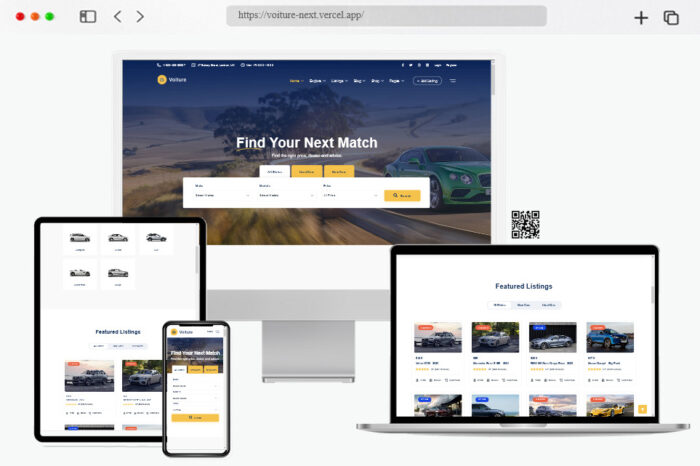 More info / download Demo
Dreams Rent
Dreams Rent is a globally-operating, reputable car rental platform offering a diverse fleet of vehicles for both personal and commercial rentals. The platform boasts a user-friendly website and streamlined booking system, catering to individuals and businesses alike. Committed to customer contentment, Dreams Rent enforces rigorous quality checks, guaranteeing well-maintained, clean, and secure vehicles. Their proficient customer service team is readily accessible to address any inquiries or issues, affirming their dedication to a satisfactory rental experience.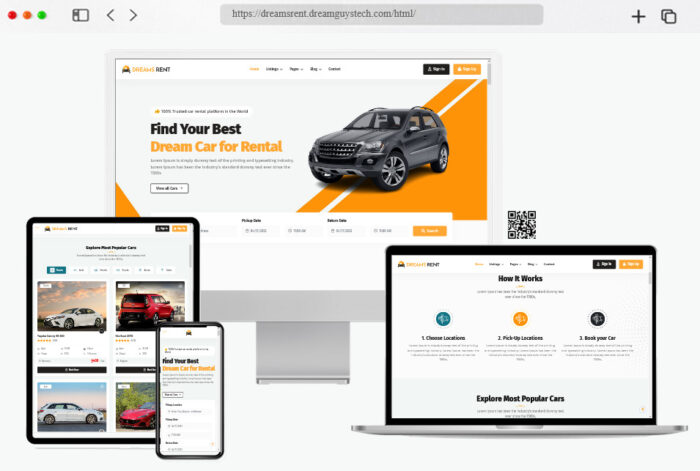 More info / download Demo
Rentaly
Rentaly is a premium website template designed exclusively for car rental services, boasting a modern and professional aesthetic. Crafted with meticulous attention to coding and design standards, the template emerges from the expertise of a seasoned ThemeForest author with 14+ years of experience. Offering a collection of impressive styles and components, Rentaly empowers users to swiftly create a sophisticated website, reflecting professionalism and efficiency.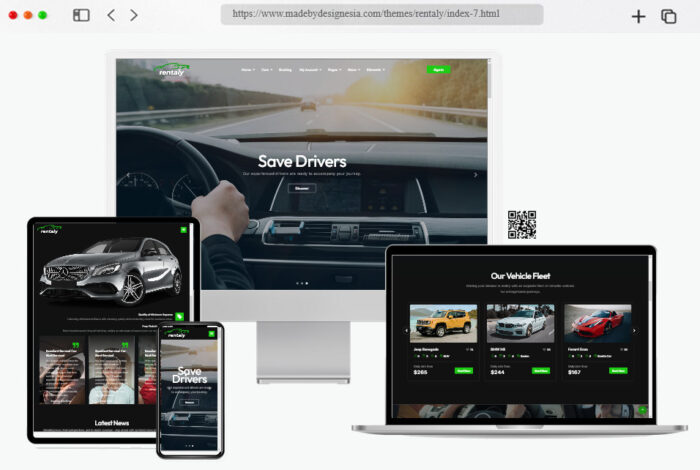 More info / download Demo
Motex
Motex is an innovative and clean HTML5 template designed for car dealers, automotive services, and related businesses. It caters to car resellers, service stations, workshops, and motor retailers. With a focus on creativity and inspiration, Motex's design aims to captivate visitors.
The template is built on Bootstrap, ensuring responsiveness and smooth transitions. It provides all necessary pages and blocks for activities related to buying and selling new or used cars. Motex features a unique and customizable design, making it suitable for any type of car dealer website.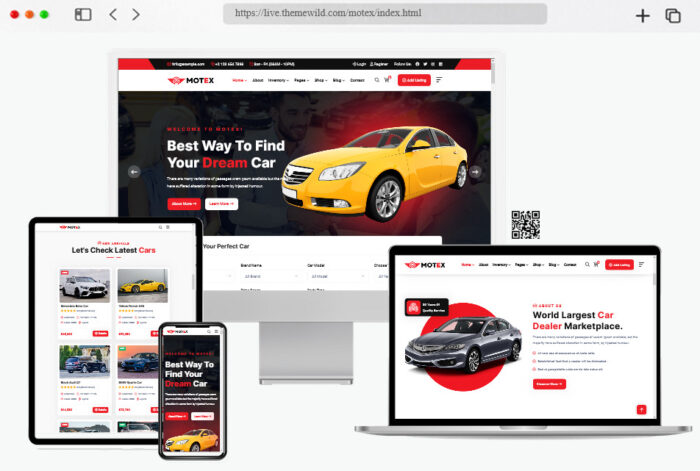 More info / download Demo
Partsix
The Partsix Auto Parts & Car Accessories Shop HTML Template is a modern and clean design intended for businesses and individuals engaged in online sales of auto parts, car accessories, and bike parts. Ideal for startups in the automotive industry, such as car repair, auto shops, and tire shops, it suits various niches including automobiles, bikes, and spare parts.
With clean code and a developer-friendly structure, Partsix offers five attractive home variations and essential internal pages, catering to service providers seeking to engage potential customers. The template allows hassle-free customization and utilizes the latest technology, with plans for additional features in the pipeline.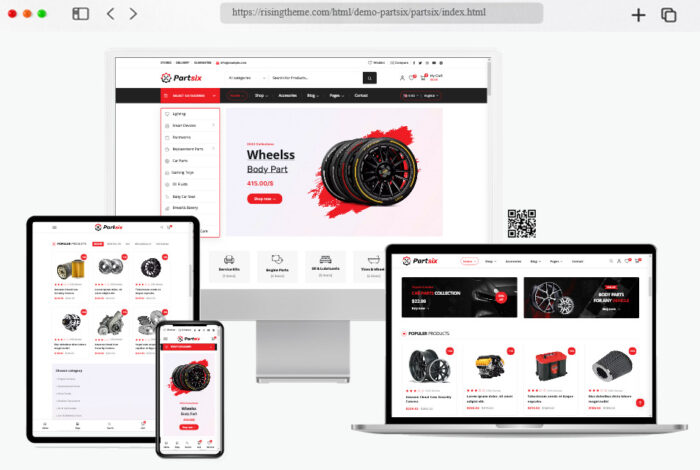 More info / download Demo
Autixir
Autixir is a comprehensive HTML template designed for various automotive businesses such as car services, repair shops, accessories stores, and more. Built with the Bootstrap 5 framework, it caters to car dealerships, showrooms, and service centers. The template is fully customizable, allowing adjustment of every section to suit specific requirements. It ensures compatibility with modern and older browsers, tablets, and mobile devices, ensuring a responsive experience.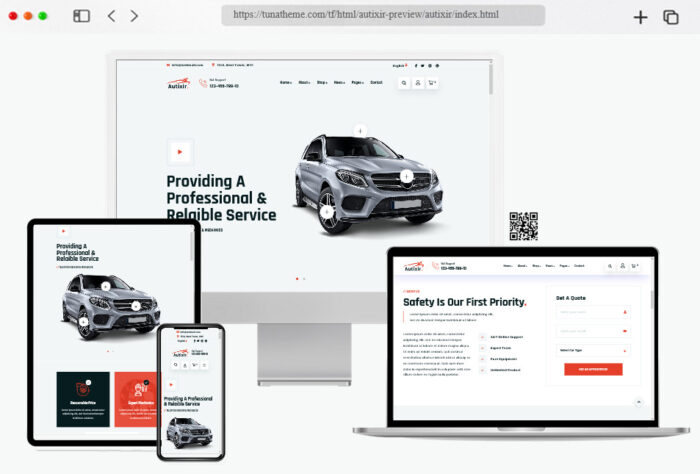 More info / download Demo
Auto Car
Autocar is an HTML template built using the Bootstrap 5 framework (version: v5.0.2), designed for various car-related websites like car dealers, listings, and automobile businesses. The template offers three layouts and six home page options, encompassing a total of 39+ individual HTML pages. Its coding is 100% responsive and adheres to W3C HTML validation standards. With commented HTML and CSS codes, it's easily customizable to fit specific needs.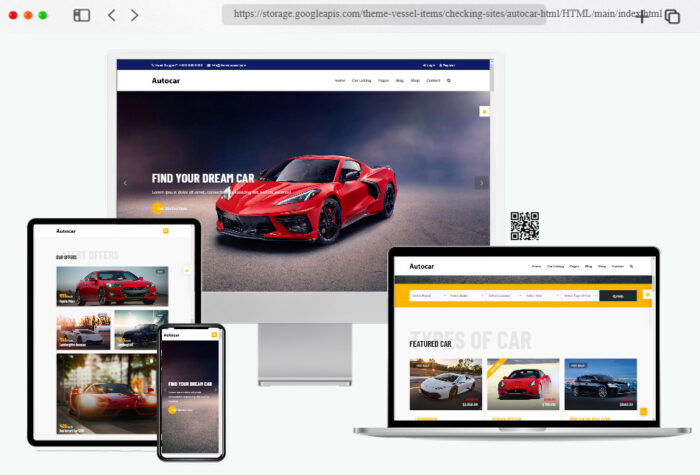 More info / download Demo
Auto Club
AUTOCLUB is a versatile HTML template tailored for car dealership websites, auto shops, and related businesses. With a creative and modern design, it serves as a solution for buying and selling cars online. This multipurpose template caters to auto-related businesses and corporate websites within the automotive industry.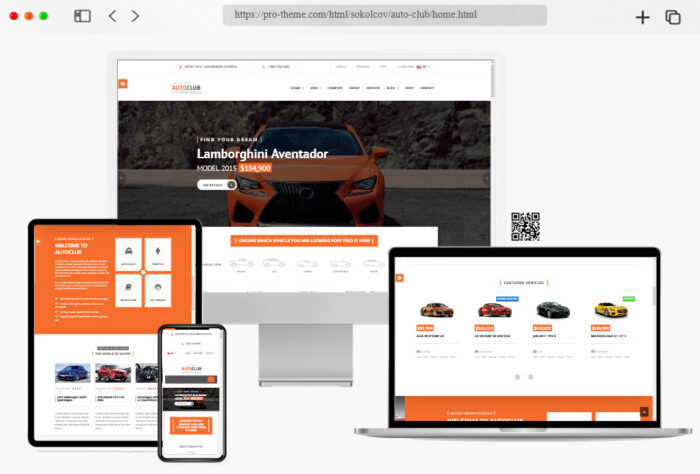 More info / download Demo
CarForYou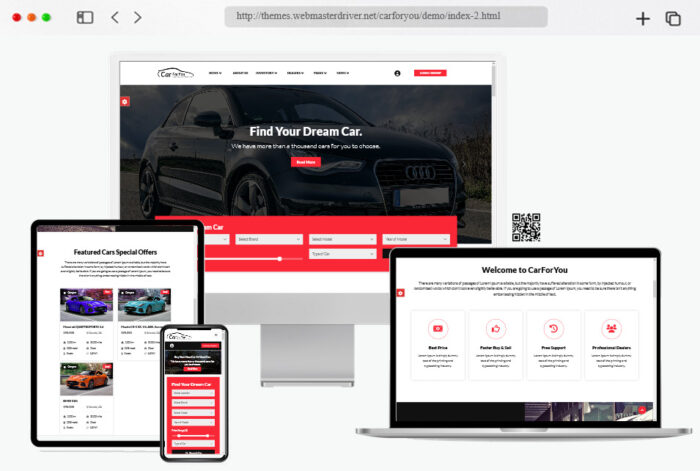 More info / download Demo
Ghurnek
Our idea is that the Ghurnek Template will be very effective for single or multi-vendor motor vehicle dealership businesses. This template is built with the Bootstrap 5+ framework. All elements, layouts, and sections of the template are 100% customize to your needs. It is compatible with all modern and old browsers, tablets and mobile devices.