Explore the top-notch Car Dealer Website Templates in our latest blog post! Whether you're a car dealership, auto trader, or automotive enthusiast, these templates offer the perfect platform to showcase your vehicles and services. From sleek designs to advanced features like search filters, vehicle listings, and contact forms, these templates have it all. Discover the best options to create a professional and user-friendly online presence for your car business. Don't miss out on the chance to drive your website's success with these cutting-edge Car Dealer Website Templates!
Drivco
Drivco is a versatile HTML Template designed for car listings and dealership purposes. It offers features like listing various car brands, categories, car auction, and bidding. It includes car buying and selling functionalities, along with car comparison and a shop section for car parts. The template offers 6 different demo styles and over 20 inner pages, all designed to meet modern demands. Powered by HTML5 and CSS with the Bootstrap5 framework, Drivco is fully responsive, browser-compatible, and SEO-friendly, making it a comprehensive solution for your car-related business needs.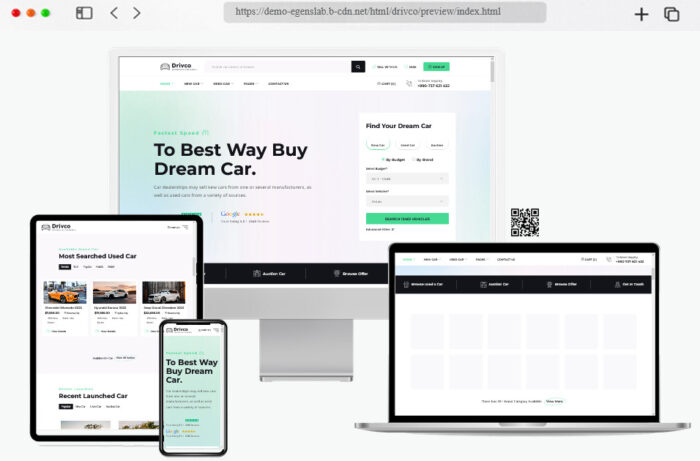 More info / download Demo
Motex
Motex is a creative and clean HTML5 template designed for car dealerships, automotive resellers, service stations, mechanic workshops, and related websites. With a focus on innovation, Motex provides a simple and modern design that aims to inspire visitors. The template is built on Bootstrap and features smooth transition effects.
It includes commented code for easy customization, allowing you to tailor the website to your needs. Motex offers a fully responsive layout that adapts to various screen sizes and resolutions. It covers all necessary pages and blocks related to buying and selling new or used vehicles. Its unique design and flexibility make it a great choice for creating a stylish and functional car dealer website.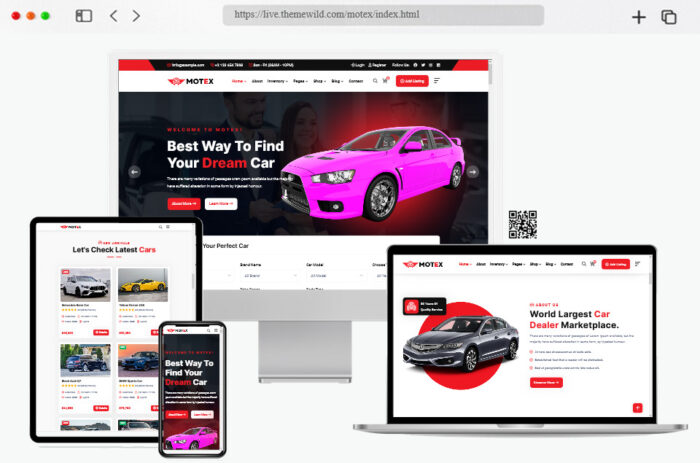 More info / download Demo
Voiture
Voiture is a premium NextJS template designed for automotive and car dealer businesses. It offers high quality and organized features for creating an effective online presence. The template is ideal for a range of automobile-related businesses, including car dealerships, auto shops, car rentals, and more. Built on the latest Bootstrap 5 and NextJS 13 App Dir, Voiture ensures modern design standards and optimal functionality for showcasing cars, offering services, and facilitating car-related transactions. It caters to motor vehicle sales, auto services, car rentals, and more, making it a versatile choice for anyone in the automotive industry.
More info / download Demo
Autohive
Autohive is a versatile HTML template designed for Car Dealerships, Car Rentals, and various other purposes. Built on the latest version of Bootstrap 5 and following the SCSS 7-1 architecture pattern, Autohive offers a modern and developer-friendly environment. It's specifically tailored to cater to the needs of car-related businesses, providing an advanced and attractive user interface (UI) and user experience (UX) for customers.
With a focus on speed, lightweight design, and adherence to W3C validation standards, Autohive is a reliable choice for creating a visually appealing and functional online platform. Its detailed documentation, reusable components, and blocks make customization and expansion easy, allowing developers to craft new sections or pages efficiently.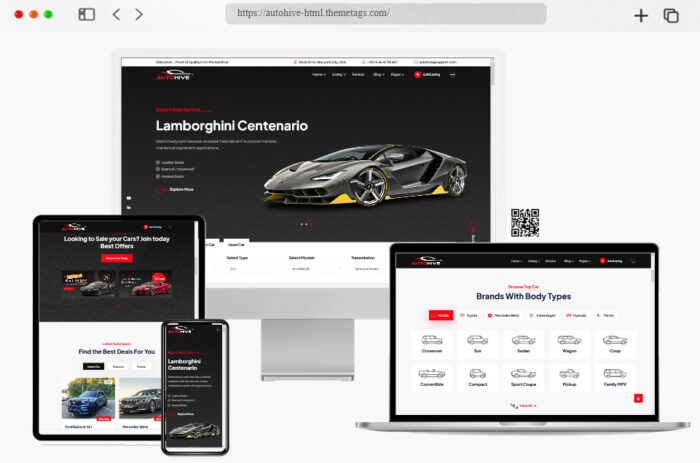 More info / download Demo
Finder
Finder is a versatile Angular 15 and Bootstrap 5 template designed for various business niches, including Car Finder for car dealers and vehicle marketplaces. This template offers multiple demos, each catering to a specific category with a comprehensive set of pages. It allows you to create fully functional web applications for your chosen business niche, complete with essential pages for seamless functionality.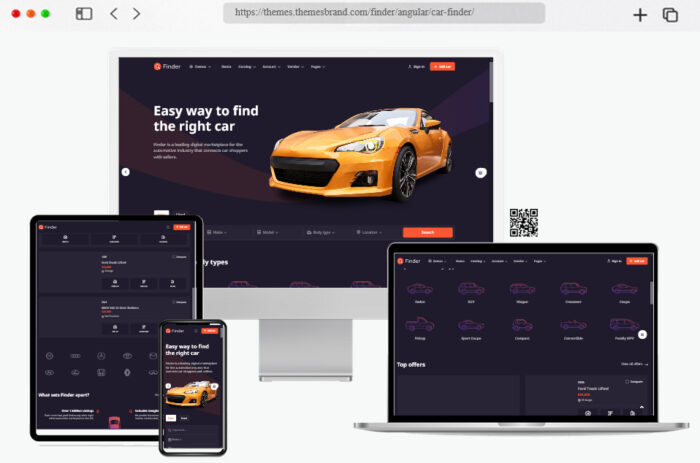 More info / download  Demo
Cmart
CMART is a comprehensive HTML5 template designed for Car Dealerships, businesses, and corporate websites. It offers a modern and professional design, fully responsive and built on Bootstrap 5. CMART serves as a complete solution for Auto Dealership Websites, including Autotrader, Car Classifieds, Car Dealer, Car Rental System, and multipurpose auto Classifieds. With six unique home pages, eight advanced search options, car listing and details features, agent and agency pages, account pages, car comparison, and over 30 detailed inner pages, CMART caters to various functionalities within the automotive industry.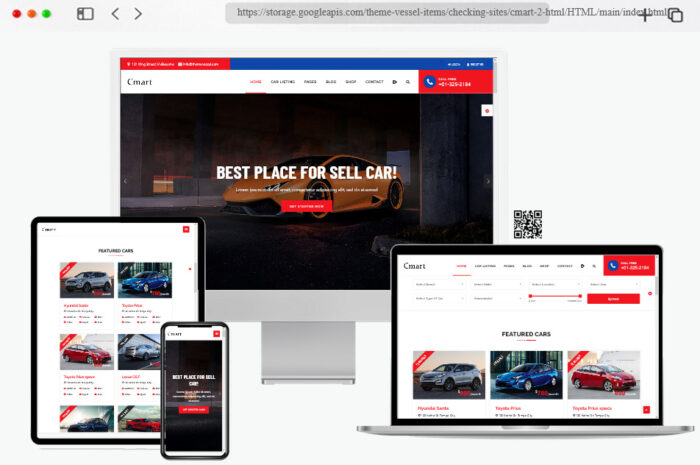 More info / download Demo
Auto Car
Autocar is an HTML template designed with the Bootstrap 5 framework (version: v5.0.2) for various automotive-related websites, including car dealers, car listings, and automobile businesses. The template offers three different layouts for its six homepage options. With a total of 39+ individual HTML pages, Autocar ensures a 100% responsive design and W3C HTML validated coding. The HTML and CSS codes are properly commented for easy editing and customization.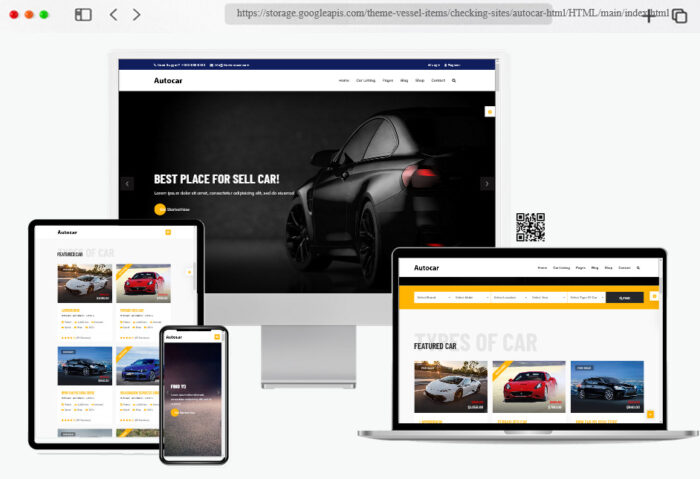 More info / download Demo
CarForYou
CarForYou is a responsive HTML5 template designed for automotive dealers, car resellers, car service stations, and auto motor retailers. It offers six color versions and includes three different homepage layouts, two listing styles, two listing detail styles, and over 20 inner pages. The HTML and CSS code are properly commented, making it easy for developers to customize the template to their specific needs.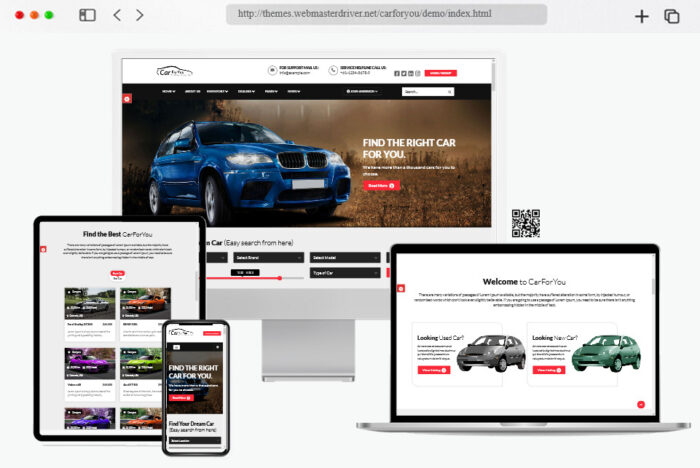 More info / download Demo
Auto Club
AUTOCLUB is a versatile and contemporary HTML template designed for auto dealerships, auto shops, and related businesses. It is well-suited for car dealership websites and other corporate websites in the automotive field. This template offers creative design elements and serves as a platform for buying or selling cars online.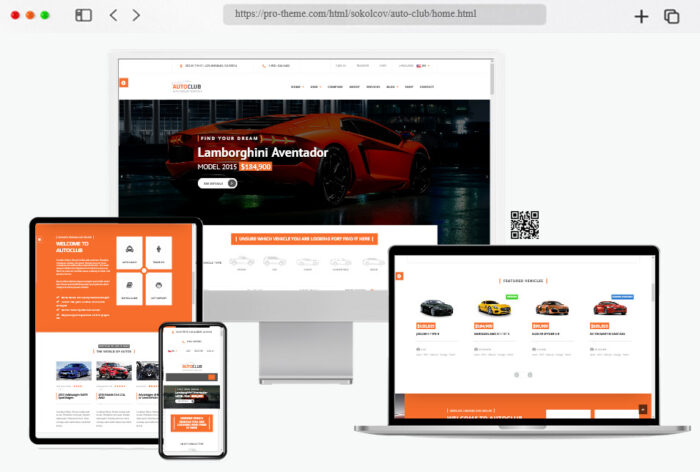 More info / download Demo
Mobhil
Mobhil is a Car Dealer Bootstrap 5 HTML Template designed specifically for car dealerships and automotive businesses. Built with the Bootstrap 5 framework, it provides a modern and responsive layout that is well-suited for showcasing vehicles and offering car-related services online. The template offers a range of features to create a functional and visually appealing website for car dealers.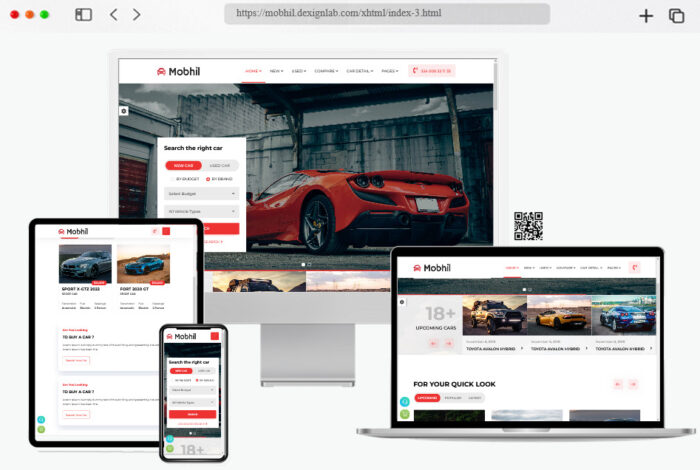 More info / download Demo