CarRepair
Mechanic is a new, clean and professional WordPress theme for auto/car services and car workshops with a possibility to turn it into an auto parts shop. The theme is powered by Twitter Bootstrap v3 and Unyson Page Builder. It's going to be super easy-to-customize and you, along with your clients, will enjoy the best user experience!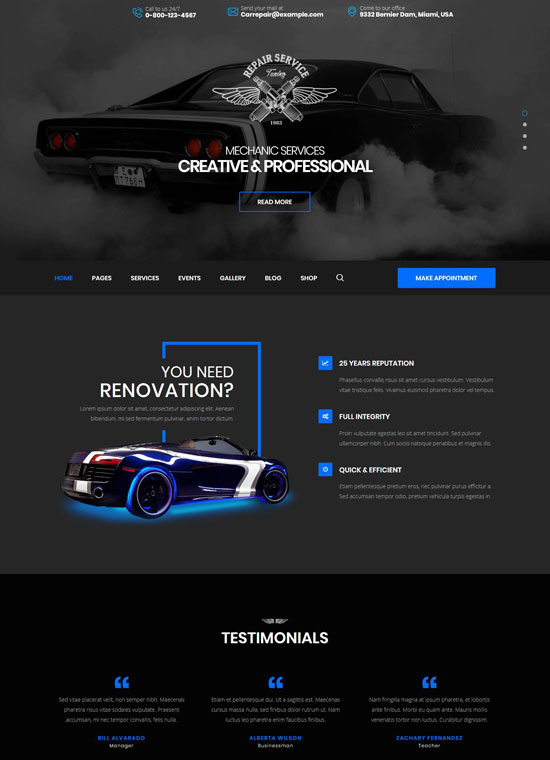 demo more info / download
Transmitter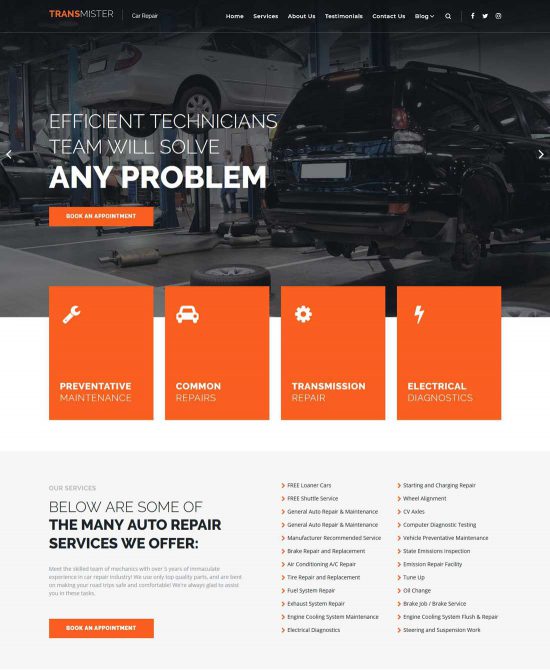 demo more info / download
AutoCare
Auto Care is a great theme for car mechanics, car workshops, and auto repair centers. The Auto Care template can also be used by a car wash, garages, and auto painting. This themes design combines elegance and functionality. It is packed with features and you will not need to know coding to design and develop your site. With this car theme, you can easily develop a polished and professional looking website. The design process will be intuitive and your site will be visually appealing. Auto Care comes with features you will need like about us, 404 page, team, pricing, filterable gallery pages, multiple blog layout, online shop, testimonial, and FAQ page. If you want to build an online presence then Auto Care is perfect for you.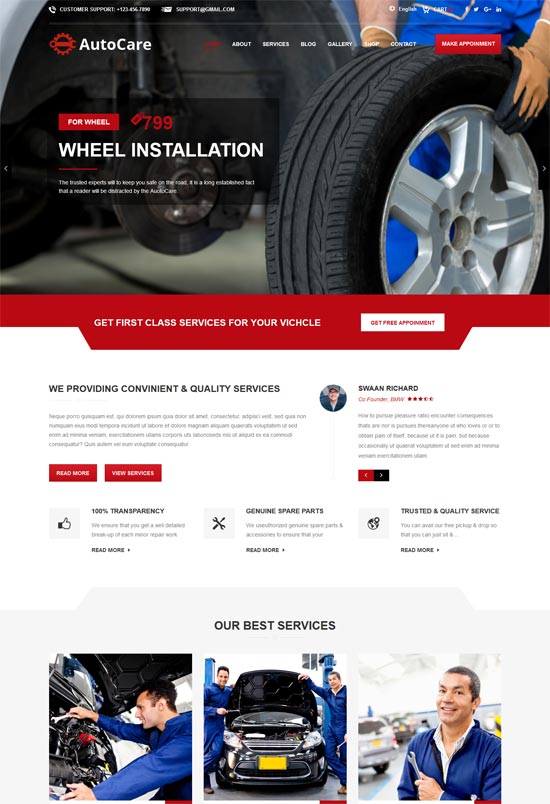 more info / download demo
Motorepair
Motorepair is a robust, reliable, competent, and professional car theme. The interface is clean and responsive. It also works well on all platforms, whether it be the computer, tablet, or phone. Motorepair was created by a team of designers and coders with your auto repair shop in mind. Motorepair is highly customizable, has an extensive admin interface, and you can upload your demo content with just one click. Motorepair is very responsive and is retina ready. With this car theme, you have three predesigned homepages to choose from. It is the best choice for an auto repair shop with all of its features.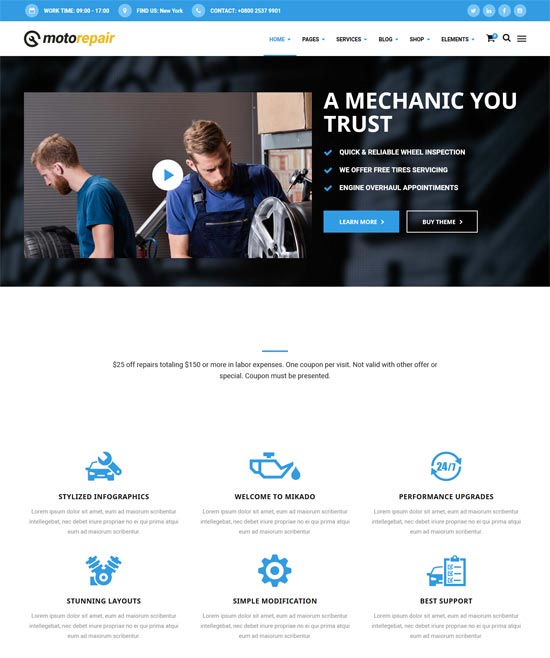 more info / download demo
Francisco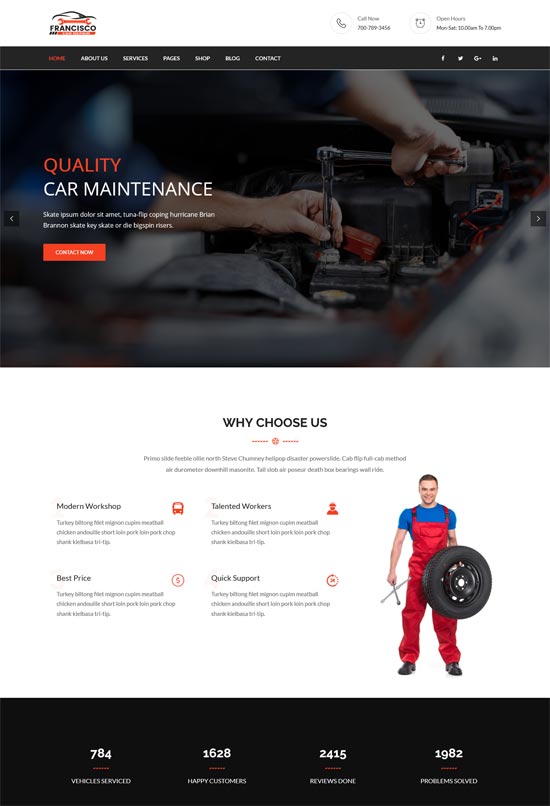 more info / download demo
AutoRepair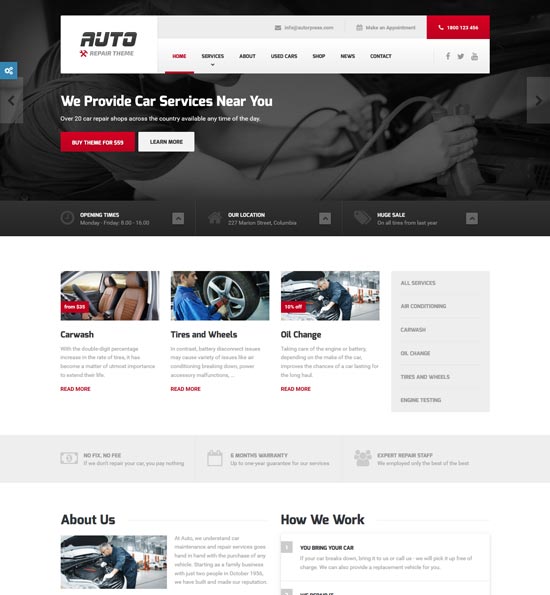 more info / download demo
CarShire
The template is built for Auto Mechanic, Car Repair Shops, Car Wash, Garages, Automobile Mechanicals, Mechanic Workshops, Auto Painting, Auto Centres and other Auto and Car related services and it is suitable for any kind of small business activity – Car Service Mot, Tyres, Brakes Hire, Car Rental, Auto Care, Maintenance, Vehicle Diagnostics, Auto Glass, Body Shops, Auto Inspections, Handyman, Serviceman .It is suitable for users with zero programming skills as well as advanced developers.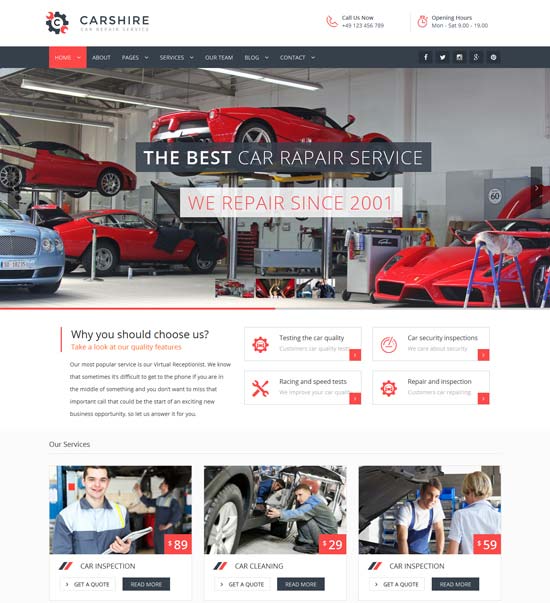 demo more info / download
Garage
Garage is a perfect fit for people who are running repair workshop, car service and garage business in which you can boost your reputation by presenting yourself and services. Automotive WordPress Theme – Garage comes with powerful Contact Form 7 which helps your customers be easy to get in touch with you. The Google Map is also included here to show your location. Interestingly, the customers also can make appointments with the garage in advance to save time by pressing the "Appointment Now" button. Moreover, the MailChimp integration allows you to send newsletters to your subscribers and keep your contacts in one profile which will be very useful and convenient for you to make marketing strategies later on.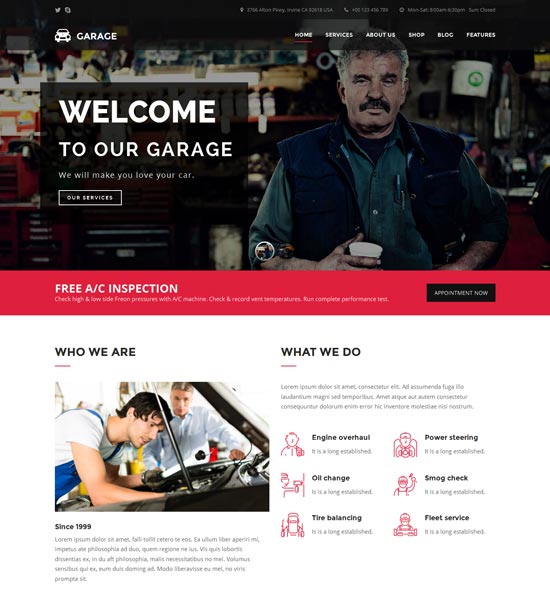 demo more info / download
CarService
Car Service is a responsive and retina ready WordPress Theme best suitable for auto mechanic, car repair shop, mechanic workshop, car repair services, auto painting, auto detailing, tire or wheel shop. Car Service – Mechanic Auto Shop Theme is also suitable for any small business like car rental, car wash, auto glass or for any handyman, serviceman or skilled worker like panel beater, spray painter, body builder, car dealer, motorcycle mechanic or automotive technician.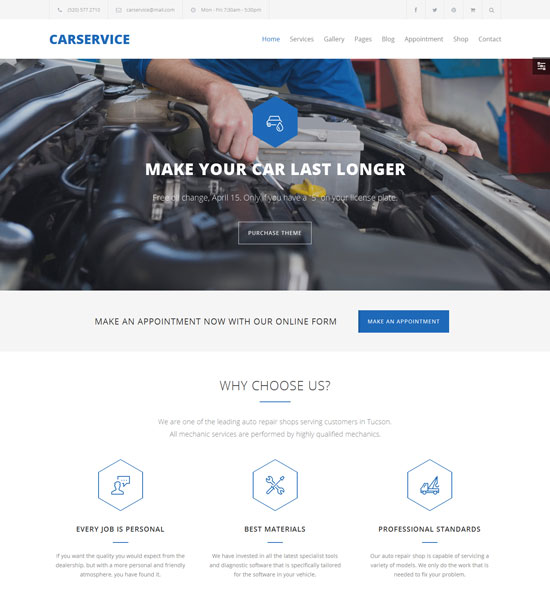 demo more info / download
CarRepair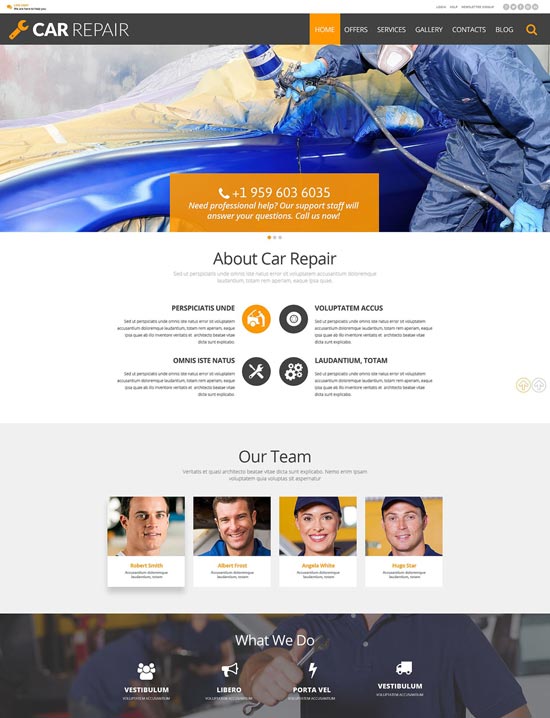 demo more info / download
AnyCar
AnyCar is a premade and richest WordPress theme with multi-purpose layout. It is dedicated for automotive, car, business, mechanic, repair service website.
Garage
Garage Auto Mechanic Car Repair Workshop Theme is created as a wonderful solution for any cars and automobile websites, cars repair workshops, auto blogs, car services and other industrial websites that require special cars niche functionality and auto service presentation.
AutoCar
The theme is built for Auto Mechanic, Car Repair Shops, Automobile Mechanicals, Car Wash, Garages,  Mechanic Workshops, Auto Painting, Auto Centres and other Auto and Car related services and it is suitable for any kind of small business activity – Car Service Mot, Tyres,  Car Rental, Brakes Hire, Auto Care, Maintenance, Vehicle Diagnostics, Auto Glass, Body Shops, Auto Inspections, Handyman, Serviceman