If you are looking for a charity website template that will help you get start quickly and easily to create professional charity and donation websites. Our selection unique designs and corporate creative of charity website templates are perfect for any non-profit organization, and they come with all the features, easy to customize, cleanly coded, tablets and mobile devices, charity psd template you need to get started.
By choosing the right charity website template, organizations can establish an engaging and visually appealing platform that effectively communicates their mission and motivates visitors to contribute. Whether through impactful imagery, easy-to-use donation features, or heartwarming success stories, the power of charity website templates lies in their ability to amplify the message of compassion and inspire positive change.
Charius
Charius: A Multipurpose Nonprofit Charity HTML5 Template is a modern and elegant option for nonprofit organizations seeking a versatile website solution. The template offers customizable sections, each uniquely designed for nonprofit purposes. With its unique features, Charius is built to cater to the needs of nonprofit charities, providing a clean and visually appealing design that works seamlessly on both mobile devices and desktops.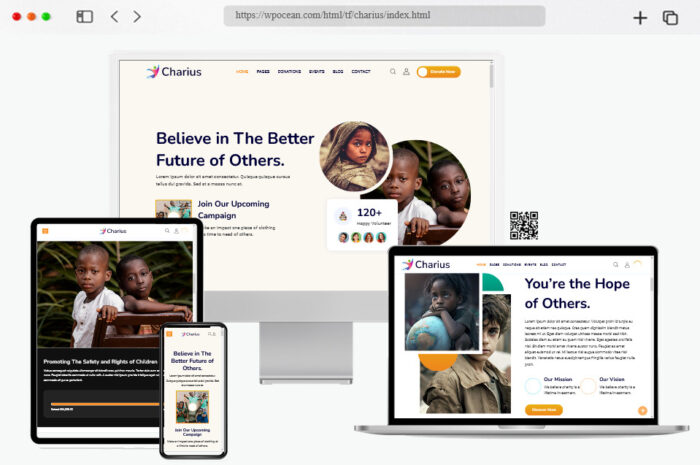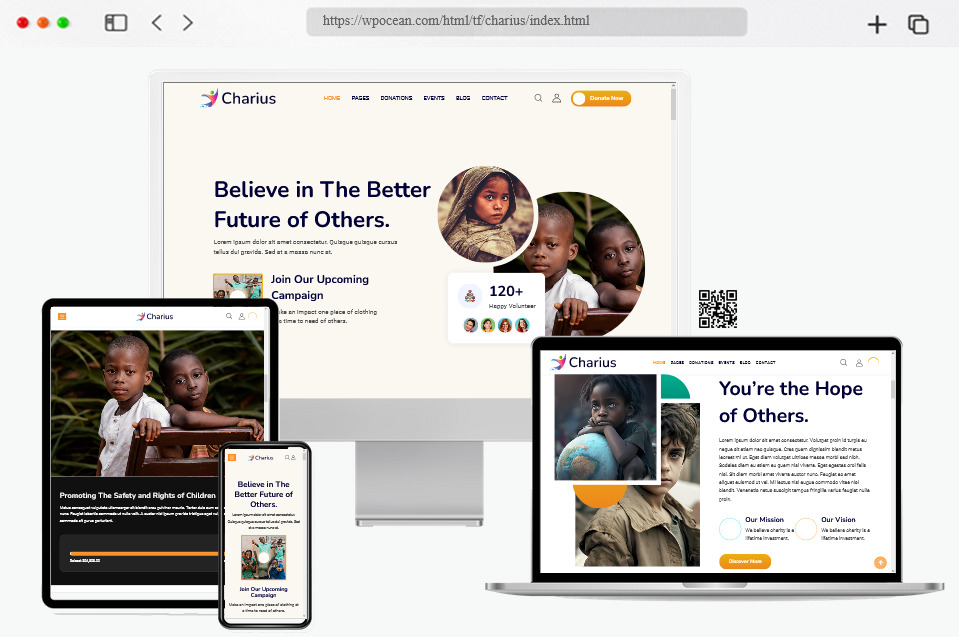 More info / download Demo
Poorex
Poorex: A modern and professional HTML Template designed for non-profit charities. It caters to various charity-related websites, including fundraising, NGOs, churches, mosques, and more. The template is rigorously tested to ensure responsiveness across devices like laptops, mobiles, and tablets, guaranteeing a seamless user experience.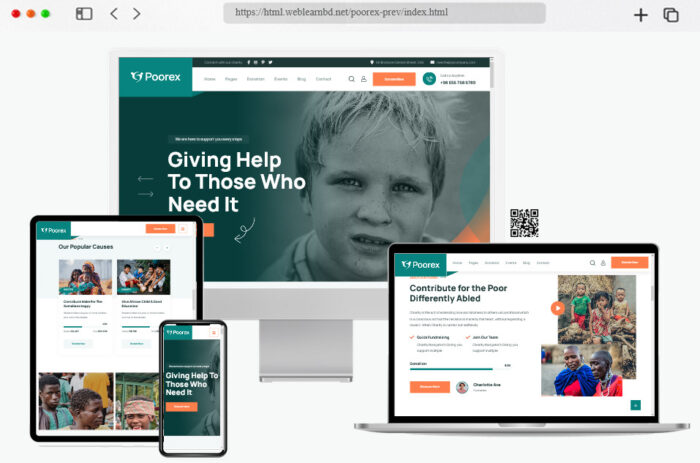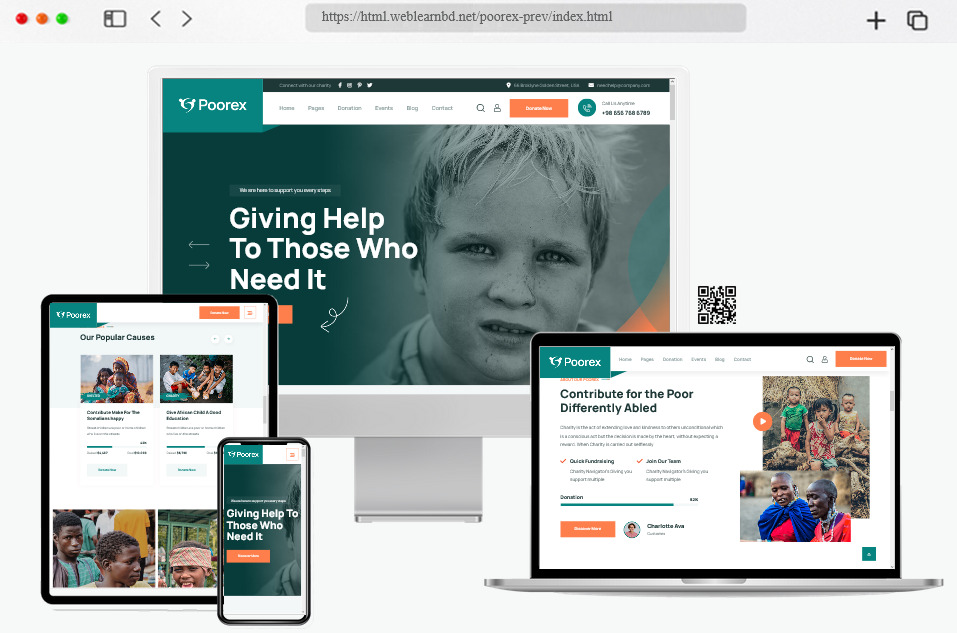 More info / download Demo
TheFude
TheFude: A clean and creative HTML5 template designed for a wide range of purposes, including crowdfunding, charity, nonprofit organizations, NGOs, and more. With a purpose-driven design, responsive layout, and notable features like multiple home pages, diverse blog layouts, galleries, services, and pricing tables, TheFude is well-suited for businesses, non-profit charities, and NGOs seeking a versatile website solution.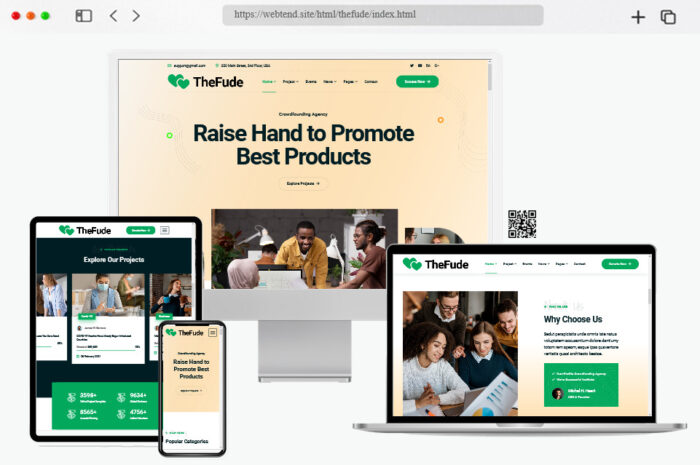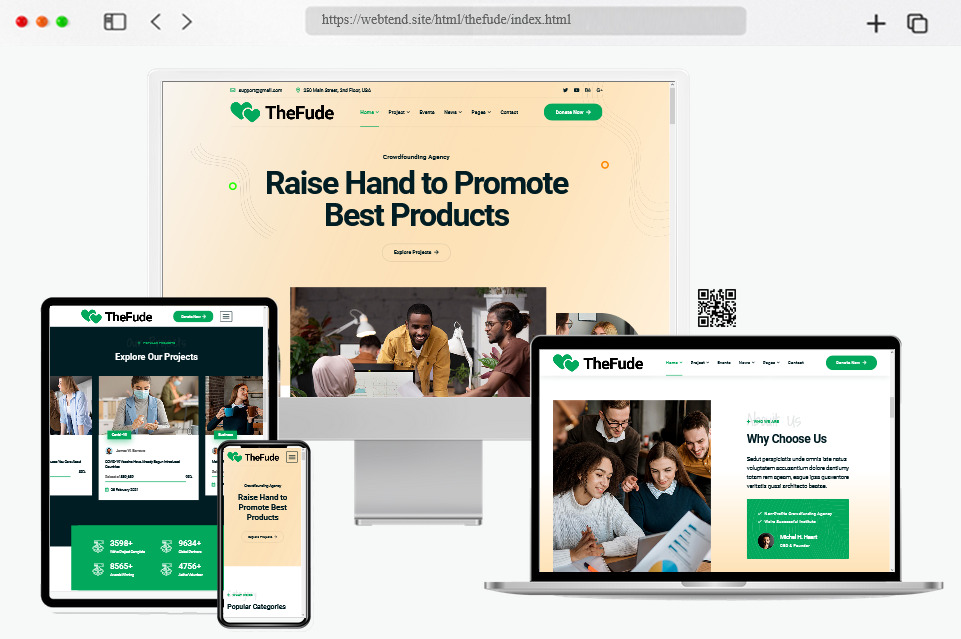 More info / download Demo
Charite
Charite is a modern HTML template crafted for non-profit entities and charitable endeavors. Its thoughtful design aids in highlighting an organization's mission, drawing attention, and garnering support. Ideal for charities, foundations, NGOs, and similar organizations, Charite offers a compelling platform to narrate your cause and drive impactful change.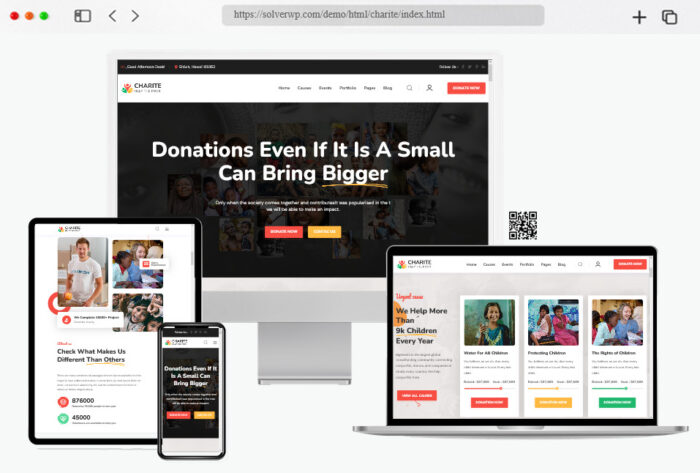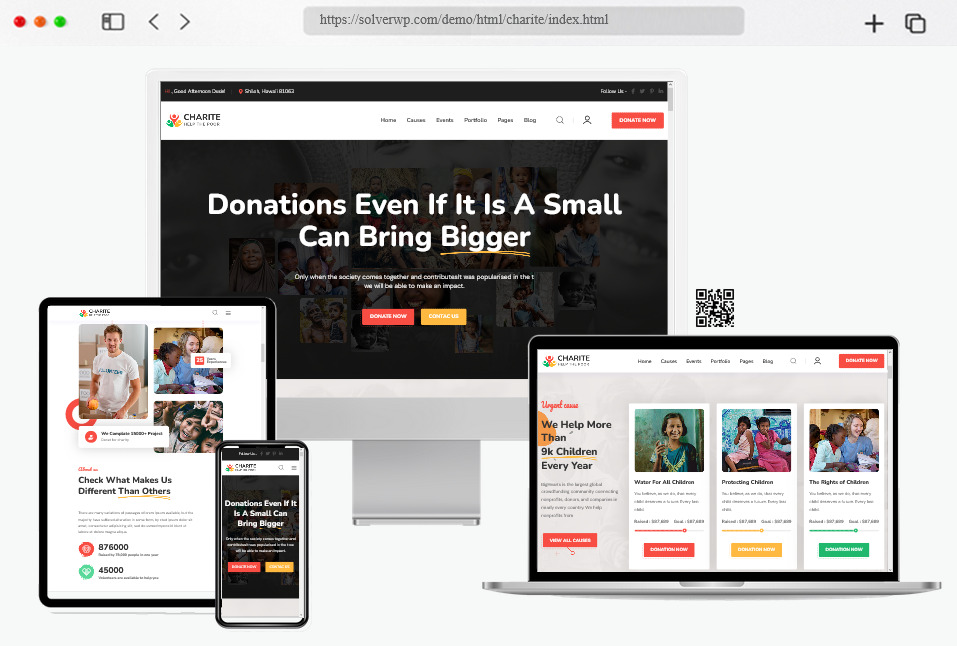 More info / download Demo
Saveus
Saveus is a contemporary and responsive HTML template tailored for charity and fundraising purposes. With a clean design, it's well-structured for both charity and fundraising websites. Its user-friendly interface ensures easy navigation, particularly on mobile devices. Moreover, the template is SEO optimized, enhancing its search engine visibility for improved rankings on Google.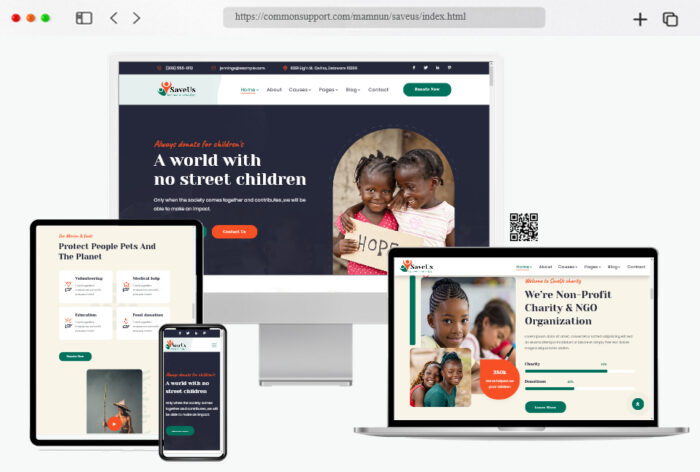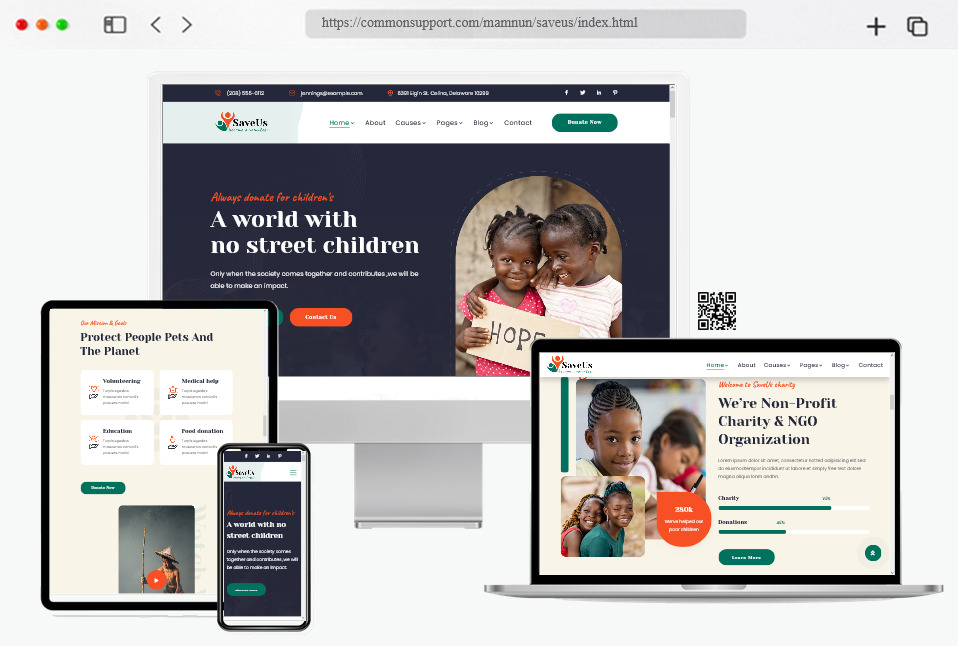 More info / download Demo
Helpass
Helpass is a modern and elegant HTML5 template designed for nonprofit charities. It offers customizable sections, each creatively tailored for nonprofit causes such as education, wildlife, ocean pollution, world pandemics, and nature. The template boasts unique design features, making it suitable for various nonprofit websites. With its clean and simple aesthetic, Helpass is fully responsive, ensuring an appealing look on all devices. The homepage layout prioritizes minimalism and organization for a distraction-free experience.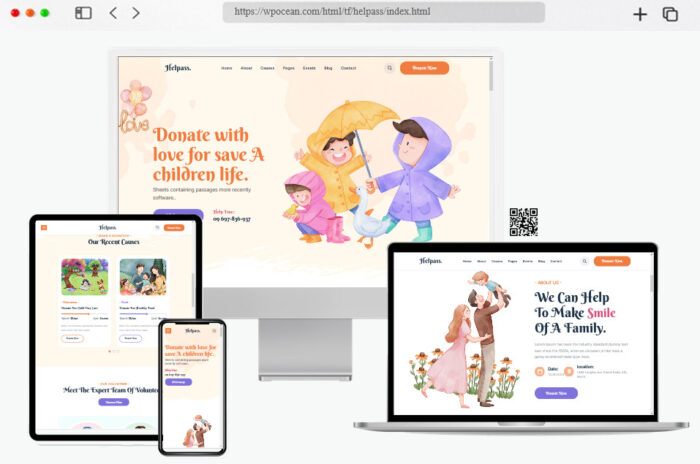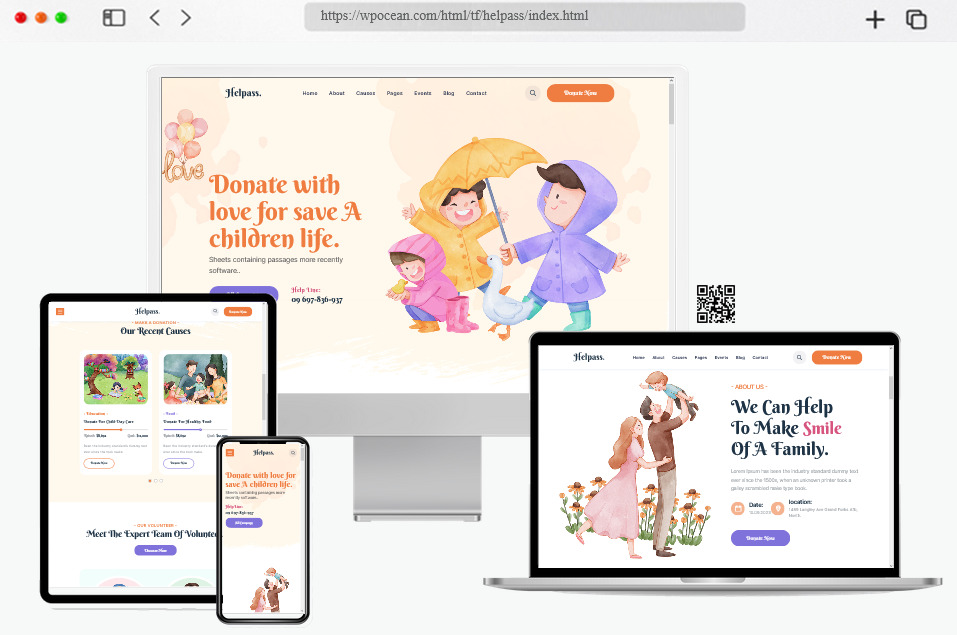 More info / download Demo
Akcel
Akcel is a React-based template designed for crowdfunding and charity purposes. With its modern interface, it provides a platform for creating crowdfunding campaigns and promoting charitable initiatives.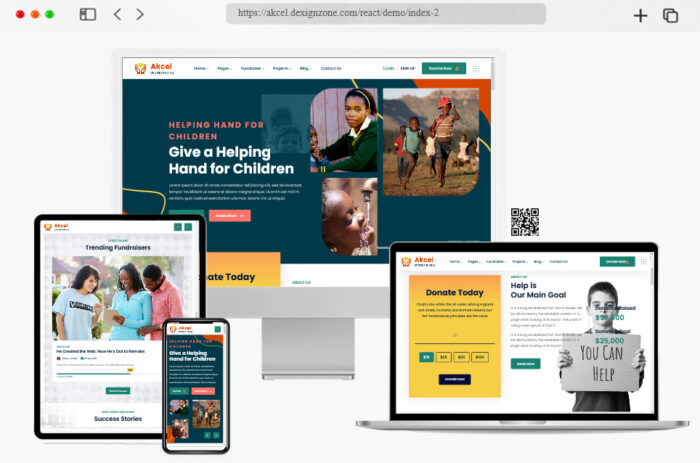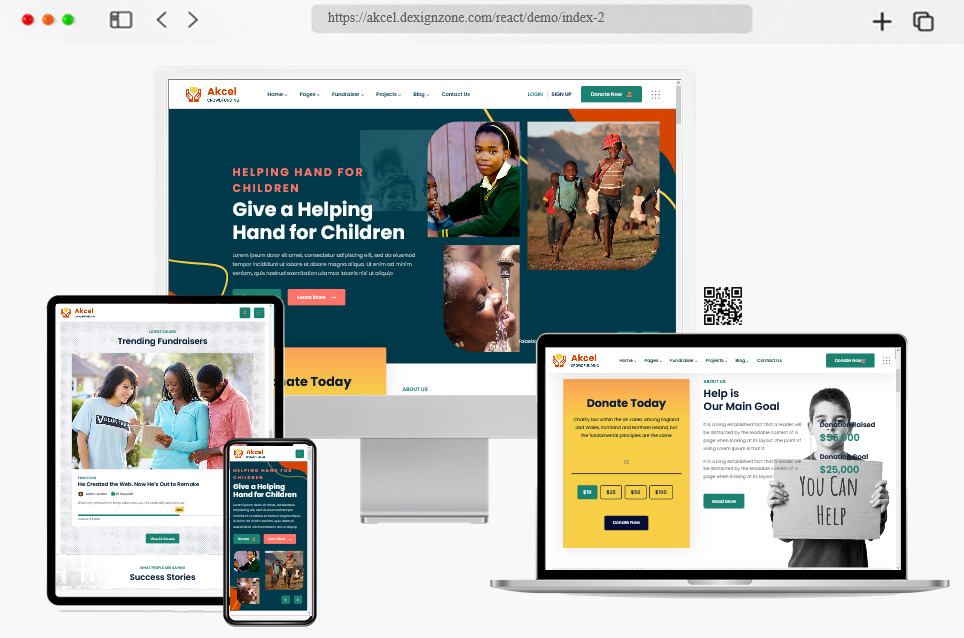 More info / download Demo
Charitxa
Charitxa is a versatile HTML template designed for nonprofit purposes, featuring a fully responsive design with elegant animations. Developed using HTML5, CSS3, jQuery, and Bootstrap5, it is ideal for charity, donation, environmental, fundraising, and volunteer-related websites. With 26 included pages, the template offers a simple and clean aesthetic.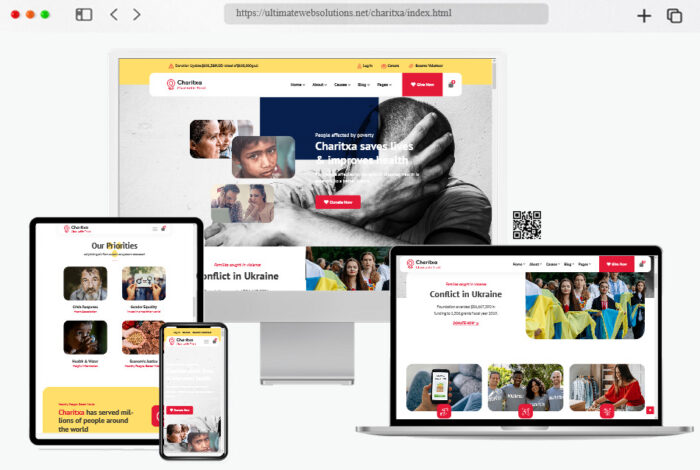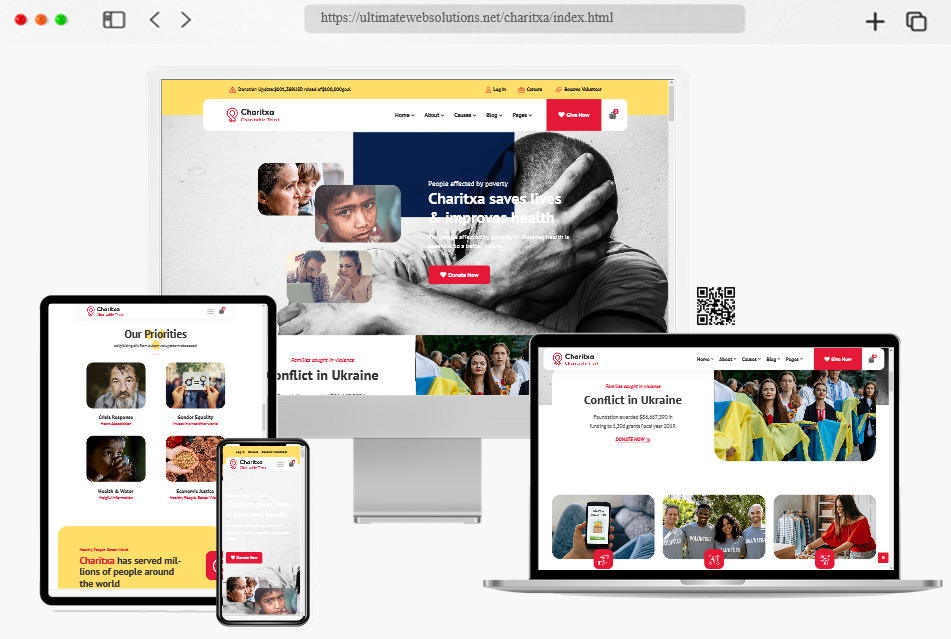 More info / download Demo
Wishon
Wishon is a high-quality HTML template tailored for non-profit charities. It excels in catering to charity, fundraising, nonprofits, NGOs, religious institutions, and various other non-profit entities seeking an effective online presence.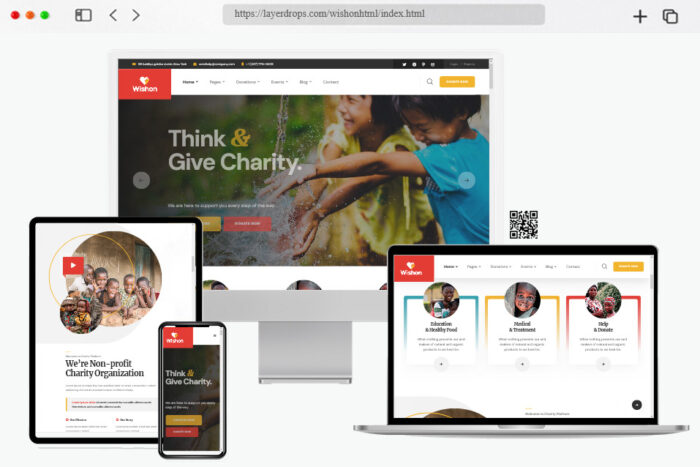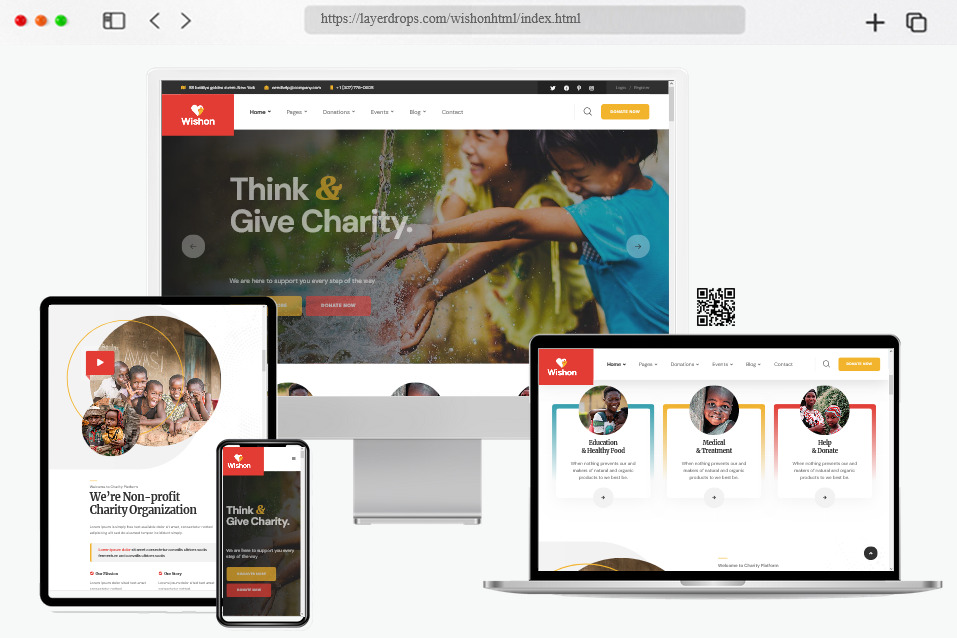 More info / download Demo
CrowdPress
CrowdPress is an HTML template for crowdfunding and charity. It's great for sites about charities and donations. CrowdPress works best for any kind of non-profit organization, donation, foundation firm, child care and child protection, and different kinds of businesses. This template was made with Bootstrap 5.1x, which is the most popular responsive CSS framework in the world, HTML5, CSS3, jQuery, and a lot of other new technologies.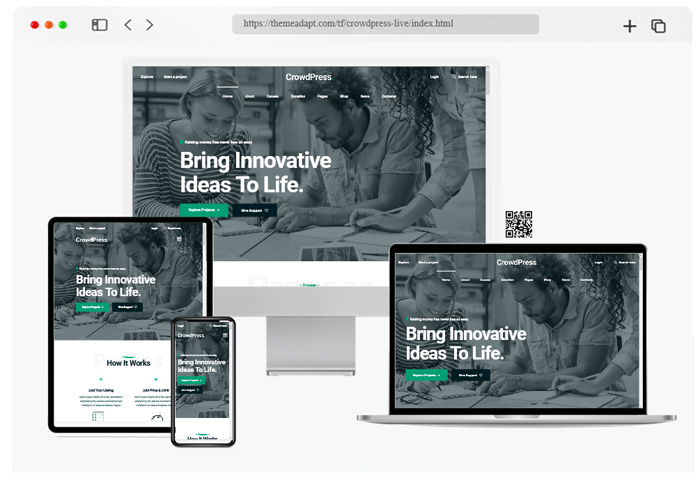 More info / download Demo
Jagowelfare
Jagowelfare is an HTML template made for non-profit websites, such as those for government social programs, NGOs, donation and fundraising sites, and so on. Jagowelfare is a charity and non-profit template that can be used by any social organizations, funds, or donation campaigns. A lot of attention paid to the smartphone and tablet experience.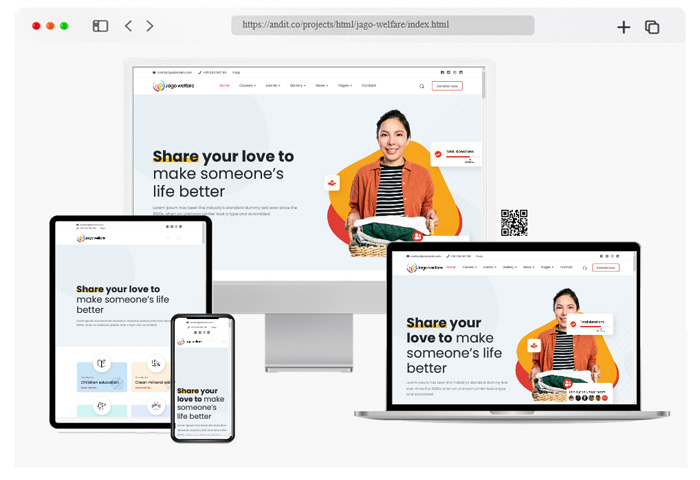 More info / download Demo