This best responsive classified WordPress themes are perfect for online classifieds website today with our popular, SEO friendly, feature rich classifieds theme package for WordPress. As part of those classified themes you will have access Premium child themes allowing you to pick and choose you website design. Premium themes are additional designs that you can use along with your classifieds theme. Once you've installed the classifieds package onto your website you simply download and activate your chosen design. Modern design and fast speed of light, with perfect ground to provide a wide range of non-invasive capabilities with our classified WordPress themes. A couple of clicks, if any registered backup and store in the Auto Import of shop supply store has already been registered was never easy. That you can use the custom-made at any time after the user clicks the analysis that can be accessed and provide insights needed for each store and products.
Related Article
Best Classifieds
Best Classifieds is a free WordPress theme for launching professional looking classifieds and ads websites. Best Classifieds is a premium mobile responsive WordPress theme. The Best Classifieds theme can be easily customized using the customizer settings within the WordPress admin dashboard.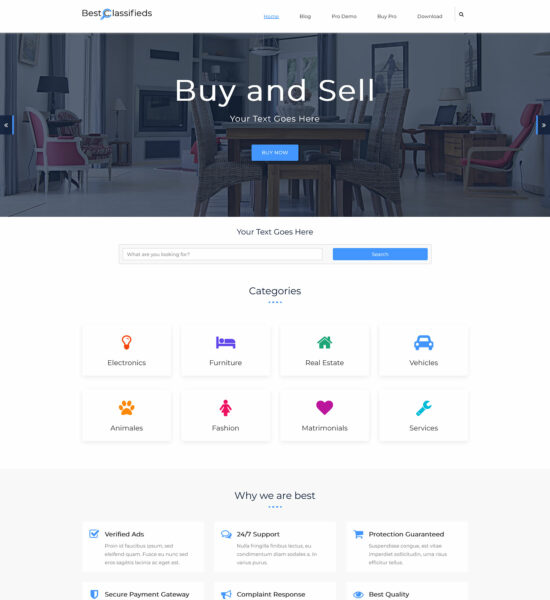 More info / download Demo Get Hosting
Listivo
Listivo Classified Ads WordPress Theme. It can be used to create a great website for any type of directory. This theme is very easy to use and very flexible. You can customize the options without having any programming skills: change the colors, images, sizes, spaces and the location of any section with just drag and drop. Listivo includes a powerful search module that allows you to modify all list fields and search forms with just a few clicks. Your final website made through Listivo will be very fast and will work perfectly on mobile devices and tablets.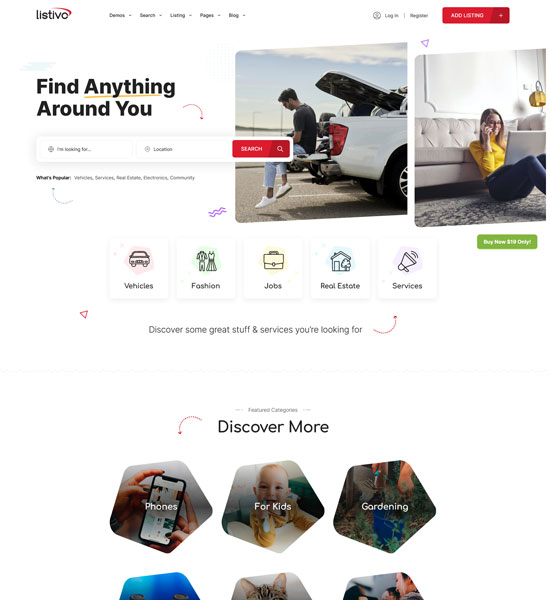 More info / download Demo Get Hosting
Clasifico
I Classify is built as a clean and modern classified advertising WordPress theme. This theme is perfectly designed and organized for any type of advertising or any type of online listing site. You can easily modify and expand your theme layouts. Bundled theme with three clean home page layouts with two different header styles and over 15 variant inner pages.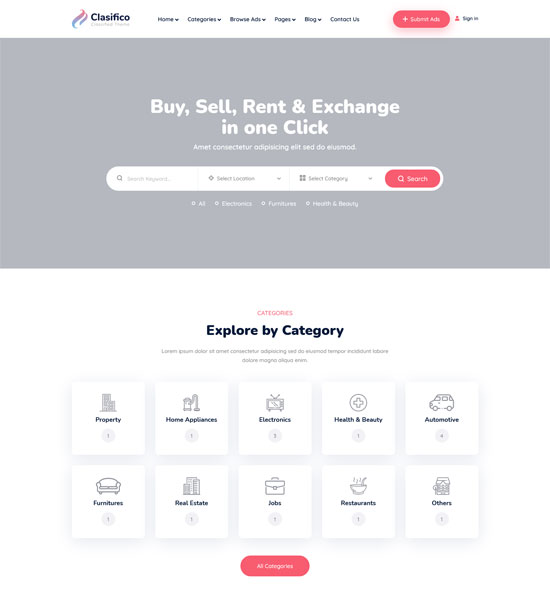 More info / download Demo Get Hosting
Maxwheels
Maxwheels is a flawless multi-functional car dealership theme that is best suited for any car, bike, boat, car service, rental service, repair service, and any motor accessories store. It's packed with super great features that allow you to create a modern auto trading website. We have integrated the most unique car review system inside, you can add custom fields as much as you like.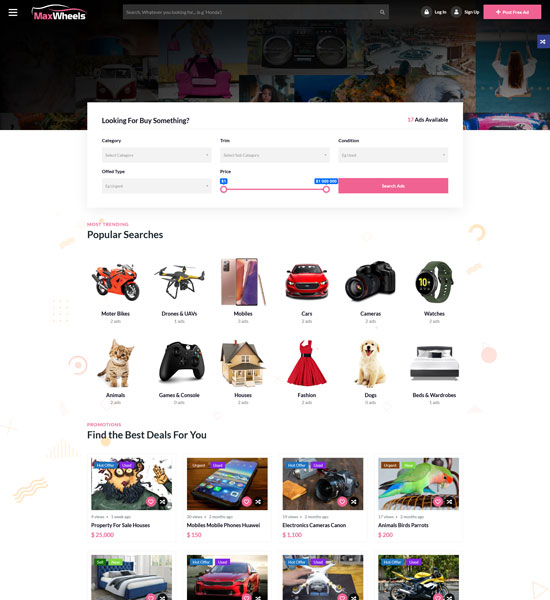 More info / download Demo Get Hosting
Lisfinity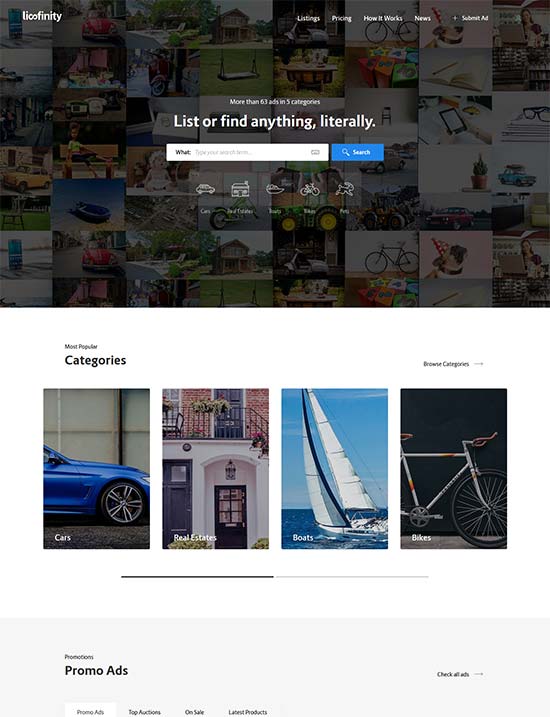 More info / download Demo Get Hosting
Classima
A WordPress theme for creative, clean, modern and elegant classified ads. For a classified ad and directory site, this theme is perfect. Being optimized for Gutenberg, you can design and publish articles in the easiest way. We created this theme with Elementor Page Builder so that you can customize your website via a drag and drop interface.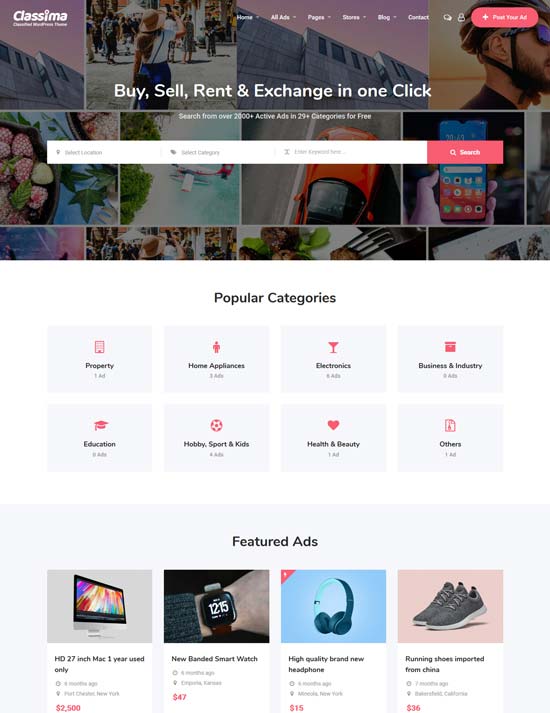 More info / download Demo Get Hosting
Adifier
A truly complete classified advertising market. All of its features are built from scratch, which means you only have what you need. It has been carefully designed with lots of analysis from all popular markets to include all the features available and add the ones that were missing. Let's look at some of the features offered by the theme.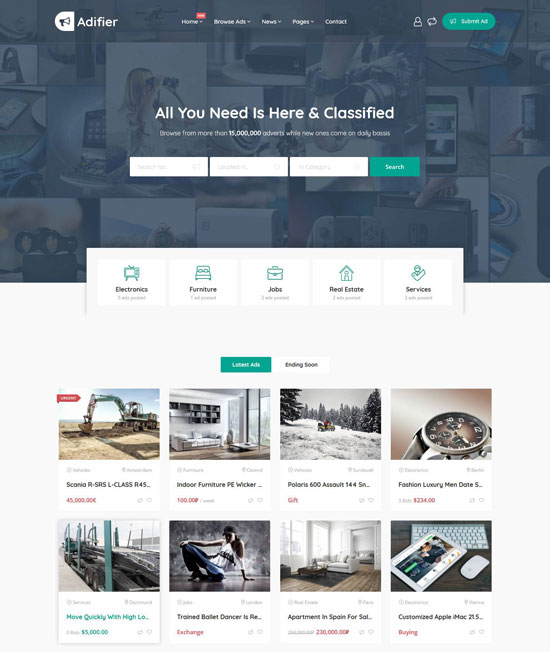 Demo More info / Download Get Hosting
AdForest
One of the leading and best WordPress Premium classified ads with a great user interface. Get a WordPress publishing theme with different color options and an awesome Wp feature. Google map is also integrated into the theme of WordPress ads. The usability of our WordPress classifieds theme and our overall user experience are consistent with the modern era. If you want your classified business to stand out from the crowd, AdForest is the one-stop solution to get started and make it easy to sell your products online.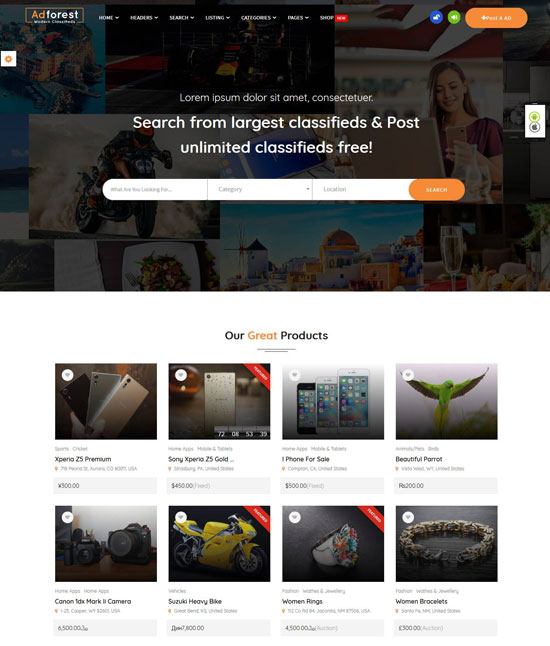 Demo More info / Download Get Hosting
Classiera
One of the hottest new premium ads WordPress theme. theme uses a flexible user comes back to the criminal law framework. Classiera offers more than six unique homepage design. It offers exclusive front end panel. You can also get this theme Unlimited color options. Google Maps is integrated into this category WordPress theme. Make sure you are eating according to modern times using the free Google Font awesome icons – certainly in the printing templates, usability and overall user experience level is also the font. To facilitate the use and optimum ease of viewing environment. To complement your classified business you really do not miss out on this subject. It's a very quick and easy to install and customize.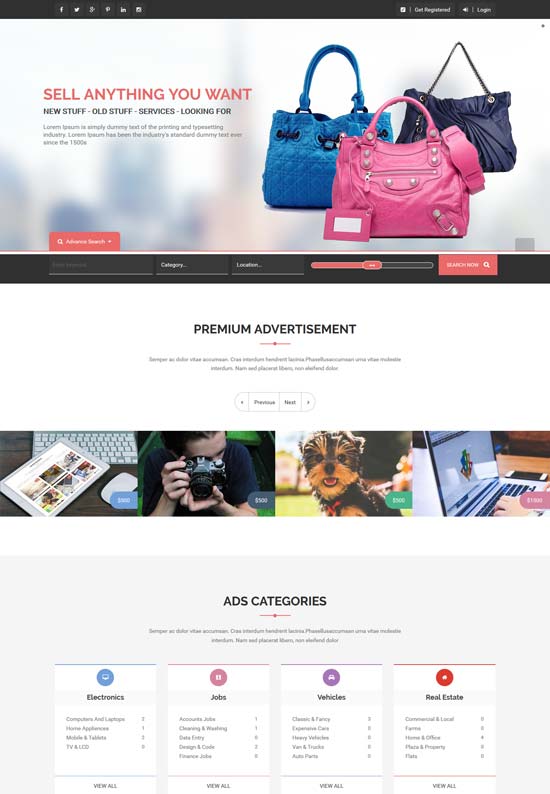 Demo More info / Download Get Hosting
CouponHut
A modern and clean WordPress theme classification made great attention to detail and personalized setting the price. Install two types-click the site the way you want the item with an easy page builder (coupons and discounts), so you can customize and a bunch of custom widgets. Combined with the evaluation system and a fantastic option panel, coupons and deals will be the last stop and the first theme.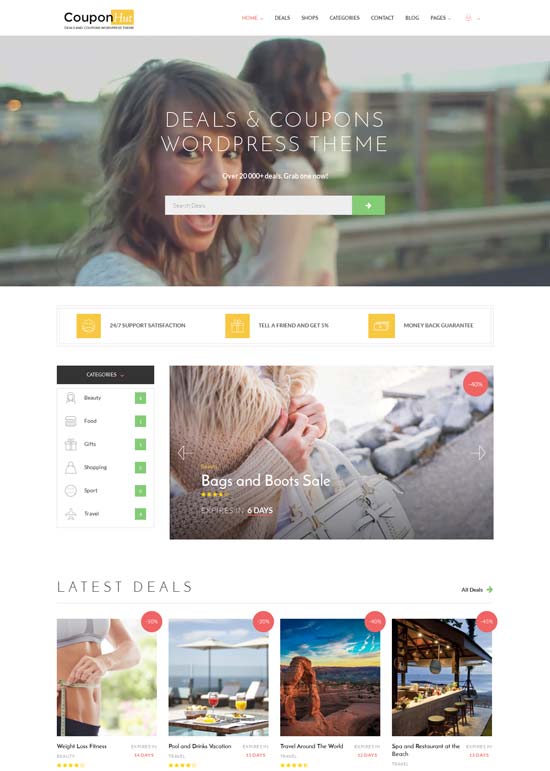 Demo More info / Download Get Hosting
Price Compare
Compare WordPress classified theme made to classify the most complete and thorough solution for price comparison web business. It is optimized for very fast performance and easy navigation. I think the most important thing is that we were able, because of the speed of a large number of sites to be affiliates for making price comparisons with WordPress theme, designed to complement the beautiful eye-catching themes that are provided. The great achievements + – So the score of the current rate of 92.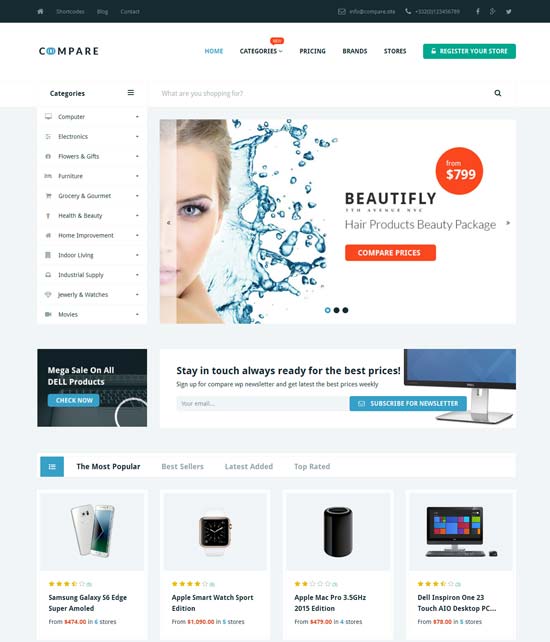 Demo More info / Download Get Hosting
Classiads
Super flexible premium WordPress theme classification, and has a fully responsive design. Built with HTML5 and CSS3. In it was a lot of fun to use thinking and consideration for ClassiAds.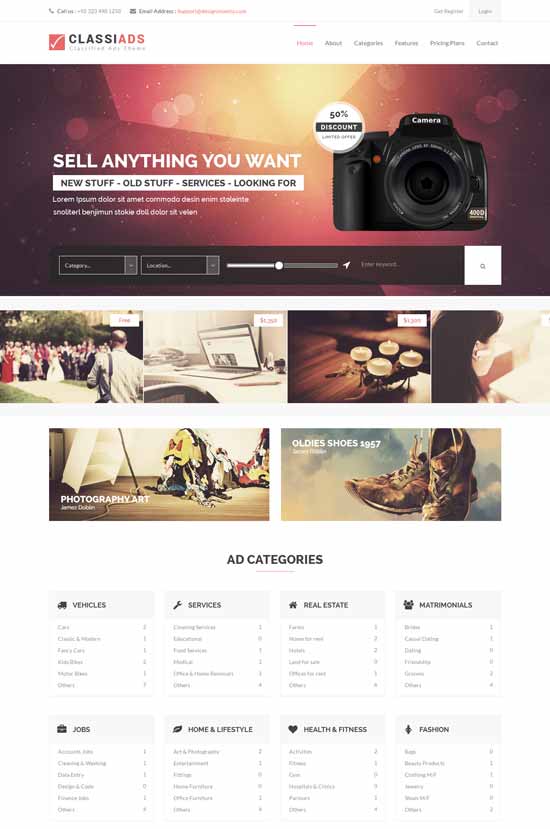 Demo More info / Download Get Hosting
Classify
Classification has a fully responsive design, high quality and classification of the super flexible classified WordPress theme list. Built with HTML5 and CSS3. It was put on the classification pleasure to use it a lot of thought and consideration. I carefully prepared a template matched a strong focus on typography, usability and overall user experience hands. Very quick to install and easy to customize.