If you're looking for a great WordPress theme that's both stylish and functional, you can't go wrong with a classified theme. These themes are designed to help you get the most out of your website, and they're perfect for businesses or individual users who want to make a great impression.
WordPress classified themes are the perfect solution for creating a classifieds website. With so many great features and a wide range of customization options, you can create a truly unique site that will stand out from the rest.
Related Article
Best Classified WordPress Themes
Listivo
Listivo is a directory-specific WordPress theme that can be used for a wide number of purposes and is appropriate for many different kinds of businesses and organizations.
There are a variety of applications for it that may be carried out. Because of the flawless connectivity that the plugin has with the elementor page builder, practically any kind of page may have its appearance easily altered to fit the preferences of a user.
With the help of Listivo, you can quickly and simply design websites that incorporate directory listings on them. Demos are also available for particular industries, such as the real estate market, the automobile dealer market, and the classified advertisements market.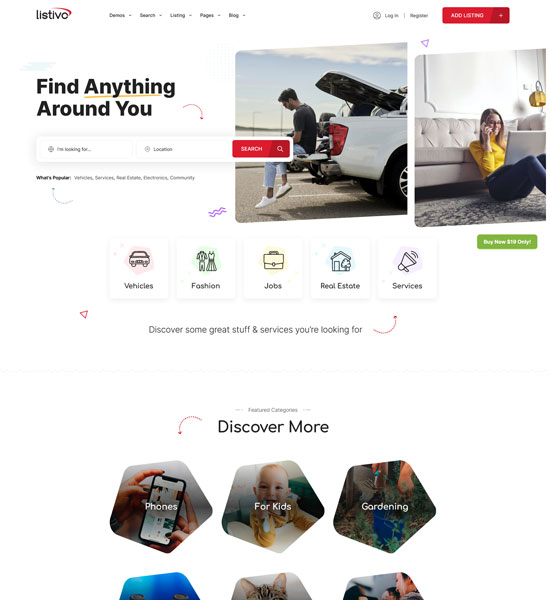 More info / download Demo Get Hosting
Clasifico
Clasifico is a slick and cutting-edge responsive WordPress theme designed specifically for classified advertising. This theme is well designed and arranged, making it an excellent choice for any form of online listing site or advertising website.
The theme layouts are very flexible and easy to change and develop. The theme comes included with 15+ various inner page variations in addition to three alternative homepage layouts that are clean and clutter-free.
Clasifico is Elementor compatible. With Elementor, you can quickly and simply control your layout by dragging and dropping elements using a live front-end editor.
This saves you a lot of time. You are able to customise the layout for whatever you want thanks to the built-in add-ons that come with this theme. Within this theme, we have included all of the essential components that go into making a detective website.
Therefore, there is no need for you to worry about adding anything further. Let's have a look below at some of the additional characteristics that are connected to this overarching topic.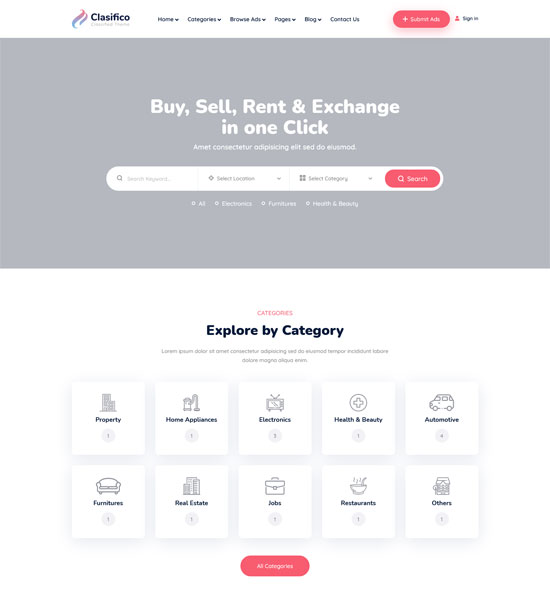 More info / download Demo Get Hosting
Maxwheels
Maxwheels is a faultless multi-functional auto dealer theme that is ideally suited for any automotive, motorcycles, or boat company, as well as any store that sells motor accessories, automobile services, or repairs cars.
It is loaded with quite useful features that enable you to create a cutting-edge website for dealing in automobiles. We have included the most prestigious automotive evaluation system into the site, and you are free to add as many unique categories as you want.
Within the automobile WordPress theme, we are providing a total of six unique home page templates for you to choose from. In addition, you have the option of selecting a listing style or a grid style, a default layout or a classic layout, and a modern gallery or a simple gallery depending on the requirements of the website.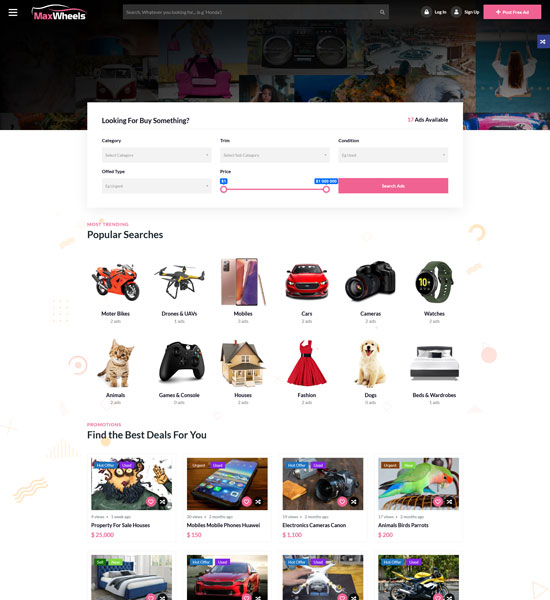 More info / download Demo Get Hosting
Lisfinity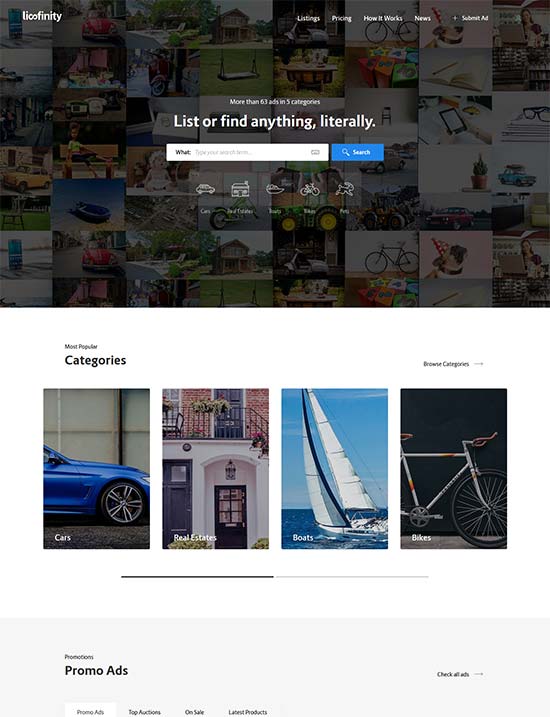 More info / download Demo Get Hosting
Classima
Classima is a WordPress theme for classified advertisements that is elegantly designed, squeaky clean, and up to date. This theme is ideal for use on a website that provides classified listings and directories.
Due to the fact that Gutenberg is optimized, you may develop and publish content in the most direct manner. We developed this theme using the Elementor Page Builder so that you may modify the appearance of your website using a user interface that is based on dragging and dropping elements.
It has four stunning multi-homepages, each of which may be completely customized using the sophisticated page builder. These basic capabilities are included. Using a demo importer that only requires one click, you can quickly and simply import any of the homepage demonstrations. A total of 5 different header styles may be accommodated by the 4 available options.
Classima allows you the ability to choose the colors that will be used for each block that appears on your webpages. You may choose from over 800 different Google fonts while you are writing your blogs on any of the two different layout choices. You have complete control over the size of the images used for thumbnails and galleries.
You may make real-time changes to the settings of the website's whole theme by using the powerful administration interface provided by Redux. You are able to make modifications to the layouts and several other key parts of the full website by using the Child Theme.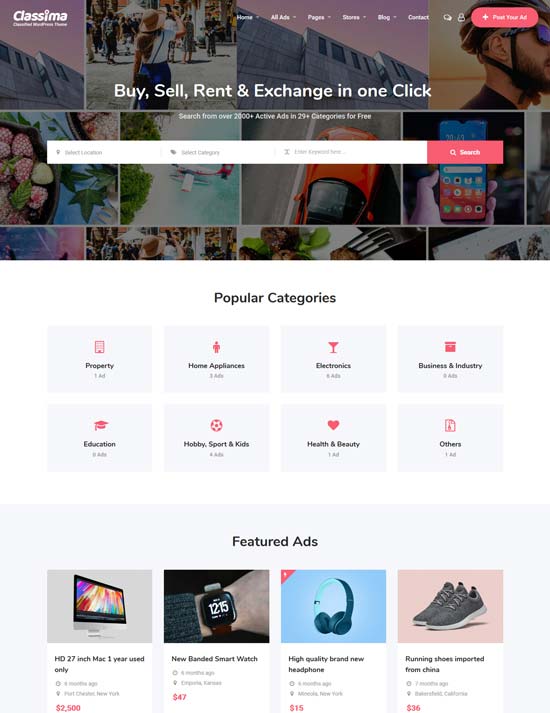 More info / download Demo Get Hosting
Adifier
Adifier is a genuinely comprehensive online marketplace for classified advertisements. Because each of its features is constructed from the ground up, the product has just those components that are necessary.
It was developed with great care and a great deal of research into the most popular online markets so that decisions on which features to add could be made. Let's have a look at some of the features that are available with the theme.
Your users will have the ability to show their classified advertising in a better manner if they have the choice to pick the kind of ad, as this will allow them to offer prospective buyers information that is clear and concise.
They will have the option of selling it, putting it up for auction, purchasing it, trading it, or giving it away. The visitors have the ability to filter the advertising based on this category as well.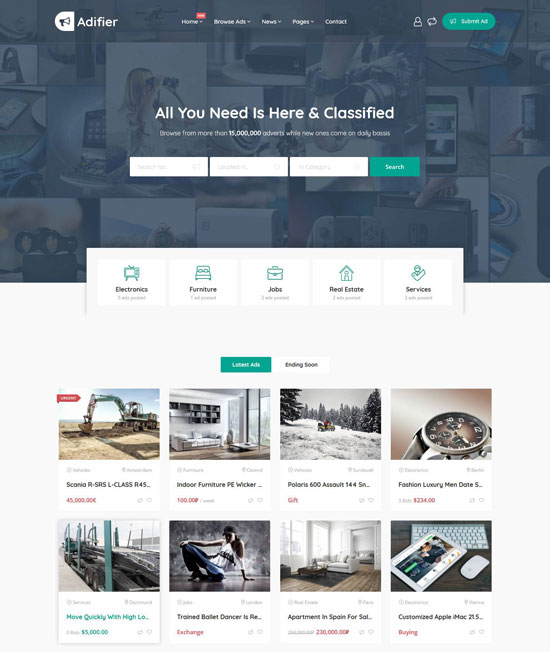 Demo More info / Download Get Hosting
AdForest
With an exceptional front-end user interface, AdForest is one of the most popular and well regarded premium classified ads WordPress themes available today. Get a WordPress theme for ad posting that comes with a variety of color customization possibilities in addition to outstanding WP features.
Additionally, Google map is included into the advertisements theme for WordPress. The usability of our WordPress categorized theme, as well as the overall user experience, was evaluated according to Modern Era standards. AdForest is the one-stop solution that will simplify the process of selling your items online and help your classifieds company stand out from the competition if that is something you are striving for.
AdForest is a Premium Classified WordPress Theme that has an extremely flexible design, several reusable sections, and a wide variety of customization options. Additionally, the layout of this theme is completely responsive. We constructed it using the most up-to-date versions of HTML5, CSS3, bootstrap 5, and JQuery 3.1.
We provide a comprehensive classified solution that can accommodate any and all needs for publishing advertisements. This theme was painstakingly designed by hand with a significant emphasis placed on typography, usability, and the overall user experience. It may be set up in a very short amount of time and is simple to modify.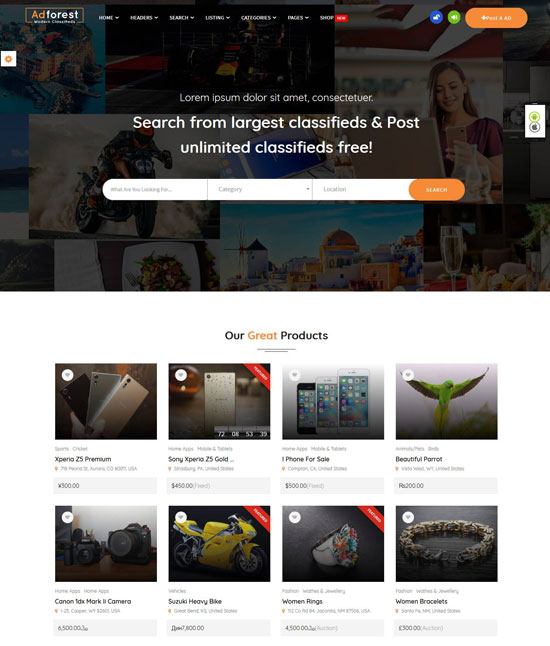 Demo More info / Download Get Hosting
Classiera
Classiera is built on the Redux Framework and has a user panel that can be changed. Classiera has more than 7 different Layout designs, a unique user interface on the front end, and an unlimited number of color options. This WordPress theme for classified ads also has Google Maps built in. Classiera delivers amazing page layout choices.
Classiera has a level of usability and user experience that you would expect from a modern WordPress theme. Font-Awesome icons and free Google Fonts make beautiful type even better. If you really want your Classified Ads Business to stand out, you can't miss out on this theme. It's easy to set up and easy to change.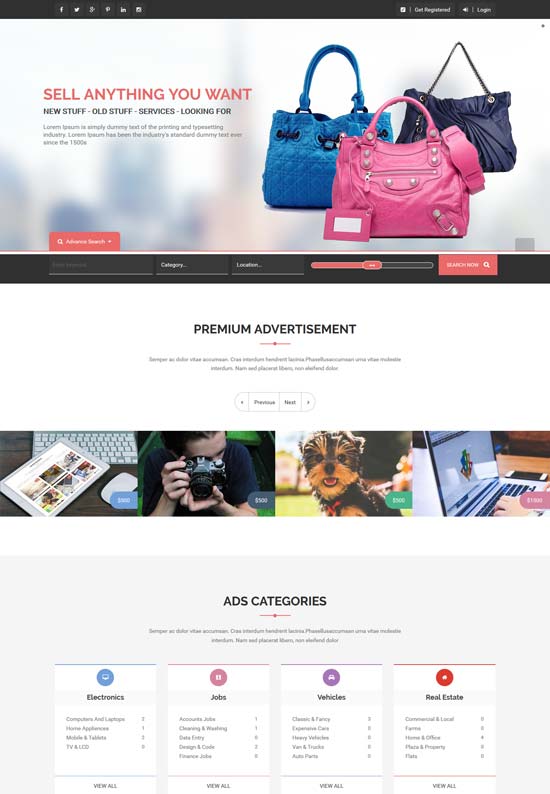 Demo More info / Download Get Hosting
CouponHut
With CouponHut, you can make a great website for deals, discounts, or coupons. It comes with a clean and modern responsive design, a drag-and-drop page builder, custom widgets, and a rating system.
CouponHut is a website for coupons and deals. It is run by WordPress, which is a content management system used all over the world. This was the main reason why it was made and designed. It is a great choice for an affiliate site because it has a powerful Options Panel and Member Registration.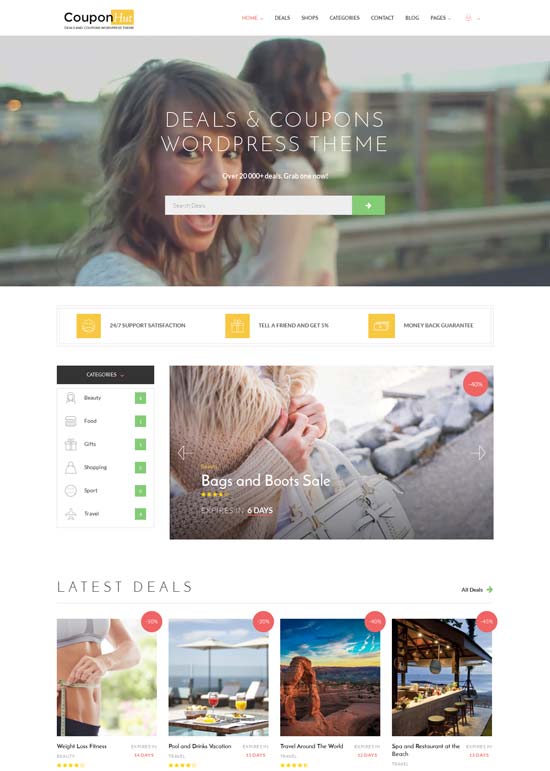 Demo More info / Download Get Hosting
Price Compare
Price Compare: The Price Comparison WordPress Theme is the most complete and well-made solution for websites that compare prices that you can get right now. It has gone through a lot of optimization work to make it run quickly and be easy to use.
Because this website could have a large number of affiliates, the speed of the website was the most important thing we thought about when we made the Price Compare WordPress theme. This was done to match the theme's beautiful, eye-catching design. So, your speed score is currently 92, which is an A+ and a great accomplishment.
Our theme has a lot of useful features that don't get in the way. Its modern design and lightning-fast performance make it the perfect setting for them. Shops can be registered with just a few clicks from the frontend or the backend, and store feeds from businesses that have already been registered are automatically imported.
Behind that, you'll be able to use custom user clicks analytics, which you can access at any time and which will give you all the important information you need about each shop and product.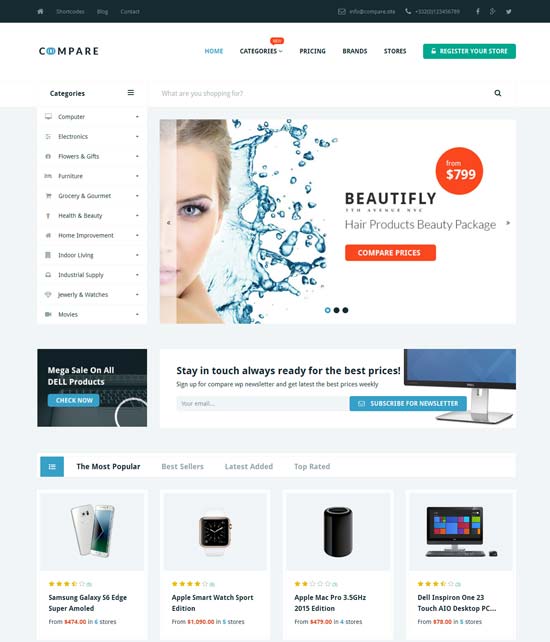 Demo More info / Download Get Hosting
Classiads
Super flexible premium WordPress theme classification, and has a fully responsive design. Built with HTML5 and CSS3. In it was a lot of fun to use thinking and consideration for ClassiAds.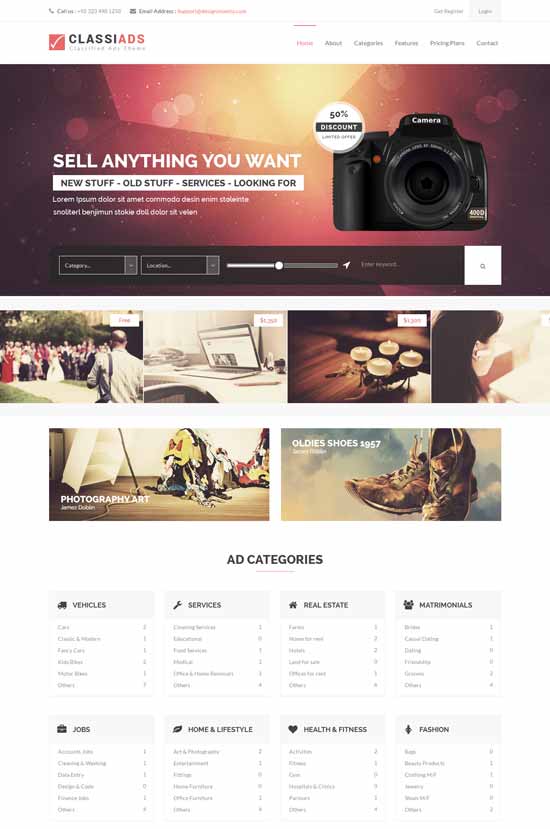 Demo More info / Download Get Hosting
Classify
Classification has a fully responsive design, high quality and classification of the super flexible classified WordPress theme list. Built with HTML5 and CSS3.
It was put on the classification pleasure to use it a lot of thought and consideration. I carefully prepared a template matched a strong focus on typography, usability and overall user experience hands. Very quick to install and easy to customize.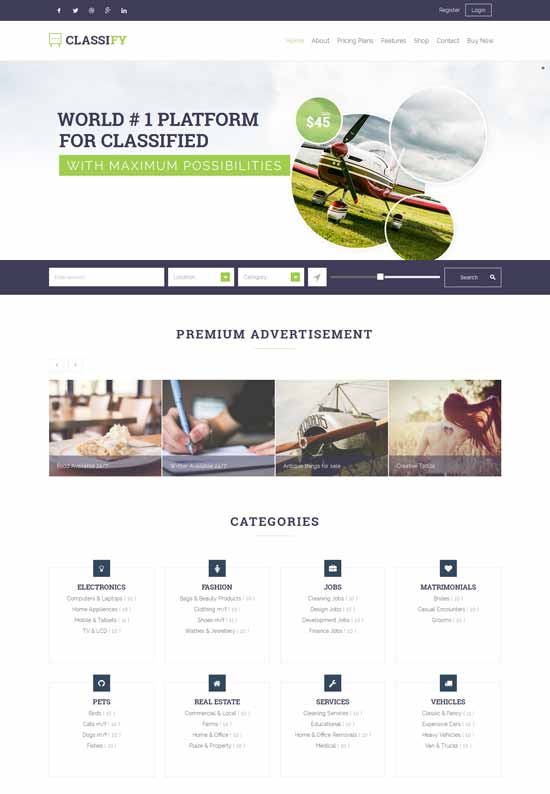 Demo More info / Download Get Hosting
Best Classifieds
Best Classifieds is a free WordPress theme for launching professional looking classifieds and ads websites. Best Classifieds is a premium mobile responsive WordPress theme. The Best Classifieds theme can be easily customized using the customizer settings within the WordPress admin dashboard.