Those dedicated free & premium WordPress Themes with clean minimalist design layout will undoubtedly catch the attention of your visitors because it design style that retains a basic and functional focus, it avoids overly complex designs, instead relying on clean, open space, typography and layout. In this collection we are going to showcase to strengthen your online presence whilst presenting your work in a minimalist and powerful way.
All these premium​ Minimalist Themes are high quality and professional design that it is very useful and save you lots of time with your design project without reinventing the wheel . So, enjoy this collection and have good luck in creating a website templates your business.
Seasonal
Seasonal is a responsive minimalist blogging theme with features and style options that will make any blog purist enjoy writing amazing articles. Part of your experience is having the choice to have a solid background colour to your sidebar, or if you really want something that stands out, insert a photo that brings visual enjoyment your readers will love.
Tailor
Tailor is a minimalist WordPress theme developed mainly for tailoring business but this can be used for any tailor business. Tailor theme is very easy to use and customize. It is mobile friendly , SEO and speed optimized for fast loading.
Apex
Apex is a sophisticated, minimalist theme. It looks great and performs wonderfully on phones, tablets, laptops, and everything in between. As a fast, responsive, accessibility-ready, and translation-ready theme, Apex is a theme you can trust to present your content to the world.
The Huxley
The Huxley is a modern blog theme with a very contemporary home page layout and an optional home page slider that profiles your featured posts above all else, literally. It's a great way to ensure that your latest or greatest posts get the attention they deserve. You can also customize the main theme colors, logo, favicon and social media links without any coding required. Related posts and author bios are also optional additions.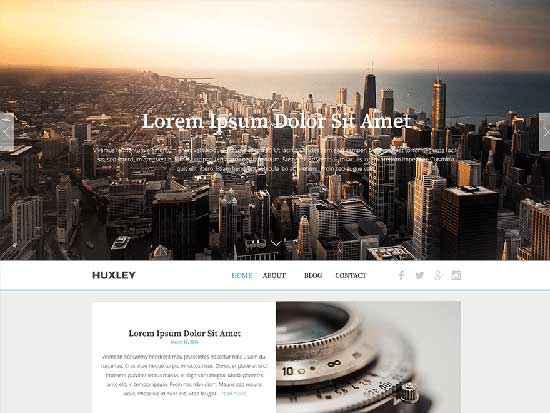 more info / download
Founder
Founder's minimalist style presents your content in a way that is both bold and professional. As a responsive theme, Founder is beautiful on phones, tablets, and laptops, and is optimized to load quickly on each. Built with Google's multilingual font, Noto Sans, it is compatible with hundreds of languages. Lastly, as an accessibility-ready theme, visitors around the world can appreciate your content regardless of disability
Poet
Rara Clean
Rara Clean is a simple and clean WordPress blog theme. It is responsive and adopts to various screen sizes, ensuring that your content is perfectly displayed to the visitors using tablets and mobile devices. If you are looking for a clean and professional blog theme that compliments your visuals and also provides you ample space for text, Rara Clean is perfect for you. Along with the clean design the theme comes with Theme Options and includes featured Slider to highlight your posts and pages. It also has 3 widgets under the main content. This theme is translation ready and is currently translated in Russian, Chinese, French, Danish, Portuguese, Dutch, German and Spanish.
Kihon
Kihon is a basic theme great for simple blogging. It has a classic design matched with a modern touch. You can also customize the header size, upload your own logo, change colors of the header, footer, theme accent color, menu links and more. Kihon is especially great for starters.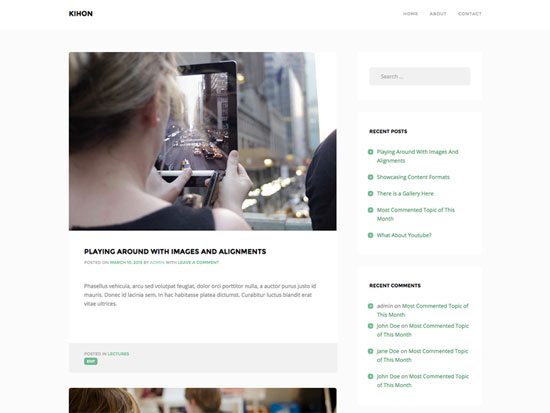 more info / download
Swallow
Minimal WordPress Theme with the subtle touch of human personality. Swift and light as swallow. Contains only necessary goodies. Designed for people with sense of humour and character. Please take a look at it if you are bored with pixel perfect robot made themes. Swallow is ment to be more human design friendly with its hand drawn icons and custom fonts.
Premium Minimalist Themes:
Suarez
SUAREZ is truly one of the cleanest and most well designed minimal themes on the marketplace today! Built for the latest web trends, suarez gives you the power to create designs and pages for your wordpress projects. Perfect for any skill level and any industry we have developed the theme from the ground up, making sure that no matter what your design or coding skill level Suarez will allow you to create stunning websites with ease. We have also created over 50 ready to go pages and demos for industries such as, creative, corporate, fashion, music, lawyer, architect, interior design, wedding, beauty plus much, much more.
Cross
Appster
Appster is the ultimate clean and minimal one-page parallax app landing page WordPress theme for advertising and showcasing apps in a sleek elegant delivery.
Cleanse
Cleanse is a Clean, Flat , Minimalist Style WordPress Theme perfect for any creative professional or business looking to show off their portfolio.
Mug
A clean and creative grid theme, an ideal solution for creative professionals that love grid and minimalistic design. The originality of the theme, its stunning design and layout capabilities will give your portfolio the attention that it deserves.
Calcium
Duo – Unique Minimal Responsive WordPress Theme
Simplify
Simplify is WordPress theme for bloggers and creatives. Simplify is all about content that why i elements like navigation and widgets are hidden outside of canvas. I believe that i created simple yet powerful theme that will help You start own website in minutes.
Reset – Minimalistic Portfolio Theme
Reset is a minimalistic responsive theme. It is retina ready and has everything you need to present your work. Unnecessary things are cut out. All of them. I've included the .less file, used in the theme. You can change the color accent, just with a touch of one variable.
B:LIV – Responsive Minimal WordPress Theme
B:LIV (pronounced Believe) is a minimalist fully responsive WordPress theme inspired by Swiss design principles. Bold, clean typography along with fine touches of design elements will make your content stand out and keep your visitors happy.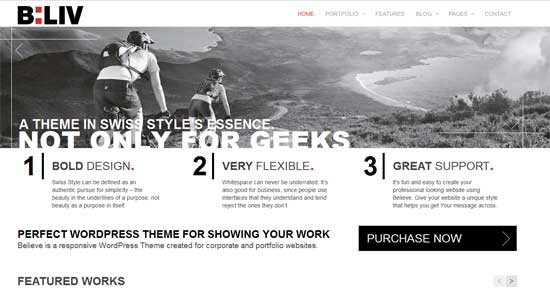 demo more info / download
CleanGold – Minimal WordPress Theme
CleanGold is a HTML5+CSS3 fully responsive WordPress theme with a minimal and clean design. Highly optimized with mobile first technique, this theme can be used for personal portfolios, art and creative studios, but can be customized for any business.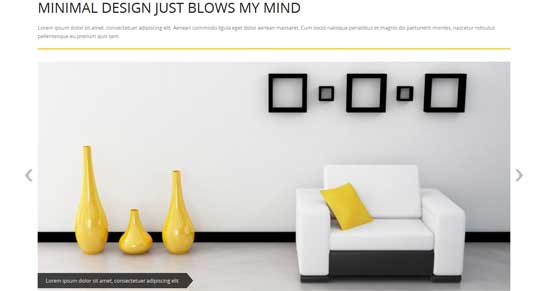 demo more info / download
Read WP – Responsive HTML5 Minimalist Theme
Read is a responsive html5 WordPress theme focused on readability with a minimalist design.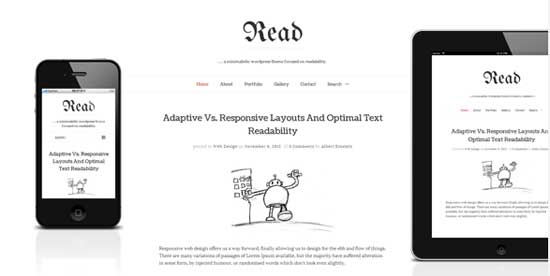 demo more info / download
rite : Minimal, Responsive, Blog
rite, minimal responsive blogging at its finest, you write and allow your vistors to read without distractions.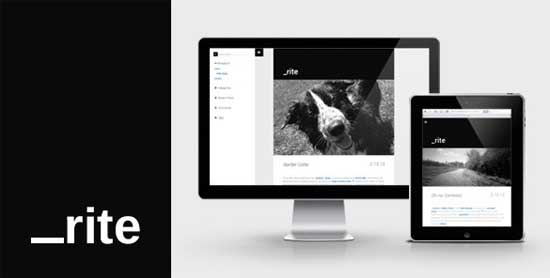 demo more info / download
Great Pearl – Minimal Portfolio WordPress Theme
Great Pearl is an awesome minimal portfolio WP Theme. Great Pearl WordPress Theme is designed for work showcase, display services, portfolio, business and corporate website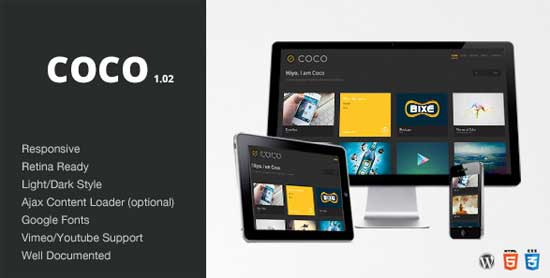 demo more info / download
Diario – Bold & Minimal Responsive WordPress Theme
Diario is a fully configurable and easy to use WordPress theme with a lot of great features. It has been specifically designed to be easily customized and it's created for creatives who want to make personal blog in minutes.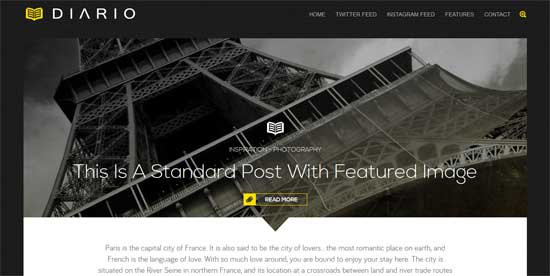 demo more info / download
HumbleShop – Minimal WordPress eCommerce Theme
Humbleshop: Minimal, responsive and clean design for wordpress eCommerce that fit all modern shops and boutiques.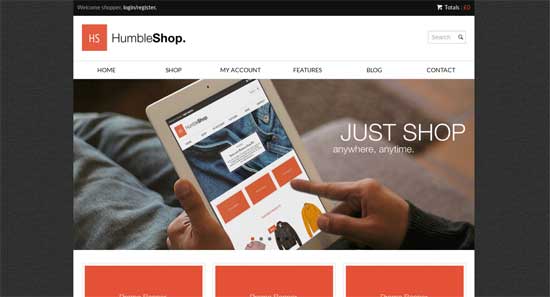 demo more info / download (55$)
Super Spark – Responsive Minimal WP Theme
Super Spark is a super awesome WordPress theme. It's designed especially for creative business industry and also it can give a corporative feeling. With admin panel in this theme, you can discover many features and various options that you can play with the theme.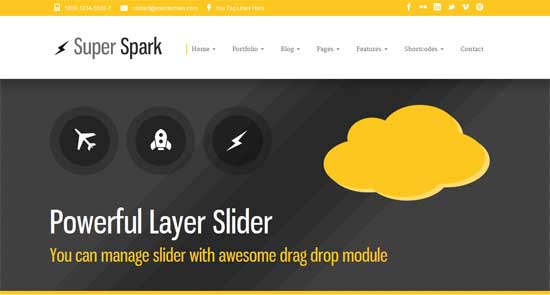 demo more info / download
Photojax Minimalist AJAX Photography Portfolio
Photojax is a clean and minial, yet unique, WordPress photography theme. This sleek and modern theme features two color skins, beautiful galleries using the premium Royal Slider plugin ($20 value), an audio player, and a minimal blog (all you'll need for a great photography portfolio).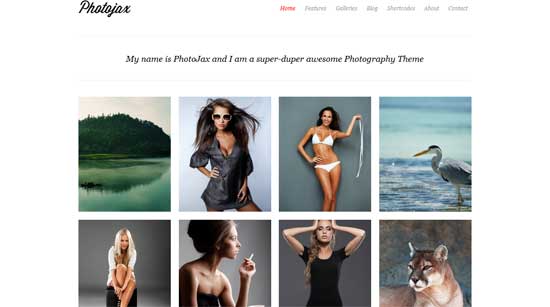 demo more info / download
Vertue – clean and minimal AJAX portfolio theme
Vertue: a nice and simple, clean and minimal WordPress theme ideal for anyone looking to showcase their awesome work in an awesome way. And on top of that it's rocking a pretty mean blog too!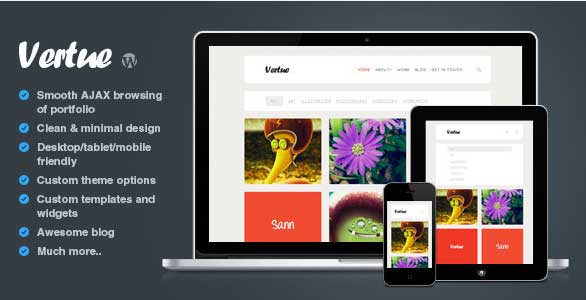 demo more info / download
Timeline Minimal Responsive WordPress Theme
Timeline is a minimal, clean and color customizable WordPress theme for creatives. You can create a timeline as your portfolio, use the beautiful blog style to write about interesting things or you can sell your products with amazing pricing tables.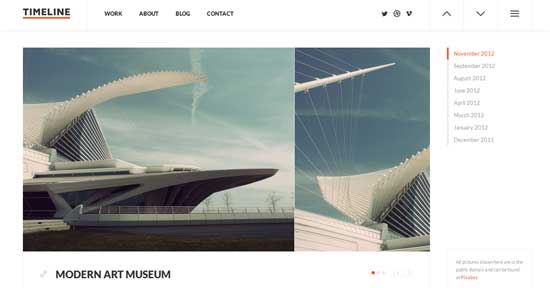 demo more info / download
Porch Responsive Minimal WP Theme
Porch is a WordPress theme for Portfolio or Agency It comes with 4 differents minimal homepage layouts,Gallery Drag and Drop, Parallax background mouse movement,Carousel,2 sliders style,Animated skill bar,Theme options,Much image hover effects, Highlight color, Shortcodes, Widgets, Totop plugins, Pretty Photo, Testimonials animate, google fonts and Much more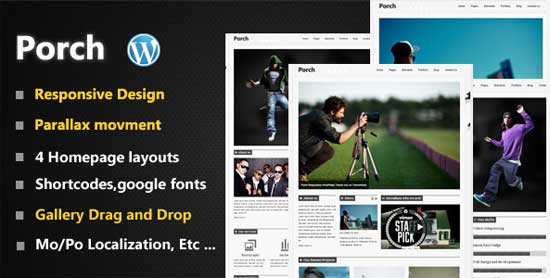 demo more info / download
Tree – Minimal Blog WordPress Theme
Tree is a minimal WordPress theme designed for primarily for blogs. The themes aims at making posting easy and informational to the end user while displaying a clean interface.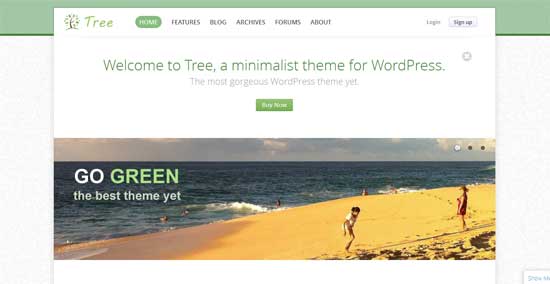 demo more info / download
Focus – Minimal WordPress Theme
Focus is a powerful, minimal WordPress theme great for photography and portfolio websites but can also be used for other projects.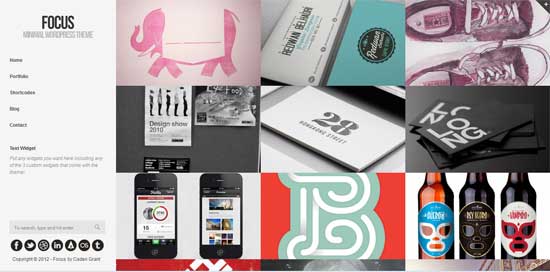 demo more info / download
Origami – Minimal Responsive WordPress Theme
Origami is a minimalist premium WP theme created by Satori Studio. Inspired by the paper-folding art from the Land of the Rising Sun, our aim was to develop a clean and aesthetically pleasing, yet stable, powerful, and highly customizable theme to use for personal websites/blogs or creative/portfolio websites.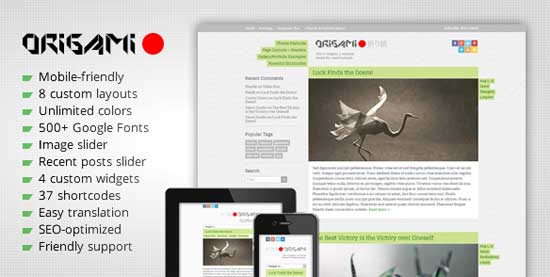 demo more info / download
El Toro – Minimal and Responsive Portfolio Theme
El Toro is a minimal and responsive portfolio WordPress theme build to power both individual sites and multiple users' community with content sharing.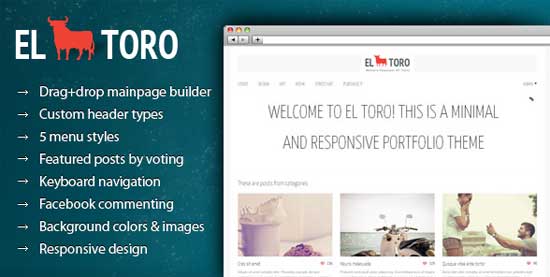 demo more info / download
Wellfolio – WordPress Perfect Minimalist Portfolio
Wellfolio is perfect way to show off your portfolio/projects. It has minimal design and interactivity.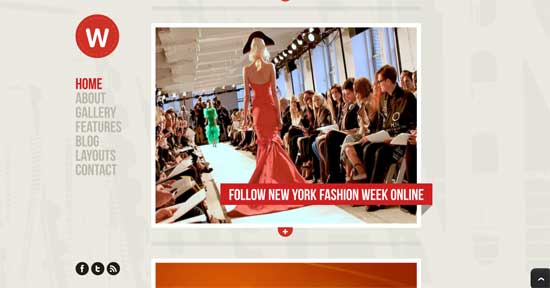 demo more info / download
Spacing: Responsive, Minimal & Bold WP Theme
Spacing is a Minimalistc and Bold Responsive WordPress Theme. It may be used both as a personal and agency portfolio and a business website. With a powerful Theme Options panel and an extensive documentation you will get your site up and running the way YOU want in no time.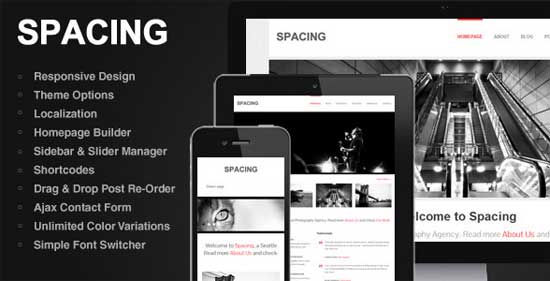 demo more info / download
Zito – Minimal & Responsive WordPress
Zito is a minimal, clean and responsive Portfolio/Blog WordPress Theme suited for the creative artists or agencies. Zito uses a timeless design to present your work.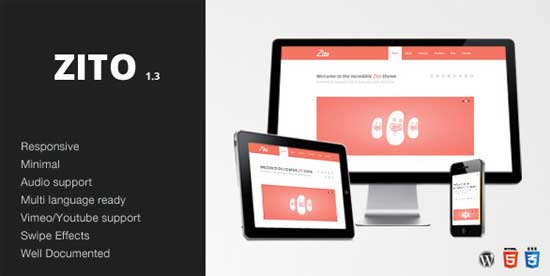 demo more info / download