Explore the world of pristine cleanliness and organized spaces with our latest blog post on Cleaning Services Website Templates. From residential to commercial cleaning, our curated list of templates offers a range of options to showcase your cleaning business online. Discover modern designs, interactive features, and user-friendly interfaces that will captivate your audience. Whether you're a professional cleaner or a cleaning company, these templates will help you create a sparkling online presence for your services. Don't miss out on the chance to make your cleaning business shine!
Clenq
Clenq is a contemporary and sleek HTML template designed for cleaning service businesses. It's suitable for various cleaning-related ventures such as office cleaning, maid services, and more. The template offers 3 home versions and over 20 inner pages, along with features like sliders and animations. Built on Bootstrap 5.x, Clenq ensures a responsive and visually appealing website for your cleaning services.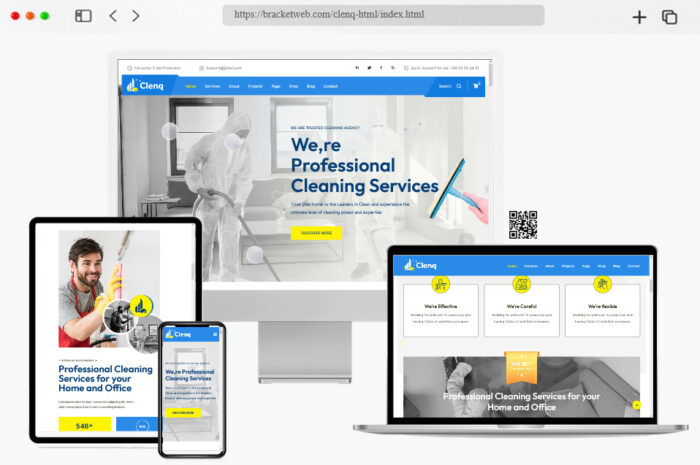 More info / download Demo
Cleaner
The Cleaning Company HTML Template offers a versatile solution for various purposes, including carpet cleaning websites. It caters to cleaning companies, gardeners, maids, car wash services, and more. Specifically designed for Carpet Cleaning, Tile and Grout, Window Cleaning, and other related services, this template comes with essential features such as portfolios, blogs, testimonials, and service pages. Whether you're in need of an attractive and efficient platform for sharing your work or promoting your services, this template provides a great choice for your online presence.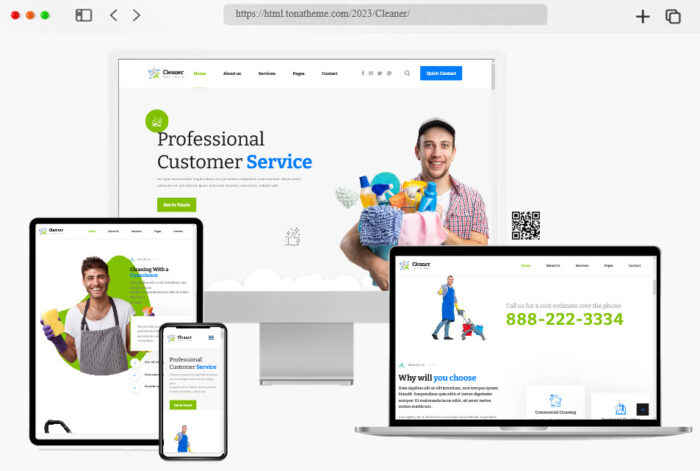 More info / download Demo
Cleanio
Cleanio is a modern HTML template designed for Dry Cleaning & Laundry Services. It's fully responsive and suitable for various cleaning businesses such as Dry Cleaning, Laundry Service, Cleaning Services, house cleaning, and more. Built with HTML5 and CSS3, Cleanio ensures compatibility across devices and browsers. The template offers customization flexibility and a well-organized code structure, making it easy to personalize and integrate with content management systems (CMS). With user-friendly design and thorough documentation, Cleanio streamlines the setup process for both developers and business owners.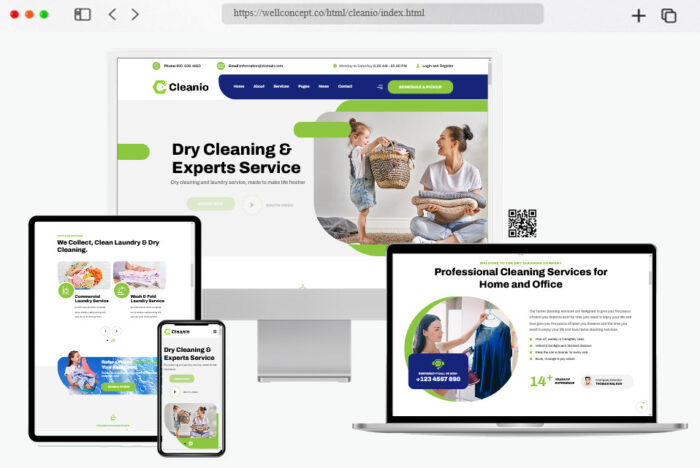 More info / download Demo
Cleanex
Cleanex is a specialized HTML template crafted for Cleaning Services, both residential and commercial. With a unique and appealing design, Cleanex is tailored for your online presence. Its 100% responsive layout ensures compatibility with various devices. The template offers essential features such as room details, blog, testimonials, facilities, and projects pages, allowing you to showcase your services effectively on the web.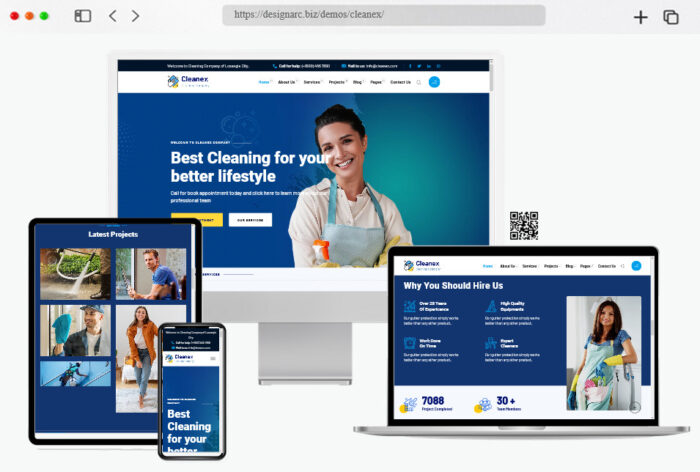 More info / download Demo
Clentac
Clentac is a premium HTML template characterized by its unique style and clean design. It's a versatile choice for various purposes, such as cleaning services, agencies, businesses, and companies. Whether you're offering floor cleaning, house cleaning, maintenance, or janitorial services, Clentac has you covered. The template includes comments for each section, making it easy to customize and tailor to your specific needs. Its adaptable design ensures a seamless fit for your cleaning-related ventures.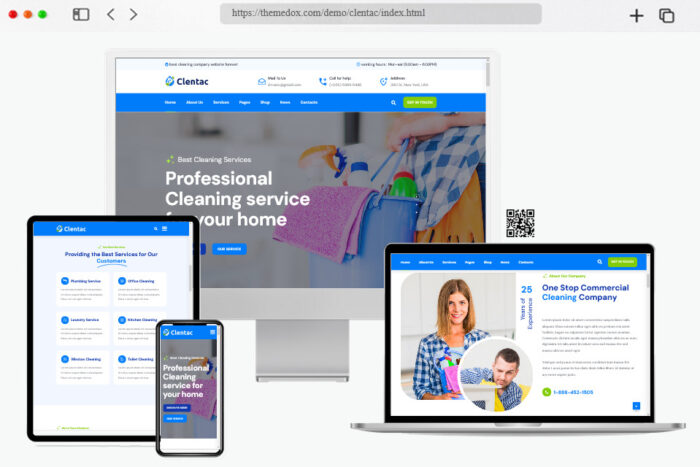 More info / download Demo
Cleanu
Cleanu is a responsive and highly customizable multipurpose template designed for cleaning services. It features 20+ valid HTML5 pages and 10 home page variations. Cleanu caters to a range of cleaning-related businesses, including labor services, house cleaning, office cleaning, construction, plumbing, and more. With well-commented code and a well-documented file structure, customization is made easy. The template also comes with 24/7 professional and fast support to assist you. Whether you need a website for cleaning solutions, housemaid services, or even a blog, Cleanu has the features to fulfill your requirements.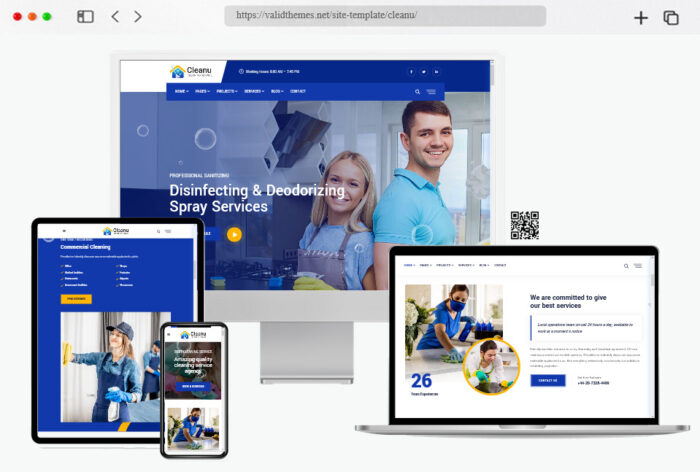 More info / download Demo
Prinash
Prinash Template is the optimal choice for power washing and pressure washing services. It offers detailed pages for various power wash and pressure wash-related services, including Power Washing, Window Washing, Paver Cleaning, Concrete Cleaning, and House Wash. If you're seeking a high-quality template with extra features for your Prinash services business, Prinash Template is the ideal solution for quickly launching your website.
Through industry research, user-friendliness, modern aesthetics, and optimized coding were prioritized to ensure fast loading times and high rankings. The template is responsive, powered by Bootstrap, and has been tested across all major devices.
More info / download Demo
Anwa
nwa is a modern and responsive HTML template designed for Cleaning, Washing, Renovation, and Pest Control Services websites. It utilizes Bootstrap 5 and Sass to create a W3-valid and Retina Ready layout that is user-centric. The template offers a premium experience and is fully compatible with a wide range of devices including mobiles, tablets, notebooks, and desktops.
Anwa's source code follows Good Programming Practices, making it easy to read and understand. It provides three demo variations, including RTL version and Dark & Light mode options. The template is built with Bootstrap v5.3.0 and Sass, and it features an AJAX-based Contact Form Submission. With its customization options and detailed documentation, Anwa is a versatile choice for creating a professional and functional website for cleaning and related services.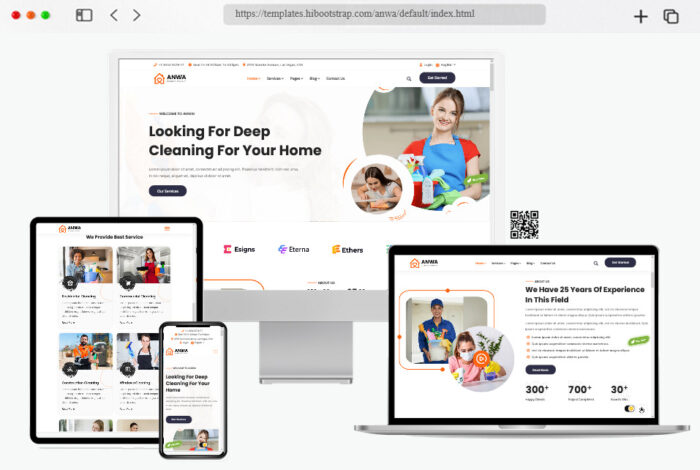 More info / download Demo
Poolix
Poolix is a cutting-edge and highly modern HTML template tailored for Pool Cleaning, Washing, Renovation, and Pool Services businesses. With its specialized design, Poolix offers an excellent option for establishing an online presence for your company. Whether you're in the business of pool maintenance, cleaning, or renovation, Poolix provides a compelling choice for creating a professional and effective website.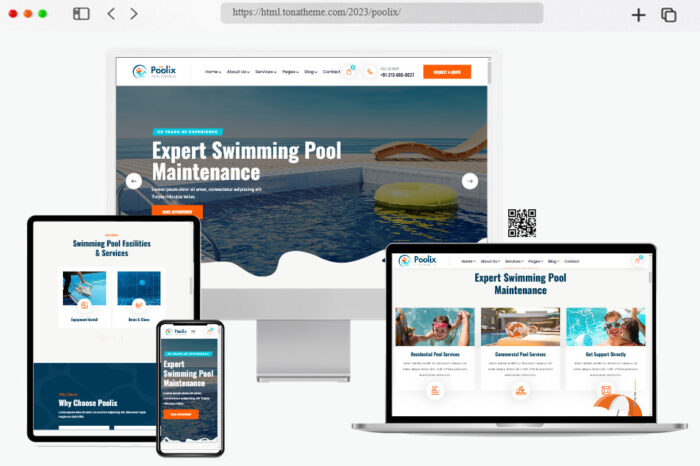 More info / download Demo