Explore the power of community with our latest blog post featuring a curated collection of Community Website Templates. Whether you're building a local forum, a non-profit organization, or a social platform, these templates offer the perfect foundation to connect and engage with like-minded individuals. Discover versatile designs, interactive features, and user-friendly interfaces that help you foster a sense of belonging and unity within your online community. From customizable layouts to seamless integration of user profiles, events, and discussions, our blog post has everything you need to create a vibrant and thriving digital space for your community. Join us in exploring the possibilities of building strong connections and amplifying the voices of your community members with these cutting-edge templates.
Raos
Raos is a responsive Cycling Club Template crafted with HTML5 and CSS3, showcasing a sleek, clean, bold, and modern design. It offers 5 distinct homepage variations, allowing you to choose the perfect style for your cycling club. Built on Bootstrap 5, Raos provides a solid foundation for your website. It also includes Sass files for easy customization, eliminating the need for jQuery. The template adheres to valid HTML5 standards, ensuring top-notch web quality, and features a responsive layout for seamless viewing across all devices. Elevate your cycling club's online presence with the stylish and functional Raos template.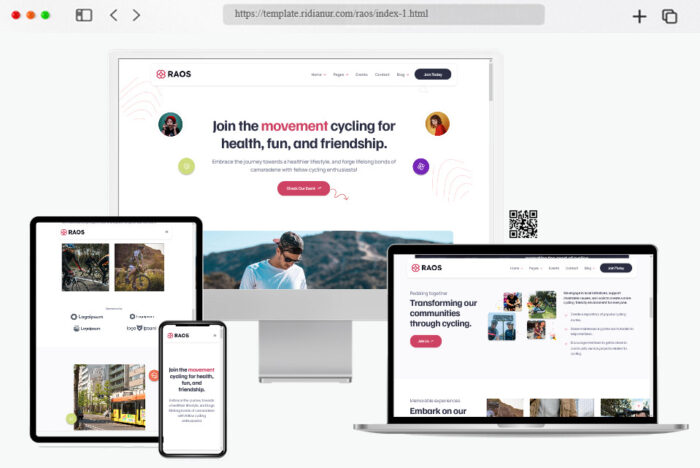 More info / download  Demo
Design Lab
Design Lab is a Social Network & Community HTML template tailor-made for UX/UI Designers, Illustrators, Graphic Designers, 3D Artists, and freelancers. It serves as a platform for creators to connect, discover the latest web design trends, enhance their design skills through online courses, seek inspiration, and showcase their portfolios. With its large blocks and headers, vibrant color palette, and seamless UI/UX, Design Lab ensures a user-friendly experience that resonates with community members.
The template boasts two distinct themes: the Dark theme features photos, while the Light theme showcases illustrations, highlighting its versatility. Whether you're seeking networking opportunities, learning resources, or portfolio exposure, Design Lab has you covered.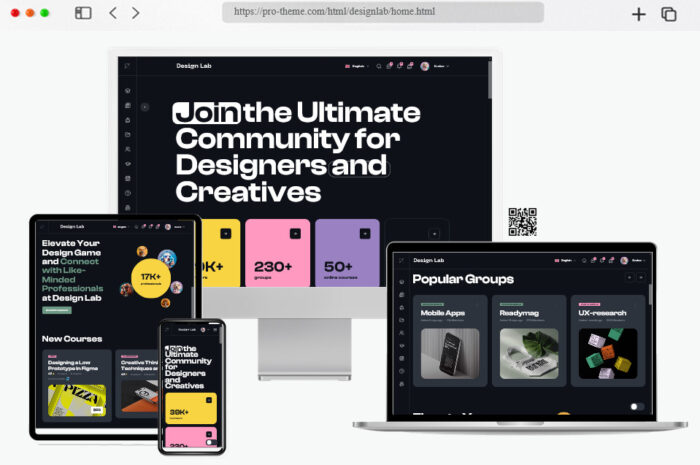 More info / download Demo
Circlehub
Circlehub is a versatile React Next.js template designed for creating dynamic social community and marketplace websites. Powered by cutting-edge technologies, it offers a comprehensive solution for building interactive online platforms. Developed using React.js and Next.js 13, it ensures seamless performance and navigation.
Circlehub integrates essential libraries like next-template, react-apexcharts, and material-icons to enhance the user experience. It supports TypeScript, offers customizable components, and features stunning UI elements, making it an ideal foundation for engaging websites. Embrace Circlehub to unlock the full potential of your online community and marketplace endeavors.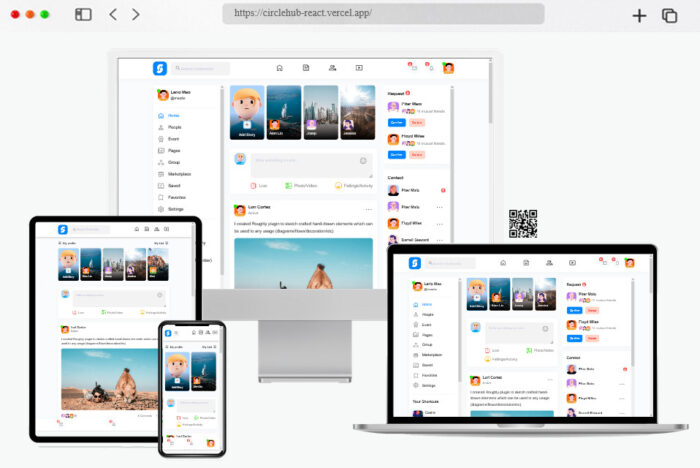 More info / download Demo
Fervor Love
Fervor is a premium HTML template with a modern and responsive design, suitable for dating and community websites. It offers a well-designed platform for creating a perfect community system, catering to various needs like community, dating, groups, matching, profiles, relationships, and more. The template includes 40+ valid HTML5 pages, both in light and dark versions, and 03 home pages to choose from. With over 200 shortcode components, SASS-based HTML, a couple calculator, members listing page, and an activity page, Fervor provides a comprehensive solution for building engaging and interactive online communities.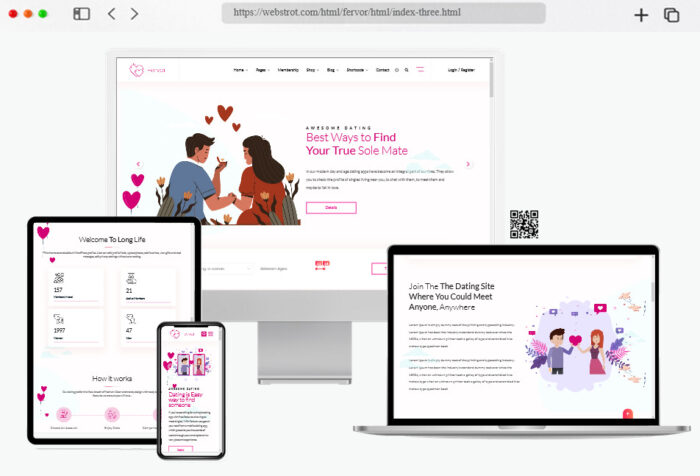 More info / download Demo
Vogel
Vogel is a Social Network & Community HTML Template crafted using HTML5, CSS3, JQuery, JavaScript, and the Bootstrap 5 framework, taking inspiration from platforms like Twitter. This template offers a sleek and intelligent design to ensure an excellent user experience. It's specifically designed for social media platforms like Twitter and Vk. The template comes with integrated grunt packages that enhance the development process speed. Vogel serves as a social network template to connect individuals and communities online.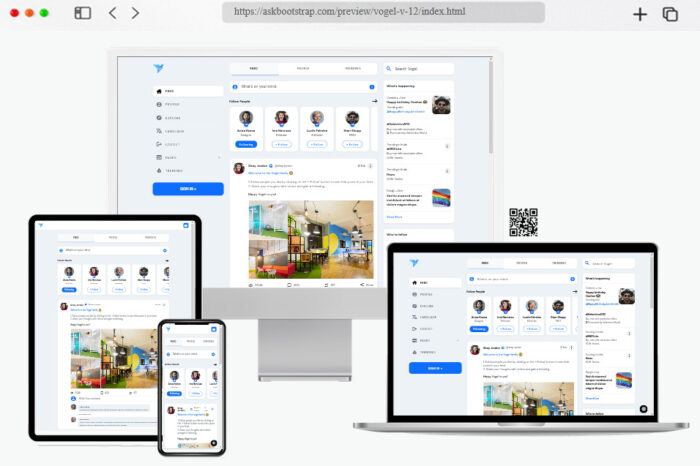 More info / download Demo
Friendbook
Friendbook is a responsive HTML template designed for social networks and online communities. Built with Bootstrap 5, it employs SASS for styling and utilizes Gulp and jQuery for enhanced functionality. The template boasts 12 distinct newsfeed layouts and over 20 professionally designed pages. Special title-effects are provided for both company and element pages. With the versatility of a Day & Night mode, the template ensures optimal user experience across devices. Friendbook also integrates Font Awesome icons, and for easy setup and customization, it comes with a detailed documentation and clean, well-commented codes.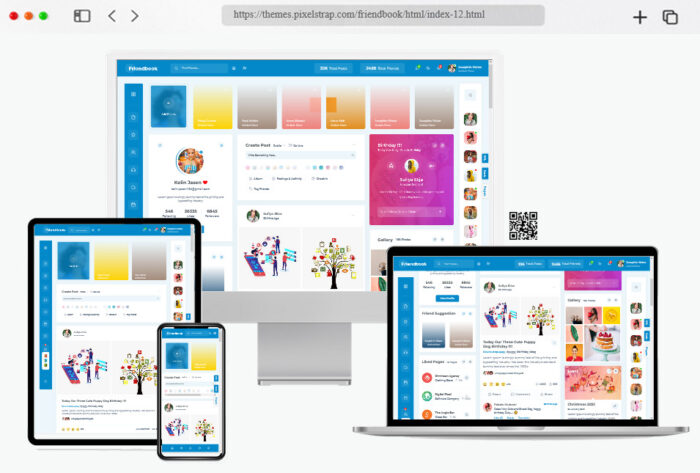 More info / download Demo
Socimo
Socimo is a comprehensive HTML template designed for social communities, particularly for college/university students and online courses. It supports various functionalities including blogging, post sharing, timeline, group and page creation, chat/messaging, movie sharing, QA, and integrated LMS. Built on the updated Twitter Bootstrap framework, Socimo is fully functional, responsive, and adaptable across various screen sizes. It's also retina ready, ensuring crisp images on high-resolution devices. The template incorporates the latest Bootstrap version, SVG graphics, and Icofont CSS icons. Aimed at developers seeking to expedite social UI design, Socimo offers a collection of trendy and useful components to inspire and enhance design workflows.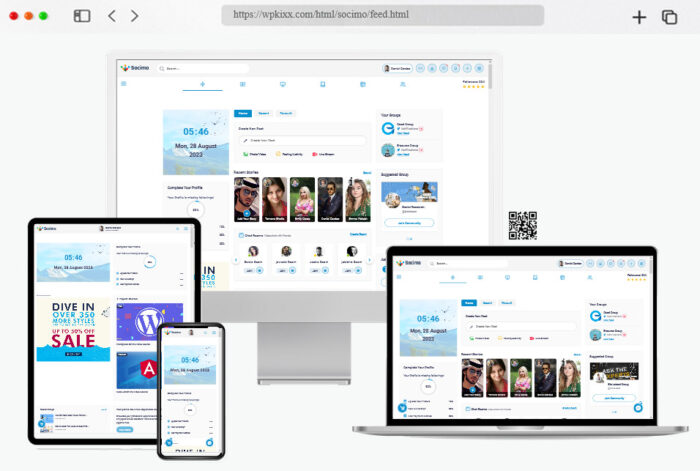 More info / download Demo
Instello
Instello is a user interface (UI) template designed for developers aiming to create a modern and minimalistic photo social sharing web application. It's tailored for building a photo social network and community platform. With a clean and contemporary design, Instello is highly customizable and user-friendly. The template boasts numerous valuable features, including custom components, web fonts, animated content, and robust CSS3 animations. The development process involved a thorough study and review of numerous similar websites to ensure that Instello incorporates all necessary functions and capabilities for a successful photo-centric social platform.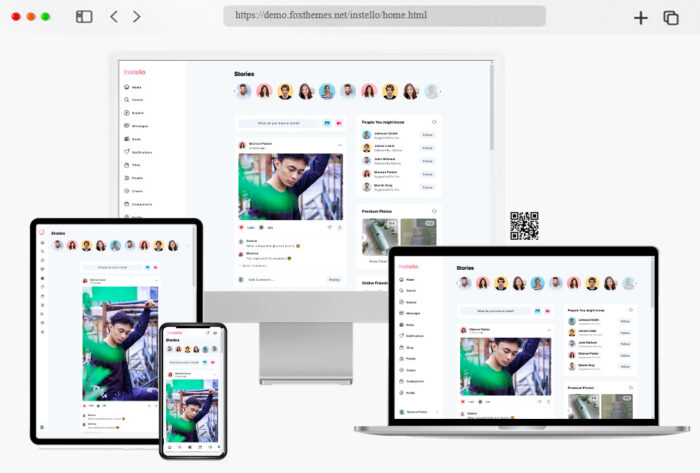 More info / download Demo
SocialV 5.0
SocialV is a contemporary and sleek social network and community dashboard template equipped with pre-designed pages for immediate use. Its elegant design and clean aesthetics contribute to a visually appealing website. SocialV is compatible with various browsers, tablets, and phones, ensuring seamless functionality across devices. Each page is responsive and optimized for retina displays, ensuring a visually appealing and consistent experience on all devices.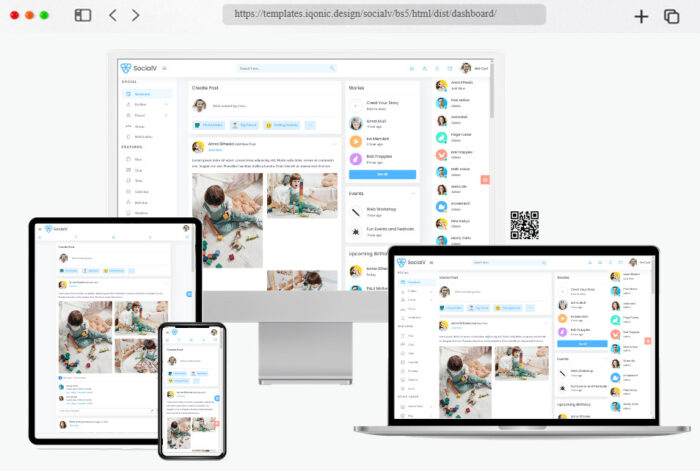 More info / download Demo
Pitnik
Pitnik is a versatile and responsive HTML5 template designed for social network platforms. It utilizes languages such as HTML5, CSS3, jQuery, JavaScript, Node.js, and Bootstrap 4 framework. With various social network demos and a wide array of elements, Pitnik caters to social media enthusiasts. It is crafted for seamless connection and communication among friends, as well as promoting YouTube channels.
Pitnik draws inspiration from popular platforms like Facebook, Twitter, Instagram, and more, offering features for private chat, messaging, sharing videos, audio, images, and forum discussions. The template is built on Bootstrap 4 and includes FontAwesome 4 and 5 icons. It is a dynamic solution for social media enthusiasts, YouTubers, and bloggers seeking a customizable and engaging interface.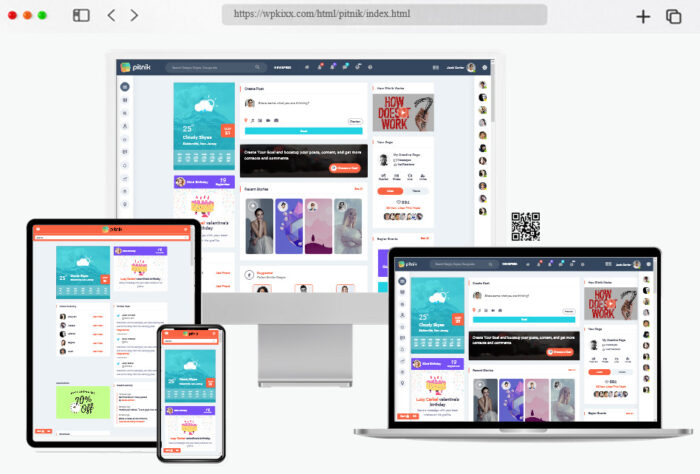 More info / download Demo