A professional and engaging online presence is crucial for any consulting business to attract clients and establish credibility. One of the foundational elements of a successful consulting website is its template. A website template serves as the framework upon which your content and branding are built, making it essential to choose the right one that aligns with your consulting niche, brand identity, and user experience goals. In this blog post, we'll delve into the key considerations for selecting a consulting website template that sets you up for success.
By considering your brand identity, niche, UX, customization options, and functionality, you can select a template that resonates with your audience and effectively showcases your consulting expertise. Remember that your website is an ongoing project, so periodically review and update your template to stay current and appealing to your clients.
Consaltip
Consaltip is a Business Consulting HTML5 Template that has been developed using the widely-used Bootstrap CSS framework. This template is designed with a focus on Business needs and is built upon a responsive grid system with 12 columns, following the Bootstrap 5 framework. With a sleek and minimal design, "Consaltip" is a well-suited choice for Business Consulting purposes. It encompasses all the essential elements required for website development, including organized HTML files that are easily customizable to suit specific preferences.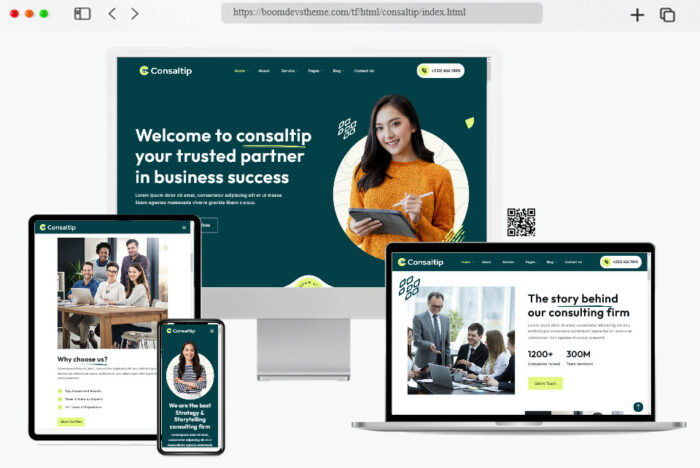 More info / download Demo
Consultiva
Consultiva is a meticulously designed Business Consulting HTML Template tailored to cater to corporate businesses and service providers. Its unique and captivating design makes it an excellent option for establishing a powerful online presence.
The template is adaptable to various industries such as investment, insurance, and consultancy, and it is versatile enough to suit any professional business type. Whether for startups or IT firms, this template provides a comprehensive solution by utilizing the latest Bootstrap 5 framework. It includes all the necessary elements for creating a strong corporate website, making it an indispensable asset.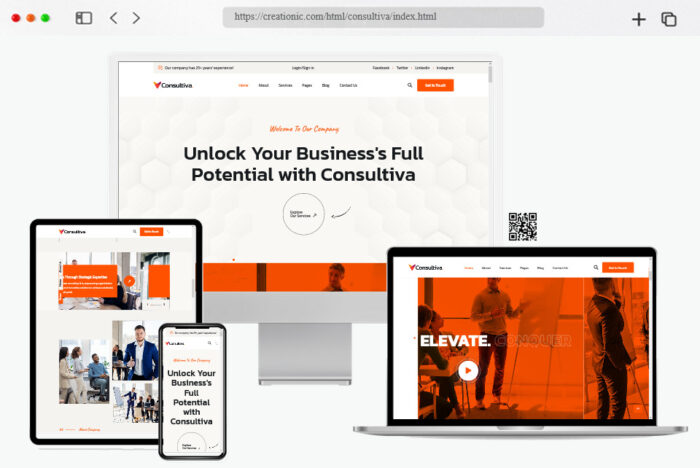 More info / download Demo
BigBaz
BigBaz is a Business Consulting Agency HTML5 Template designed to cater to a variety of businesses, including consulting agencies, startups, digital agencies, company projects, and business agencies. It has been developed based on thorough research in the fields of Business, Agency, Consultancy, Corporate, Small Business, and IT Firms. The template offers a range of layouts and blocks suited to these industries.
Built with the Bootstrap framework, "BigBaz" is a professionally responsive site template. It features creative homepage designs, a responsive layout, and a total of 23 valid HTML files. The design is characterized by its elegance and modernity, and it can be easily customized using a 1320px grid. The intention is to provide a user-friendly experience and a high level of satisfaction with the template's design and functionality."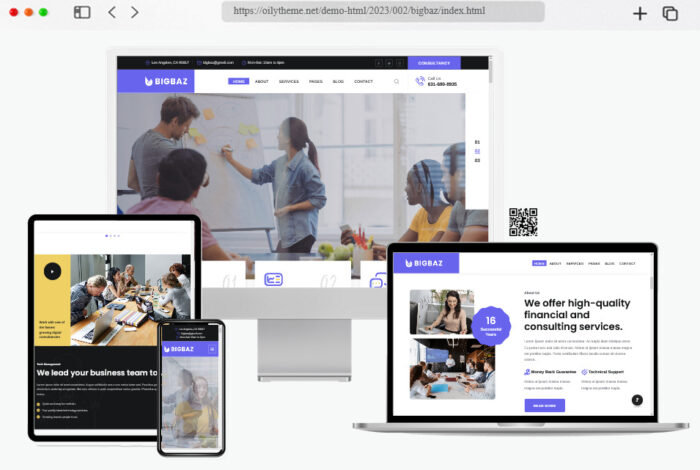 More info / download Demo
Gerow
Gerow is a premium Business Consulting Template crafted with a distinctive style and a clean design. This HTML Template offers versatility and can be used for various purposes, including Corporate, Agency, Portfolio, Construction, Factory, and Industrial sectors.
It caters to a wide range of industries like fashion, design, art, agency, construction, and more, making it suitable for those looking to showcase their opinions or work. The template features comments on each section, facilitating easy customization to align with specific requirements, ensuring a tailored fit for your needs."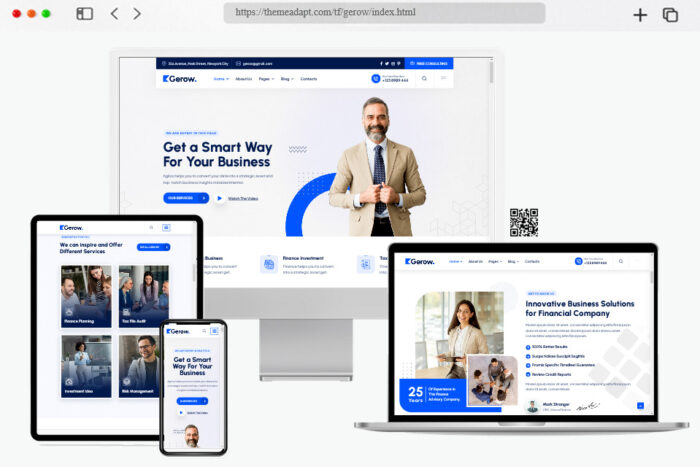 More info / download Demo
Creote
Creote is a cutting-edge NextJS Template tailored for startups, consulting firms, and businesses in finance, investing, legal, corporate, accounting, insurance, and technology sectors. It's ideal for modern technology companies and software development websites.
This template features 16 creative homepage design layouts and multiple responsive inner pages. The design is characterized by its elegance and modernity, while its customization is facilitated by a 1170px grid layout. "Creote" is designed to bring satisfaction to users seeking a contemporary and adaptable template for their websites."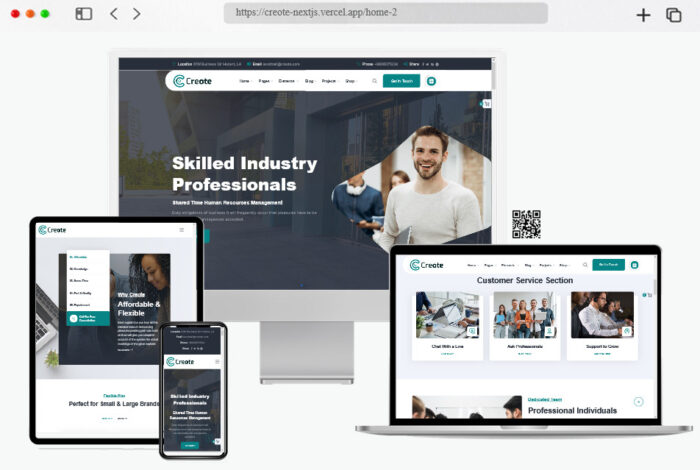 More info / download Demo
Jackcerra
Jackcerra is a Business Consulting HTML Template crafted for corporate-based services. With a beautiful and distinctive design, it's tailored for an impactful online presence. The template is well-suited for various industries including investment, insurance, consultancy, and other professional business types.
It's versatile enough to be used by startups and IT firms as well. Built on the latest Bootstrap 5 framework, "Jackcerra" offers a complete HTML solution with essential elements for a corporate website, making it an ideal choice for businesses seeking a polished online platform."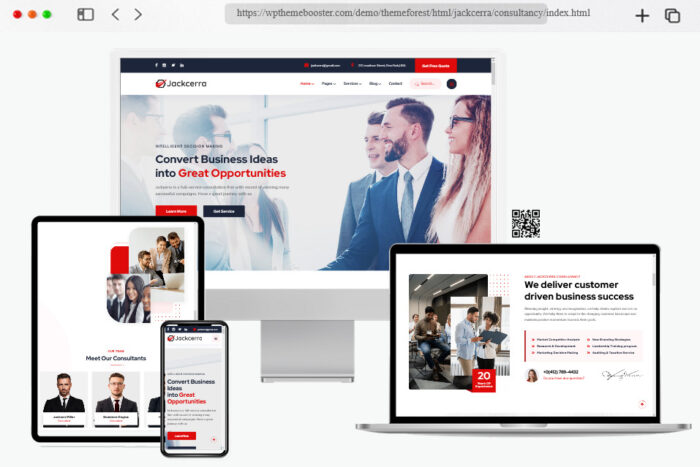 More info / download Demo
Consultia
Consultia is a modern and versatile HTML5 Template designed for consulting businesses. It caters to a wide range of industries, including Business, Financial, Consulting, Insurance, Loans, Tax Help, Investment Firms, Creative Businesses, Corporations, and more. This template serves as a platform to showcase services, projects, portfolios, and relevant information to customers.
It features 10 pre-built home pages (including multi-page, one-page, and RTL options) and over 45 inner pages with services, projects, team profiles, testimonials, various blog layouts, and more. The template is fully responsive, ensuring compatibility with smartphones, tablets, PCs, and desktops. With thorough documentation and clean coding, "Consultia" is designed to be easily customizable by anyone."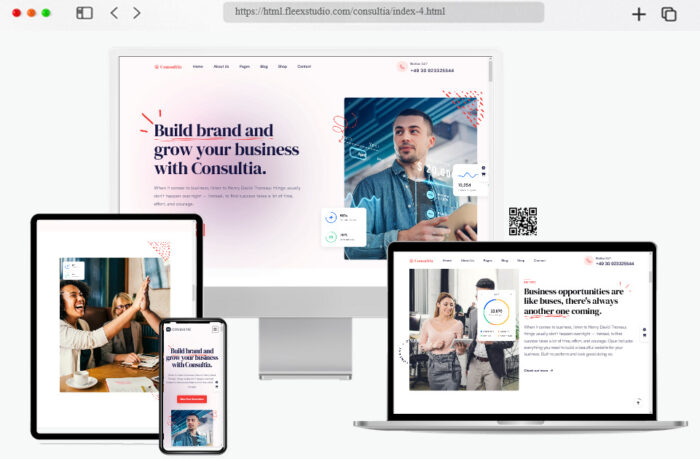 More info / download Demo
Conbix
Conbix Business Consulting HTML template is a pre-designed webpage layout suitable for establishing a website for a business consulting company. Created in HTML, the universal web markup language, the template features sections for showcasing the firm's services, team, testimonials, contact details, and a blog.
It offers customization options to tailor the template to the consulting firm's requirements, enabling the creation of a polished website without requiring advanced web development skills. The template boasts full responsiveness, adapting to various screen sizes, and can be edited to align with the firm's branding.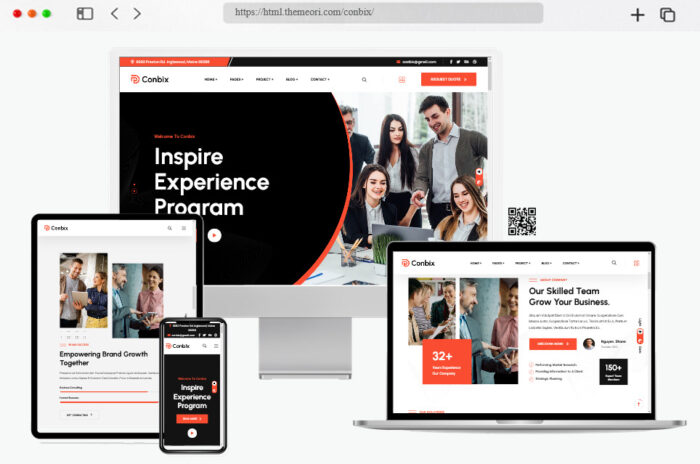 More info / download Demo
Consulter
Consulter is a fully responsive and distinctively modern HTML template with a unique design. It's versatile and suitable for various types of websites, including consultancy, advisory, business, corporate, finance, and more. The template boasts well-organized code and user-friendly documentation, making it effortless to create an impressive business website. The code is properly commented and organized for easy customization. The package includes clear HTML documentation along with screenshots to guide users through the customization process.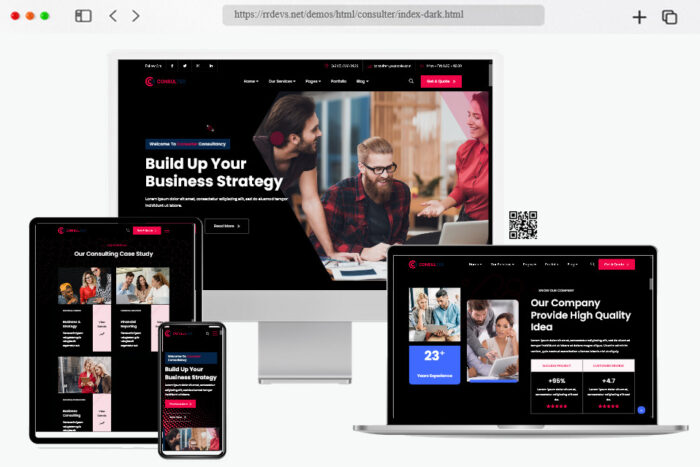 More info / download Demo
Finbiz
Finbiz is a clean and professional Consulting Business HTML Template suitable for various types of websites, including Corporate Business, Consulting Business, Financial, and Marketing Business. It's constructed using Bootstrap 5 and SCSS technology, ensuring its compatibility across devices, and allowing for easy global customization of colors and fonts.
With 16 impressive demo home pages and 15+ well-organized inner templates, "Finbiz" offers a comprehensive package for creating a polished website. All files are neatly organized, making customization a straightforward process.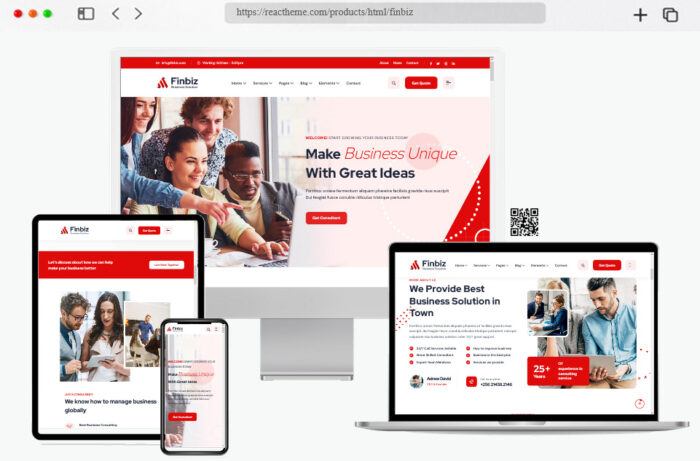 More info / download Demo
Conalz
Conalz is a great HTML template for websites about business consulting, business advisors, and consulting services. This template can be used for a wide range of business and consulting services, such as business consulting, marketing consulting, advertising consulting, and financial advice for small and medium-sized businesses.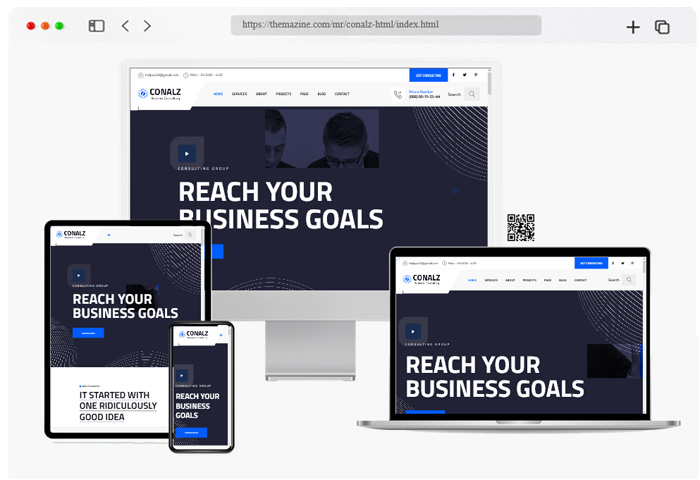 More info / download Demo
Busniz
Busniz is a complete, all-in-one program that has all the new features and functions. It also takes care of your online presence and promotion with a display that fits from edge to edge on all devices, lightweight, streamlined coding, and other advanced SEO practices. The premium built-in plugins and ready-to-use widgets, on the other hand, save you a lot of time, money, and effort.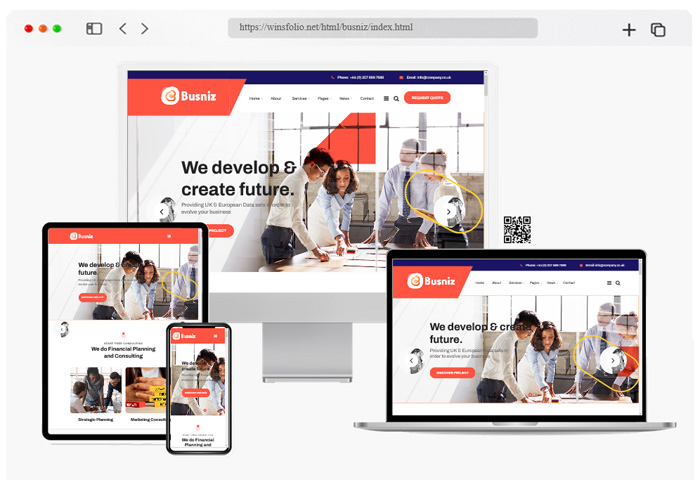 More info / download Demo
Corpix
Corpix is an HTML 5 template for a startup, apps, and business services. It was made for an agency and corporate business. Using this template, anyone can build Consenting Services, any business, apps, SaaS, a data center, data mining, etc.
This text describes a software with modern-looking homepages, great user experience, cross-browser compatibility, and SEO-friendly features. It also includes many built-in inner pages, such as Services, Case studies, About, Contact, FAQ, and multiple blog layouts.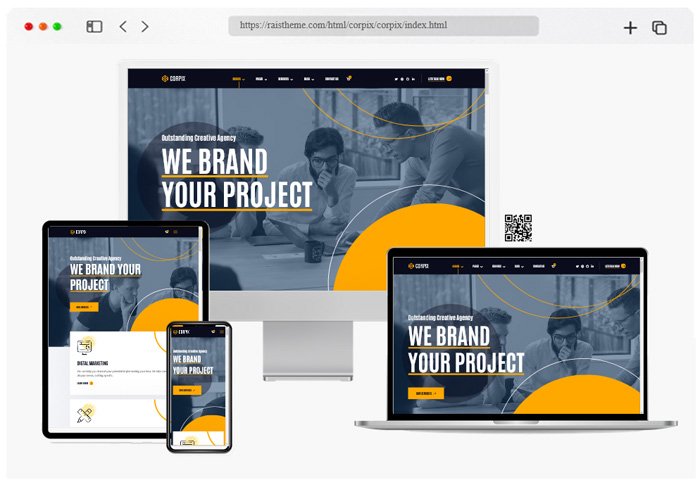 More info / download Demo
Arvilax
Arvilax is a template for professional, modern websites made for modern businesses. If you want to make a website for your consulting firm, marketing company, small business agency, or any other kind of business, you don't have to look any further.
Arvilax is a dark template with many carefully designed corporate, product page, and other business layouts in full width, custom, or grid formats! Arvilax is a template we made for every modern business and consultant out there. It can help you improve your business model.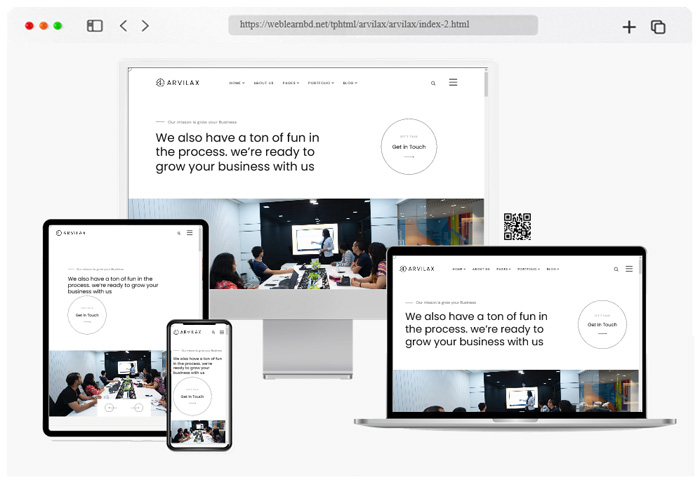 More info / download Demo