Looking for a great WordPress theme for your cosmetics website? Check out our collection of cosmetics WordPress themes! With elegant designs and powerful features, these themes will help you take your business to the next level.
Brielle
Brielle is truely WooCommerce theme for cosmetics shop. It's build with ecommerce features, easy to customize, retina ready, fully compatible browser and responsive theme.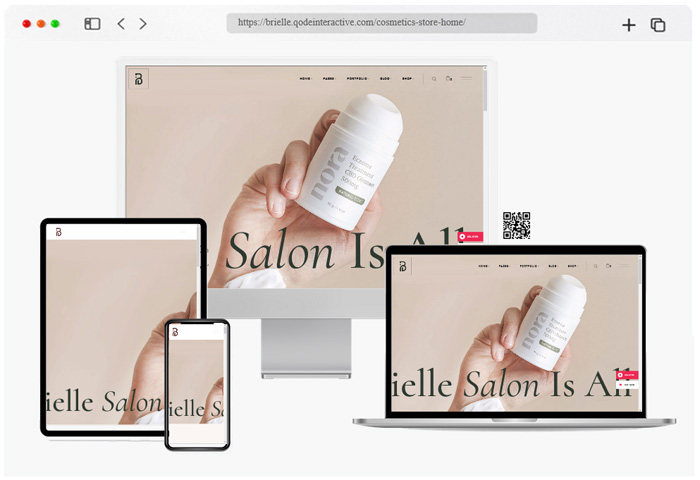 More info / download Demo
Elime
Elime is a premium WooCommerce WordPress theme for cosmetics shop, beauty parlor, spa salon, nail art store and any other medical or beauty related businesses. It has been designed to capture the attention of your target customers. The layout is responsive, retina ready and fully compatible browser.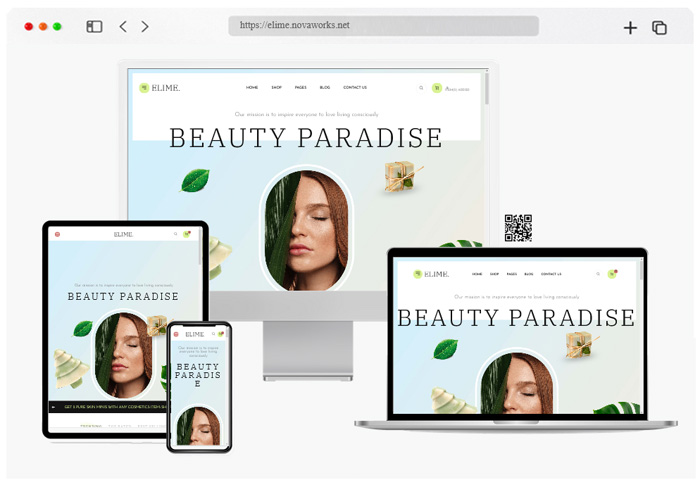 More info / download Demo
Boomrom
Boomrom is perfect theme to create your cosmetics or beauty shop. It's WooCommerce ready, responsive, easy to customize and fully compatible with all latest browsers.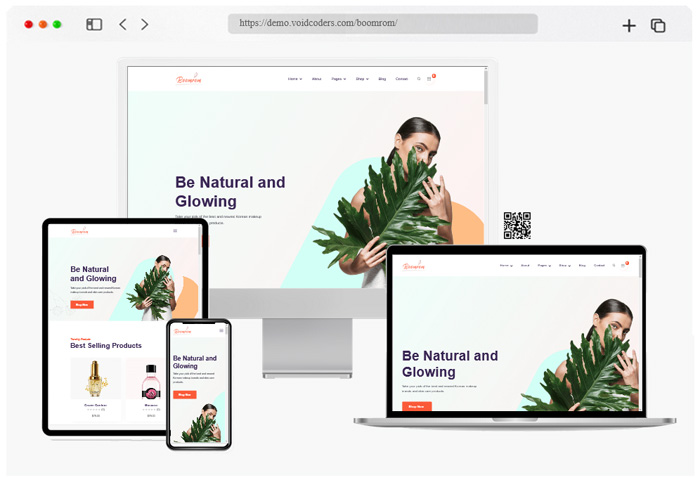 More info / download Demo
Enzian
Enzian is a WooCommerce focused theme with a minimalist design. It was built thinking about the Ecommerce user to develop a template that reduces the gap between sales and marketing.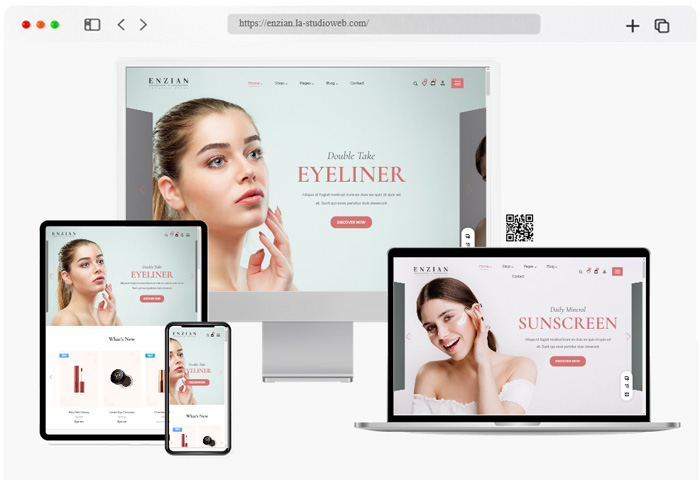 More info / download Demo
Hara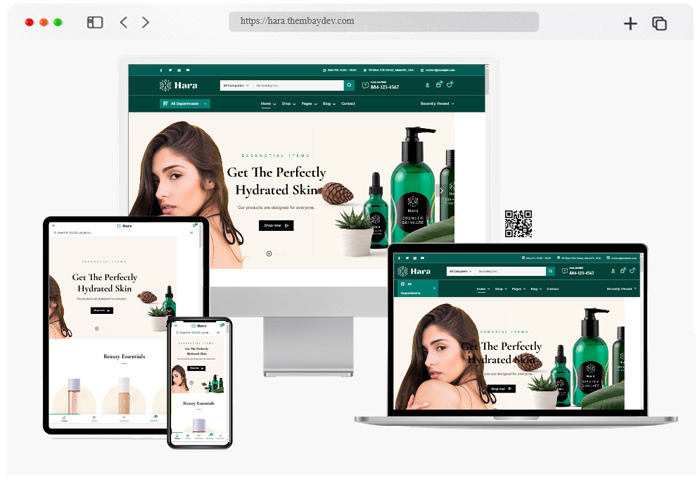 More info / download Demo
Biagiotti
Biagiotti is a beautiful eCommerce cosmetics WordPress theme that we made for beauty-related websites and online cosmetics businesses. It's not available anywhere else. If you use Biagiotti, you can make your online store look absolutely gorgeous. The theme works perfectly with WooCommerce, and it also comes with a nice selection of shop page layouts and elements that you can use in your online store.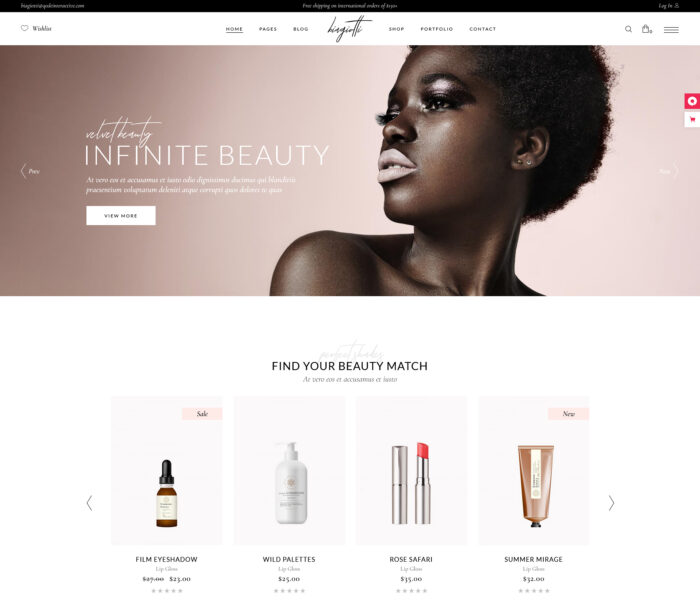 More info / download Demo
Iva Cosmetics Shop
This eCommerce WordPress theme was made for online stores that sell things like makeup kits, cosmetics, and skin care products. These include stores that sell makeup kits, cosmetics, and skin care products. skin care products, spas and beauty shops, salon supplies, and companies that make handcrafted and natural cosmetics.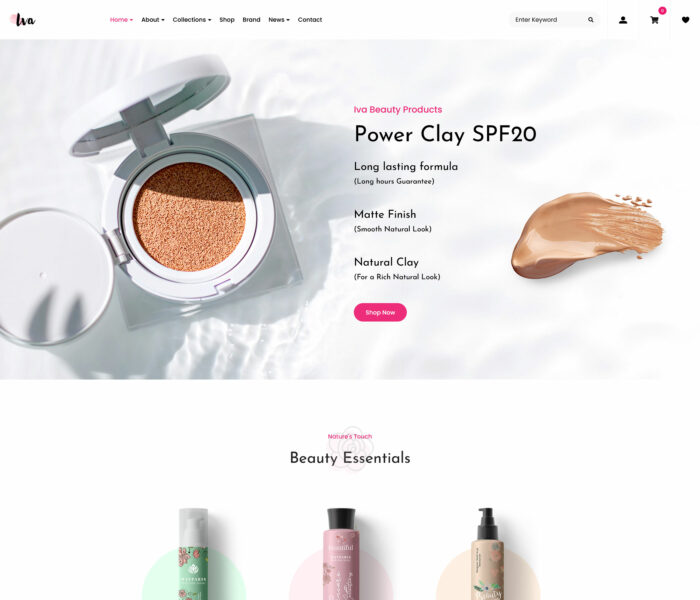 More info / download Demo
Triss Cosmetics Shop
Triss is a WordPress theme for hairdressers that was made on the WooCommerce Salon platform and is responsive to customer needs. It sells hair products like hair extensions, wigs, and hair care products. This hairdo WordPress theme is made to work at its best for hair spas, cosmetic woocommerce businesses, wellness centers, beauty product stores, and other haircut barbershops and beauty care services. On the Hair One Page Landing Page, there is a list of hair-related stores and other websites.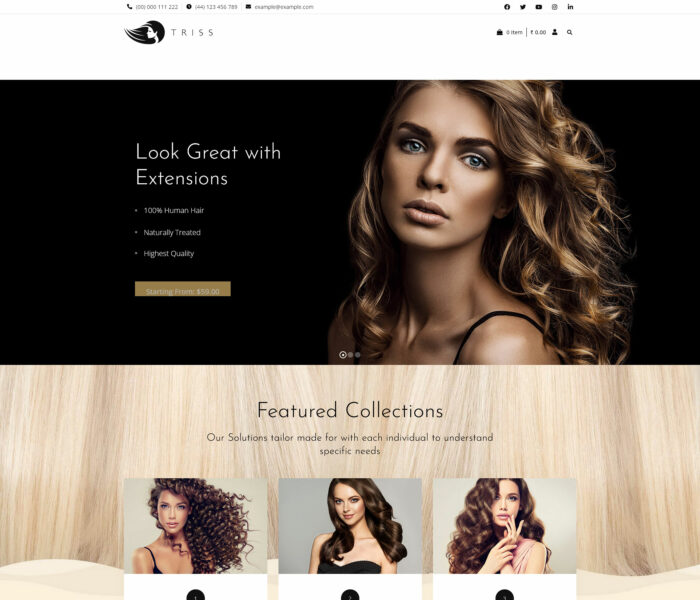 More info / download Demo
Cosmetsy
This theme makes it easy for anyone, even someone who has never made or managed a website before, to make their own site because it has some of the most popular and cutting-edge features. Continue reading this article if you want to find out more about what makes this great WordPress theme such a great choice for websites. My expectations were completely and totally blown away by how well the template was made and by how great the customer service was when I bought it.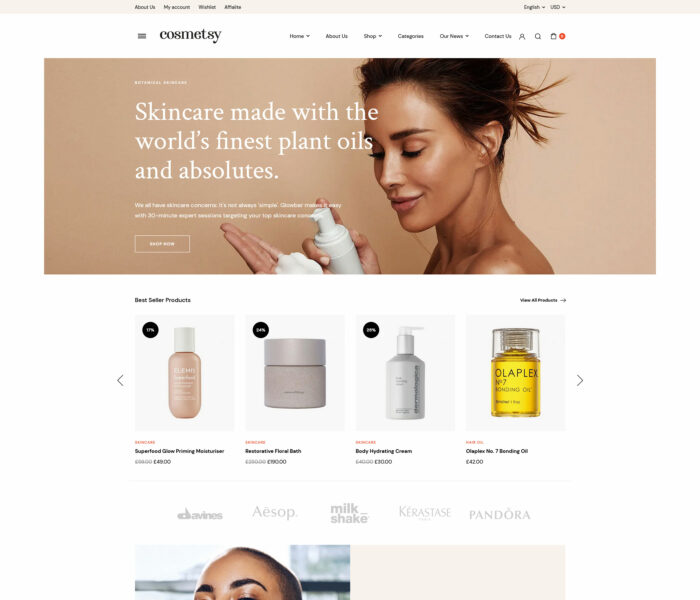 More info / download Demo
Passim
During the design and development of the Passim theme for beauty and cosmetics, it was made with the WooCommerce online stores that sell modern beauty products and cosmetics in mind. After reading this, you'll have a new way of thinking about things you can use to take care of your face.
You will have access to a lot of beautiful product display layouts and skincare shop layouts, as well as a carefully made gift card template that works with Elementor Page Builder. The Passim theme, which is about skin care, can help your brand-new website stand out from the rest and get more visitors.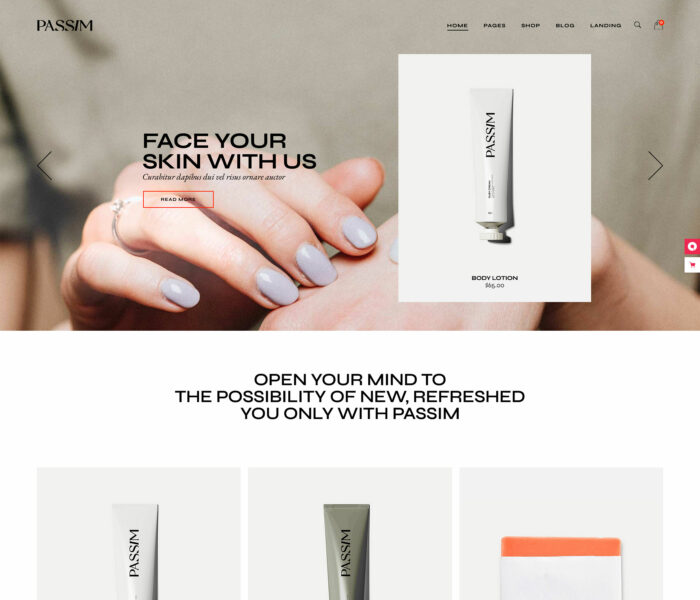 More info / download Demo
Beaux
Beaux is an elegant and flexible WordPress theme that can be used for many different things, such as running a beauty salon. Online shops sell a wide range of cosmetics, beauty products, and health products. If you want the demo content to be part of the final product, you can add it to the Beaux WordPress theme quickly and easily with just one click using the Unyson Importer.
The elegant and classy Beaux WordPress theme works well with and is compatible with the Slider Revolution Plugin. It gives you access to a wide range of eye-catching transition effects and animations that you can use in your presentation to show a wide range of information.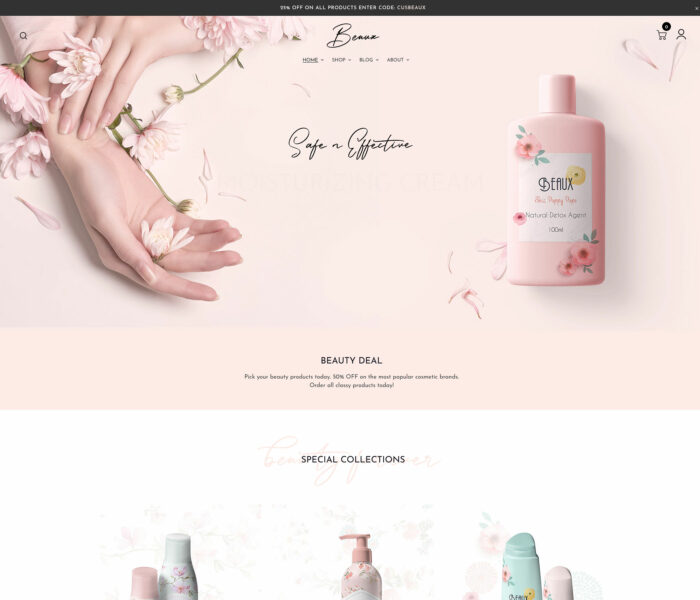 More info / download Demo
TouchUp
The theme of TouchUp, which is carried out in its entirety, is all about how important a person's outward appearance is. We made it so that it could be used in businesses like cosmetic and plastic surgery, as well as in any other medical businesses that might need it in the future. Also, we made it so that it could be used in the field of medicine in general.
TouchUp works with Elementor Page Builder, and it comes with three premium plugins that the user can use without having to pay anything extra. TouchUp works with another popular page builder called Visual Composer. TouchUp also works with the Slider Revolution plugin for Elementor. By downloading TouchUp right away, you can get a head start on creating an interesting new website for your cosmetic or plastic surgery practice.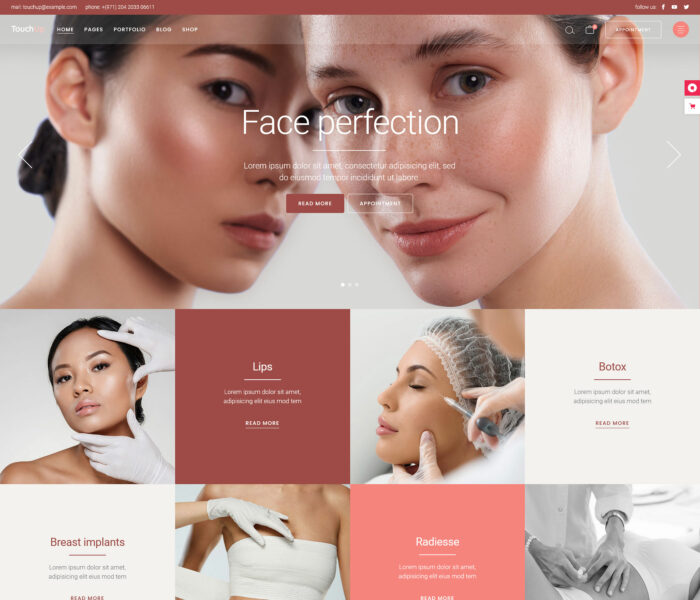 More info / download Demo
Cosmecos
The best thing to do would be to get started right away by using the Cosmecos Organic Cosmetics WordPress Theme. The best thing for you to do would be to do this. If you want to start an online business that sells cosmetic starter kits, fragrances, or skin care products, you should look into this topic and use it. You should do this if you want to start a business.
Those specific people will have no trouble getting whatever it is they want. You can expect to get a lot out of the WordPress Theme for Cosmecos Organic Cosmetics and Perfumes if you use it to build a website for a health or beauty store. This is why you should think about using it.
This is because the theme can offer a wide range of useful features. You should have high hopes for how this will turn out. Here are some of the most important things you can do with it: Our team made the absolutely stunning Comecos eCommerce theme with beauty websites and online cosmetics stores in mind.
The theme works well with WooCommerce, and on top of that, it has a nice range of shop page layouts and elements that you can use in your online store. Also, it works perfectly with the two Elementor page builder plugins that are available right now. Comecos gives you all the tools you need to make a website for a beauty or cosmetics store that is both beautiful and useful.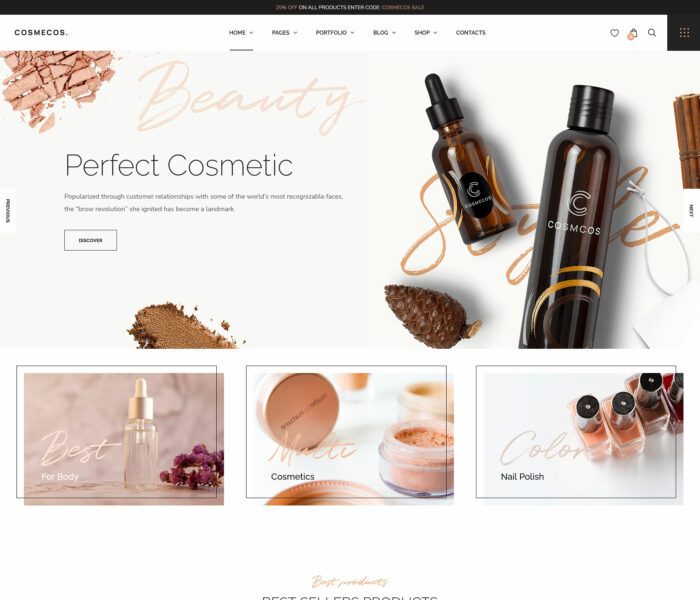 More info / download Demo
Glowing
Glowing is a WordPress theme that could help a WooCommerce store that sells cosmetics and other personal care products. It was made with WPBakery and Elementor, which are two of the most popular and powerful page builders available right now. You can use both of these page builders on your website.
Gleaming users can choose from more than ten attractive homepage layouts, more than seven modern shop layouts, and more than five layouts for product detail pages. Because of this, it is a great subject that can be changed to meet a wide range of needs the store might have about how it looks to the outside world.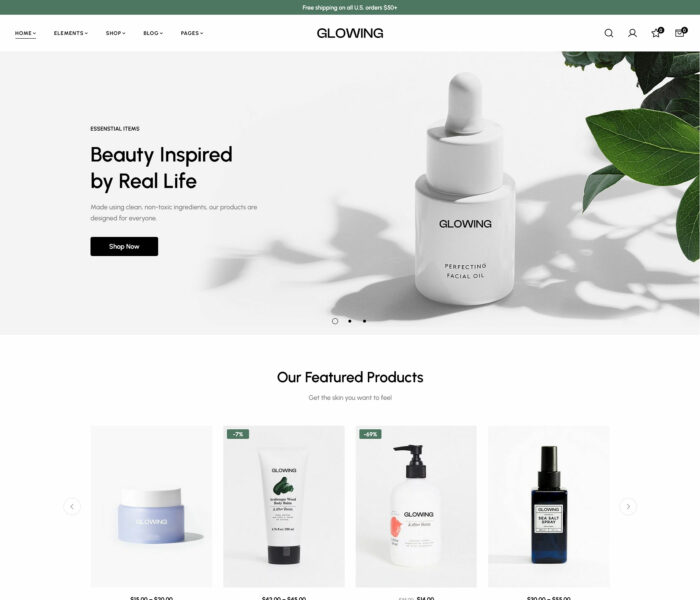 More info / download Demo
Levre
The Levre WordPress theme was made by a group of product designers who worked together with the goal of making it useful in different kinds of beauty salons and boutiques. Levre is a great name for any kind of online business, whether it's a cosmetics store, an organic beauty store, a perfume shop, or something else.
Levre is also a great option for any kind of online business. When you use the customizer's options for your theme, it's easy to make changes to your theme, and these changes will show up on all of your pages. If, for example, you change the design of the header or the background, this will affect every page of your website.
This is because the background and header are the same on each page. You can choose from one of the more than 800 free fonts that Google offers, or you can send in your own font to make your site stand out.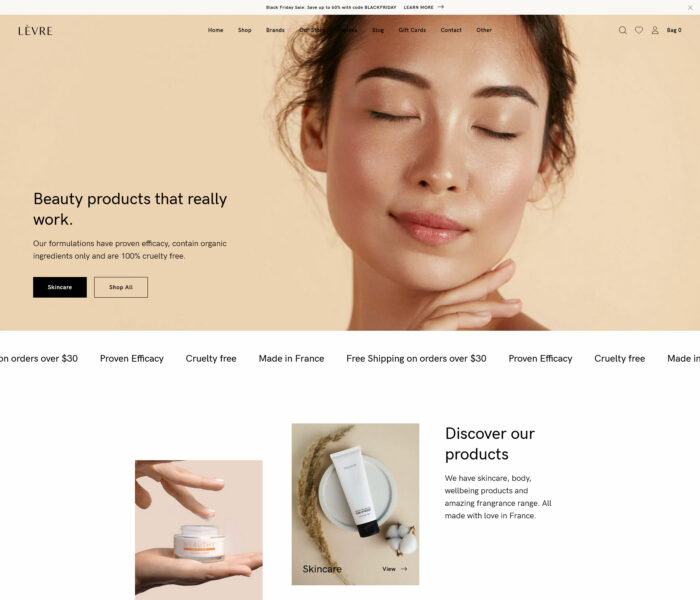 More info / download Demo
Makeaholic
Makeaholic is a WooCommerce WordPress theme designed specifically for online cosmetics shops. It gets its name from the word "makeaholic," which means "beauty addict." The term "beauty addict" (or "makeaholic") is where the term "makeup addiction" (or "makeup fetishist") gets its origin. Elementor, the most popular and highly rated page builder available at the present time, was used to put it together.
Makeaholic gives its customers a wide variety of design options, including eight distinct layouts for product detail pages, six enticing homepage designs, six updated shop layouts, and a few others. Because of this, it's a fantastic topic that may be modified to suit the varied needs of the store's outward presentation.
A lot of premium widgets have been added to speed up and improve the site, and a modern design that caters to cosmetics and beauty online businesses has also been implemented. Improvements to the site's quality necessitated these alterations. This is due to the general belief that a well-designed and swiftly-loading website is more trustworthy and reliable.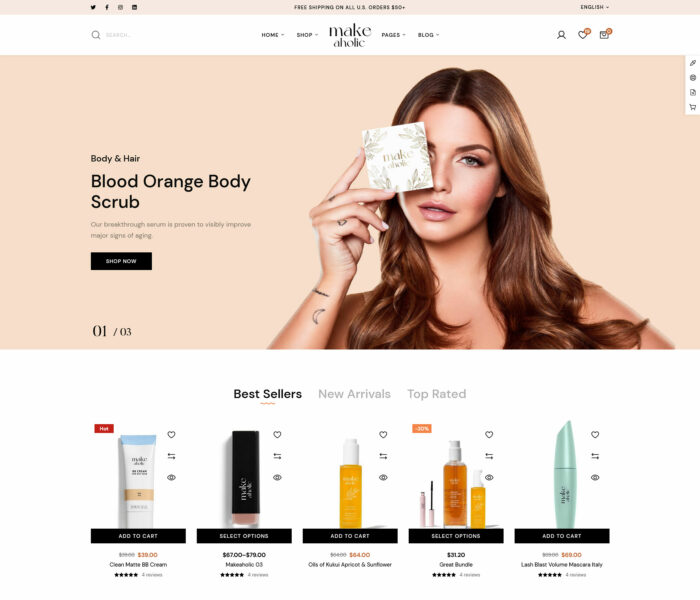 More info / download Demo
Luchiana
Luchiana is a WooCommerce WordPress theme that is uncomplicated yet refined, quick to load, and visually appealing. Furthermore, it possesses the following admirable traits: There is a strong possibility that this will aid in both search engine optimization and in attracting more people to the site. Making adjustments to your website with Elementor Page Builder is fun and easy.
Existing prefabricated materials can also be utilized. The Luchiana theme is adaptable to a wide variety of online shops, including but not limited to those selling cosmetics, apparel, perfume, and other accessories. We think you'll enjoy experimenting with our WordPress theme's various customization options. Don't be shy about contacting our friendly support team if you have any issues regarding our WordPress Beauty Shop Theme.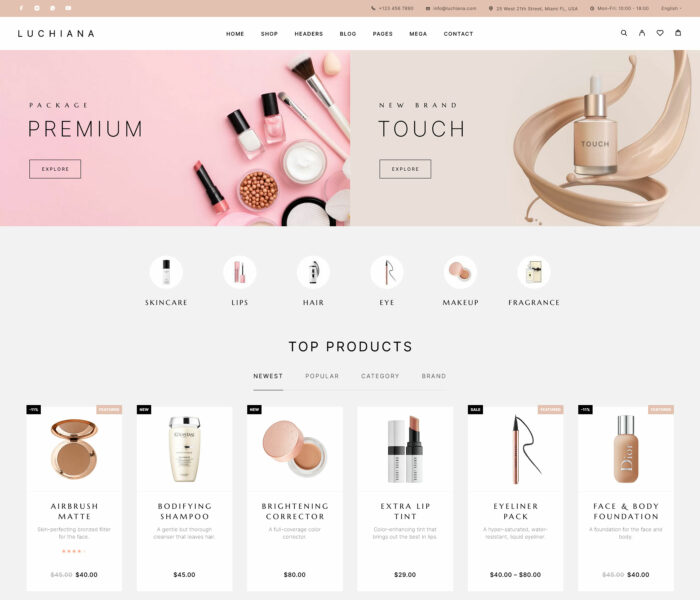 More info / download Demo
Organic Natural Cosmetics
This theme's compatibility with WooCommerce means it can be used to create a store selling everything from natural cosmetics to spa gifts to makeup and beyond. It's compatible with Revolution Slider, Essential Grid, and WPML in addition to WPBakery Page Builder. The clean, uncluttered style of the theme makes it a breeze to navigate.
Because it is totally responsive and designed for Retina, it looks fantastic on everything from smartphones and tablets to desktop PCs. It also comes with three premade homepages, two WooCommerce storefronts, three gallery designs, and six blog templates. Using accessible shortcodes will greatly simplify the process of building your website. Enjoy yourself to the fullest by making the most of this stunning premium WordPress theme.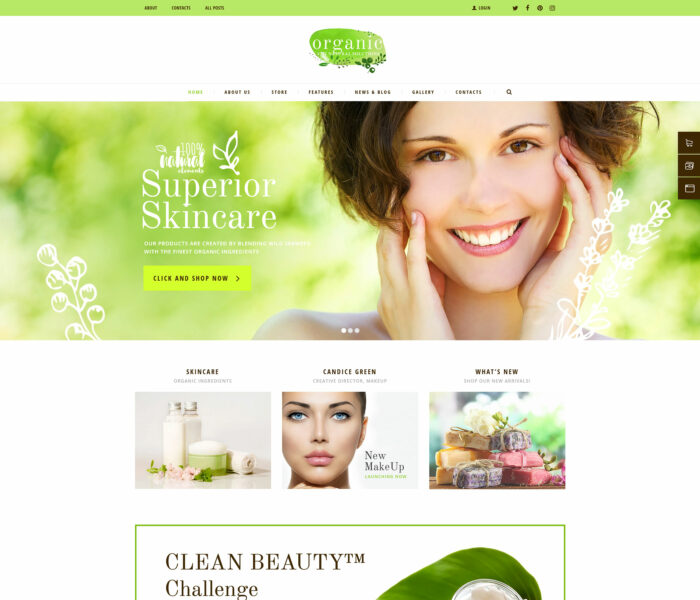 More info / download Demo
Cerla
Websites selling cosmetics and other beauty products online and using the WooCommerce platform may find the Cerla cosmetics WordPress theme to be an excellent option. Powered by the latest version of Bootstrap, a popular and flexible back-end framework, this theme will not only look amazing but also serve your business well by displaying products in an attractive manner. Manufacturer Cerla puts forth considerable effort to classify each of their products appropriately.
However, this exemplifies how uniquely functional many online regions are. A collection of items used to showcase specific goods and services. The Cerla website was developed using the Elementor plugin, making it simple to customise the layout to your specifications by simply dragging and dropping elements to their new homes. Cerla is compatible with not one, but three separate Multi Vendor add-ons. Creating Multi Vendor websites is made easier with the aid of these plugins, especially Wc Marketplace, Wc Vendor, and Dokan.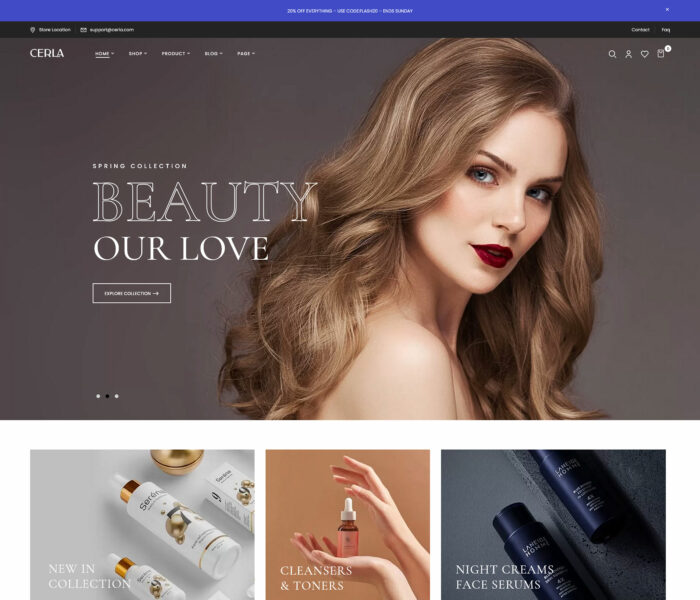 More info / download Demo
Ordo
Ordo is a fantastic WooCommerce theme for cosmetics that works well for websites that sell skincare, nail polish, natural cosmetics, and anything else you could want on a beauty cosmetics website. Additionally, it functions admirably for websites that offer natural skin care, nail polish, and cosmetics. This fantastic theme is compatible with the WooCommerce e-commerce platform and was created from the ground up with performance in mind.
A number of features, including an Off-Canvas Cart, Size and Color Variation Swatches, and Advanced Widgets, are included by default. To ensure that the Ordo theme operates as quickly and effectively as possible, it has been improved. You may quickly and easily import each of the lovely demo layouts with the One-Press Demo Importer plugin.
You'll save time and work by doing this. Because it was created using the most recent web technology and then SEO-optimized, the theme is search engine friendly. After the initial theme construction was complete, both of these actions were taken.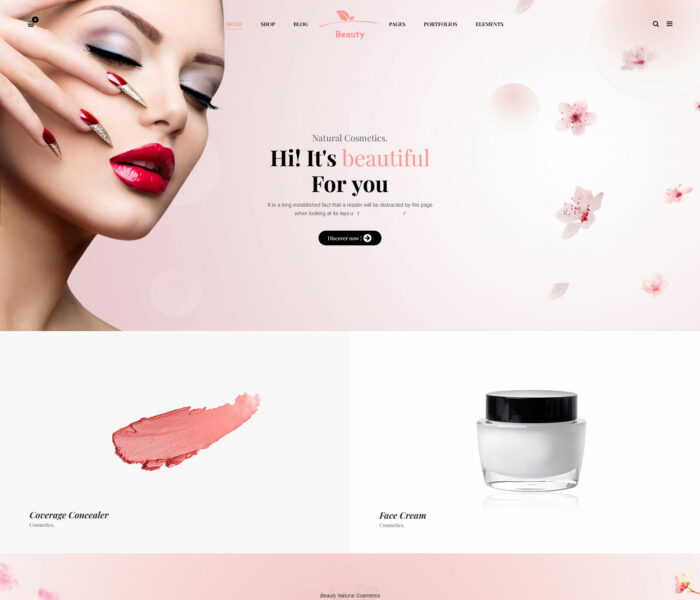 More info / download Demo
Cosmetro
The Elementor Page Builder was used to assemble the WooCommerce theme Cosmetro. This theme is designed for online retailers of cosmetics. Six more skins have been added to this theme, all of which are excellent at addressing the demands of women who buy online. The usage of common Elementor modules makes it simple to produce a wide variety of content while maintaining a high level of flexibility. It is entirely responsive.
Sliders, post grids, carousels, and other components can be added to the website's content with the use of a broad variety of additional modules. Even though these extras are not at all necessary, they are still offered as part of the package for your convenience. Each of these modules is yours to retain if you purchase the entire package of the product.
Installing and activating all required plugins is as simple as counting to three when using the Installation Wizard that comes with the Cosmetro theme. The Installation Wizard is included with the theme. You now have additional possibilities for how to express your views as a result. This is an opportunity for you to showcase your goods and services in a manner that differs from how they have in the past.
By combining the JetElements and JetMenu plugins, you can both organise your material and highlight specific sections of it. Additionally, you will have the option to include items that are aimed to attract customers, which is a very positive development. They give you access to a variety of materials you can use to perhaps improve the usability of your website.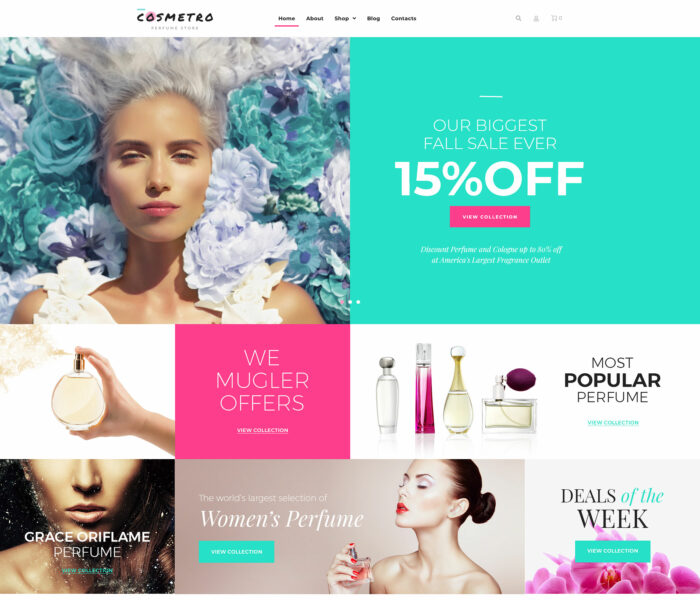 More info / download Demo