Free jquery css drop down menu with tutorial and example coding download free. Learning more techniques to create responsive navigation drop down menu. You need a beautifulf and free css3 drop down menu? In most cases, you design a JavaScript jquery dropdown menu using unordered css list style. But what do you do to make it usable on small and/or cursoriness screens? By usable I mean being able to use hyperlinks on parental anchors and open them with a double-tap (which is a native act on touch devices), also being able to close the drop-downs by tapping anywhere outside them to avoid flashing and other huge usability faults but having a usual bulletproof drop-down menus on desktop screens at the same time. A while ago I came up with quite a simple technique. I have been successfully implementing it into my projects as there is no room for one-sided techniques anymore. There are a lot of useful tutorials available on the internet that let you use new properties of CSS3 but here we only focus on creating menu and navigation by using jquery, css. I hope so you like this collection, please don't forget to share this post on your social profiles and please add this page to your bookmark lists.
Responsive Drop Down Menu jQuery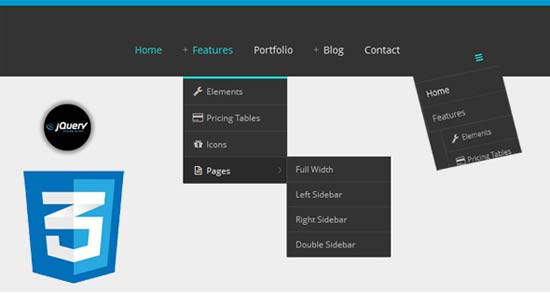 demo more info / download
CSS Swinging Panel Menu

more info / download
Pure CSS Menu Navigation

more info / download
Simple CSS Drop Menu

more info / download
Responsive multilevel css menu

more info / download
CSS Menu Unroll Effect

more info / download
Css menu maker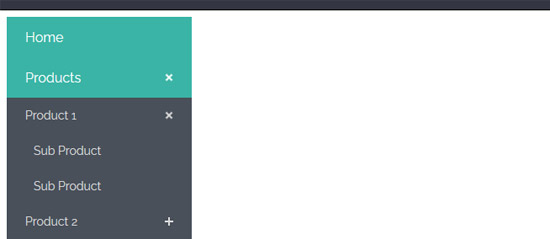 more info / download
CSS Drop Down Multi-column Menu with Search Field

more info / download
Basic Flat CSS Menu

more info / download
CSS3 Menu Dropdowns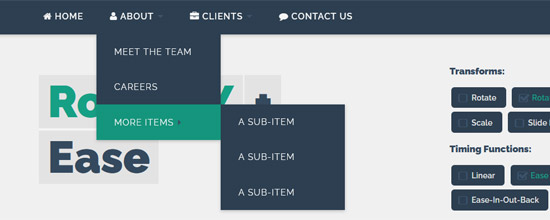 more info / download
Drop-Down Navigation with CSS
In this tutorial I show how to make drop-down navigation using CSS only. This tutorial starts with the code that I presented in the Simple Horizontal Navigation tutorial.

more info / download demo download
Bootstrap Mega menu with CSS

more info / download
Mega Menu Drop Down

more info / download
Flexbox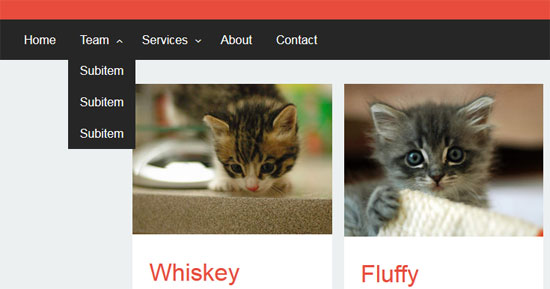 more info / download
Drop Down Responsive Menu jQuery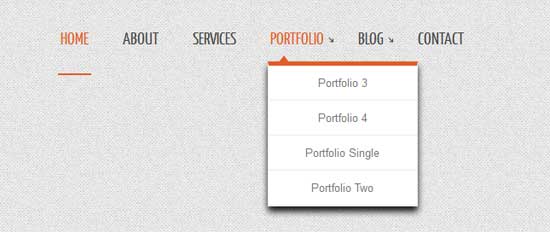 demo more info / download
3-Level Responsive Drop Down Navigation Menu with jQuery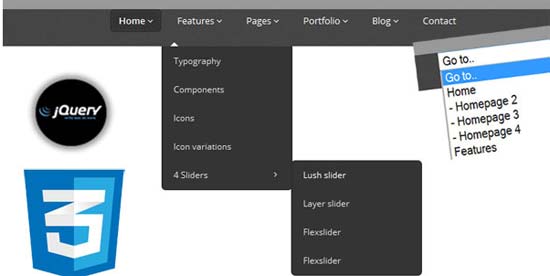 demo download
Another Simple CSS3 Dropdown Menu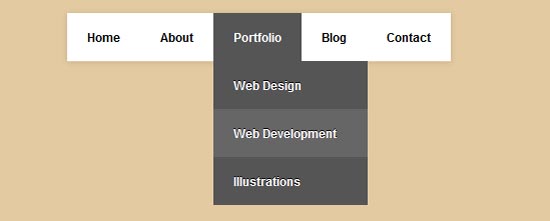 tutorial
Color-Coded Dropdown Navigation Menu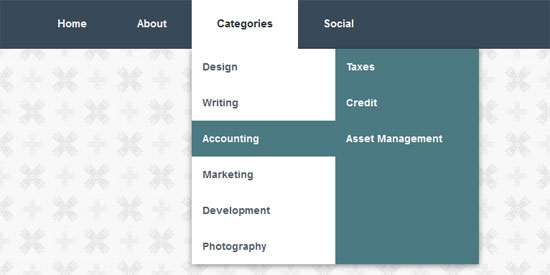 more info / download
How to Create Simple CSS Dropdown Menu
Many dropdown menus we see on websites use JavaScript in some way, but it's possible to build one entirely with HTML and CSS. In this short video tutorial, we'll take advantage of helpful CSS selectors to build a simple dropdown navigation menu.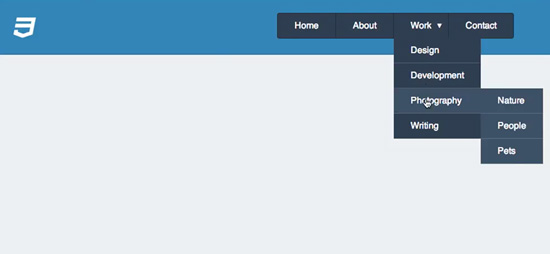 more info / download
Simple Pure CSS Drop Down Menu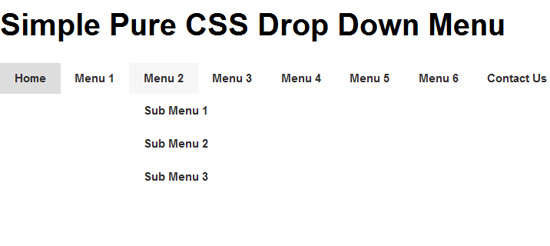 more info / download
Google Nexus Website Menu
Tooltip Menu
Horizontal Slide Out Menu
Simple YouTube Menu Effect
Responsive Multi-Level Menu
Horizontal Drop-Down Menu
Big Menus, Small Screens: Responsive, Multi-Level Navigation
CSS3 animated dropdown menu
It's a sure thing that CSS3 features like transitions, animations and transforms can add extra spice to your designs. In this article you will see how you can build an awesome CSS3 animated dropdown menu with some of these cool features.

demo more info / download
Colorful CSS3 Animated Navigation Menu
In this short tutorial, we will be creating a colorful dropdown menu using only CSS3 and the Font Awesome icon font. An icon font is, as the name implies, a font which maps characters to icons instead of letters. This means that you get pretty vector icons in every browser which supports HTML5 custom fonts (which is practically all of them).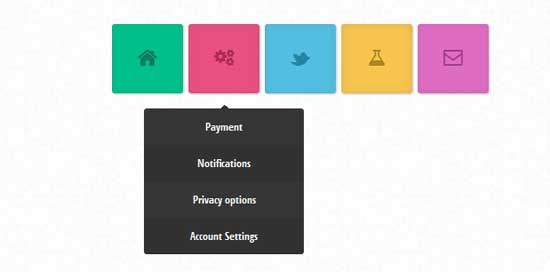 demo more info / download
CSS3 Styled jQuery Dropdown
Digg Header Menu
Kick-Butt CSS3 Mega Drop-Down Menu
CSS3 Dropdown Menu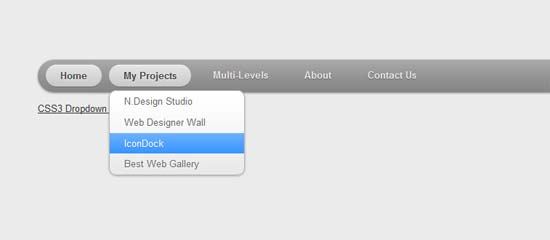 demo tutorial
Textured Responsive Drop Down Menu
latest responsive drop down menu is not short on style. This time we have used a textured background image to give the menu that rough appearance. The image is a transparent pattern so you can change the background color of the menu and without changing the image.

demo more info
CSS3 Drop Down Menu Items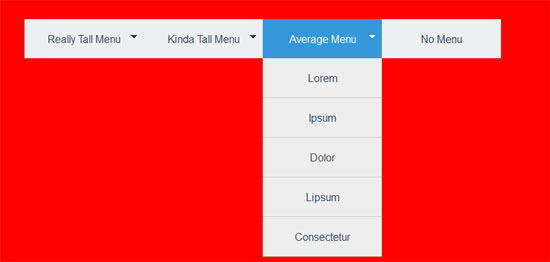 more info / download
Flexbox dropdown navigation menu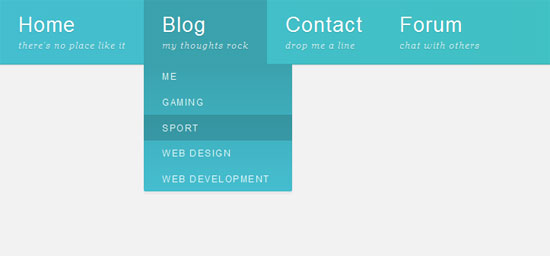 more info / download
Drop-down Nav Menu With HTML5, CSS3 and JQuery

tutorial
CSS3 drop-down menu

demo tutorial
A Different Top Navigation
Slide Down Box Menu with jQuery and CSS3
jQuery MegaMenu 2
demo tutorial
Drop-Down Navigation: Responsive and Touch-Friendly
demo tutorial
Cool CSS3 Dropdown Menu
Soothing CSS3 Dropdown Animation
tutorial
Musical drop down menu
Creating a CSS3 Dropdown Menu 2
Create a CSS3 Dropdown Menu 3

demo tutorial
CSS3 Dropdown Menu 3

demo tutorial
Create a stunning menu in CSS3
CSS Navigation

tutorial
CSS3 navigation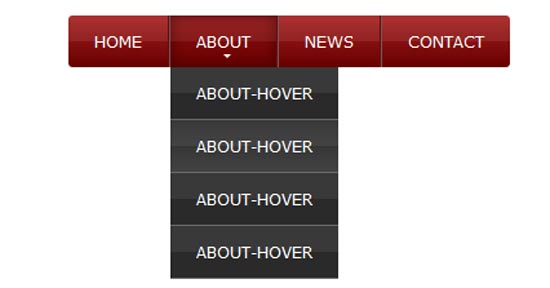 demo Tutorial
Facebook Style Dropdown Menu – V2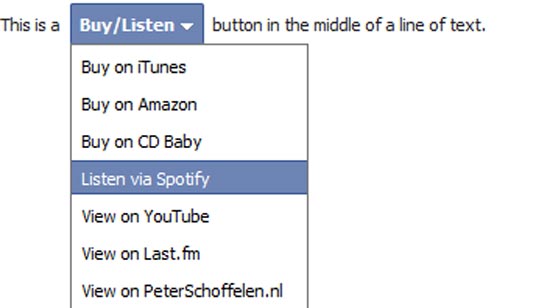 demo Tutorial
Collection of menu effects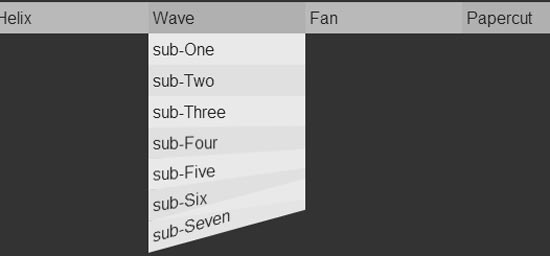 demo Tutorial
3-Level Navigation Menu

demo download