Looking for a fresh, modern way to promote your dental practice? Check out our selection of dentist website templates. Plus, our templates are easy to customize, so you can create a unique website that's tailor-made for your business.
Related Article
Decare
Dentist and Dental Clinic HTML Template by Decare It is possible to create a website for Dental Clinic, Dentist, and Dental Care. Designed for all types of dental clinics and other physicians, dental care, personal dental practices, cosmetic dentistry services, medical clinics with additional dentist services, etc.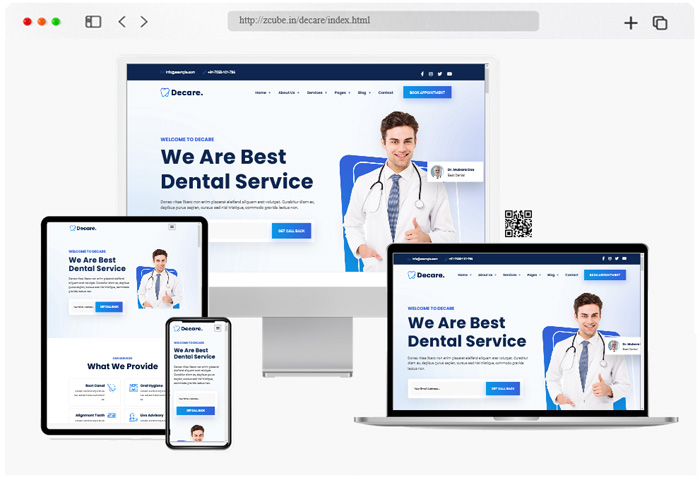 More info / download Demo
Dentisto
Dentisto dental website templates is a custom-designed, parallax-effect-based, and potent means of exhibiting artwork. The HTML5 template for dentists has a completely responsive framework that looks great on any mobile device and is retina display-ready for high-resolution graphics.
It includes service layouts and a layout for a dental app, as well as over six viable HTML5 page templates and several blog page layouts. The Dentist template includes Bootstrap v4.0, HTML5 and CSS3 code, cleanly coded as well as an infinite number of color options.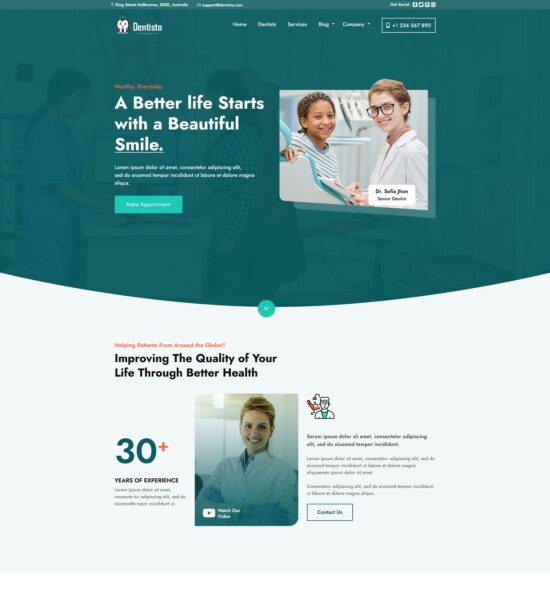 More info / download Demo
Carenow
Carenow is an easily customizable HTML template, perfect for a dentistry website, medical website and dental clinic, dental practitioner, healthcare, physician, or any other medical or health-related business. This responsive website template has a beautiful and unique design with a 100% fully responsive and retina-ready layout.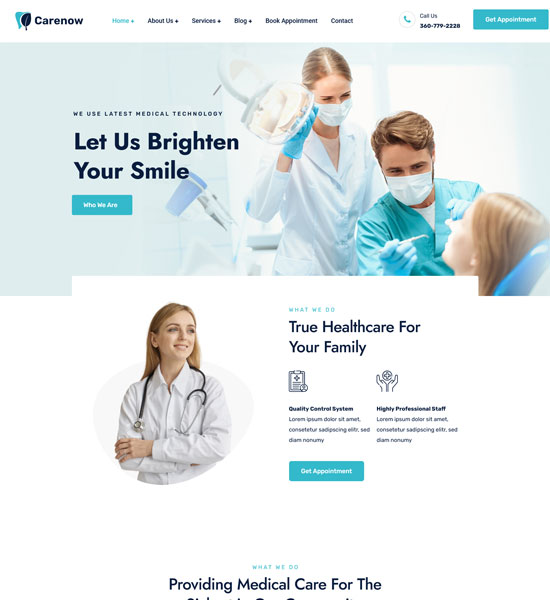 More info / download Demo
Predent
The Predent Dental Care HTML Template is the perfect way to showcase your dental care services and reach more people. This excellent web template, powered by HTML5, CSS3, and Bootstrap 5 with a clean design, will give you an edge over other dental care websites.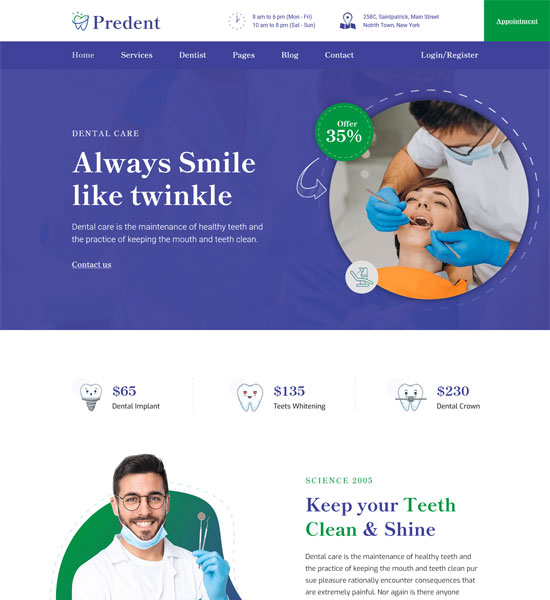 More info / download Demo
Santic
The dental clinic HTML5 template provides a variety of tools for successful website development. Today, every business and organization needs to have a well-developed website. However, it can only be established if you use a professional approach. This means hiring web developers who have the knowledge and experience to create a website from scratch.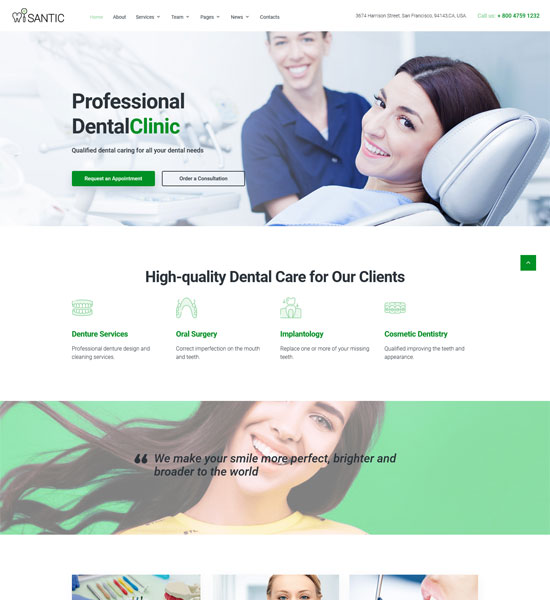 More info / download Demo
Hosco
Hosco is a full-featured responsive Bootstrap based on the Vue JS framework's dentist and medical clinic template. You can adapt it to any activity. There is a lot of space for information and a layout is a great decision if you want to present your internet activity in a modern way. This element is based on the Vue JS framework, so it is fully customizable for any purpose.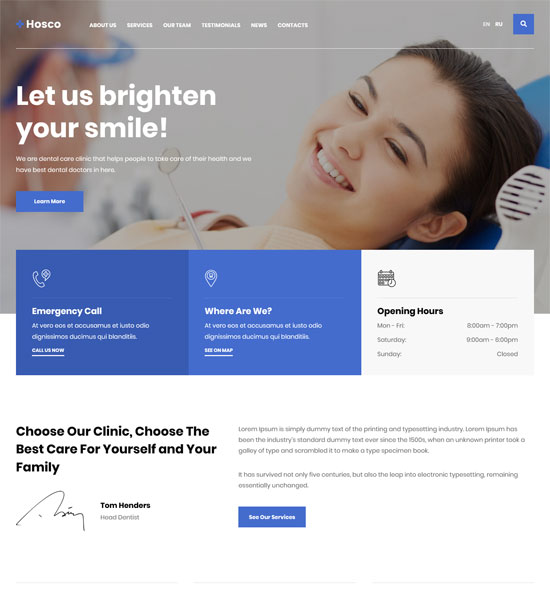 More info / download Demo
Grin
Grin is a modern responsive template for dentist and dental clinic website, built with Bootstrap 5.x and Sass. Any health related website, such as dentist clinic, dental offices, etc. For healthcare professionals such as a general practitioner, surgeon, dentist, veterinarian, psychiatrist, psychologist, ophthalmologist, physiotherapist or gynecologist, the template will fit the bill perfectly.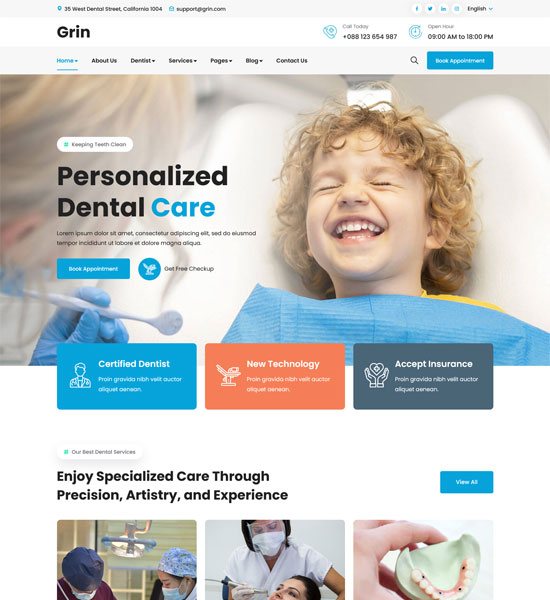 More info / download Demo
Donto Clinic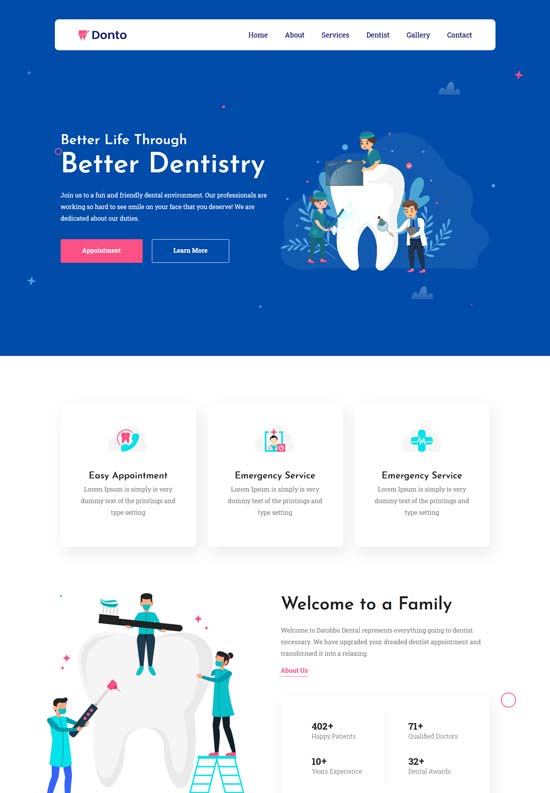 More info / download Demo
Dentallox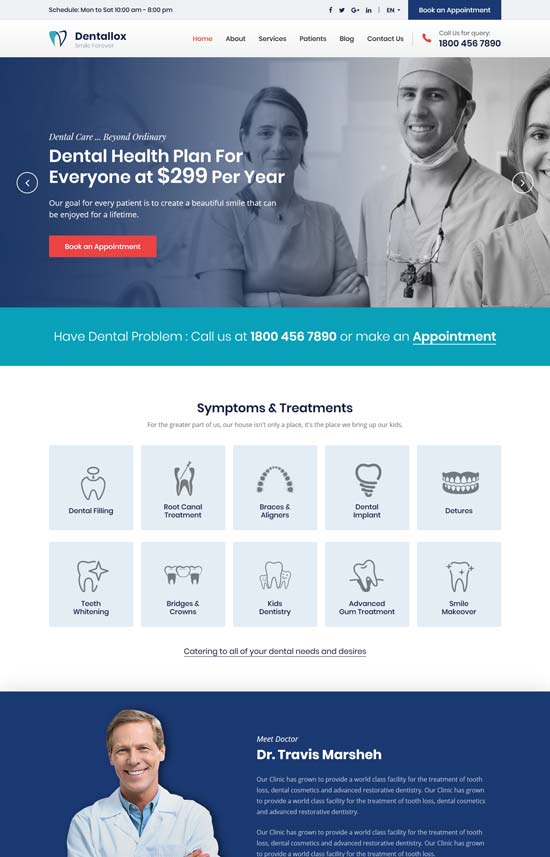 More info / download Demo
Medley Dental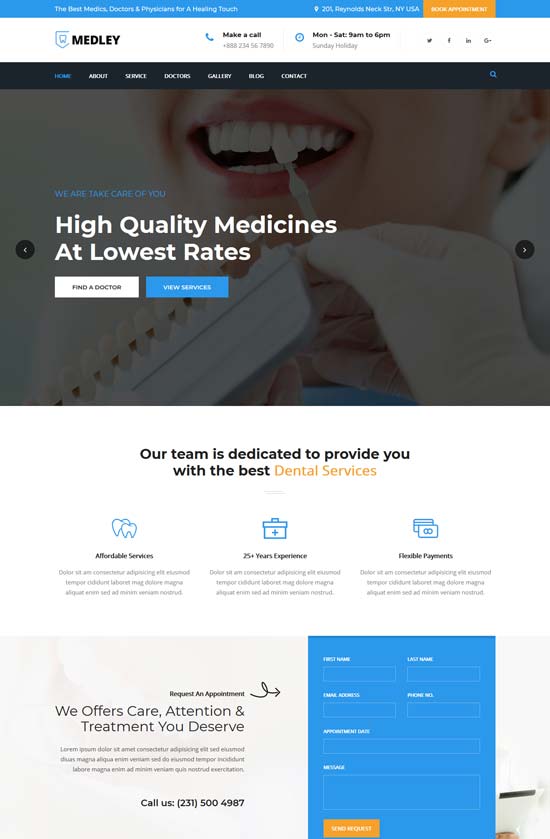 More info / download Demo
Klev Dental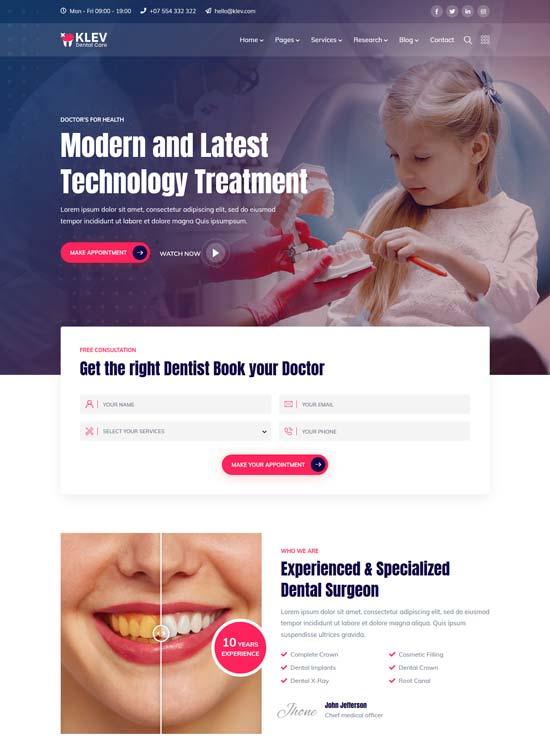 More info / download Demo
Denteur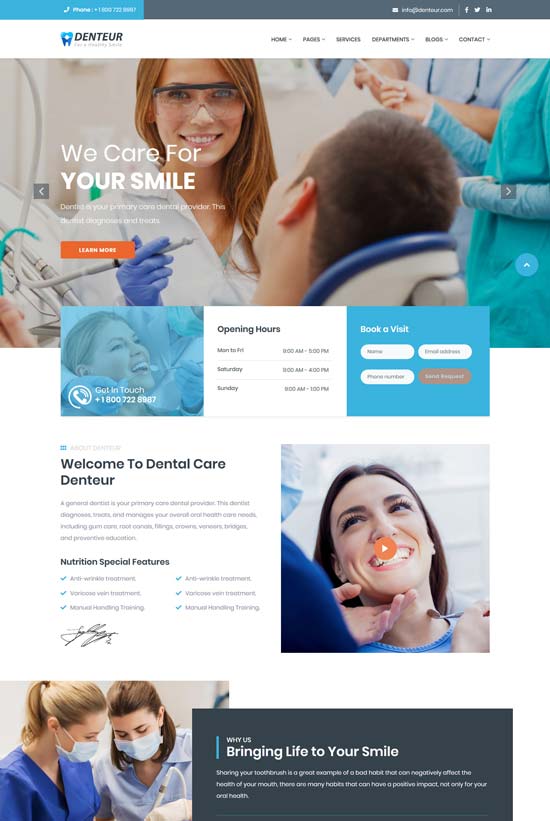 More info / download Demo
DiDent Clinic
More info / download Demo
Dentada Dentist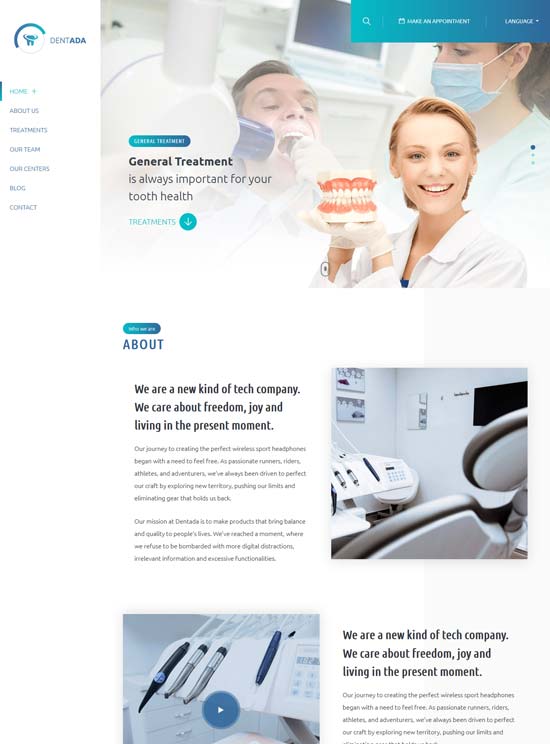 More info / download Demo
Medinix
HTML5 template of Medinix Dental Care, built with the world's most popular responsive CSS framework, Bootstrap. This is a clean and modern template that you can use in the fields of medical, dental, orthopedic and other affairs.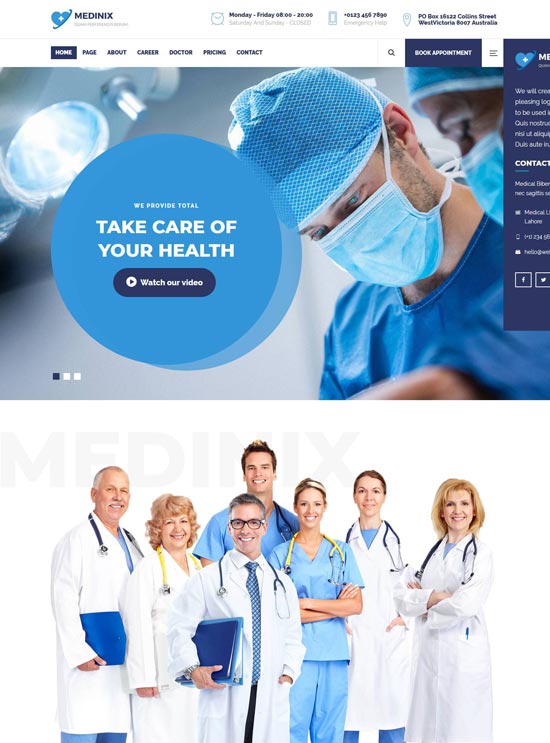 Demo More info / download
Timan
Timan is a library for the dental clinic, dentist and dental with predefined web elements that helps you to create your own website. Timan was built using modular and responsive blocks that facilitate design. By combining blocks, you can easily get a new page.
This makes it easy to create unique pages. In Timan includes more than 50 function blocks, it allows you to create a large number of page combinations for your unique CSS site, JS, HTML files were created on the principle of modularity.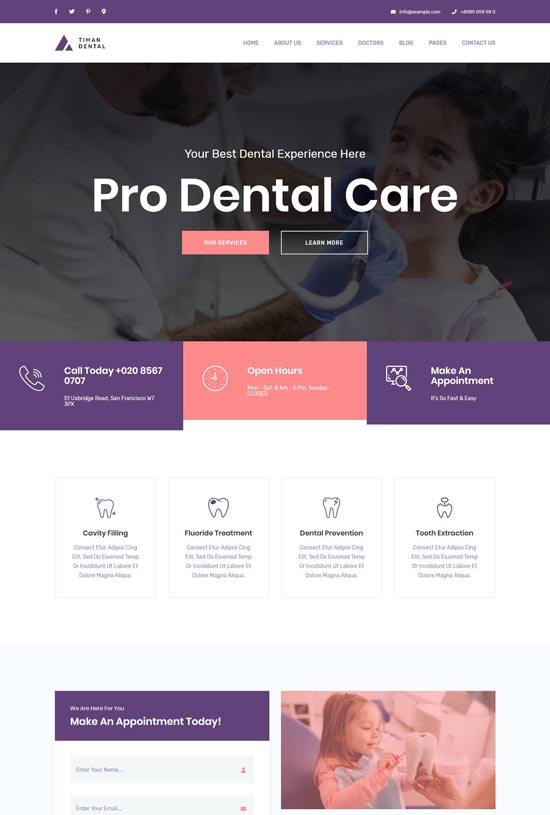 Demo More info / download
Smile Dentistry
This template is an advanced web design for dental equipment and dentists. This template ensures that your website looks the same on any gadget with web browsing, whether it's a desktop, tablet, smartphone, or even connected TV. Well documented and offering free assistance 24/7, the web theme will allow you to start immediately with your project online.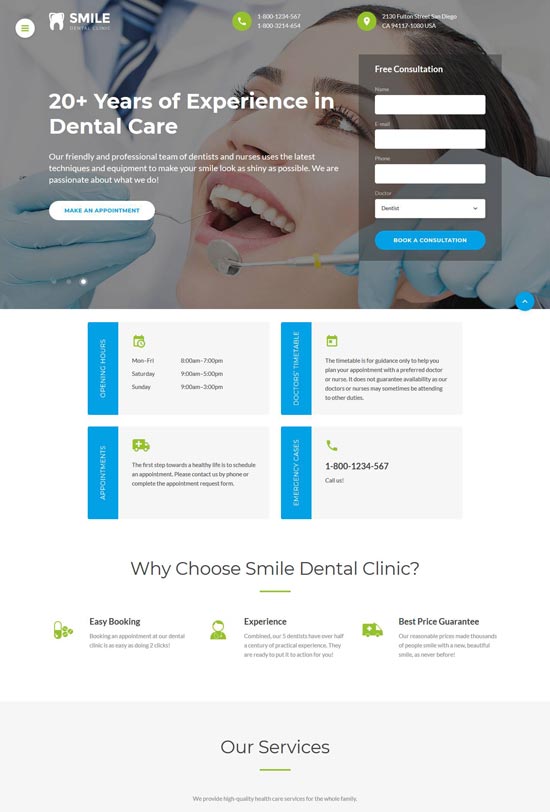 Demo More info / download
Dento
Dento HTML Template can be used as a website for dentists clinics, as well as for other purposes. This template is for you if you want to create a website for an individual dental clinic and other doctors, Dento, personal dental offices, cosmetic dentistry departments with other dentist services, etc. This template is ideal for dentists.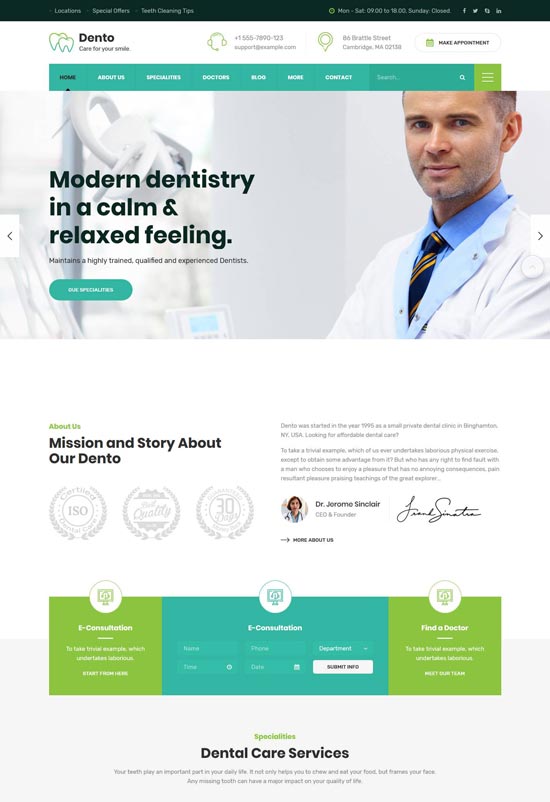 Demo More info / download
Global Dental Center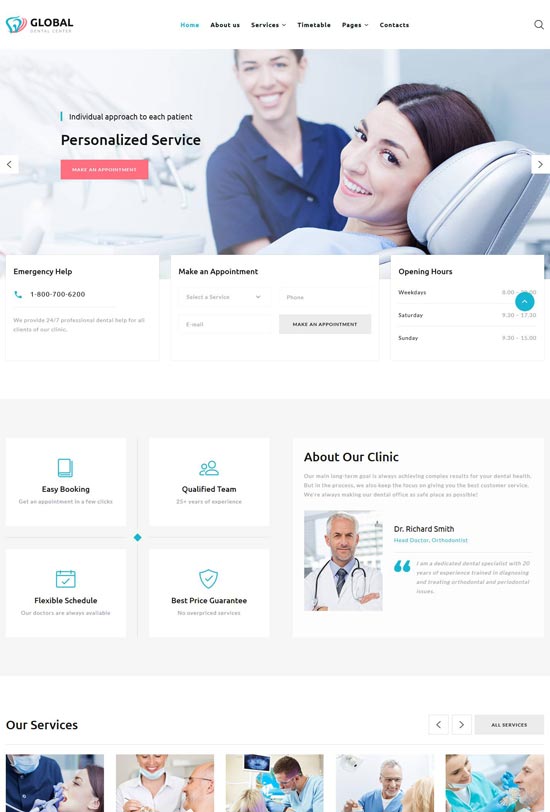 Demo More info / download
Vesalius
Vesalius Care is a highly responsive and high quality HTML5 template for dentists and dental clinics and dental establishments, specifically designed to meet the needs of dentists and the latest trends. The theme is best suited for dentistry dentistry, dental clinics. One of them is the right-to-left version, if you have to change websites.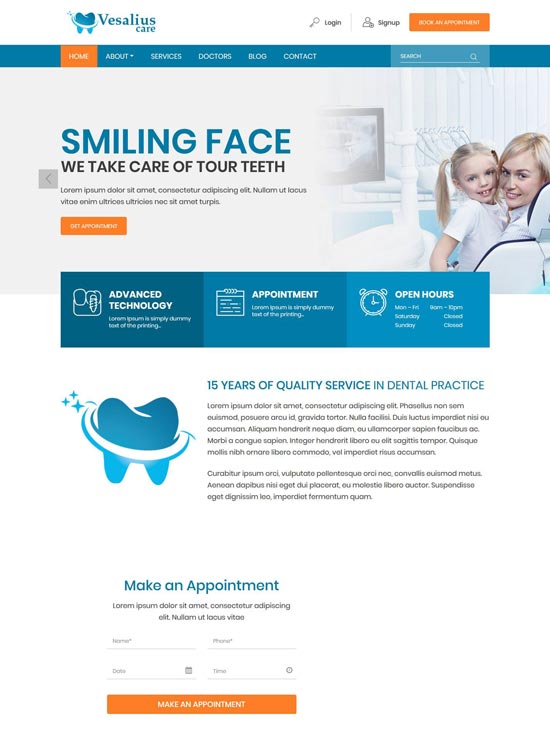 Demo More info / download
Dentario
Dentario is a beautiful Medical HTML template. It is ideal for dental clinic, individual dentist and any other medical and healthcare related businesses.
It can be hospital, research center, or pharmacy, or a website for individual dentist or pharmacist. Clean design of Dentario is perfect for any corporate website. Besides that, the site template offers a lot of great features.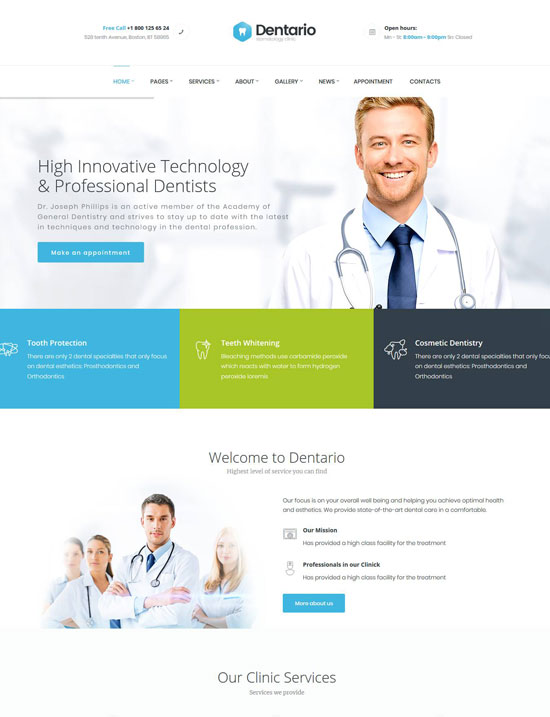 Demo More info / download
Dentalux
Dentalux-HTML is ideal for dental clinics and all other health and medical businesses, such as hospitals, research centers or pharmacies. This HTML template has a firm visual identity in soothing tones and colors that will inspire absolute confidence in the impeccable quality of your medical services.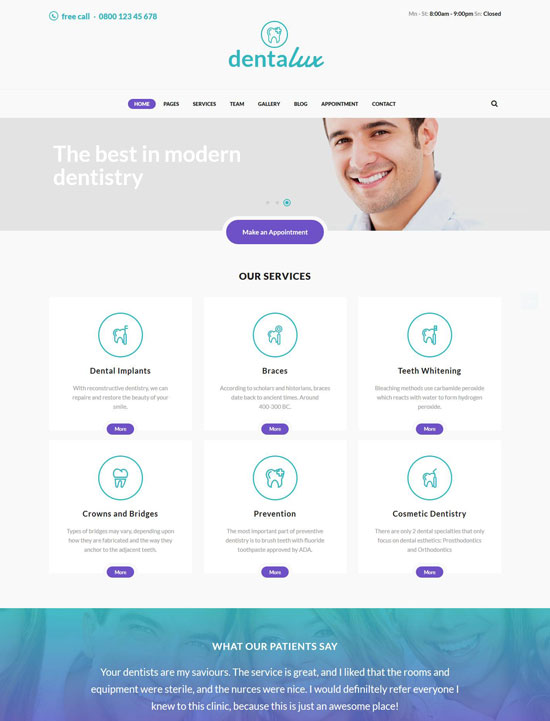 Demo More info / download
Dental Pro
Dental Pro is a library for Dental Clinic, Dentist & Dental Care with predefined web elements which helps you to build your own site.
Demo More info / download
Dental Care
Dental Care is an original HTML template ideal for dental clinics. It is built with the latest web standards. It is totally responsive to all devices.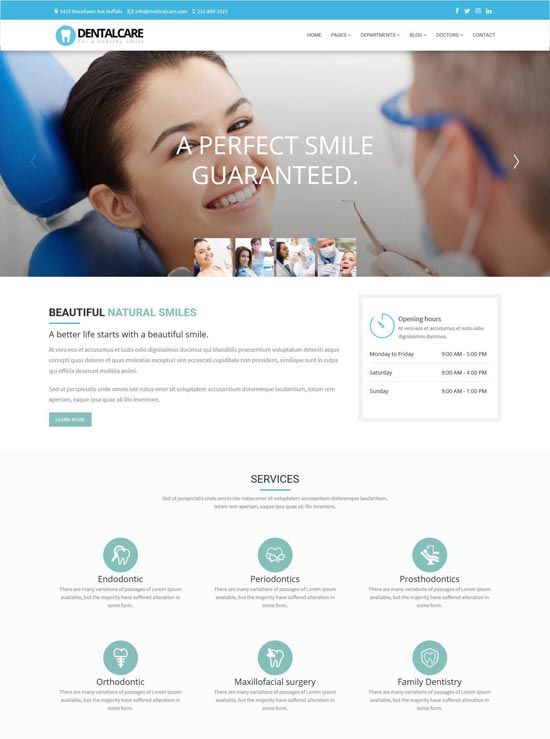 Demo More info / download
Dental Care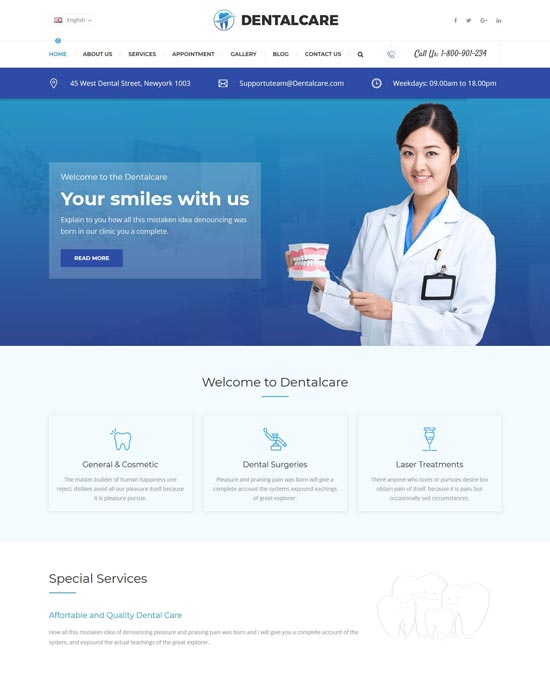 Demo More info / download
MediCo
MediCo. is a Fully Mobile Responsive Html Template for Hospitals dentists. This minimal template is being packed with tons of features like 4 Home Pages, 4 Contact Forms,Opening hours, 20+ Blog Pages, Time Tables, 4+ Gallery Pages, Shop/Store Pages, Product Pages, All Inner Pages with Total 100+ Html Files. MediCo.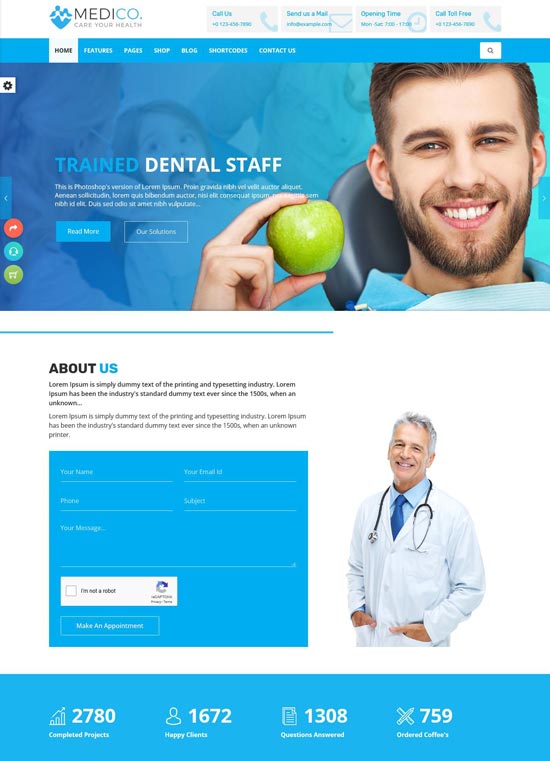 Demo More info / download
Medent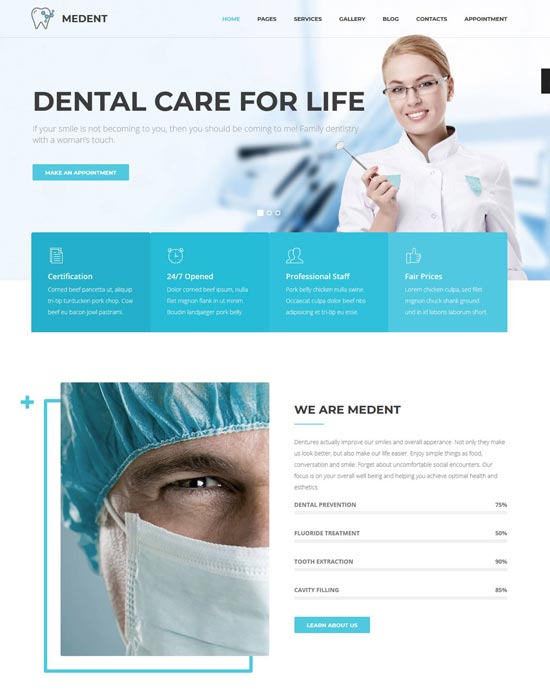 Demo More info / download
Intense Clinic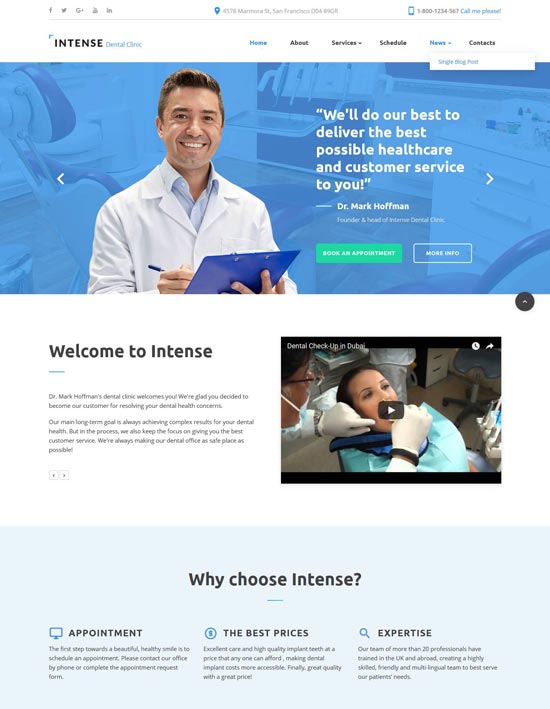 Demo More info / download
Dental Clinic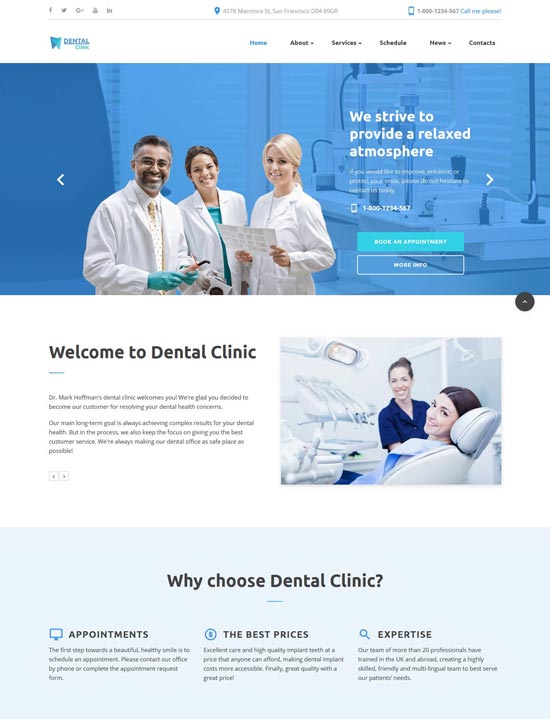 Demo More info / download
Teeth Whitening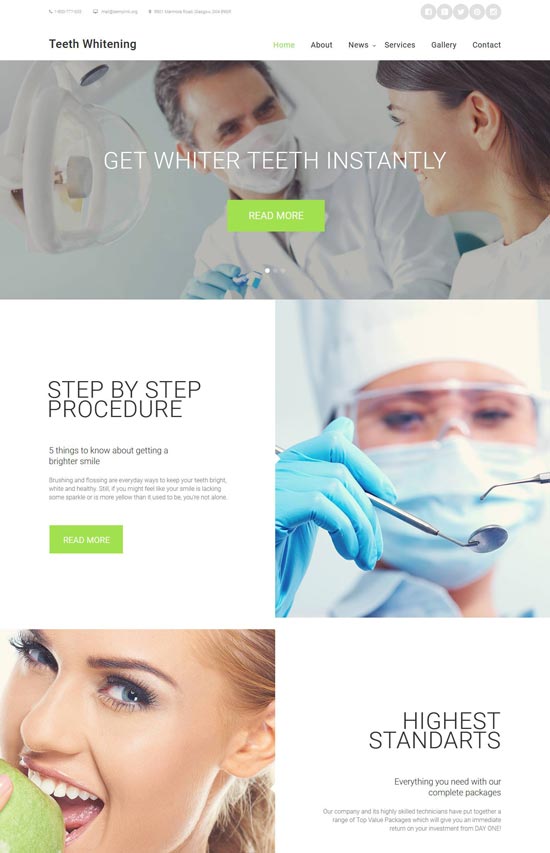 Demo More info / download
Genta-C Center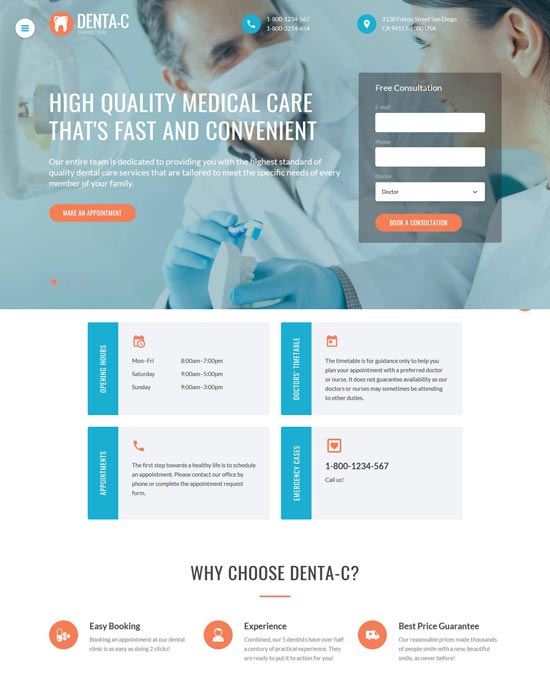 Demo More info / download
BeDentist
This theme with snowy layout was created specifically for dental clinics. Having Bootstrap in its core, Doctors Office Website Template is reactive, so it will quickly adapt to any gadget with any screen size that the user has at hand right now. Text and images are also flexible, so they will be rendered correctly.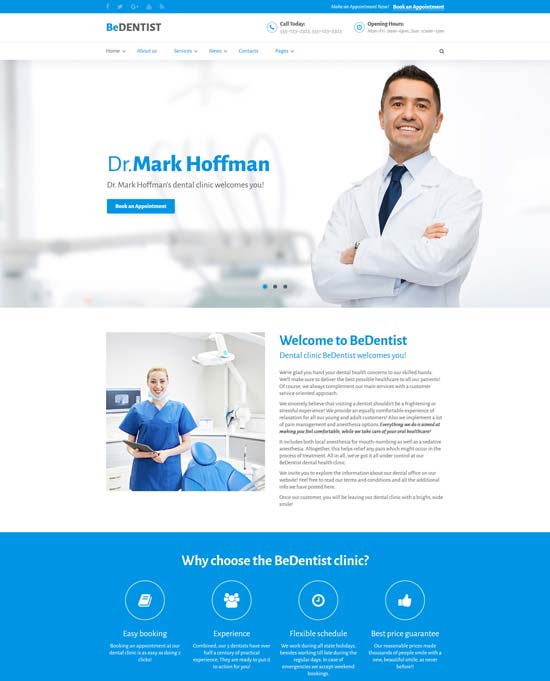 More info / download Demo
Dentic
Dentic is a dentist bootstrap website template suitable for dental, dentistry and stomatology sites. This cross browser compatible template offers an easy and adaptive design for portable devices at a glance. No need to code or design for yourself, this template comes with versatile companion pages, which save you a lot of time.
Present your services in a functional gallery to spread a word about your business and provide visitors with detailed information about your business.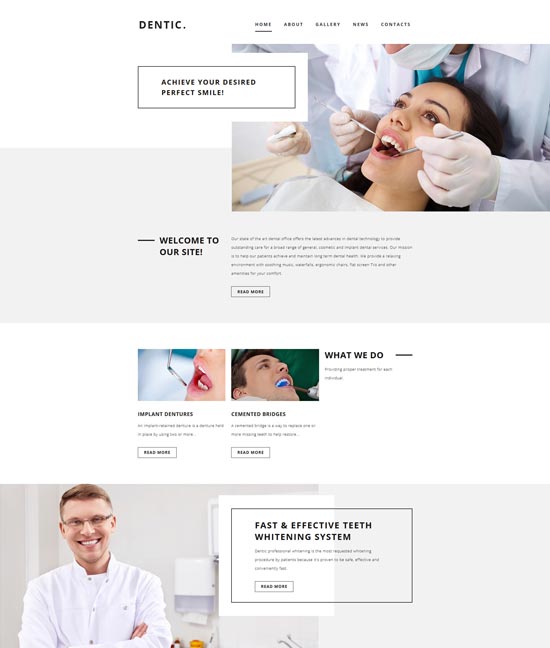 More info / download Demo