In a world where clean and safe drinking water is essential, your water-related business or organization needs a standout online presence. Explore our curated collection of the best drinking water website templates that cater to water delivery services, purification companies, bottled water brands, and more. These templates offer stunning designs, user-friendly layouts, and essential features to showcase your offerings and connect with your audience. Dive into the world of refreshing website designs and choose the perfect template to quench your digital thirst!
Aguapure
Aguapure is a modern and stylish HTML Template designed for bottled water companies, aqua markets, water delivery services, and more. With 03 creative homepage layouts and 30+ valid HTML files, this template offers an elegant and customizable design. Its responsive nature and 1170px grid make customization easy, providing a seamless experience for users. Whether you're in the bottled water business or water delivery services, Aguapure offers a refreshing online platform for your needs.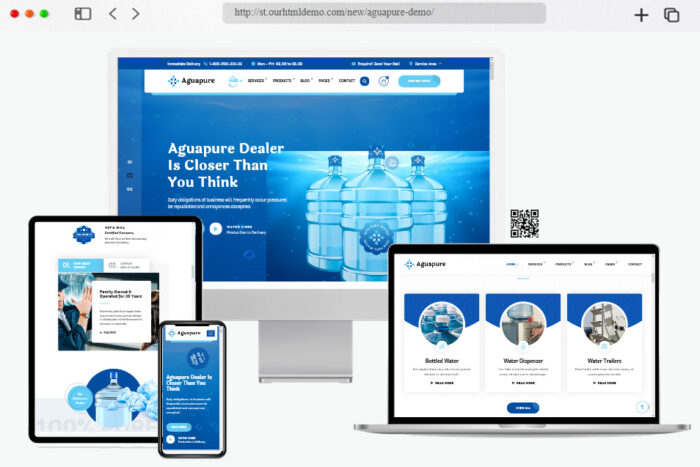 More info / download Demo
Acuasafe
Acuasafe is a contemporary and captivating design tailored for various water-related businesses such as water delivery companies, bottled water services, water filters, and more. It's well-suited for industries like water pools, diving, and water cleaning as well. With its modern and versatile design, Acuasafe is ideal for creating an appealing online presence for your water-related business ventures.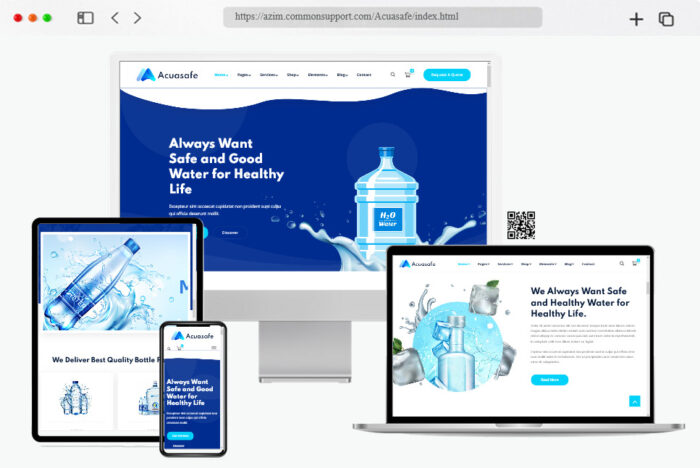 More info / download Demo
Uaques
Uaques presents a contemporary and impressive design meticulously crafted for water delivery companies, delivery services, bottled water suppliers, water filters, and more. With its versatile approach, it's also suitable for home filters, online drinks stores, water mining, mineral water delivery, and similar ventures. The template's adaptability extends to industries like water pools, diving, and water cleaning, making it a versatile choice for a wide range of water-related businesses.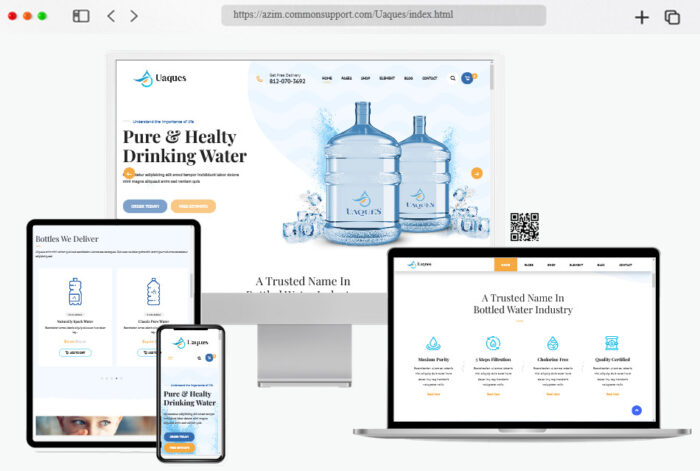 More info / download Demo
Fresh Vial
Fresh Vial is a beautifully designed website template tailored specifically for businesses in the water industry. Whether you're running a water delivery service, selling bottled water, water filters, or involved in water mining and mineral water delivery, this template is crafted to meet your needs. Its modern design ensures your business stands out online, and its flexibility means it can also cater to other related industries, such as water pools, diving, and water cleaning. The template boasts a range of features including 18+ fully layered HTML files, 4 distinct homepage layout styles, and Bootstrap 4.x foundation for responsiveness. As a bonus, it also includes a PSD file, ensuring a seamless design-to-web process.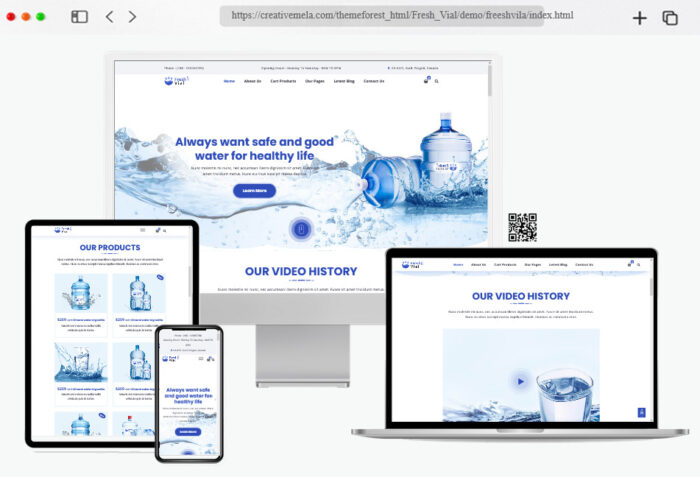 More info / download Demo
Mineralo
Mineralo is a clean and professional HTML template designed specifically for businesses in the bottled water industry. It caters to various services including bottled water delivery, water delivery service, water filters, home filters, mineral water services, online water stores, water mining, and more. The template offers 3 distinct home page designs and 6 inner page layouts, providing versatility for different needs. Built with valid HTML5 and CSS3, it utilizes the advanced Bootstrap 4 framework for a solid foundation. Additionally, Mineralo comes with Mailchimp integration, making it easy to manage email campaigns and subscriptions for your business.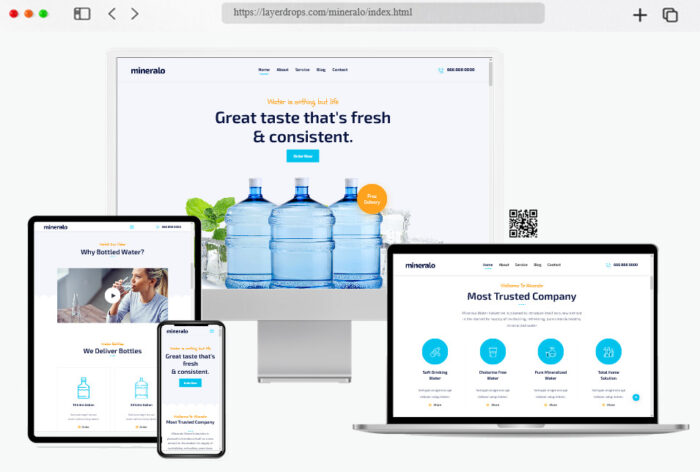 More info / download Demo