We have collected the best education WordPress themes for you. These responsive templates are created for creating websites for schools, studios and other educational institutions. Full of powerful features and flexible responsive design, these themes will be your best-seller.
Talk about an education WordPress theme that is sure to have your students excited and engaged. Our Education themes are specifically designed for schools and universities to allow teachers to deliver lessons, display content, and provide more interactivity in the classroom. See some of our best Education WordPress themes below!
Related Article
Ecenter
Ecenter Education WordPress Theme is a theme designed specifically for e-learning and education-related websites. These themes include pre-designed templates and custom widgets that are tailored to the needs of educational institutions, colleges and other organizations with similar objectives. These themes frequently include course listings, event calendars, faculty and staff directories, student profiles, and other elements.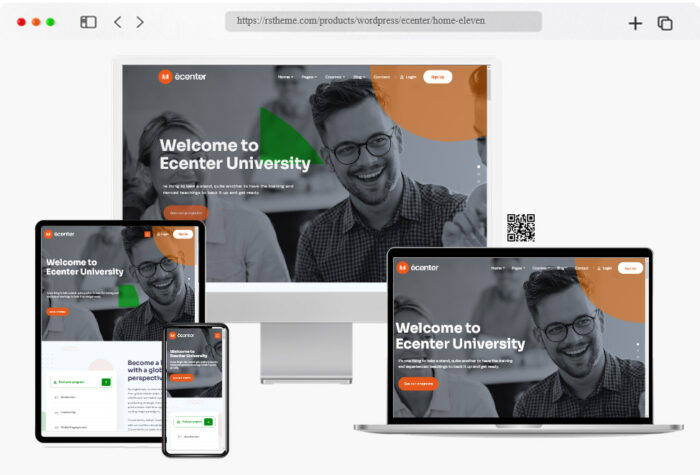 More info / download Demo
Egrad
Egrad is expertly crafted to be fully responsive and fully customizable without coding. It includes multiple fully-customizable, pre-built home page examples with drag-and-drop functionality. This online learning management theme is well-documented and backed by outstanding, professional customer service. Additionally, the Egrad theme includes multiple pre-built inner pages that you can easily customize and make your own.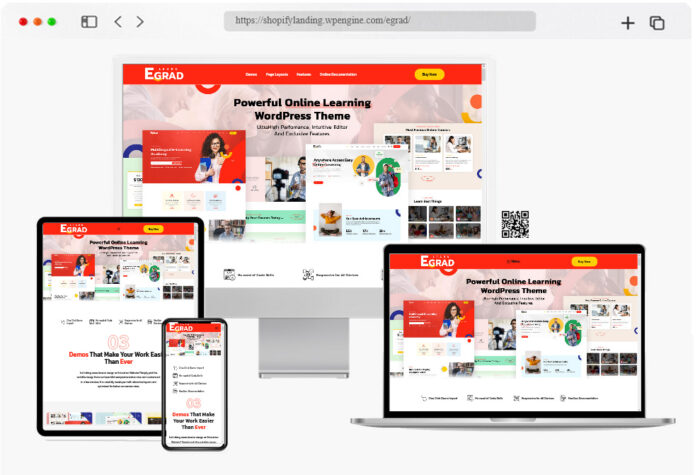 More info / download Demo
AcaduAcadu
Learning and Education Online at Acadu WordPress Theme features a gorgeous and distinctive style that will complement your web presence online. This WordPress theme features four distinct Home page demos and seventeen or more inner page blocks that are simple to update and adjust to your specifications. WordPress Theme is an ideal tool for developing one-of-a-kind educational websites.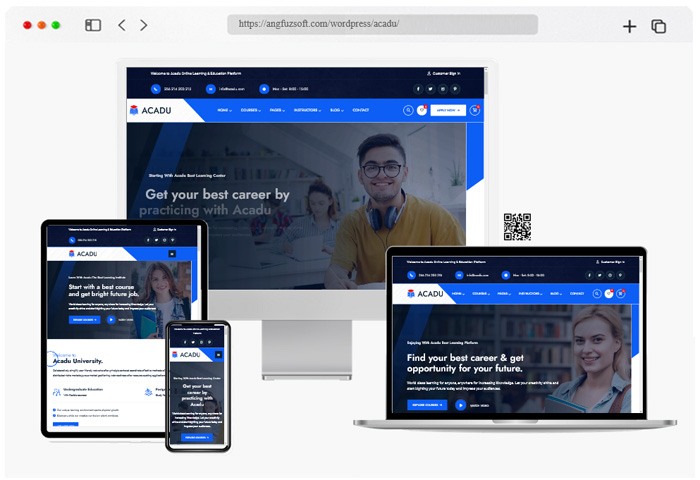 More info / download Demo
Educamb
Educamb is a responsive WordPress education theme with two ways to start: from the home page or from single choice widget. A full width slider is used in the main navigation options, allowing you to easily control your website. The theme also comes with 2 skins (stretch and flat) that can be easily selected and compensated by changing one element at a time.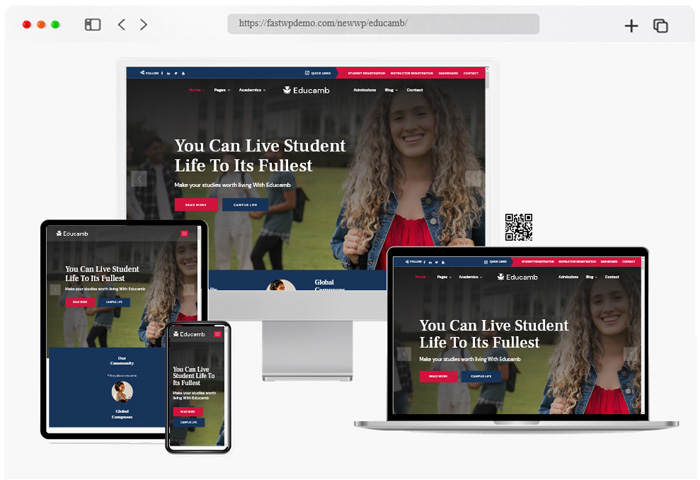 More info / download Demo
Educrat
Educrat is a WordPress theme designed specifically for educational institutions such as schools, colleges, and training companies. It is equipped with essential features such as course post type and course search, enabling students to go through available courses.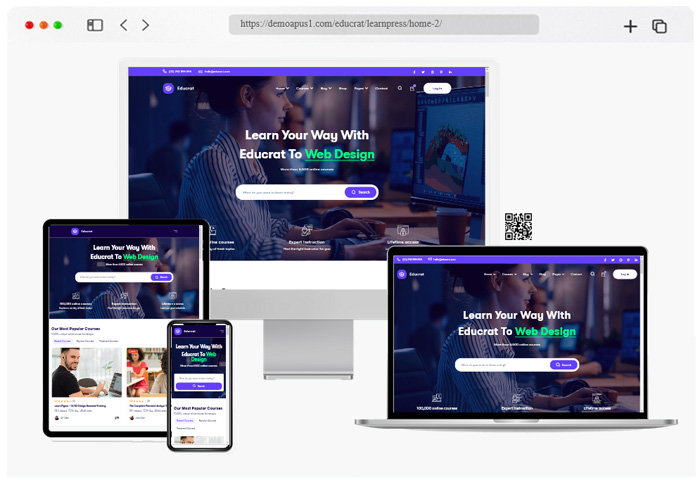 More info / download Demo
Masterstudy
MasterStudy Pro is what runs the Masterstudy Education WordPress Theme for Learning Management System (LMS). There are no extra costs! This theme already has the MasterStudy Pro plugin built in.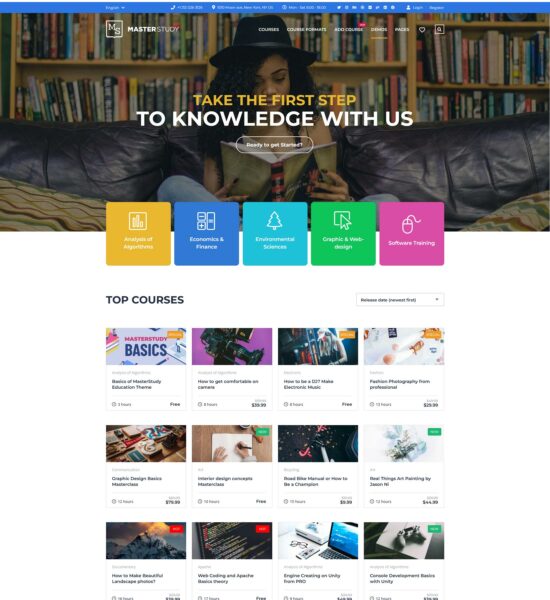 Eduma
Education WP is a time-saving solution that was made to be a WordPress site for a school or university or an educational course, learning, or training site. Creating courses couldn't be easier or simpler with the drag-and-drop curriculum.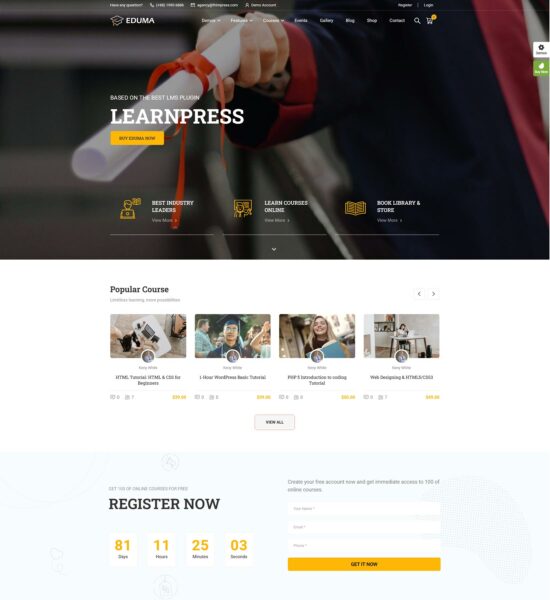 More info / download Demo
CorpTrain
CorpTrain's flexibility and power make it easy for you to make and share beautiful online courses with your employees. With the Corporate Training WordPress Theme, you can use the LearnPress – 1# LMS WordPress Plugin to build a great LMS for a training website.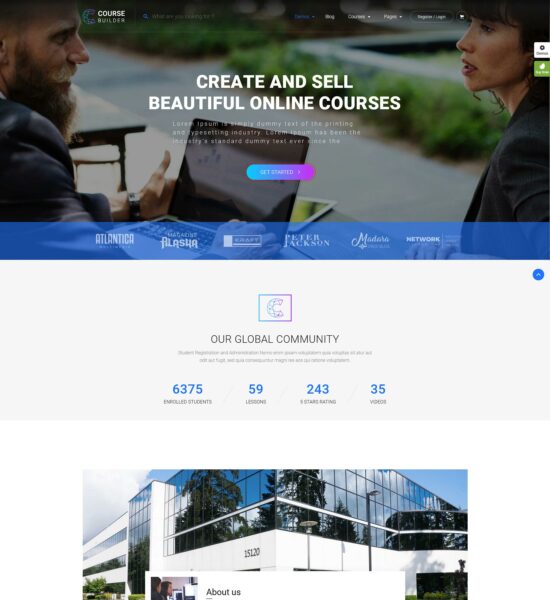 More info / download Demo
Eikra
Eikra is a modern, minimalist WordPress theme that was made especially for schools of all kinds. This education WordPress theme was made with your school, college, university, or training center in mind.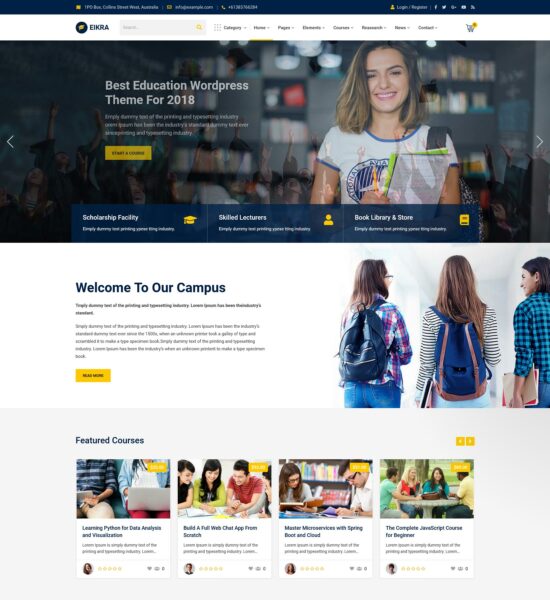 More info / download Demo
Edhub
Edhub is a clean and creative theme powered by Tutor LMS that helps people reach their educational goals in one place. You can manage the course, quizzes, assignments, exams, and a lot more with the Tutor LMS package.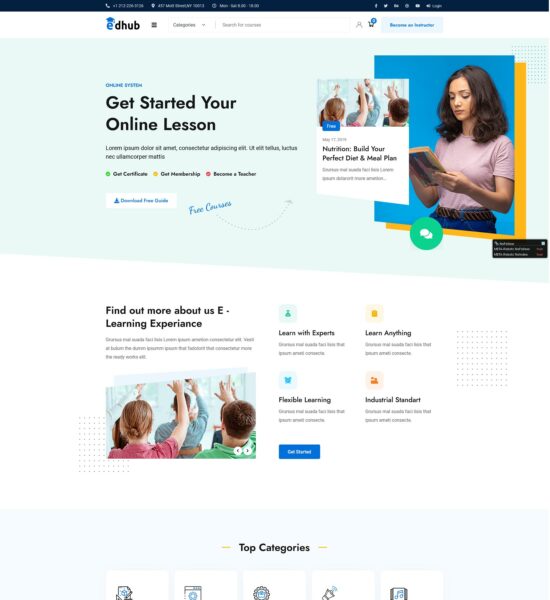 More info / download Demo
LmsMart Education
Education from LMSmart Theme for Learning Management System on WordPress (LMS). The theme was made with the Elementor drag-and-drop page builder. With this theme, you can make a website for any kind of educational organization. Also, this theme has a WooCommerce store, an event calendar, event registration, and a lot more.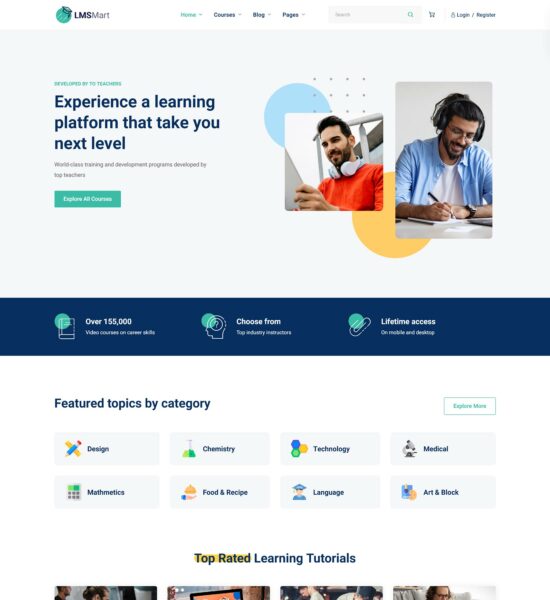 More info / download Demo
Wellco
Wellco is the theme you need to get all the important pages on your website up and running. It has three demos for online trainers courses that are beautiful and interesting. All of these demos can be fully set up with a single click in 5–10 minutes.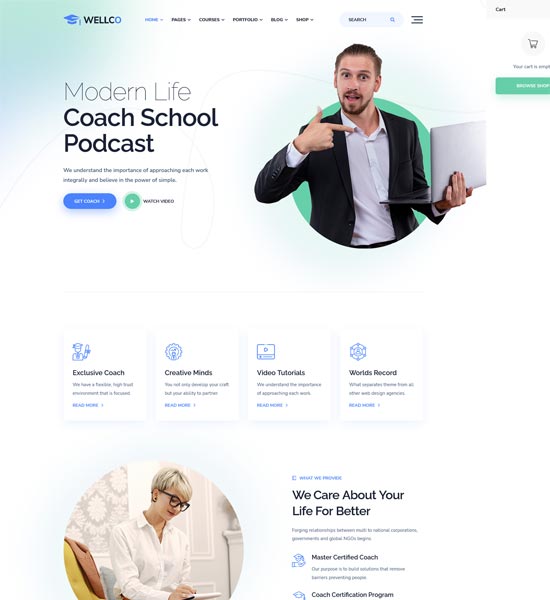 More info / download Demo
Omexo
Omexo is a modern LMS WordPress theme for schools. It's good for schools, universities, language schools or any other kind of educational institute.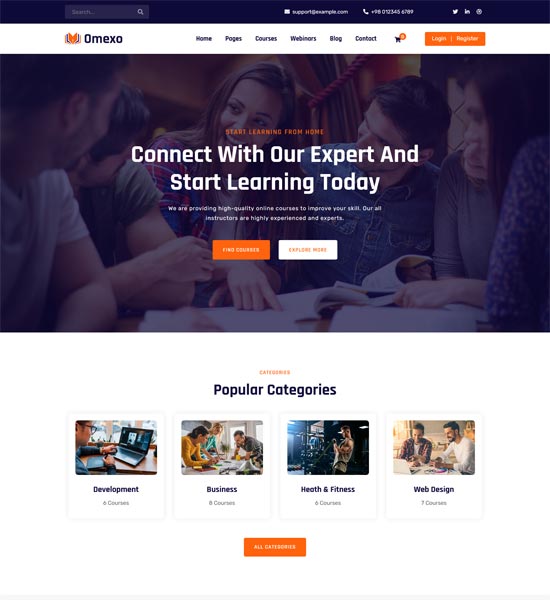 More info / download Demo
Shelly
Shelly is a nice, simple WordPress theme for educational centers of all kinds. Carefully made for school, training center, university, or courses. The theme is perfect for making a WordPress site for your language school,or university with a great education. Shelly makes her website with Elementor, which is one of the most popular builders and makes it easy to change and add content.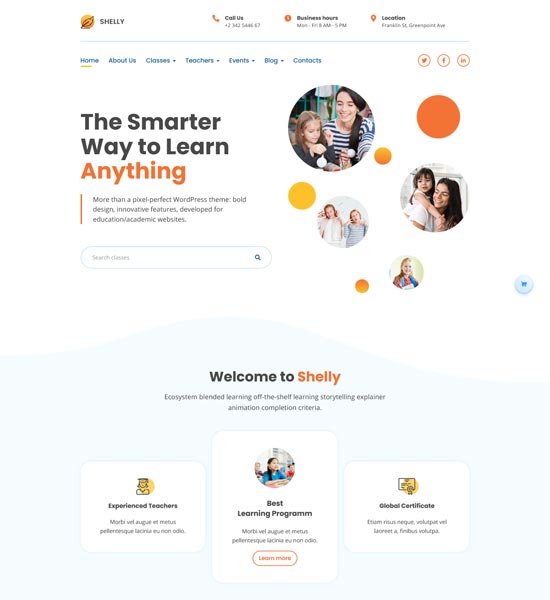 More info / download Demo
Educam
Educam contains everything you need: professionally designed landing pages, amazing animations, creative headers, 20+ unique shortcodes, galleries, blogs, testimonials, product catalog, product page, 404 page, shopping cart, order and others.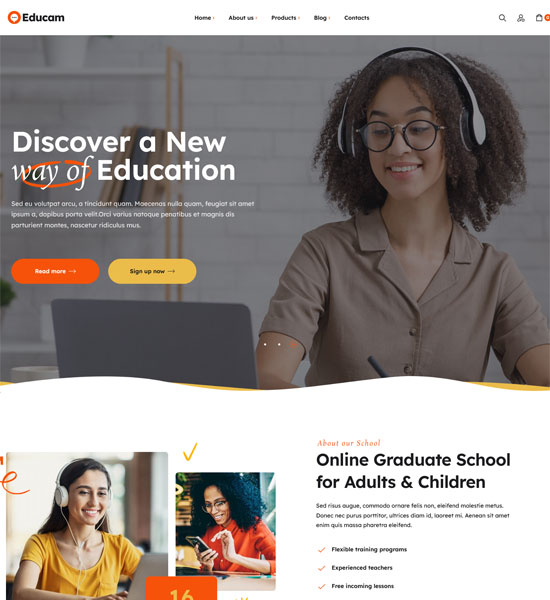 More info / download Demo
Zilom
Zilom is a complete, feature-packed, and robust WordPress LMS theme for easily creating and selling online courses. All the features of this learning management system reach all the control points for a complete online course market.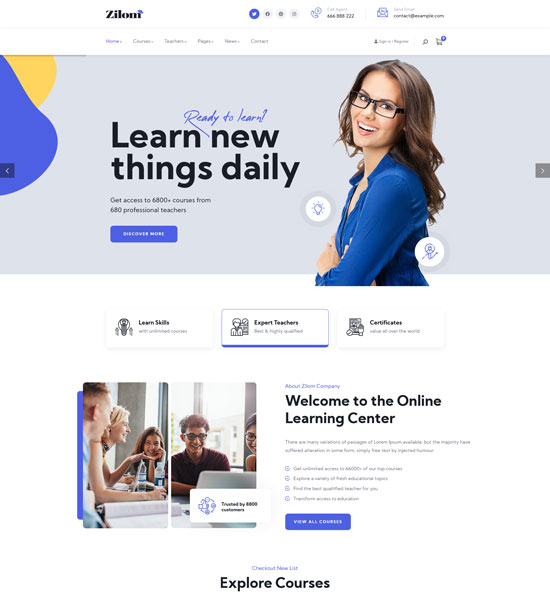 More info / download Demo
Learnify
Learnify is a beautiful, modern and attractive educational WordPress theme that was created for educational establishments, both online and offline. It works for grades, preschool and higher education. Also for college, university or academy, informal learning or institute.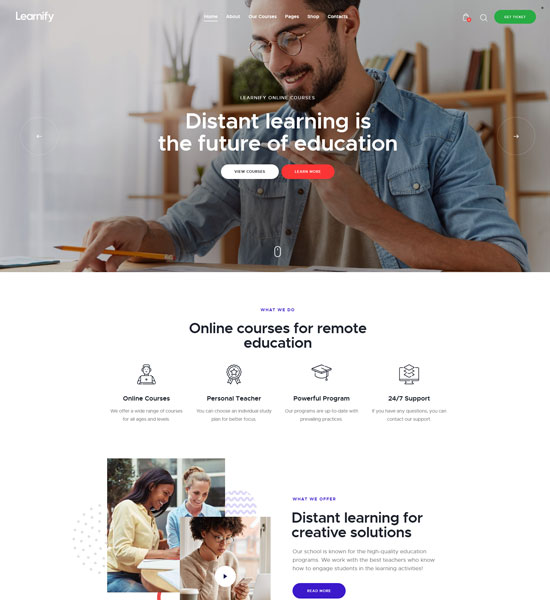 More info / download Demo
Skola
Skola is a learning management system WordPress theme. It is designed for the LearnPress plugin, which is the most popular Learning Management System plugin for WordPress. With Skola and LearnPress, you can create and manage courses, sections, lessons, quizzes, and questions for quizzes.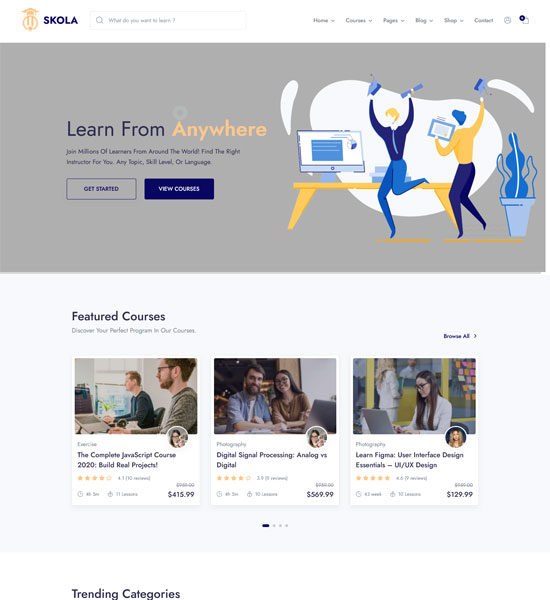 More info / download Demo
LearnUp
LearnUp is built as a clean and modern website with an educational purpose and a WordPress portal theme. This theme is perfectly designed and organized for any type of website and educational portals like university, college, and much more website.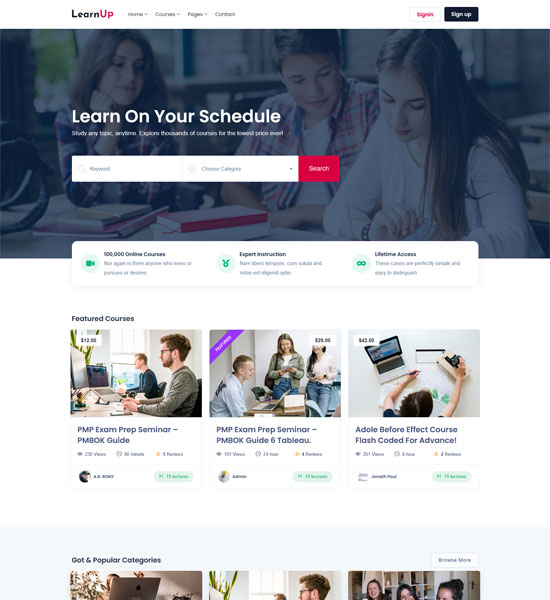 More info / download Demo
Firecamp
Firecamp is a clean and modern Education and Learning Management System (LMS) WordPress theme. It is suitable for any instructor, university or any kind of educational institution. This theme includes 05 amazing demo landing pages with different LMS course page layouts and other inner page layouts, which are easy to edit and customize to suit your needs.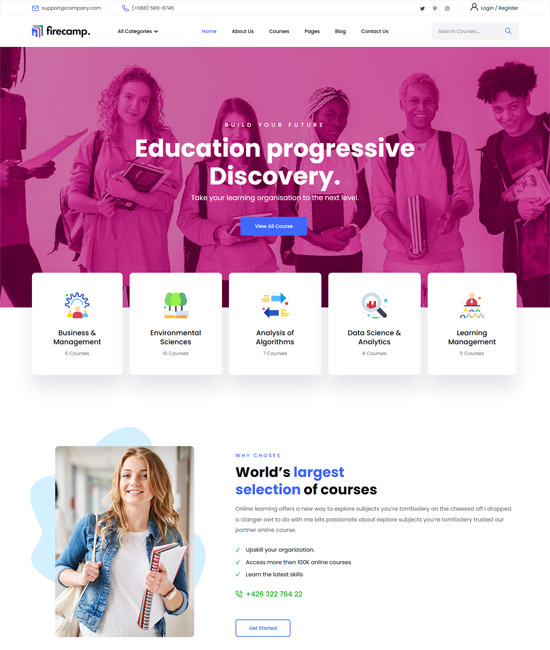 More info / download Demo
EduBee
EduBee is an e-learning WordPress theme with a robust and customizable framework using Elementor, LearnPress for an engaging and interactive e-learning LMS website. EduBee offers a variety of LMS demos and a wide variety of online course structures that you can use to start your own e-learning portal in minutes.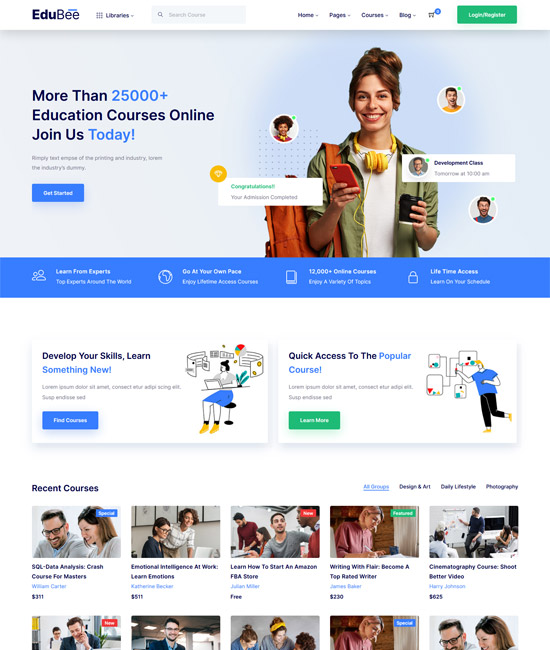 More info / download Demo
Edum
Edum is a WordPress theme specially designed for e-Learning, online school, college, university and online instructor websites. Lessons, Online Assessment Systems, Online Quiz System, Enrollments. Edum theme has a beautiful and unique design that will best suit your online web presence .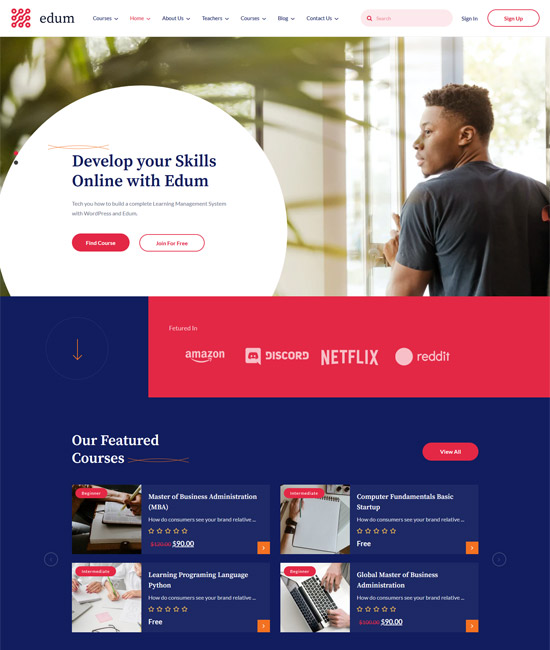 More info / download Demo
Gostudy
Gostudy is a solution for creating educational website or any kind of educational institution. Gostudy Education WordPress Theme is developed as a Learning Management System for Course Listing Platform like university, academy or school.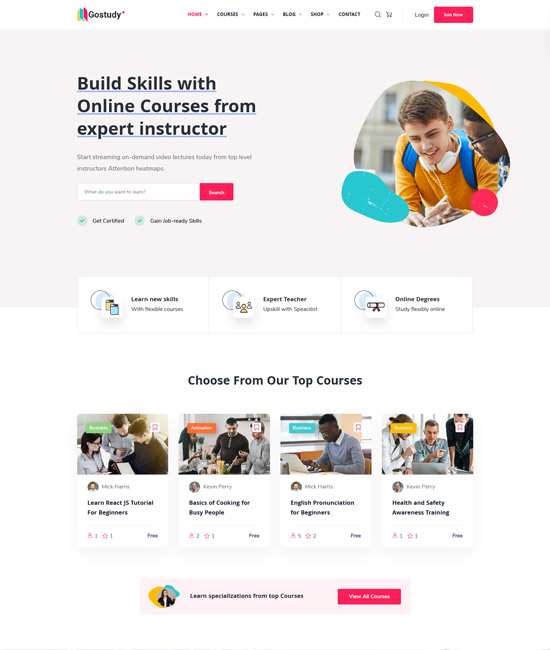 More info / download Demo
Unicamp
UniCamp is a premium WordPress theme for educational LMS that has been thoroughly researched and created especially for universities, colleges and schools. With UniCamp, the administrator can create a school website with comprehensive information, create communities for the university along with fundamental LMS features including creating, managing and selling online courses, lesson control functions, organizing educational events, etc.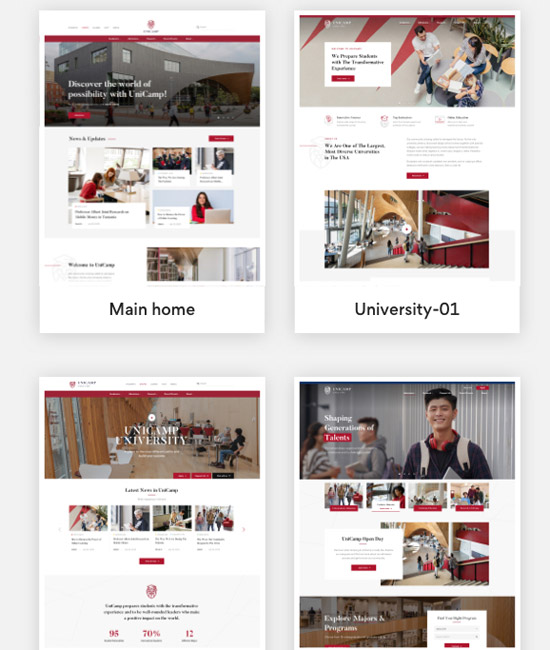 More info / download Demo
LeBari
A beautifully made WordPress theme for education. Anyone who wants to use this theme for an educational or e-learning site can do so.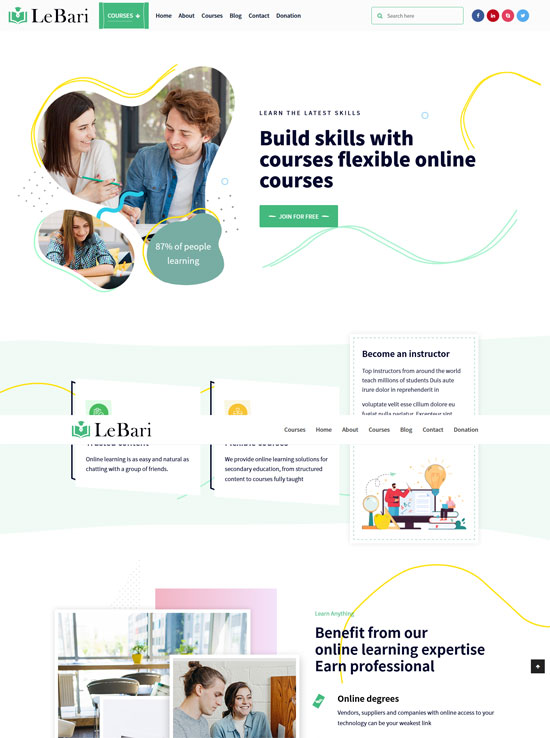 More info / download Demo
Estudiar
A clean, modern and easy to use college and university WordPress theme with all the necessary features for your school, college or university. It includes a fully customizable set of pages and a collection of practical elements, carefully tailored to the exact nature of the industry, and designed and developed to include all the features and functionality you may need for your purpose.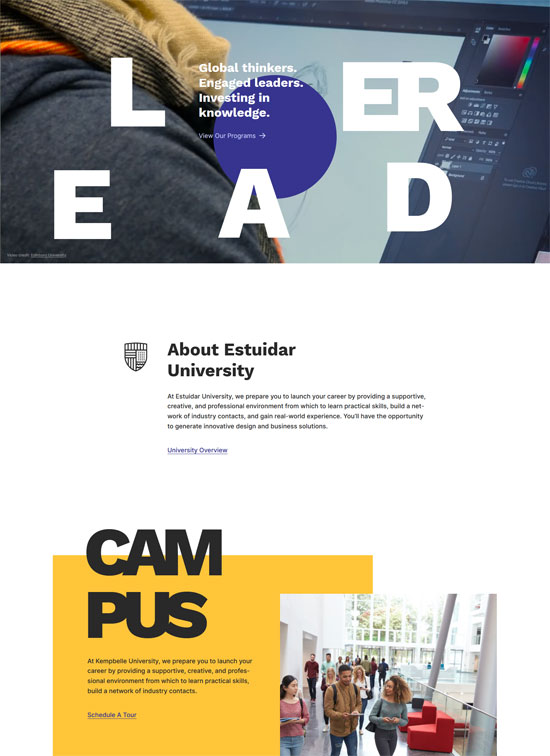 More info / download Demo
Courselog
Designed to create online courses, LMS, events, and all kinds of educational purposes. In terms of functionality, Courselog supports WooCommerce, Bootstrap4 framework, Elementor Builder, Elements Kit Addons, LearnPress, unique starter variations for a perfect educational website. Additionally, Zoom can be used in online LMS courses and to create online event creation.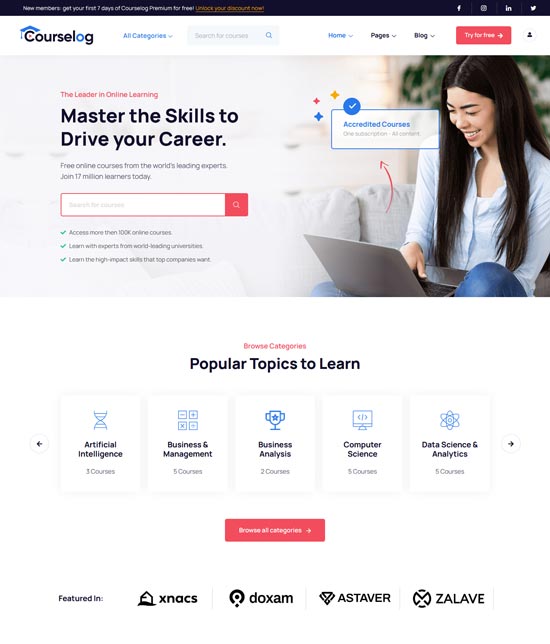 More info / download Demo
UniCoach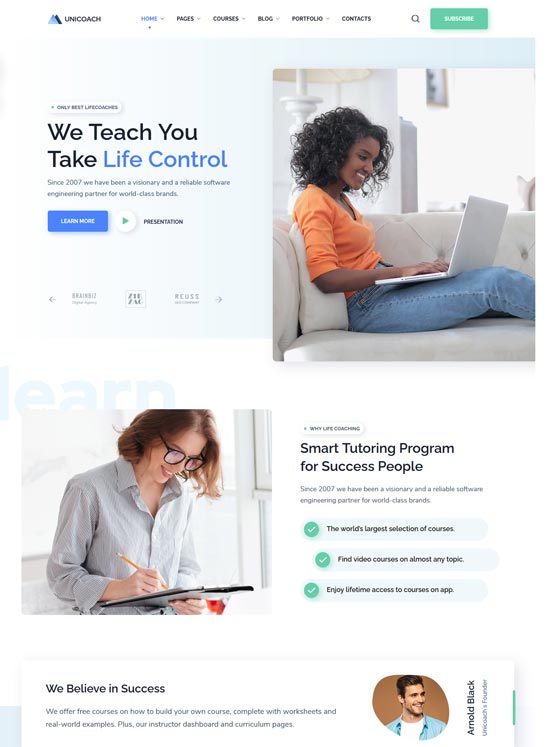 More info / download Demo
EduMall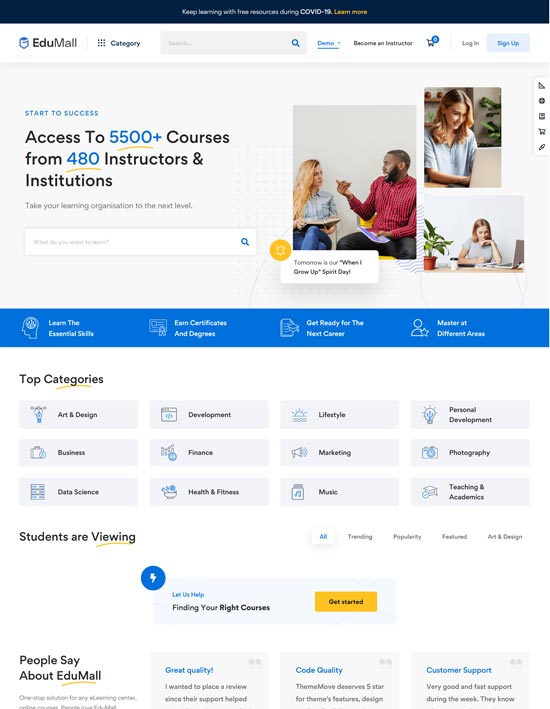 More info / download Demo
Educavo
A modern and trendy educational WordPress LMS theme. This theme is perfect for selling online courses, university, college, school, training center, e-learning, course tutorials, education center, workshop, kindergarten, course center, or any kind of educational institution. It comes with 14 high-quality pre-built homepages and lots of built-in amazing internals such as course pages, teacher pages, multiple blog layouts, etc.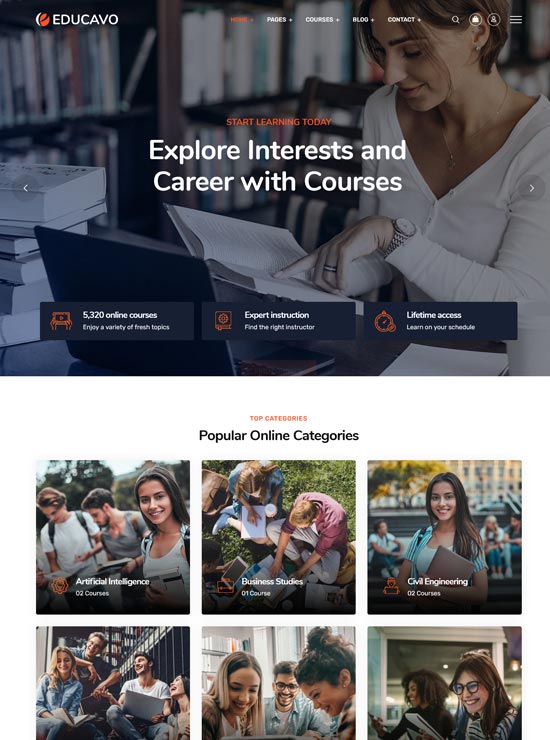 More info / download Demo
eCademy
A modern WordPress theme designed and created specifically for online training and education! It is suitable for educational institutes, online course providers etc.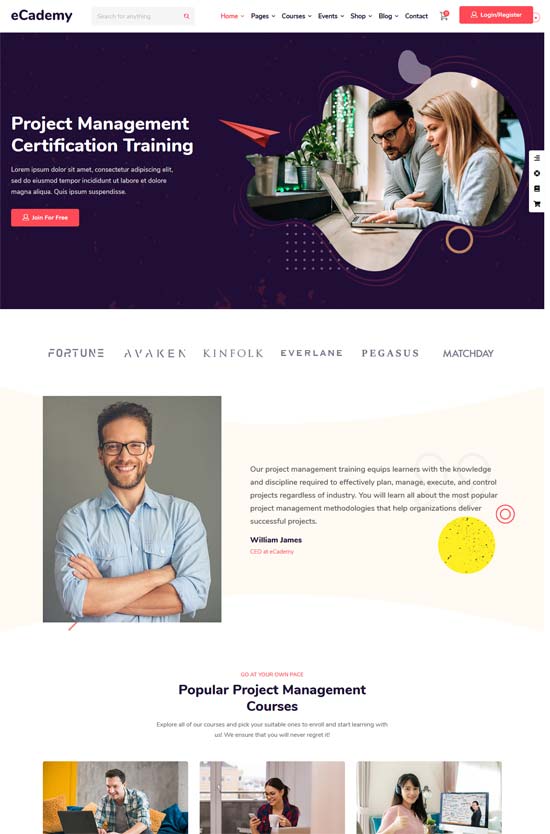 More info / download Demo
MaxCoach
A beautiful WordPress theme that can be used to make a website for online education and training. MaxCoach is the best tool for building an online portal for distance learning, one-on-one tutoring, and teaching or learning any subject from home.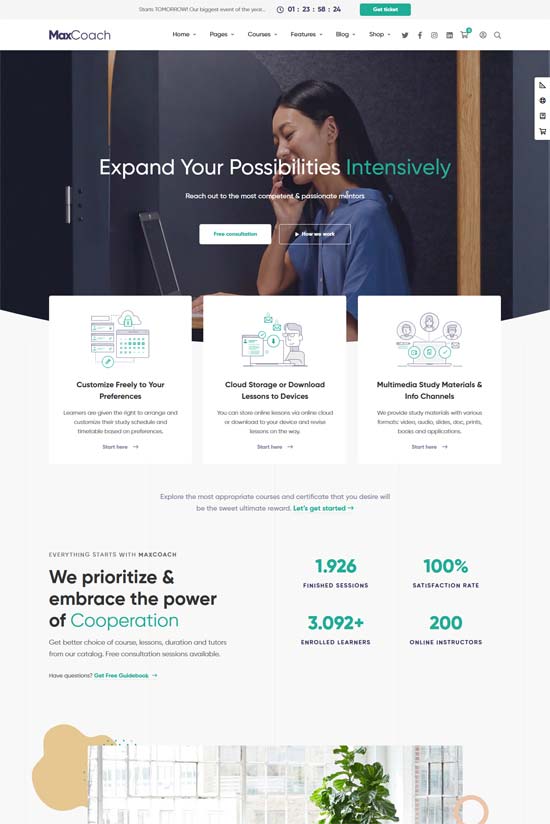 More info / download Demo
Edali
A creative and responsive WordPress theme that was made with online training and education websites in mind. This theme is great for websites about schools, online courses, online training, learning management, LMS, and other similar topics.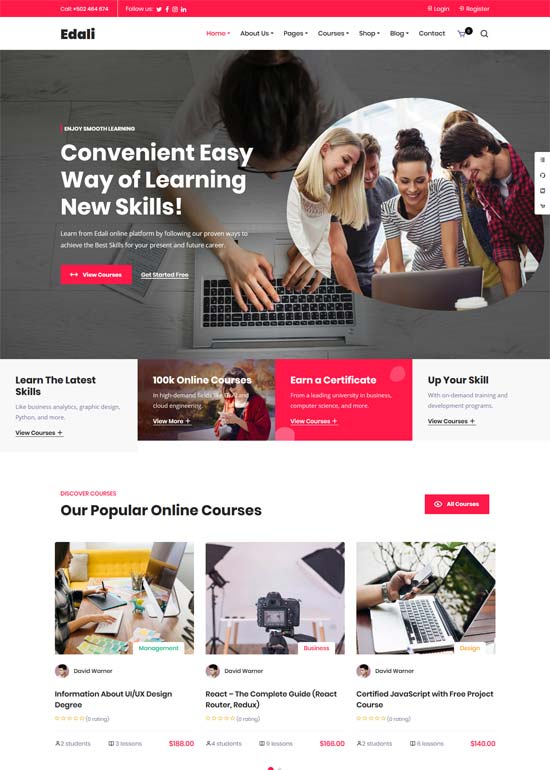 More info / download Demo
Turitor
A great way to make educational websites, online courses, learning management systems (LMS), educational content marketers, and more. The theme also has a built-in layout for kindergarten and college, so you can quickly start a website for school or college.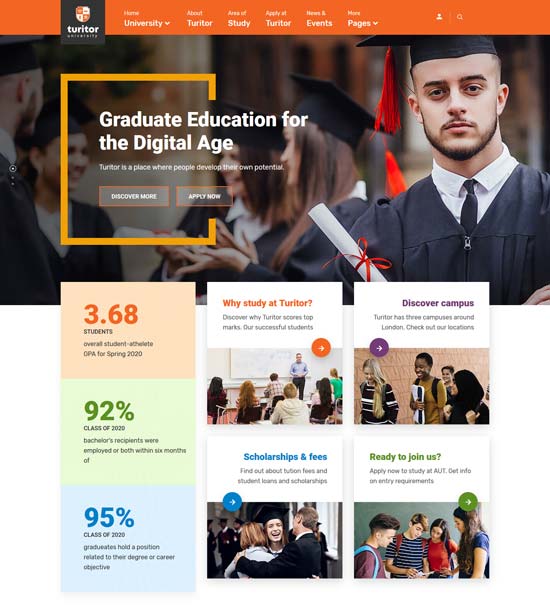 More info / download Demo
iGuru
iGuru is a modern and responsive WordPress education theme. It's jam-packed with tons of features, and it has been crafted beautifully to give you complete control over your site's design. Whether you use iGuru for blogging, selling products or creating an entire eCommerce store, this theme gives you everything you need.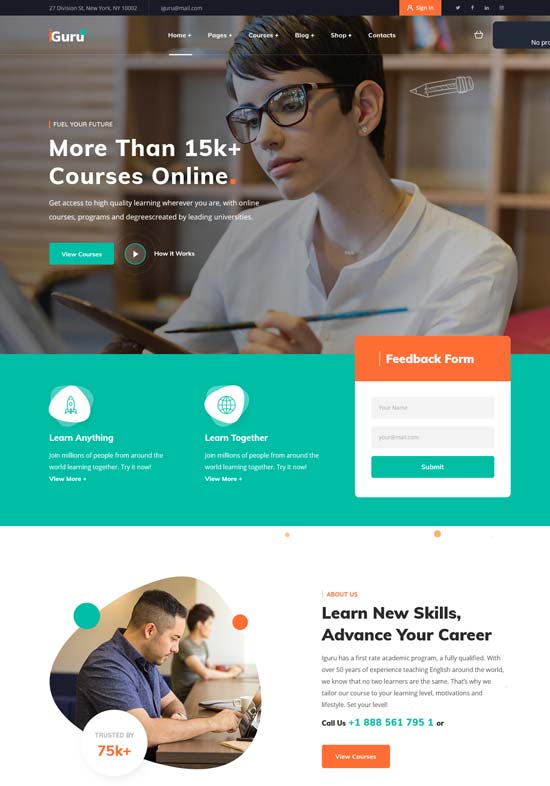 More info / download Demo
Edubin
Edubin is a full educational solution that has everything you need. The Elementor Page Builder is used to build it. Using this theme, you can make a website for any kind of school or college.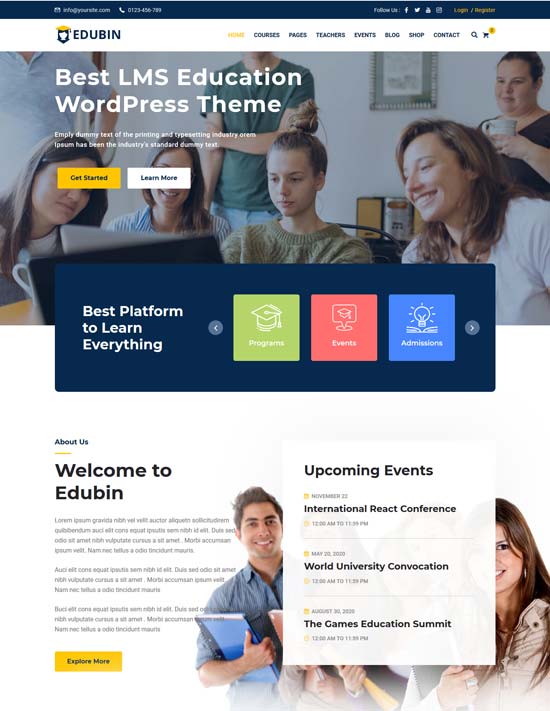 More info / download Demo
Coursector
A flexible WordPress theme that was made for websites about education, schools, universities, etc. Coursector works well on all devices because it has responsive layouts that are made for education, university, and school websites.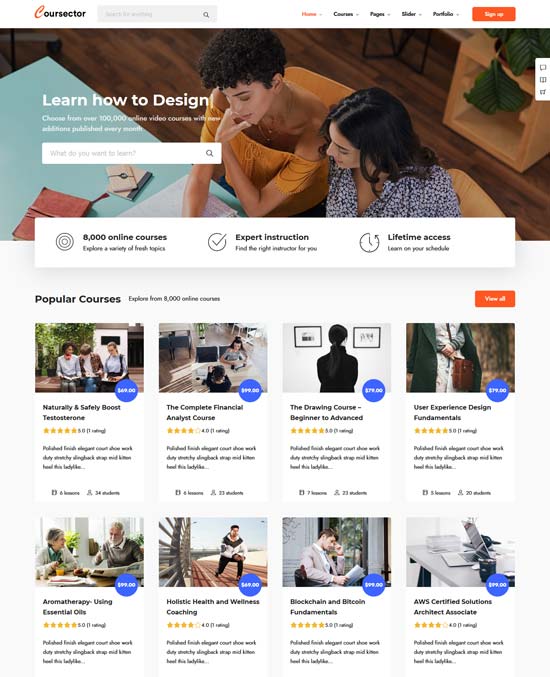 More info / download Demo
Talemy
Your perfect educational WordPress theme for sharing and selling online what you know. Talemy can help you reach your goals if you are a school, a professional training organization, or a teacher who works on their own. LearnDash is one of the best LMS WordPress tools on the market, and Talemy works with it.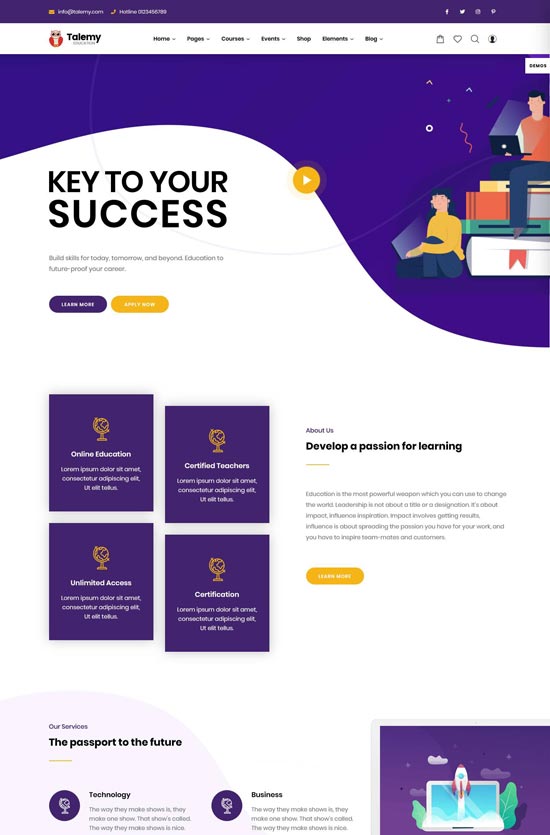 Demo More info / download
Ivy School
A modern and stylish theme for schools, colleges, universities, and any other educational institution. With the success of the WordPress Education theme (Eduma), which is the best-selling and most beautiful WordPress LMS theme with the most advanced features of Eduma and Course Builder.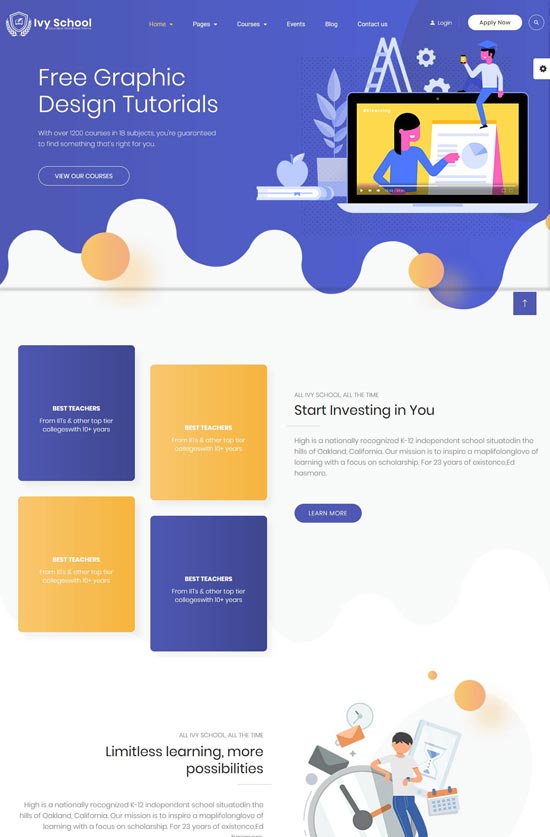 Demo More info / download
Kingster
Education WordPress Theme For University, College, and School is a premium, well-made WordPress theme made especially for school, college, academy, university, and education websites. It has features that are important, like the type of course publication and course search, which let students find courses.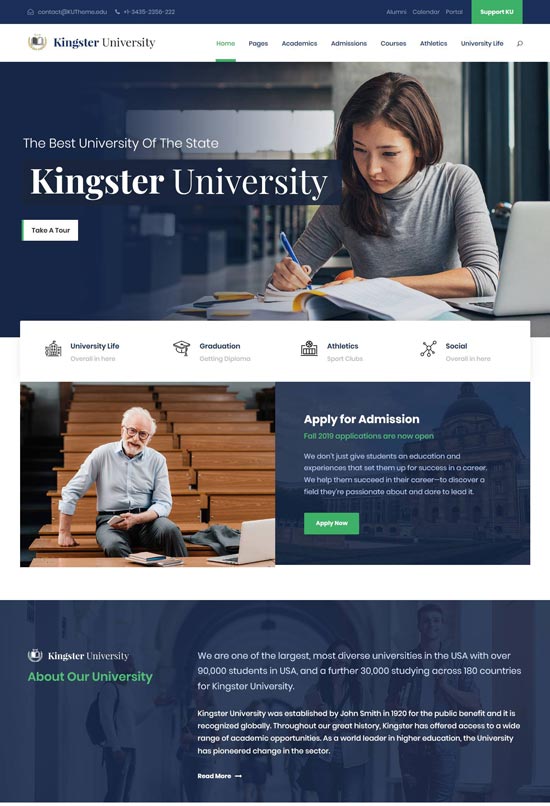 Demo More info / download
Eshkool
A clean and modern Education and LMS theme for WordPress. It works for all universities, workshops, colleges, schools, course centers, training centers, and other places where people learn. This theme comes with six great examples of home pages, each with a different layout for an LMS course page and other internal pages that are easy to edit and change to fit your needs.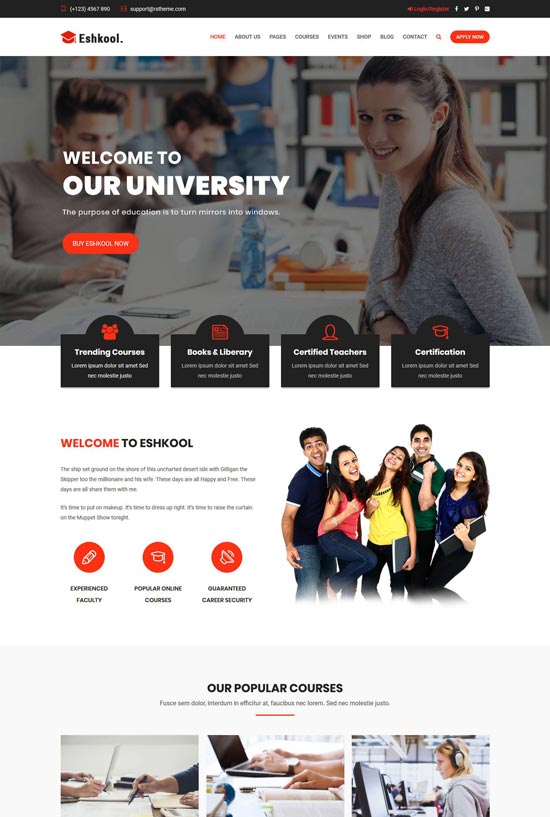 Demo More info / download
Academist
A great choice for any website about education today. You can also see a preview of all your events on the calendar because the theme works well with the amazing Calendar Events plugin. In short, you get all the things that a modern website needs.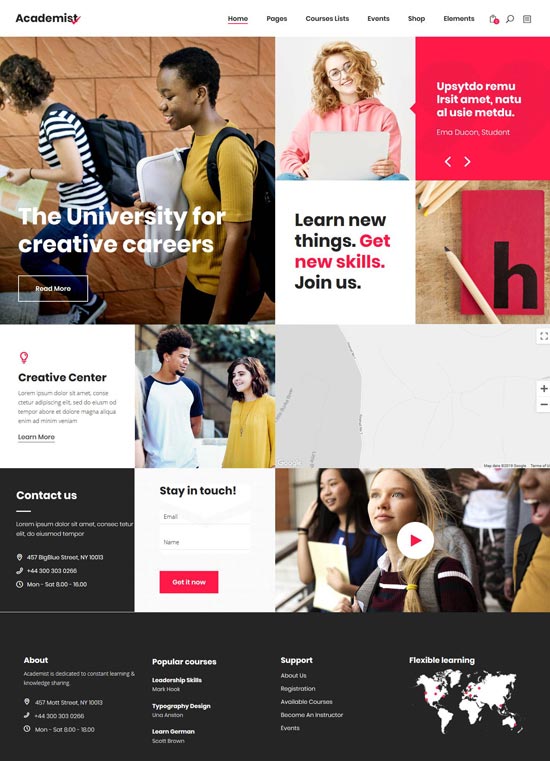 Demo More info / download
Reptro
A fully functional WordPress LMS theme for schools, colleges, universities, and training centers, as well as online courses. It is perfect for any kind of educational website. It looks very clean and works well. The Reptro theme comes with all of the features and pages that are needed for a school, college, training center, online course, university, or online course.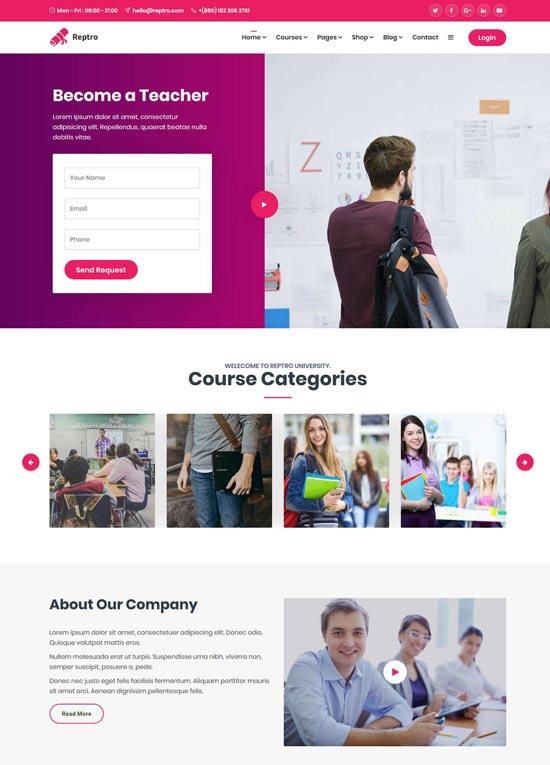 Demo More info / download
Superwise
Theme is one of the most well-known companies in our field. They have been making school themes for just under a decade. We did a lot of research on what a modern educational website should have, and then our talented designer made Superwise look beautiful.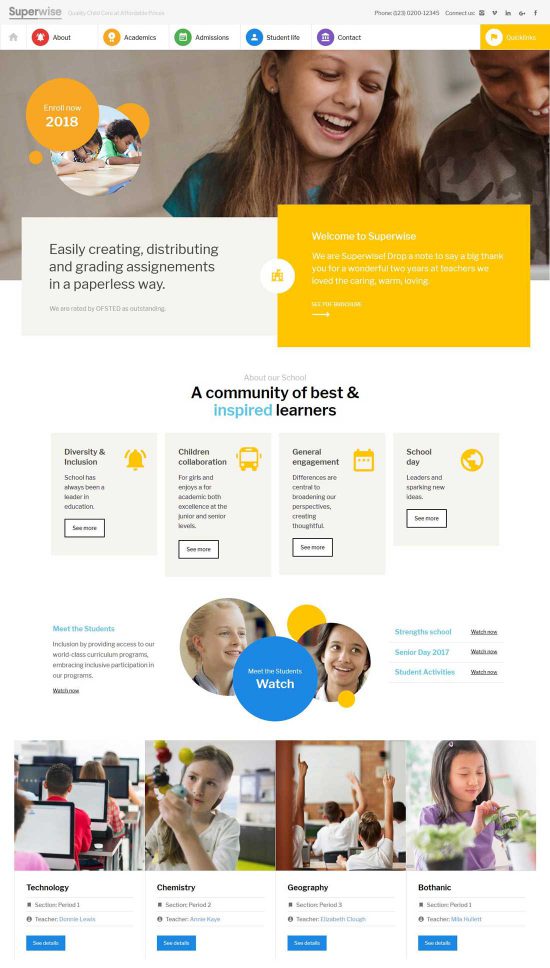 Demo More info / download
Edumodo
This educational WordPress theme can be your best friend if you want to make a great website for learning, teaching, and selling. LearnPress and Sensei, which are the most popular LMS plugins for WordPress, work right out of the box. This education theme can be put in place with just one click, and no coding is needed.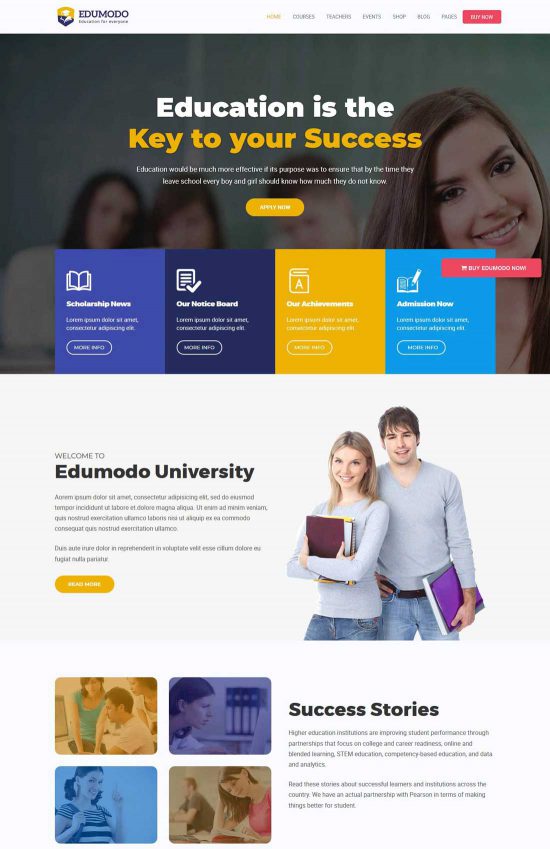 Demo More info / download
Schule
A great education theme for schools that lets you add classes and lessons. The LearnPress plugin is in charge of running a fully functional LMS. You can add online learning materials to your school's website so that students can get more information or even take tests online.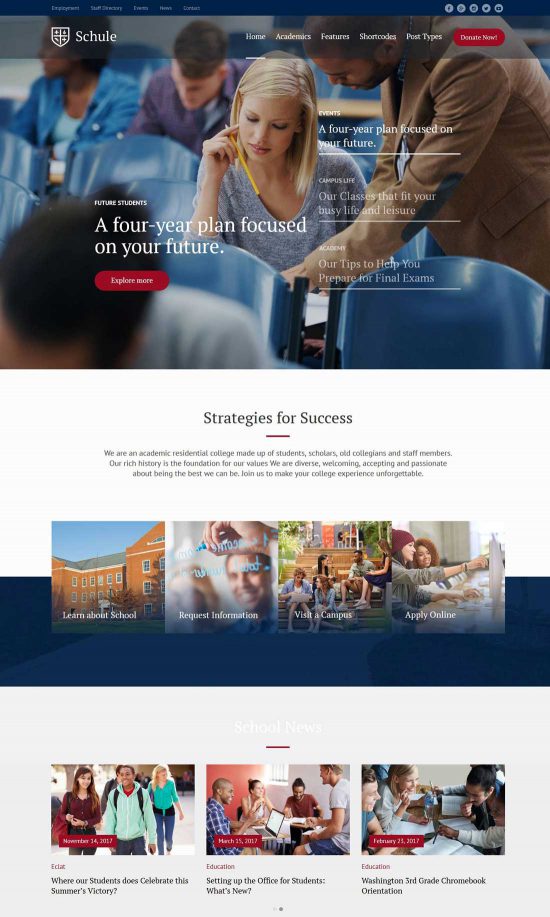 Demo More info / download
eSmarts
A great theme with a learning management system (LMS) and a school management system (SMS) built in. It's perfect for all kinds of schools and educational websites. It comes with lots of layouts for showing off your courses and whole curriculum, and it works perfectly with the Event Calendar plugin, which lets you show off your classes and events in a neat calendar layout.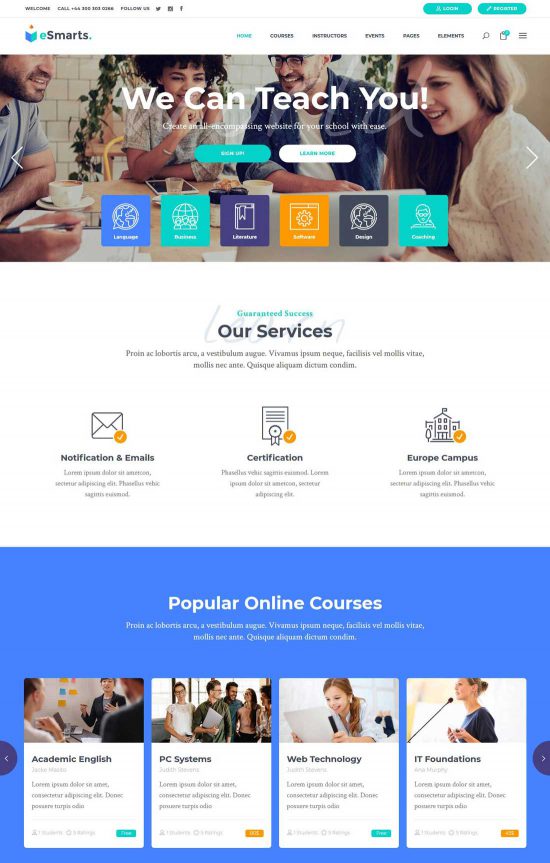 Demo More info / download
Academix
Most people who make themes look through already made themes to find content. But before we made Academix, we spent more than a year working on the websites of research groups and professors to find out what they really needed.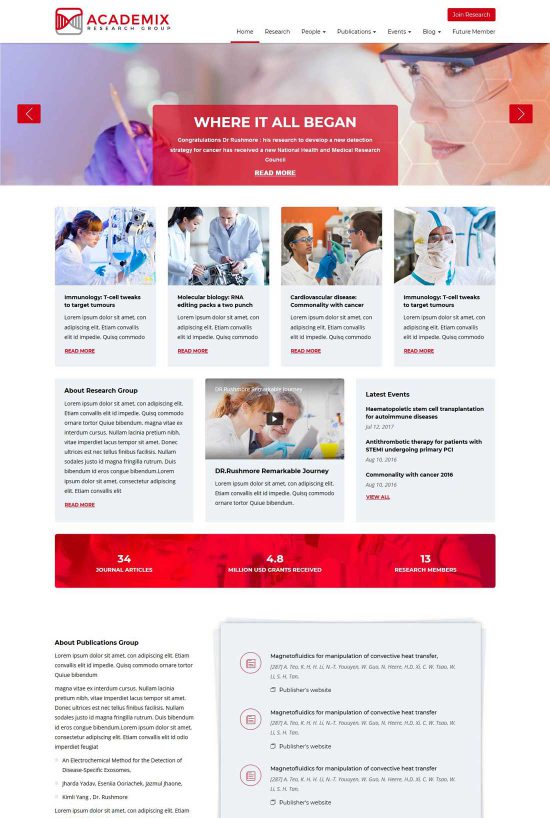 Demo More info / download
Course Builder
A high-quality, flexible eLearning WordPress LMS for teachers, education centers, and anyone else who wants to make and run their own online course website. This theme's flexibility and power will make it easy for you to make beautiful online courses, share your knowledge with people all over the world, and sell them to make money.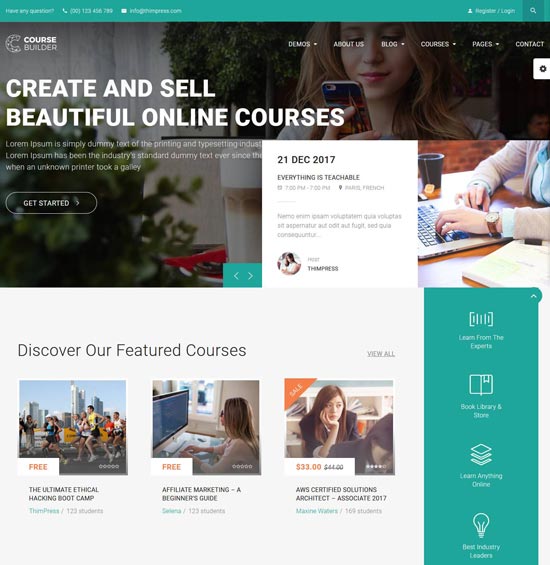 Demo More info / download
Education Pack
You can set up a website in a few easy steps for any business that has to do with education, teaching, or learning. Thanks to the many demos, such as university design school and driving school, you can choose the best design for your needs, depending on the type of school, institute, college, or other.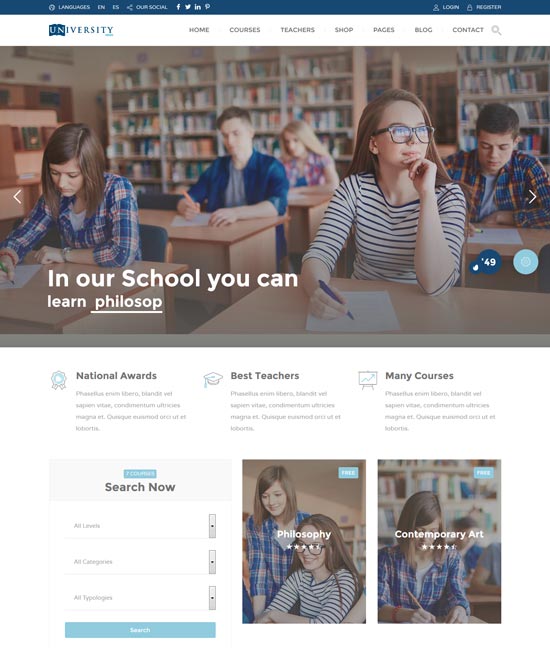 More info / download Demo
Melody
The design of the theme is modern and practical. It was made for a school that teaches music or visual arts to children, teens, and adults. The theme can be changed for private lessons or study groups. Booking Calendar plugin works with Melody, so you can make your own schedule or sign up for a class.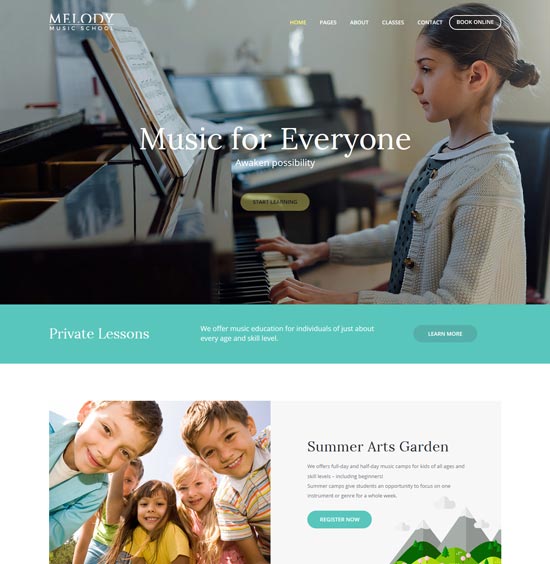 More info / download Demo
eLearning WP
An outstandingly powerful, smart learning management system (LMS) based on WordPress platform in which courses, lessons, quizzes and questions are easily made and managed. These courses for sale can be free or premium.