In this blog post, we explore the world of Factory & Industry WordPress Themes and how they can revolutionize your industrial business's online presence. From manufacturing and construction to engineering and industrial machinery, these themes are designed to cater to a wide range of industries. We'll delve into the key features and benefits of these themes, making it easier for you to choose the one that aligns with your industry and business goals.
Explore the ease of use and customization provided by popular page builders like Elementor and the dynamic visual appeal offered by Slider Revolution. By the end of this blog, you'll have a clearer understanding of how Factory & Industry WordPress Themes can propel your business into the online spotlight and capture the attention of your target audience.
Fabrik
Fabrik is a niche WordPress theme designed for businesses in the industrial sector, such as agriculture, construction, fisheries, forestry, and manufacturing. It features a purpose-oriented design and is suitable for users with varying levels of technical expertise, from beginners with no programming skills to advanced developers.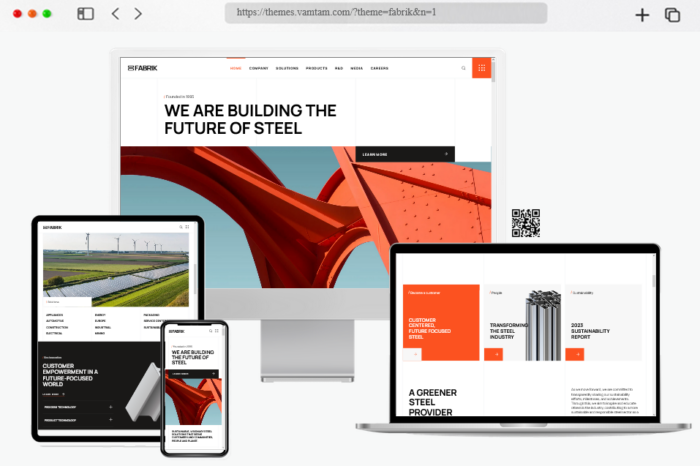 More info / download Demo
Indusri
Indusri is a versatile WordPress theme suitable for a wide range of business websites in the industrial sector. It caters to industrial engineering, factories, construction, robotics technology, metallurgy foundries, manufacturing, civil engineering, chemical, and various other industries. Whether your business is in gas, mining, plastics, equipment building, repair, storage, or retail, Indusri offers a suitable design. If you're creating a website for an industrial-related business, this theme can be a great choice.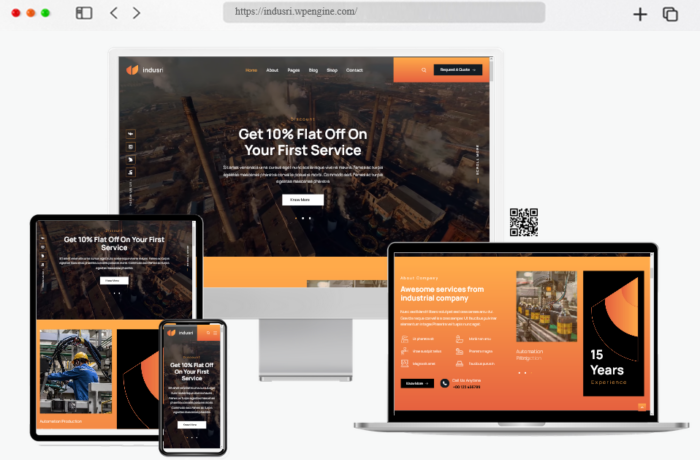 More info / download Demo
Endustry
Endustry is an Industrial and Factory WordPress theme created for industry firms and factories. It comes with a comprehensive set of features necessary for your Industrial and Factory WordPress site. The theme enables you to showcase your industrial projects with a stylish presentation, attract new clients, and facilitate the growth of your industrial and factory business online. If you're in the industrial sector, Endustry is an excellent starting point for your web presence.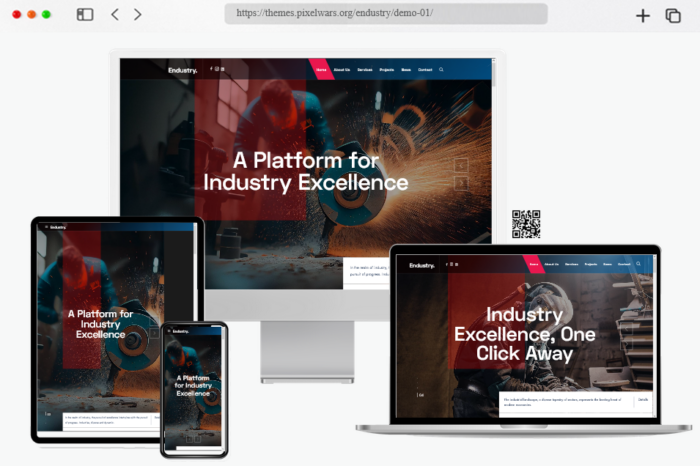 More info / download Demo
Machino
Machino Theme is designed for a range of websites in industries such as factory, construction, engineering, machinery, and more. It's a 100% responsive WordPress theme suitable for robotics technology, metallurgy, manufacture, chemical, and industrial machinery businesses.
The theme prioritizes the mobile and tablet user experience and offers features like "about us," "our leaders," pricing, services, news, testimonials, contact, and FAQs. It's a strong choice for establishing an online presence, and it's integrated with the Elementor page builder for enhanced layout and content control, along with useful built-in Elementor Addons for efficiency and convenience.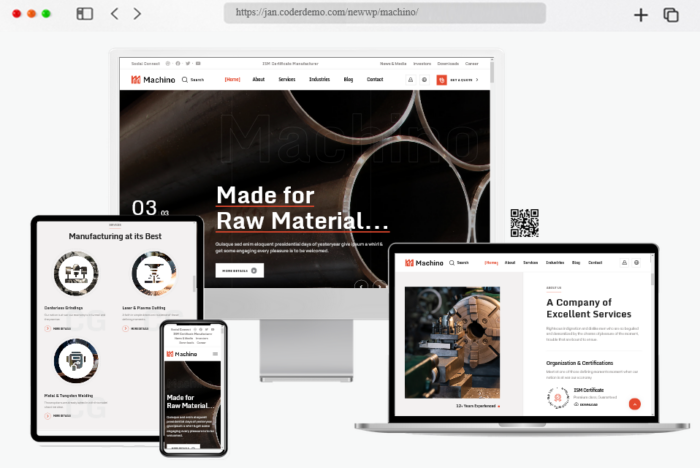 More info / download Demo
Fabrica
Fabrica is a premium WordPress theme designed for industrial businesses seeking an impressive, responsive, modern, and vibrant online presentation. It's ideal for corporate manufacturing firms, development agencies, engineering bureaus, construction organizations, shops, and production stores. Fabrica helps take your industrial company to the next level, offering a sophisticated and engaging online presence.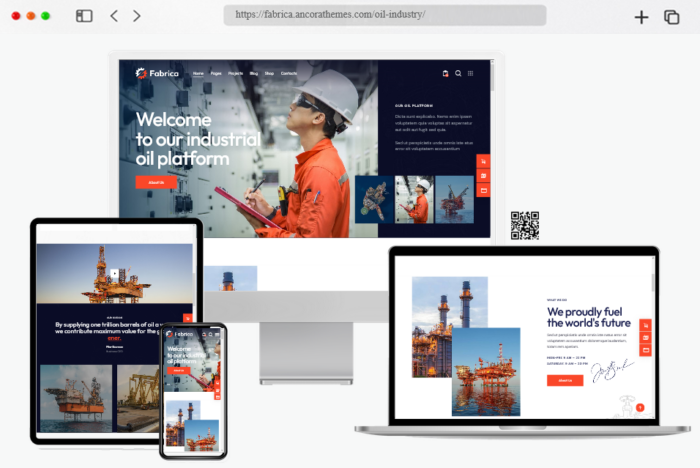 More info / download Demo
Faktorie
Faktorie is a well-designed WordPress theme crafted for industrial and factory-related websites, with a special focus on power-energy sectors, architecture, design, tiling, and painting. Its sleek and modern design provides a professional and polished appearance, making it suitable for businesses aiming to establish a robust online presence. Faktorie offers advanced features and customization options, enabling the creation of a tailored website to meet the needs of both small businesses and large corporations.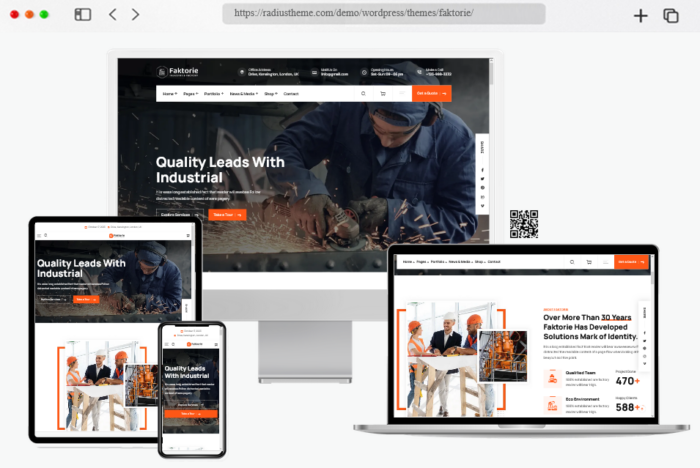 More info / download Demo
Manufaktur
Manufaktur Solutions is a modern WordPress theme tailored for a variety of industrial websites, including those in the metal industry, construction, industrial machinery, renewable energy (solar and wind energy), and oil and energy companies. This theme is fully compatible with Elementor Page Builder and provides 8 versatile site examples, a range of inner page templates, and more, making it a top choice for industrial websites. It's designed to help your industry grow and establish a strong online presence.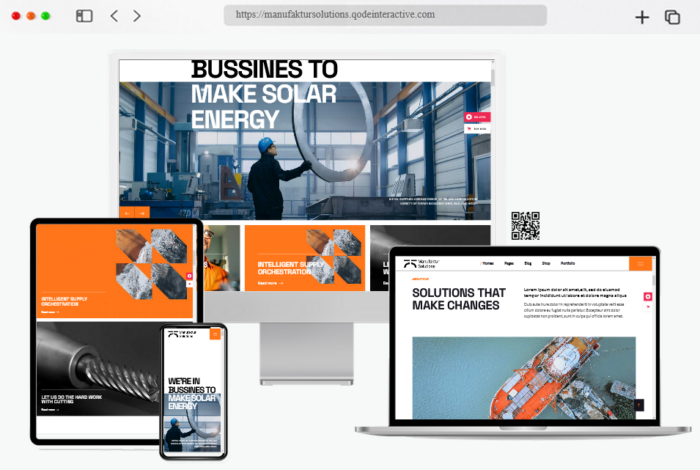 More info / download Demo
Industrium
Industrium is a WordPress theme designed for businesses in various industries, such as industrial, factory, construction, robotics technology, metallurgy, manufacture, engineering, and chemical. It's created for companies in the industrial machinery sector and emphasizes the importance of establishing an online presence to explore new opportunities. Industrium is an excellent choice for designing a website for industrial-related businesses.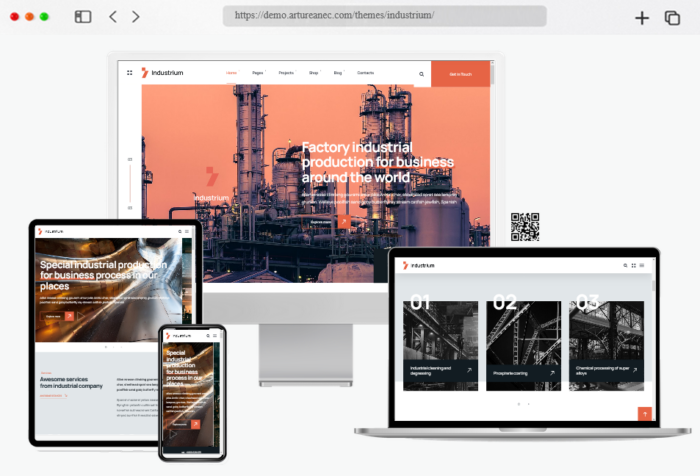 More info / download Demo
Industo
Industo is a WordPress theme tailored for factory, manufacturing, and industrial businesses. It offers a beautiful and unique design ideal for online web presence. The theme is fully responsive, retina-ready, and easily customizable, making it a suitable choice for these types of businesses.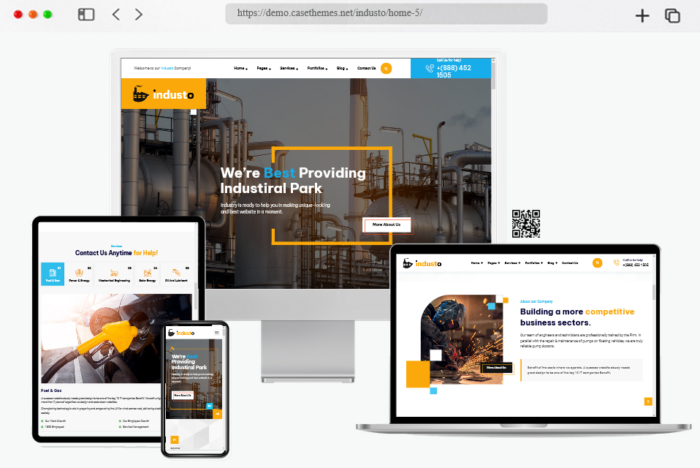 More info / download Demo
Dustra
Dustra is a responsive and highly customizable modern multipurpose theme designed for a variety of industries, including factory and industrial businesses. It offers 35+ element blocks and 20 homepage variations. Dustra features numerous useful elements and is suitable for various purposes, including building, construction, engineering, corporate, and consulting firms. It provides well-commented code, a documented file structure, and 24/7 professional support, making it a versatile and well-supported theme for different businesses and industries.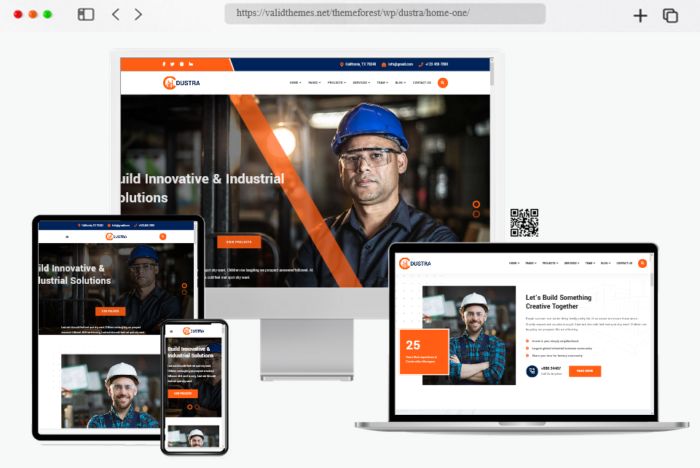 More info / download Demo
Industrey
Industrey is a premium multipurpose WordPress theme designed for creating professional websites for industrial, manufacturing, factory, business, engineering, and small-scale industry sectors. It offers a beautiful and unique design, making it ideal for showcasing projects, blogs, testimonials, team pages, and more.
The theme features a 100% responsive design, ensuring compatibility with all major browsers and devices. It is built on the Live Customizer Editor, integrates the Elementor Page Builder, and includes the Slider Revolution plugin, providing versatile and customizable options for your web presence in the industry.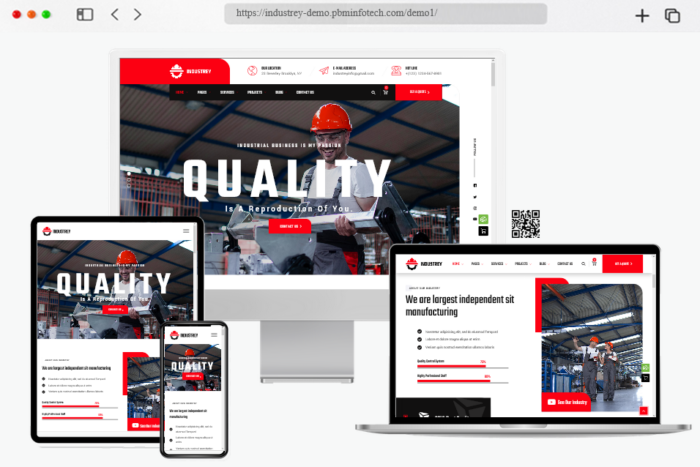 More info / download Demo
Minemo
Minemo is a modern, creative, and easy-to-customize WordPress theme made for websites about mining and industry, like coal mining, the manufacturing industry, factories, refineries, and all kinds of engineering or machinery businesses.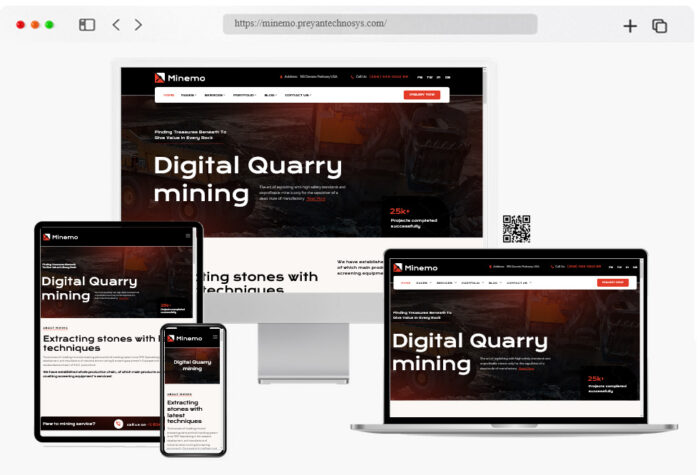 More info / download Demo