If you want to open a fashion store, then you need to find a WooCommerce WordPress theme that suits your style. There are many different themes available, so take your time to find one that you really like. A good WooCommerce theme will help you to create a beautiful online store that your customers will love.
Fana
Fana is a WordPress theme that is suitable for any fashion retailer. Customers won't be able to take there own eyes off your online store if it has an attractive layout. Purchase Fana and launch your online store immediately.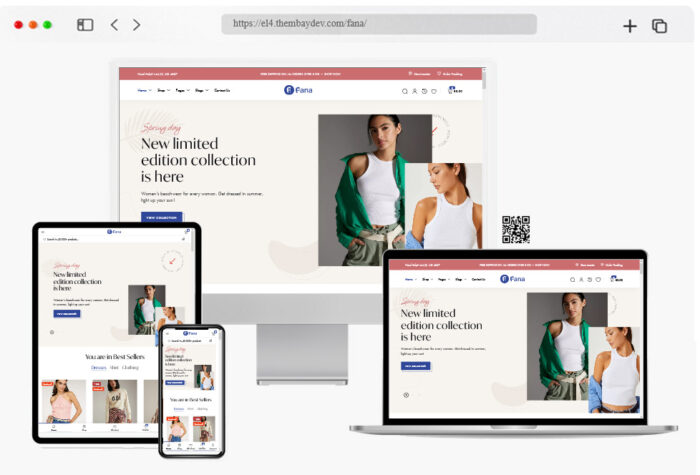 More info / download Demo
PressMart
PressMart is an innovative and one-of-a-kind Elementor WooCommerce WordPress theme. It includes 05+ Prebuilt Home Pages that are suitable for any online store, such as a clothing store, electronics shop, retail shop, etc.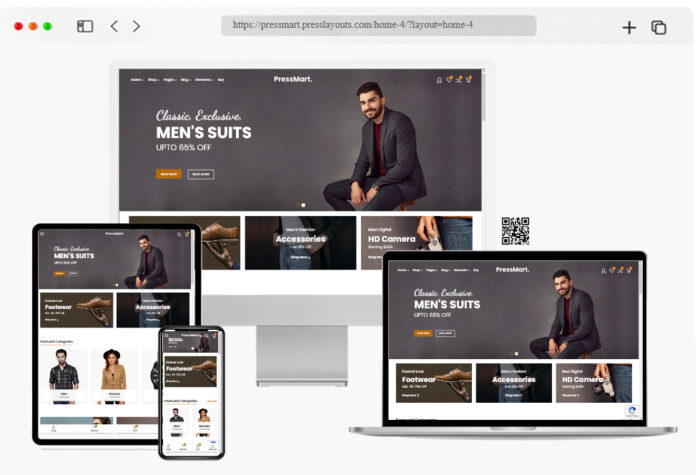 More info / download Demo
Reebox
Reebox is a WordPress theme designed for online stores using WooCommerce. Reebox offers a huge selection of pre-designed layouts for its product page and home page, offering the best customizable options. Reebox is perfect for eCommerce sites that offer anything you can imagine, such as food, apparel, sporting goods, gadgets, accessories, shoes, and eyewear.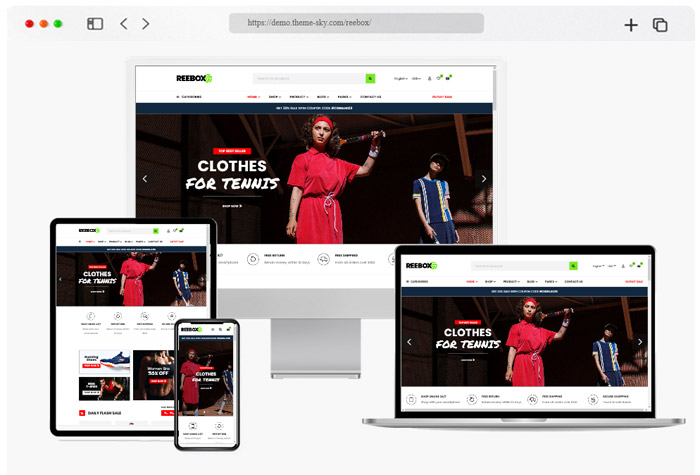 More info / download Demo
Clotya
For a fashion store and clothing shop, you need the eCommerce Elementor WooCommerce WordPress theme. With this outstanding theme, you can set up your own online clothing store in a matter of hours. The best and most well-liked elements on this theme allow anyone, even those without prior website building or management experience, to rapidly establish their own website.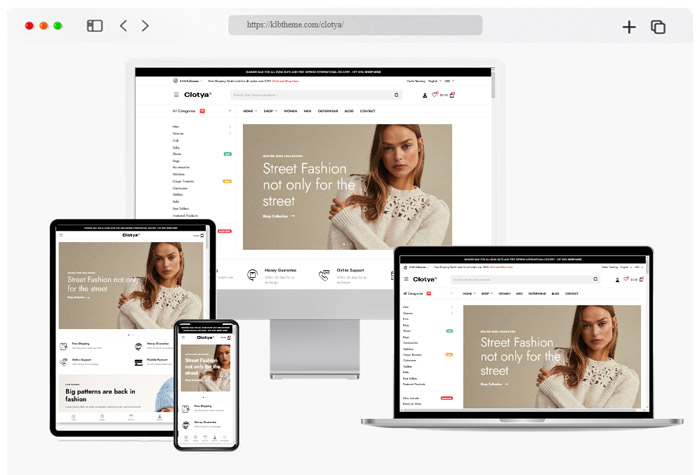 More info / download Demo
MinimogWP
Custom design, integrated SEO, and lightning-fast performance provided by Minimog can increase sales for your online store. Minimog features more than 60 complex examples, as well as a selection of various header and footer designs.
Changes to the store's color schemes, fonts, and layouts are simple. It is also brimming with cutting-edge eCommerce capabilities like Product Bundles, Video Galleries, a Sale Countdown Timer, and many more that will make managing your online business a snap.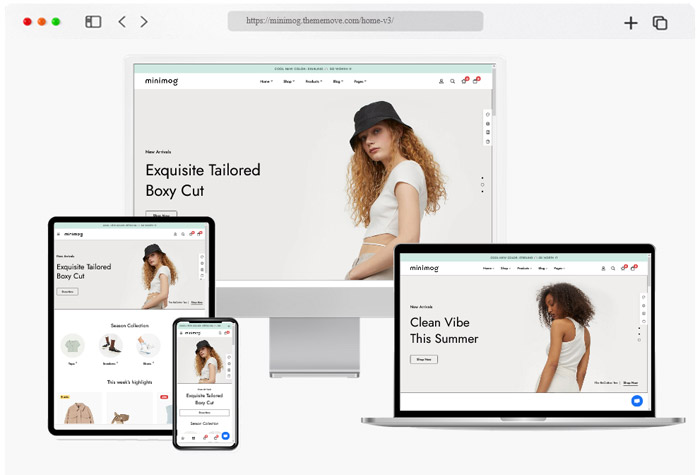 More info / download Demo
Kalles
With Kalles, we rethink what makes a good WooCommerce theme—one that is excellent without taking up a lot of users' time. A topic that, in our opinion, is at its best; the appearance is appropriate, but the entire experience is really seamless. We don't have head or foot builders since, in my opinion, they aren't necessary to give your clients flexibility.
More info / download Demo
Esmée
Esmée is a theme created for contemporary shops and clothing retailers that reveals the genuine meaning of style. It includes outstanding women's brands, jewelry, watch, shoe, glass, and sample eyewear retailers, as well as addons that are compatible with YITH Wishlist, Quick View, and Colors & Labels. Bring on Esmée and be welcomed by a superb, educational retailer!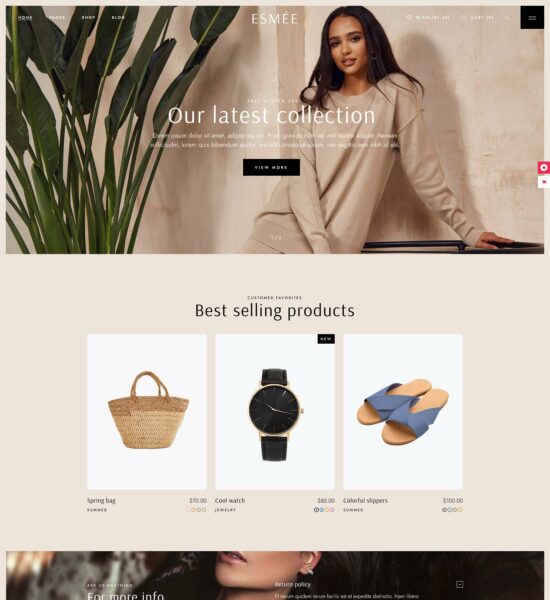 More info / download Demo
Miti
Online merchants can use the WordPress theme Miti, which is a WooCommerce theme. To provide you the best sorting possibilities, Dream includes a variety of pre-designed ranks for the home page and product pages. Dream is ideal for eCommerce websites related to clothing, electronics, organic products, sneakers, eyewear, accessories, supermarkets, furniture, and other niches.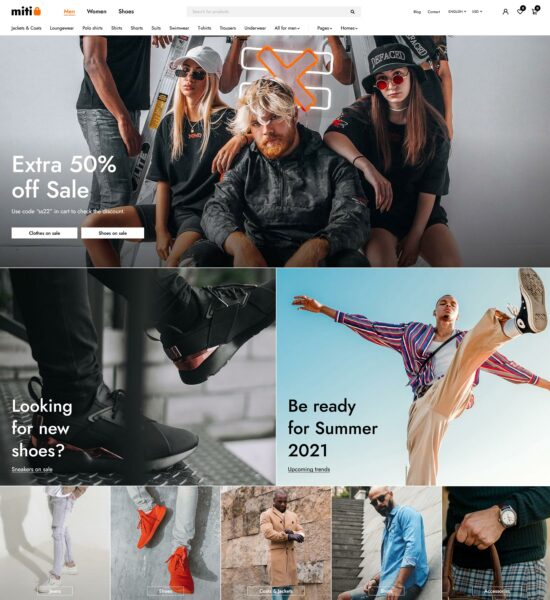 More info / download Demo
Valeska
Make your own comparisons with Valeska using the theme we created for any luxury clothing company today. The theme would be an excellent fit for any outdoor retail website because it has a wide variety of products, including jewelry, streetwear, glass shops, perfume and scent samples, and jewelry. Additionally, Valeska is completely responsive and works with the user-friendly Elementor Page Builder. Today, get the true picture in eCommerce themes with Valeska!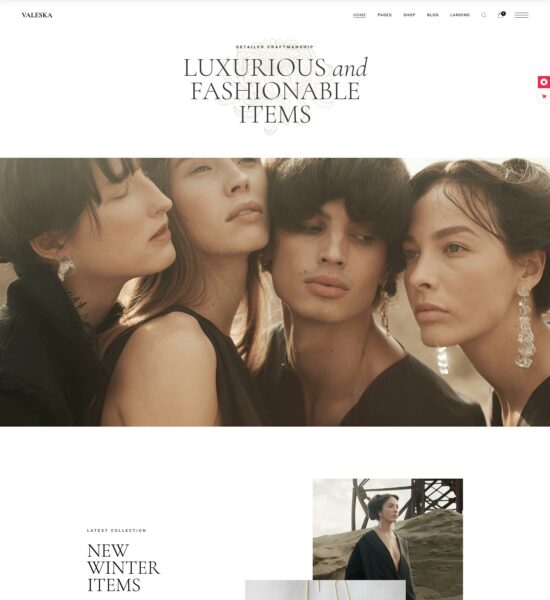 More info / download Demo
Ciena
The WooCommerce fashion theme you require for any WooCommerce project is Ciena. The goal of Ciena is to develop ready-to-use solutions for a range of e-commerce sectors, including fashion, accessories, home goods, and more. The Ciena theme was created to function on various types of devices, but especially mobile ones. It has a significant impact.
More info / download Demo
Sarcom
Sarcom is the name of a WordPress e-commerce theme based on the WooCommerce plugin. suitable for furniture, art, concrete, warehouses, clothing, jewelry, eyewear, watches, shoes, appliances, food, ornaments, plants, gardens, and ornamental trees.
Numerous themes are also readily available and appropriate for all types of online stores. The Sarcom WooCommerce theme offers a modern, eye-catching style. Every subpage is unique.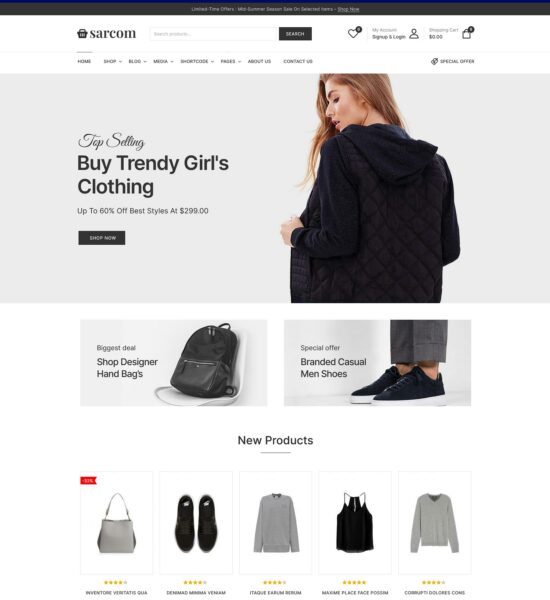 More info / download Demo
Yobazar
Yobazar is a WordPress WooCommerce theme created for online stores. Yobazar offers you the most selection of customization options with a variety of pre-designed homepage and product page layouts. Yobazar is appropriate for e-commerce websites selling anything you desire, including clothing, footwear, shoes, accessories, and groceries.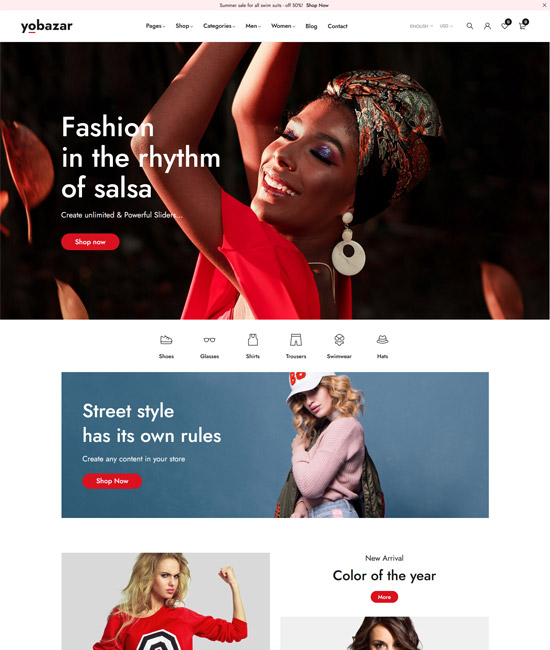 More info / download Demo
Fisino
For any WooCommerce project, Fisino is the Fashion WooCommerce theme you need. The Fisino theme comes with ready-to-use layouts for a variety of e-commerce niches, including apparel, accessories, jewelry, and more. The Fisino theme was developed to work on all platforms, but mobile devices in particular. Bring a wide range of knowledge.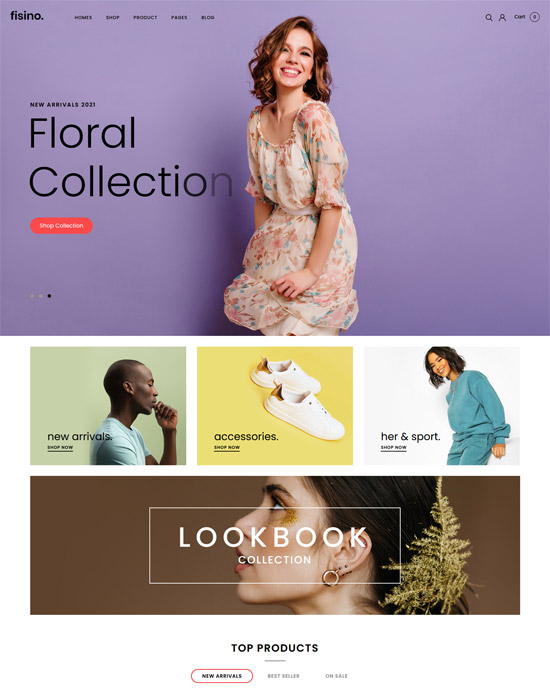 More info / download Demo
Haaken
Welcome to Haaken, the epitome of contemporary fashion interests! We developed Haaken for any modern clothing company or clothing store website looking for a straightforward yet powerful strategy to market their products or their brand worldwide.
The theme offers a range of attractive store page layouts along with templates for your new blog and portfolio. Additionally, the WooCommerce and Elementor plugins are fully supported. Haaken can help you create a new website that will engage your audience in a very eye-catching manner.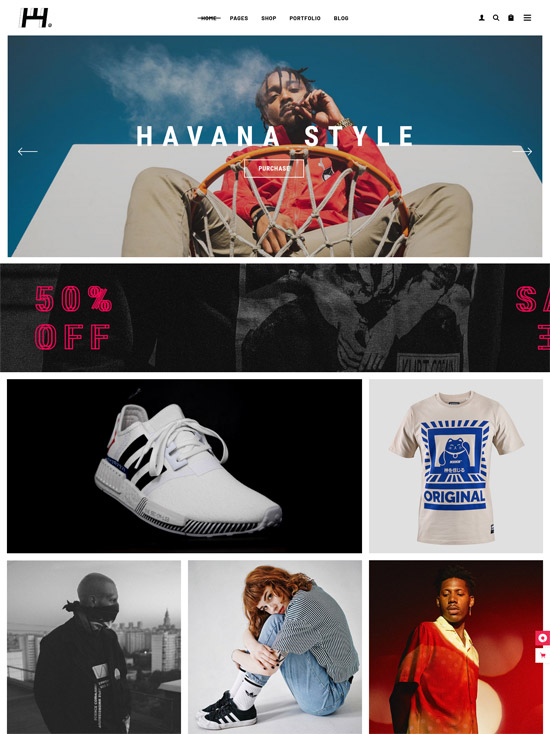 More info / download Demo
Orexon
A simple responsive WordPress Woocommerce theme is Orexon. This theme's objective is to expand your online store. You can easily launch your online store on any device with the powerful drag and drop elementor page builder, a ton of options, and WooCommerce integration.
Included are three stunning home pages, three different shops, product detail pages, and three blog-style websites. You may thus use these designs to sell any kind of items. You can create any kind of online store with Orexon, including ones for clothing, accessories, jewelry, computers, and fashion.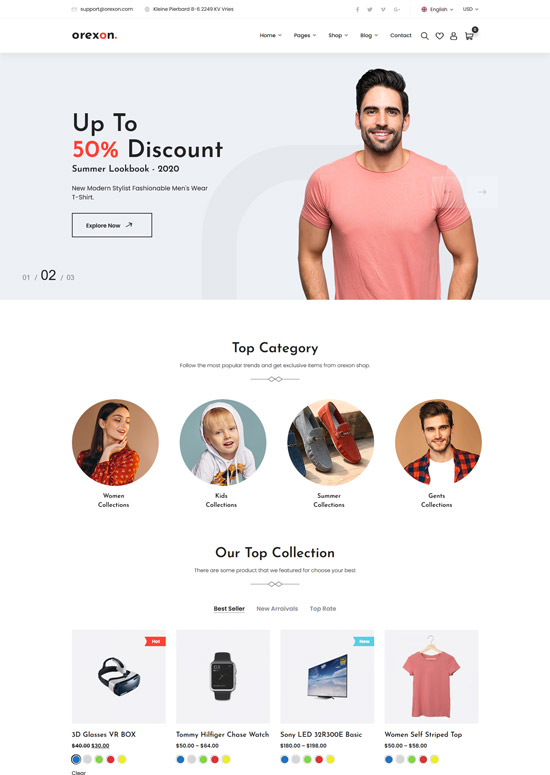 More info / download Demo
Punio
Punio is an excellent WordPress theme created by Wpbingo. Making this fantastic theme design work for your store will be simple if you utilize the most recent version of Bootstrap as your backend framework.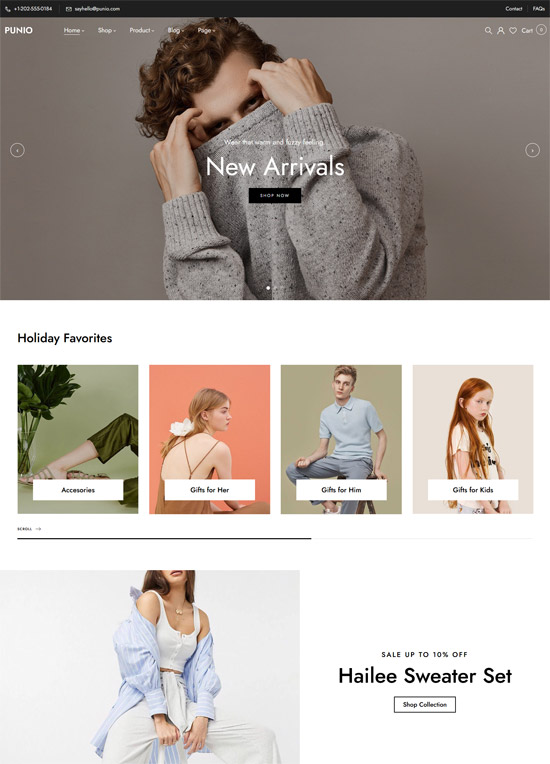 More info / download Demo
Riode
The greatest WordPress WooCommerce theme for any type of eCommerce business website is Riode. You can configure many robust features and functions of Riode however you like.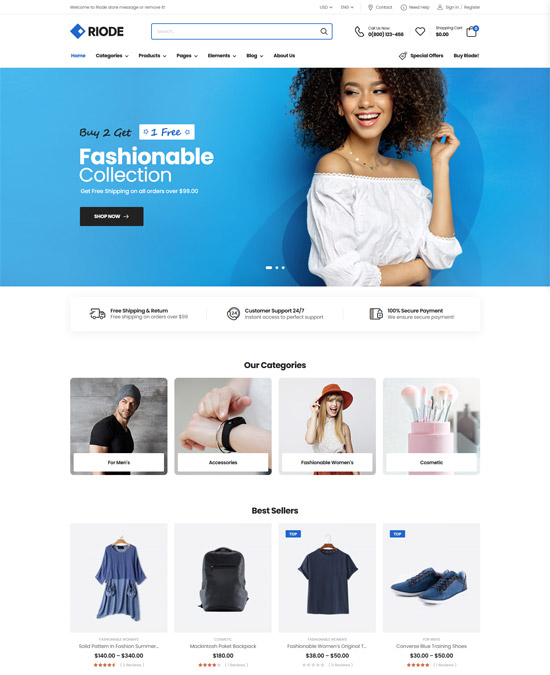 More info / download Demo
Moren
We created the incredibly cool e-commerce theme Moren for websites that may be utilized for a variety of purposes. If you want to create a stunning website for a business selling clothing, jewelry, leather, children's products, auto parts, motorcycles, furniture, plants, electronics, organic products, beauty products, or cosmetics, Moren is here to help.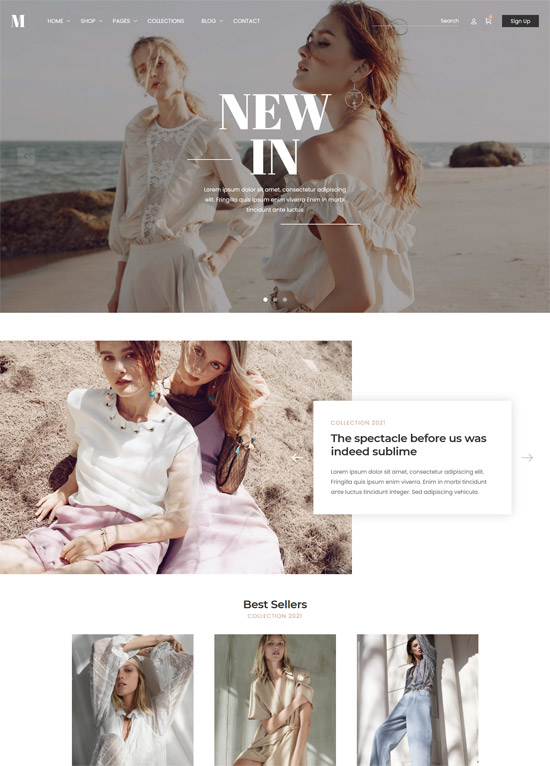 More info / download Demo
Woncep
With the Woncep theme, you can select from more than 10 outstanding homepage layouts, each of which is exceptional in its own right and may immediately wow visitors. With the help of the potent drag and drop page builder Elementor, WooCommerce, Slider Revolution, and other potent WordPress plugins, this clean and contemporary theme was created.
Dedicated WooCommerce product and store pages, a variety of blog templates, attractive inner pages, and many other features provided by Woncep are further elements that will make your fashion website stand out from the competition.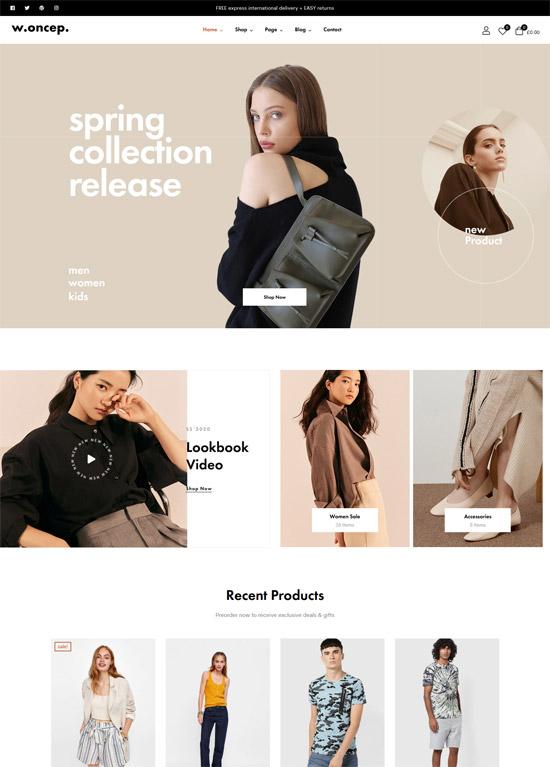 More info / download Demo
Cerio
A good WordPress theme for Fashion WooCommerce stores is Cerio by Wpbingo. You can quickly determine whether this great theme design is appropriate for your store if you use the most recent version of Bootstrap as your backend framework.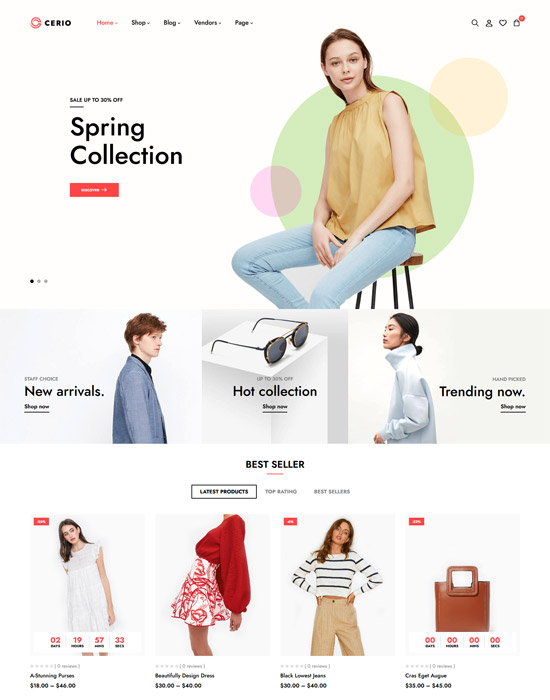 More info / download Demo
Terina
The innovative drag-and-drop theme Terina was created with affection for web enthusiasts. The interface builders are Terina's most crucial elements, thus she utilizes Live Customizer as her theme selections and Elementor as her page builder. Both are excellent and flawless.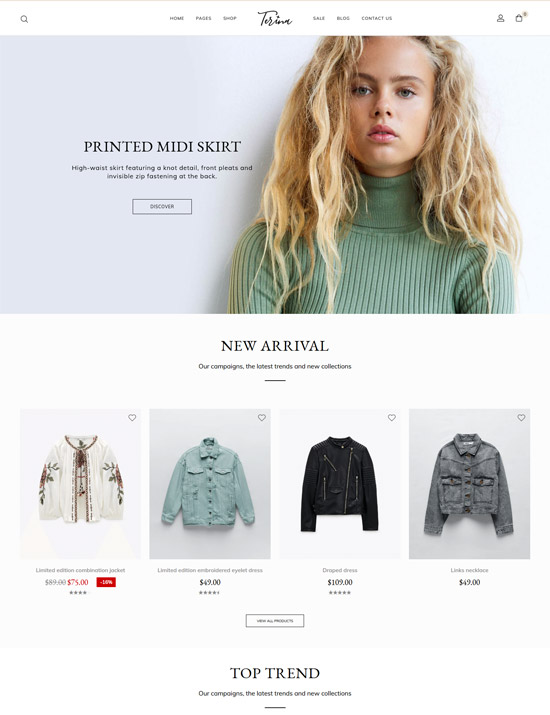 More info / download Demo
Nyla
NYLA is fresh and modern WordPress e-commerce theme with a unique touch to make your site stand out from the crowd.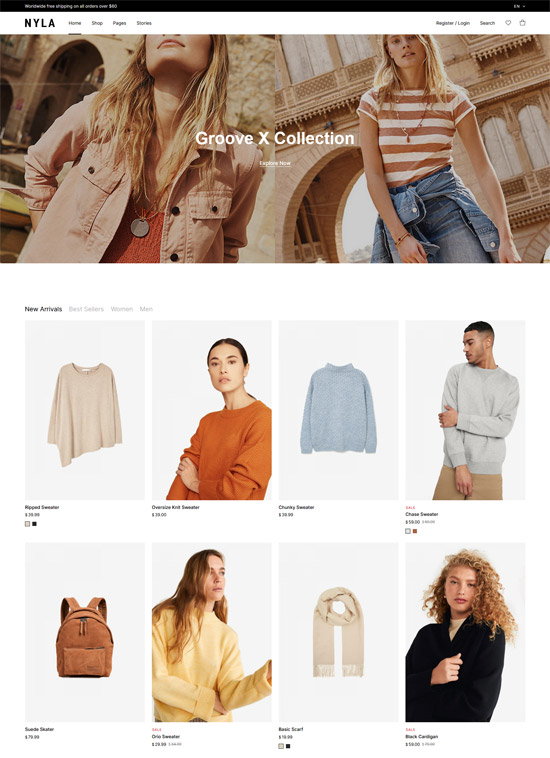 More info / download Demo
Goya
Goya is a modern and minimalist theme with all the necessary features for your next online store. Its beautiful and clear style has been designed to showcase your products and increase your sales.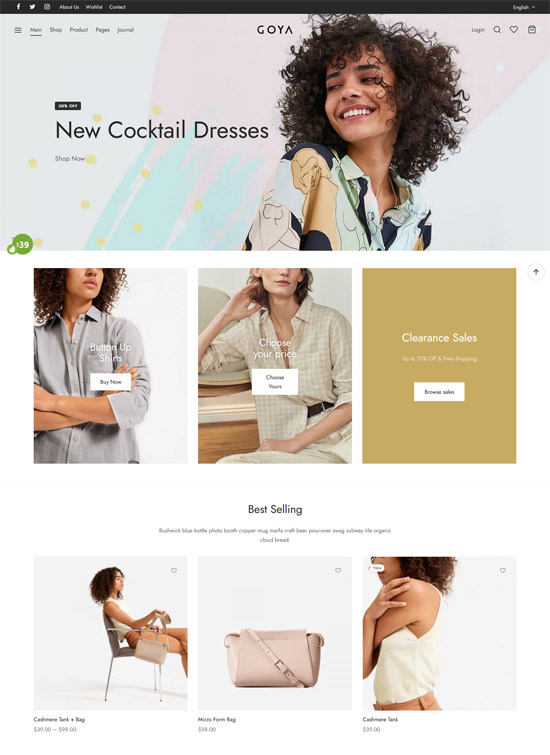 More info / download Demo
Lorada
Lorada is a premium WordPress WooCommerce theme that is totally responsive and has a fantastic look. Additionally, the Lorada theme contains a robust page builder and all the tools you need to construct websites with an incredibly quick response time.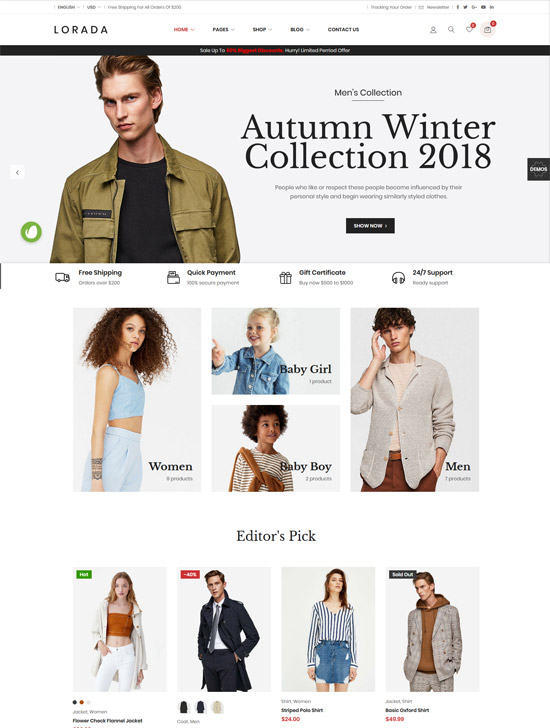 More info / download Demo
Enzy
WooCommerce-compatible Enzy is one of the  eCommerce WordPress themes for online shops. You can use the numerous different homepage and product page layouts offered by Enzy as a starting point for your own modifications.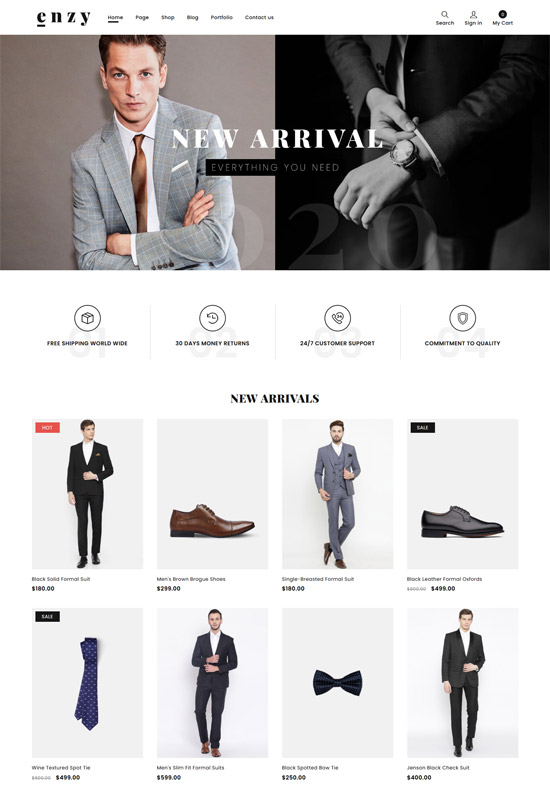 More info / download Demo
Foden
A nice multipurpose theme is Foden by Wpbingo. Making this fantastic theme design work for your store will be simple if you utilize the most recent version of Bootstrap as your backend framework. Making sure that products are placed correctly for their categories is very important to Foden.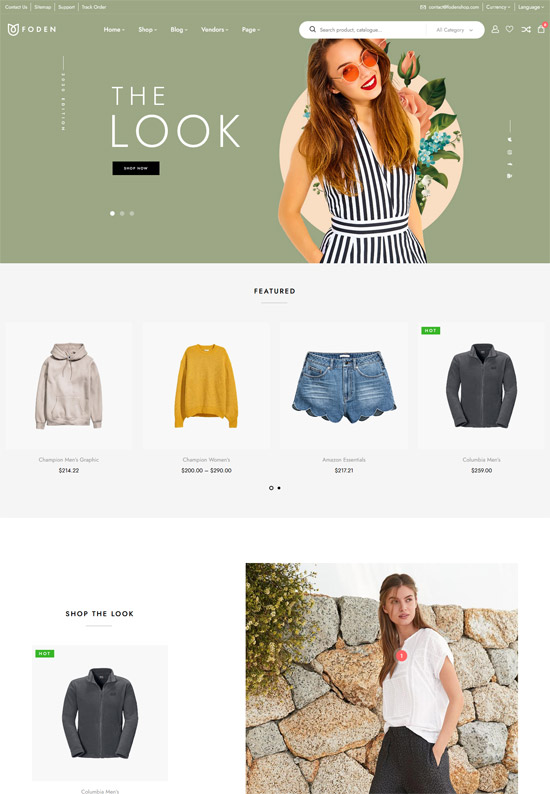 More info / download Demo
Armania
Armania is a modern and flexible Elementor WooCommerce Marketplace WordPress theme. This theme is suitable for multi-vendor market, electronics store, furniture store, clothing store, high-tech store, organic food store, cosmetics store, and accessories store. With the theme, you can create your own marketplace and allow vendors to sell only like Amazon, Aliexpress, eBay.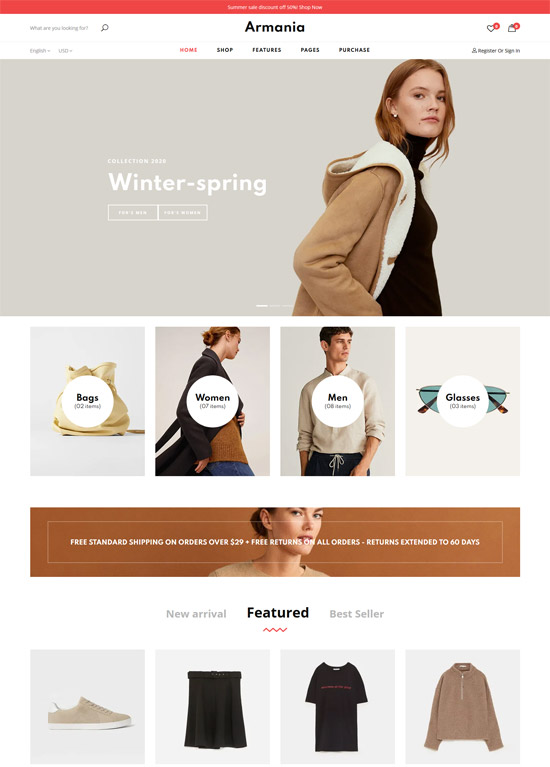 More info / download Demo
Eona
Welcome to a new era of fashion! This is Eona, a subject that understands your fashion sense. Perfect for all kinds of fashion websites, Eona comes with a beautifully designed fashion store, model agency designs, and more. On top of that, you get thirteen out-of-the-box trendy landing pages and full Elementor Page Builder compatibility.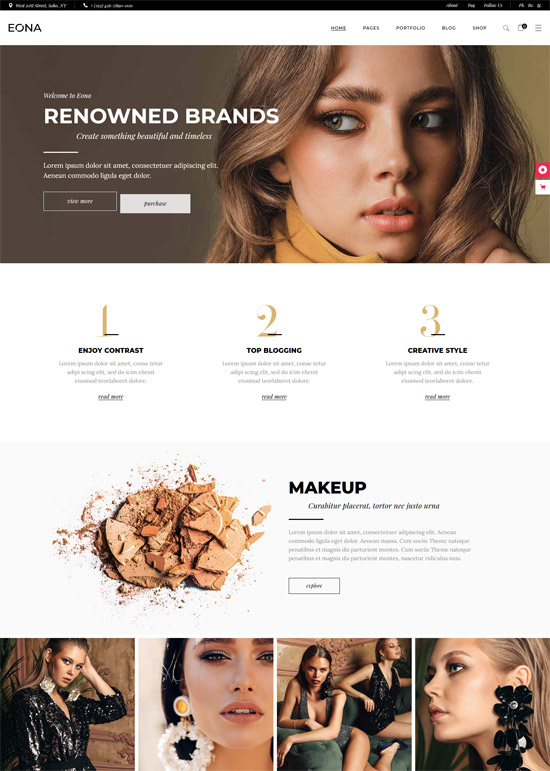 More info / download Demo
Makao
Discover the true meaning of modern fashion with Makao, a stylish fashion store theme perfect for all contemporary fashion store websites. Fully decked out with awesome fashion store and clothing store templates, tons of handy features, endless customization options, and full Elementor Page Builder compatibility, Makao has it all. Fashion and beauty go hand in hand with Makao!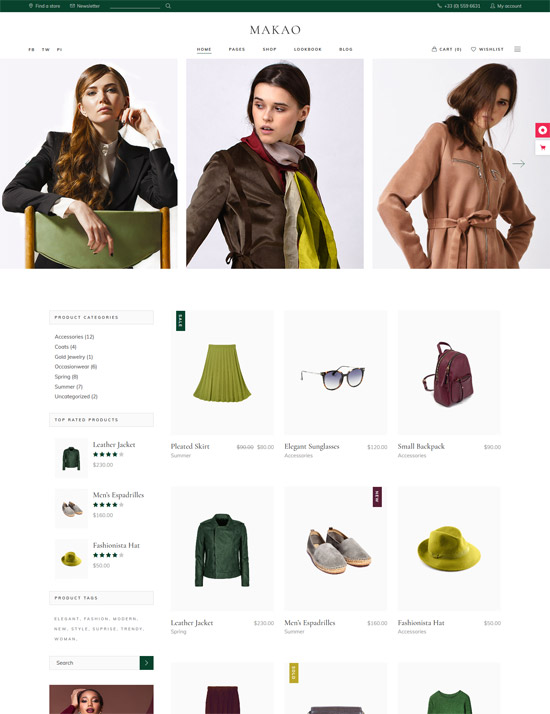 More info / download Demo
Shopwise
Shopwise is a simple WooCommerce responsive theme for online stores selling gadgets, furniture, and clothing. That the theme is compatible with Elementor Page Builder is one of its best features. By doing this, you can create your own pages based on your preferences and plans.
Seven distinct ready-to-use store layouts are available to purchasers of this theme. It enables anyone to create their own simple e-commerce website without having to know how to code.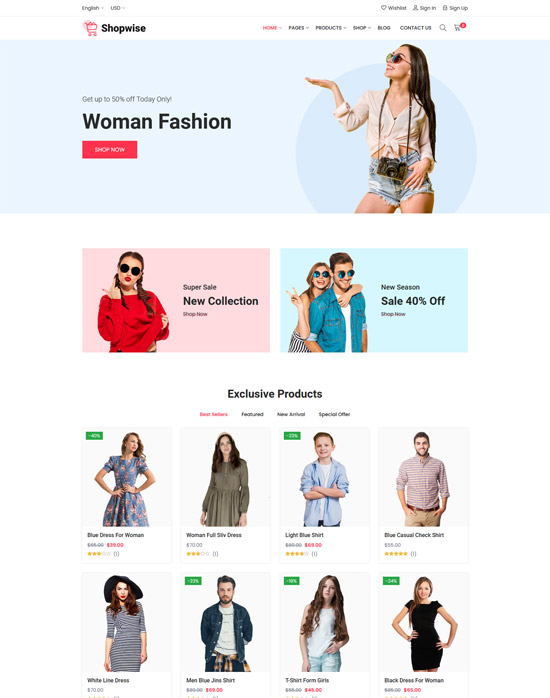 More info / download Demo
Zonex
The modern and stylish Zonex WooCommerce WordPress theme is perfect for any kind of online clothing store, fashion website, or accessory store. It has a great look and has a lot of great features.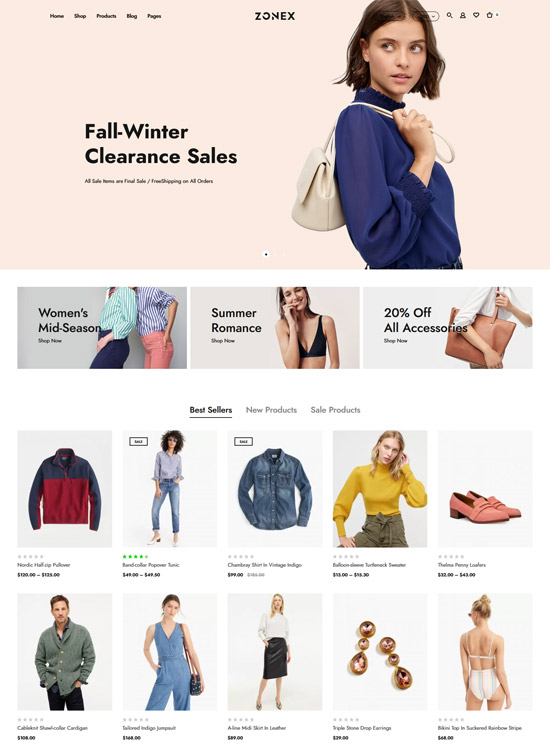 More info / download Demo
ekommart
It comes with more than 23 useful home pages that have already been designed (three of which have been updated) and can be installed with just one click. This theme, which was made with HTML5, CSS3, and other cutting-edge web technologies, is ready to take your business to a whole new level.
In order to help you do a better job, ekomart is full of features to help you explain your product well. Its WPML plugin and RTL support make it easy to translate your site's pages into other languages.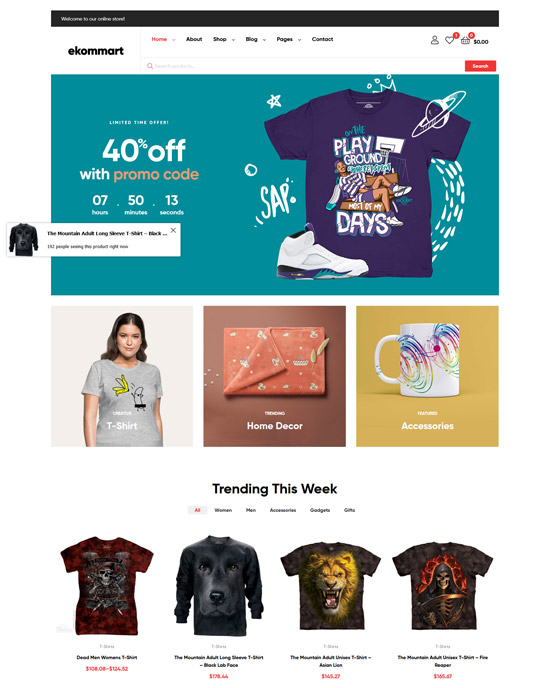 More info / download Demo
Lauriel
Moren is a really cool ecommerce theme that we made for websites that can be used for many different things. Moren is here if you want to make a beautiful website for Fashion or Cosmetics.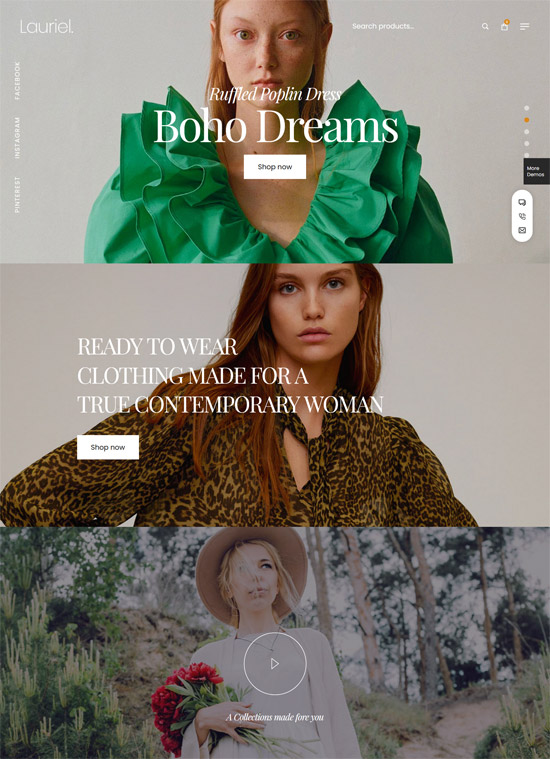 More info / download Demo
Staaw
Whether you want to start a print-on-demand e-commerce or create an online service for your store, Staaw includes everything you'll need. It is made simple and functional out of the box but offers high customization for advanced users who want to create the best website for their clients. Includes an extended version of WPBakery Page Builder and the Slider Revolution plugin. Import demo content with a simple click and edit content directly or start from scratch to create your own concept using solid scaffolding.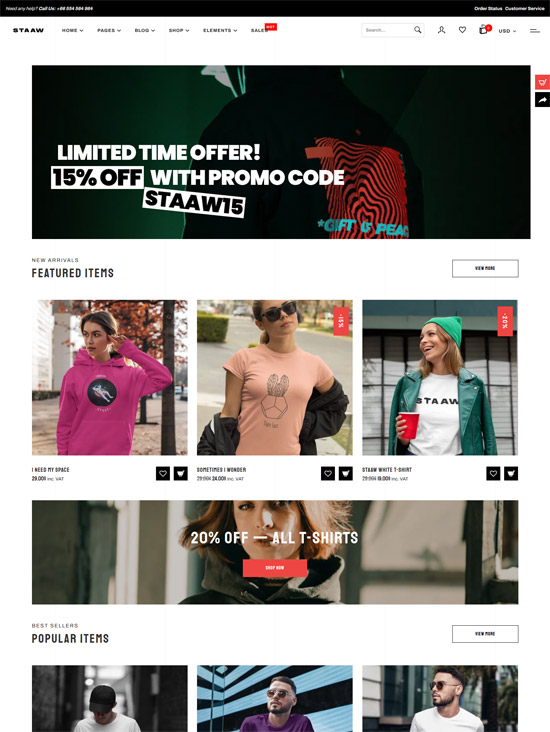 More info / download Demo