To deliver you more options for you online drink food store, we are very happy to introduce you latest free & premium food magento themes for drink, Restaurant, food store, supermarket store and more. It is suitable to multipurpose food and drink store. In the layout, a brand new layout style is specially made for you to refresh your website and make it outstanding of the crowd.
If you want to sell food online, have a look at this template. Cheerful orange elements stand out against fair background and stimulate buyers' activity and appetite. Slider displays mouthwatering images. New products come in three columns and are supplied with four call-to-action buttons. Logo design is creative and appealing. Right sidebar includes Specials and My cart blocks.
Food & Drink Magento Themes
Ecotech
Ecotech is the perfect choice for you. With a fresh, organic and natural design, Ecotech is suitable for commercial websites specialized in food, fast food, cakes, fruits, vegetables, restaurants. Ecotech includes 12 home page templates, 5 product page templates. helps you easily choose the most suitable design for your online store.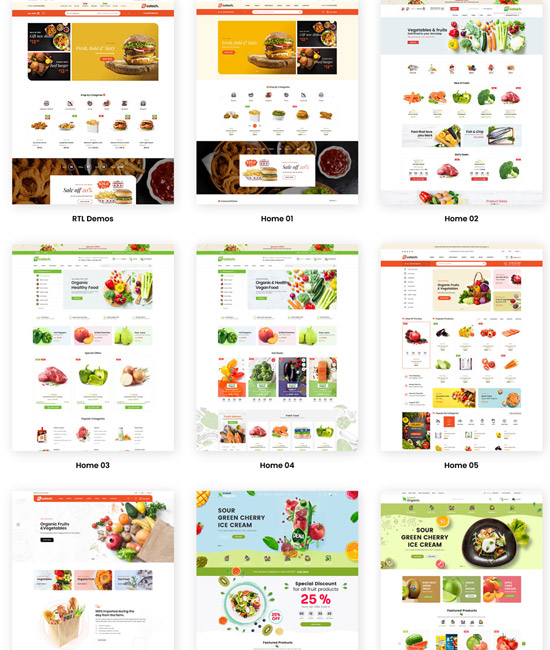 More info / download Demo
Ecolife
Ecolife Organic Food Responsive Magento 2 theme is an amazing theme in Magneto latest version 2.3.x, 2.4.x This theme is beautifully designed to be perfectly suitable for any Supermarket, Food & Drink Store, Fresh Food online store , Organic Food, Vegetable Store. The Ecolife Magento theme makes your store look impressive, professional, and highly customizable on any device. Power management of colors not estimated. This theme includes more than 20 extensions. It can quickly display lazy loading, layered ajax, one step checkout, ajax search, store location, new, featured, random, newer and special products, price countdown, customizable multiple tabs, multiple rows, grid, slider, easy configuration in Magento2x admin panel.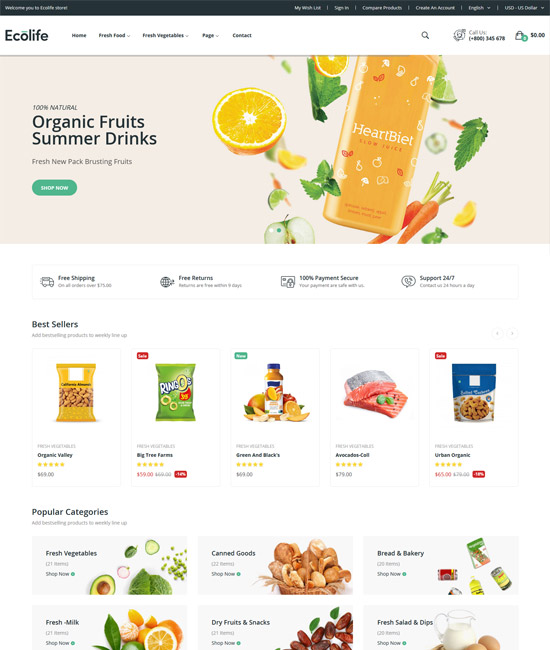 More info / download Demo
Biolife
Biolife is designed from organic and natural ideas for online stores. Biolife brings fresh and powerful inspiration to customers during shopping. The theme is a minimal and clean website skin that is suitable for every type of store.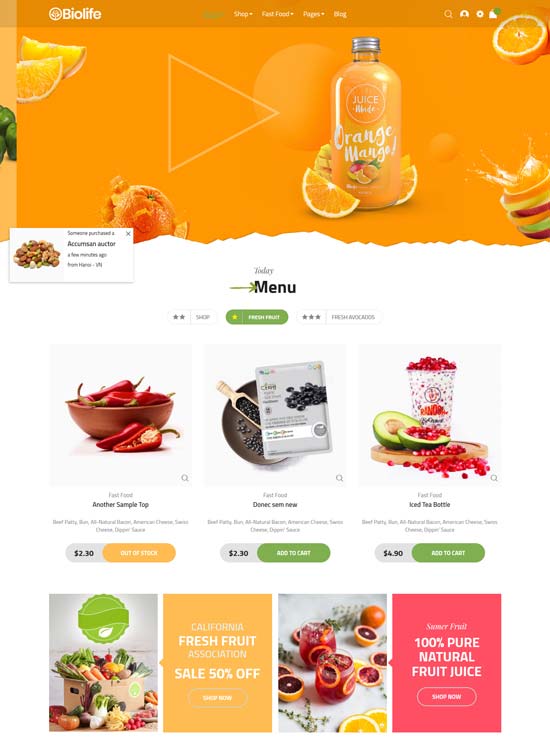 More info / download Demo
Magetique
Online Grocery Template Magento 2 Theme is a fully responsive web solution with a clean minimalist design for a grocery store, online grocery store, or supermarket. Creative ideas are perfectly implemented in this elegant and easy-to-use template.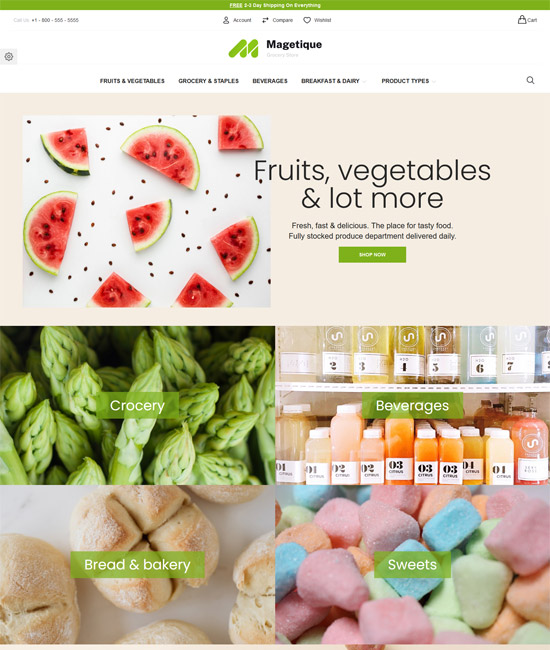 more info / download Demo
Firezy Food Magento 2 Theme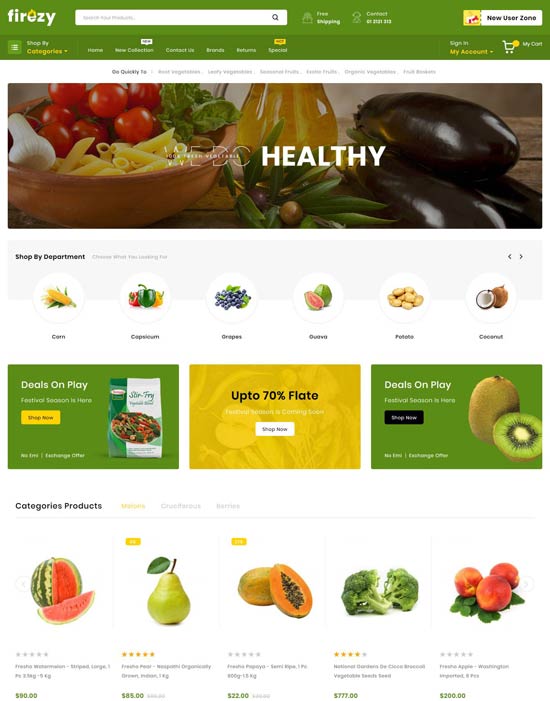 More info / download Demo
Infinit Food Magento 2 and 1 Theme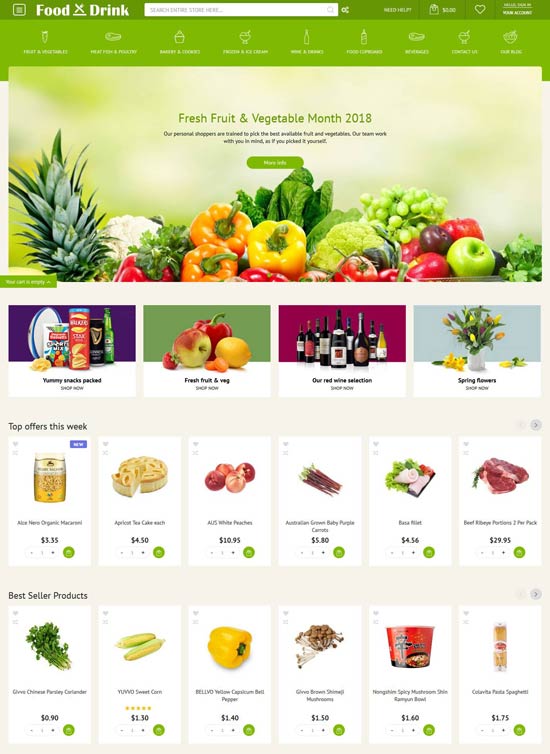 More info / download Demo
Freshia Food Magento Ecommerce Theme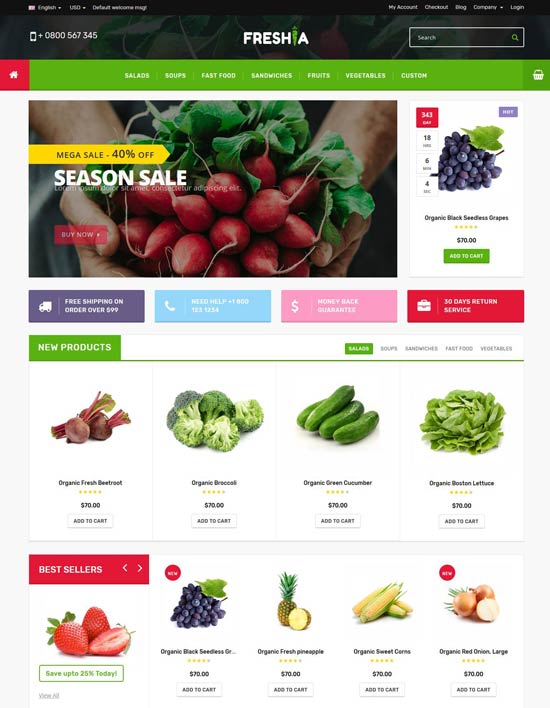 More info / download Demo
Fruit Shop Organic Food Magento 2 Theme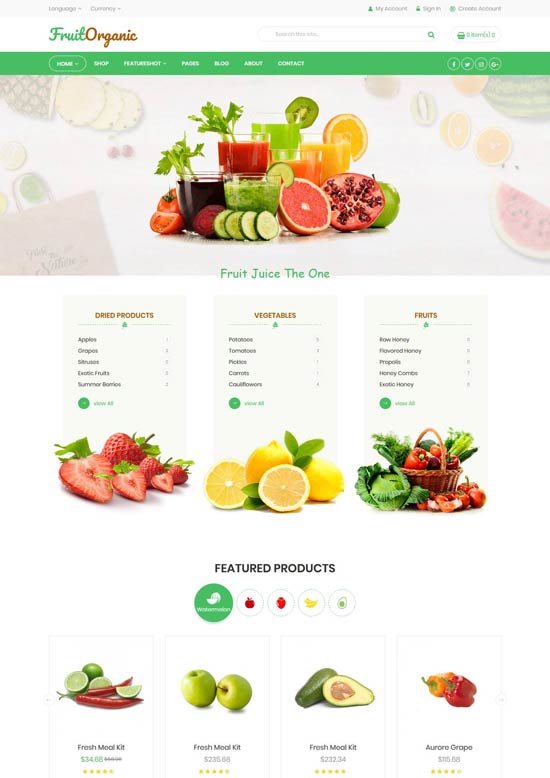 More info / download Demo
Pizzaro
Pizzaro is a Premium Responsive Magento theme with extremely customizable admin settings. Suitable for every type of store.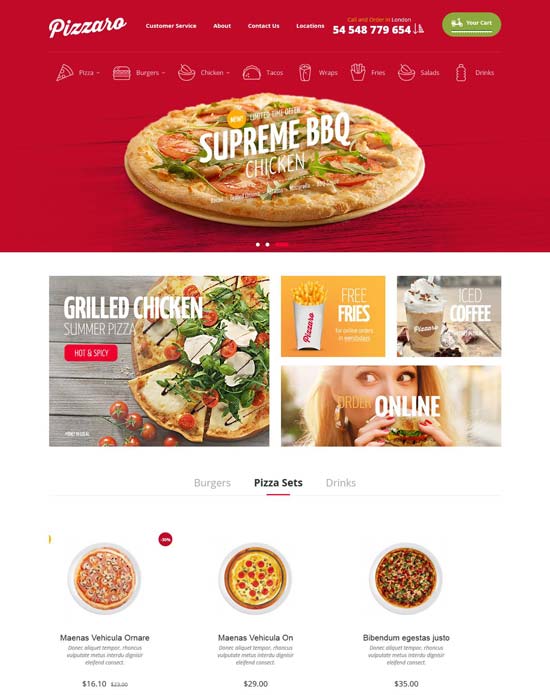 Demo More info / download
Organica
Organica Magento Theme is a large store specializing in the sale of biological products such as cosmetics, food, dietary food, food drink. Organic is beautiful and fully responsive template.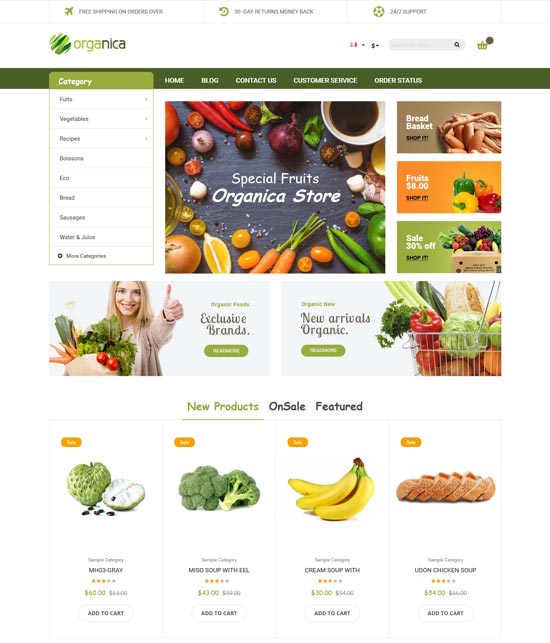 More info / download Demo
Fresh Market
Fresh Market Magento Theme is specially designed for food stores. Fresh Market Magento Theme looking good with it's color combination. All sub pages are customized. It is very nice with its clean and professional look.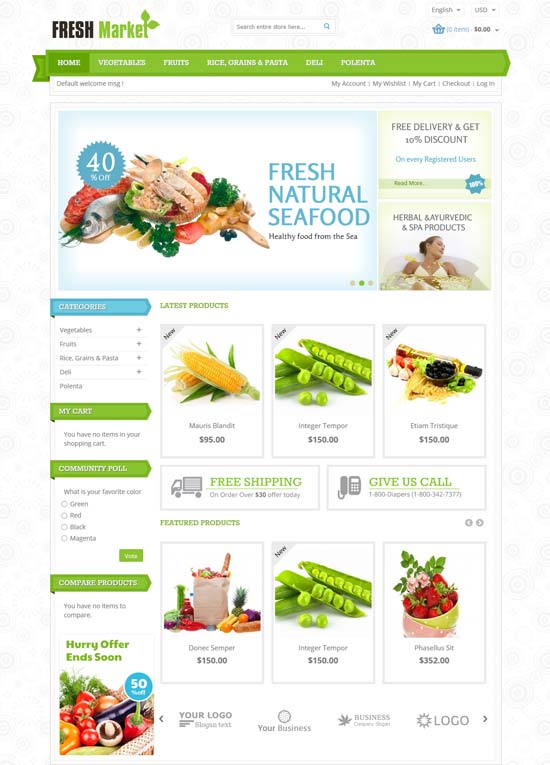 Demo More info / download
Food Store Magento Theme
Build a powerful food store with this top-notch theme. It offers a clean and minimalist layout, so you could make the content look structured and organized. The responsive design offers splendid performance on any screen resolution, no matter is it a desktop or a fourth screen device. Thanks to a variety of flexible options, you can adjust this food store Magento template according to your preferences or even adapt it to any other kind of business. The customization process won't take you much time and effort.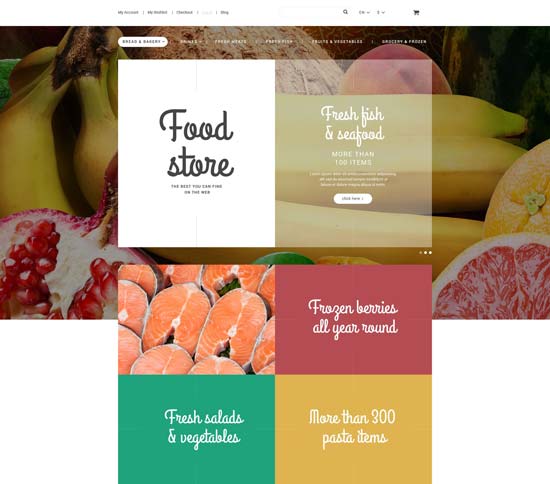 Demo More info / download
MT Belano
MT Belano is responsive parallax magento theme which best suite for any store such as: fragrance, Jewerly, accessories, beauty, car accessories, cosmetic, fashion, flowers, kids toy, food & recipes, restaurant…
Demo More info / download
Obveris eCommerce Food Store Magento Theme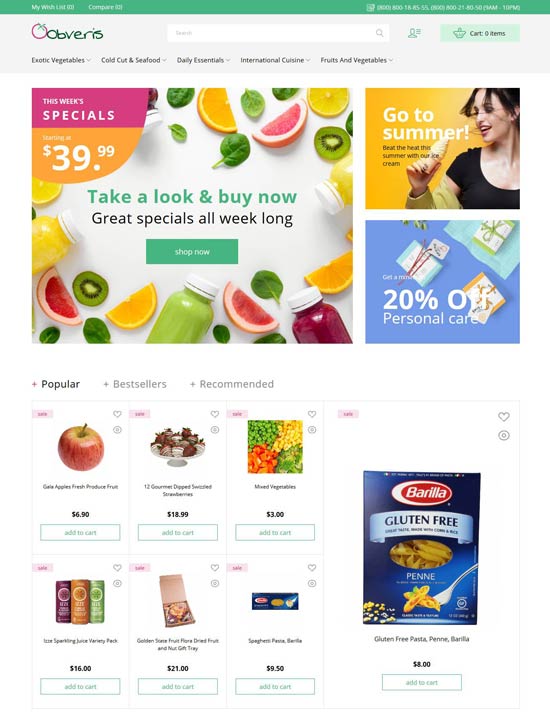 More info / download Demo
Naturve Vegetable Store Magento Theme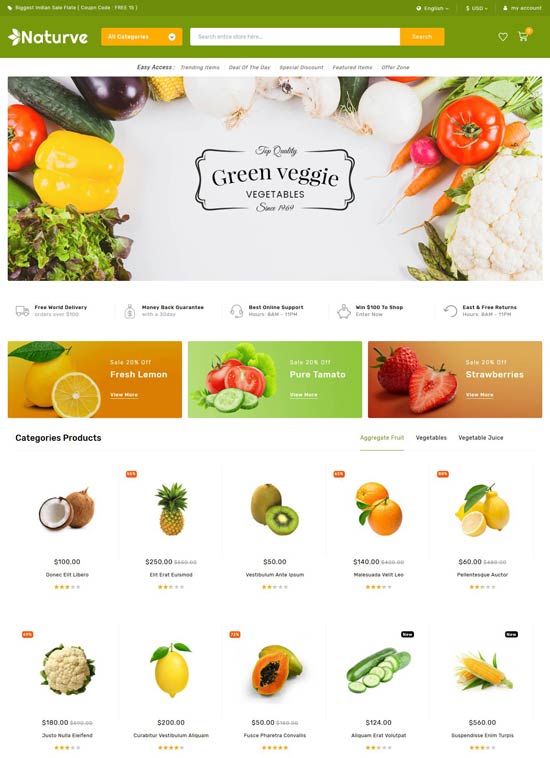 More info / download Demo
Recuidi Healthy Food Store Magento Theme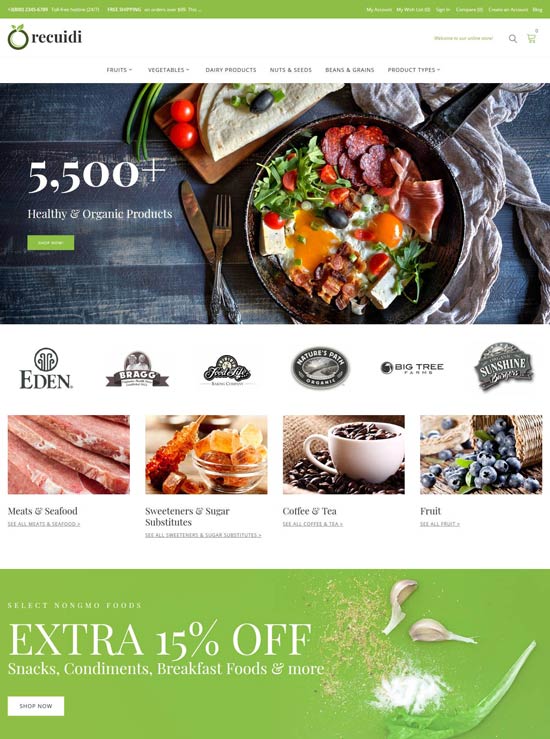 More info / download Demo
Culinary Spices Magento Theme
Clean and minimalist layout emphasizes the modern approach to an eshop design. Choosing Spices Magento Theme, you can be sure that your store will become noticeable online and catch everybodys attention. Try this trendy, professionally done theme to start or redesign food-related shop, or any other project dealing with fashion, beauty, sport, wedding, books, etc. Being responsive, the template seamlessly streams across all modern handheld devices, giving visitors an opportunity to browse your site wherever they are. Stunning Bootstrap features packed in this theme along with its highly attractive layout spiced up with animation, great sliders and gallery make this theme a perfect fit for the store you're dreaming about. Make your dreams come true with this spices Magento theme.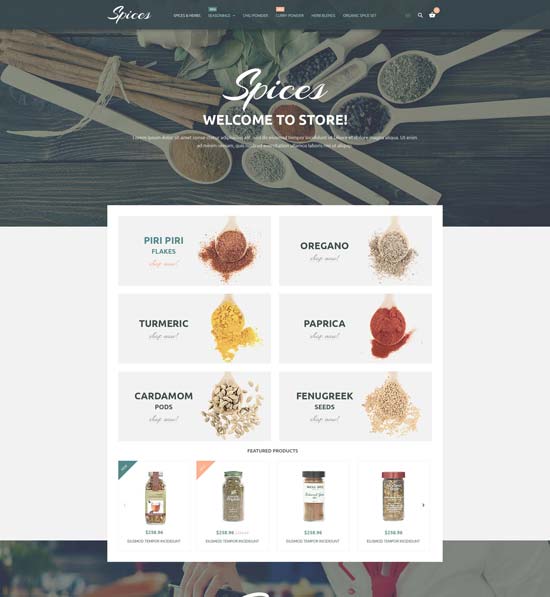 Demo More info / download
Coffee – Magento Responsive Theme
Coffee Magento Responsive Theme is specially designed for coffee, chocolate, foods, restaurant, drink and cakes store. Coffee Magento Responsive Theme is looking good with colors combination. All sub pages are customized. It is very nice with its clean and professional look.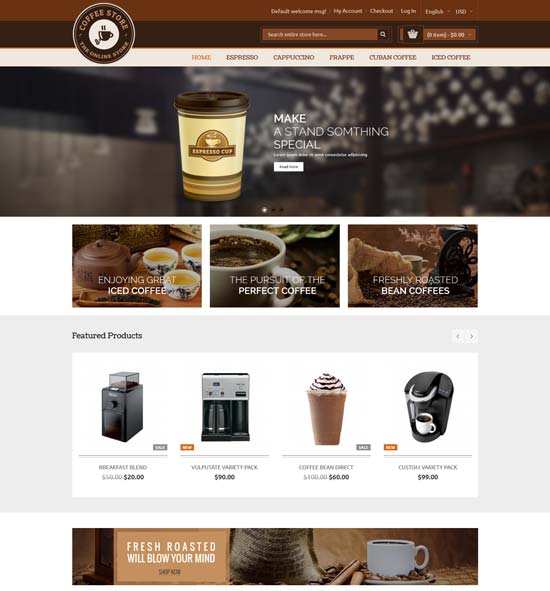 Demo More info / download
Tasty Shop Magento Theme
If a visitor of your online food shop feels a sudden hunger, you can be sure that its design has hit the spot. This ready made gustable theme will give the same effect, and your store will have a power of driving the audience in. Sappy red green colors, large images of delicious food, catchy slider make this theme so tasty that it's hard to miss it. The viewers will also enjoy easy navigation, wise search and thus pleasant shopping experience that is a guarantee of their follow up calls.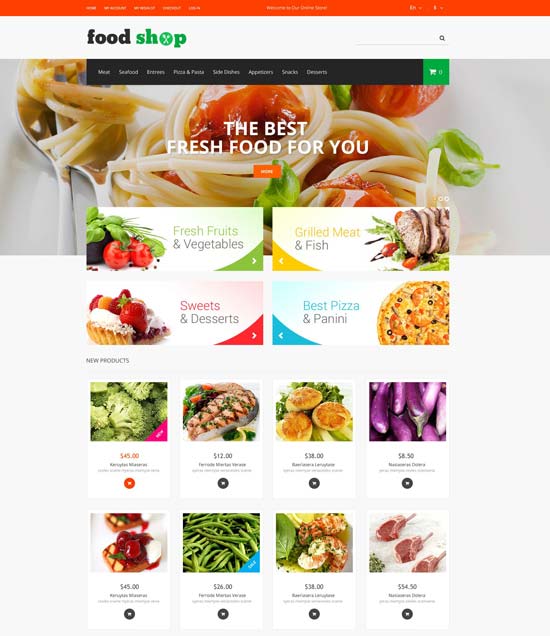 Demo More info / download
Supermarket Template Magento Foods Theme
If you want to boost your food sales, try to launch a website. Online shopping is getting more and more popular daybyday. Just agree that it's much more convenient to order all necessary products on the go and free your time for more pleasant things. All you need is an appetizing website and a good marketing strategy. This template will solve the problem with website design. Its bright, attractive images will make mouthwatering affect on the customers. Please note that background image produces the sense of depth and perspective. Banners placed around the slider have zooming effect. New products are marked with orange stickers. It's commonly recognized that orange color stimulates appetite and mind activity. We hope you like the template that is on your screen now. It can become yours today.
Candy Web Store Magento Theme
From time to time we need to treat ourselves with something sweet and tasty, and a candy eshop is the first place to go in such cases. A catchy design is exactly what makes any online store successful. Choosing this theme, you'll be able to set up an impressive website with bright layout and mouthwatering images that won't leave anyone unfazed. Every element of this design including simple menu categories, vibrant slider, featured blocks with mouthwatering images and attentiongrabbing buttons, as well as intuitive search options makes your website a loud presentation of your business. Sweeten the life of your visitors starting an awesome sweets store.
Spiced Dishes for Health Magento Theme
Seasoning dishes with spices has become a popular tendency in the modern cookery, as they add a special flavor to meals and sometimes even prevent the disorders. If you want to help companies producing spices promote these ingredients online, you can largely benefit from this template. It gives an opportunity to make everyone's mouth water at the sight of numerous pictures depicting spiced dishes on its homepage. You will also be able to accentuate the fact that spices encourage the vitality of an organism and increase people's interest in these products, all through the website's palette where green is a dominant color. Use this template to help gourmets impart piquancy to their breakfasts, lunches, and dinners as well as strength to their bodies.
Eastern Food Shop Magento Theme
Eastern food has significantly grown in popularity among western diners. While for some of us it's something unusual, many others can't live without sushi, Asian noodles, and other delicacies. Unfortunately, not everyone can afford dining out and enjoying Eastern food in refined restaurants. This is when online Asian food stores come in handy. Picking this theme, you'll be able to set up a breathtaking website where buyers can find whatever they need for creating their culinary masterpieces. Its bamboo paper texture on the background and tasty photos of Asian food create the atmosphere of authentic Eastern grocery store and arouse desire to try it all. Clever organization of content blocks, clearly readable fonts, vivid banners, and usable navigation menu let you effortlessly find whatever you need. Once buying from you, people won't resist temptation to come back.
Spice Shop Responsive Magento Theme
Quality Tea Magento Theme
Tea ceremony has a rich historical background. From ancient times people has been drinking tea to relax and refill their energy store. This template fully fits the concept. The combination of light background and brightly colored elements create a calm, refreshing atmosphere on site. It stirs the desire to sit back and drink a hot cup of freshly brewed tea. Choose this template and start to sell your product overseas, spreading the culture of tea drinking worldwide.
Bracing Tea Store Magento Theme
Design is created in soft natural colors, which is a benefit for tea stores. Main menu bar have fixed position on the page, so it's constantly visible and accessible for the users. Huge slider shows served tea tables. Two banners have hover effect. New products are offered in four columns. They are supplied with brief descriptions and Add to cart buttons. Subsidiary menu and social sharing icons are in the footer.
Responsive Spice Store Magento Theme
This spice store has rather exotic layout. Slider and banner images have zooming effect and interact with the user. New products in the content area stand in four columns and are framed on hovering. Wooden texture can be seen in the background. Footer contains additional links, newsletter subscription form and social sharing icons. Main menu and cart have drop down option.