Here is a great roundup with greatest designs organic and food WordPress themes. Even if you know nothing about coding, you can still create a beautiful website in no time. They are super-easy to install and customize. If you have any issue with your theme or just want to ask a question, professional support managers will solve any task and answer any question in a few minutes. The themes down below comply with the latest web design trends and technologies. We've thoroughly handpicked best developed for the following business niches: online food store. If you want to have a wider choice and browse the entire web developer's inventory, just go to their website and see their extensive portfolio. We wish you to have a nice and efficient browsing.
OrgaFruiz
OrgaFruiz is a modern and flexible Elementor WooCommerce Marketplace WordPress theme. This theme is suitable for multi-vendor market, electronics store, furniture store, clothing store, high-tech store, organic food store, cosmetics store, and accessories store. With the theme, you can create your own marketplace and allow vendors to sell only like Amazon, Aliexpress, eBay.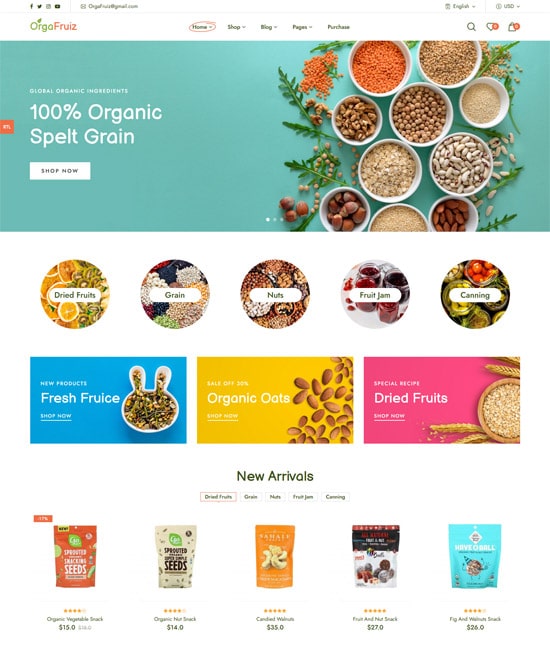 more info / download demo
Optivit
Optivit is a healthy food service WordPress theme suitable for a food delivery company and organic food stores with 1-click installation, 3 landing pages, 6 service pages, a simple drag and drop page builder, a generator of animated sliders.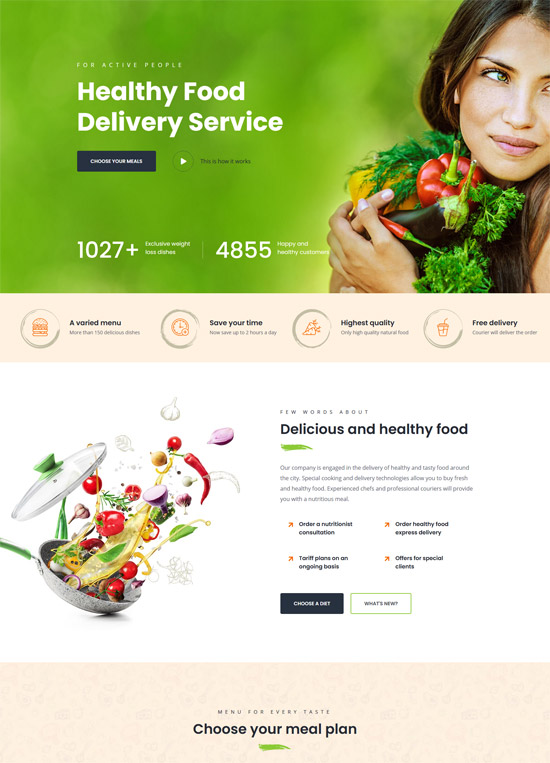 more info / download demo
Tomatu
Tomatu is a powerful organic food WordPress theme. You can use it for organic shop, organic farming, farm, organic food, organic food store, dairy farm, bakery and many other services. The theme comes prepackaged with a drag and drop page builder (Elementor) to ensure that you can build your website quickly and easily without any coding knowledge. This theme is built with the world's most popular responsive CSS framework Bootstrap 4, Elementor, HTML5, CSS3, jQuery, and many modern technologies. The theme is created and tested on all devices and browsers like Firefox, Chrome, Internet Explorer and it works perfectly without any problem.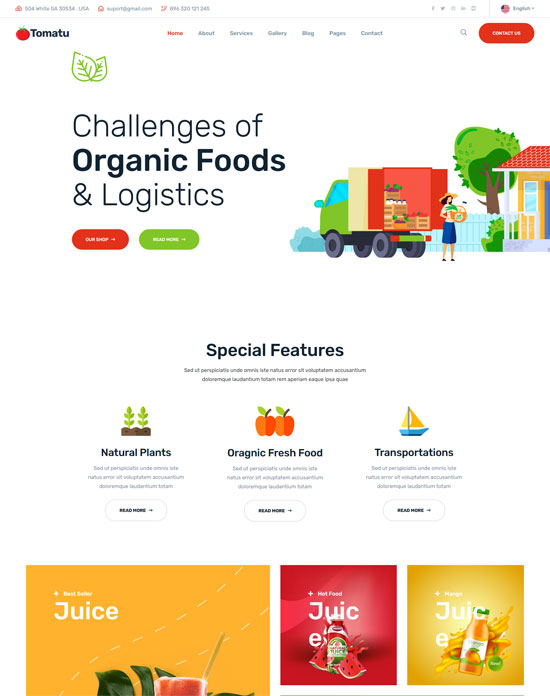 more info / download demo
NativeFarm
Food labeled "organic" is all the rage now, and any organic farming business requires an online food store or website to deal with the organic produce, organic vegetables and fruits they grow. NativeFarm – Organic & Healthy Food WordPress Theme will be the best choice for your food store to stand out from the crowd. This brilliant organic WordPress theme includes 4 different homepage demos, so you can enjoy your choice. We are happy to present a great template with many exceptional designs. You will be pleasantly surprised by the outstanding features that this template offers.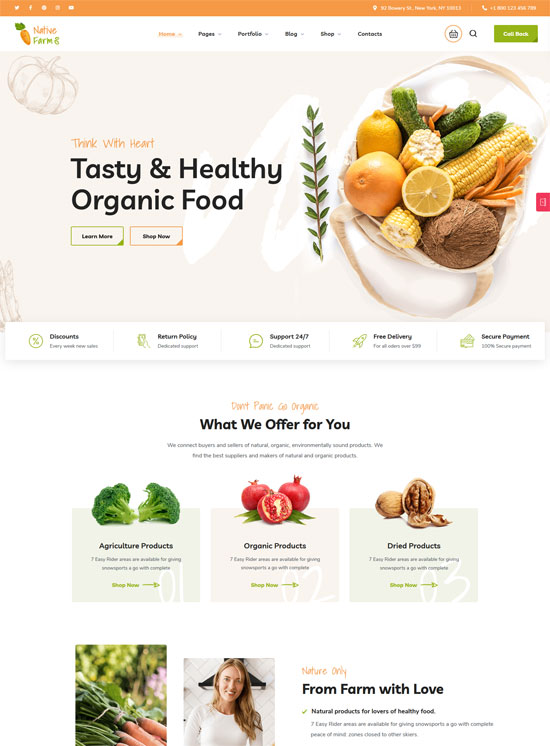 more info / download demo
Stego
Stego is a great theme to help you create a website for a restaurant, dinner, food truck, or any other catering and food business. It gives you everything you need to customize it and is packed with powerful (but easy to use) features like menus, history pages, contact / booking forms, and e-commerce.
more info / download demo
Foodsto
Foodsto is the perfect theme if you are willing to create a personal online food store. It is ideal for fresh vegetable and organic food store website projects. With a clean, minimal and fresh design, your website will look great on all devices. Launch your simple food store website easily and start selling online without any hassle. You get a modern store layout, store functionalities, wish list, quick view, cart view, fresh style. A perfect theme for simple food stores and markets, organic producers and farms, vegetable shop, grocery store, etc.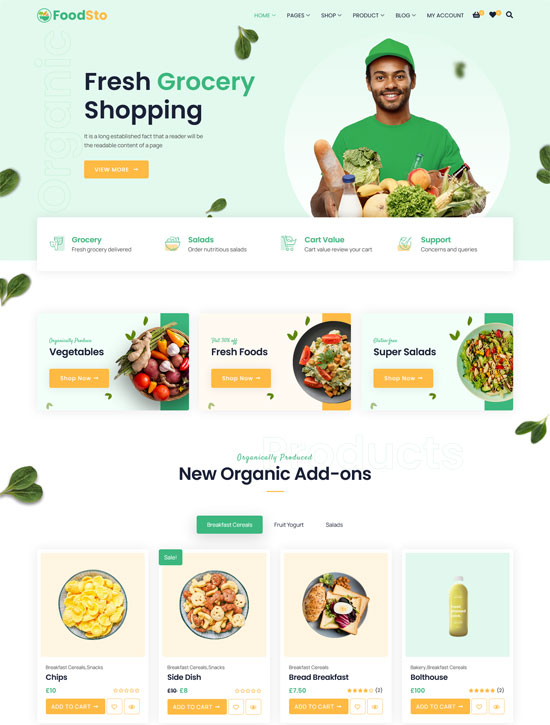 more info / download demo
Burgos
Burgos is a stylish and modern WordPress theme perfect for any food related or fast food or food delivery website.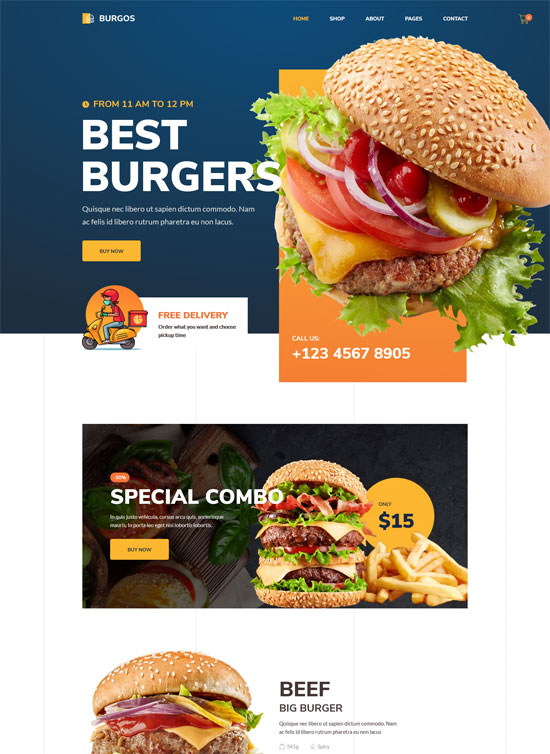 more info / download demo
Organium
Organium WordPress Theme – Helps you build your online store for organic food, healthy lifestyle, diet and nutrition, vegan products, meat, grocery market, fruit and vegetable store, agricultural products, organic and natural products. There is a great demand among people around the world for the consumption of organic and healthy food. This is the same reason why you should think about starting a new business to sell organic food. Even if you have an organic food store, you should think about getting a perfect online store, which you can use to sell the organic food to the customers who need it.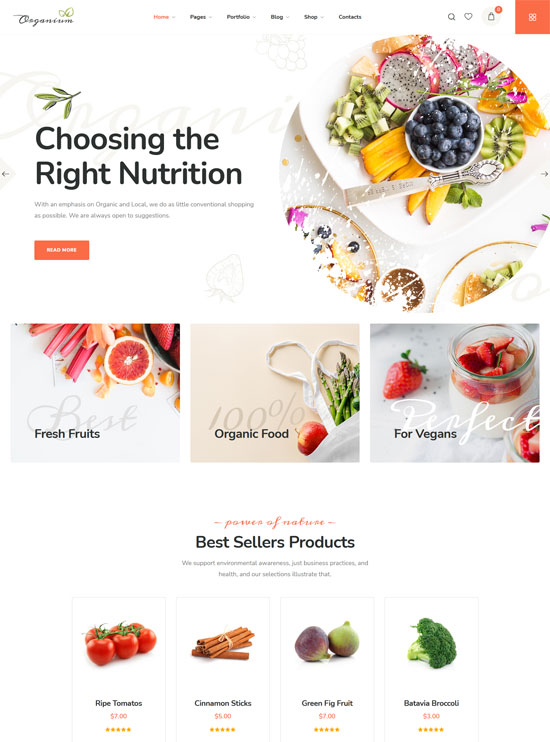 more info / download demo
Leganic
Organic is a super fast and easy to use organic WordPress Woocommerce theme. You can set up your online food store website with this theme very easily. Leganic is responsive and easy to customize. This theme is very easy to create pages, posts using Elementor page builder. Leganic is very colorful and can be modified with unlimited color options. This theme is absolute for people who are ready to start an organic food business online. So let's buy Leganic, get started with your website, and start your organic food business online.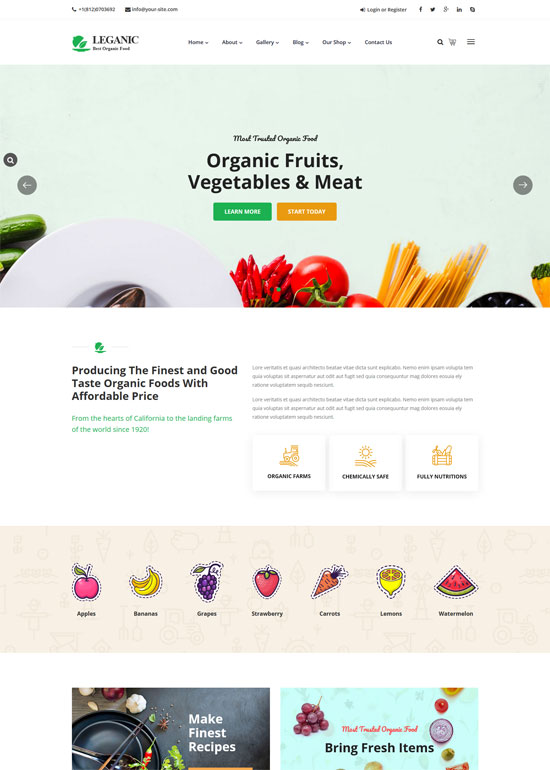 more info / download demo
Fudee
Fudee is a powerful organic food WordPress theme. You can use it for organic shop, organic farming, farm, organic food, organic food store, dairy farm, bakery and many other services. It has a 100% responsive design and tested on all major browsers and devices.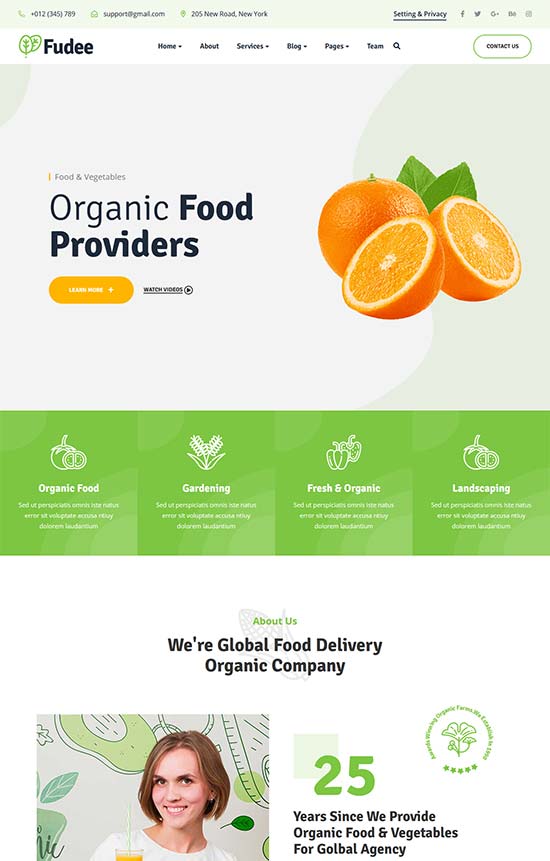 more info / download demo
Safira
Safira is a modern, elegant and fully responsive WordPress theme, which will become the best solution for your online food stores such as: organic products, fruits, vegetables, supermarket, grocery, flowers, health products, accessories or restaurant . It has 4 different versions of home page with different headings, layouts and beautiful banners.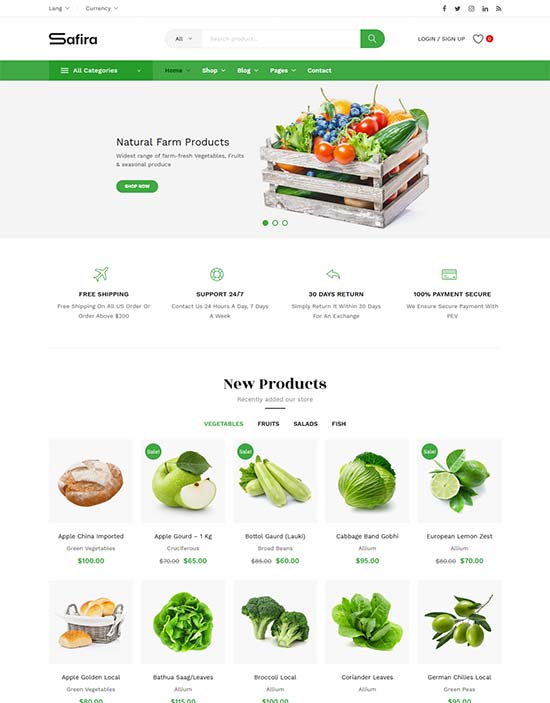 more info / download demo
Gomoto
Gomoto Food Delivery WordPress Theme specially created for food delivery service, pizza delivery, fast food, bottled water, drinking water delivery, courier service, pizzeria, medical supplies, medical prevention, coronavirus prevention and others. Gomoto includes all the necessary WooCommerce-ready online store pages. So you can sell your food, drinks, clothes, gadgets, pizza, hamburgers, meat and fish, pills, medical supplies and other products.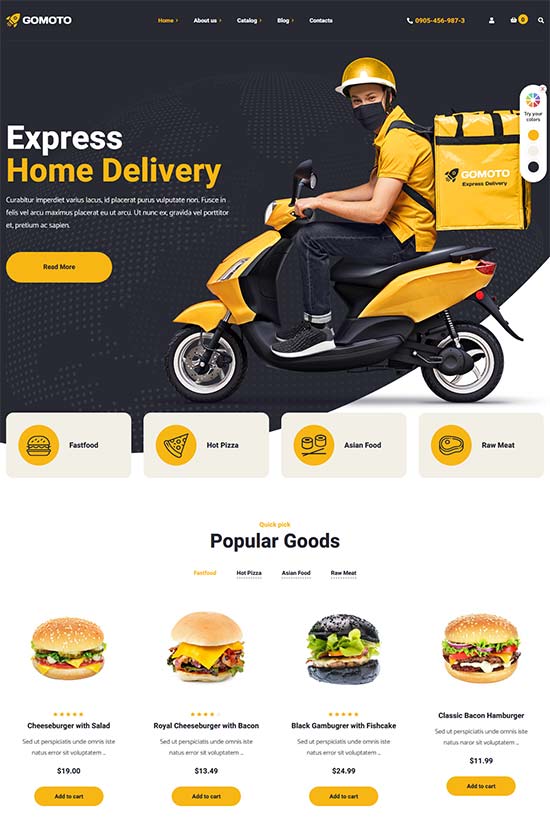 more info / download demo
Naturally
Naturally, it is a WooCommerce online store theme based on Elementor Page Builder, versatile and clean for organic food, natural products, organic beauty, organic farming, farm and many more individual websites and d 'business. You will have a clean website with a simple appearance and powerful functionality of this theme created with Elementor Page Builder and WooCommerce. You can easily create an unlimited number of pages using ready-made blocks and widgets, without the need for coding skills and website experts.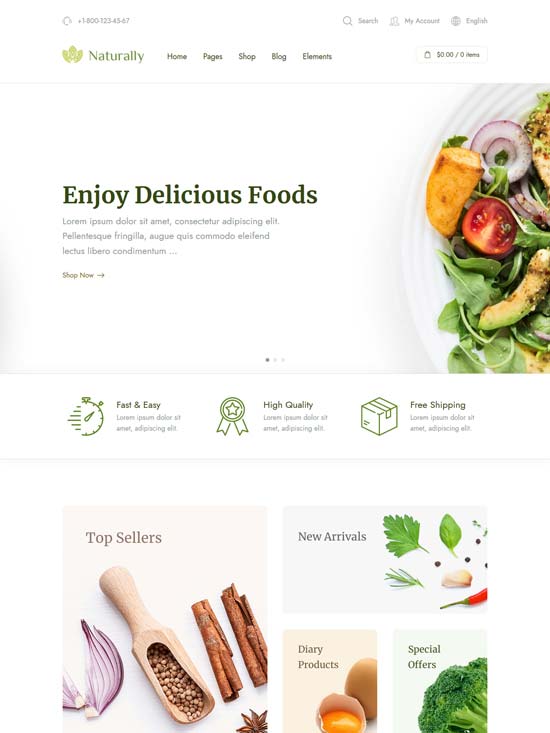 more info / download demo
Ranna
Ranna is a beautifully clean and contemporary WordPress theme for foods and recipe blogs. We've included pre-made features and elements to give you the perfect website on which to express your passion for delicious food.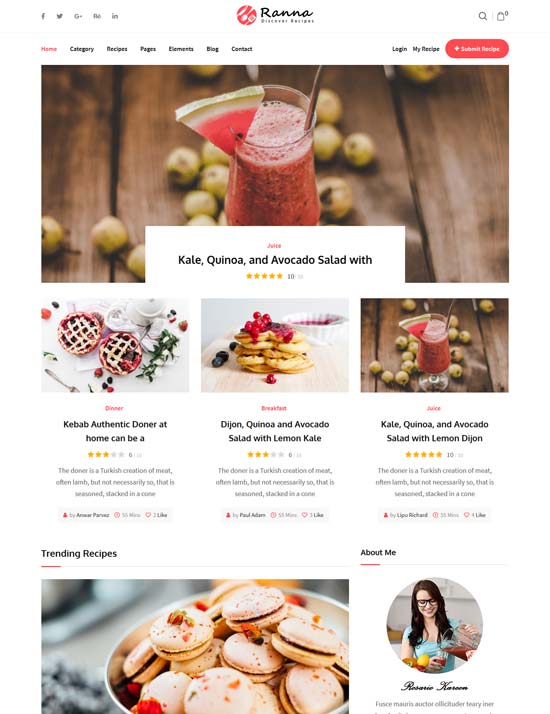 more info / download demo
Bubulla
Bubulla Meat Farm & Store WordPress Theme created especially for Meat Farm, Seafood, Caviar Company, Food Company, Salmon Farm, Meat Food Store, Butcher Steak House, Raw Meat Shop, Pork Farm, Meat Meal and Meat Delivery. Bubulla Theme includes all the necessary pages of the WooCommerce online store ready. So that you can sell your meat, pork, beef, sausages, steaks, raw products, fish, caviar, shrimp, crab, lobster, oysters, octopus and others.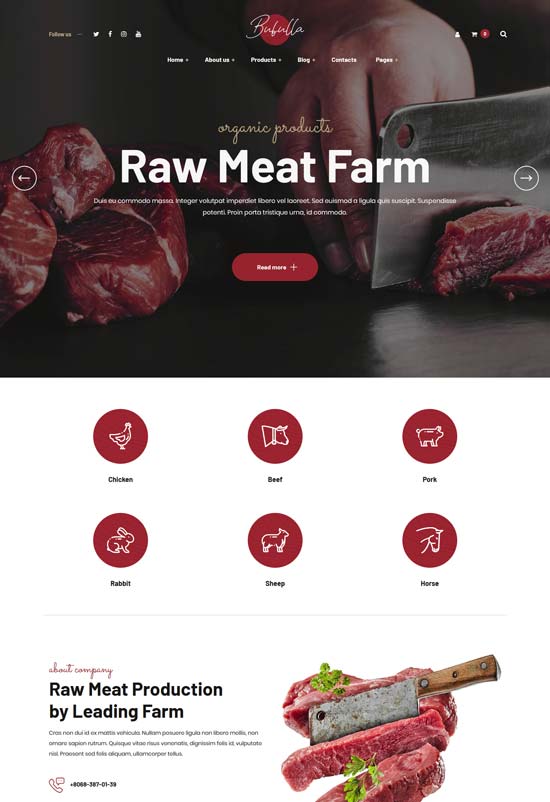 more info / download demo
Gloreya
Gloreya Fast Food Restaurant WordPress Theme is a modern and professional restaurant WordPress theme for selling fast food, bakery, burgers, cafes, pizzerias, vegan foods. Gloreya comes with Drag and Drop Elementor Builder, Revolution Slider, Gutenberg Optimize, Woo, SASS CSS, Twitter bootstrap 4, Owl Carousel, Different Menu Styles. The theme also supports contact form 7, WPML, Mailchimp and more to ensure a better website.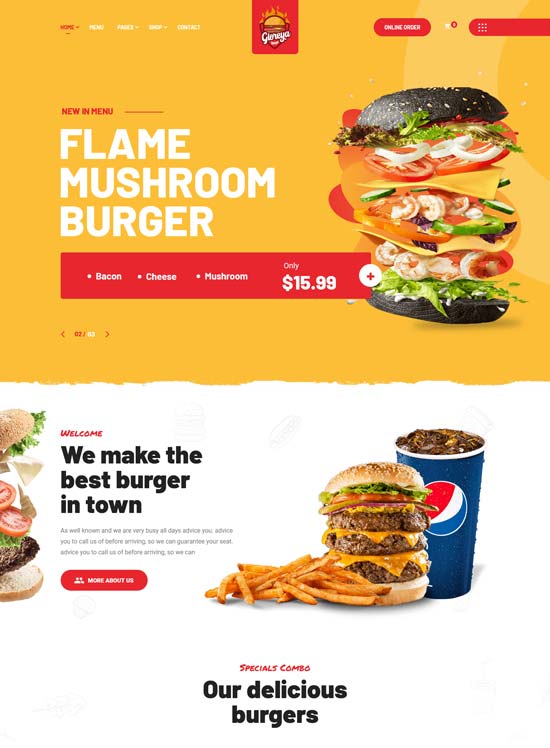 more info / download demo
Mildhill
Mildhill is an ideal choice for all types of organic and food store websites with a modern, fresh design style and a collection of layouts that will surely cover all your needs, even if you have a farm business or a grocery store. You also have a full set of organic food store templates, all you have to do is start your organic food store website today and see your business grow.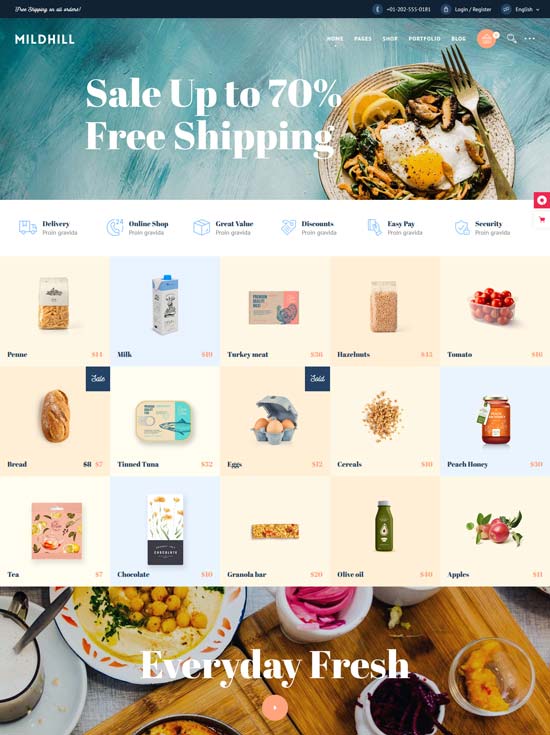 more info / download demo
Fitmeal
Fitmeal Healthy Food and Nutrition WordPress Theme created especially for the delivery of food, healthy food, a fitness regime, an organic food store, a nutritionist, a health coach, a health diet, a fitness meal, a smoothie bar and delivery of business meals. It may also be suitable for the theme Healthy lifestyle, natural nutrition, food store, fruit and vegetable store and life coach. The Fitmeal theme includes all the necessary pages of the WooCommerce online store ready. So you can sell your meal, food, fruit, vegetables, smoothies, juices, delivery services and more.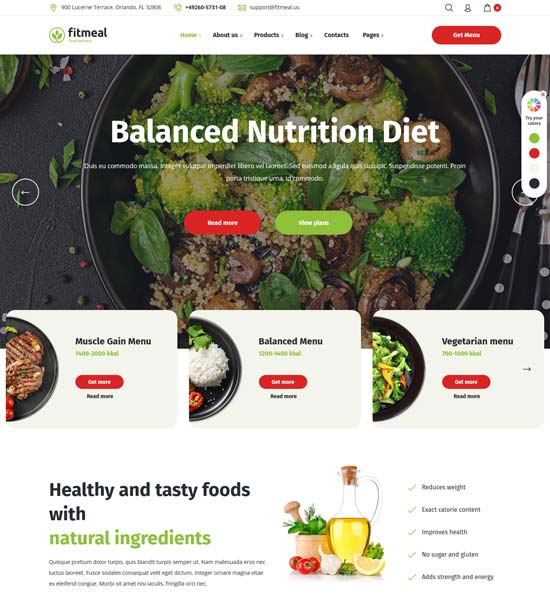 more info / download demo
Foodmood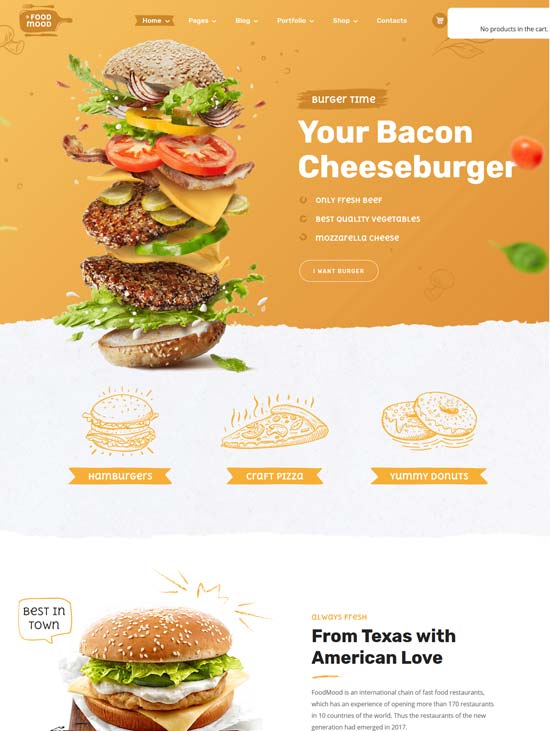 more info / download demo
Organic Store
Made with nice decor plus readable text, the theme presents a charming and soft design for your page that is perfectly suitable for agricultural business, healthy food blog, organic food shop, organic farm, bakery. Also, it has more than 700 sales now and can be displayed in all browsers and on all devices.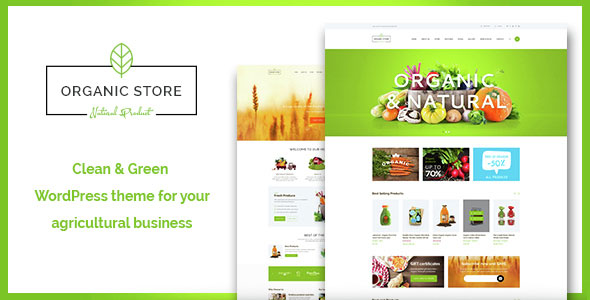 more info / download demo
Vinegars
Powerful and easy in customization, this WordPress theme is a good idea for the creation of a shining Organic Olive Oil and Vinegars website.. As you may see in 'Details' field, the theme is based on a powerful builder plugin, so you are able to add or remove sections and modules with no effort. Moreover, Olive Oil is compatible with awesome plug-ins: Revolution Slider, Essential Grid, PO Composer, WooCommerce and Visual Composer for creating any layout at your taste.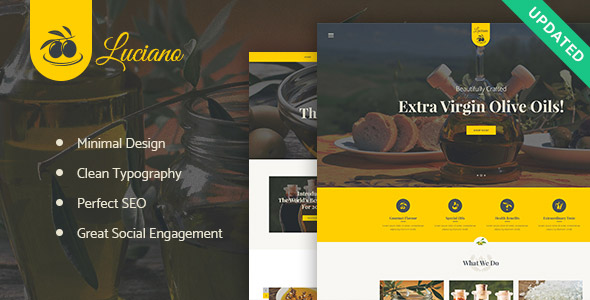 more info / download demo
Origano
Designed in warm colors, Origano is a wonderful WordPress theme, created for your convenience. Additionally, the theme allows you to view any changes made to your site, so with its help you may avoid some possible mistakes during your online shop modifying. What is more, the theme has an intuitive visual interface and informative layout that looks wonderful on any platform, since it's fully responsive and Retina ready.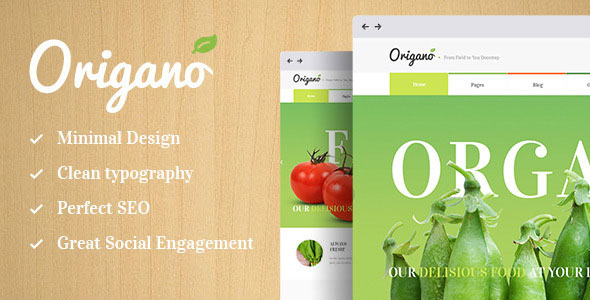 more info / download demo
Tea House
Extremely effective and eye-catching, the WordPress theme was made in lovely dark colors. Without a doubt, with the help of the provided theme visiting of your website will be a good time for your guests. In addition, the theme is compatible with a bundle of premium plugins: Revolution Slider, Essential Grid, Visual Composer and.it is fully Retina ready.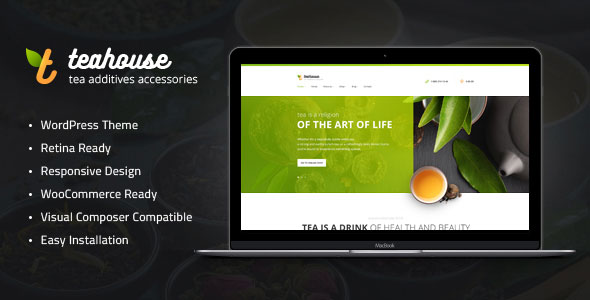 more info / download demo
Seafood
Just take a look at these amazing deep colors! Without a doubt, this cool WordPress theme works great in all the browsers and on all the devices, so customers will be able to visit your website no matter where they go. What is more, the theme is supplied with a collection of powerful shortcodes and widgets, for easy use and capacity of your website.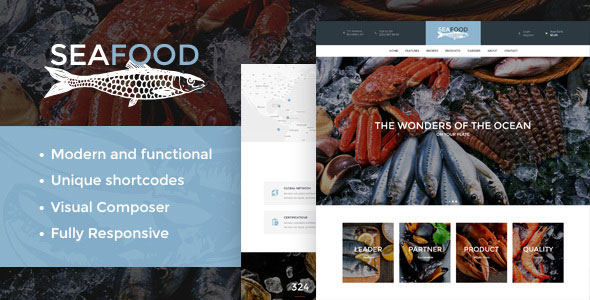 more info / download demo
Vegan Food
Equipped with well documented, customized modules, the template ideally depicts calm atmosphere of your service. Deep and light colors mixed with amazing details will definitely charm your guests. In the end, your customers will be pleased with the shopfront and happy with its functionality.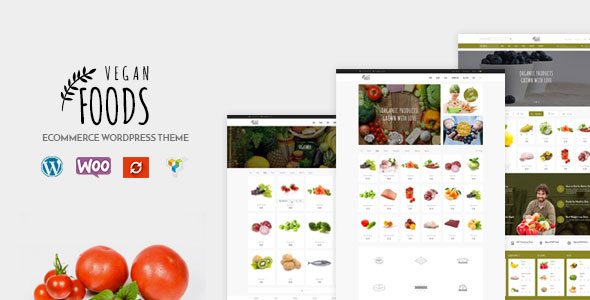 more info / download demo